The keyword selection process may appear complicated, confusing and time-consuming without proper knowledge of approaching the process. So, we are going to talk here about different types of keywords and how to do keyword research with Semrush:
Four Types of Keywords
There are four main types of keywords: commercial, transactional, informational, and navigational. We're going to identify what these types are with a short breakdown of each type.
Commercial
Commercial keywords are keywords used for paid advertising strategies. Whether to refer a given keyword to the commercial depends on the site niche.
For example, if a site is selling tour packages, the keyword "travel guide" isn't a keyword that you would run a paid ad for.
But for a site offering free travel information making money through the ads, it may be worth pursuing. One tip that will help you determine if the keyword is commercial or not: type it in Google and see what type of sites show up in the search results and whether you would like your site to be among them, see whether there are paid ads for this keyword. If so, it means other companies benefit from this keyword; therefore, you can use it.
Transactional
Transactional keywords show more targeted people who have the intention to buy a product or service or buy it soon.
It happens when a person has already searched for information, has made a decision, and is determined to now make a purchase. Such keywords feature word terms such as "buy," "subscribe," "for sale." As a rule, such keywords are more specific as well; they may describe the product or service more precisely: "neon blue unisex watch."
Informational
There are plenty of keywords with significant search volume, but if you use them for your site promotion, they won't bring you conversions. Why? People who use these types of keywords are searching for information.
For example, to support their idea of purchasing a particular product, they have already decided to buy, read reviews or compare prices. You can distinguish this type of keyword by "question words" as they usually contain: "where," "how," and so on.
Navigational
Another type of keyword you should be aware of. When users type in a company or brand name, they perform a navigational search. They already know this company or product and want to find the correct website to get to their products.
Such keywords are usually helpful when the brand of the site is well-known and popular. However, there are cases when sites try to be ranked for their competitors' brand names, but this doesn't usually work well.
How To Do Keyword Research with Semrush
It's important to begin generating as many keywords ideas as possible. You need to determine the type of keywords that are the most suitable for your business, enhancing the chances that your site can be found.
Think of the words which describe the service or product you are going to market and search requests your potential customers are likely going to type when they want to find this kind of product or service.
After you have compiled a list of keywords that cover your site's basic business offerings, you can use Semrush's Keyword Magic Tool to find the best word combination for each keyword in terms of search volume and competition level.
Paste the keyword in the search line; put what you think users might type when they search for your product or service, and then you'll be presented with keyword ideas.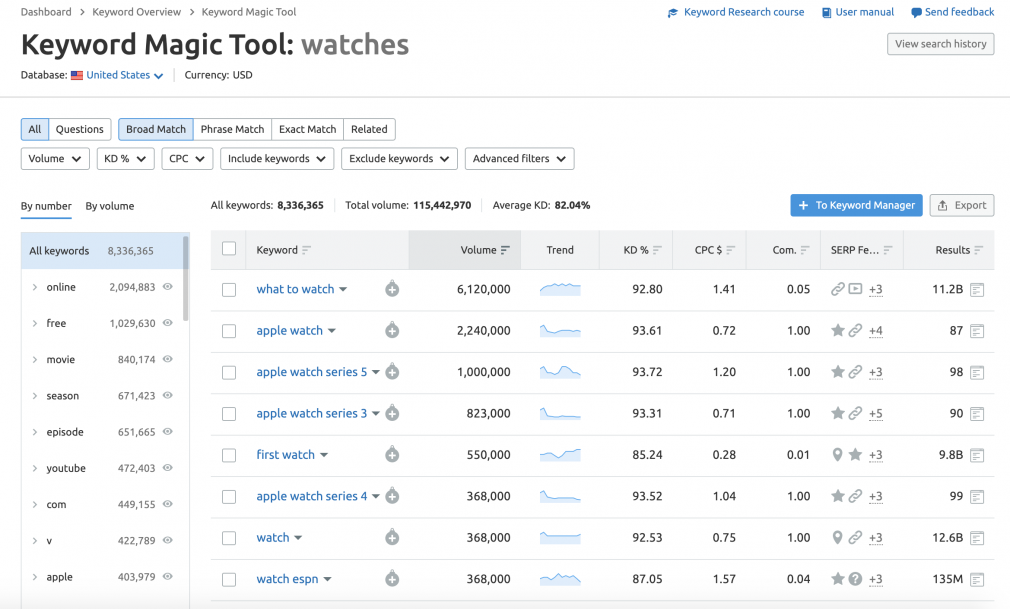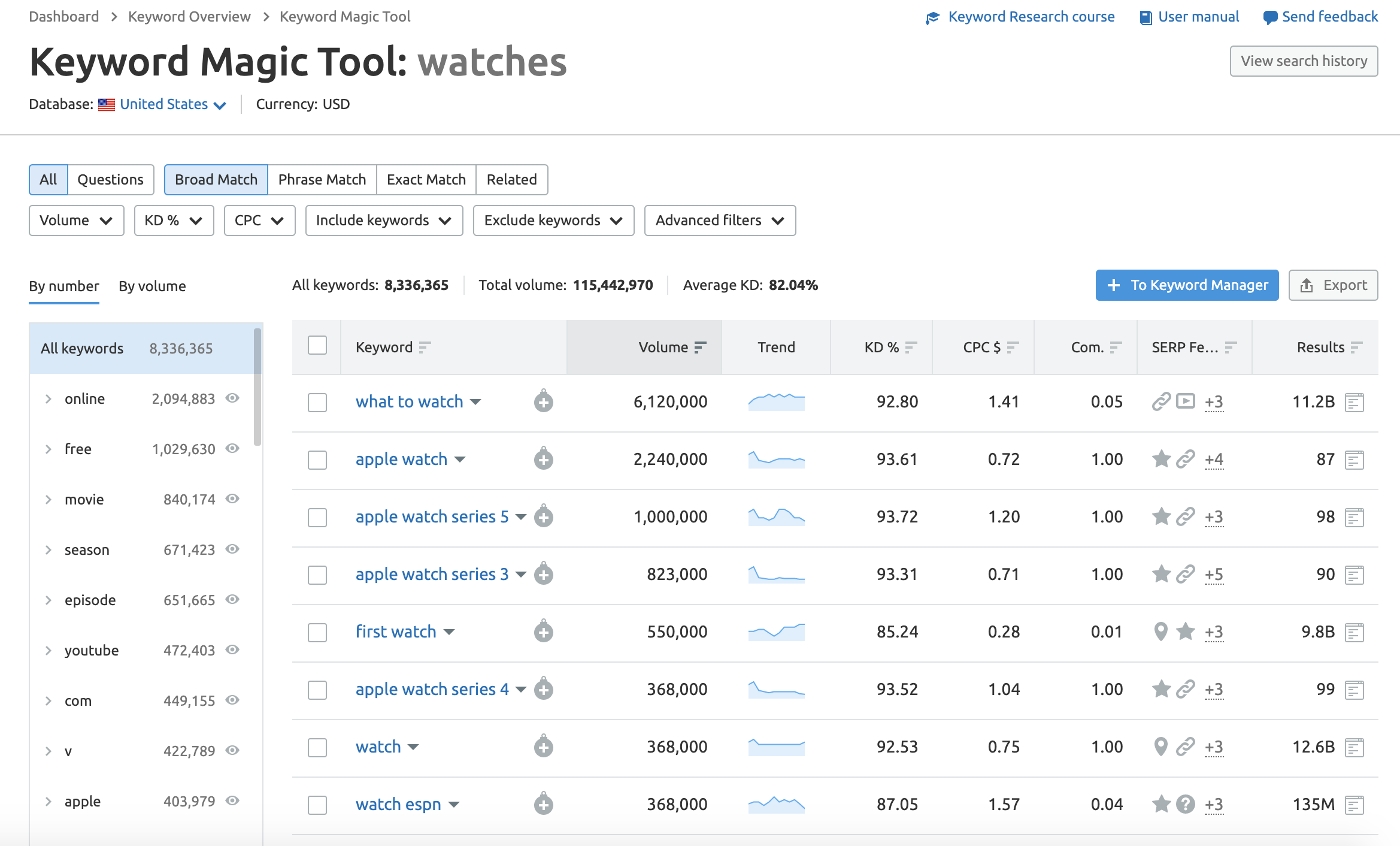 Depending on your goals, you can download any of the presented tables or add them to Keyword Manager. And now that you know the different types of keywords, you can identify which makes sense to target for your overarching keyword and content strategy. 
Competitor Keyword Research with Semrush
Some SEO keywords as ideas you can brainstorm yourself and some of them you can find by studying your competitors. For this purpose, scroll over to our Organic Research tool.
Search Google for a site that offers the same kind of service or product you promote. Then:
Go to 'Organic Research' in your Semrush SEO Dashboard
Paste the domain, subdomain, or URL in the search line. Change the country (if you would like or as needed) and click the search button
You will instantly see lots of information related to the website keywords
You can scroll down to see your competitors Organic Search Positions for relevant keywords: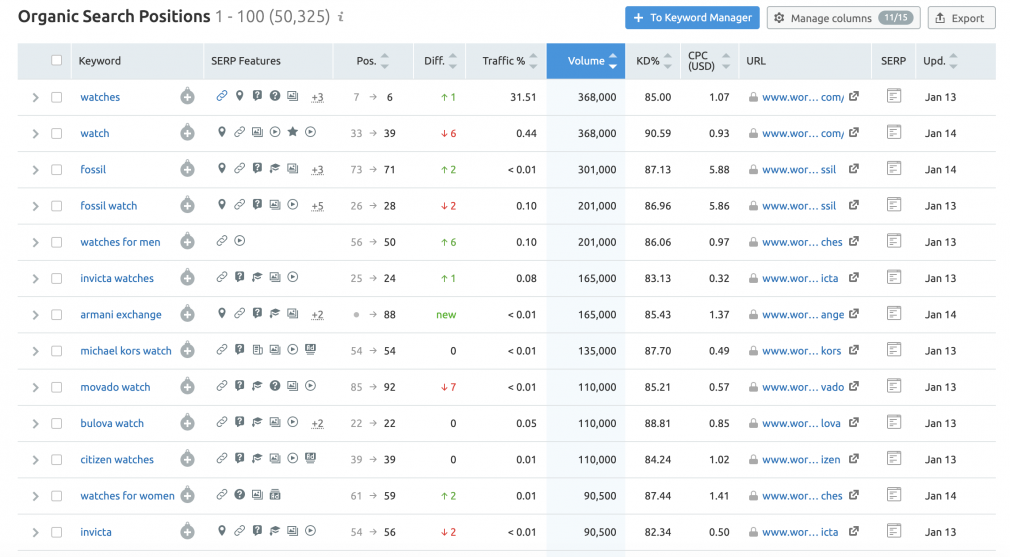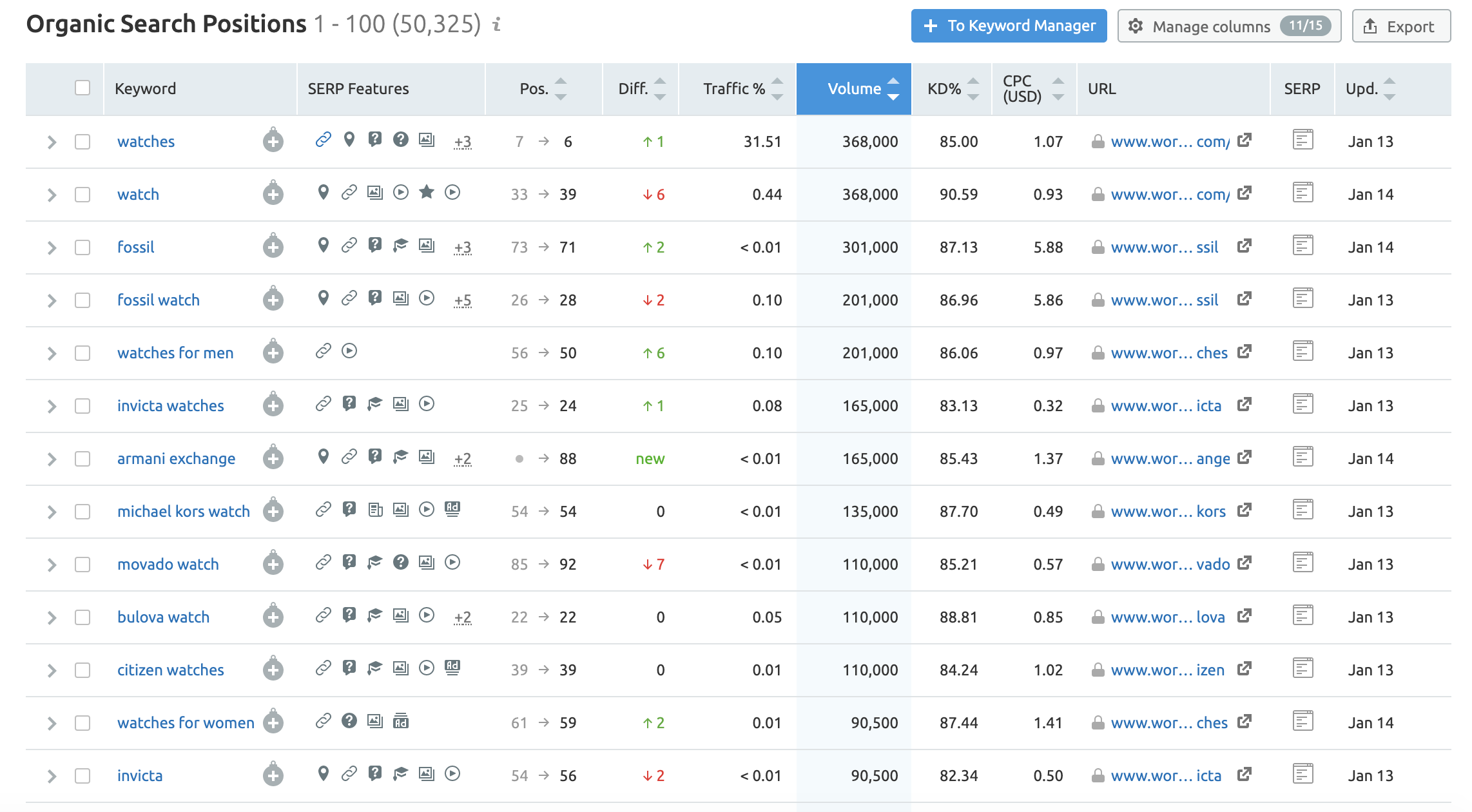 From there, you can see how your competitor is performing for keywords and identify what to add to your list.
---
Knowing the different types of keywords and identifying their intent is an important part of creating your keyword and SEO strategy. By performing keyword research at all stages of the buying funnel, you'll be able to provide answers to questions users may have and drive them toward a purchase!