Semrush offers a wide range of functions for analyzing webpages and their performance in search engines. In this article, I am going to explain how you can perform an SEO audit with Semrush tools and identify opportunities for optimization, as well as how you can determine how your competitors are doing.
For this analysis, we've chosen to look at the Spanish version of Samsung.com and see how it is applying Google-quality guidelines. The only search engine that we are going to use in our study is Google.es, because it holds over 90% of the Spanish market share.
Brand: Samsung
Market: Spain
Main Competitor: LG
Evolution of Organic Traffic and Target Markets
The graph below shows us how organic traffic has changed in the last few months. This data is very important because it allows us to identify which offline or online campaigns have impacted organic traffic.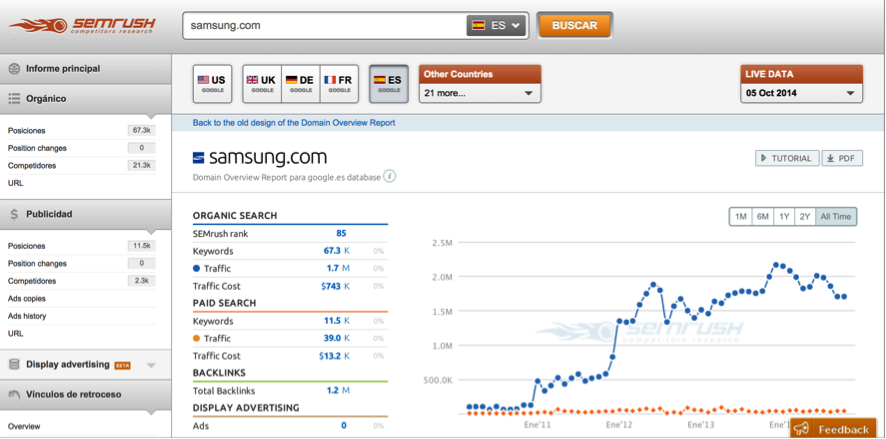 The International Situation
We can compare how a domain is performing in different countries. However, we are not going to get too deep into this feature because our analysis is based on the Spanish market. Nonetheless, the ability to compare international domains offers a distinct advantage, especially with the wide range of global data that Semrush offers its users.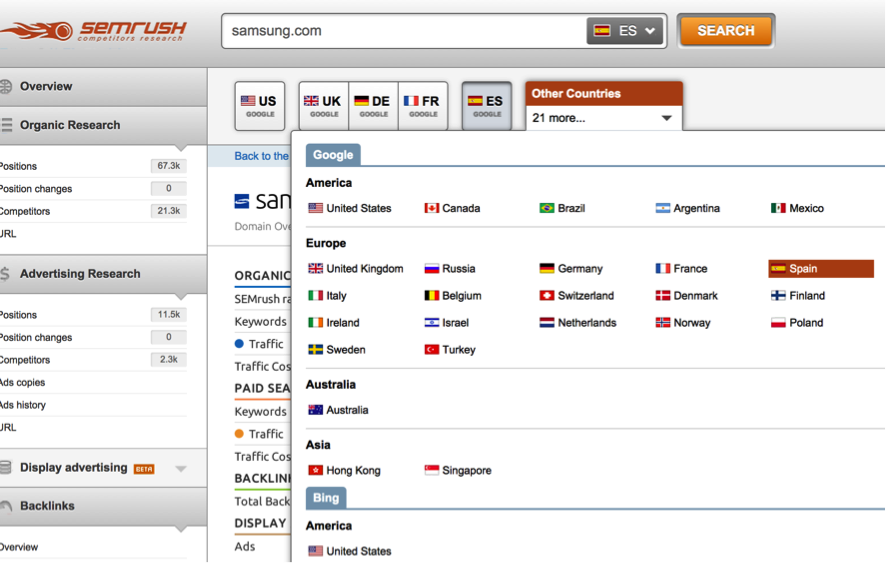 Keyword Research
Semrush can show us all the keywords for which Samsung is best ranked in its target market, as well as those keywords that have a low performance rate. Since this project is largely about branding, we can filter all keywords (Samsung, Galaxy, etc.) and try to attack the core of generic keywords in this sector. For example, "tablet," "smartphone," "smart TV," etc.
By ignoring the keywords that contain the terms "Samsung" or "Galaxy," we end up with 7,000 terms, rather than with the original 67,000.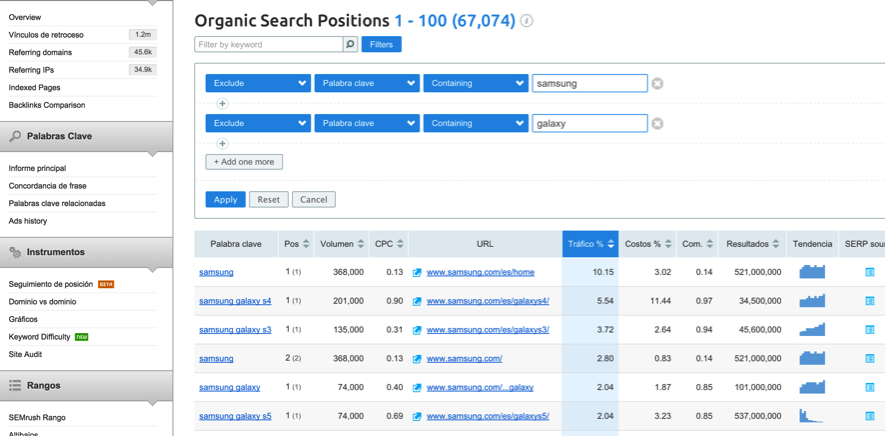 At this point, we can analyze the data in two ways — either by viewing it in Semrush's interface or by downloading it onto an Excel spreadsheet.
Order the Data by Search Volume, and Analyze Which Keywords Work Best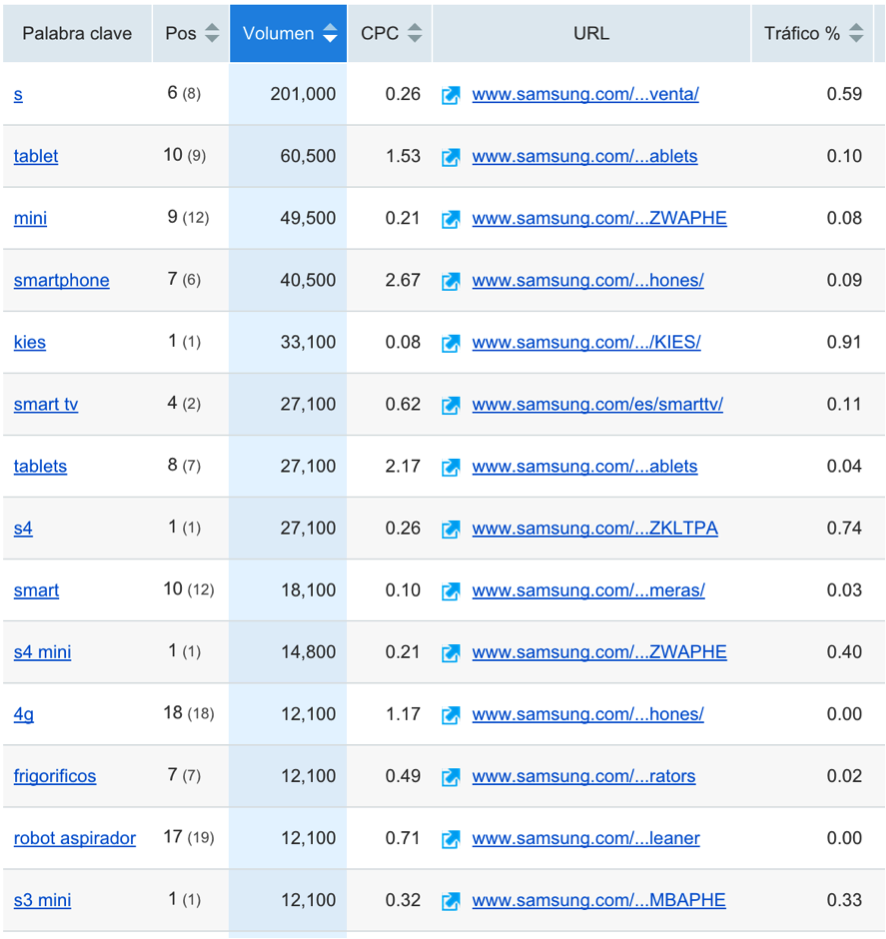 At a glance, we can see the searched keywords, and how our site is ranking for them.
Keywords like "tablet," "smartphone," "smart TV" and "4G" are generic terms with high search volumes, which provide an opportunity to improve our organic visibility.
Order the Data by Rank, in Descending Order
Semrush offers us the top 20 results, giving us access to some long-tail keywords.
Both kinds of analysis help us trace our SEO strategy, and with domain authority we can improve our organic positions for keywords with a low competition level. Also with this analysis, we might identify a keyword that should be added to our content strategy, such as "comparador de televisores," "smart TV HDMI," "televisor 55 pulgadas."
Through our Excel analysis, we can see that there is a problem with our website's architecture; Google.es is indexing URLs that are meant for other countries.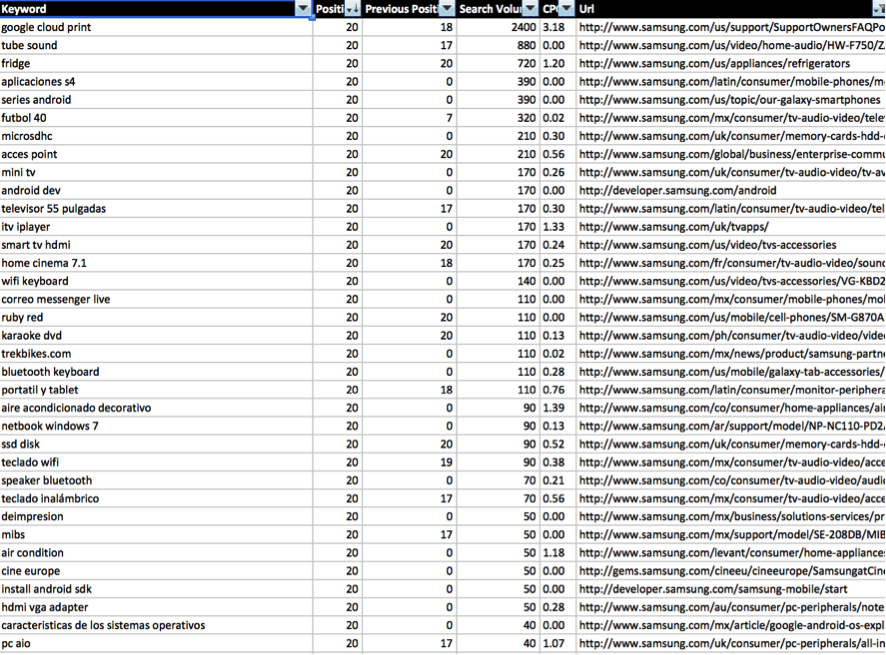 With this brief analysis, we have identified a lot of things we must improve in order to optimize Samsung's website.
Backlink Profile
There are a lot of tools that will perform a backlink profile analysis, but Semrush has made a great effort to create the best. For the purpose of this example, we are going to compare how Samsung and LG have formulated their backlink strategies.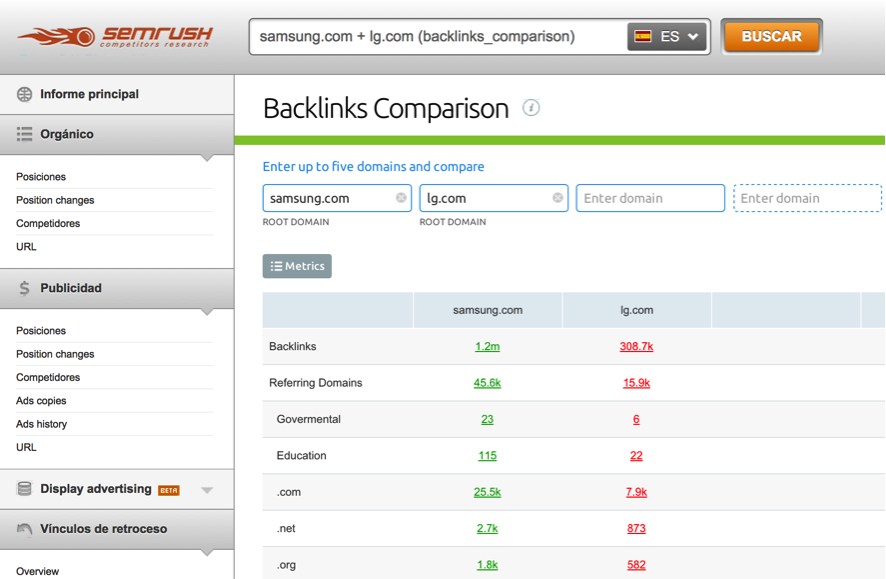 First of all, we can see how many domains are linking to Samsung and/or LG. Secondly, we can learn how both brands have improved their TLD strategies by comparing how many backlinks each site has.
If we scroll down, we can find a very useful graphic that shows us just how they are focusing their link building strategies.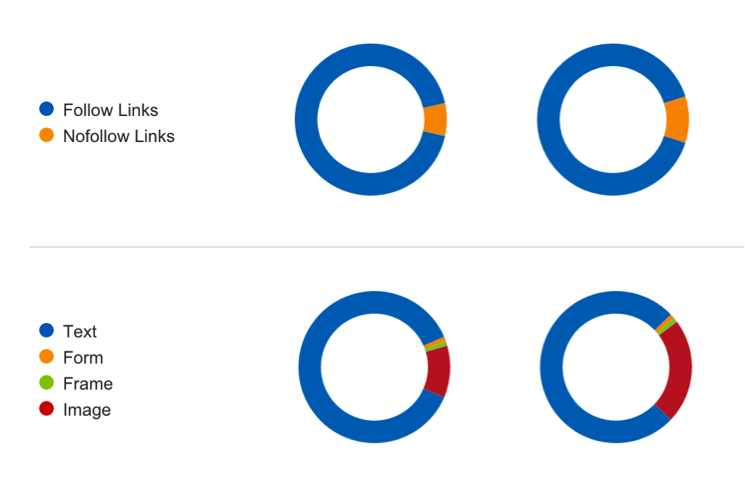 For example, we can see if they are using images from Pinterest, infographics or sponsored events. Also, we can learn if our competitors are using iframes, widgets or other developments.
Another way to identify some of their off-page strategies is to download all this data into Excel and filter all the information related to the /es/ path.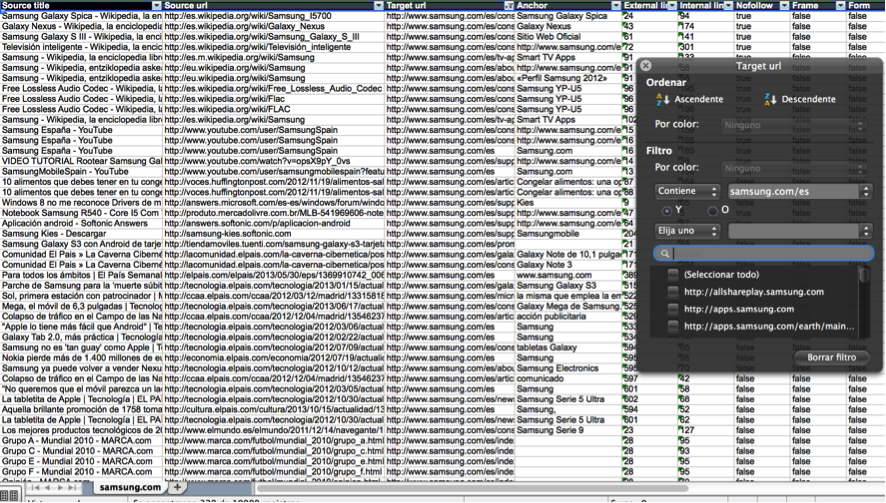 For further details, you can read this post from my blog (here is the translated version).
Analyzing Competitors
At this point we will focus on two types of competitors to perform analysis on: Business and Organic.
Business Competitors
These are companies or websites that share our market and sell the same products as us.
In this case, LG is the main competitor for Samsung in selling mobile phones, TVs, and domestic appliances (such as vacuum cleaners, refrigerators and washing machines).
Organic Competitors
Focusing on Google.es, the most-used search engine in Spain, we need to analyze which websites have better organic positions for those keywords that are important to our business.
Between these two kinds of competitors, we can find specialized blogs, media and ecommerce that exploit drop shipping techniques, including Samsung's distributors. Also, we may compete with Wikipedia and Youtube because they have a lot of content associated with almost any type of search in all sectors.
With Semrush, we can analyze both our current and potential competitors using each of these concepts:
Competition Level and Search Engine Keywords
If we order the data by competition level, we can analyze those domains that are competing for similar keywords and the organic visibility of each competitor.
Big sites like Amazon (with its great variety of products), Wikipedia, YouTube and Facebook have a lot of organic visibility for most keywords.
Shared Keywords
Our SEO strategy needs to be focused on those competitors that share our business keywords and have better organic visibility than we do.
To get a more detailed analysis, and to get ideas for creating new content to beat our competitors, we must use Semrush's Domain vs. Domain function.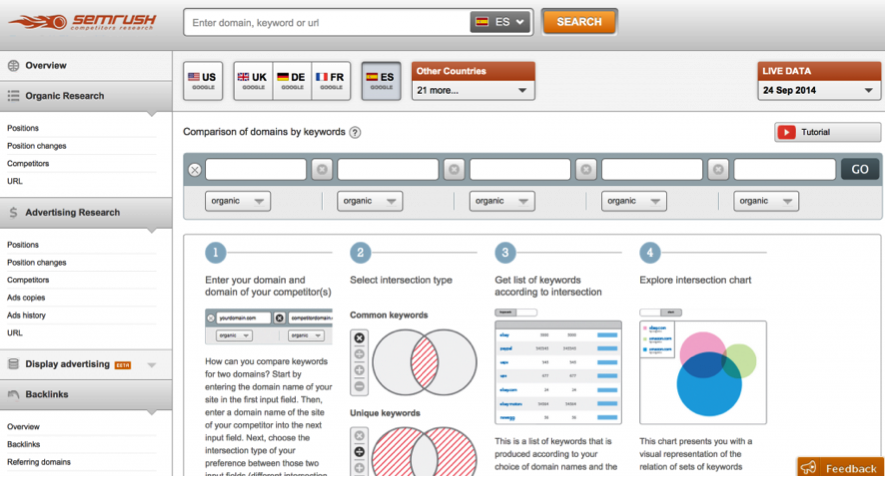 We can perform two possible analyses with the Domain vs. Domain report:
1. com X Lg.com [Shared Keywords]
This type of analysis allows us to check for which keywords we have better ranking than our competitors and for which ones they have more organic visibility.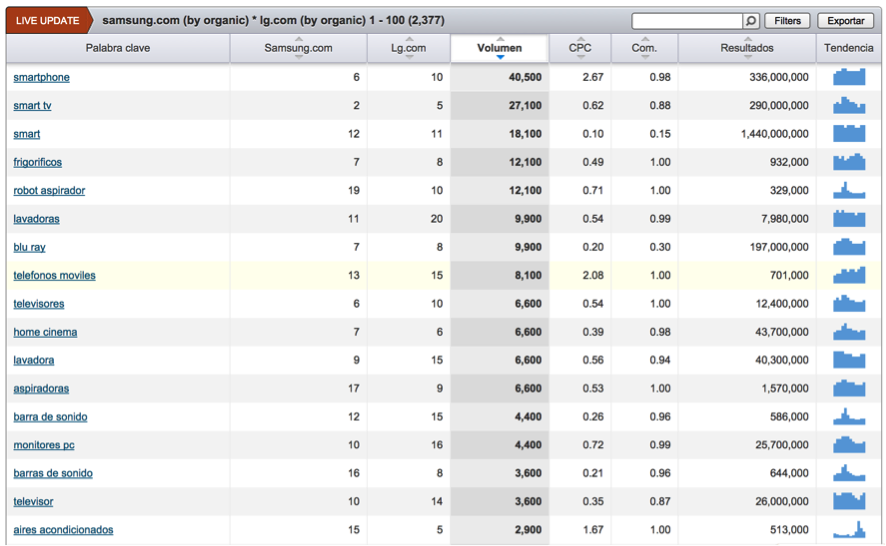 2. lg.com — Samsung.com (Excluding Keywords Associated with the LG Brand) [Unique Keywords]
With this list we can identify new opportunities for our business and learn which keywords our competitors are using.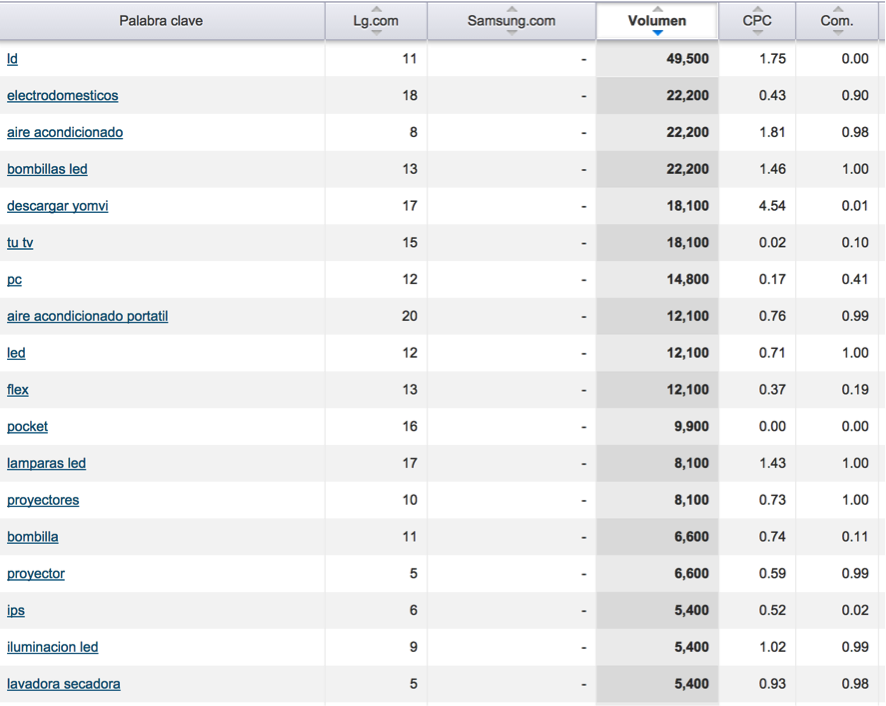 SEO On-page
SEMrush allows us to create projects on their "Site Audit" section.
We can configure this type of analysis according to these options:
Select the type of URL: root, sub domain, folder
Select the in-depth page crawl
Program crawl periodicity
Adjust the tracking settings: monitor your and your competitors' ranks, as well as your local SEO
Select a country or region
Select a device: desktop, mobile, or tablet
Connect with Google Analytics and/or Google Webmaster Tools
Add a keyword list manually or upload a list from a file
Create alerts and notifications
With the free version, we can crawl any project with up to 100 URLs and detect major problems that we can further analyze with the PRO version, or with analytical or technical tools.
On Samsung's website, we can find:
On-page:
Broken links
Broken images
Duplicated content
Tags: title, description, H1, alt text
Internal links
URL structure
Encoding
Ratio text/HTML
Status codes: 200, 3xx, 4xx, 5xx
WPO Aspects:
DNS connections
Encoding
Redirects
Site speed
Migration Web Issues:
Crawl up to 50,000 URLs
Historical analysis
Crawl comparison: before and after
Rankings:
SEMrush divides the results for the projects we have created into two sections:
Overview
This section includes a visual summary of our analysis that helps us understand how the web is performing and what needs to be improved.
Semrush rates websites based on the specific pages that have been included for analysis (in this example, there are only 100 URLs). Also, we can see the issues detected by this tool. These have been divided into "errors," "warnings" and "notices" with clear priorities.
In addition, Semrush keeps records of previous audits. We can assess possible improvements in the useful panel below: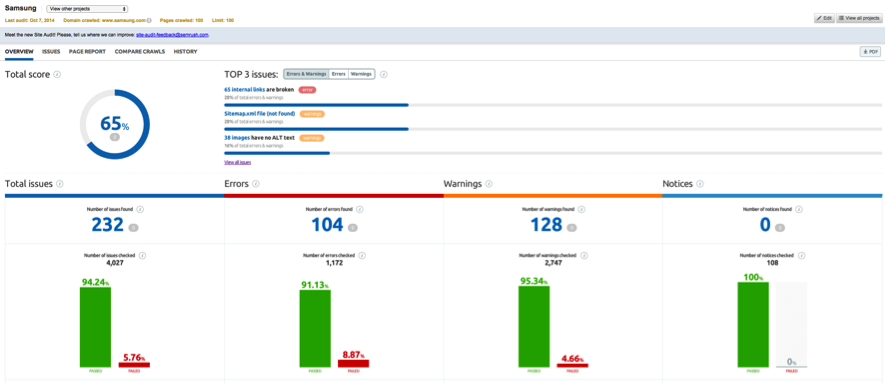 There's an option to download a PDF file with this report, which is a great way to communicate statuses and implementations.
In this case, Samsung has no major issues to optimize, as we can see in this report where over 94% of the performance indicators are working fine.
Issues (Total)
In this case, we can see a list of problems detected by Semrush — all of them classified under "errors," "warnings" and "notices." The ones that are colored green are OK, but the blue-colored ones need improvement.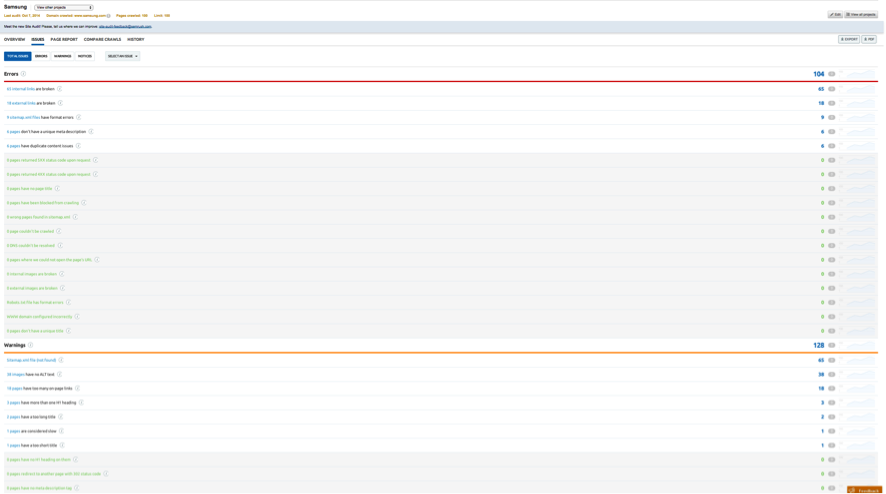 Errors
These are the most important issues; and they need to be fixed as soon as possible. For Samsung, in the 100 URLs crawled, there are:
65 internal broken links
18 external broken links
Errors on the sitemap
6 pages without a meta description
6 pages with duplicate content
The green-colored ones are OK, so we can forget about them.
Warnings
Problems that have a "medium priority" need to be addressed after we're finished with the "errors."
In the case of Samsung we found these warnings:
Sitemap files not found
38 images without an ALT attribute
18 pages with too many links
3 pages with more than one H1 header
2 pages with long titles
1 page with a short title
1 page with a slow loading time
This is what you will see after clicking on a specific item:

Notices
In this report, you will find minor problems that need to be dealt with after everything else is fixed. In this case, we did not find anything.

Page Report
We can analyze a specific page just by adding a URL into the search box. For the purpose of this example, we are going to analyze one with loading problems: samsung.com/es/consumer/av/televisions/plano/UE65HU7500LXXC
Samsung has a lot of images on its website, so we need to check all WPO-related problems and site tags.
Compare Crawls
One of the most important features offered by Semrush is the option to compare crawls, an awesome function for when you are in the middle of the migration process.
We can launch periodic crawls that can help us compare crawling rates for our website before and after a migration, allowing us to identify things that we may have overlooked during the planning and mapping process.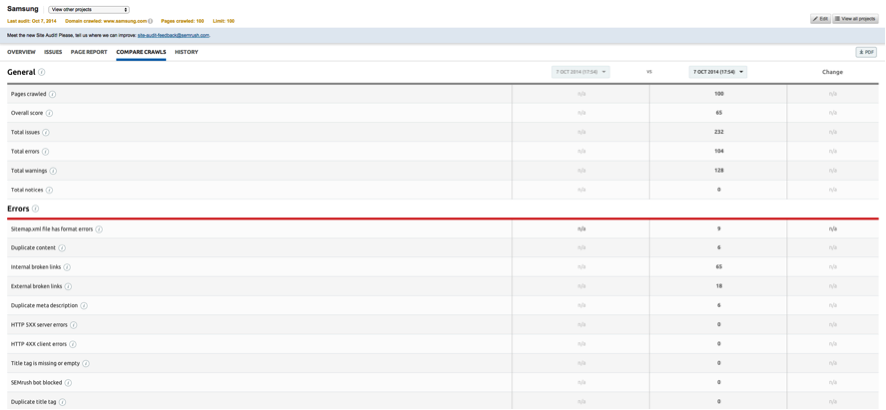 History
In this section, we can create graphic representations of our previous analyses, including issues and dates to compare over time. Also, if we expand our time range, we may identify bigger problems through a temporal graph.
Conclusion
By analyzing only a portion of a large website, like Samsung's, we can can figure out how we should focus our own SEO on-page strategies. We have identified a WPO problem, some tag issues that need to be resolved and some images that need to be optimized.
There are many tools that analyze only some (or even only one) of the aspects we have analyzed for Samsung (crawling, HTTPS codes, WPO, competitors, keyword research, rankings, meta tags, content, etc.). However, Semrush analyzes all of these aspects and more, allowing us to identify those specific SEO features that need to be improved in order to gain greater organic visibility.
My final conclusion is that no matter how much data a tool can provide, we still need to analyze the data according to our objectives. Doing so will help us to really optimize the performance of those addressed by the tool and draft a prioritized strategy for a cost-effective plan.