Social media is a crucial component of search engine optimization. And with an abundance of promotional posts and competition, getting your brand seem may feel like climbing the Eiffel Tower in the rain.
If you're creating a lot of social media posts and publishing them without a strategy to see what sticks, your engagement and performance might suffer.
When it comes to posting on social media, you might be wondering what you should post, how often you should post, and the types of posts you should be publishing.
For this article, we're going to talk about the two different posting ratios and how you can use them to boost engagement on social media.
So, let's get started.
1. The 5:3:2 Posting Rule
Whether you post on LinkedIn, Facebook, Twitter, Instagram, YouTube, Pinterest, or TikTok, you need to think about what your fans want to see versus what they have to see. 
One of the posting rules you can follows is the 5:3:2 ratio rule. The 5:3:2 rule suggests posting three different types of posts in certain ratios for every 10 posts. 
The three types of posts you should make on social media using this rule are curation, creation, and humanization.
Curation

posts are typically from other relevant sources your audience would enjoy

Creation

posts should be content you created yourself

Humanization

posts should be fun, personal content that help humanize your brand
So how best can you implement this rule? Let's go through each type of post one by one.
Curation Posts
For every ten posts, 50% of published posts should be from external sources. 
External sources can count as anything you didn't produce that may be educational or valuable to your audience.
This could be:
Videos from other vloggers

News Articles

Blogs from other websites

Pinterest posts

Quora or Reddit threads

Podcasts
When sharing these external sources, be sure to tell the audience why they're valuable or what intrigued you about them. This kind of commentary shows your audience you're invested in the topic.
It's important to also find sources that are credible, reliable, and shareable. Sharing these kinds of sources can position you as a trustworthy source of information in your industry. It can also show that you know your topics and the industry well.
If your audience likes the content and finds it useful, they can react, engage, and share the content, thus increasing engagement.
Creation Posts
Perhaps one of the more difficult parts of social media posts is coming up with content of our own. But it can be a lot of fun creating things in your own brand and voice.
The next 30% of your posts should be original and created or designed by you. 
Content you might create and publish are:
Videos and blogs created by you

Personal quotes

Graphics, GIFs, or memes

Infographics

Newsletters

Sales posts
For these posts, you can intersperse promotional and educational content while telling your audience what kind of services and products you offer.
If you're having trouble getting content ideas together the Social Poster in Semrush Social's app can help you gather new content ideas
Humanization Posts
And the final 20% of posts should be memes, gifs, or videos with pop culture references that help you connect with your audience on a more personal level. 
This is the time and place to show your fans the fun, humorous, caring, and bold side of your brand.
For example, posts like this could be in reference to trending moments in TV, news, or other pop culture. Take a moment from the HBOMax series, Euphoria. Cassie's moment hiding in the bathtub is used to talk about a person's experience waiting on their DoorDash order.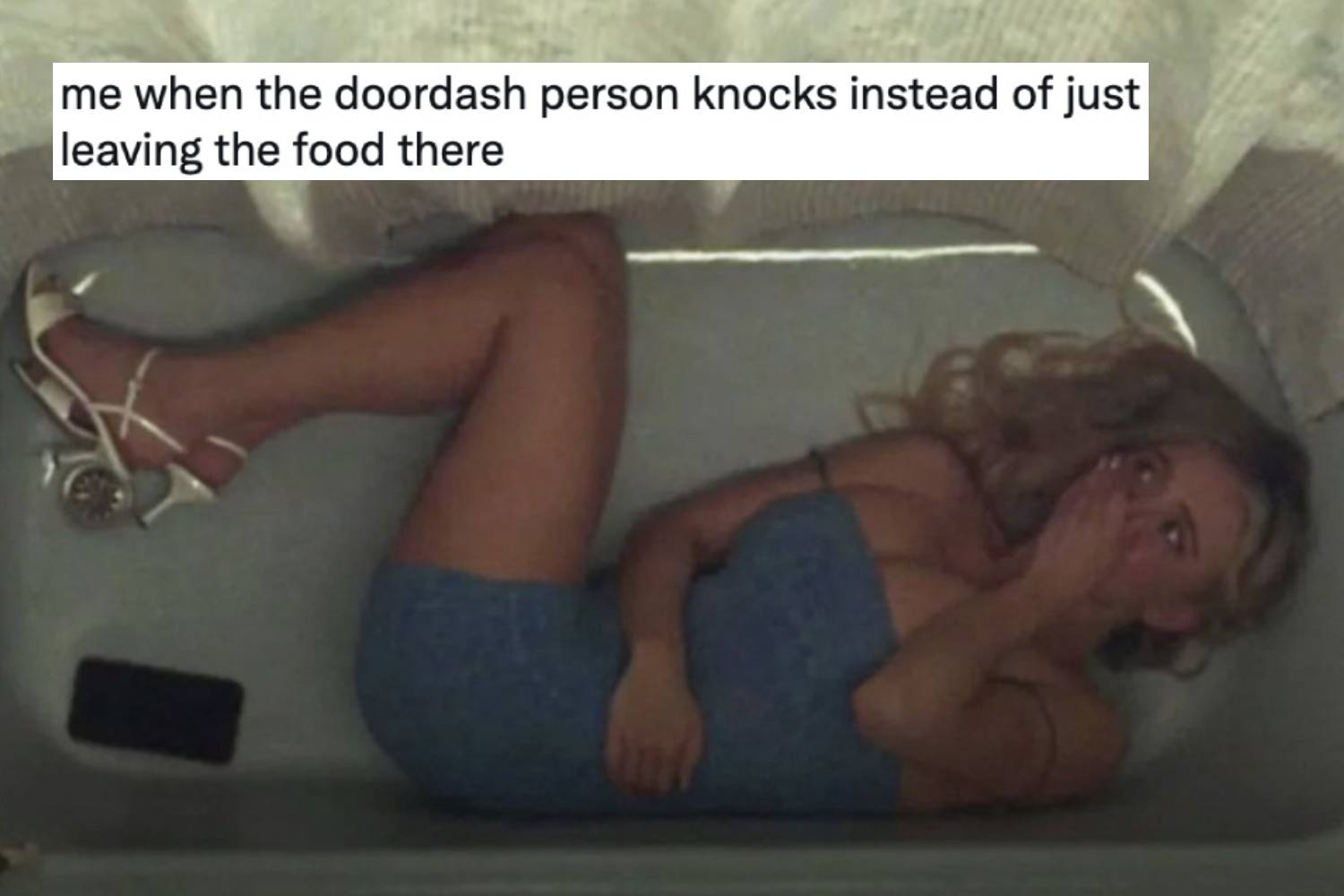 You can use this 5:3:2 rule and publish posts in no particular order. Just make sure the content is engaging, entertaining, full of value, and beneficial to your followers.
Some posts require you post at certain times of day. In the Semrush Social app, you can use Social Analytics to view the best posting times for social platforms like, Facebook, LinkedIn, and Twitter. 
2. The 4:1:1 Posting Rule
Essentially, all posting ratios have similar ideas, post a balance of promotional content and fun content. 
For the 4:1:1 posting ratio, the concept is somewhat similar to the 5:3:2 rule. For this ratio, you post:
4 pieces of curated content

1 original post

1 promotional post
Curated Content
Ideally, the four pieces of curated content are designed to generate engagement with your audience. Curated content should help attract followers and users.
This could be industry news, blog posts from influencers, memes, gifs, or anything relevant to your niche and industry.
Original Content
For original content, you want to show your audience your expertise and knowledge by showing content that's made by you. This could be blog posts, podcast episodes, white papers and ebooks, or other content original to you and your brand.
This is a great opportunity for your to inform, educate, and entertain your users with your own content. 
Promotional Content
Finally, for promotional content, after you've created your other five posts, you want to post something that can sell your products and services. 
In these posts, this would be the time to sell your product, offer coupons, or showcase limited-time sales.
3. The 3:1 Posting Rule
It's natural to create posts that sell your products or services. It's even easier to forget spending time creating posts that engage your audience. So for the 3:1, the posting ratio is very simple—for every three engagement posts, you should post one promotional post.
Here's how a lawyer might use this ration on social media, for instance. 
The lawyer can post an image with a quote about justice, which would count as one engagement post. For their second engagement post, the lawyer can post a textual comment about some recent news. For their third engagement post, they could share a video explaining how a legal process works.
After creating these three posts, the lawyer can create their promotional post. This could be a discount on their hourly rate or a brief description of their top litigator. 
The lawyer can repeat this pattern in no particular order.
Using three posts for fun and one for business can keep fans entertained while also reminding educating them about the business and brand.
Engagement Posts 
One of the biggest challenges to winning on social media is generating engagement. You can publish posts all day, but if your audience doesn't interact with your content, then what's the point? That's where engagement posts can be really helpful.
What is an engagement post in the 3:1 rule? 
Engagement posts are on topic, meaning they relate to the industry of the page posting them, but they are not selling anything. Similar to post types in the 5:3:2 rule, engagement posts:
Entertain and engage fans 

Build a fan base

Get more comments and shares.
This doesn't mean they aren't helping your campaign though. As your fan numbers increase and engagement goes up, your promotional post performance increases as well.
What can you post for engagement? Ask yourself these two questions:
"Would your network be grateful for the post?"

"Would you share it with a friend?" 
If you can answer yes to questions like these, then you might have a great engagement post on your hands. If not, you might need to work on it.
Posts with photos and video get the more likes and shares than text-based posts. But you can also take a look at what's trending and use this to inspire some of your engagement posts. 
Don't forget to use some hashtags to make sure your posts can trend too!
Promotional Posts 
Now let's look at promotional posts. Think of promotional posts as those that build your brand. 
You've already snagged audiences with your amazing engagement posts. Now, what do you want to say to them? Remember, this is the commercial break part of the program. These posts:
Sell your services

Promote the latest product

Bring awareness to your brand and it's campaigns
When you post for promotional purposes, craft them to blend in with your engagement posts. They shouldn't look so different that your audience might now know it's your brand. 
Let's take the lawyer for example again. The lawyer can still share an image about justice, but this time, the text should educate users on how their firm can help bring justice. 
Another example would be sharing a news item or video and relating it to a recent case they won. This way, people have to stop and view the post all the way to the end before they even realize they are being advertised to.
Of course, you can always keep it fun with contests, prizes and office anecdotes as well. 
For example, if you want to bring awareness to the new lawyer on staff, you might introduce them in one promotional post and then quiz your fans as to their name in another promotional post—just to see who's been paying attention.
Promotional posts don't necessarily mean boring posts. They're just more obvious when it comes to the advertising your products and services.
User Interaction Should Happen Daily
Direct user interaction should happen daily now matter what posting ratio you're using. Meaning you should be engaging with your users as often as possible. It is called "social" media after all.
Every time you make a post, you should:
Respond to a user's comment, message, or question

Affirm their post if you're tagged in it

Share their story if it's relevant to your niche
Doing this can help build customer loyalty, because it creates a personal relationship with the user and nothing secures sales better than a personal relationship. 
Instead of seeing your business page as a corporate brand, the user can see the person behind the social profile. If they become loyal fans to your brand, then they can choose your services once the time comes.
Post Quickly, Gain More, With Semrush Social
You take the time to curate content, write comments and schedule posts every day. Why waste all that work on such a competitive environment by not using a smart strategy?
Make sure you're doing it the right way by using a consistent and simple posting ratio. Try these two posting rules to see which one is most suitable for you and be sure to always interact with fans.
For more efficient posting, try Social Poster in the Semrush Social app. You can draft and automate posts, gather ideas, and monitor engagement.