With autumn knocking on the doors in most parts of the world, eCommerce preparations for the upcoming winter holidays are at their peak. According to Statista, the 2017 winter holidays generated over $108.2 billion worth of eCommerce sales in the United States and the rising trend is believed to continue this season as well.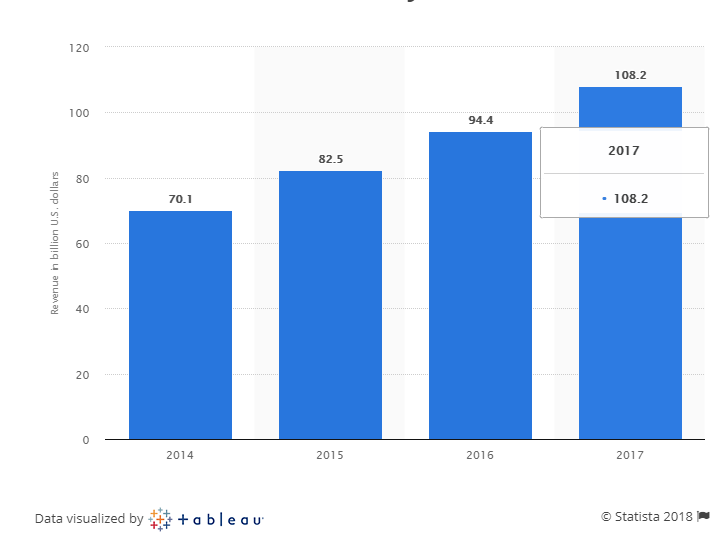 eCommerce entrepreneurs around the globe understand how crucial it is to get an effective marketing strategy in place to make the most out of every holiday season.
However, does this mean that the annual revenue figures of an eCommerce business should depend entirely upon how productive the holiday season is for them? Not really!
To make better business decisions, the eCommerce community needs to understand the role of seasonality in eCommerce and its deviations to maintain a steady ROI — not just during the holiday season but throughout the year.
What is Seasonality in eCommerce?
Let's try to understand it by taking a look at some common keywords being used by the local buyers in the US and their trends as shown by Google trends.
Rain jackets were searched the most in the months of April and May when monsoons are usually highly active: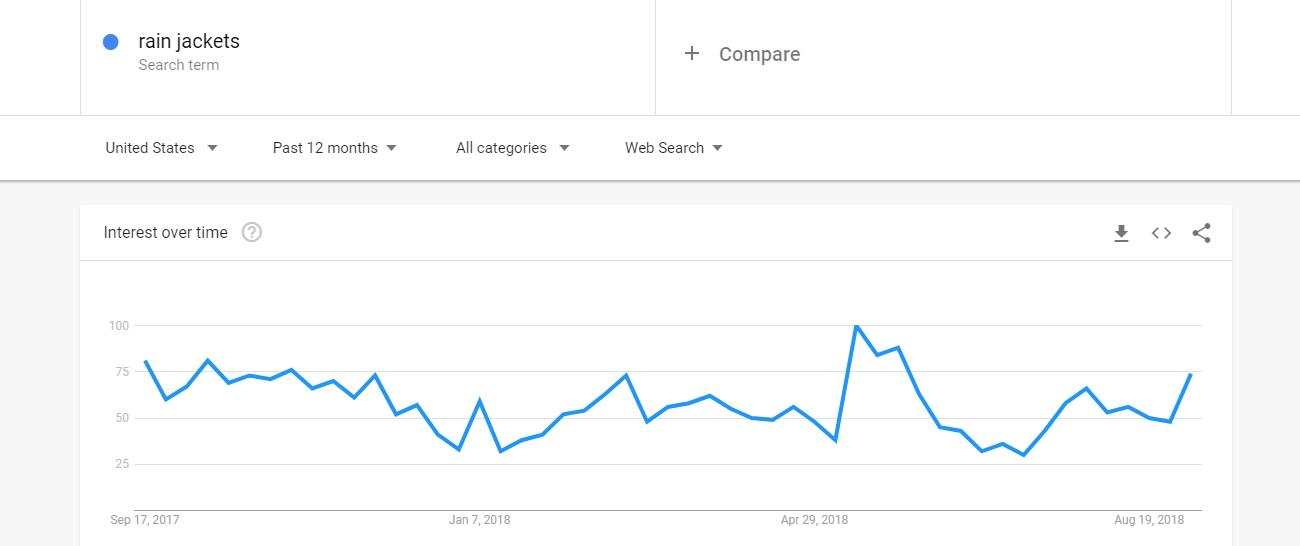 Warm jackets were searched the most in the months of November and December which is the peak winter season: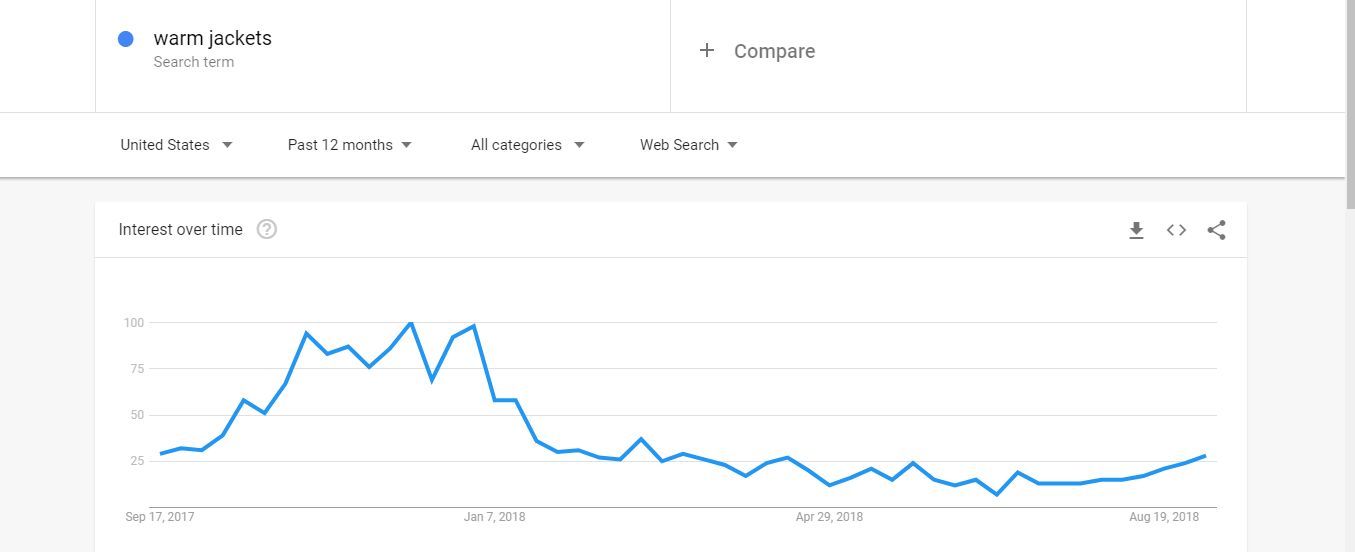 Keywords related to gifts were trending in the month of December for events like Christmas and the New Year.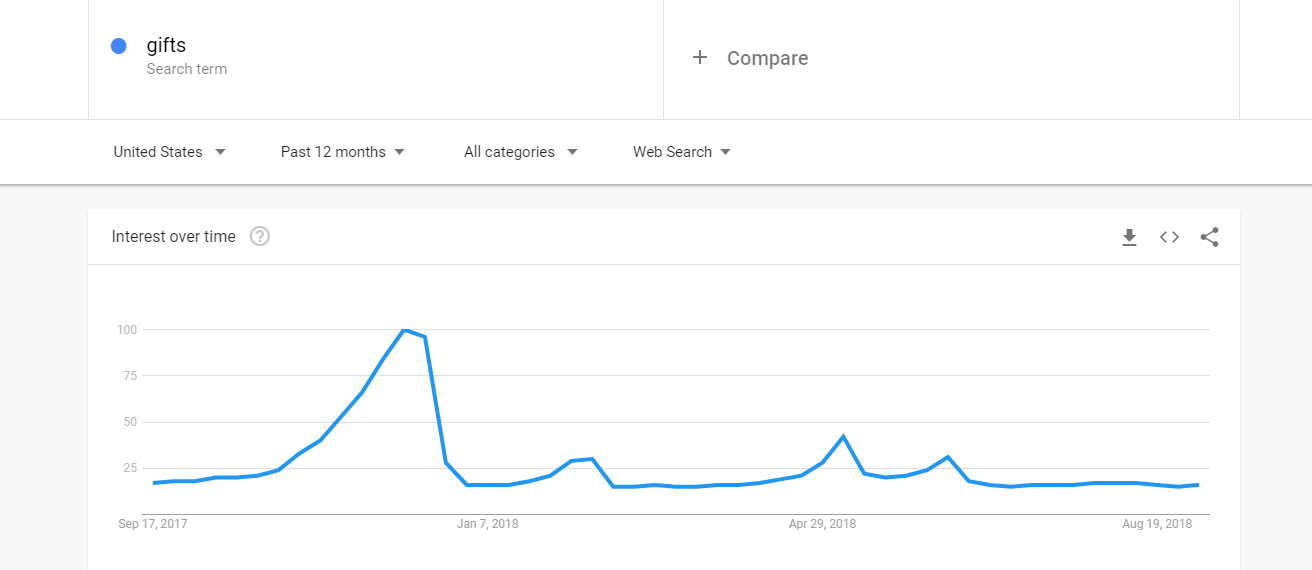 These trends clearly indicate that the changes in meteorological seasons, as well as the occurrence of major events/festivals, increase the demand of relevant products during those intervals substantially, thus creating periodic hikes in opportunities throughout the year.
From a business perspective, these varying trends also reveal the actual pain point of several eCommerce businesses as they always need to:
Predict the volume of website traffic with seasonal variations.

Predict the number of orders to keep the stock up adequately.

Effectively manage order fulfillment during rush hours.

Deduce the investments required for advertisements.

Most importantly, deliver a gratifying shopping experience.
The math is simple, to achieve a steady ROI, a business needs to consistently predict the "when" and "how much" of customer demand to deliver a phenomenal experience.
However, accomplishing this is easier said than done.
Hence, to devise an article which is everything that you need to comprehend eCommerce seasonality and its deviations, we have researched several existing articles along with case studies of our own clients, digging into their analytics data to break down the entire eCommerce seasonality conundrum into an action plan for eCommerce enthusiasts.
So let's get the ball rolling.
Seasonal Factors That Affect eCommerce ROI
Seasonal variations are pretty much self-explanatory. Seasonal changes generate different reasons for customers to purchase relevant items. This trend is at its peak, especially in the holiday season. 
However, marketers must realize that there are other seasonal variables at play which keep generating various events throughout the year.
Seasonal variables largely depend upon 4 key factors:
The Business Niche and Popularity

Demographics

Weather

Events/Holidays
One can easily infer how these 4 factors are interdependent on each other.
Targeting macro events such as festivals (like Christmas/ New Year or Diwali), special sales (like Black Friday, Cyber Monday), weather (summer, monsoon, winter) or once in year days like Mother's Day, & Valentine's Day are essential.
However, by analyzing niche based micro events like days or times when a business receives the most amount of visits that generate conversions, lot of new business opportunities open up.
We will discuss in detail about identifying niche based micro events using historical data further down the article, but before that, let's understand how seasonal variables generate business deviations which affect these micro events. 
Business Deviations Caused by eCommerce Seasonality
Depending upon the seasonal variables we have discussed above, businesses tend to experience periodic hikes or slumps (deviations) in its ROI.
These business deviations for an eCommerce store can be classified into 3 types:
Fluctuation in Buyer Traffic.

Variations in Advertisement Costs.

Most importantly, vacillation in the Buyer Intent.
How to Predict and Adapt to Seasonal Business Deviations
A business must realize that it can only adopt as far as it can foresee these deviations. Based on the quantity and quality of predictions, rational action plans can be formulated.
This is where we utilize the eCommerce secret weapon, viz. exhaustive and granular business data.
By gaining insights into the buyer journey and utilizing behavioral data of customers, one can gather and make comparisons of store data pivoted around seasonal deviations to make yearly forecasts for user traffic, advertisement costs as well as buyer intent for business niche-based seasonal deviation points.
So, what data points should you predict and compare to adapt in the most precise way possible for these seasonal deviations? Let's find out.
1. Predict and Adapt Based on Site Traffic
The amount of traffic or visitors you will receive at your store directly depends upon the seasonal variations for your business. 
Do not assume to generate an equal amount of traffic for all the events. Instead, analyze and identify seasonal events for your business niche based upon historical trends of your store. 
What you should do:
Identify the calendar events for your eCommerce store by analyzing historical analytics data as well as the search traffic for your keywords; this lets you distinguish between what was the benchmark and how much traffic was received to your online store.

- Track down the events which generated the most amount of unique product views in the past.
- It could be hours of the day, days of the week, or months of a year.
- Pin the most successful events of your store on your calendar according to the keyword traffic, as well as unique views for your store based on those keywords to perform further analysis.

Analyze conversions which took place during these seasonal events. Then verify if there is a recurring pattern for these shortlisted seasonal events based on historical sales data.
Perform comparisons between unique store visits and seasonal conversions by breaking down the data into seasonal quarters of a year.
Implement enhancements to your SEO strategy and User Interface based on the findings from your comparisons to optimize the performance of your store for upcoming macro and micro seasonal events.
How to do it?
1. Track website traffic and keyword trends:
Review the traffic generated to your website from your existing keywords. SEMrush and Google Search Console are two of our preferred tools you can use to gather all the necessary data.
SEMrush lets you monitor the search traffic trends for your store's keywords.

Keyword trends for amazon.com predicted by SEMrush.
You can use Google Search console to track how much specific traffic your website received within a specified period of time for particular keywords; this includes clicks, impressions, average click-through rate, and average position.

Google Search engine console report of The Brihaspati Infotech
With the help of these tools, you can gather specific data you will require to make comparisons with actual product conversion to determine which areas of your business needs optimizations depending upon niche specific seasonal variables.
2. Track customer behavior on landing pages:
The next phase in determining your store's historical performance is by analyzing how the traffic that clicked through to your store's landing page interacted with it. Google Analytics is your best bet to track audience behavior for your store to determine how your prospects interacted with your landing page based on different goals you create.
Additionally, you can also segment your landing page performance based upon the different channels that generated store's traffic and conversions.
3. Generate product performance reports:
Your eCommerce CMS is most likely equipped with an analytics solution of its own that breaks down the performance of products over time.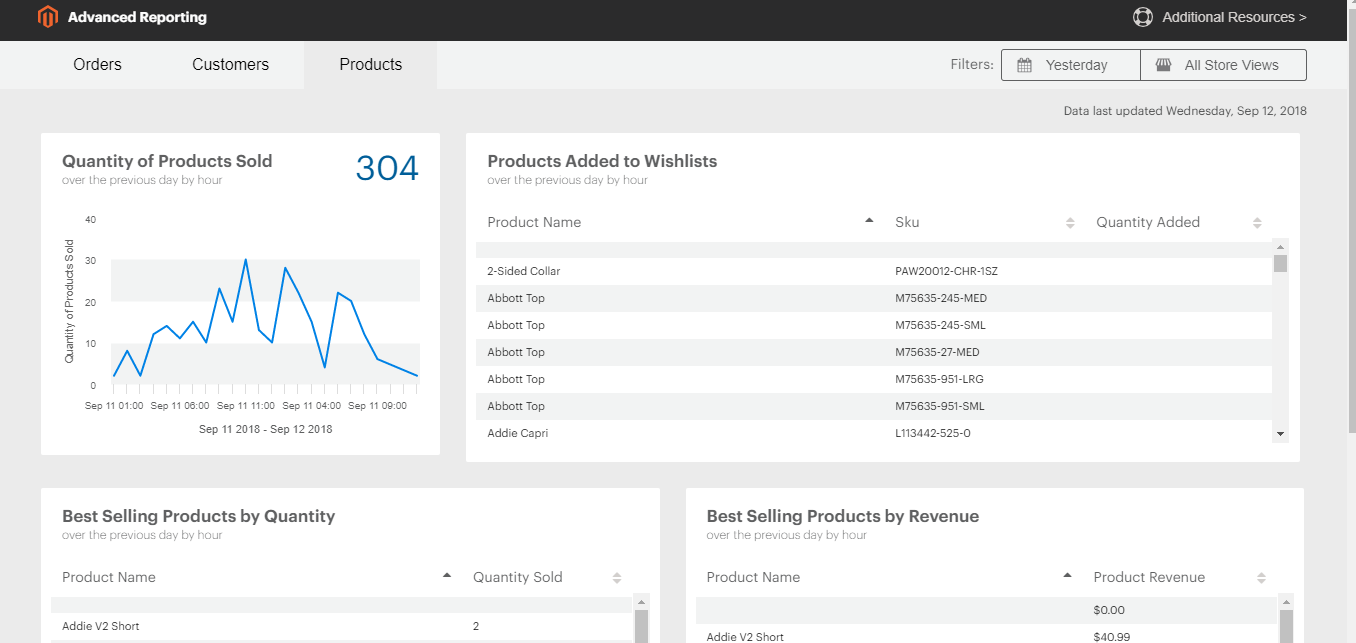 Product performance reports provided by Magento under Advanced reporting
E-commerce solutions like Magento, Shopify, WooCommerce also support 3rd party add-ons or plugins which lets you generate more detailed reports helpful in analyzing the overtime performance of your products.
4. Make comparisons based on different seasonal events:
Now that you have actual data available about Keyword traffic trends, traffic trends for your store, and product conversions, it is time to find out whether you were able to target niche specific seasonal trends for your store or if you are missing out.
The process is quite straightforward:
Identify the spike in keyword trends as indicated by SEMrush or Google Adwords for different seasons.

Compare that spike with your product performance (CTR's and conversions) using annotations in your Google analytics data.

Determine how close these trends are matching to each other. The more they match means, the better you were able to exploit that seasonal event.

From there on, based on the track records of your past campaigns you can determine :

Whether a conversion campaign was put in place for this seasonal event 
If it was, then find out which channel generated the most traffic and conversions during that seasonal event. If a channel has generated less traffic, then make improvements to that specific campaign.

We suggest utilizing a log book using excel sheets for tracking the changes planned and made to either the campaign strategy or the UI-UX of the website or landing page to determine the outcome of those changes for the seasonal events you target.

A conversion campaign was not put in place to target this seasonal event
If you missed out on a seasonal event, then make sure you do not miss out when that event comes around once again. Prepare an effective campaign and be prepared to make the most out of it.
2. Predict and Adapt For Advertisement Costs
Whether they are for search engines or for social media channels like Facebook, PPC campaigns are a vital source of generating new leads. If you are managing an eCommerce store, then odds are you are already running a PPC campaign.
PPC advertisement cost varies depending upon the bid volume and activity volume, hence affecting the bid value of the keywords.
To take a planned approach to paid advertisements, it is essential to analyze Google Ads data according to seasonal variations to make future predictions and investment plans accordingly.
What should you do?
Analyze historical Google Ads campaigns from your website. Sponsored ads are mostly keyword focused as your ad will get listed at the top of search results for the keywords you group in the Ad group.

If a demand for a product is high, and if you are targeting relevant ads during that time then there is no doubt that you will see a lot of engagement and transactions on your website. Determining your historical impressions on business specific keywords, you can easily figure out the seasonal events that took place over time.

Invest in a smart plan based upon the seasonal events you discover. Depending upon the business niche, a seasonal event will take a certain amount of time to reoccur. Use the time between each event to perform A/B tests on your campaigns to deduce which keyword combination works best for your Google Ads overtime. Use the best combination of keywords for your campaign when the seasonal event reoccurs.

Increase the quality score of your campaigns as it directly affects the effectiveness of your campaign as well as the investment required in the campaign as well.
How to do it?
Determine seasonal events from Google Ads impressions:

Irrespective of the channel you are targeting, sponsored advertisements are managed in a relatively similar manner. You can easily see the past performance and how your campaigns performed over time.

A great way to track business niche specific seasonal variations using performance of your Google Ads campaign is by comparing the spike in unique visitors with specific keyword campaigns and the transactions happening in your store.


Google Adwords campaign performance data for one of our client's website

By determining the average of multiple instances when your Ad campaigns were most successful in the past, in terms of impressions, your Adwords tool will point out your seasonal events explicitly. Recurring events like this are a clear indication of seasonal events taking place specifically in your business niche.

Google Analytics provides a great tool to track and compare Google Ads campaign performance.

If in case you have never run a campaign in the past, then the Ad history reports functionality is a handy tool provided by SEMrush as it allows you to track the AdCopies of your top competitors you can get an idea about their budgeting.

Optimize the quality score of your campaign:

To encourage the user experience delivered by ad campaigns, Google explicitly assigns a quality score to your campaign based on several factors. This score reflects the overall effectiveness of your advertisements in terms of ROI and is basically determined by what kind of user experience is being delivered by your campaign. One of the key factors affected by the quality score is the cost per click.

A good quality score will not only help your campaign run at a good SERP, but it also assures a minimal cost per click. To attain a higher quality score, you need to ensure:

Grouping relevant keywords in ad groups.
Setting up high-quality Google Ads.
Setting up relevant landing pages that facilitates a great user experience.
A higher click-through rate of your ad.
Landing pages should work correctly on different screen sizes and browsers.
It should follow all major security standards as well as should be GDPR compliant as well.
.Content on the landing pages should be relevant to the customer's query/keyword
CTA's must be actionable and enticing and should be tested thoroughly.

All these pre-requisites of a higher quality score are put in place for businesses to set up more relevant ads that make sense and justifies why they are being shown to the end user. Hence by maintaining a good quality score for your campaigns, you can keep in check the cost per click of your campaigns during the fluctuation in PPC rates at the times of seasonal variations.

Different campaigns for different seasons

Buyers tend to get cost as well as brand sensitive with seasonal variations. On occasions like holidays, the buyer might not bother much about the brand or product cost. He might consider the product quality more as the purchase could be for a gift to be given to someone special.

Off-seasons might paint a different picture though, as that is the time when buyers are most likely to go into greater details before making a purchase in terms of cost, brand, and quality. Hence by setting up landing pages for different seasons and focusing on how you target On and Off-seasons can play a significant role in optimizing your Adwords performance as per seasonal variations.

We recommend using On seasons to provide attractive discounts, faster deliveries to seal the deal while during off-season use separate landing pages that help in establishing your brand in the market, cut your PPC spends and market your USPs.
3. Predicting Buyer Intent
Seasonality affects the buyer intent in different ways. Depending upon the ongoing season, your buyers can become speed shoppers, cart abandoners and even discount carving. Unless you can predict how a buyer is going to react for specific seasonal events, it is difficult to formulate a marketing and sales strategy based on the buyer intent.
By using buyer personas, you can plan and formulate more precise marketing strategies to target your existing as well as prospective buyers with relevant content. 
What should you do?
Identify the reason why your buyers purchased from you; this will help you analyze their buyer intents and plan your seasonal campaigns in a rational manner.

By determining different variables like purchase preferences of your customers, how effectively did your campaigns worked for seasonal events in the past, and when and why your buyers churn out, you can effectively track intersection points between buyer intent and seasonal variations for your business niche. 

Segment customers using buyer personas based on their purchase patterns during different seasonal events, you can formulate event based marketing strategies to target prospective buyers that fit into the relevant buyer persona. The purchase history of your existing customers further helps in identifying the

By utilizing all this data, you can effectively optimize your customer retention process by targeting seasonal variations based upon your customer's buyer persona.
How to do it?
Identifying the reason for purchase:
The tried and tested a way for gathering information about why a customer made a purchase is by setting up small feedback forms at the thank you page. This process is recommended to all eCommerce businesses, especially those who have not yet started tracking the buyer intent.
By gathering customer feedback about their purchase decisions and listing them down in a CRM tool like Hubspot, Salesforce, or Zoho, you can keep track of actual customer intent.
Another way to get this done is by analyzing the purchase history of a customer. You can most probably get this information from your CMS that you are using. Identify the customer intent by calculating:
Customer lifetime value:

CLV is used to find a company's high performing customers. It is defined as the revenue that a customer has generated by making purchases at a company, and it is calculated by summing the purchase totals for

each customer.

Lifetime number of orders:

identify your customer's value by summing up the number of times a customer has placed an order on your website; this helps in quantifying a customer's loyalty to your company.

Average order value:  AOV or Average order value tracks the average amount spent each time a customer places an order. Simply divide the total customer lifetime value by the lifetime number of orders to identify the AOV.

Age of most recent order: This metric is used to identify the time passed since the last order made by the customer.
By effectively analyzing all these metrics, one can pinpoint the actual seasonal events when your customers were most active. It could well be due to the campaigns you put in place during that event, or due to a genuine need of a shopper. By actually looking at the customer's order activity, a lot of queries about the customer intent are answered.
Segmenting existing customers:
Once you have all the data about the buyer intent, translate it further into buyer personas for more thorough segmentation. This segmentation helps you in targeting existing buyers as well as future prospects in an organized manner based upon the changes in intent due to seasonal variations.
Based on our experience, we have identified the following buyer personas that work well for most businesses, however, feel free to add or remove persona types based on your business preferences.
Promotional Shoppers: Made a purchase through promotional offers.

Need Shoppers: Made a purchase with a clear intent. Their behavior represented that they knew what they want to purchase.

Casual Shoppers: Made a purchase after reviewing multiple products on your store.

Site Loyalists: Long-term buyers who have made frequent purchases irrespective of the season.

Once you have segmented these buyers depending upon the reason for their conversion, all you need to do is come up with seasonal event-based campaigns to target these buyers.
In a Nutshell
Being a fellow marketer and eCommerce solution provider, I understand how challenging it is for eCommerce ventures to survive and come up with unique strategies that let will help you get ahead of the competition.
Identifying niche-based seasonal events is an option that will provide a different perspective to your existing marketing and optimization strategies. We believe that it lets you dig deeper into your business metrics and puts you in charge of how your business adapts in advance rather than reacting to different variations in seasonal events.
What are your thoughts about E-commerce seasonality? Let the discussion begin :)