A technical SEO audit isn't easy. The first time you face an audit, it can seem like there's just too much to do. That's why we've put together this workflow. Follow these steps to quickly discover a website's gaps you need to focus on first to improve its technical health.
Launch Site Audit
Create a new project in the Site Audit tool (1) or set up the tool in an existing project (2).

You can run an audit with default settings or customize the crawl by using the configuration options.
Auditing Subdomains and Subfolders
By default the tool checks the root domain, which includes all available subdomains and subfolders of your site. In Site Audit settings, you can specify your subdomain or subfolder like a crawl scope and untick 'Crawl all subdomains', if you don't want other subdomains to be crawled.
Auditing Mobile Version of a Website
By default we check your site with our mobile crawling bot that helps to audit your website in the same way Google's mobile crawler would go through your website. You can change the bot to Semrush desktop crawler anytime.
If the mobile version is located on a separate subdomain (m.example.com), use the crawl scope field to audit only that subdomain.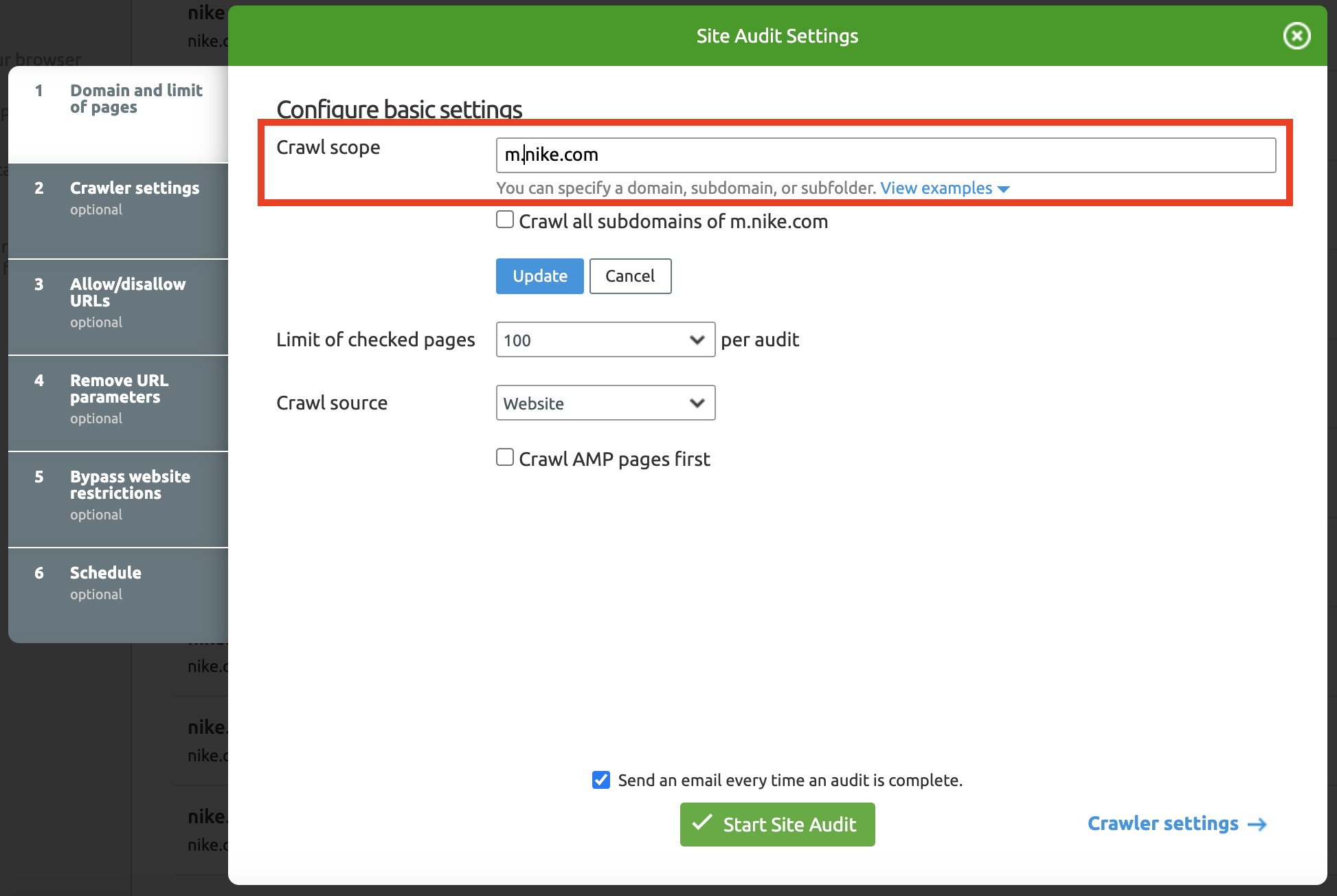 You will learn more about setting up your campaign in the Site Audit Configuration Manual.
Prioritize Your Work
Now let's see how you can organize your work in Site Audit to quickly improve your site's health and visibility.
Errors / Warnings / Notices
When Semrush finishes auditing your website, you get a Site Health score representing how healthy the website is. The Site Health Score is based on the number of your total errors and total warnings that were found on the pages crawled on your site.
Errors are the most important problems on the website that need attention first. Errors have more weight on your Health Score compared to warnings and notices.
So, the best way to start making changes on your site that will significantly improve its health and visibility would be to work on all of the Errors. Next move to Warnings and Notices to improve your website's health further.
Use the Site Audit tooltips "why and how to fix it" to learn more about each issue and how to resolve it.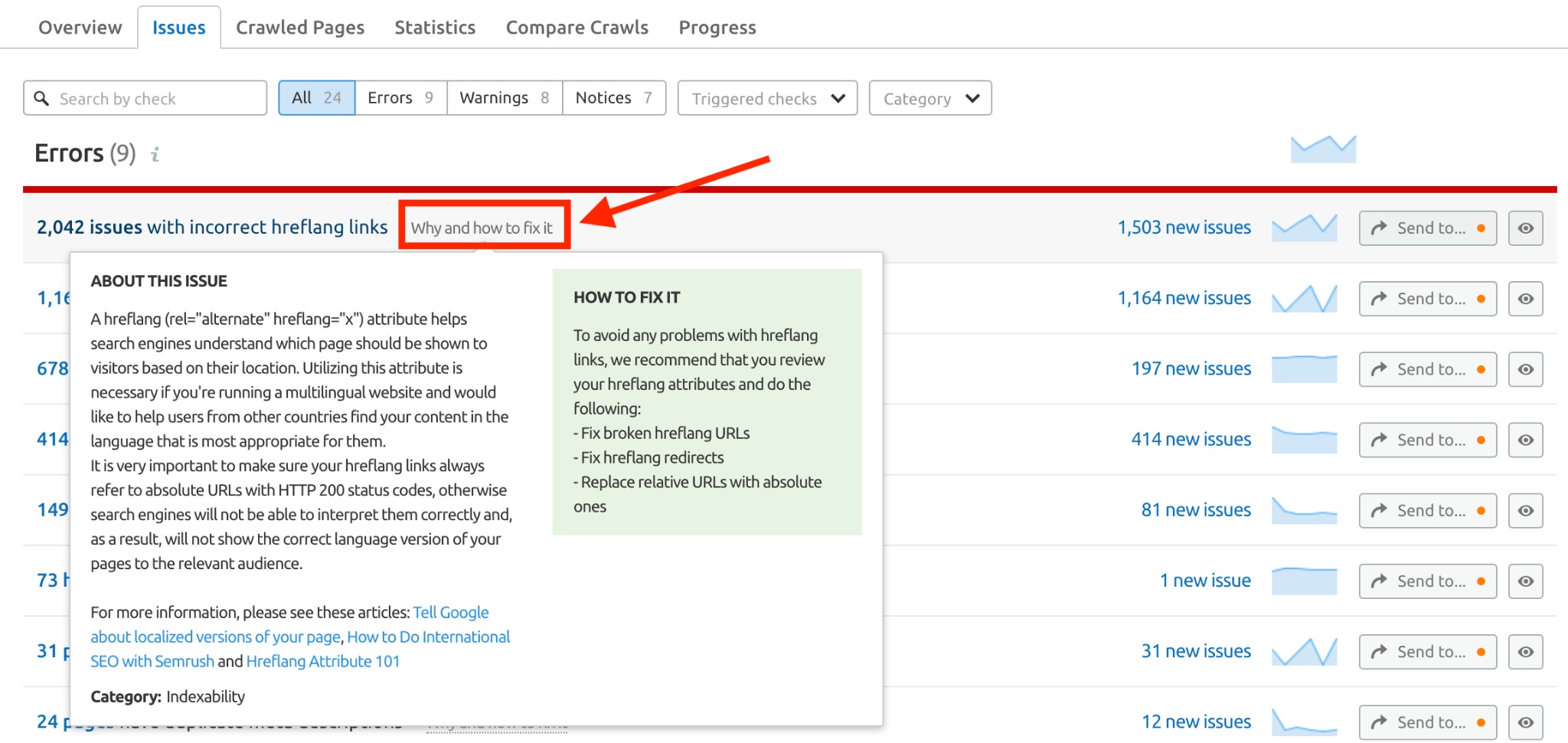 Top Issues
The second way to prioritize your work is to fix what's in your list of Top Issues. You will find the liston the Overview tab under the Thematic Reports. Top Issues are the most important issues detected on your website based on their repetition and priority level. For quick wins, you can start working on this list first.
Connect Google Analytics
Another way to achieve a quick win is to connect your Google Analytics Account to see the pages with a higher number of visits and fix their problems first, so you do not lose this important traffic.

More Filters
To work through the Crawled pages report, you can apply various filters. For example, if you first want to deal with pages that respond with 4xx and 5xx status codes to quickly improve your site's crawlability.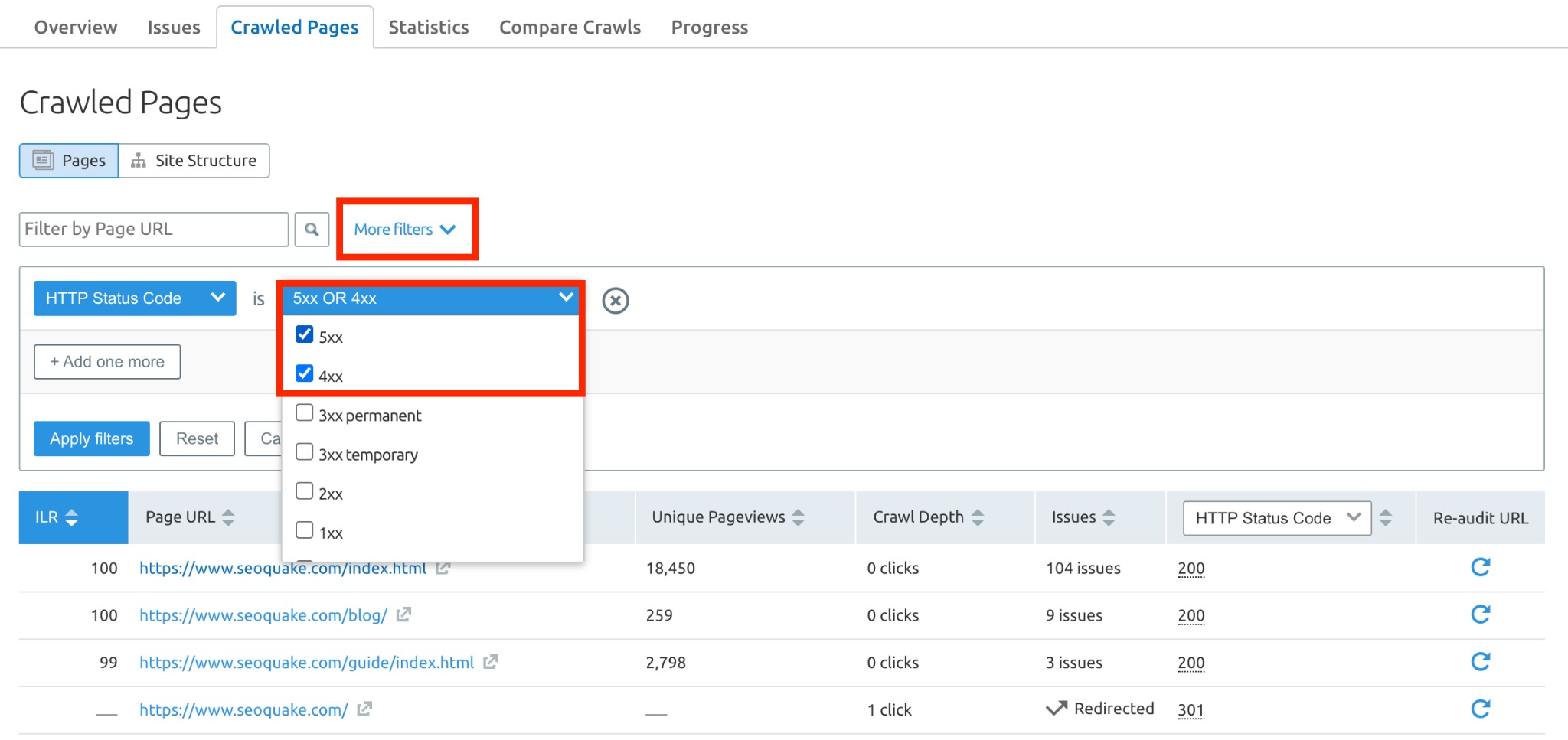 You can combine multiple filters at once to get the exact results you need.
Category Filter
The Category filter can also be your lifesaver if you want to tackle a particular group of issues first. You can find the filter in the Issues report. For example, you can start by fixing crawlability issues first because even small crawlability problems could result in your site losing rankings.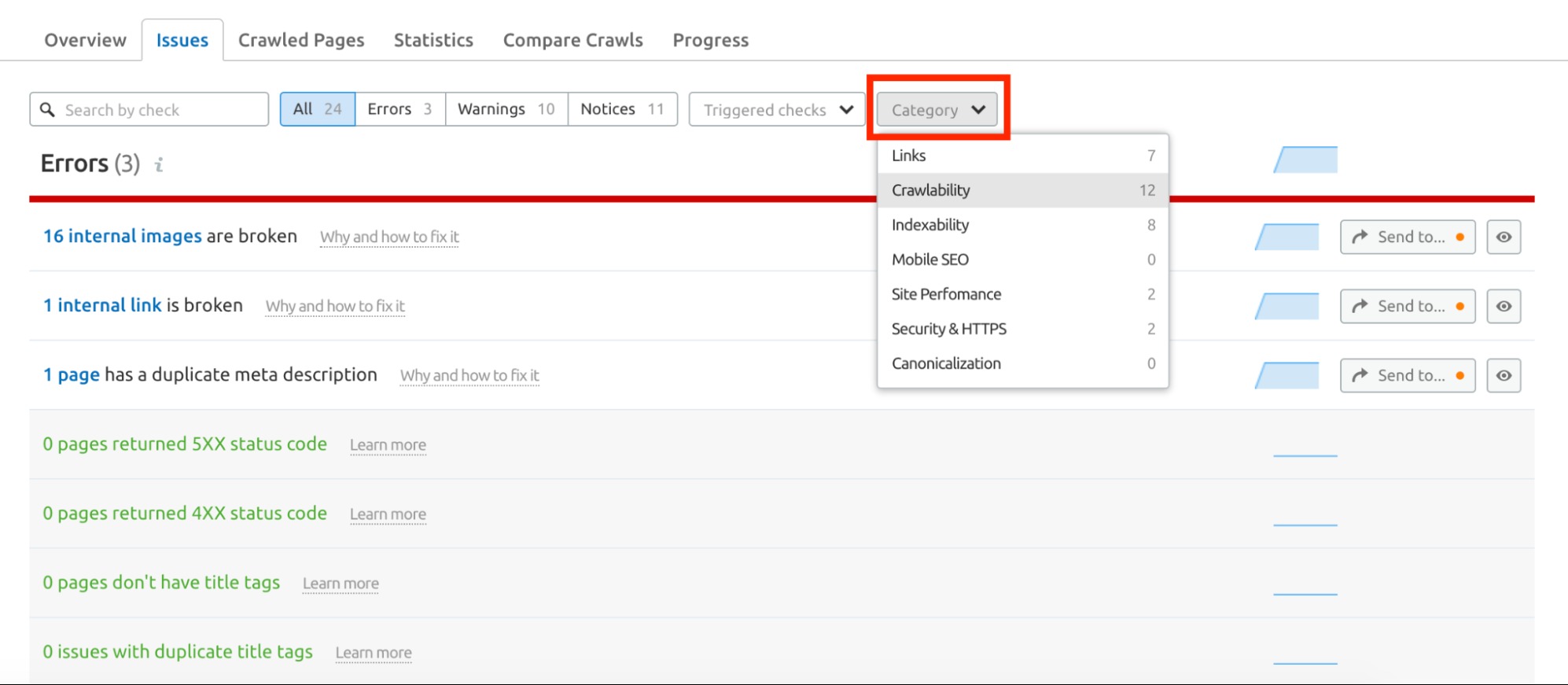 Pro tip: You can use our Log File Analyzer tool, which analyzes your access logs and presents a report about how GoogleBot crawled your website, and if there are any errors to fix and crawl budget to save. All you have to do is upload the access log file of your website, and let the tool do its job.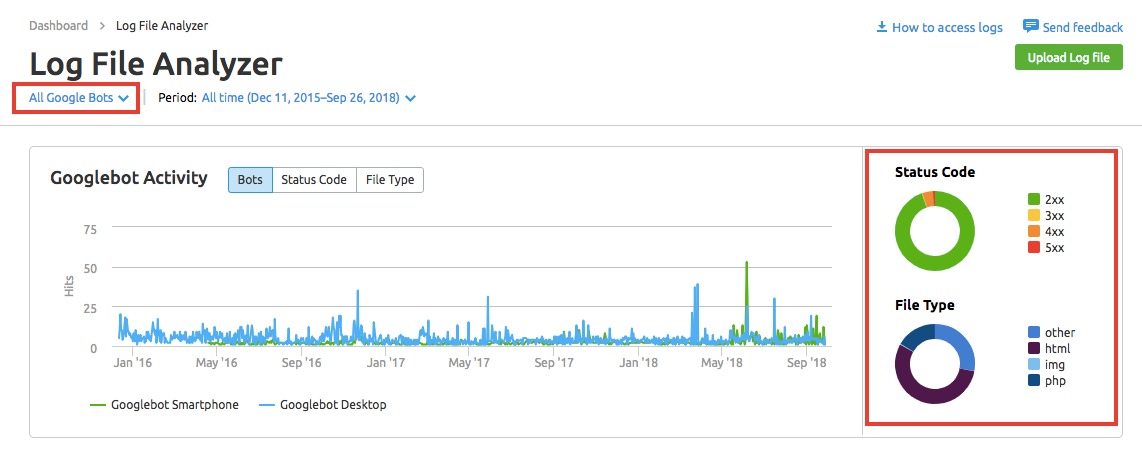 Thematic Reports
Thematic reports
on the Overview tab dive into specific aspects of a website where common issues are found. This is where you can quickly assess if you have any issues related to a website's transition from HTTP to HTTPS, hreflang and structured data implementation, crawlability, Internal linking between pages or Site performance.
Core Web Vitals is our latest addition to the Thematic reports. It contains a set of metrics that measure the loading performance, interactivity, and visual stability of a website. These metrics are confirmed to be a ranking factor by Google, so fixing those issues can be a great way to improve your pages' positions on SERP.
We have covered a few ways of grouping and prioritizing issues which can help you adjust the workflow to your needs. The next step would be to share the tasks with your team or webmaster.
Send Issues to Task Trackers
If your team is using a task tracker like Trello, you can send issues directly to your team's board by integrating Semrush with this tool. Other task managers like Asana, Monday, or Jira can be connected to Site Audit via Zapier (online automation tool that connects various apps). Learn more about this integration in the manual How To Integrate Site Audit with Zapier.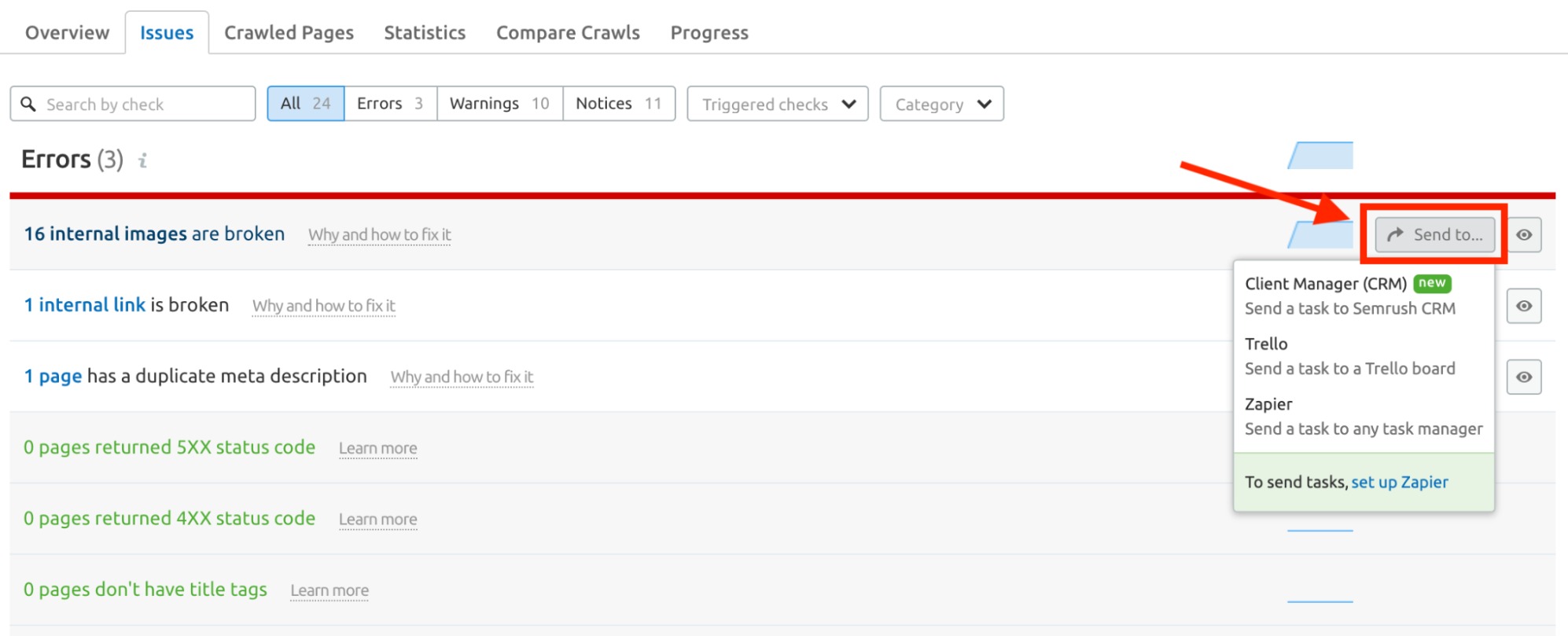 Another option here is to send a task to the Client Manager (CRM). This is a management service inside Semrush that allows you to easily streamline your customer management workflows all in one place.
In case you are not using any task managers, you can simply export the list of pages with the issue and send the file to your webmaster.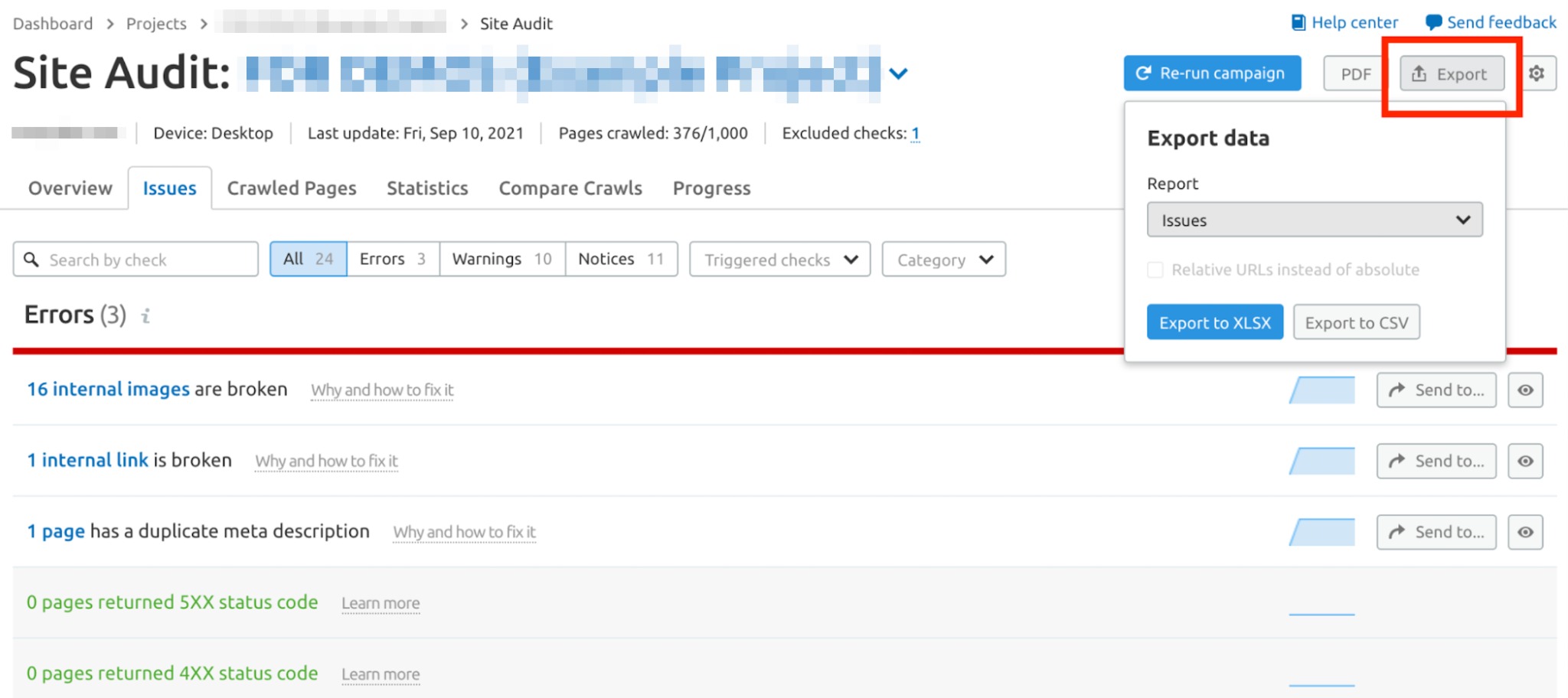 Track Changes in the Progress Tab
After fixing the critical issues on your site, you can re-run your campaign to check how the changes affected your website's Health Score. The Progress report is the best way to measure the success of your efforts.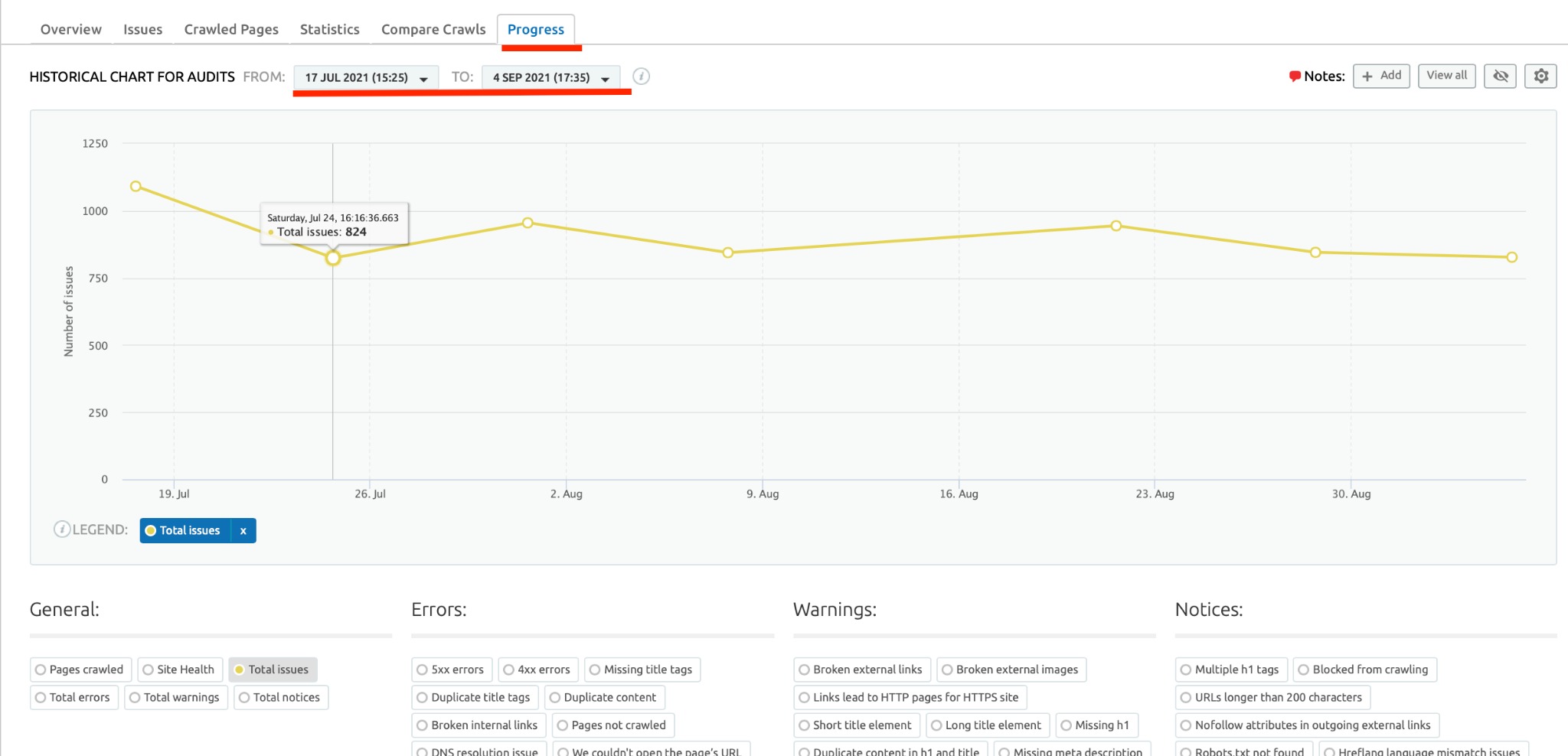 This report features an interactive line graph that lets you visualize how the number of issues or other metrics have changed over time with your audits.
Schedule Site Audit on a regular basis, so you'll be able to timely notice all important issues that should be fixed.

Monitor Visibility Progress in Position Tracker
You see that your Site Health Score has improved, but is there a way to check the effects of your work on the website's visibility?
Yes, there is! You can track how the changes affect the rankings of your website's pages with our Position tracking tool. Set up a tracking campaign and add a note each time you fixed or optimized something on your website.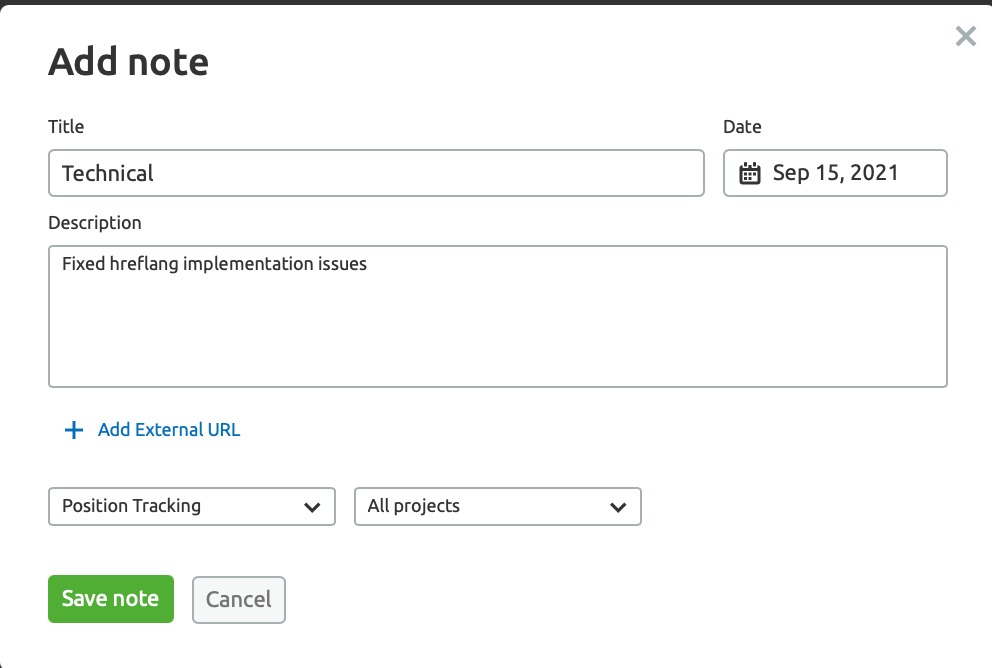 This tool allows you to monitor how changes and fixes affect your visibility with automatic daily updates.

Technical SEO is a very important step in the whole SEO process. If there are problems with your technical SEO then it is likely that your SEO efforts will not generate the expected results. It's a best practice to regularly perform an in-depth technical SEO audit on your website to make sure that search engines are able to crawl and index your pages without a hitch.