Ecommerce Booster helps you optimize your Shopify store performance.
You can use the app to audit your online store's product pages. The app will give you a list of tasks with simple instructions to help your pages sell better.
Specifically, with Ecommerce Booster you can:
Audit your store with text, UX, visual, accessibility, and performance checks
Get a list of prioritized changes with step-by-step instructions for increasing sales
Leverage AI and smart task management to increase your return on time and effort
How The Ecommerce Booster for Shopify App Can Help Me?
The Ecommerce Booster is perfect for both individual Shopify store owners and managers, as well as for more experienced marketing experts.
The app can help you:
Understand why some product pages may not be performing well
Fix what's impacting your performance
Boost sales
Pricing
A limited version of Ecommerce Booster is available to all users. For unlimited access, you need to purchase the app.

Here are the main features of each version:
Free version:
Audit 1 store domain with 25 product pages at a time with 20+ completely free checks.
Get actionable to-do lists with detailed explanations
Analyze and improve both desktop and mobile site versions
Improve one product page using the app's built-in AI tools. AI-powered solutions are free for 1 product page per AI Boost task
Sort and filter tasks for maximum efficiency
Receive an email notification when the app completes the audit of your store
Get biweekly email updates
Paid version:
Leverage your business with all the free features and…
Audit multiple stores with additional 30+ advanced checks focused on UX, content, conversion rate, visuals, site speed, and accessibility
Improve your product content and images on all pages with built-in AI tools
How to Use Ecommerce Booster for Shopify
Step 1: Enter Your Domain to Start The Audit
This is the first page you'll see once you enter the Ecommerce Booster app. Paste your Shopify store URL into the search bar to start the audit.




The app will crawl the store, analyzing your product pages for issues and points of improvement in user experience (UX), text, visual content, page speed, and accessibility.
User experience: improve page elements that make it easier for users to convert
Text content: use the AI-text generator to improve the written content on your pages
Visual content: enhance the quality and effectiveness of visual elements
Page speed: improve page load-times
Accessibility: make your site accessible to a wider audience
You'll then see an overview of tasks you can perform to improve your store's performance.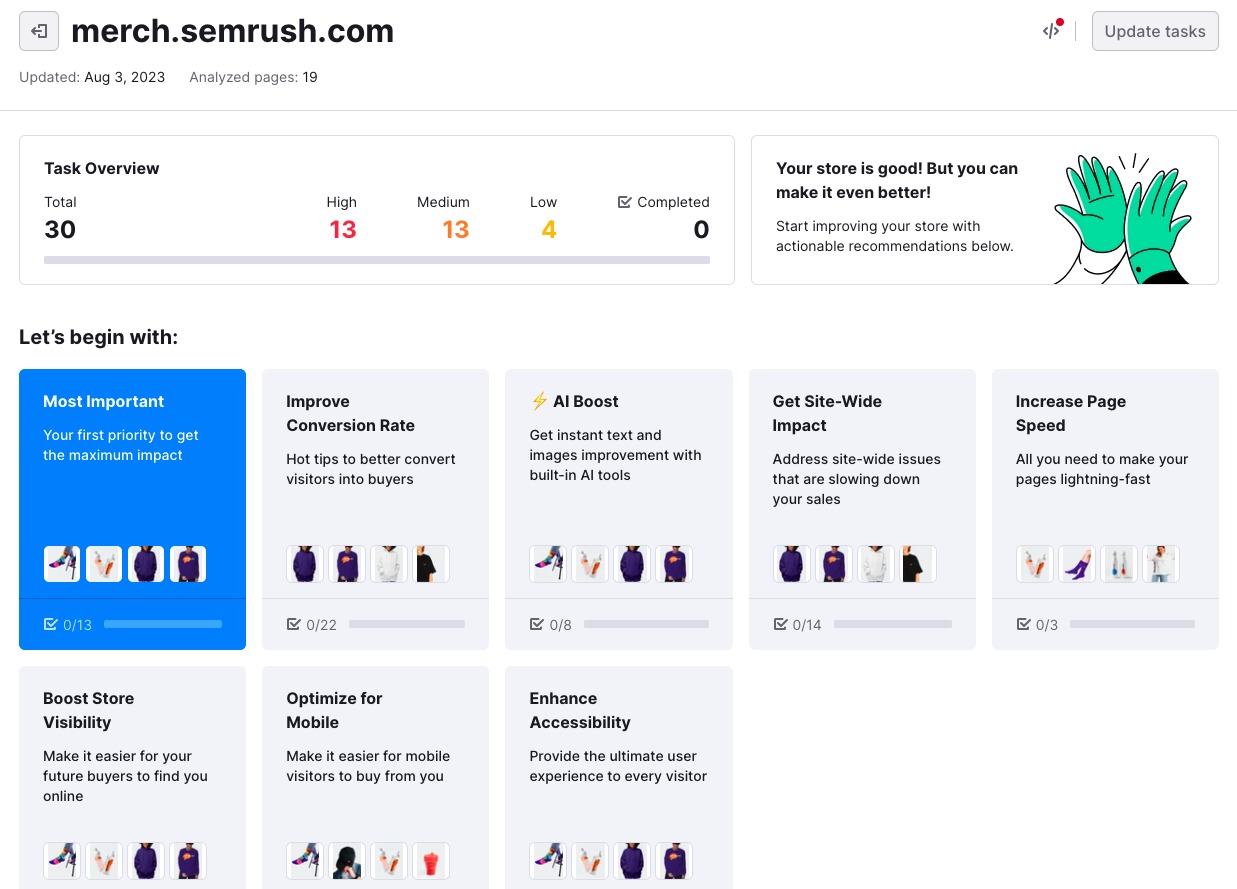 The tasks are split by:
Priority: low, medium, and high-priority tasks
Lists: focused on goals. You can choose to start with tasks that'll help increase your conversions, optimize for your mobile visitors, or get some quick wins with the AI Boost.
Step 2: Proceed with Tasks
You can start off with task collections that focus on certain goals (1), concentrate on certain products first (2) or dive into All Tasks to check out all tasks at once (3). In this article, we'll visit the All Tasks page.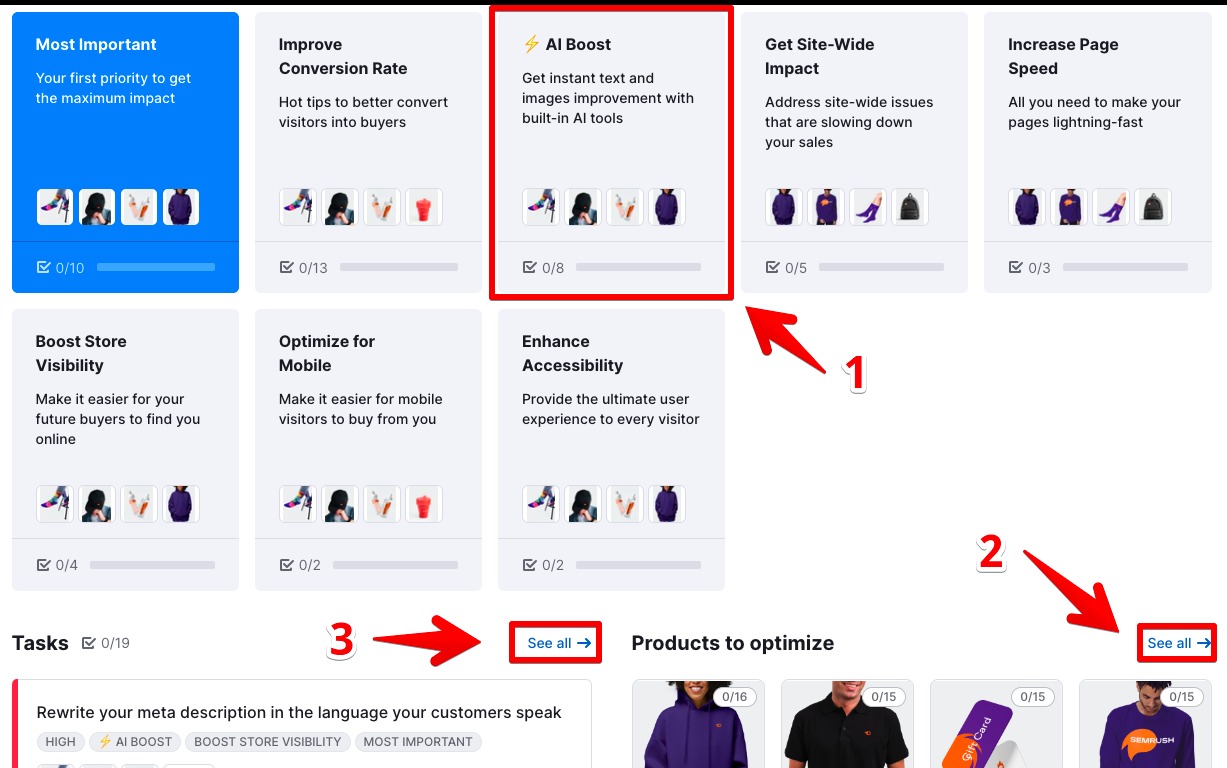 Step 3: Further Filter Tasks
You can narrow your search to focus on the high-priority tasks on each list. You might notice that task collections will still be available for your comfort.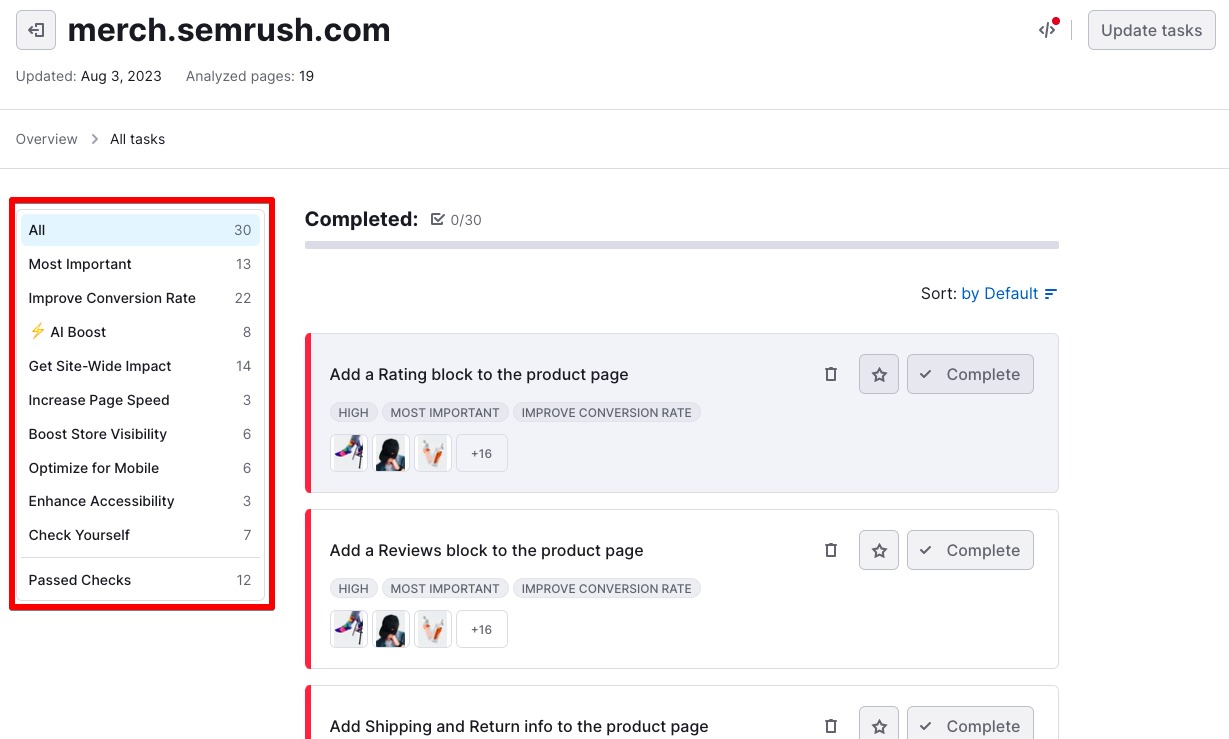 Most Important: first priority tasks
Improve Conversion Rate: better convert visitors into buyers
AI Boost: make instant improvements using the built-in AI tools
Get Site-Wide Impact: fix general issues that are impacting your sales
Increase Page Speed: make your pages lightning fast
Boost Store Visibility: make it easier for customers to find you
Optimize for Mobile: improve the mobile shopping experience
Enhance Accessibility: provide a better experience for every visitor
Step 4: Start Completing Tasks
Each task has detailed instructions. There's no need ‌for you to do any extra research.
Once you click on a task, you'll see three sections:
Why is this important?: How this issue is affecting your store performance
How to fix it?: Actionable steps and tips to fix the issue
Products: list of products affected by the issue. In some cases, this section provides additional information, preview, metrics, etc.
In some cases, all you need to do to complete a task is click on the AI-powered Generate button, make edits if necessary and apply the results in your Shopify admin.

Step 5: Keep Track of Your Results
When you're done fixing an issue for a product, click on the green checkmark button to mark it as completed. If you're done with an entire task for a series of products, you can click on the larger "Complete" button near the task name.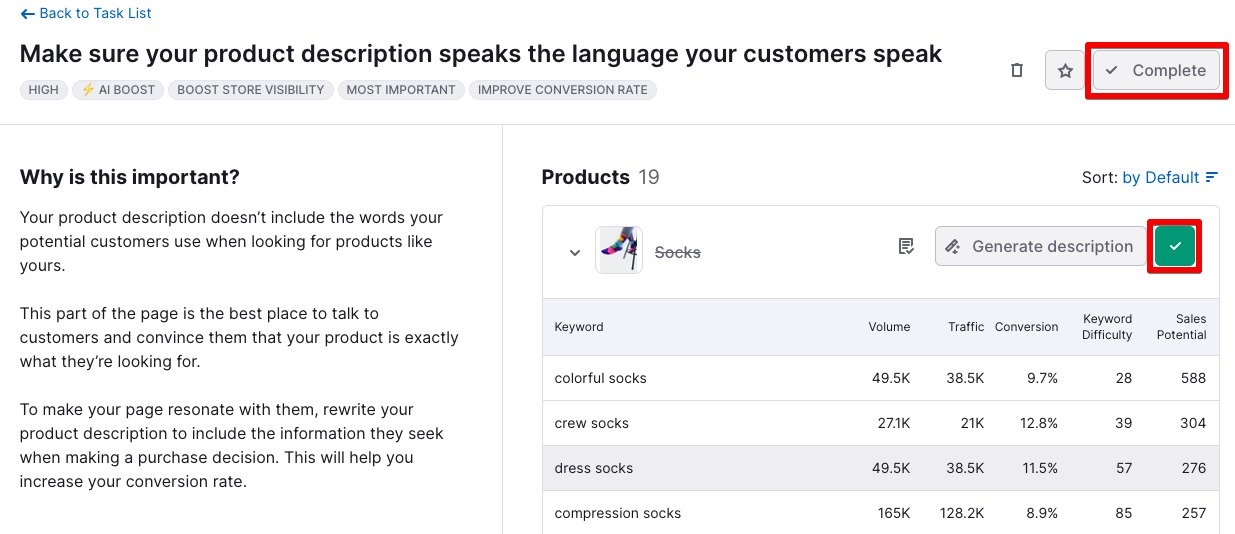 You're all set! 🎉 Feel free to update tasks on the main dashboard to track your progress or in case there were any changes to your store that need a new run of checks. Automatic biweekly email updates will help out with staying on top of things with your store!
Frequently Asked Questions
Can I check stores made not with Shopify?
At the moment, the app supports stores made with Shopify. We plan to support more platforms in the future. Feel free to reach out via
ecommerce-apps@semrush.com
and let us know what platform you'd like to see supported next!
Can I delete a task if I do not agree with it?
You can delete a check by clicking on the trash bin icon in the task box. We won't suggest it anymore. That will also provide a feedback pop-up so you could tell us more details.

Can I save a task to a separate list so I could work with it later?
You can add the task to Favorites. The corresponding category will show up as a separate list of tasks.

Is there any way I can send some feedback or new task ideas inside the app?
Feel free to send your feedback by clicking on the "Send feedback" button in the top right corner of the dashboard

If you have any questions about the Ecommerce Booster app, please email us directly at ecommerce-apps@semrush.com