Semrush Agency Partners is a digital marketing agency directory that helps connect brands looking for support for their creative projects with trusted marketing partners.
For brands, it helps them quickly and easily find trustworthy agencies that have experience in their industry, doing the type of work they need, within their target budget.
For agencies, it offers a platform to demonstrate their digital marketing expertise as a trustworthy partner.
The Agency Partners Platform offers agencies:
Personal listing in the Agency Partner Platform and a chance to win thousands of Semrush users as clients
Semrush Agency Partner status
A unique Semrush Agency Partner badge for use on your website and in marketing materials
The Agency Partners platform is a part of the Agency Growth Kit add-on.
How to Become an Agency Partner
To get listed in the Agency Partners Platform, you need to:
Purchase the Agency Growth Kit.
Next create your Agency Partner Page, using the form on the landing page. You'll need to provide essential information about your agency including:
Basic profile information, such as your name, logo, size, and history.
A more detailed description of who you are and what you do.
Which services you provide, including your location, industries, budgets, pricing info, and areas of expertise.
Your contact information. Opt to add a a Calendly, Hubspot, Google Calendar, or another scheduling tool call booking link to your agency profile so your potential clients can schedule a call with you.
If you would like to receive email notifications about new leads and which email addresses (maximum 3) we should send these to.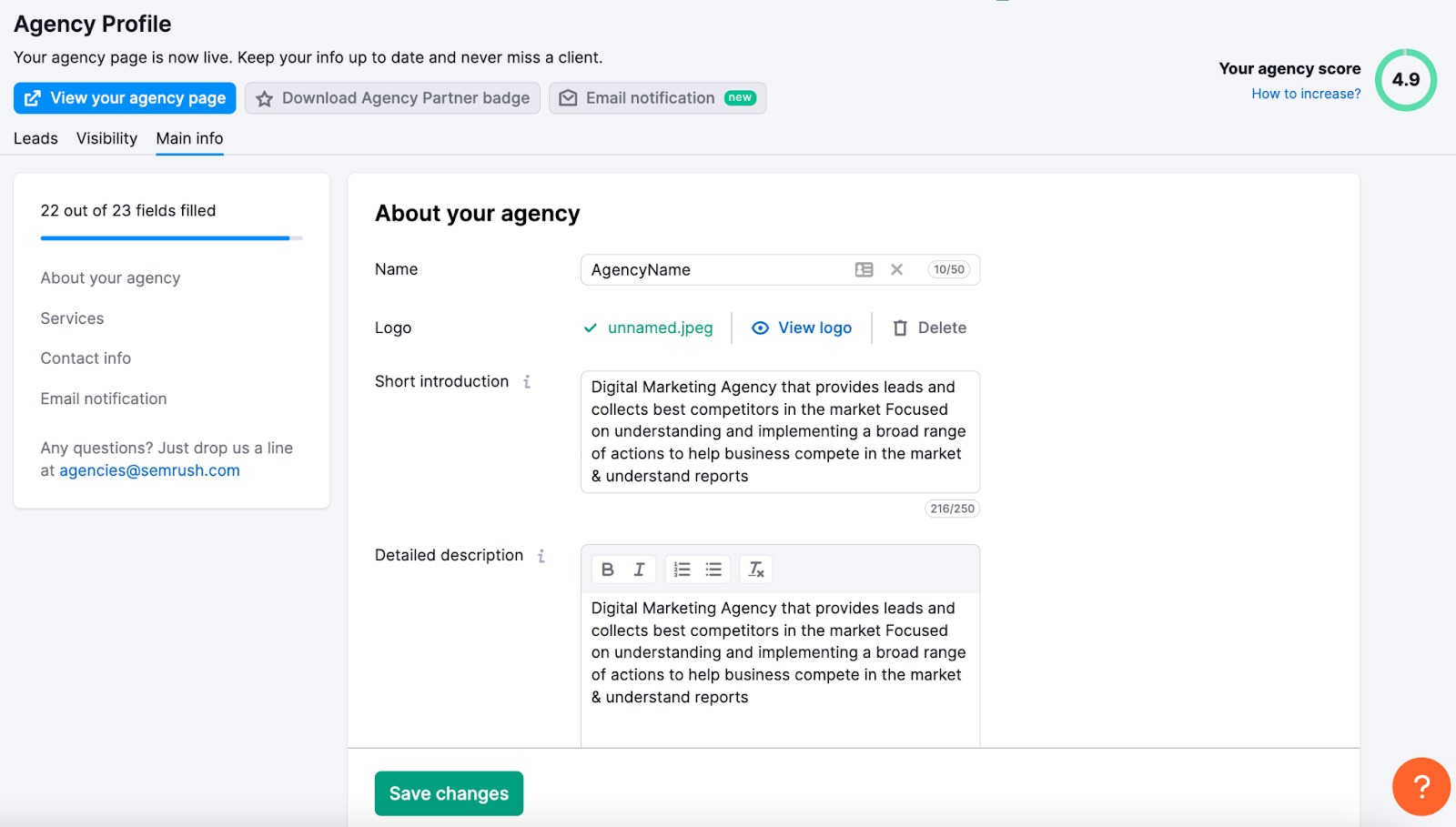 This information will be the basis of your Agency Partner Page on the Agency Partners Platform and will be used to help prospective clients find you for their projects.
Additionally, you can pass exams provided by Semrush Academy to gain access to the Agency Partners badge, which you can display on your own sources.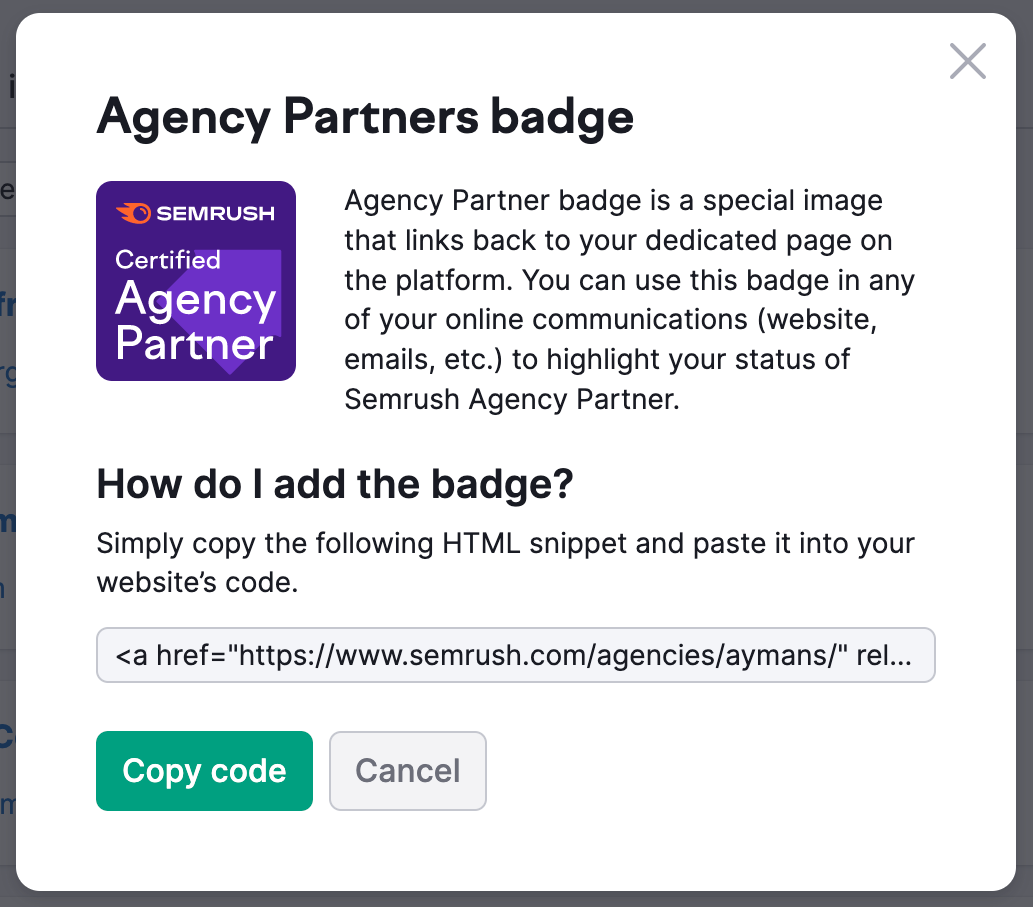 How to Find an Agency on the Agency Partners List
All Agency Partners are included on the Agency Partners List. To find an agency you want to work with, you may simply browse the list manually, or use filters to narrow your search to more specific criteria. Search filters can be found on the main Agency Partners page, and to the right of the full Agency Partners List.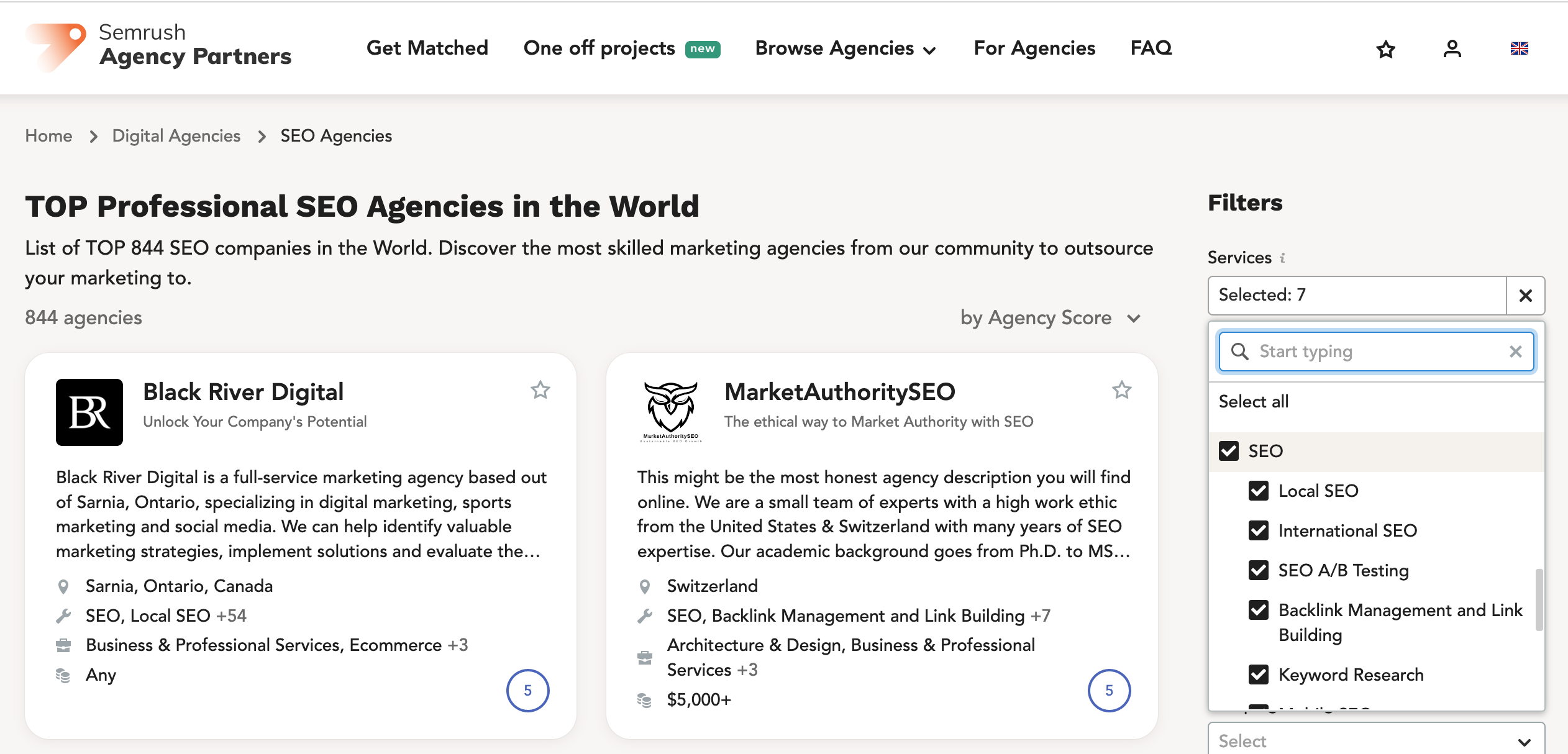 You can filter on the following criteria:
Services: The type of work you want the agency to do
Industries: The industries you want the agency to specialize in
With success stories: The agencies that shared their successful cases
Promotion Region: Where you want to run your campaign
Languages: The languages you want to run your campaign in
Campaign Budget: The amount you want to spend on the campaign
Company Size: The size of your (the client's) organization
Agency Location: The location of the agency
Remote Work: Whether you are open to working with an agency remotely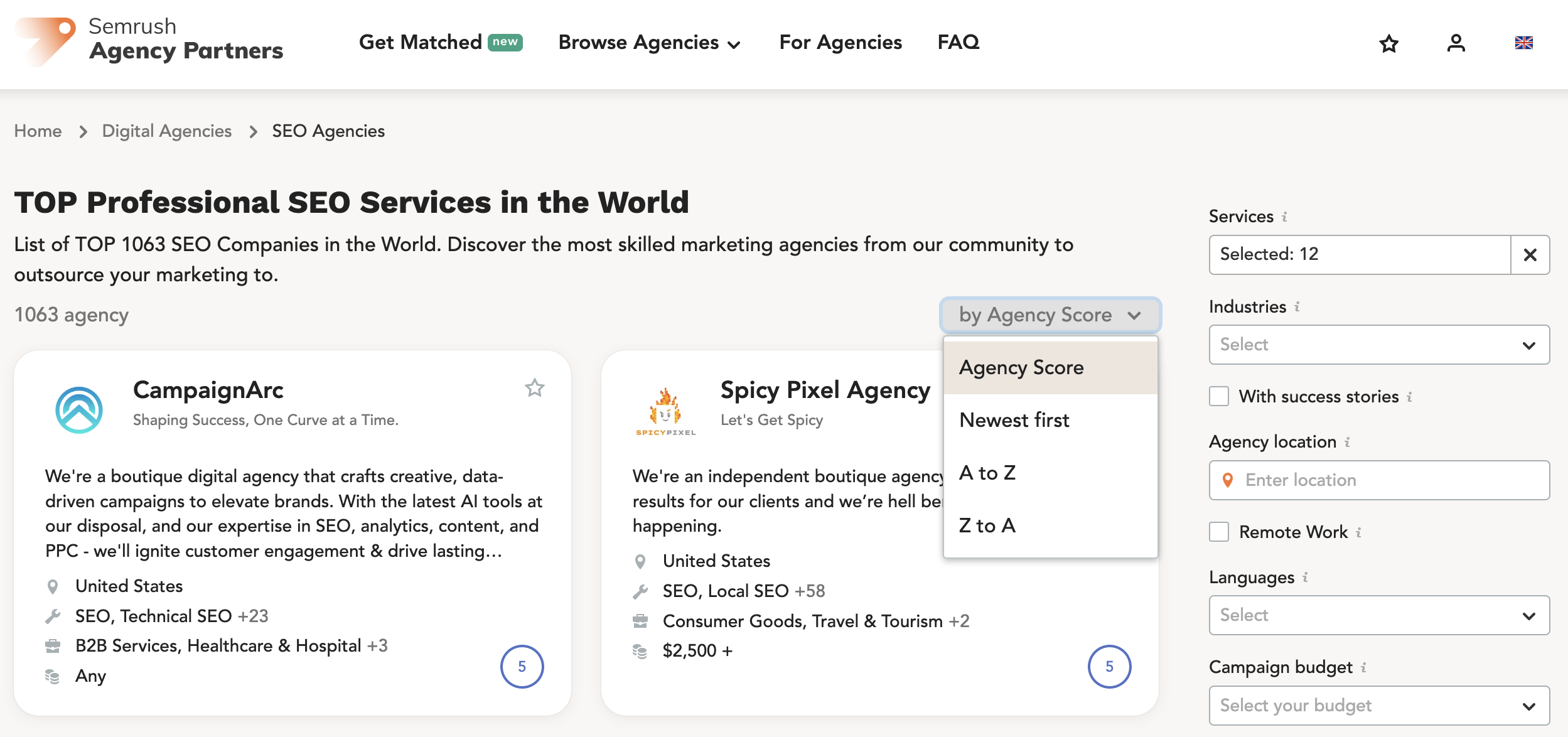 Each agency that matches your search criteria is displayed in a tile, which includes basic information about the agency, including their name, the services they perform, the industries they specialize in, the regions they work in, their languages, and their Agency Score. Agency Score is our proprietary metric created to help you choose the right Agency Partner. It ranges from 1 to 5; the closer the score is to 5, the better.
By default, the Agency Partners List sorts agencies by Agency Score. If you don't want to sort by Agency Score, use the drop-down menu to sort by name, or by how recently the agency was added to the Agency Platform.
Click anywhere within an agency tile to view their Agency Partner Page. Here, you can find out more about who they are, what they do, and how to contact them.
Get Matched
An alternative way to find the right Agency Partner is through the match-making workflow with the Get Matched button.
Fill out the form about your needs and we will find the right partner for the job. The details of the request and your contact information will be sent out to the Agency Partner.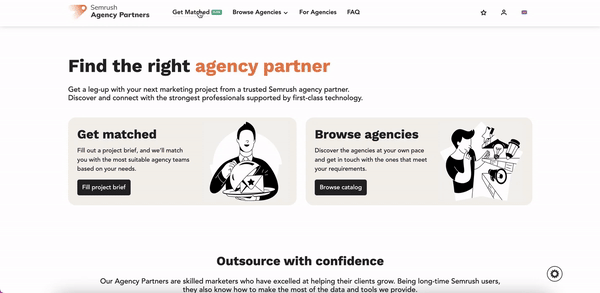 Agency Partner Page
The Agency Partner Page is a dedicated landing page for each partner and contains a more complete profile of the agency. Here, you can find the:
Services
Industries served
Regions served
Supported languages
Pricing models
Biography
Year of foundation
Contact details
Number of employees
Pricing models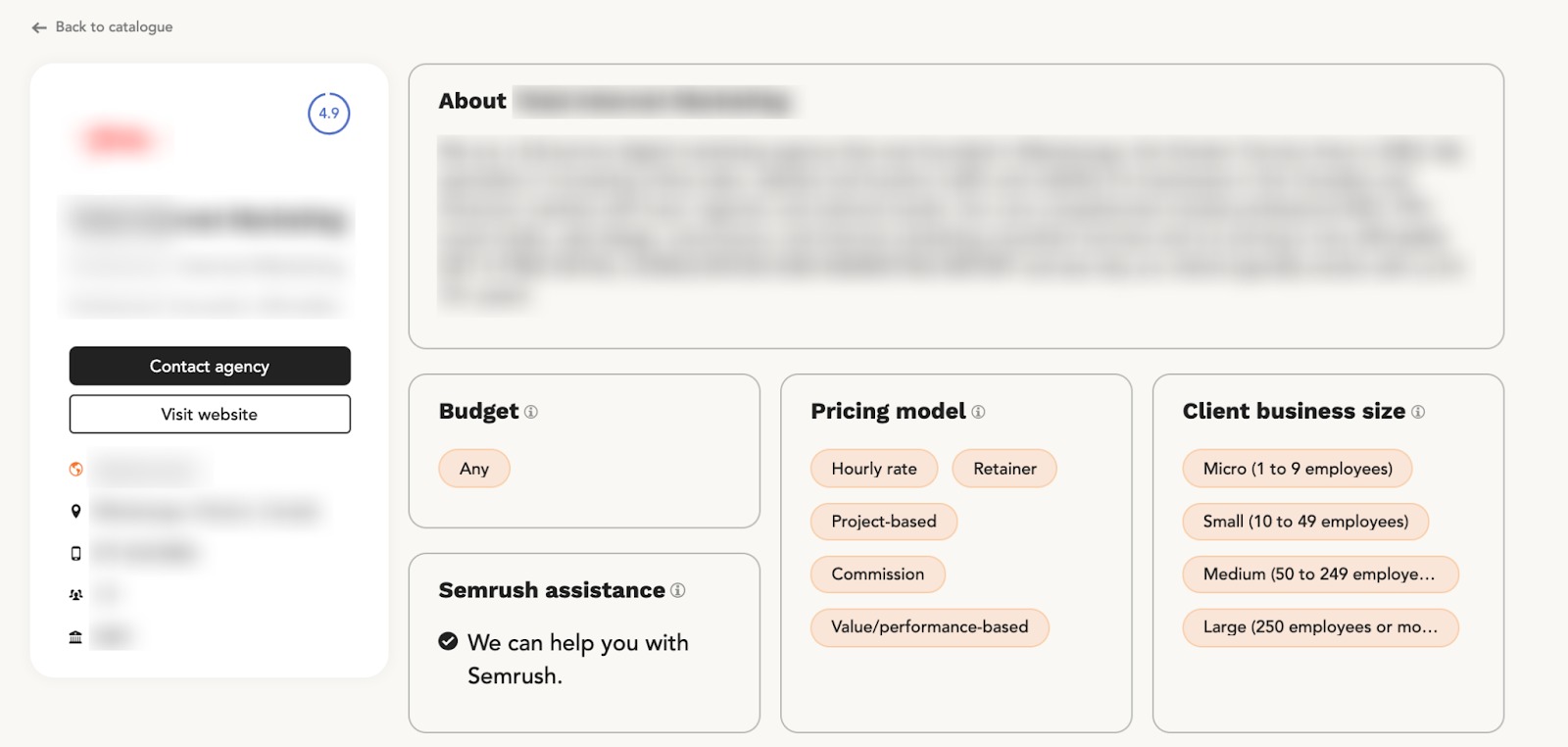 As well as allowing you to display this core information, there are also several resources available to help you enhance your own profile's exposure. These include:
Agency Score: This is a proprietary Semrush metric that takes into account your own website's performance as well as your Semrush Academy certification status. The score shows your future clients why they should trust you over the competition, and can also act as a self-assessment to help you identify possible areas of improvement. The Agency Score range is from 1 to 5, with 5 being the highest possible score.
Main Page Spotlight: This is a visual section that is displayed on the platform's main page, offering your agency maximum visibility. It allows you to upload a client testimonial and a team photo, which enhances your brand on the agency directory and celebrates your team's talent.
Success Stories, Client Logos, and Awards: You can now add success stories to your profile page, giving prospective customers a chance to better understand your potential impact. You can also display client logos and industry awards, allowing you to establish social proof and build trust.
Partner Badge: This widget can be used in any of your online communications (i.e. website, emails, social media etc.) to highlight your partner status. Being a Semrush partner can help smooth the lead conversion process, and adds an extra layer of credibility to your marketing collateral.
How do I Update My Agency Partner Page?
Each Agency Partner Page is created using the information provided on the Agency Partners Platform registration form. To update it manually, select "Manage an agency page" in the drop-down menu at the top of the page.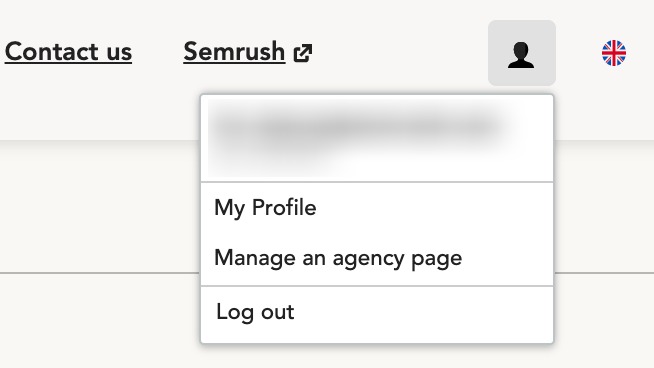 This will take you to the Agency Profile, where you will be able to update information in the Main info tab. Apply any necessary updates, and then click "Save changes."
Agency Profile
Leads Report
In the Agency Profile, you will find a Leads report which allows a simple workflow for agencies when working with leads.
The list of leads includes those from the "Get Matched" form and "Contact Agency" form on the agency listing.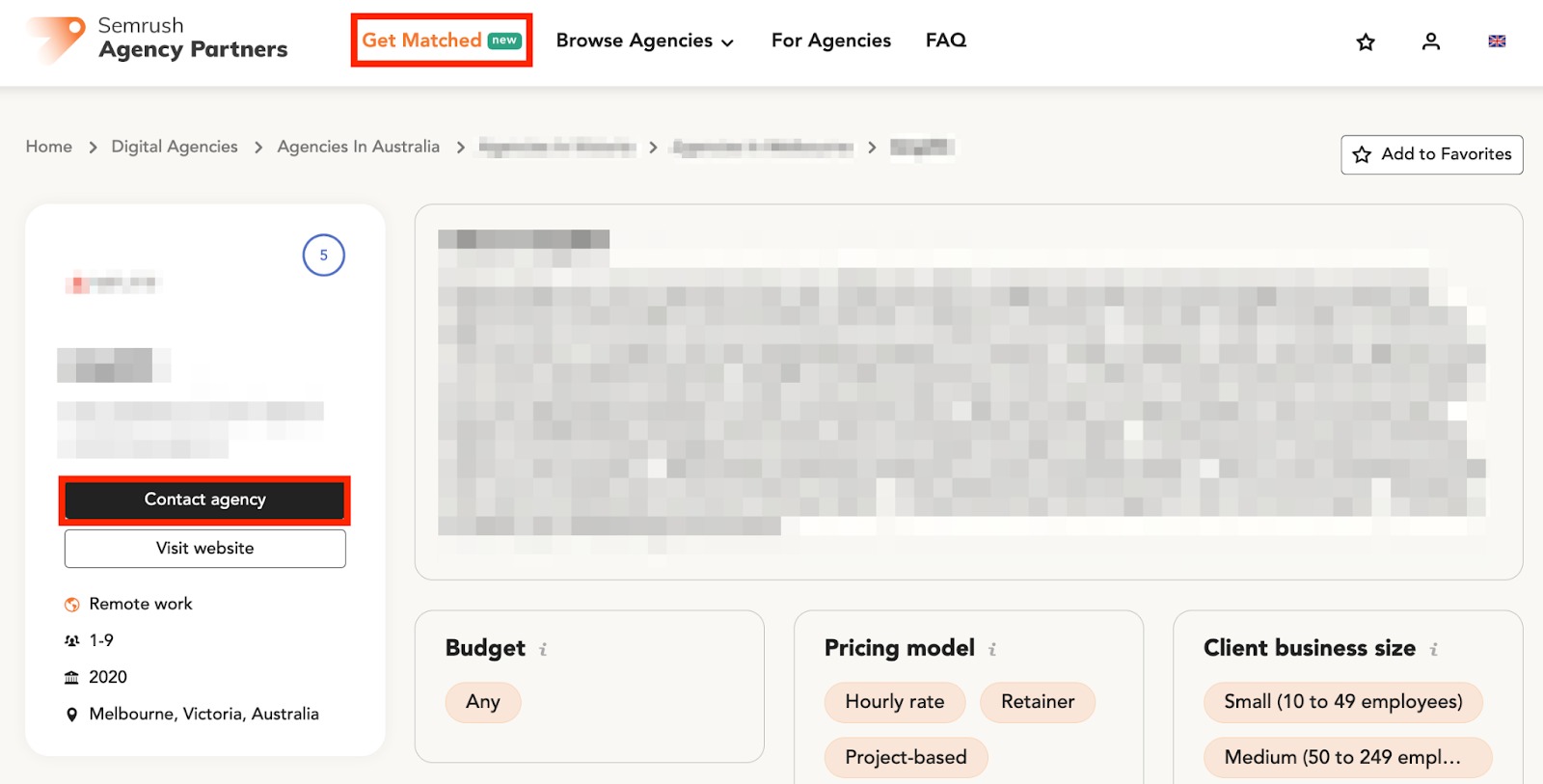 Leads are available for 2 business days only, ensuring they're contacted within a reasonable timeframe.
It is also possible to filter leads within the Leads report. From here you can choose those which you are most interested in and send them straight to CRM.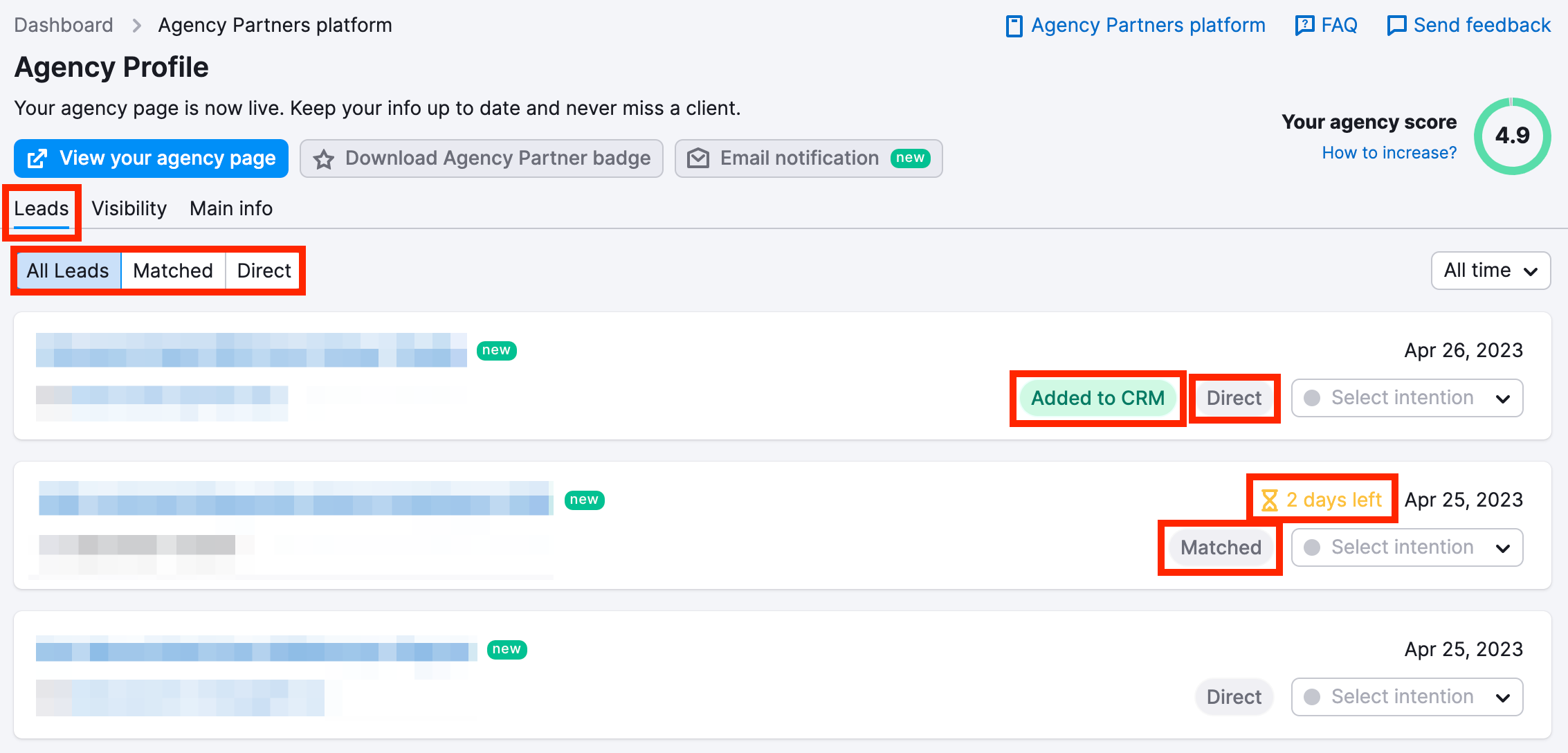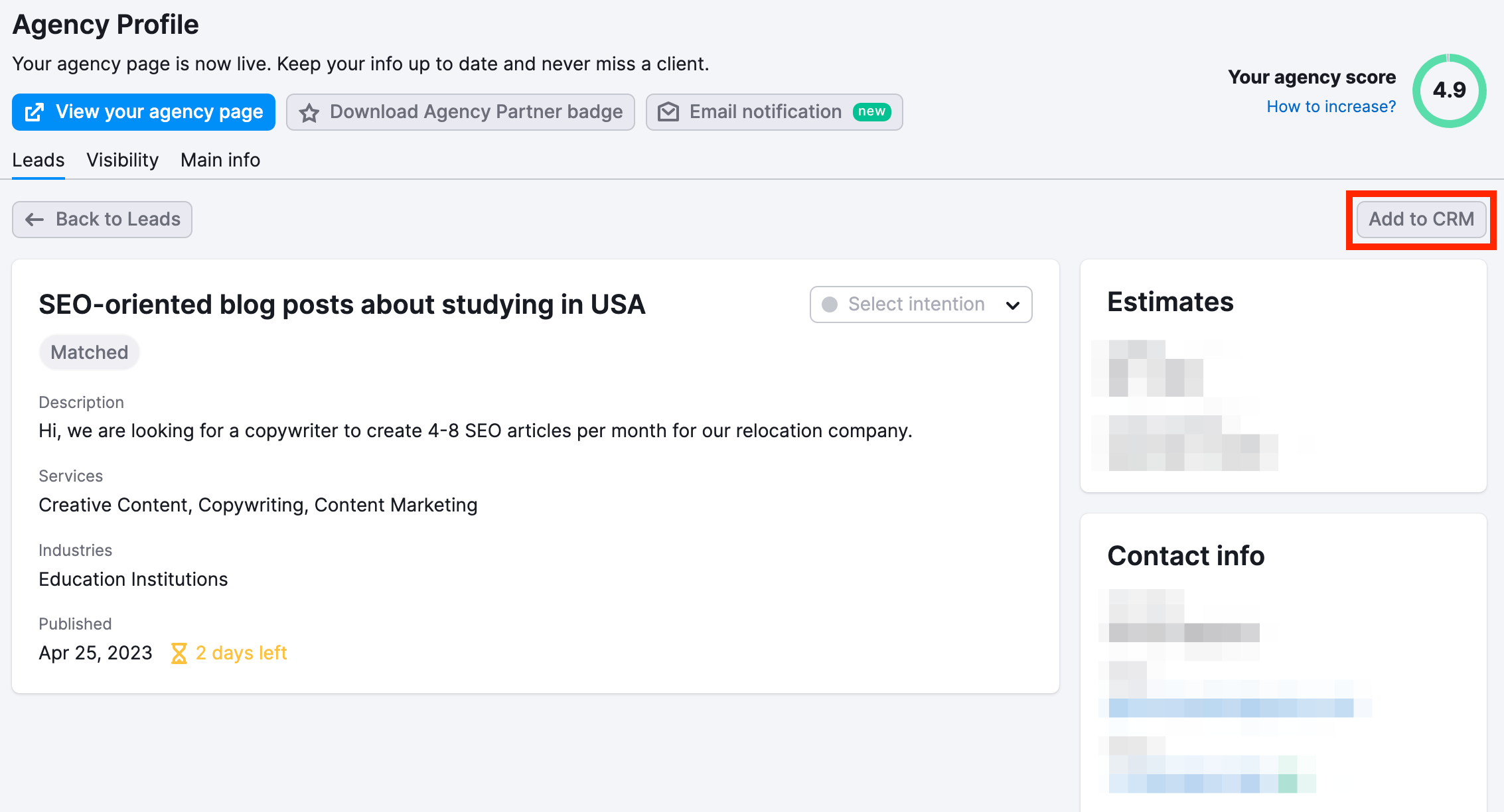 Visibility Report
Use the Visibility Report to enrich your agency page. The report shows how visible your agency is in Google search with the progress bar on the left. It also allows you to add social proof and stand out from other agencies by adding success stories, logos of your other clients, and awards you have gained.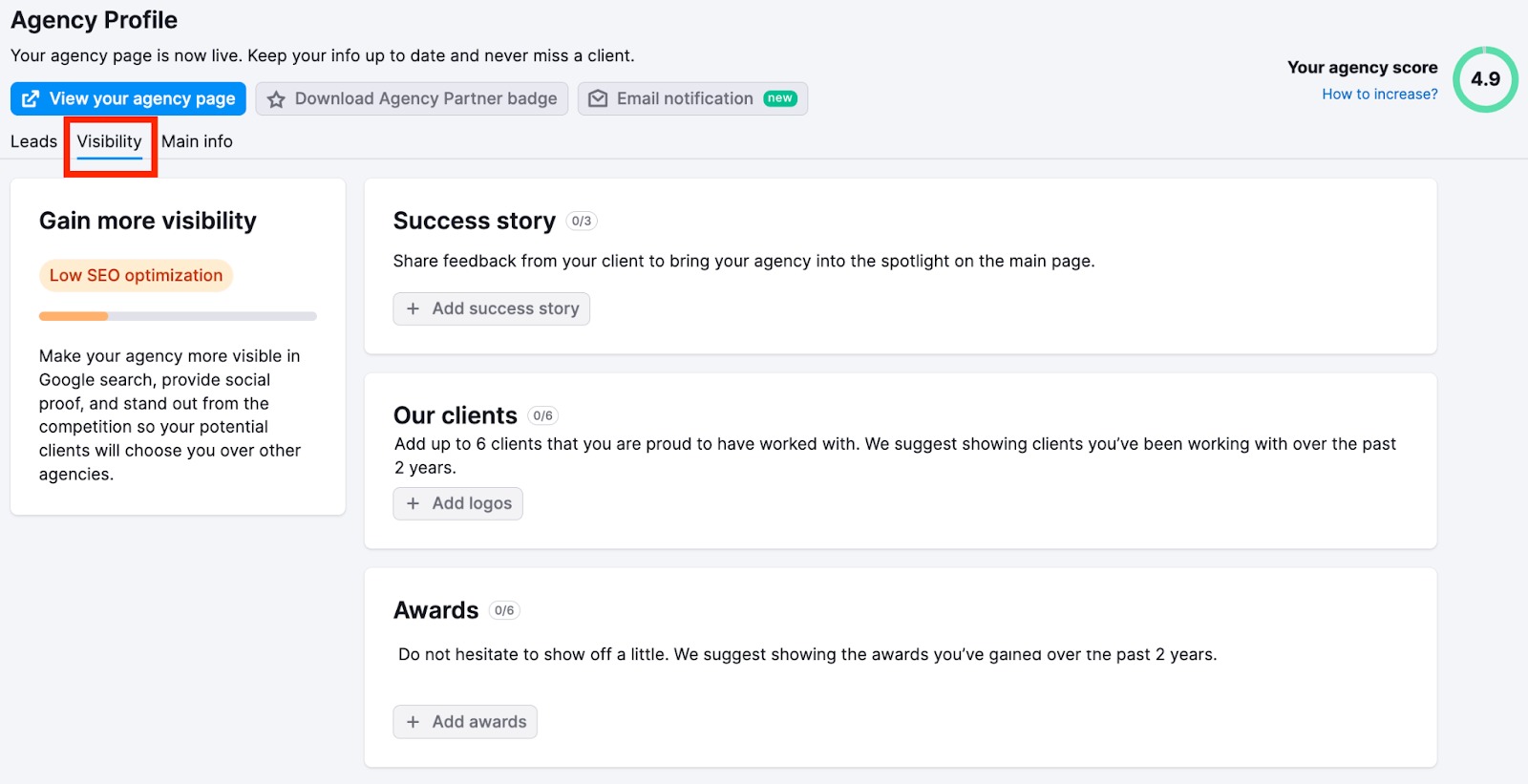 Also, you can add alt text to your client's logos and your awards. This text will be displayed in the visibility report and in the agency's profile.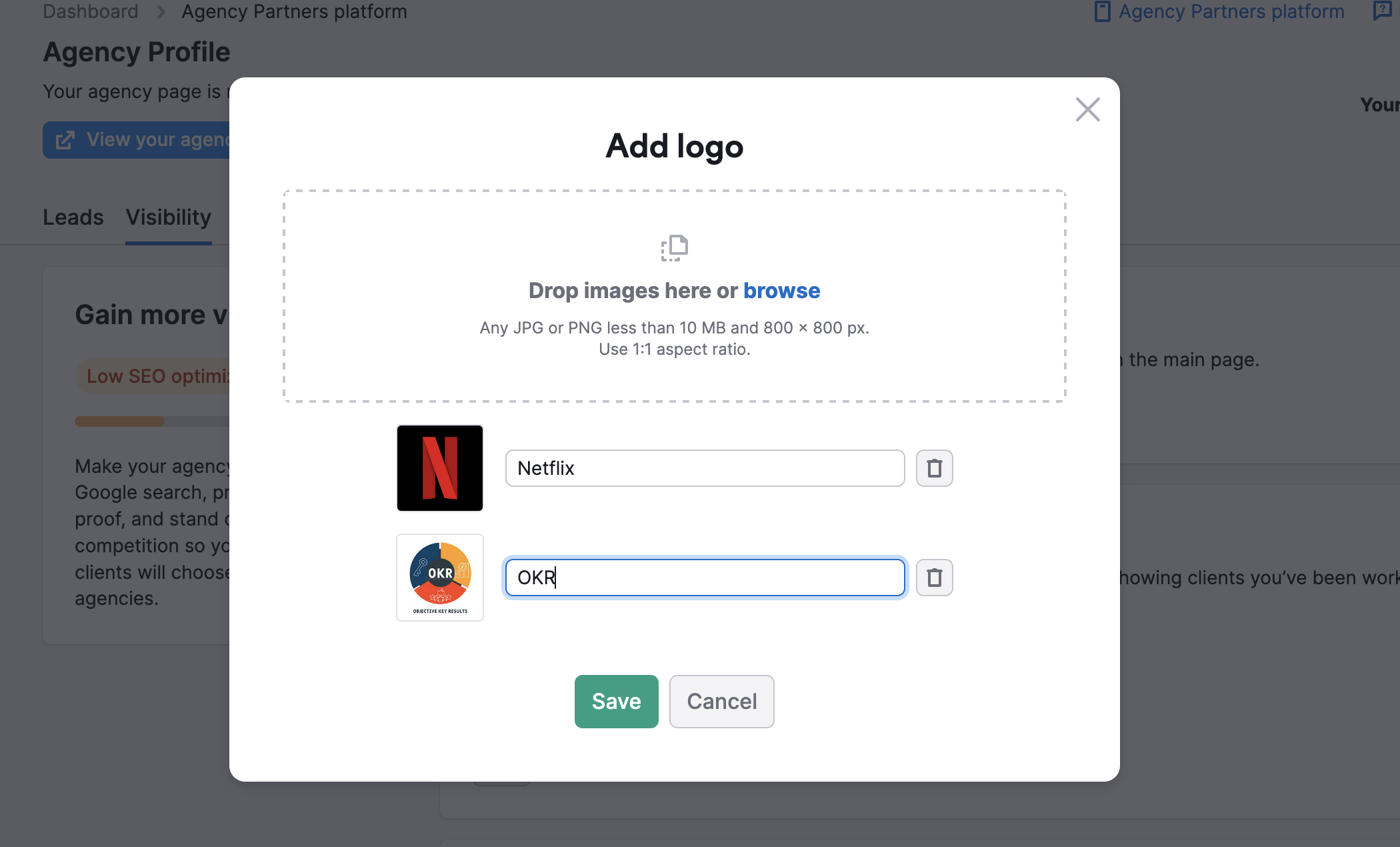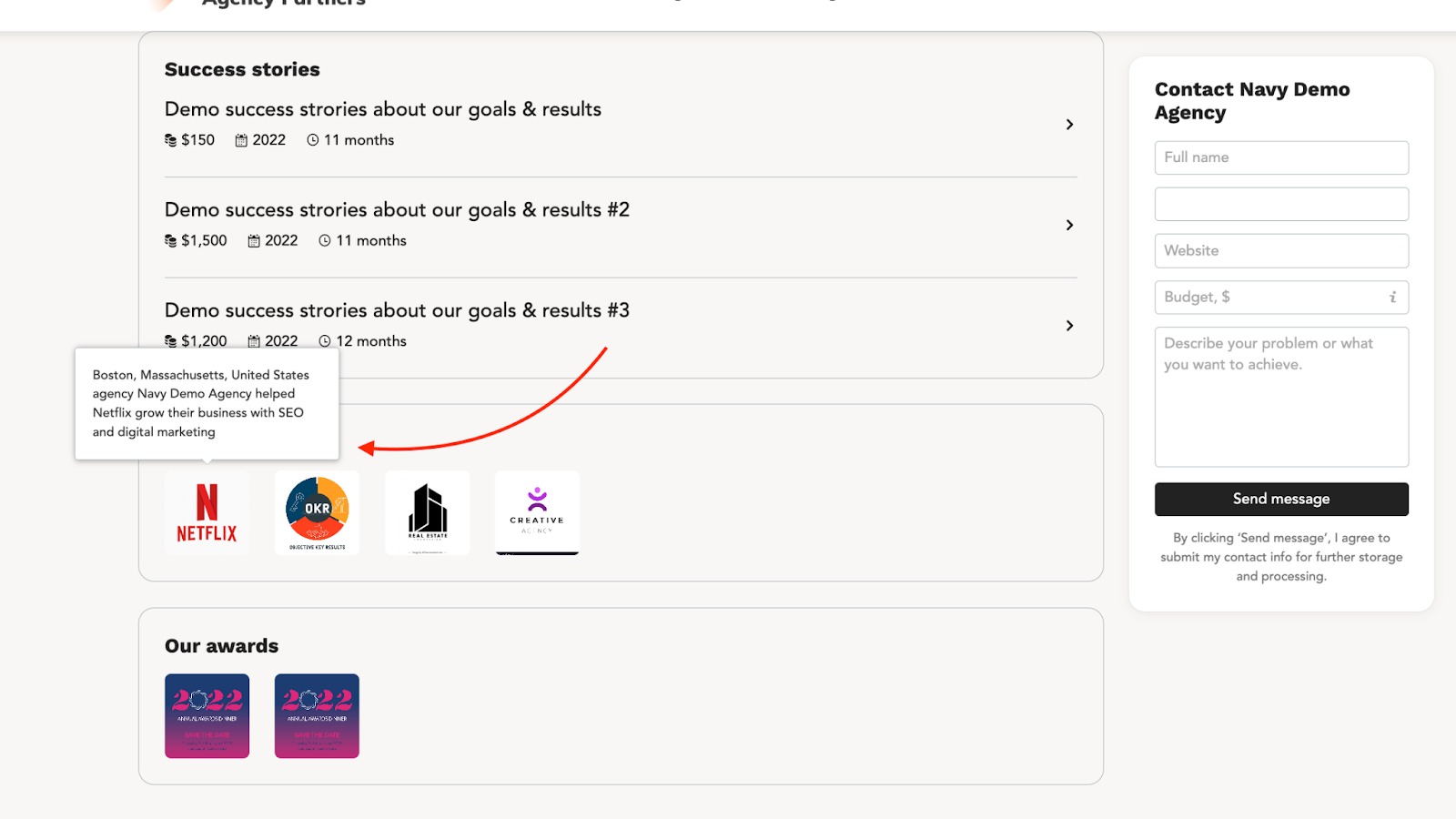 This will help you optimize the agency's pages for search engines.
Select Intention
On the lead page select an intention: either "Connect with lead" or "Not interested". This will be used for further communication with the lead.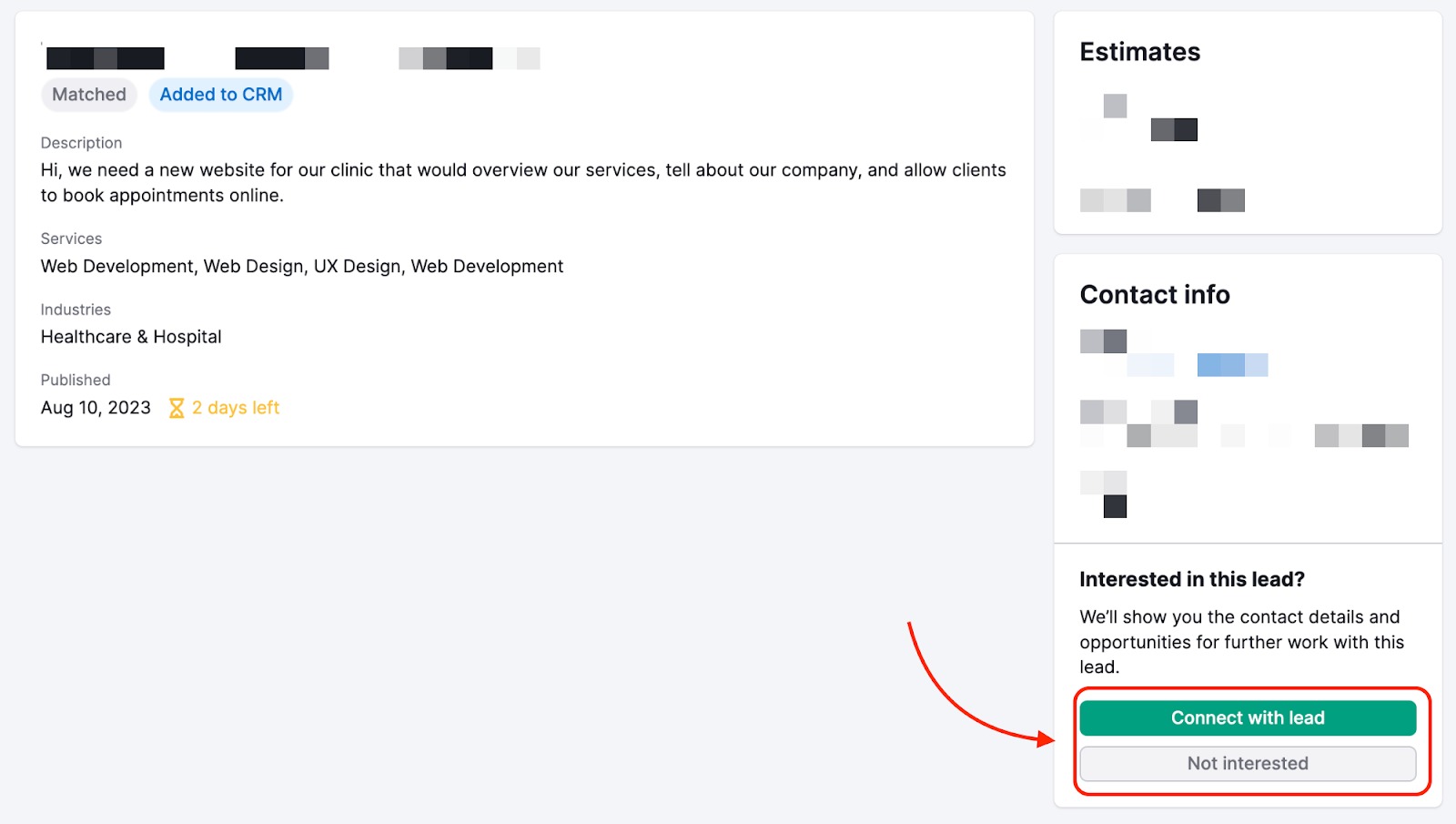 When you reject a lead, you can share the reason behind it in the drop-down menu: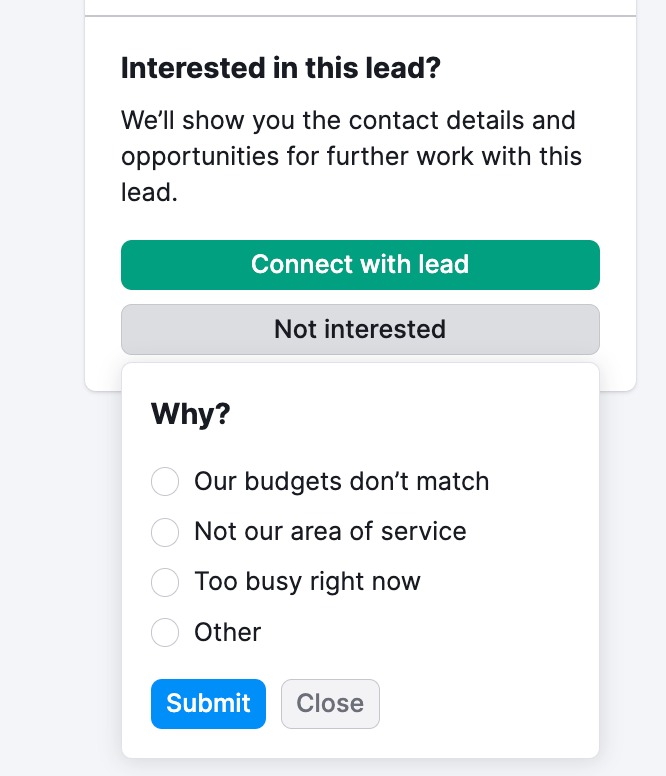 After you reject or accept a lead, their card will be labeled accordingly:




Integrations with Semrush Tools
Semrush CRM
When a platform user finds the right marketing agency, they can go to the agency's website or leave a request for the agency to contact them. In addition to transferring the request data to you, there's an option to add a new lead to your client list in Semrush CRM with the help of "Add to CRM" button to make it even more convenient for you to manage your prospective clients.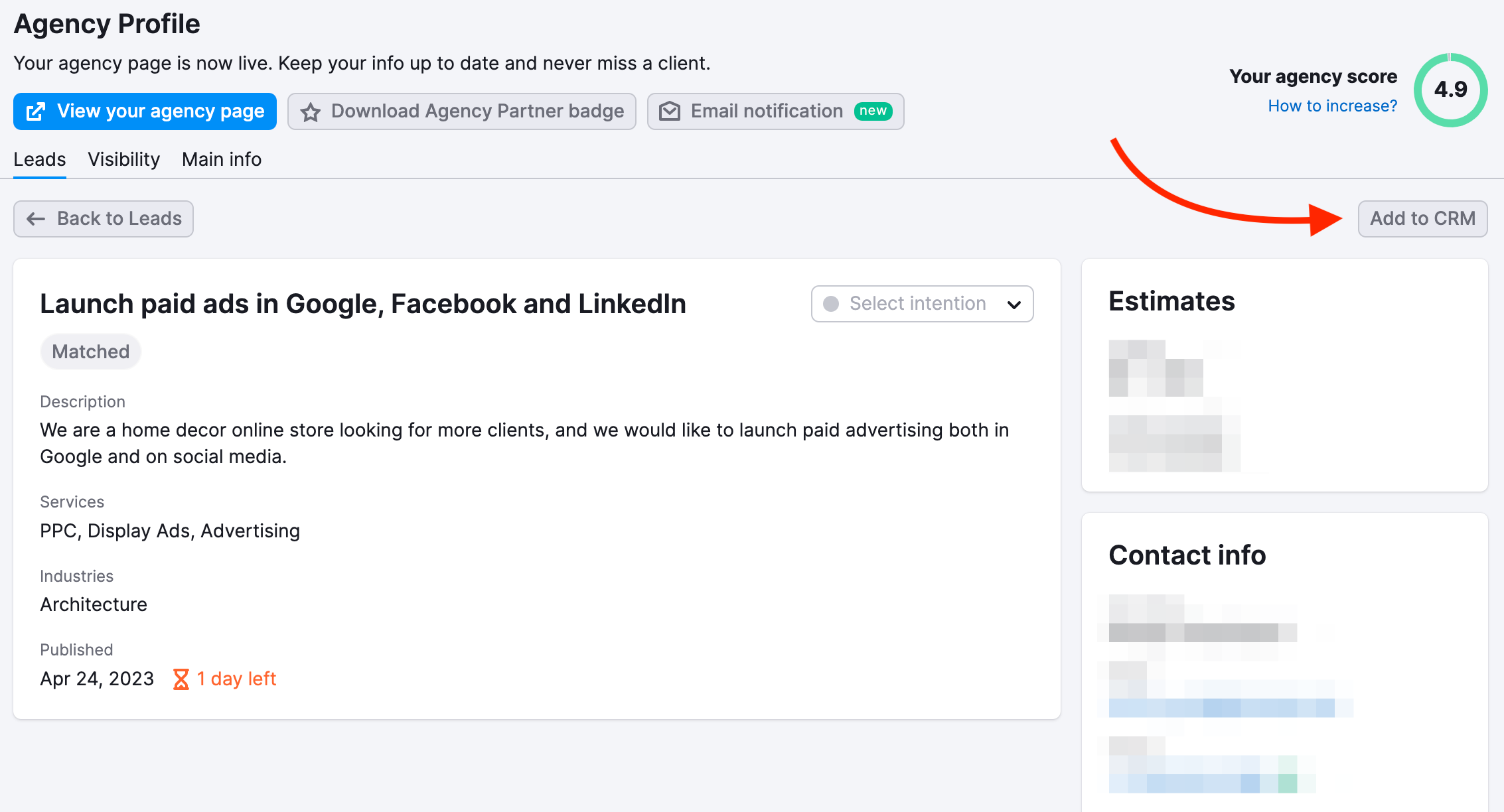 If you have additional questions about the Agency Partners Platform, please email us directly at agencies@semrush.com.