We've scoured the internet to find the best content marketing examples for 2023.
Explore this list to get inspired, boost your creativity, and brainstorm something great for your company.
Blog Content Examples 
Writing blog posts is one of the simplest ways to attract and engage target audiences. And boost your brand's topical authority.
Here are some of our favorite content marketing examples:
1. Work Life by Atlassian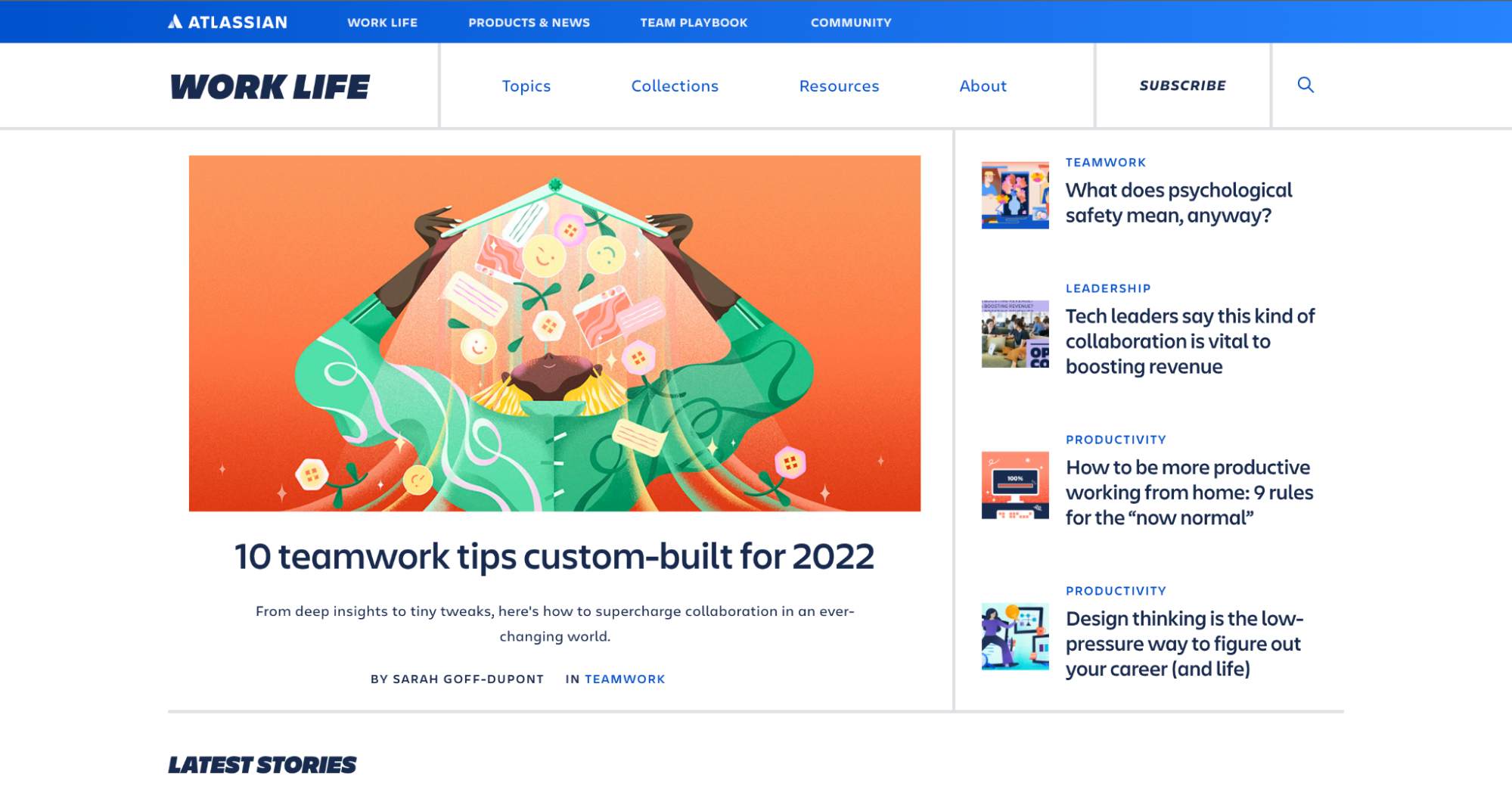 Atlassian's inspiring Work Life blog contains stories and advice designed to lead a team to greatness. 
In addition, the blog is well-optimized, offers helpful insight on team building, opens discussion on leadership style, and draws on experience from inspirational leaders worldwide.
For example, according to Semrush's Organic Research tool, one of its best blog posts, How to Write Smart Goals, brings over 86K organic visitors per month.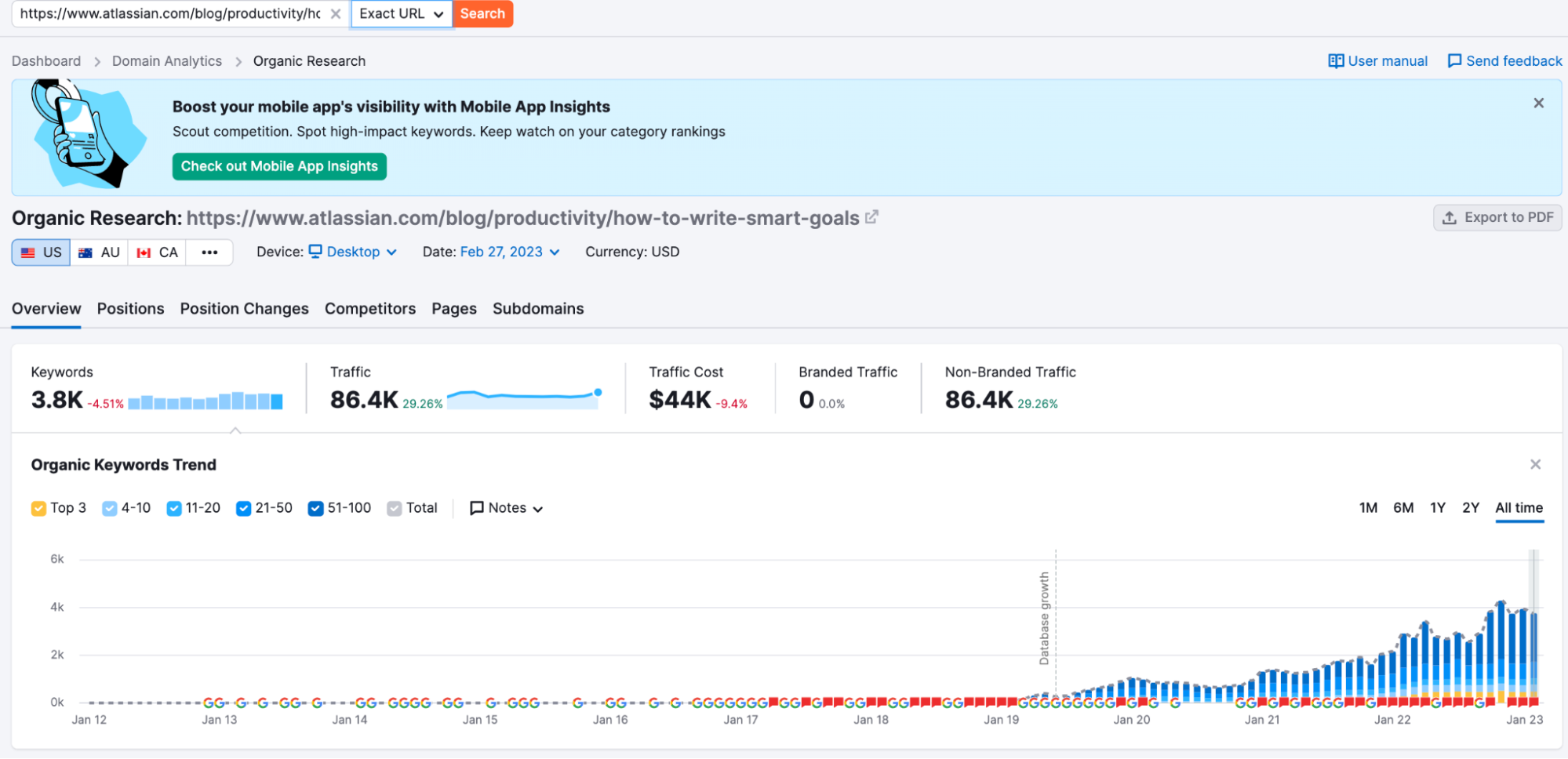 Our Top Takeaway:
The blog addresses some of the most critical areas needed for solid team function within a company. 
Inside each post is a real-life scenario and content that is easy to read, precise in its points, and valuable to the reader.
Atlassian gets straight to the point to satisfy the searcher's intent. Make your content useful, valuable, and easy for the user to digest. And use real-life scenarios that appeal to them.
2. Find Your Fungicide Window by Climate Field View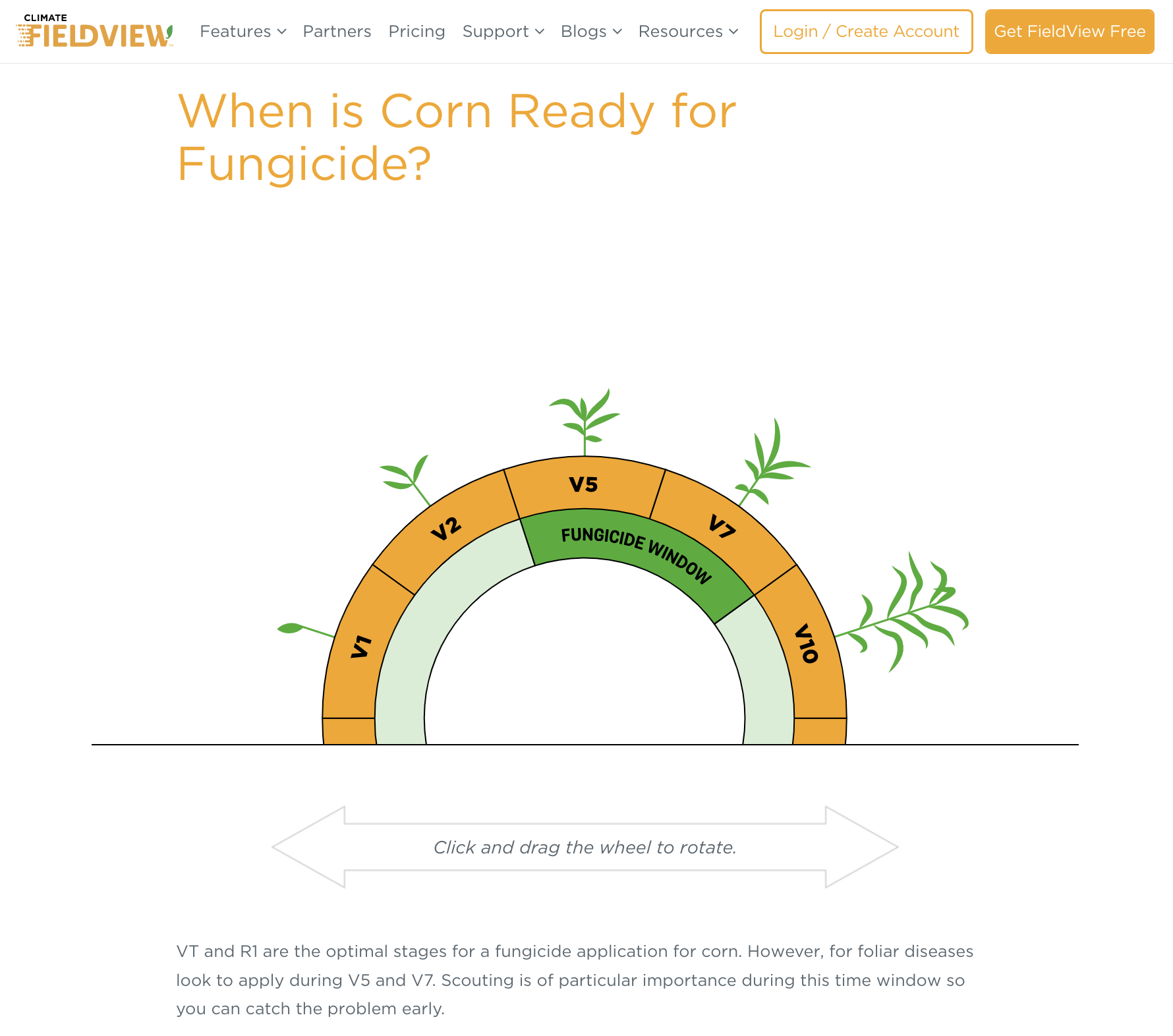 Climate Fieldview's single "Find Your Fungicide Window" blog post was a Content Marketing Awards Finalist, and we can see why. Informative in helping farmers plan for their harvest, it tells them how to use the fungicide (aka pesticides) window to their advantage.
Our Top Takeaway:
Being clear and concise with complex topics is crucial. Visuals like before and afters or interactive designs can keep the user engaged and are a valuable strategy to yield high-performing content.
3. Sisters from AARP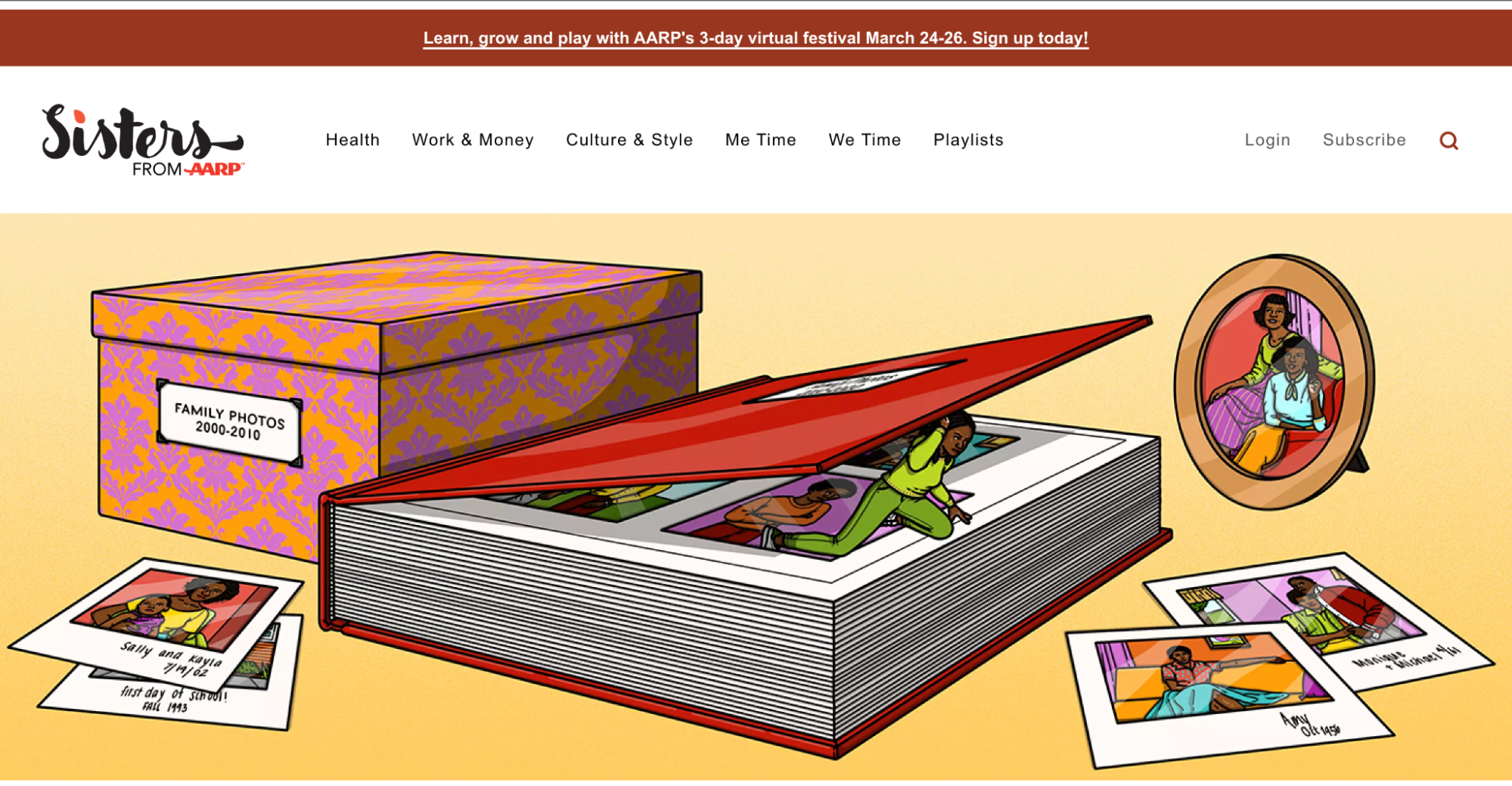 The Sisters from AARP is a community for Black women, connecting with them on the topics of health, wealth, relationships, music and movies, faith, and more. The site offers a safe place for them to come together and discuss these real topics touching all generations.
The Sisters of AARP won a Content Marketing Award for its exceptional content covering a broad set of topics and an established style and voice.
There is much to learn from this outstanding achievement and what it took to create Sisters from AARP. Content Marketing Institute's article gives more information about this community.
Our Top Takeaway:
Make sure your voice is friendly and approachable. The Sisters from AARP is authentic, shareable, and social, almost as if you were ordering your next mimosa during a girl's day out.
Tip: Find blog ideas with Semrush's Topic Research tool. Enter a topic and location, and you'll get dozens of content ideas. Complete with headlines, questions, and related searches.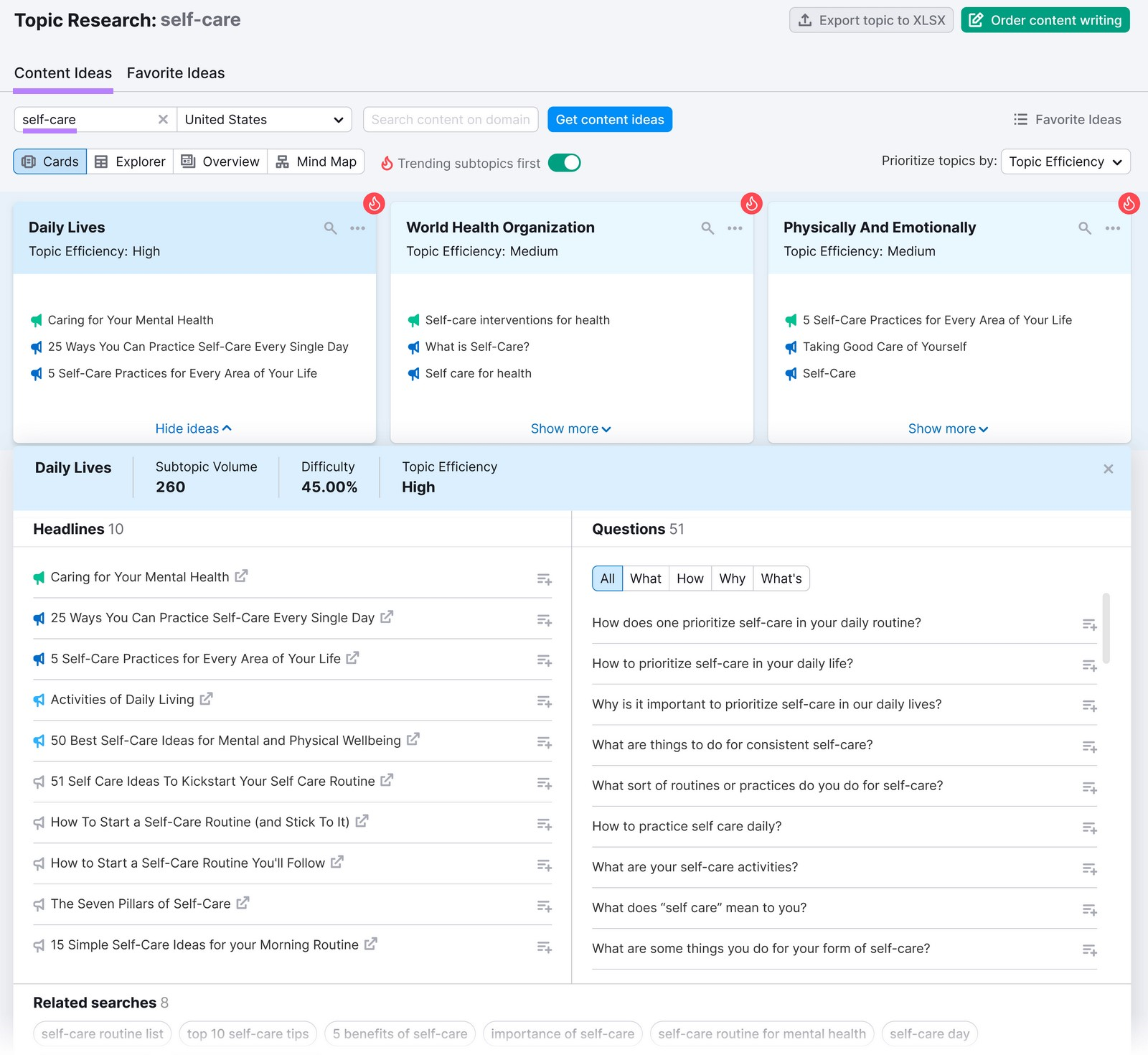 Interactive Content Examples
Interactive content is content that changes based on user activity. It can be relatively tricky to create, but it's great for generating engagement, backlinks, and social shares.
As these content marketing examples prove:
4. Canva's Design Challenge Campaign
Canva's well-known graphic design platform makes content creation easier for businesses, influencers, and creators everywhere. 
In 2022, it launched an ongoing weekly contest for users to win some sweet prizes, like a paid annual membership to Canva.
The #CanvaDesignChallenge calls for unique, original, and sometimes "out there" images. A Canva staff panel judges submissions. Then, they choose their top five at the end of the week. 
Check out past weekly winners on Canva's Instagram page or view one of the weekly challenges.
Our Top Takeaway:
It's a perfect example of cultivating user-generated content (UGC). Since launching, Canva has amassed 36,000 posts under the hashtag #CanvaDesignChallenge. Now, its team can choose which content to share on Instagram by barely lifting a finger. Moreover, Canva—a leader in creativity—gives its users a chance to be the experts.
Canva challenges content creators to think outside the box and craft something new. It's also building a community of creators excited to use the tool and show off their skills. How can your brand do the same for your audience with its content?
5. Spotify Wrapped 2022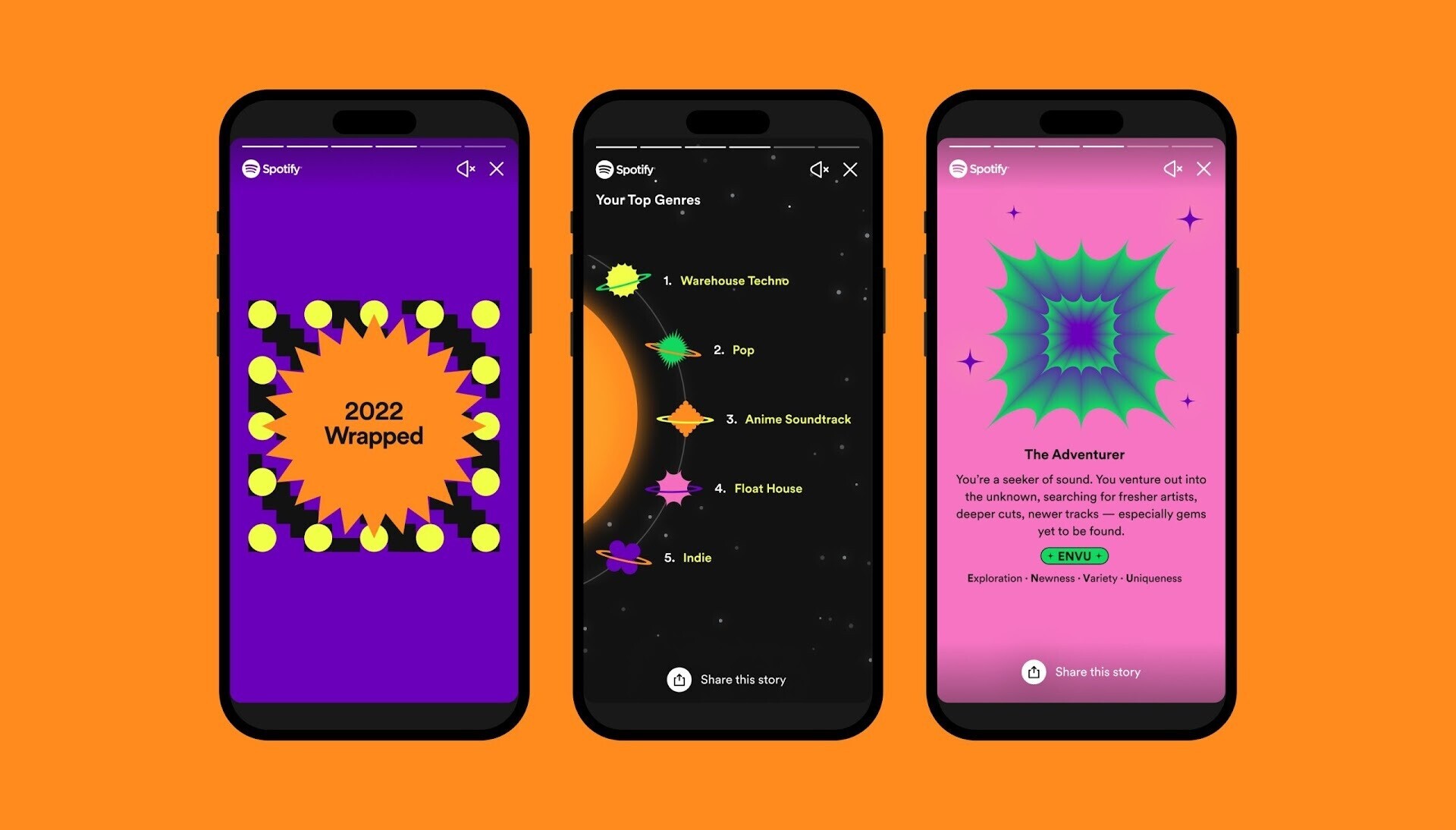 Spotify Wrapped is one of the best-known examples of content marketing. The music streaming service started this experiential marketing campaign back in 2016. In 2022, Spotify had over 188 million subscribers. In 2019, that number was only 100 million. 
It's safe to say that Spotify Wrapped significantly boosted the streaming service's user numbers. 
The feature shows listeners their year-end data neatly "Wrapped" up for the holidays. Users look forward to seeing metrics like their top artists, number of minutes listened, and other snackable facts unique to them. 
Our Top Takeaway:
Spotify Wrapped is designed to be highly shareable across social media networks, but it also taps into the human desire to feel unique. 
Other brands are even attempting to implement similar user data year-end marketing campaigns.
Immersive experiences, when done right, are highly effective. If you collect user data, turn that into something marketable and positive that the user can enjoy. 
6. Family Fun in Scottsdale—Marriott (Lemonly)
Feeling cooped up after a winter spent indoors? Ready for a family vacation? The Marriott in Scottsdale, Arizona, came up with a brilliant webpage that allows visitors to choose their own "Family Fun" adventures in and around Scottsdale, Arizona. 
You can select "outdoor adventure" or "eating" and let the wheel of Marriott fortune determine your fate. 
Our Top Takeaway:
Give your customers and users choices! People love to feel in charge of their own destinies. 
Maybe someone who is unfamiliar with all that Scottsdale has to offer might now spend more time (and stay longer at the Marriott) because they could choose what sounded right for them without having to do a bunch of research. 
7. Design Personality by Airbnb
Airbnb, the popular vacation rental service, put together this short quiz with the help of design experts at Domino. For users looking to spruce up their space, this quiz helps them discover their design personality.
Our Top Takeaway:
Although simple, the quiz provides an accurate answer for those genuinely wanting to upgrade their space. The answers page contains recommendations for places the user might be interested in staying. It then leads them to Domino's website, where they can view more examples of their preferred style.
For interactive content like quizzes, keep things brief, clear, and engaging so users get the most accurate answer. It's also a great demonstration of two brands partnering up to market their services in one place.
8. Google Web Stories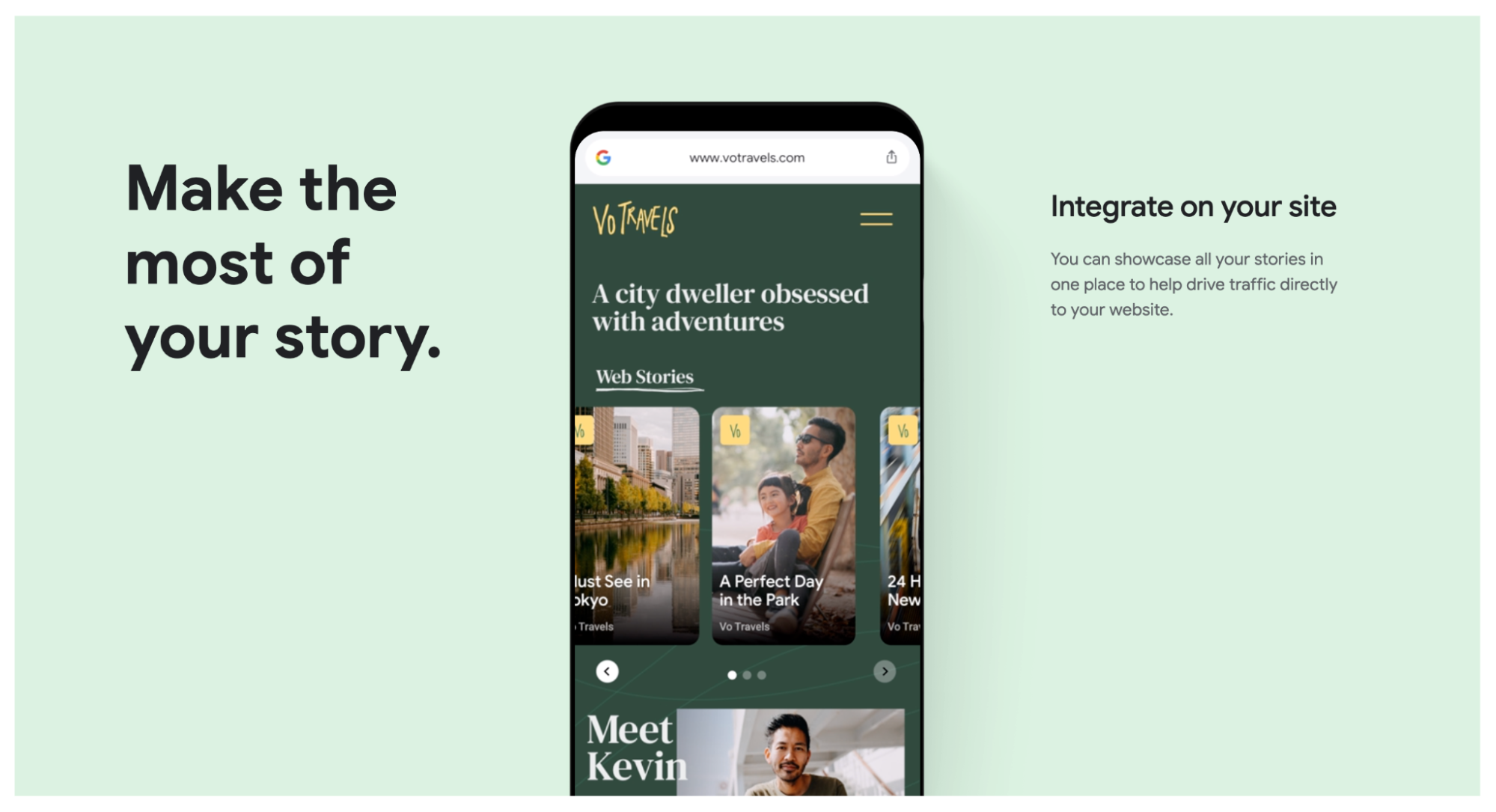 Google Web Stories is jumping on the video trend, helping creators place their content in front of the broadest audience.
Users can add Google Web Stories to the backend of a website, making it easy to upload video content. Similar to sites like TikTok, Instagram, or design platforms like Canva, video creators can craft unique stories using animations, text, color, embeds, and captions.
Our Top Takeaway:
Google Web Stories uses video to help creators position themselves as experts on a topic, driving them to their site. Video is a thriving form of content, and articles that incorporate one video generate 83% more traffic than articles without a video. Content creators can take advantage at no cost as long as they have the time to create web stories from Google.
As Google evolves to deliver more video in search engine results, content creators can harness this new feature to provide users with more video. Google Web Stories can reach users via organic search while still following the style of other video creation platforms like TikTok, Snapchat, or Instagram reels. 
9. Wordle by The New York Times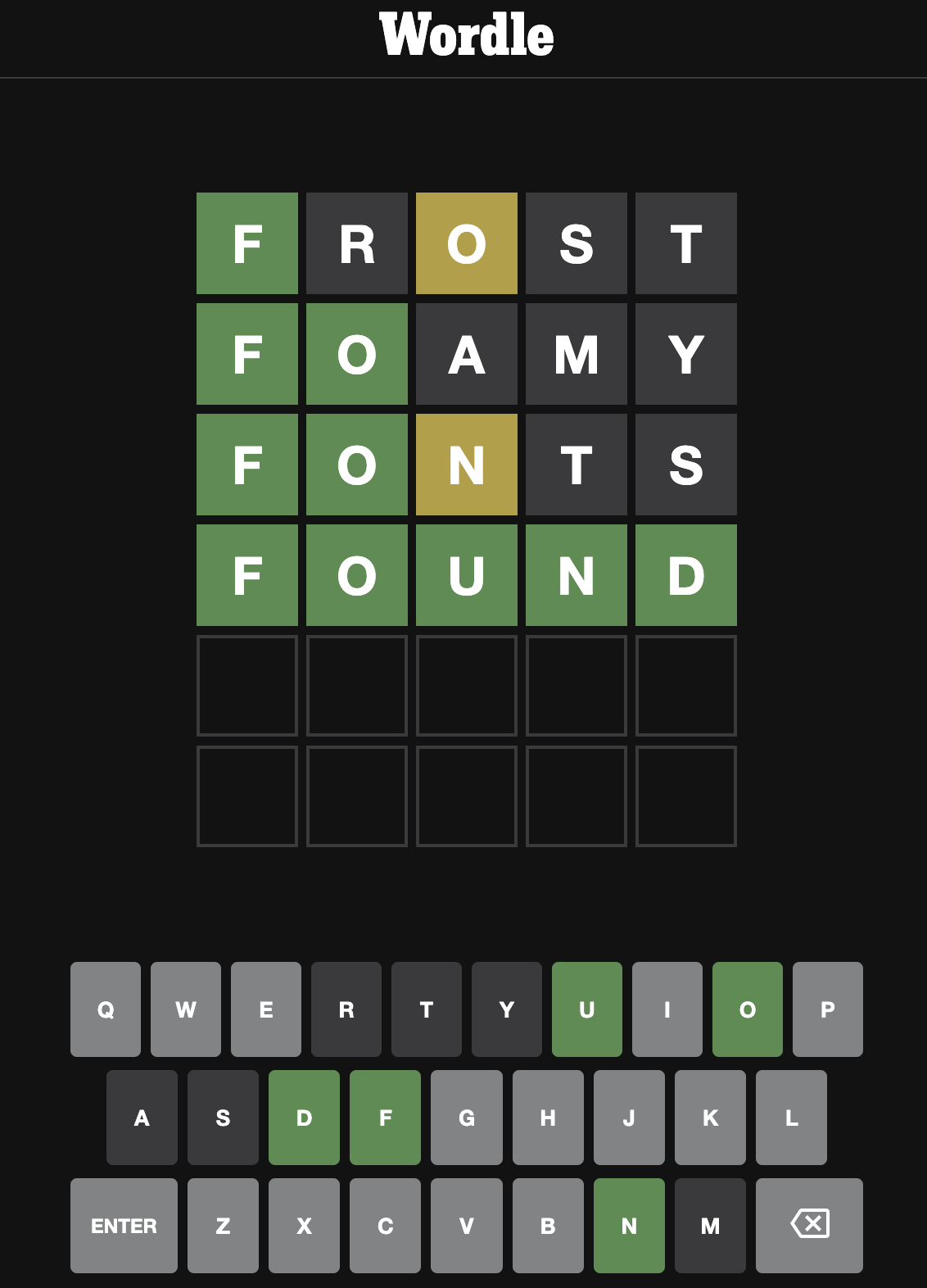 Wordle, the popular online game run by the New York Times, allows users six chances to guess a five-letter word—just once a day.
The site also keeps track of your winning streak. Users can also brag about their daily wins by sharing them on social media.
This page received over 51 million organic views in the U.S. and attracted over 1.9 million backlinks as of February 2023.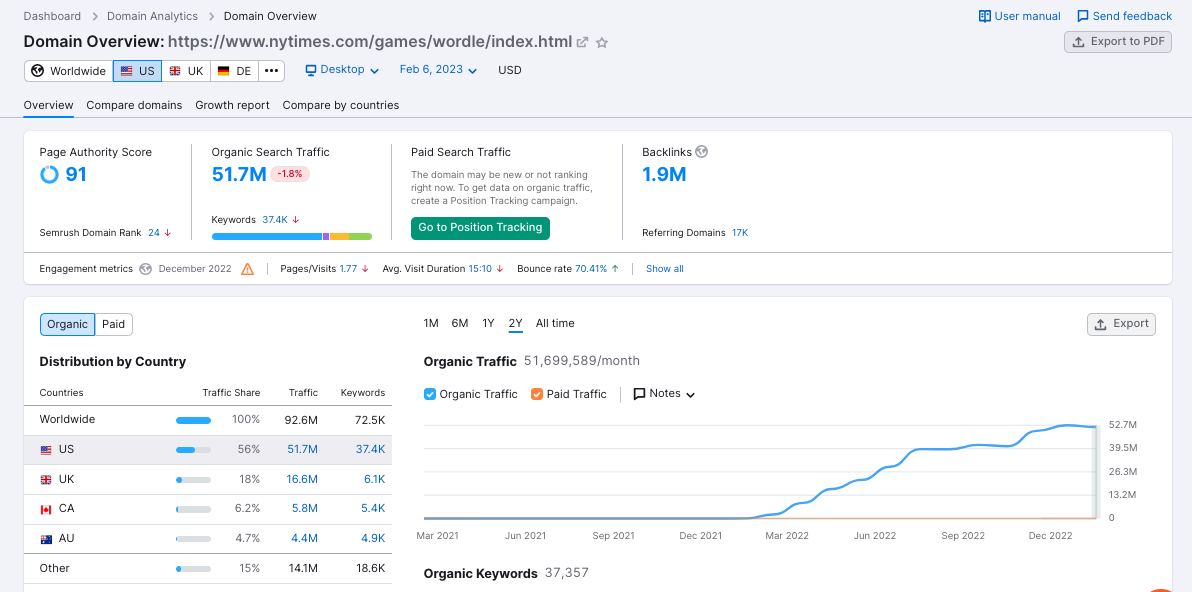 Our Top Takeaway:
Sometimes simple is better when creating something engaging; the more complex a piece of content is, the more likely it is for a user to experience confusion. So keep things clear and straightforward when creating content.
Tip: If you don't have the resources to create interactive content in house, consider outsourcing. You can find a reliable freelancer or agency through Semrush Agency Partners.
Video Marketing Examples
Video is the best-performing content format, according to Semrush's State of Content Marketing report.
Get inspired with these video content marketing examples from top brands like Adobe, Patagonia, and Apple.
10. Adobe x Sundance Film Festival Video Series 2023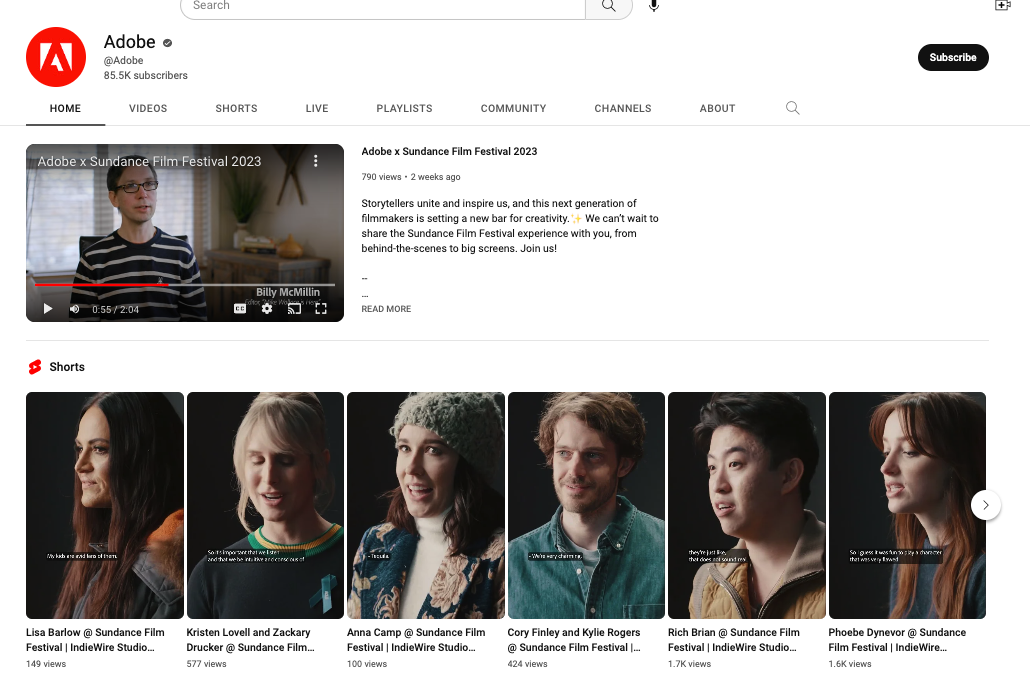 Innovative computer software company, Adobe, is perhaps known best for its Photoshop and PDF services—but they also help independent filmmakers bring their ideas to the big screen. 
In early 2023, Adobe Software became the official editing platform for Sundance Film Festival. To get users excited (and Adobe video editing solutions), they created a series of interviews and behind-the-scenes content with actors, filmmakers, and festival attendees. 
Our Top Takeaway:
Sundance Film Festival is one of the world's largest and most prestigious film festivals. So to be the official editing software of such an event is a tremendous honor. And the behind-the-scenes content is just a cherry on the sundae. 
If an opportunity presents itself to be a sponsor or partner of a creative campaign, festival, or awards show—take it! Even smaller partnerships can have huge benefits. 
Partnerships can help convince prospective customers your product is the superior choice.
11. Patagonia's "End to an End" Series
Outdoor clothing and equipment supplier, Patagonia, has long positioned itself as one of the top, eco-friendly brands in the world. 
And Patagonia talks the talk and walks the walk. In 2022, founder Yvon Chouinard gave away the company. Choinard moved the company's voting stock into a trust overseeing Patagonia's efforts to be more environmentally conscious. 
In 2023, Patagonia began filming a series of high-quality films about distance runners racing to save a forest at risk of being logged. 
The film series is a testament to Patagonia's commitment to be a positive change within the sporting community. 
Our Top Takeaway:
Telling the story of your brand's principles through a video series can pull searchers in to learn more and keep them coming back for more. Customers want to shop with companies they believe to be ethical. 
Patagonia's episodic storytelling method is sleek without being flashy. They lean on the athletes to tell the story of the endangered running trail. 
Youtube episodes can be highly effective at delivering longer brand messaging. 
12. Apple's "Dear Apple" Campaign 
In this campaign, Apple emphasizes how its smartwatch can save lives. 
Over a series of videos, Apple introduces real-life scenarios of people trapped by a bear, a plane crash, and other distressing situations. 
Then they demonstrate how their Apple Watch got them the emergency help they needed.
Our Top Takeaway:
Calming fears we all face as part of your content marketing strategy makes for a strong campaign. And brings in that human element by tugging on our heartstrings. 
13. Dove's Toxic Influence
In 2022, Unilever (maker of Dove products) continued its long-standing Self-Esteem Project by creating a long-form video ad featuring conversations between mothers and daughters about the impacts social media can have on self-esteem.
Dove encourages its consumers to "#DetoxYourFeed" for improved mental well-being and self esteem.
Our Top Takeaway:
It sounds obvious, but knowing your audience is critical. Put your target user in your advertising so they can see themselves using your products.
14. Wistia's Low Views High Impact Video Series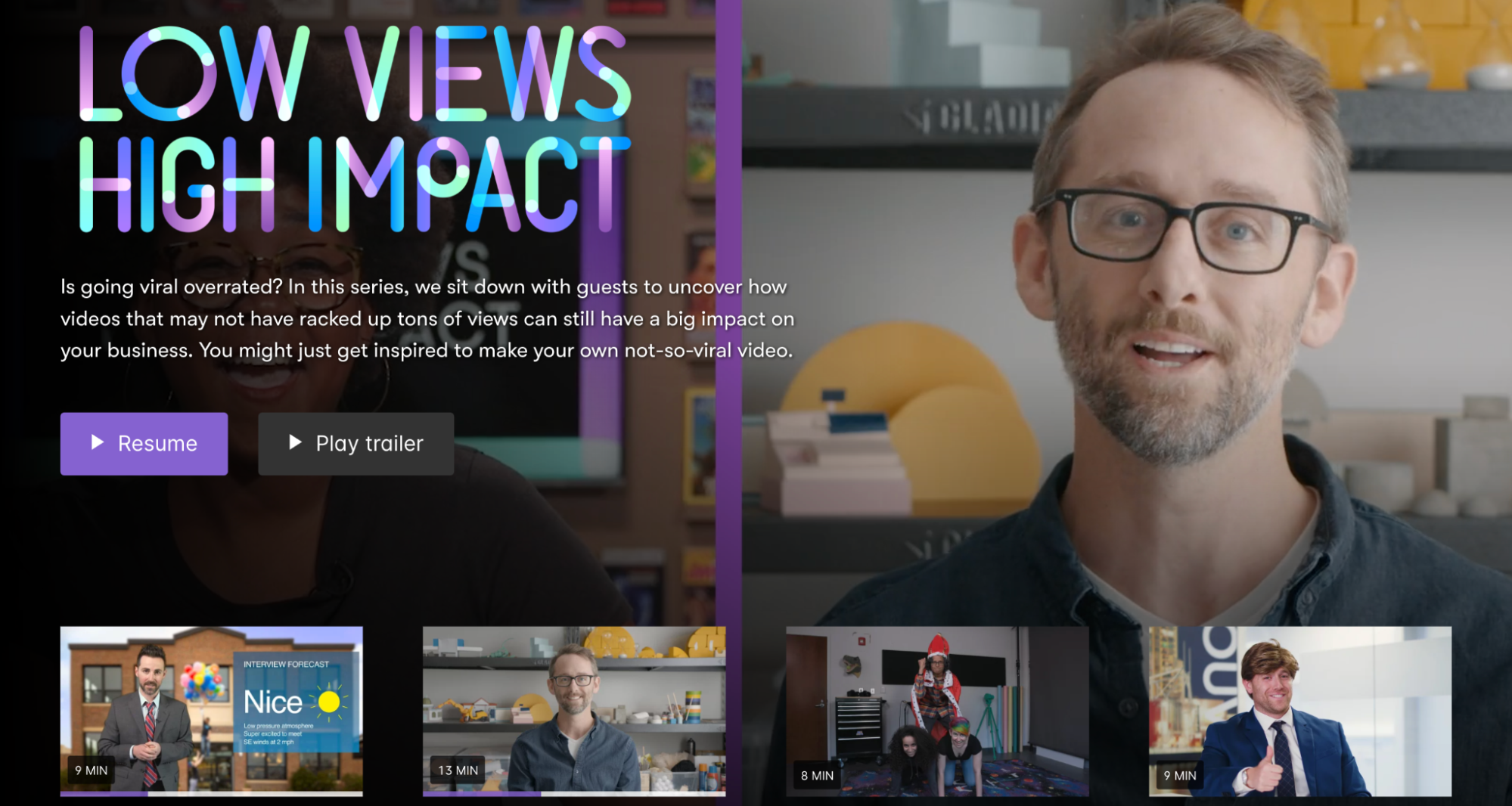 Even if content doesn't go viral, can it still make an impact? Wistia, a video hosting platform, thinks so and works to prove it in its "Low Views High Impact" video series.
Over nine episodes, Wistia sheds light on such content. Wistia interviews businesses that make videos designed to reach smaller audiences. And judging from their work, big things can come in small packages.
Our Top Takeaway:
Even non-viral content can have surprising benefits to a business. This fun and engaging series helps explain why. 
Try incorporating comedy and fun into your content. Focus on quirky ways to deliver value while covering topics that educate marketing professionals, all while showcasing your company's services. 
Tip: If you're just starting out in video marketing, try the Instant Video Creator. It transforms your blog posts into engaging videos.
Social Media Content Examples
Great social media content helps you reach target audiences on platforms like Instagram, TikTok, and Facebook. And improve your brand image.
Let's explore some successful content marketing campaigns and strategies:
15. Duolingo's TikTok Success
There was a time when Duolingo's internet reputation was dictated by users creating hilarious memes about the language app's persistent push notifications, reminding users (sometimes ominously) to practice their chosen language. 
While these memes resonated with their audience, the content was entirely out of Duolingo's control. That all changed during the pandemic when they put their green owl mascot to work on the company's TikTok page. 
Now in 2023, Duolingo's TikTok features hundreds of hilarious videos that garner millions of views. Many feature the company's mascot interacting with Duolingo employees. The embraces its persistent persona. 
A wise choice that put the control of the company's image back in Duolingo's hands (or wings, in this case). 
Our Top Takeaway: 
The campaign is simple, delightful, and charming. It relies solely on the comedic chops of Duolingo's social media department and the energetic mascot social media users have come to love and recognize. 
Lean into your branding assets. Study what users are already thinking and saying about your brand. Don't be afraid to jump on the social media bandwagon and participate in trends. 
16. Allstate's People of Impact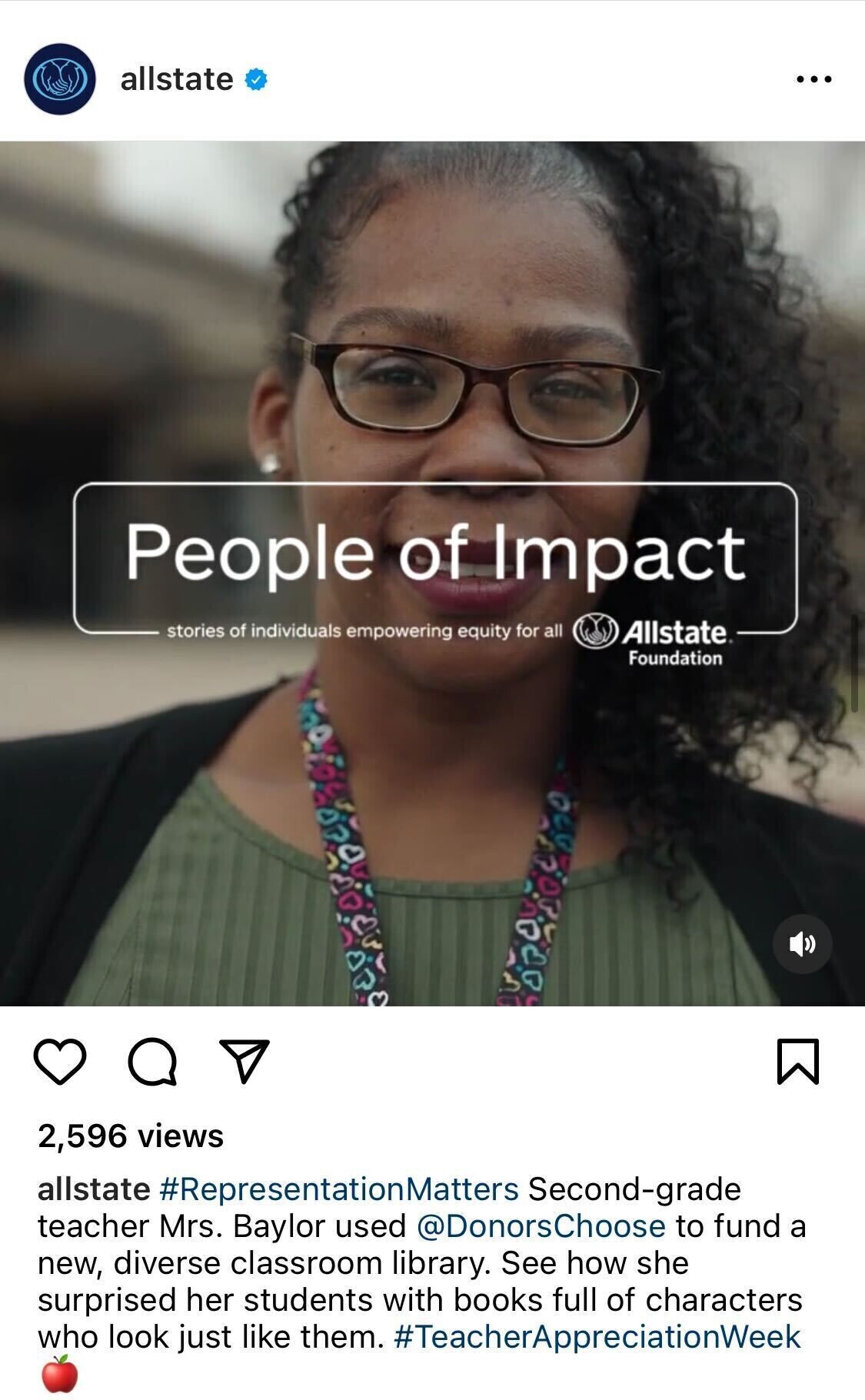 During Teacher Appreciation Week 2022, insurance provider Allstate launched their "People of Impact" campaign. It featured educator Mrs. Baylor. 
She surprised her students with inclusive books for their classroom library. She worked with nonprofit Donors Choose, which allows historically underrepresented and underfunded schools to select grants to fund programs that improve the lives of their students. 
This social media campaign combined multiple philanthropic organizations and efforts, highlighting Allstate's desire to be more equitable and inclusive as a company. 
Our Top Takeaway:
Allstate helped bring together some good causes for this campaign (Teacher Appreciation Week and Donors Choose). It shows the company is making sustained efforts to improve the lives of teachers and students. 
Philanthropy shows your commitment to the communities where your customers live. That, in turn, shows you care about them as people. Donating to good causes can have a lot of positive impacts on your brand reputation. 
17. #ThisisLiving By Corona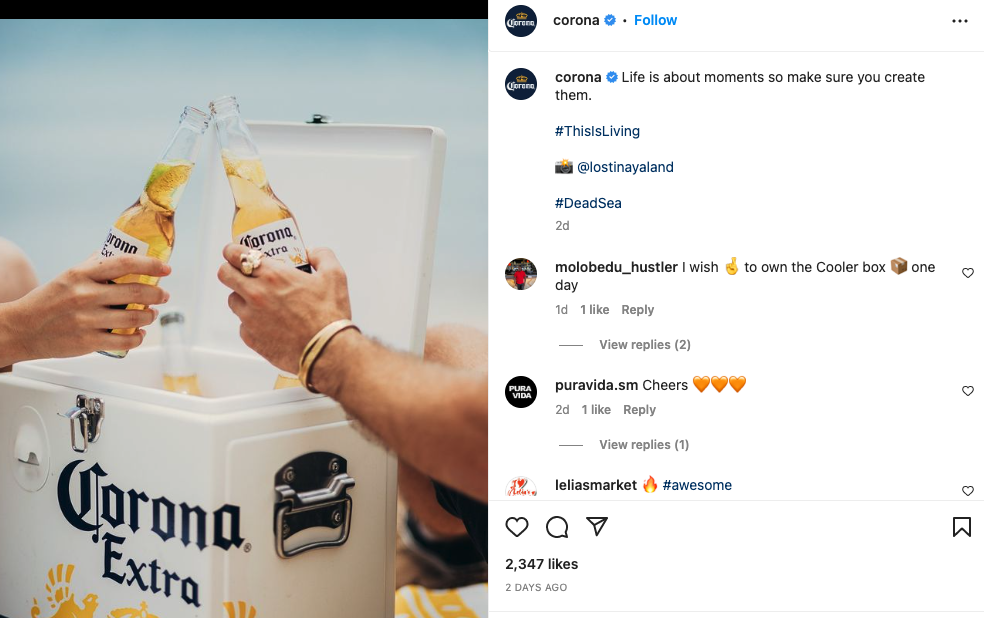 While it's not necessarily new, Corona's #Thisisliving Instagram campaign deserves applause for its longevity—the popular hashtag generated by the brand still gets a ton of engagement as of February 2023. 
Why was this campaign so long-lasting? It taps into the desire to relax on a beach—an infinite dream for many people. 
Our Top Takeaway:
Corona knows its audience well, and it shows with this campaign. They picked a hashtag and a subject that are evergreen. 
A successful social media campaign is good marketing—generating a long-lasting campaign is fantastic. 
The campaign complements video ads with the same title. Using social media as a lift for your other collateral will likely improve your SEO (even if social media isn't a direct ranking factor for Google). 
18. Travel Manitoba on TikTok
The Travel Manitoba TikTok channel contains amazing travel-related videos that speak to Manitoba, Canada, tourists, and locals alike. Some videos show activities like dining under the aurora borealis, staying at retro hotels, or going on a bison safari. 
Candidly featuring these moments has amassed more than 30,000 followers and over 260,000 likes.
Our Top Takeaway: 
Travel Manitoba does well to incorporate honest reviews of the best places to eat, drink, be outdoors, and enjoy the city. Video content remains a significant content marketing trend in 2023.
Capture the various angles of everything that make your brand different and keep each second of content interesting for the user.
19. Adobe #CreativityForAll

Adobe supports businesses with its outstanding computer software and community of professional creators. From crafting PDFs to illustrating ebooks or posters, they have products suitable for any business's creative needs.
The software company takes its B2B services to new creative heights on its Twitter page opening new worlds for businesses. They post colorful and inspiring visual content, tips for better illustration and video creation, and educational blog posts.
Adobe also shares illustrations from users with expert skills to offer recognition for their creativity.
Our Top Takeaway:
The posts are short, sweet, and creative and speak well to their celebration of #CreativityForAll. They give credit to graphic designers, offer tips for creators, and are pleasing to the eye.
Besides, they communicate their brand cleverly, leaving followers inspired to engage.
Short, eye-catching images and videos increase engagement. Sharing people's creativity helps inspire others. This holds true for all sectors, including B2B.
Tip: Semrush's Social Media Toolkit has everything you need to streamline social management. You can schedule posts, analyze rivals' strategies, track analytics, and more.
Ebook Examples
In content marketing, ebooks are in-depth guides presented in a booklet format. They're typically used as part of a lead generation strategy.
Let's look at some of the best examples:
20. Ann Handley's How to Newsletter Ebook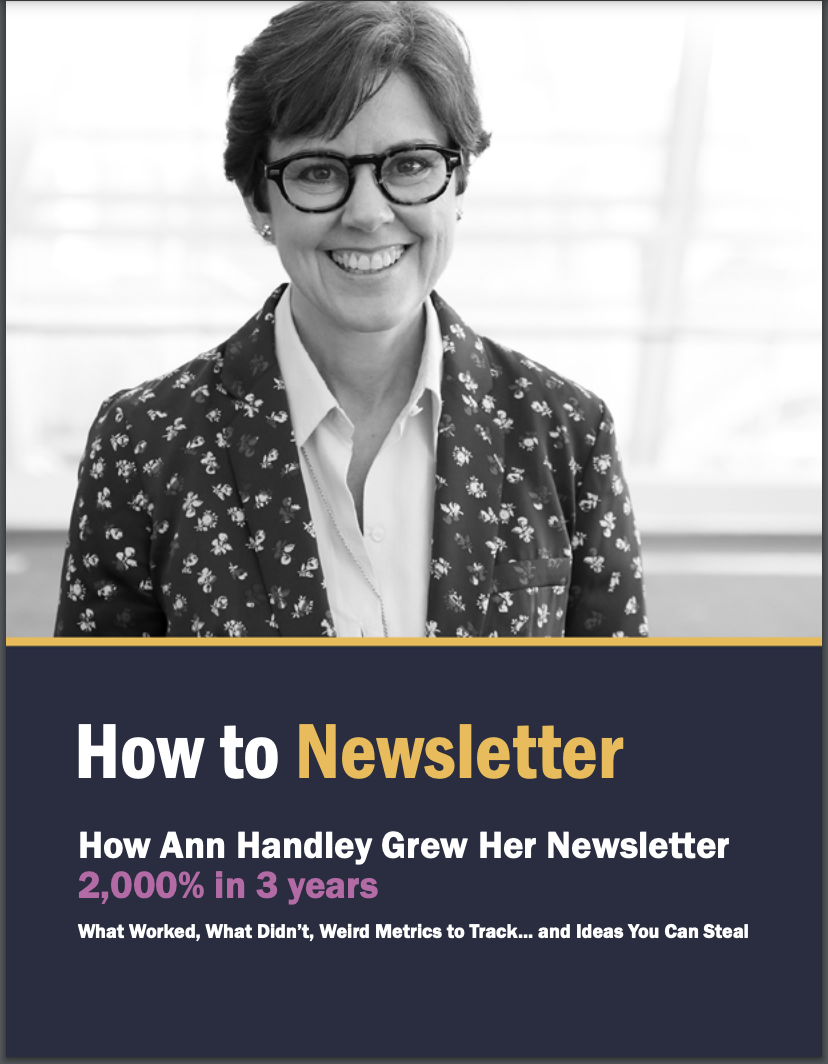 Can a PDF be a party? "Everybody Writes," author Ann Handley says, "YES, IT CAN" in her ebook on How to Newsletter. 
When she started her newsletter, she had a little over 2,100 subscribers. But, according to data included in her ebook, 43,000 people are opening emails three years and 100 issues later.
So what led to the 2,000% increase? In "How to Newsletter," Handley shares what worked, what didn't, how she keeps her subscribers engaged, and the "weird metrics" she chooses to follow.
Our Top Takeaway:
Handley provides practical advice for writing engaging letters, keeping her love and desire to write at the forefront.
In addition, she touches upon the use of white space, letting the words breathe in the ebook. She believes the ebook format converts audiences better over traditional, "forced opt-in, lead magnets, popovers." 
"How to Newsletter" is very digestible at only 14 pages long and also includes a checklist to help you build your own newsletter.
Where a 5,000-word blog post can feel like an overwhelming amount of information to take in, an ebook is portable. 
So, take your time, utilize white space, offer practical advice, and don't overwhelm readers with information when building your thought leadership in the industry. Ebooks offer a great medium to achieve these goals. 
21. Comic Book School Creator Connections: Panel One
The Comic Book School Creator Connections: Panel One is an anthology of 16 creator-owned stories from talented writers, artists, editors, and comic nerds. This ebook honors these talented comic book creators who showed up at Comic Cons but still hadn't broken into the industry.
The anthology won the Independent Creator Award for Best Anthology and the Content Marketing Award for Best Use of eBook in Distribution.
Our Top Takeaway:
The stories are different in style and variety and show the diversity of an industry that has seen many seasons.
Tremendous and impactful art is still made and appreciated during trying times. And the same goes for any kind of content marketing. 
What we do with our content can impact others as long as we keep creating. 
So if you have something to say, but no one seems to be listening, don't be afraid to chart your path. After all, mission-driven content marketing can truly differentiate you in 2023.
22. The State of Personalization Ebook by Drift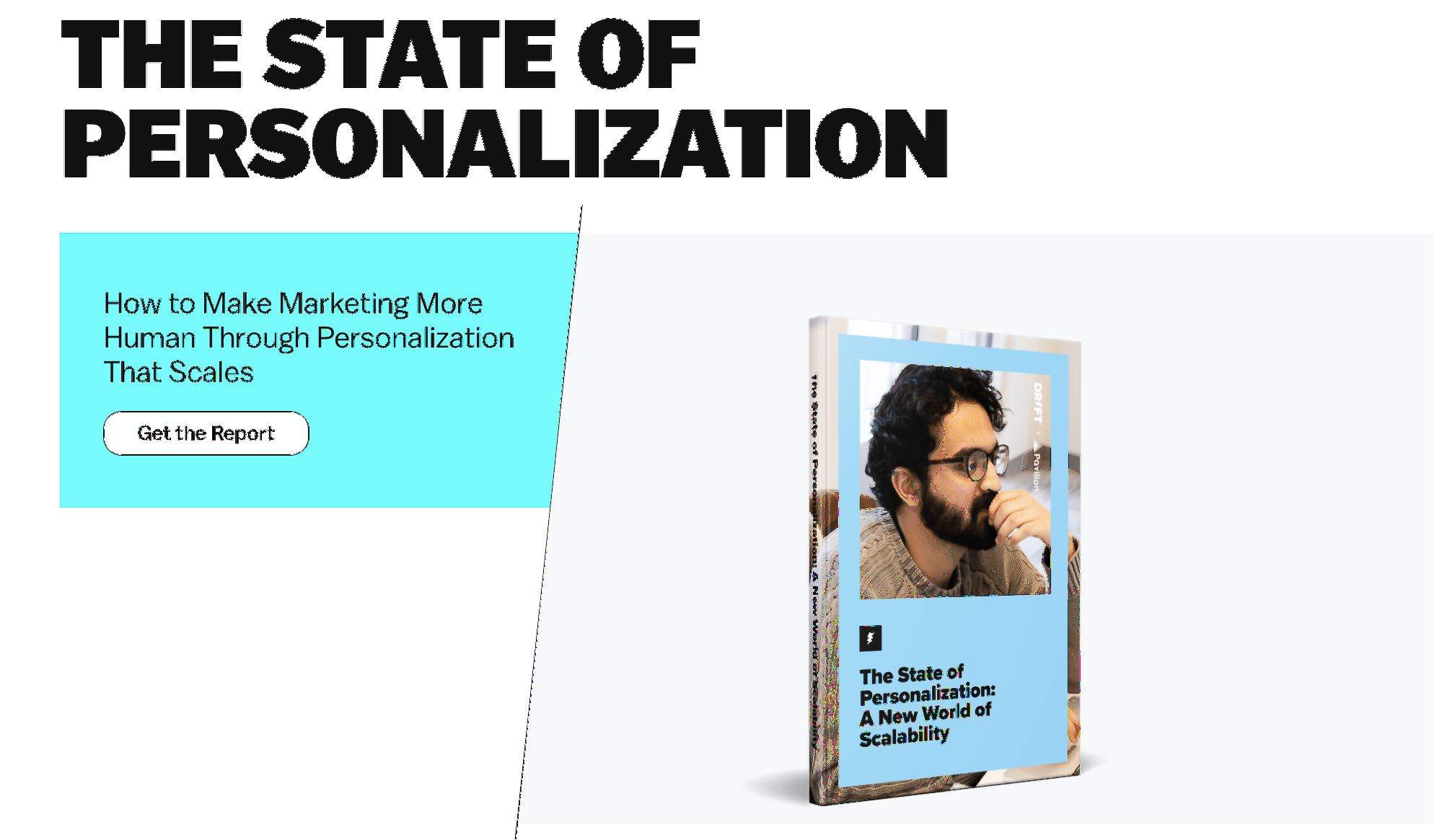 The State of Personalization ebook by Drift is a guidebook that discusses the importance of businesses creating more personalized content for their customers.
This guide, backed by statistics and reasoning, educates businesses on individualized content and how to craft scalable online experiences for users. Ultimately, it encourages businesses to abandon templated content marketing techniques and exchange them for high-quality, individualized content.
Our Top Takeaway:
In an age where personalized content is more desirable than ever, this guide delivers practical advice and insight on how to customize content for users. The ebook's layout makes it easy to consume.
Make content a novelty for the businesses you work with or the customers you serve. Understanding your customer's needs and pain points helps you provide more personalized solutions. Having credible sources to back up your content can also be very persuasive.
Tip: Read our gated content guide to learn about the pros and cons of placing ebooks (and other types of content) behind lead generation forms.
B2C Content Marketing Examples
B2C content marketing is about tapping into people's personal needs, goals, and pain points. 
These are two of the most creative content marketing examples we've found:
23. Bombas and Brass Queens NYC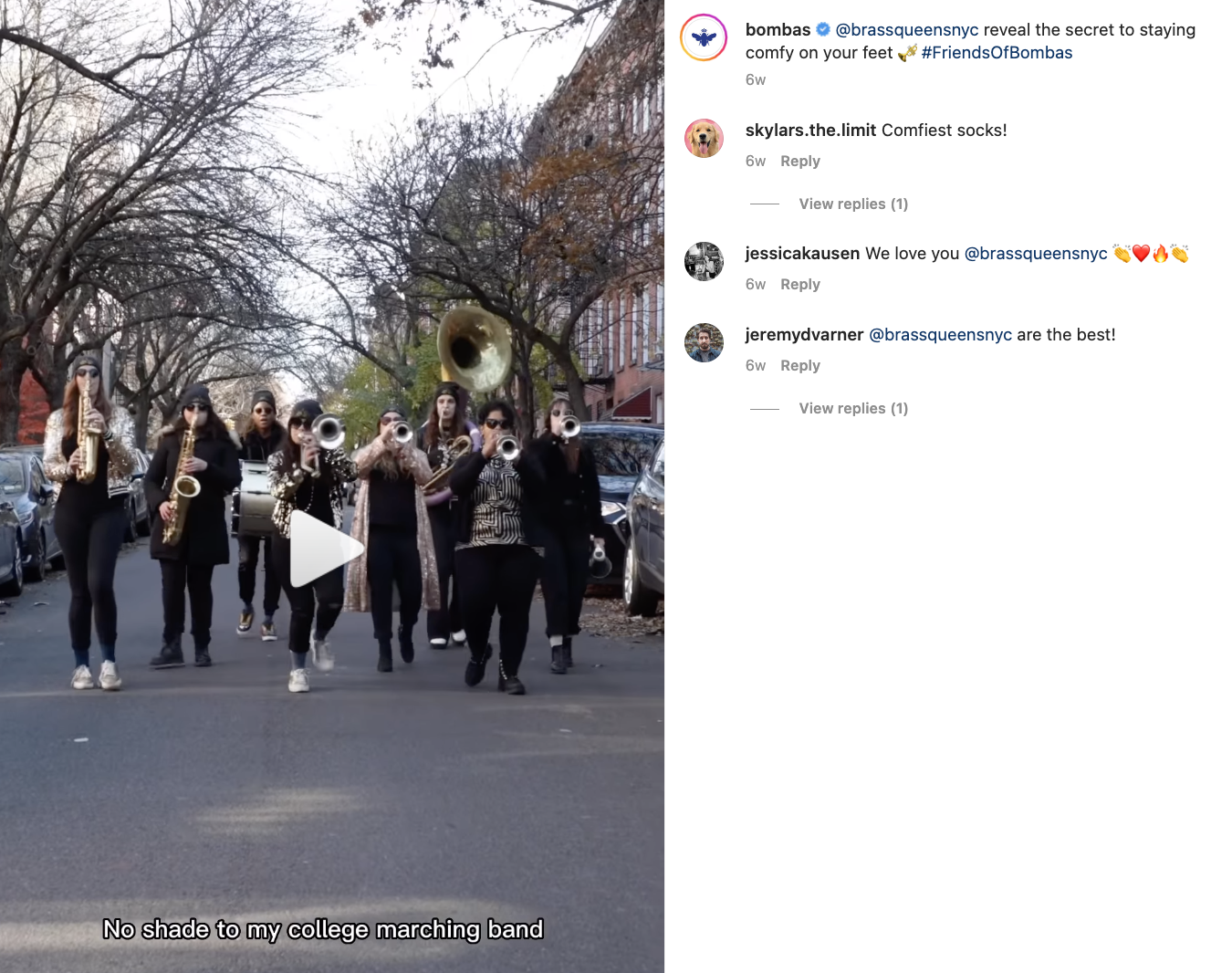 Sock brand, Bombas is well known for its promise to give a pair of socks to those in need for every purchase made.
Bombas is a brand that is active in social justice causes. In January of 2023, they paired up with the Brass Queens of NYC—an all-female brass band. 
This partnership was part of their #FriendsofBombas. The campaign aimed to showcase Bombas as a high-quality brand that people from all walks of life could enjoy and find comfort in. 
Our Top Takeaway:
Gorilla or influencer advertising can be deeply compelling for prospective customers. They see a cool, all-female brass band wearing Bombas socks and they may just want to know what it feels like to walk a mile in those (socks) shoes. 
Put people in your B2C content marketing. The ability to relate is a primal, deep human emotion. The more you lean into the diversity of your customer base, the more likely you'll be to capture new interest. 
24. HBO Max Trailers + Hearts and Science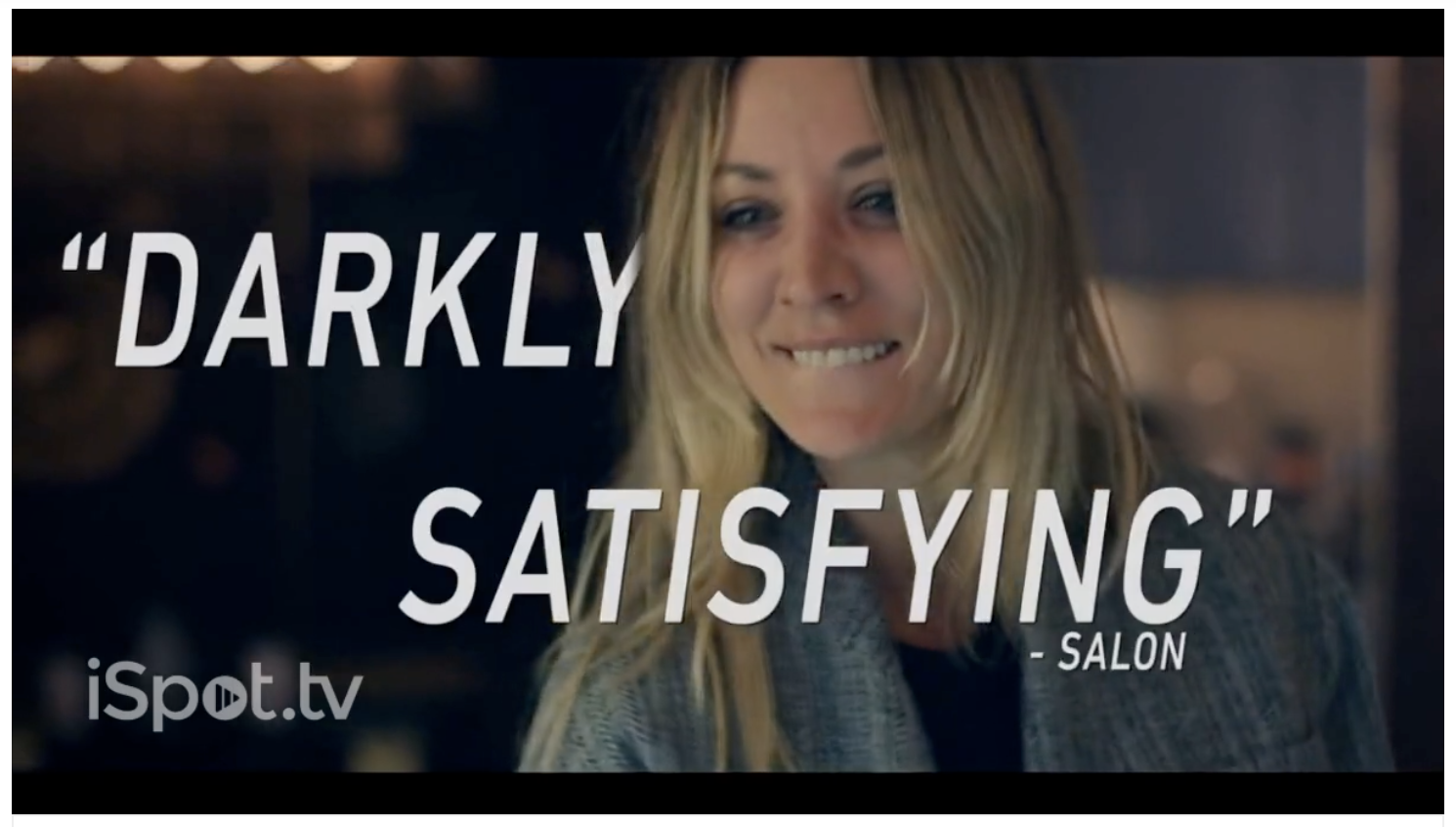 Diving deep into the data to understand consumers, Hearts and Science is a force for change with its content marketing ideas. The company combines data analysis and the "foundations of our human hearts" to help understand consumers on a deeper level, helping businesses build emotional connections with their consumers.
Hearts and Science and HBO teamed up to create a series of 30-second TV spots for upcoming Max Originals, crafting captivating trailers for Lovecraft Country and The Flight Attendant.
Our Top Takeaway:
These two teams found an opportunity in the emotional bonds between business and consumer. Together they created trailers that captured the audience's attention and compelled them to watch the next flick.
Digging deep into what triggers your consumers' passions can help you create intriguing, impactful content.
Tip: Use Semrush's Market Explorer tool to learn about your target audience's demographics, socioeconomics, interests, and more. So you can better understand what content will resonate.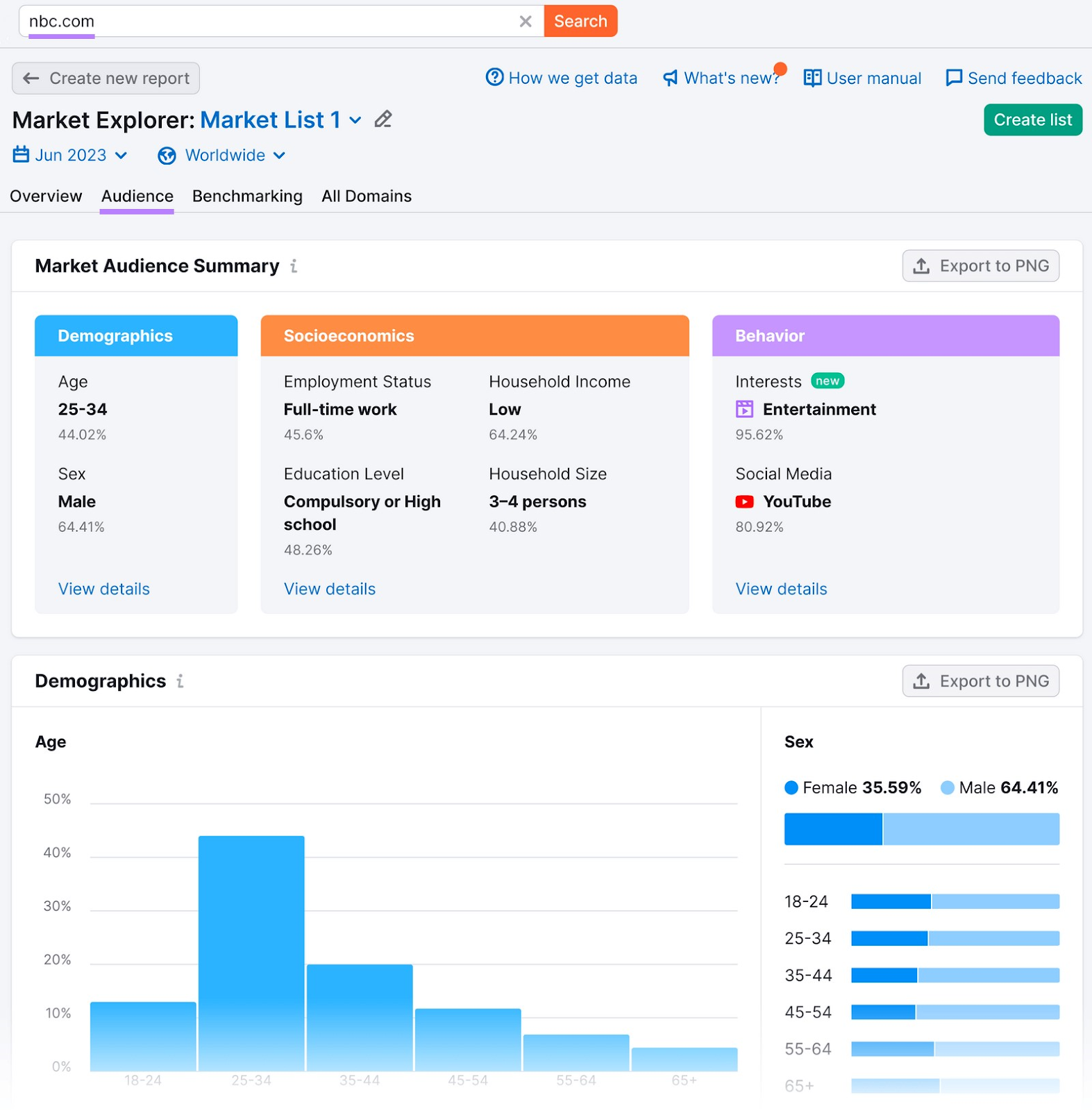 B2B Content Marketing Examples
B2B content marketing is about helping people achieve professional and business goals.
And these examples prove it doesn't have to be boring:
25. Salesforce: Leading Through Change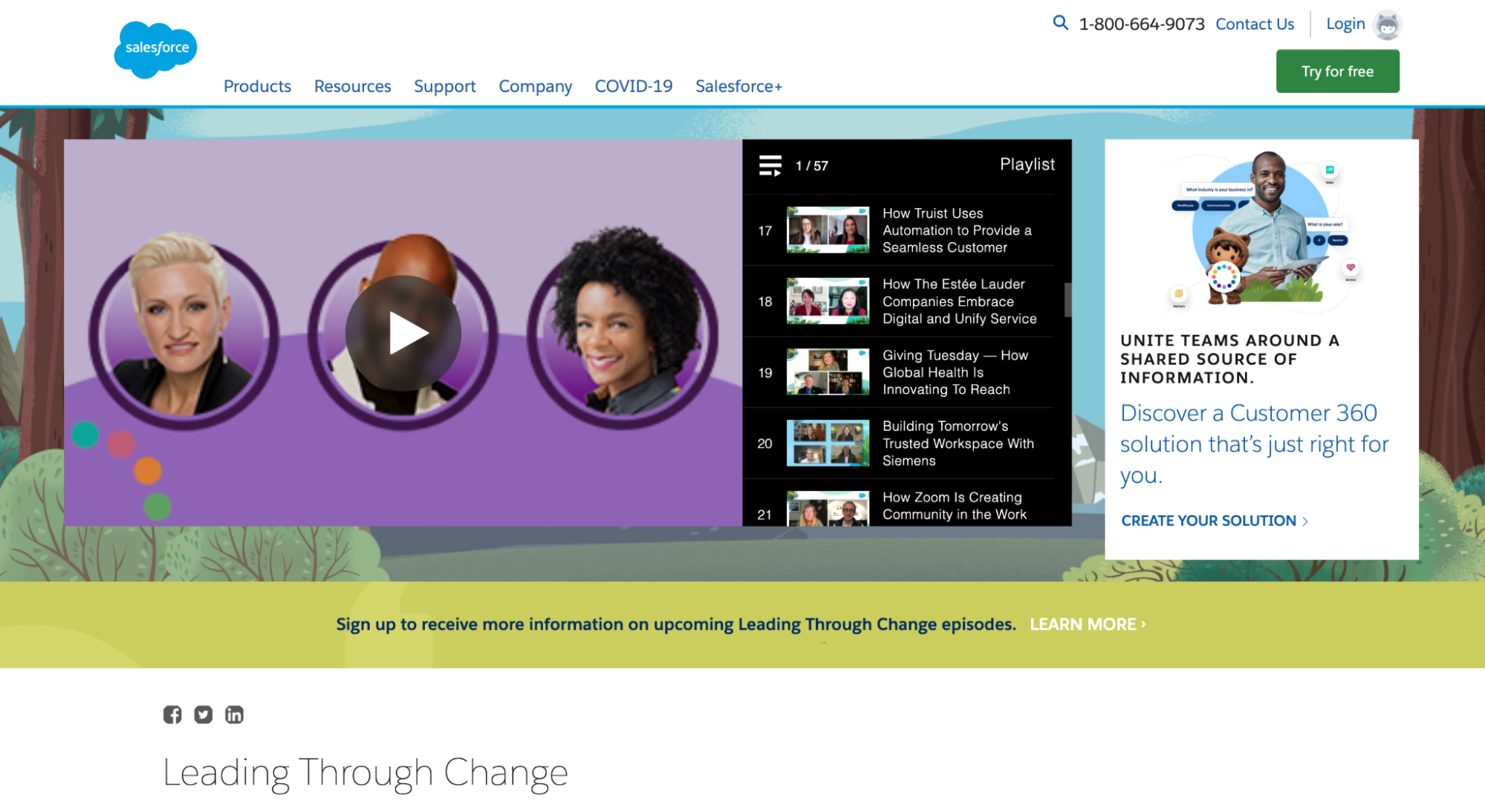 Salesforce's Leading Through Change campaign nurtures businesses navigating work-life balance online. 
With more people working from home, employees and companies must remain engaged and vigilant throughout their workdays. 
To sustain this new working lifestyle, Salesforce created a library of videos that speak to leadership, engagement, resilience, equity, and sustainability.
Our Top Takeaway:
Stay connected with your users by offering help when they need it most. While avoiding change may be easier, it's not always the best solution. Find a way to support the difficult but good and necessary challenges.
26. Unbounce: The Conversion Benchmark Report
Unbounce is a drag-and-drop builder that doesn't require you to code your landing pages. 
Their Conversion Benchmark Report is a digestible, data-backed that doubles as a landing page packed with information that helps marketers improve conversion rates. 
To access the report and see the benchmark data for various sectors, you must fill out a form on this page. 
Our Top Takeaway:
Unbounce created an online report as a landing page instead of just another downloadable PDF. They provide information to the reader while still being able to gate their content and generate leads. 
Make your lead-generating content stand out with an unusual format. Be different and get creative in distributing content, even if you are in B2B.
27. Slack's Case Studies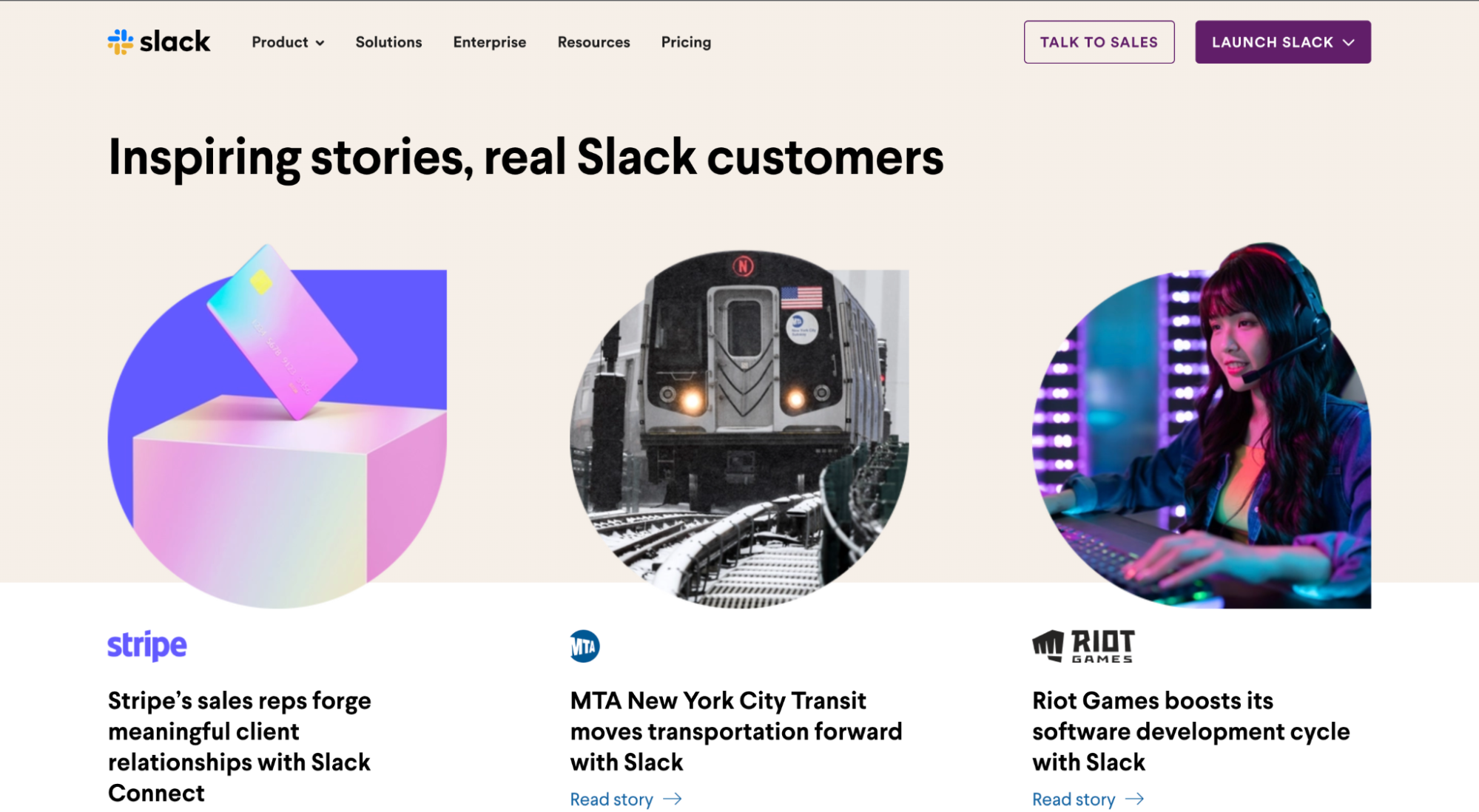 Case studies can be a handy form of content marketing, but that doesn't mean they have to be plain, boring, and purely promotional. 
Slack, for example, turned its case studies into inspiring stories for its users.
In doing this, Slack spotlights the customer as they share how this communication software benefited them. 
Our Top Takeaway:
The storytelling approach is an informal, warm way to show how Slack's product has helped its customers. 
Our lives revolve around storytelling, making it a compelling form of content marketing. When creating your next content marketing piece, try incorporating more relatable storytelling to better connect with customers.
Tip: Use Semrush's Organic Research tool to find your rivals' top-ranking pages. And see what keywords they rank for.
Where to Find More Inspiration
If you're looking for more great content marketing examples, check out these resources:
It's also a good idea to analyze your rivals' strategies. To see what's working for them.
With Semrush's Traffic Analytics tool, you can find out which pages drive the most traffic and engagement: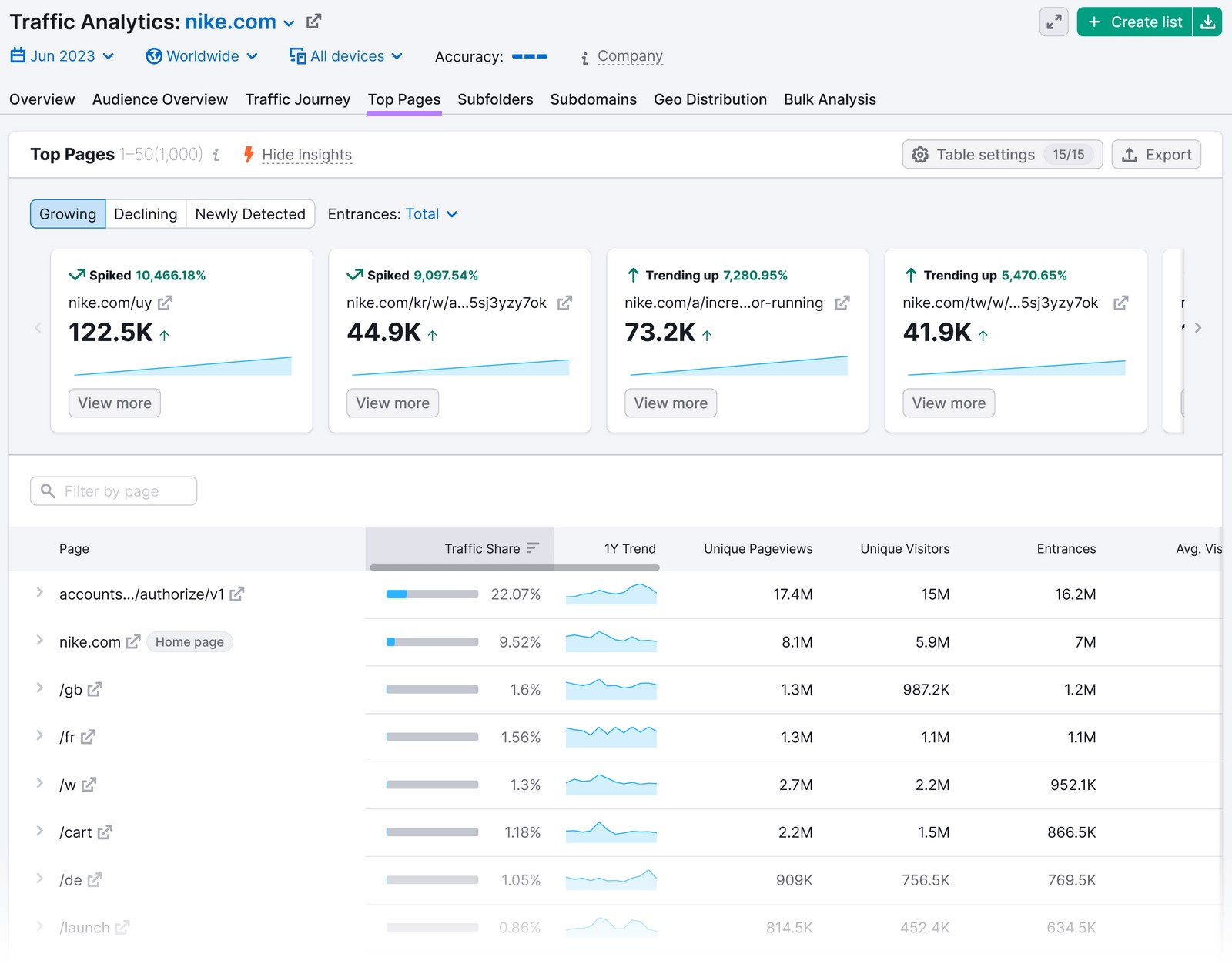 Use this information to shape your content marketing strategy. And gain a competitive edge.