What Are Digital Marketing Tools?
Digital marketing tools give marketers the ability to perform essential tasks across all online channels. 
As the size of a business increases, so does the need for digital marketing tools. Think SEO, PPC, email, social, and content marketing. 
In this article, we'll go over the best:
SEO tools
Marketing automation tools
Social media management tools
Design tools
Collaboration & productivity tools
Content creation tools
Google tools
Let's get to it.
SEO Tools
The best SEO tools have built massive databases to help marketers identify and track all the information relevant to search engine performance.
Including: 
Keyword research
Competitor keyword analysis
SERP rankings
Backlink data
Backlink opportunities
Here are some of the top SEO tools:
Semrush
The all-in-one platform provides any search engine-related information businesses need to improve their organic search performance. 
As one of the first and most highly-ranked SEO analytics platforms, Semrush is a staple in the space. 
Created in 2008, Semrush has built a massive SEO database that includes: 
Over 21 billion keywords
808 million web domains
43 trillion backlinks
500 terabytes of traffic data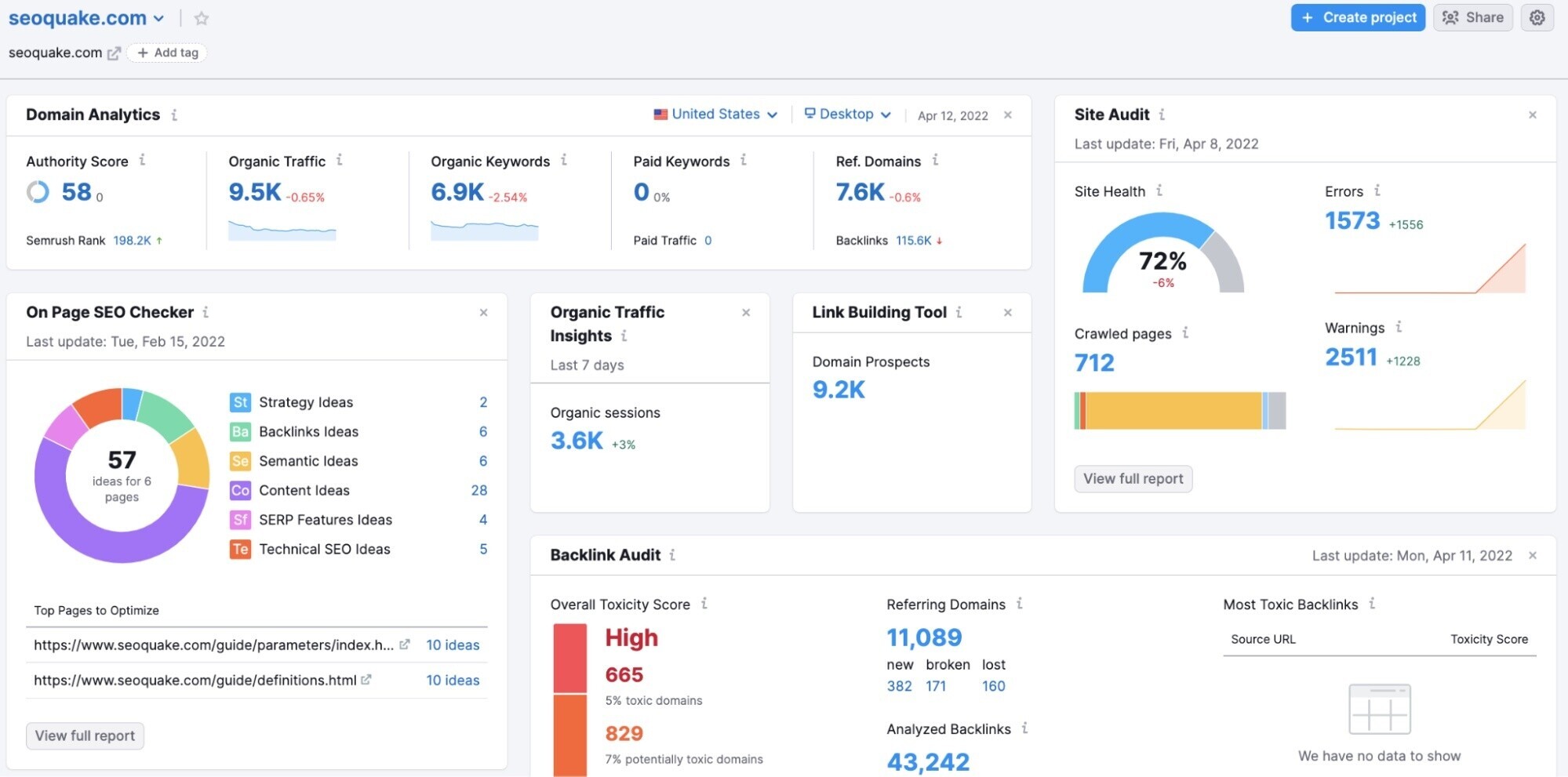 Though Semrush's foundation is SEO, it continues to expand and now has over 40 tools that measure results for content, social media, paid ads, and competitor research.
Yoast
Yoast is a handy WordPress plugin with both free and paid options. It's a staple for many SEO professionals, as it handles most technical SEO issues with ease.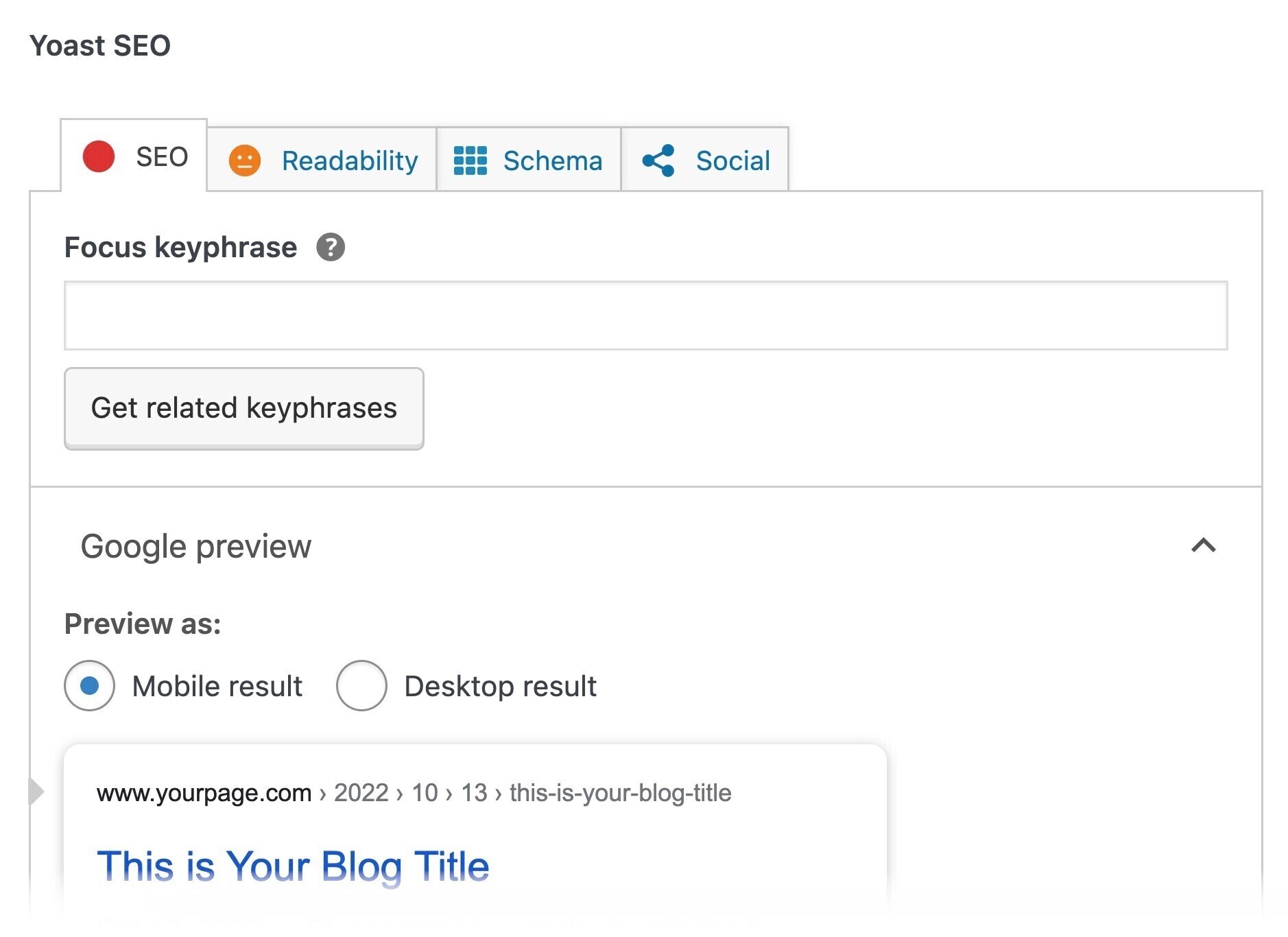 Even if you aren't a technical SEO whiz, you can use Yoast to ensure that your site meets most SEO standards. 
If you're experienced, it can still save you plenty of time. And (as a bonus) it also offers tips for optimizing content for readability.
Plus, Yoast has tons of SEO training courses. All free. 
Rank Math
Rank Math is another popular WordPress SEO plugin (300,000+ installations to date). 
And for good reason. 
It can be overwhelming to switch between tools and websites. Rank Math presents data from other apps (like Google Analytics and Google Search Console) right in your WordPress dashboard. 
It also provides a Rank Tracker tool, monitors 404 errors, generates Schema Markup, and lots more.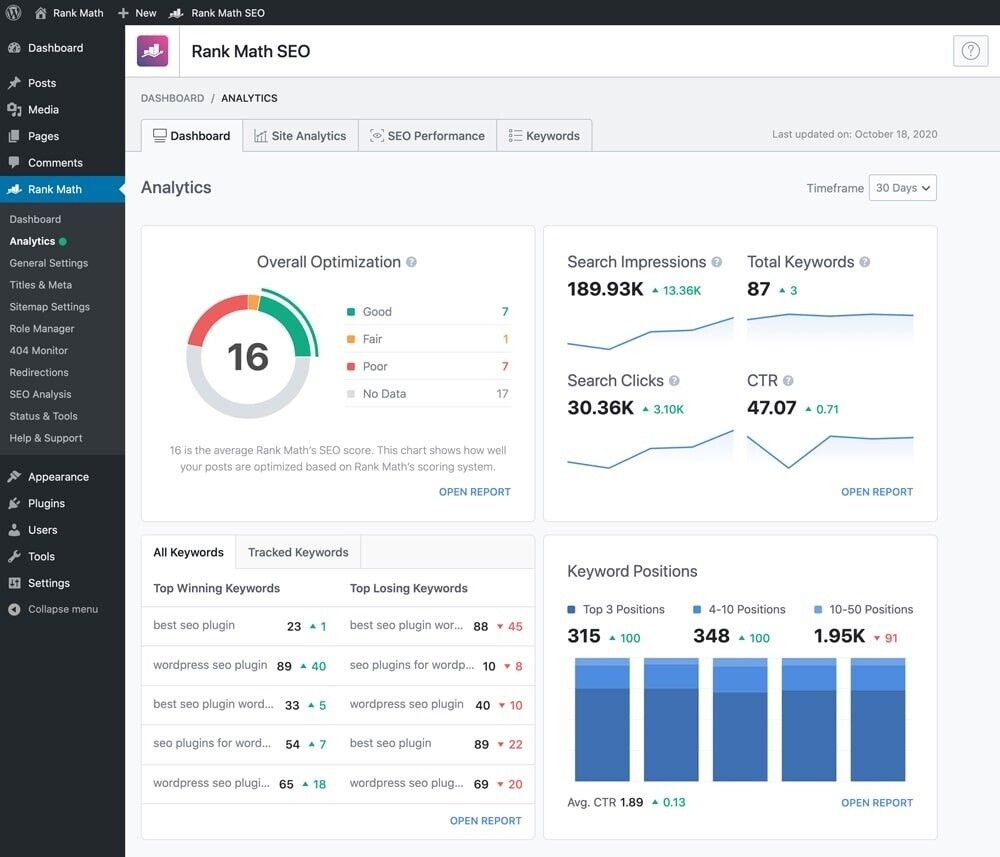 The free version includes plenty of great options on its own. But if you do decide you need to upgrade, the annual rates are very reasonable. 
SEOquake
SEOquake is a browser extension that lets users:
Conduct on-page SEO audit in a flash
Examine internal and external links
Compare domains and URLs in real-time
Export everything into a file
Without ever leaving their browsers.

The handy SERP overview tool (pictured above) shows a range of data for each result. You can also click any number to see a more in-depth report.
Marketing Automation Tools
Marketing automation tools allow marketers to communicate with existing and potential customers more efficiently. Using emails, text messages, and more.
Here are the main benefits of marketing automation tools:
Reduce the time marketers spend on repetitive tasks
Allow companies to respond quickly and consistently to customers and prospects
Connect with other digital marketing tools to improve their effectiveness
Let's take a look. 
HubSpot
HubSpot is one of the most well-known automation tools. 
It started as a Customer Relationship Management (CRM) platform but has since evolved into a powerful platform for marketers. 
HubSpot's Marketing Hub provides the tools, insights, and automations a business needs to provide a better experience to their customers.
It helps improve performance across organic content, SEO, paid ads, social media, and more.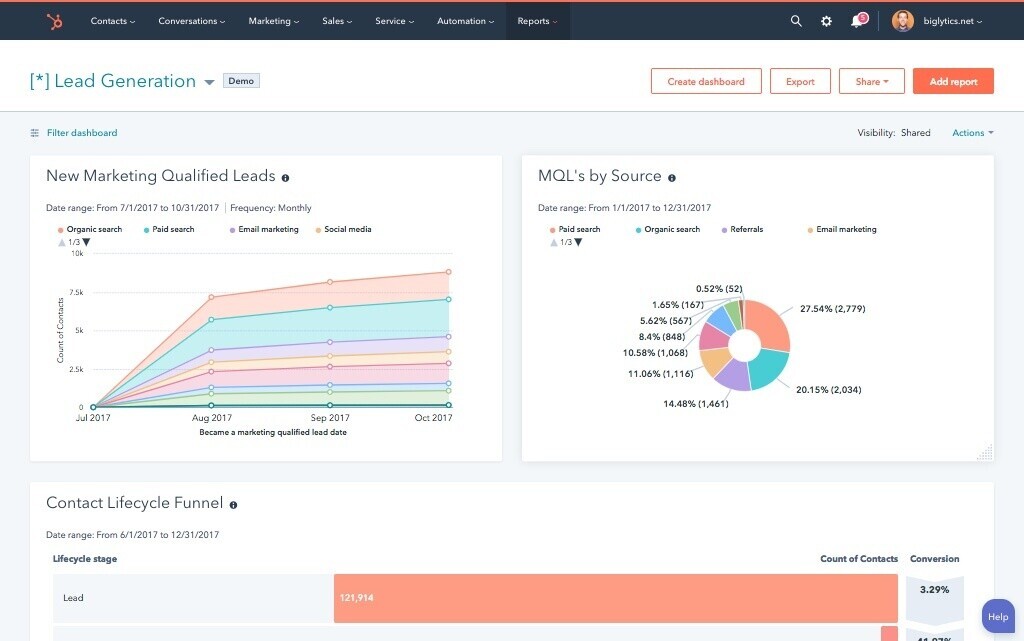 This all-in-one automation tool serves as an important reminder that marketing isn't just about attracting and gaining new customers. But keeping them as well.
ActiveCampaign
ActiveCampaign allows businesses to provide meaningful customer engagement. At scale. 
By connecting to over 850 social media, email, ecommerce, web, and payment tools, ActiveCampaign gives marketers full control over the customer experience across every marketing channel.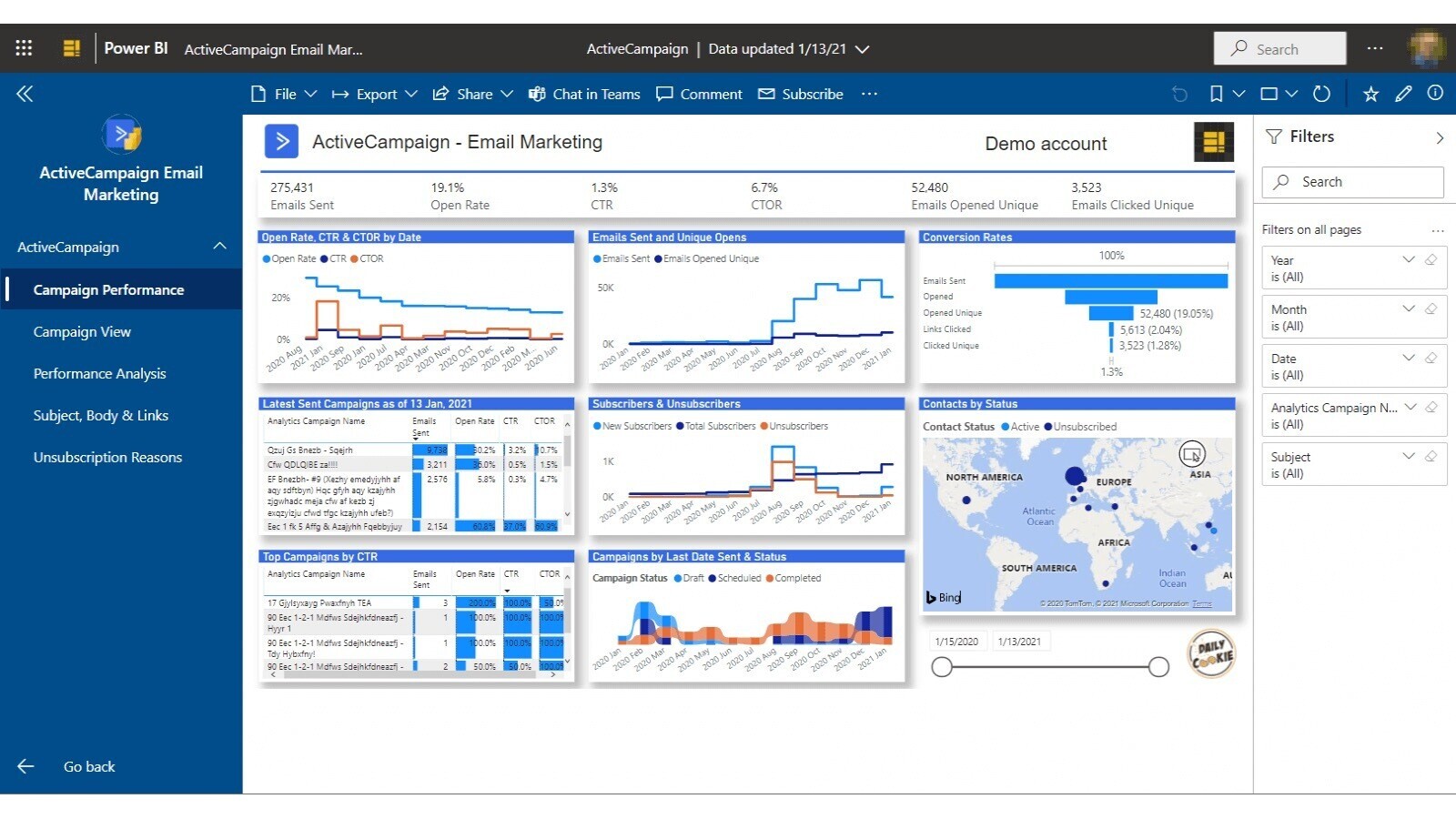 Active Campaign customers come in every shape and size. Small, medium, and enterprise. In every industry. B2C and B2B. 150K+ businesses in 170 countries. 
Klaviyo
Unlike HubSpot and ActiveCampaign, which automate marketing across a wide range of channels, Klaviyo focuses on a narrower range.
Mostly, it focuses on automating businesses' email, SMS, signup form, and ecommerce campaigns.
And this approach seems to be working—Klaviyo is snatching up more and more businesses, particularly in the direct-to-consumer space.
Marketo
Marketo was created as a marketing automation tool in 2006 and acquired by Adobe in 2018.
Like the rest of the tools on this list, it helps get marketing and sales teams on the same page. Specifically: customer engagement, content creation, and data.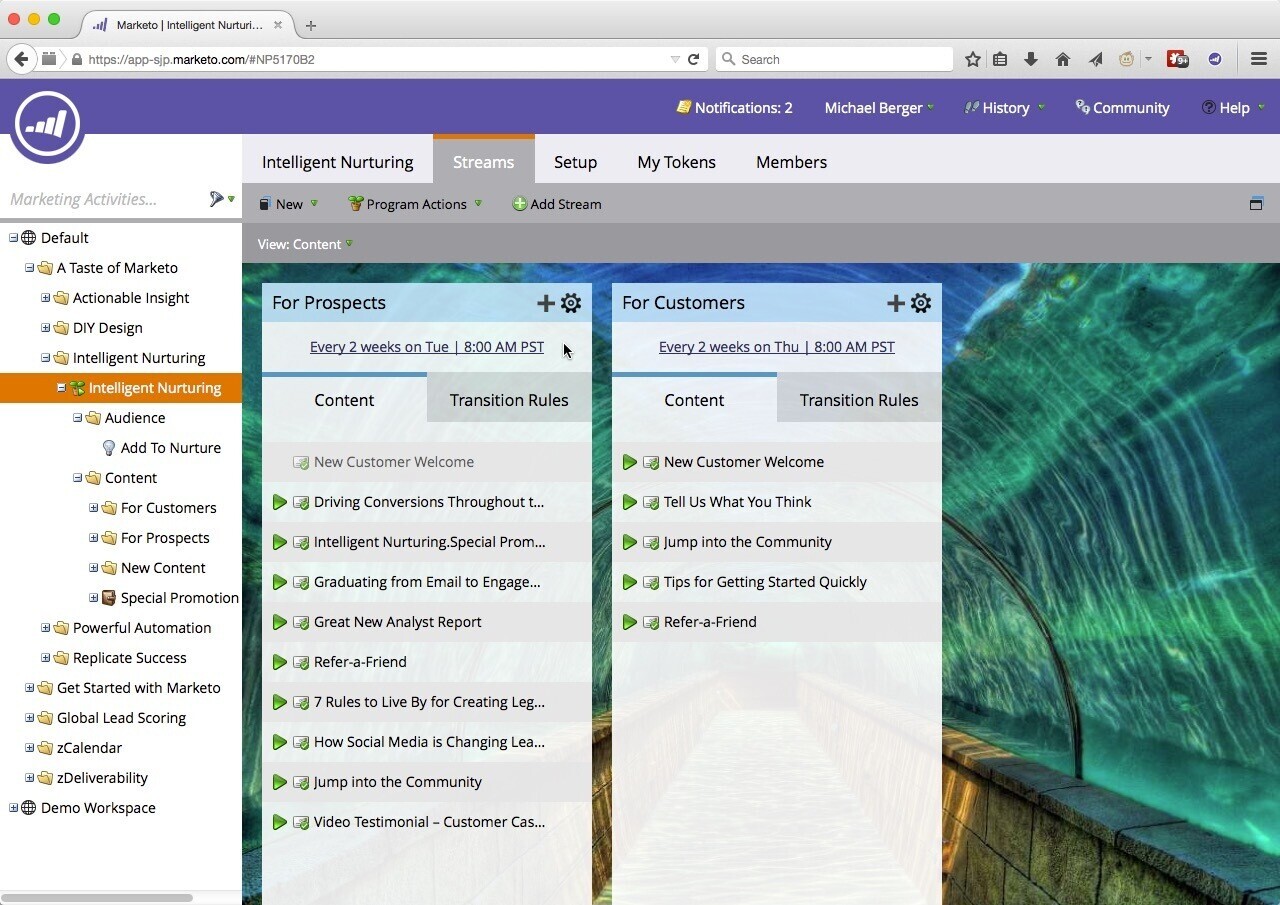 From cross-channel marketing automation to robust reporting, Marketo lets marketers deliver relevant content in real time, increase engagement and conversion, and prove the value of their marketing efforts.
Mailchimp
Mailchimp makes it easier for businesses to connect with larger audiences than they'd otherwise be able to.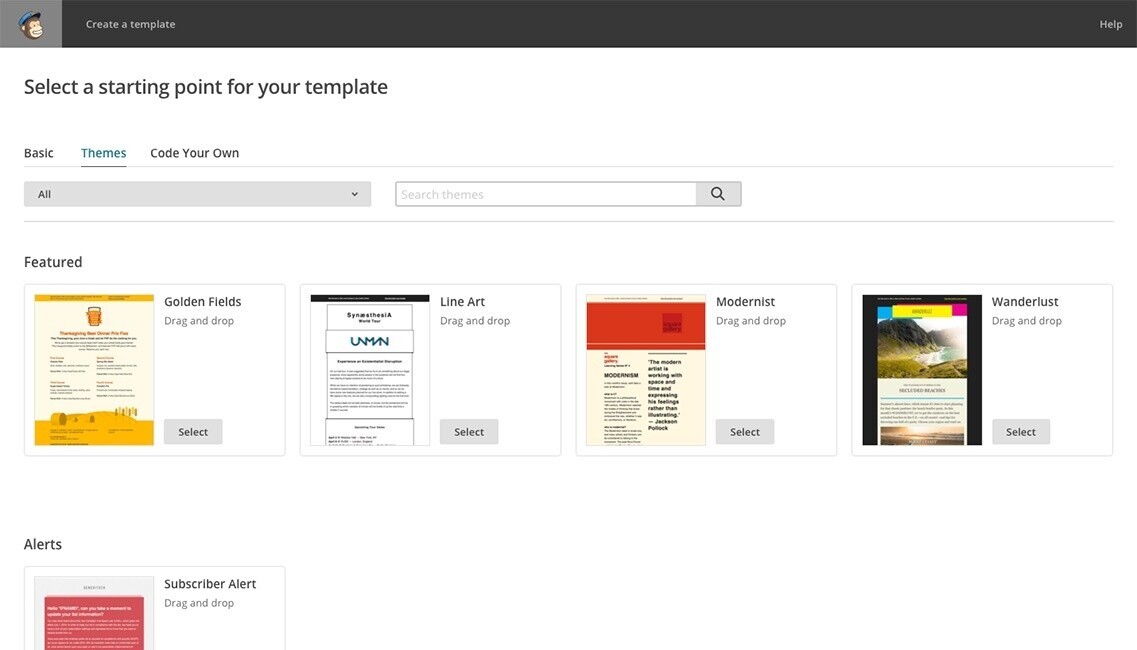 Most email marketing platforms tell you how your campaigns perform.
Mailchimp analyzes the data from the billions of emails they send to give you personalized recommendations for improving your content, targeting, and automations.
Social Media Management Tools
Social media management tools allow marketers to do the work of a whole social team.
Across Facebook, Twitter, Instagram, and Linkedin accounts, these tools let you: 
Automate post publishing according to your calendar
Track post engagement across all your social channels
Identify patterns in user engagement to fine-tune your strategy
Let's get to them.
BuzzGuru
BuzzGuru is an all-in-one influencer marketing solution. 
One tool to help you prepare, run, monitor, and analyze your influencer marketing campaigns.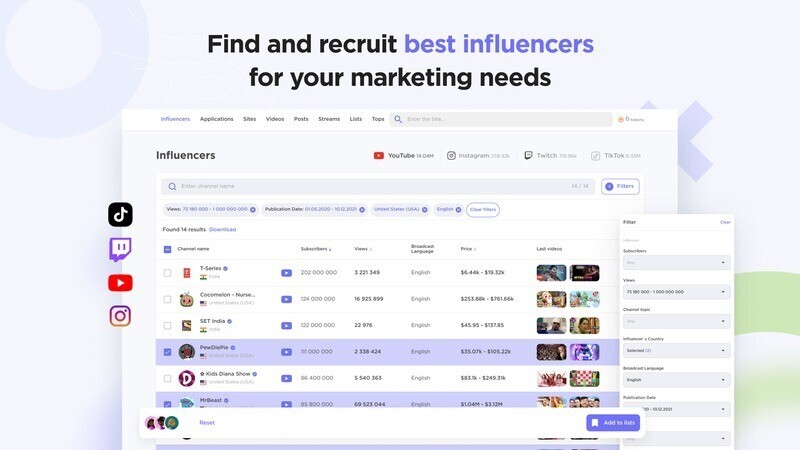 With BuzzGuru, you can:
Use an ever-expanding database to find relevant influencers
Create, arrange, and manage campaigns
Get detailed analytics on each influencer's performance
Analyze your competitors' influencer marketing strategies
Brandwatch
Brandwatch helps brands and agencies adapt and thrive in a fast-moving digital world by making smarter decisions and executing data-driven social strategies at every touchpoint.
With Brandwatch, you can:
Access the world's largest archive of consumer opinion to discover new trends
Manage channels, teams, workflows, approvals, and campaigns
Monitor emerging threats across over 100m sources and set up real-time alerts
Engage customers and prospects with one social inbox for all your networks
Semrush Social
You can easily grow your brand's visibility on social media with Semrush Social. 
In 2021 alone we saved businesses 4,000,000+ hours on social media marketing. 
With this toolkit, you can:
Find how your competitors generate engagement
Get personalized content creation ideas
Save time on distribution by scheduling posts in advance
Monitor incoming messages and provide quick responses
Get analytics insights and set up automated reporting
And lots more. 
Set up your Semrush social account and build a winning strategy. 
Sociabble
Sociabble is a wonderful tool to help businesses discover the power of informed, engaged, and influential employees.
With Sociabble, employees are better informed about company news, updates, and their workplace. Leading to a more engaged and influential workforce.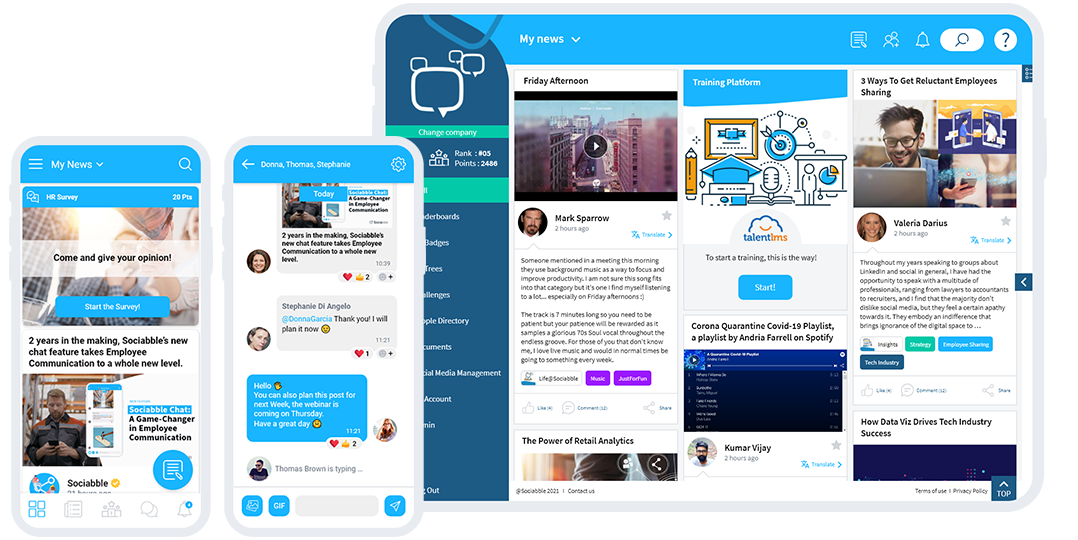 With Sociabble, you can:
Reach workers on the channel they prefer: mobile app, web app, email, intranet, Teams, or Slack
Increase reach, traffic, and conversion rates through employee advocacy. And boost employee engagement
Amplify recruitment opportunities and develop employer branding on social media
Among many, many others.
Design Tools
Design tools give marketers the ability to create appealing visuals and graphics.
In a digital world, visual design helps capture attention and drive action.
Design tools help: 
Design promotional content based on the channel you're using
Use templates and layouts to easily create appealing visuals
Standardize your visual materials using branded colors and fonts
Create intricate, captivating custom visuals and web pages
Canva
Canva falls on the simple end of the design tool spectrum. It's one of the most popular tools for marketers because it makes creating visual content incredibly easy. 
It includes:
Thousands of ready-made designs
Sharing features for collaboration, approvals, and feedback
Options for downloading, scheduling, and printing designs
Canva has paid plans for both individuals and teams.
But the free account is amazing. It includes 250,000+ free templates, 1+ million free photos and graphics, 100+ design types, and more. 
And it's free forever. 
Adobe
Adobe is one of the oldest software companies in the world. Not just in the design space. But in general too. 
Since 1982 they've specialized in content creation but have shifted towards visual media over the past two decades. 
Adobe offers solutions for photographers, video editors, animators, and all sorts of multimedia specialists.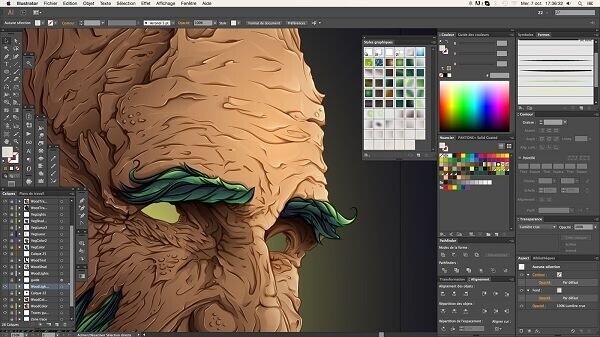 When it comes to creating and posting graphics online, Adobe's two most popular tools are InDesign and Illustrator.
Affinity
Affinity is an award-winning design tool geared more toward professional designers. 
It allows users to create intricate graphics and animations that can be used on websites and other online platforms to engage and "wow" users.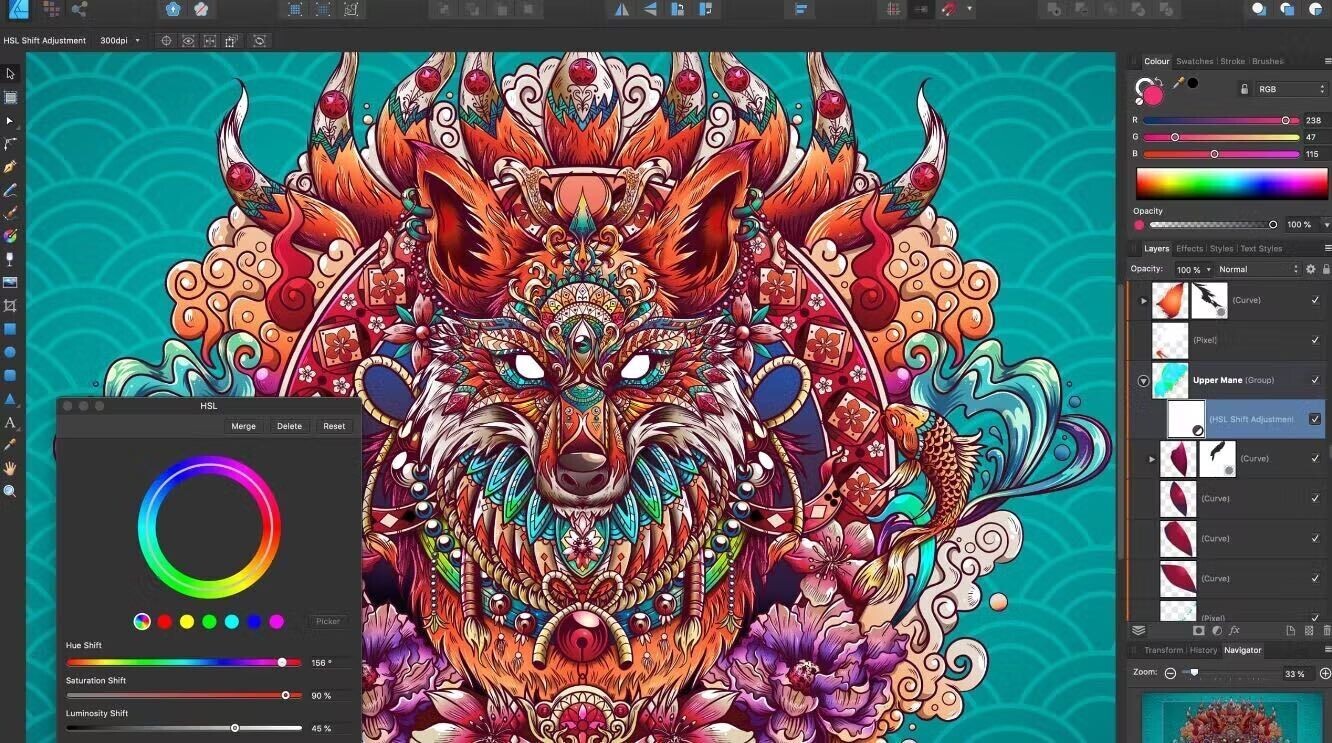 Figma
Figma is another web design tool that has grown in popularity thanks to its ease of use. 
It connects everyone in the design process so teams can deliver better products, faster.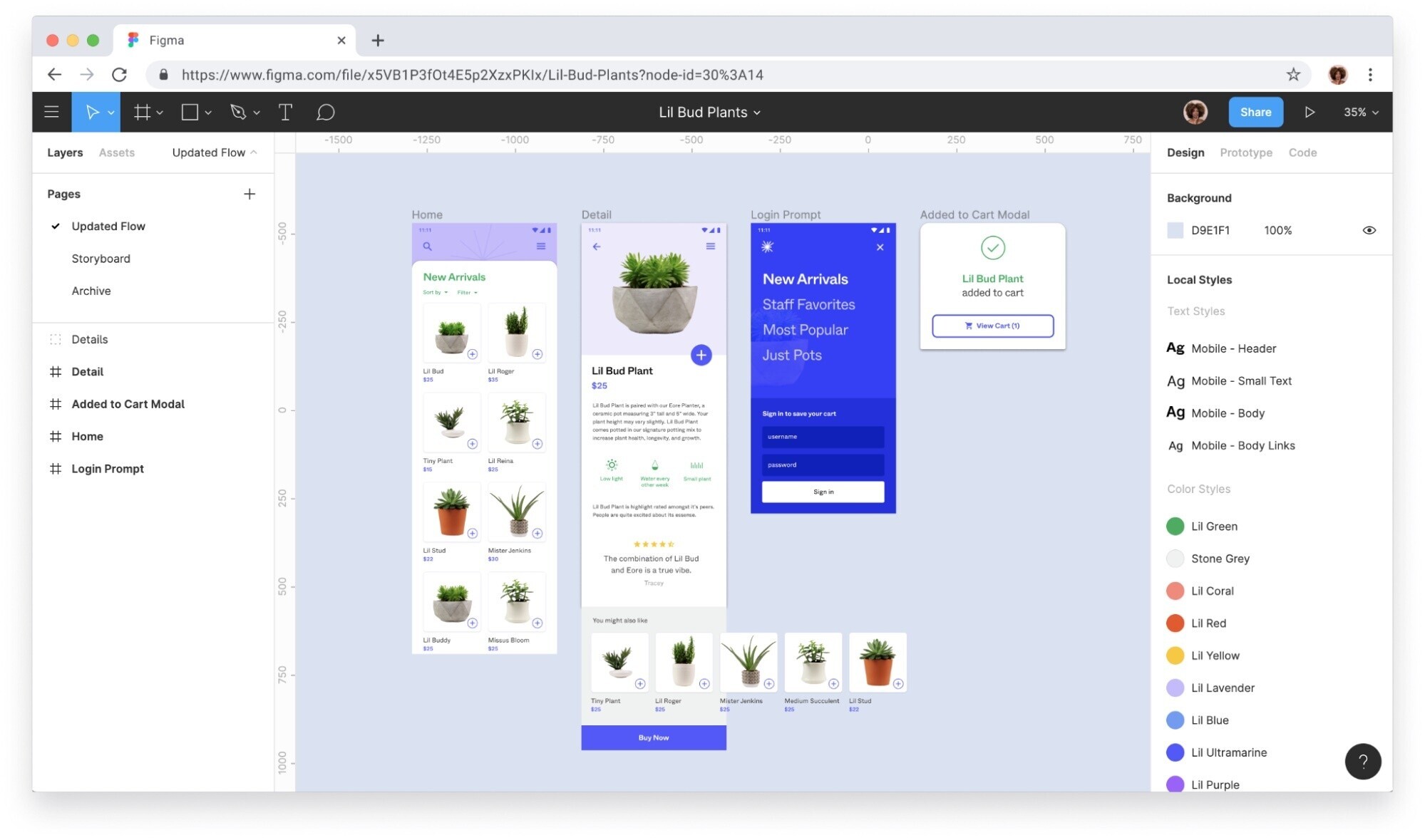 Figma lets teams:
Explore ideas together with an online whiteboard and sticky notes
Build an iterative design flow with live collaboration
Share, present, and gather feedback on interactive prototypes with smart animation
And lots of other nifty features.
Collaboration & Productivity Tools
Productivity tools allow companies to turn their internal processes across marketing and other departments into workflows.
Which means:
Less time spent updating statuses and more time spent on completing important work.
With productivity and collaboration tools, you can: 
Track the progress of marketing deliverables as they move through the workflow
Easily identify project details like assignee, development stage, and due date
Drag and drop functionality to quickly update statuses
Collaborate with remote teams quickly and more effectively
Trello
One of the most important parts of being a productive marketer is making sure that projects move along according to schedule. 
Trello uses a simple drag-and-drop dashboard to make timeline management incredibly simple for marketing teams of all sizes.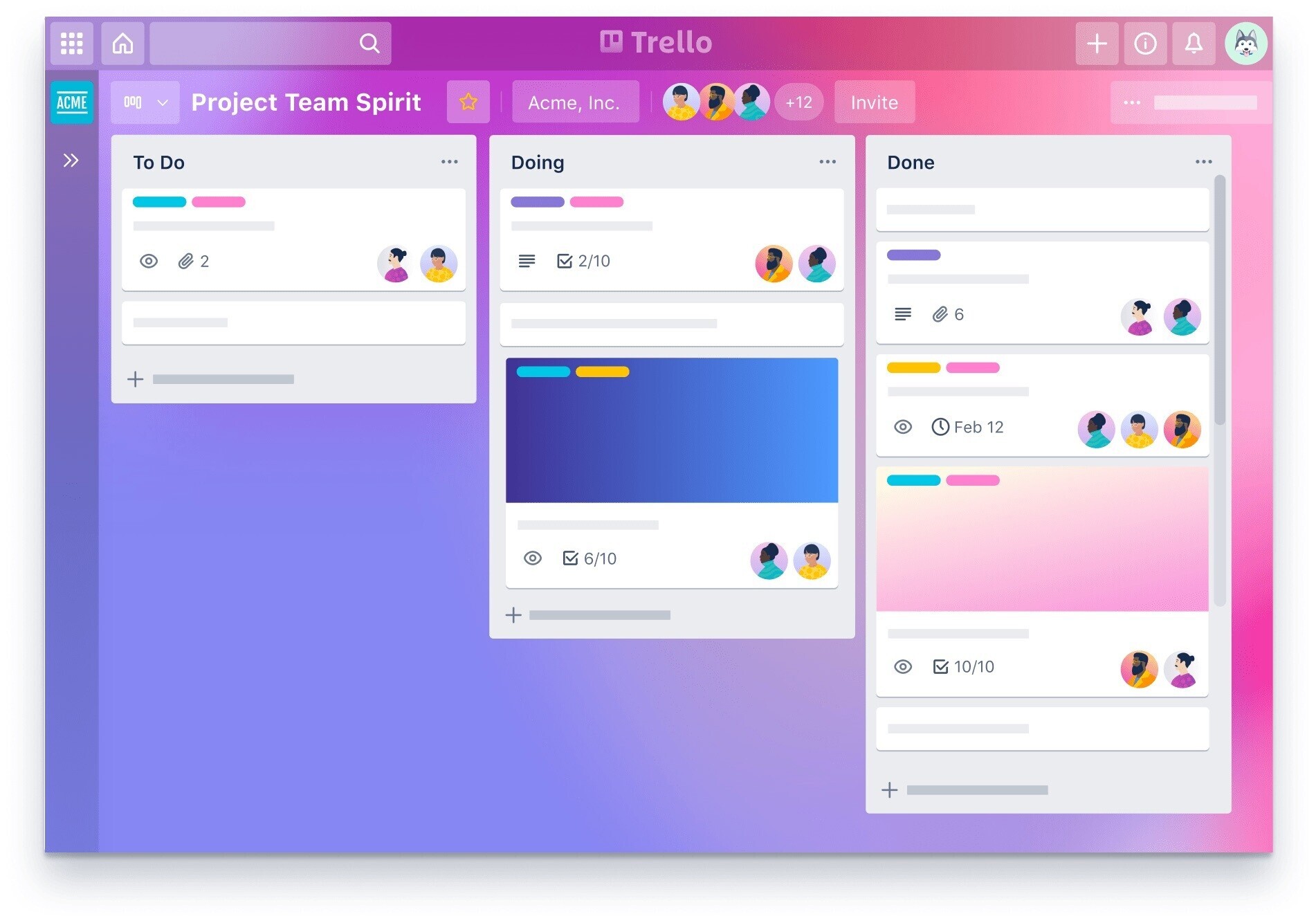 With Trello, you can:
Use Kanban boards to stay organized (from idea to action)
Automate workflows with powerful no-code 
Integrate with hundreds of tools you already use
Among others.
Asana
Like Trello, Asana is a project management tool with plenty of features that help online marketing teams stay organized.
Using Asana, you can create a digital timeline to track any type of campaign, regardless of size.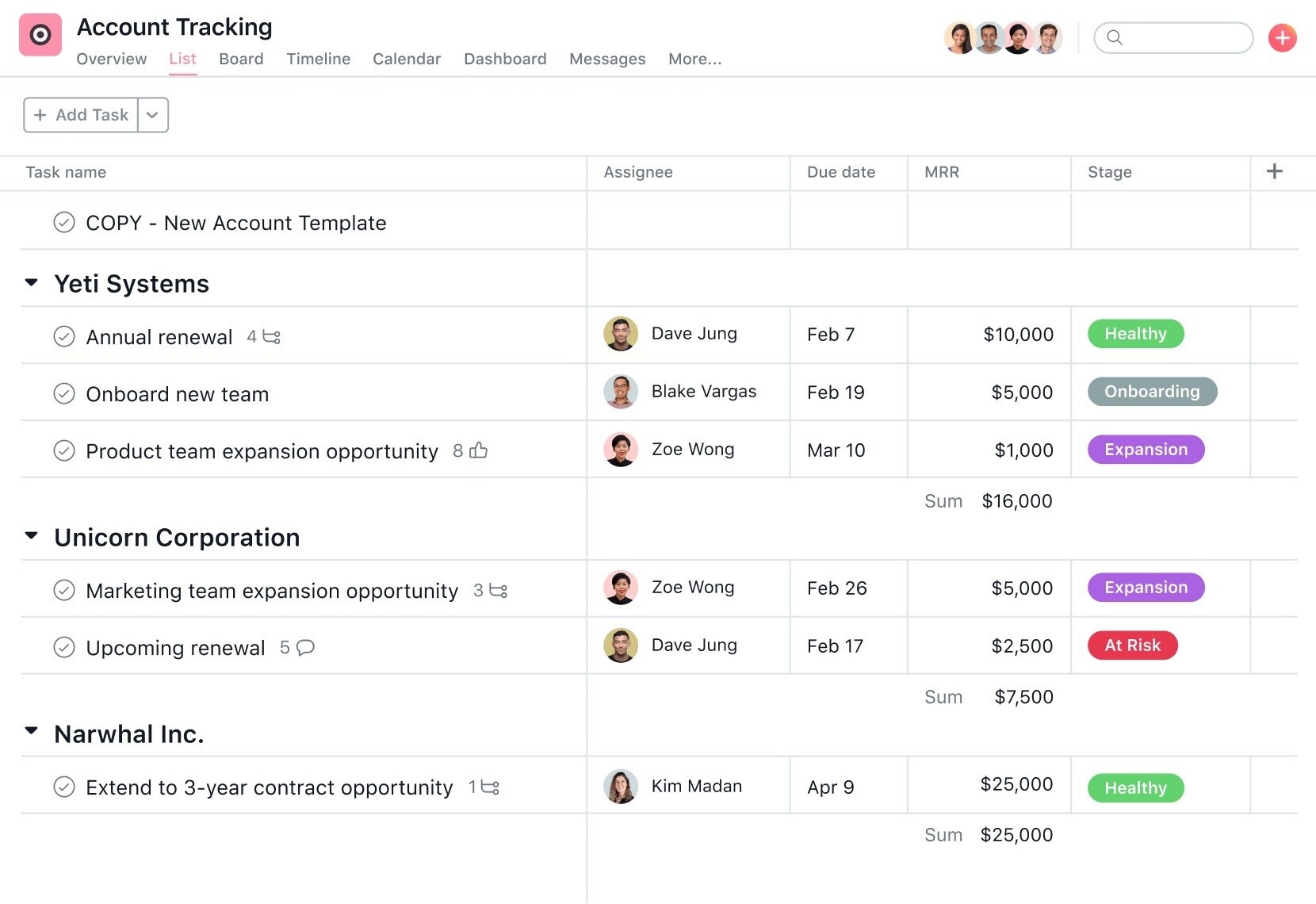 One of Asana's best features is it makes it easy to change views. You can go from a list to a schedule to a board in just a click. 
You can also automate tasks. And integrate with 200+ tools.
Basecamp
Basecamp is an easy-to-use project management platform that keeps busy marketing teams on track. 
Managing project timelines is routinely one of the most painful parts of being a marketer and Basecamp gives you the perfect tool for tracking progress across different team members, departments, and projects.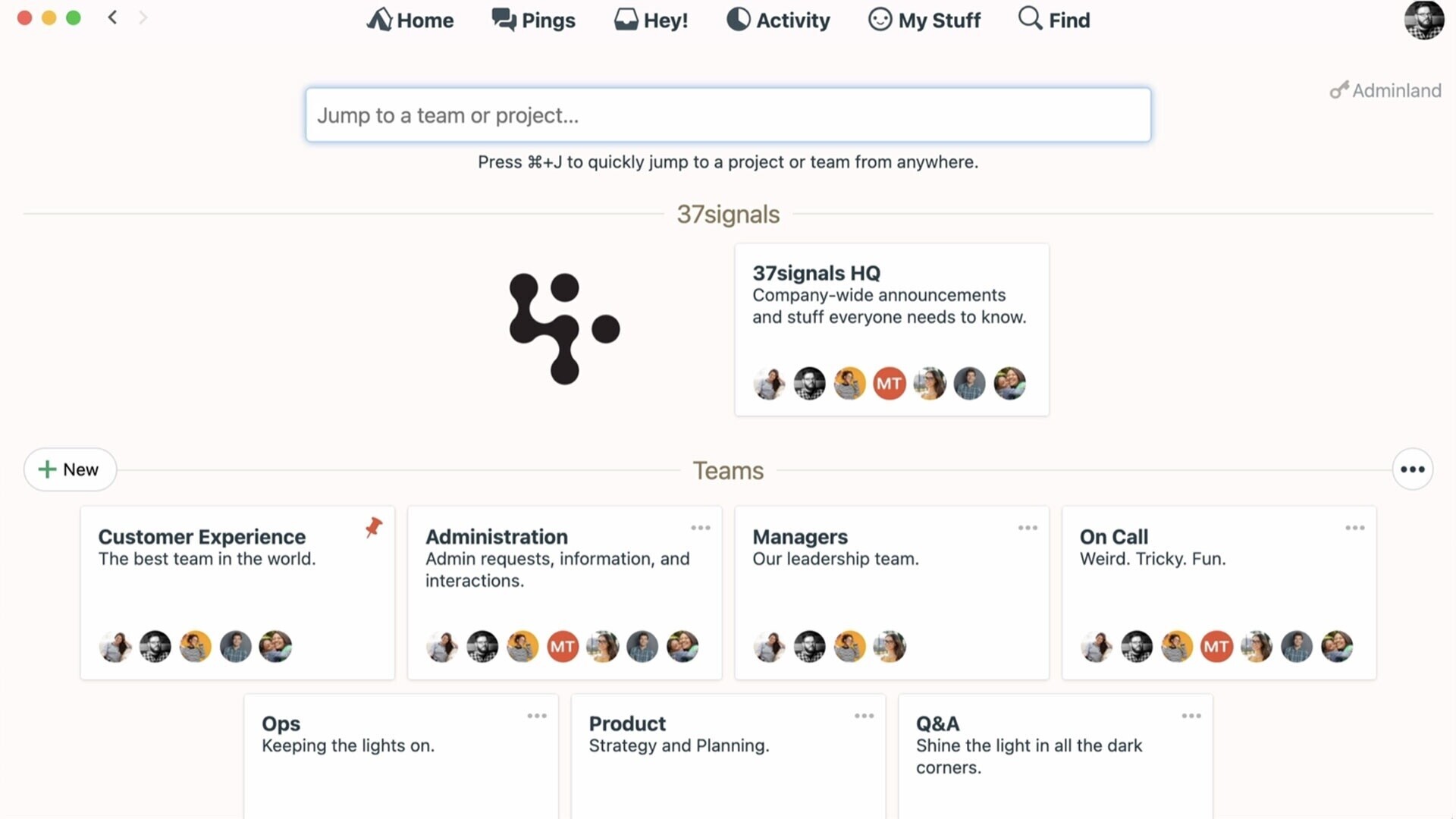 Basecamp lets you:
Have a centralized place for all your messages
Track work with deadlines and to-dos
Store, share, and discuss files
And tons more.
Airtable
Airtable is a collaboration tool that lets businesses bring all their data together. Most marketers use Airtable as their single source of truth. 
With Airtable, you can:
Bring together project briefs, intake requests and more
Link actions to goals and streamline reporting
Simplify cross-team prioritization by unifying budgets, capacity, and potential impact
Miro
Miro is the online collaborative whiteboard platform that brings teams together, anytime, anywhere.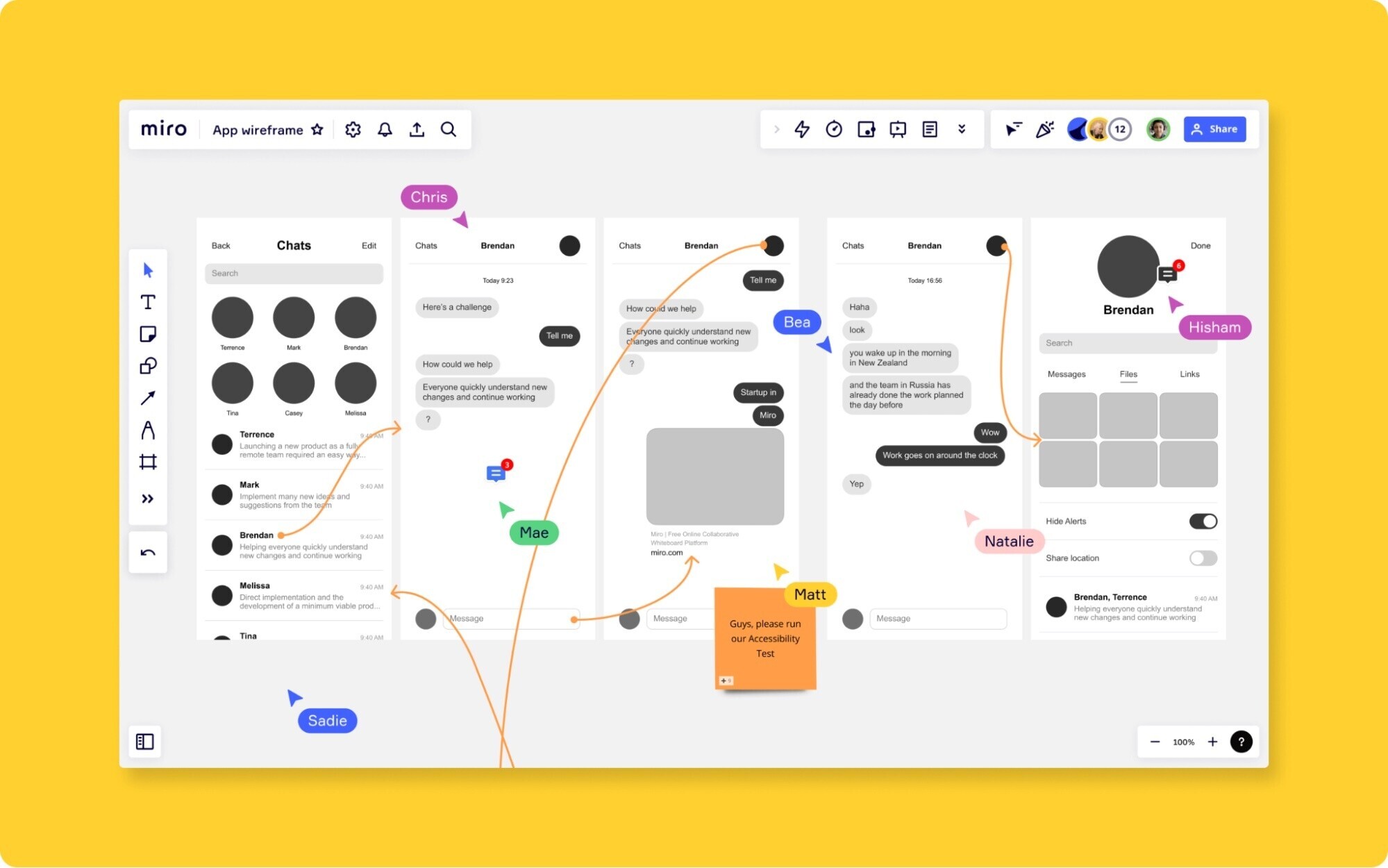 Miro lets you:
Brainstorm ideas and build on them with sticky notes, images, and mind maps
Map out information architecture, or create org charts
Define goals and initiatives, visualize priorities and outcomes, and watch them pay off in a big way
Content Creation Tools
Content creation tools help take care of your content's editing, formatting, and writing.
With these tools you can: 
Quickly edit documents
Automate common spelling and grammatical errors
Create engaging content with quizzes and surveys
And lots more. 
Grammarly
Grammarly is an AI-powered writing app.
Its features go beyond fixing mistakes so that you, your team, or your entire organization can communicate with skill and confidence.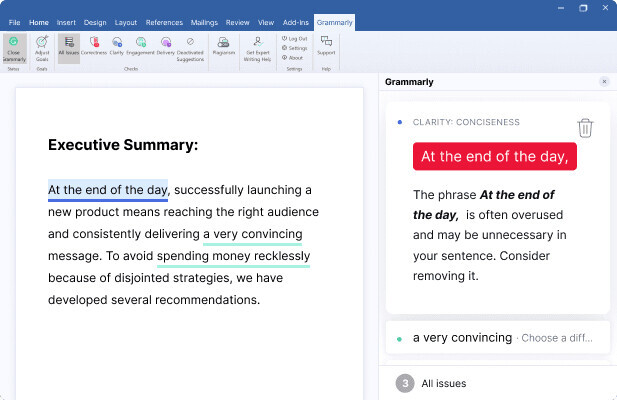 With Grammarly, you can:
Catch typos, missing punctuation, or commonly confused words
Get guidance to adjust the mood and attitude of your writing
Use "clarity" suggestions to make your writing easy to understand
And tons more. 
Plus, you can use Grammarly in desktop apps, websites, browsers, social media, documents, messages, and emails. Boom.
Hemingway
Hemingway is a web app that helps make writing bold and clear. It's like a spellchecker, but for style. It makes sure that readers focus on your message. And not your prose.
Just write (or copy and paste) and the Editor will highlight (in yellow and red) where your writing is too dense.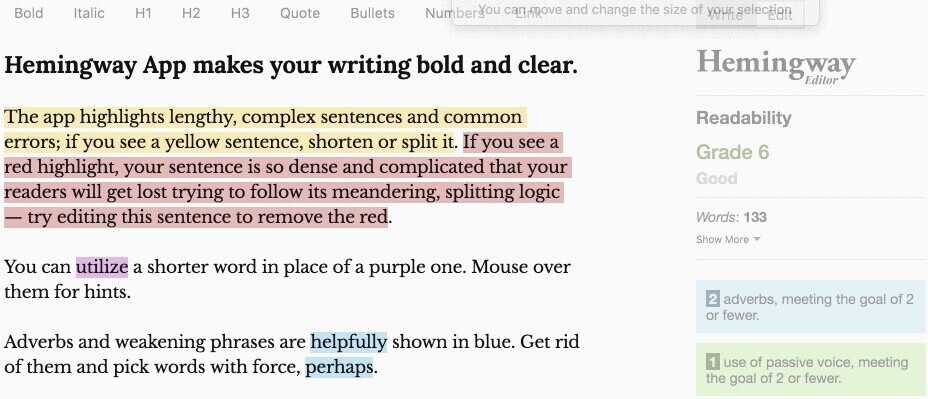 Hemingway is one of the best apps to remove needless words and make your writing more readable.
Take it for a spin. Your readers will thank you.
Outgrow
Outgrow is changing the content marketing game by bringing more interactive types of content to the table that really engage customers while collecting valuable information.
It gives marketers the ability to easily create quizzes, calculators, forms, and plenty of other interactive content for their websites.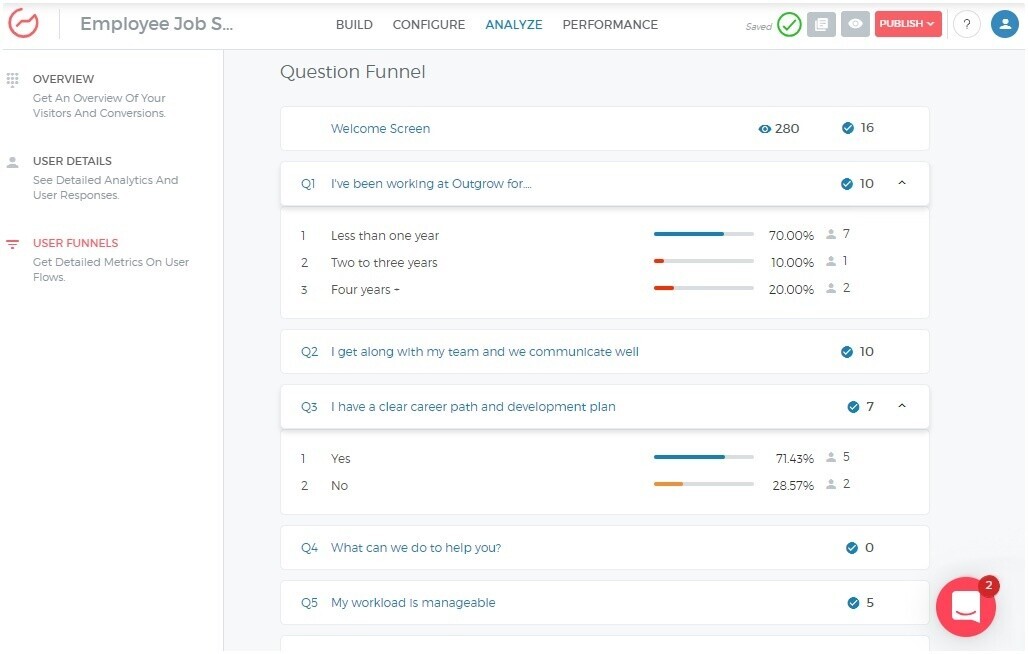 Jasper
Jasper is an AI content platform that uses machine learning to generate content about any given topic.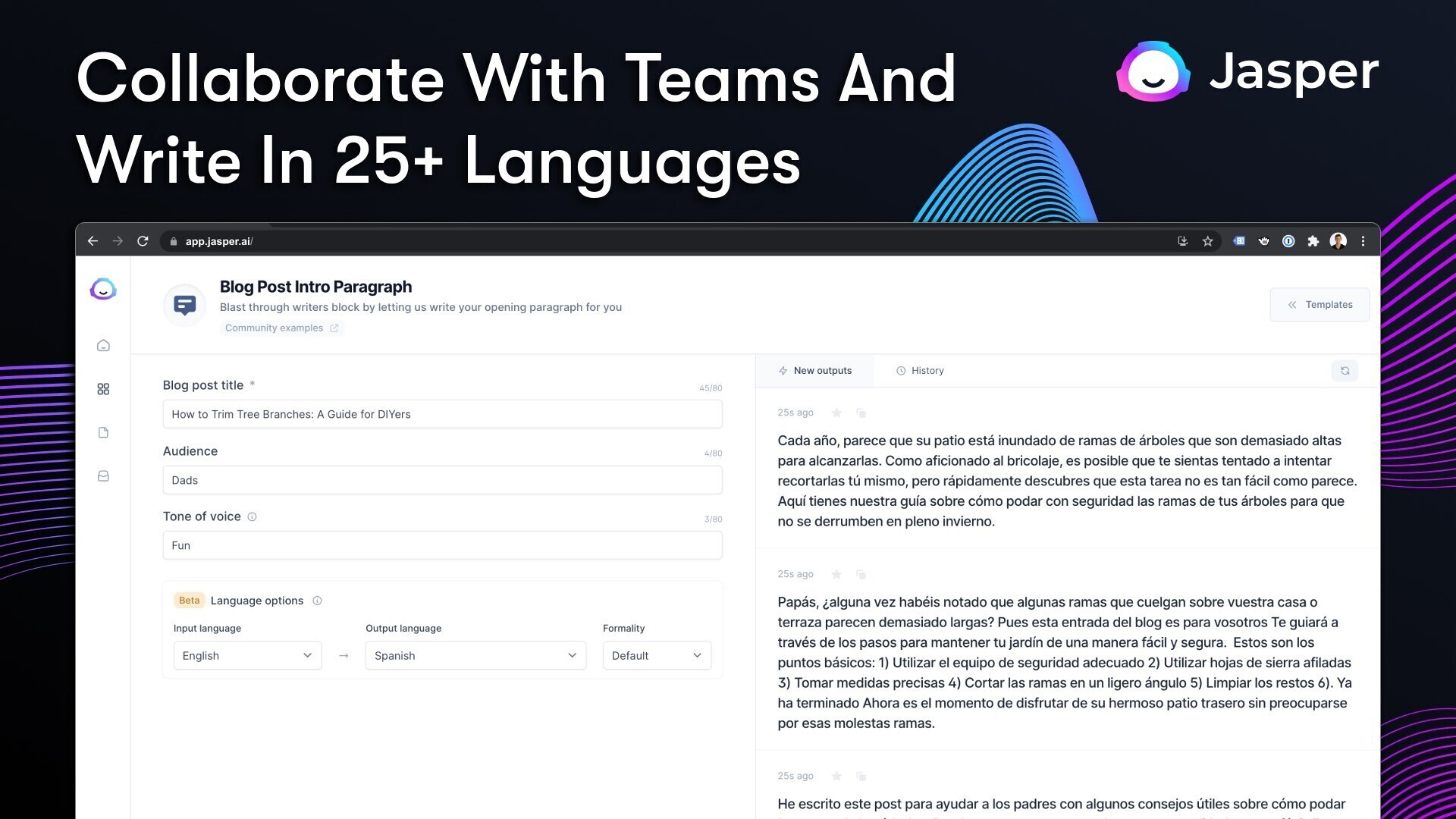 It's a handy tool to help marketers:
Generate months of social media content in minutes
Create fresh ad creative designed to convert
Write SEO-Optimized blog posts faster
Spice up email messages for sales, marketing, and support
Create any art or image you can imagine
And tons more. 
Google Tools
Google tools allow users to:
Quickly develop, edit, and share docs with team members
Track web page performance in the SERPs (Search Engine Results Pages)
Identify how users are interacting with your website
Discover trending keywords for SEO and PPC use
Launch and track paid ad campaigns across Google sites
Google Docs
Behind any great marketing strategy or piece of content is a brief or outline that puts those ideas down on digital paper. 
Google Docs is the perfect free tool to get your thoughts and ideas down for safe storage.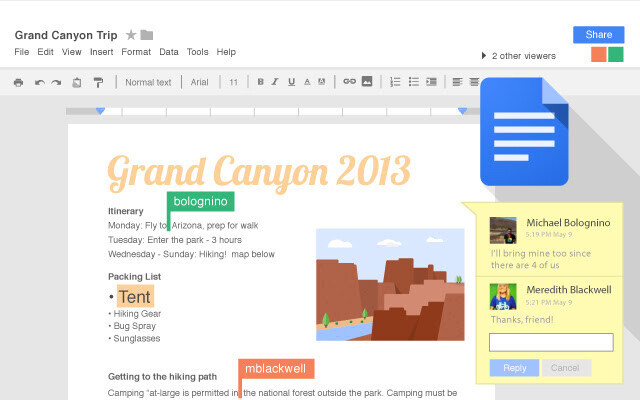 Google Analytics
Google Analytics is crucial to tracking the success of your site. 
When properly set up, analytics provides you with all the data you need about how users interact with your website. 
When combined with other accounts like Search Console and Ads, you gain even more insights to inform your SEO and PPC efforts.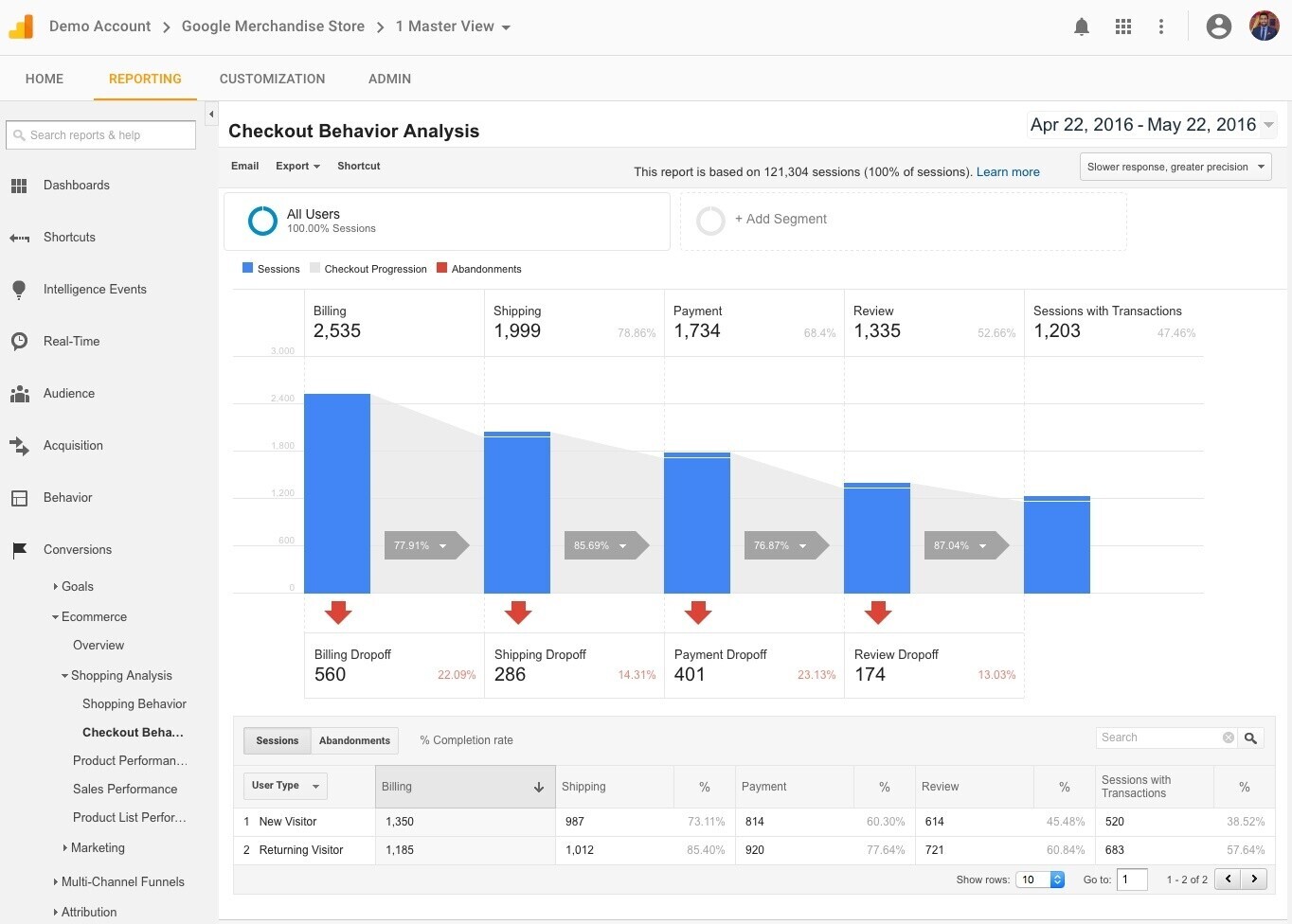 Google Search Console
Google Search Console (GSC) helps you understand your website's organic performance. 
Once it's connected to your website, GSC provides information about search volume, impressions, and any issues the search engine might have with crawling your website.
Google Ads
To this day, Google Ads is the single largest platform for digital advertising in the US. Last year, over 28% of advertising revenue was generated by Google. 
It's a platform that modern marketers need to be familiar with. 
In addition to providing a platform for buying digital advertising space, Google Ads also has powerful keyword research tools to help inform your SEO strategy.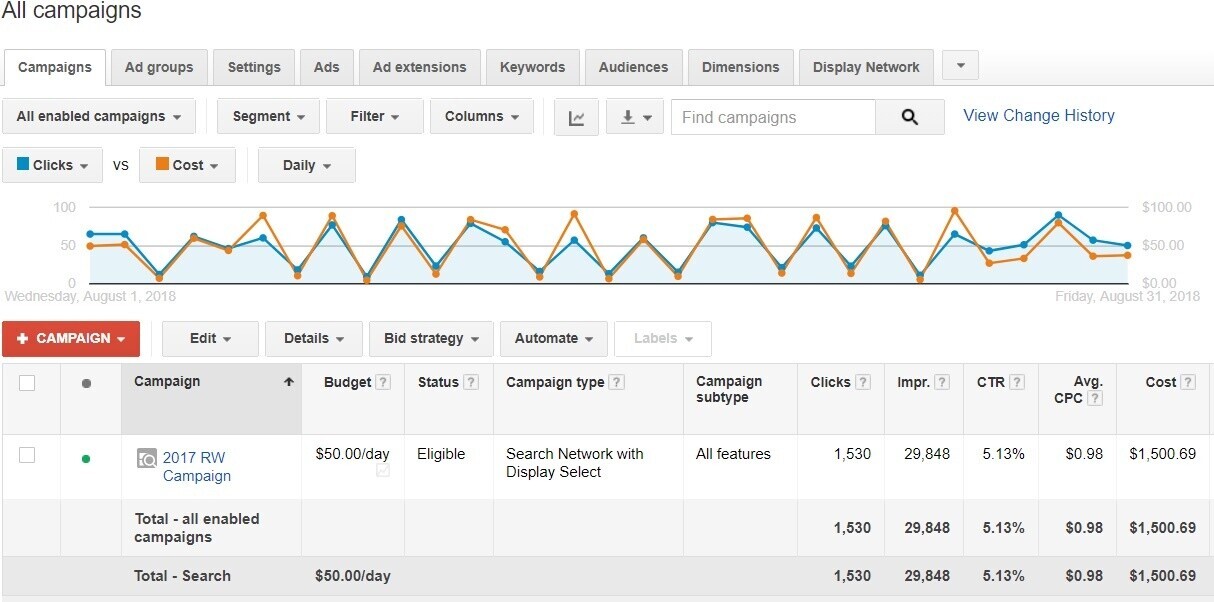 Google Trends
Need help understanding what people are searching for on Google? Look no further than Google Trends. 
This tool lets you track the popularity of search queries and keywords across different geographic regions and over time.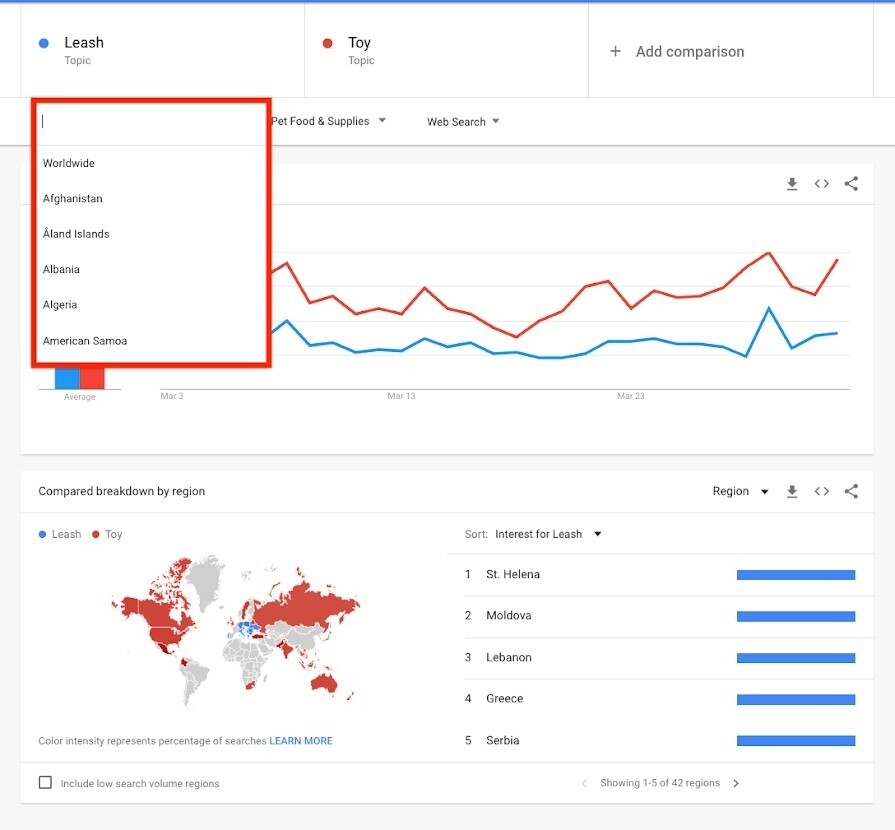 Next Steps
Check out the Semrush Knowledge Base to learn more about the different components of marketing in an online world.
And discover how some of the digital marketing tools we went over today can help you and your business succeed.