Amazon can help your business reach millions of potential customers that you may not have reached. Due to Amazon's trusty brand, those customers are more likely to feel safe buying your products through the platform than directly from a website. 
To sell on Amazon, you need to set up an Amazon seller account. Here's a step-by-step process to help you get started: 
How To Create An Amazon Seller Account In 5 Steps
From business modeling to dispatch, your Amazon seller account (aka your "Seller Central") has everything you need to get your business up and running.
There are a few factors to consider before you create your seller account, including:
The type of business model
Best fulfillment methods
What products to sell
Whether you should sell as an individual or a professional
Which tools you can use to help you sell on Amazon
1. Choosing A Business Model
Even though the steps to start your seller account won't change, defining your overall business model strategy is still crucial.
Your business model will depend on factors like the availability of your product or whether there is a suitable amount of product storage. There are 5 business models you can choose from while setting up your Amazon seller account set up:
Private Label
The Private Label business model rebrands an existing white label product with another's logo and branding.
Pros: The products are manufactured elsewhere, removing the need for a supply chain. It's effortless to add your own branding to your products. 
Cons: Products may not be to the exact specification that you or your customers would like, and it's unlikely that the product production can be changed if your buying volumes are small.
Online and/or Retail Arbitrage
An Arbitrage business model relies on the retailer finding discounted or bargain items in physical shops or online, then reselling them through Amazon for a profit.
Pros: The items you select can generate a large profit if there is a market for them.
Cons: There may not always be products available to source and resell.
Wholesale
This is similar to an Arbitrage business model but involves buying discount items in bulk. You'll then sell each product individually.
Pros: It's easier to make a profit on bulk items. Some businesses and warehouses can provide bulk items to online sellers.
Cons: It can sometimes be difficult to bulk items with an existing market. You risk being stuck with a lot of excess stock if you haven't judged the market demand correctly.
Dropshipping
The seller doesn't keep the physical stock in their warehouses or premises with a Dropship business model. Instead, the seller is responsible for collecting the customer's details and payment and arranging for the ordered items to be delivered to the customer from their third-party supplier.
Pros: You don't have to store many products to sell and deliver to your customer.
Cons: You're liable for faulty items and refunds the direct seller.
Handmade
This business model is fairly self-explanatory. You sell items that you handmake. 
Pros: You can promote your own products to Amazon's customer base and generate a market for your product. This is especially beneficial if you have a niche product that would usually take a lot of marketing and effort to list elsewhere.
Cons: Handmaking items can be quite time-consuming and costly. Sales can be slower if there is less of a demand for handmade items.
2. Choosing A Fulfillment Method
After choosing a business model, you'll need to decide on a fulfillment method. During this stage of creating an Amazon seller account, you have two options:
Fulfillment by Amazon (FBA)
You should use FBA if:
You're comfortable with Amazon handling your customer service responses
You don't have logistics in place to despatch items
You have fast-moving inventory 
The products that you sell are lightweight or small/medium-sized
It would cost you more to store and ship your own products
Fulfillment by Merchant (FBM)
You should use FBM if:
You have a well functioning and efficient customer service department
You have existing logistics in place
You'd like to keep control of how you interact with your customers
Your products are heavy or large in size
You have a slower moving stock inventory
You're able to absorb the costs of fulfillment
3. Choose Products to Sell
Whether you're selling handmade wedding gifts or dropshipping washing machines, it's important to browse Amazon for any competitors in your market. Determine if there's a healthy market in place for the product you want to sell and if there's a version of your product your competitors aren't selling.
4. Choose Amazon Seller Type
You'll need to decide whether to sell as an Individual or a professional when creating your seller account. Amazon uses these types to accommodate the levels of sales you're anticipating for your business. 
Individual
Apply as an Individual if:
You'll sell fewer than 35 products per month
You're still trying to decide what to sell
You don't require any advanced selling tools yet
Professional
Apply as a Professional if:
You'll sell more than 35 products per month
You want access to selling reports and data
You want to use programs such as Handmade or Launchpad.
5. Choosing Support Tools
Using the right seller tools can help you manage your Amazon seller account and get the most out of each sale. The eCommerce section of our AppCenter offers several tools to manage your Amazon listings.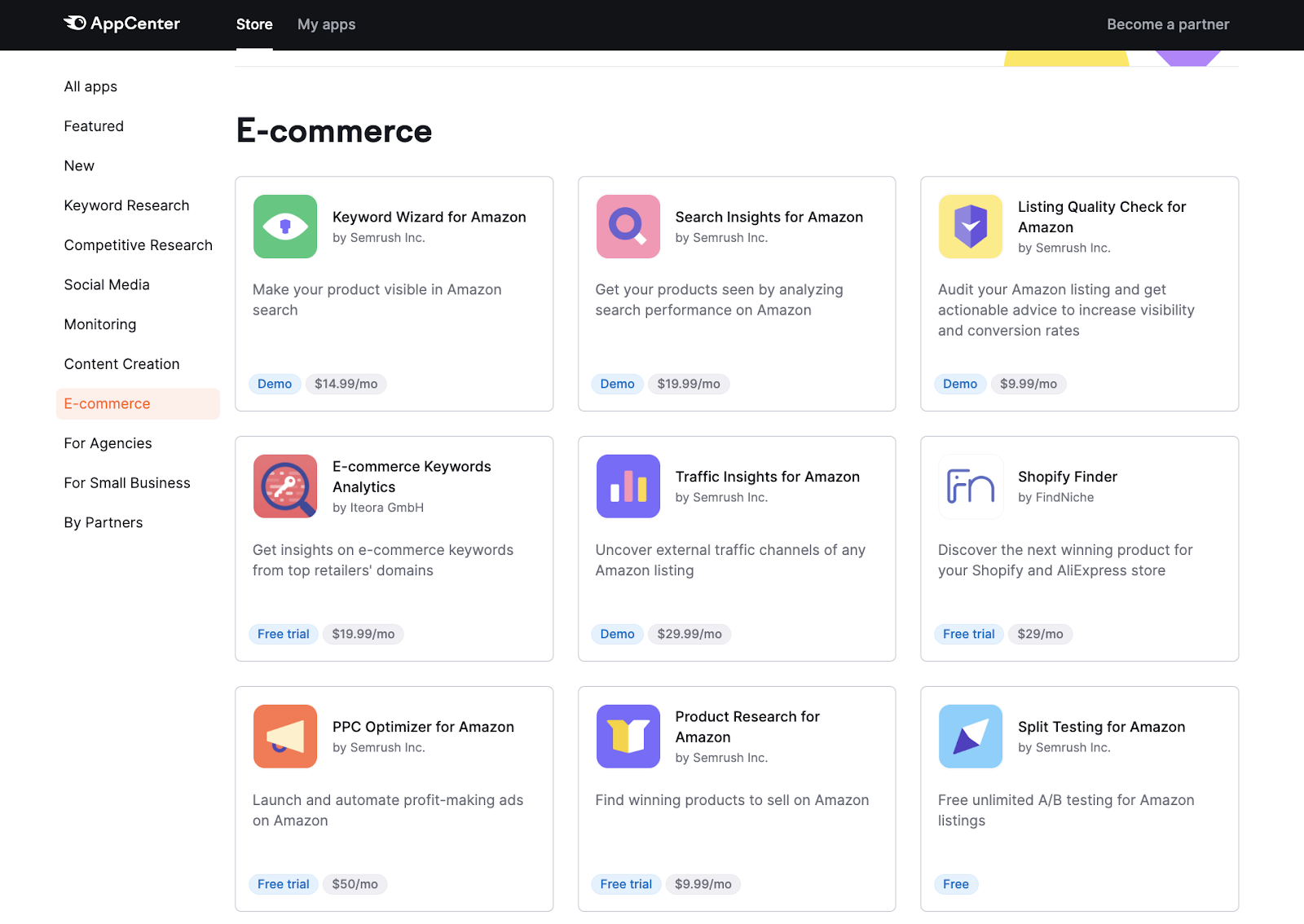 With these tools, you can gain traffic insights that help you accurately measure who is viewing your products and where they're coming from, do keyword research for Amazon, perform split testing for Amazon listings, and so much more.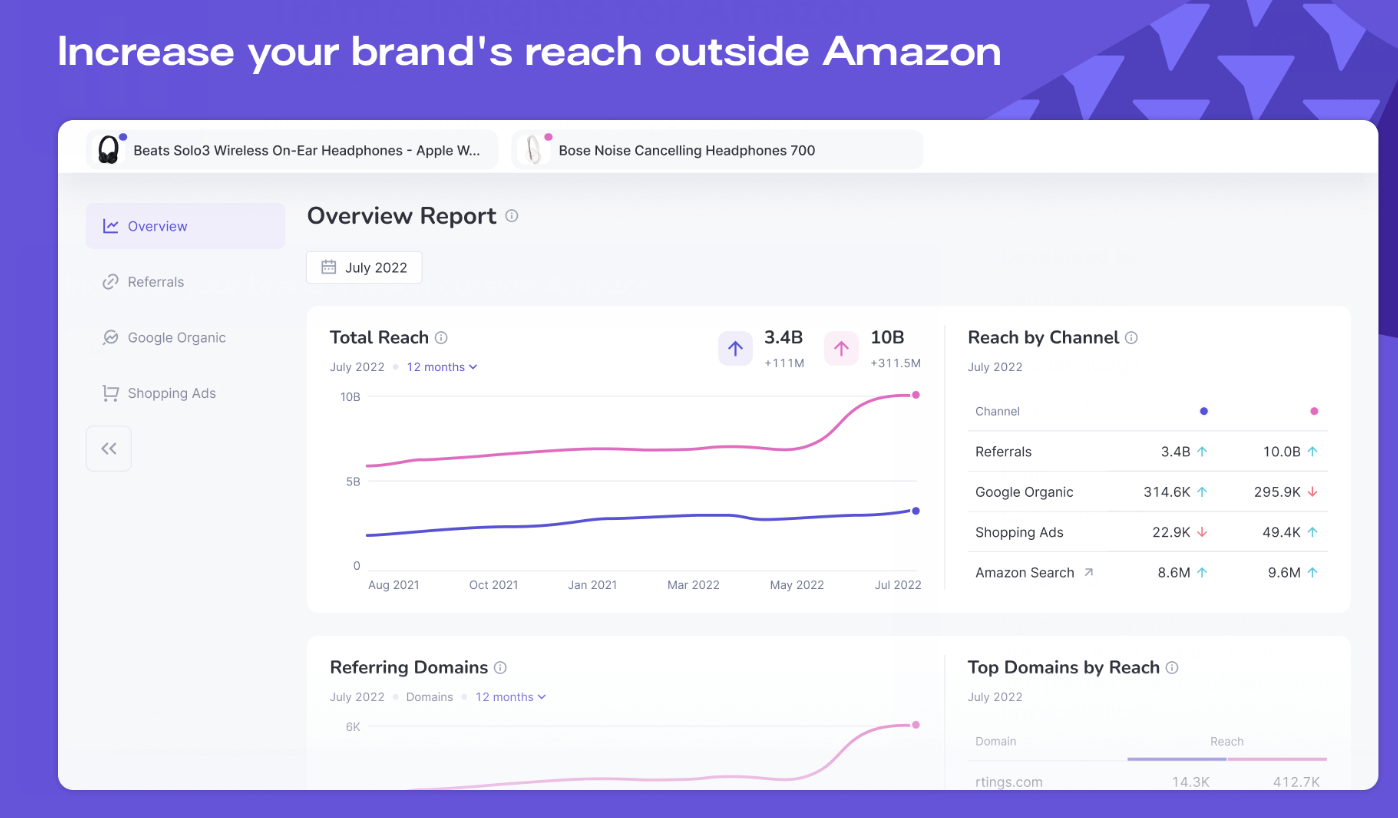 With the data the Amazon-focused apps in our AppCenter provide, you can make improvements to your account and products to ensure you're converting viewers into customers.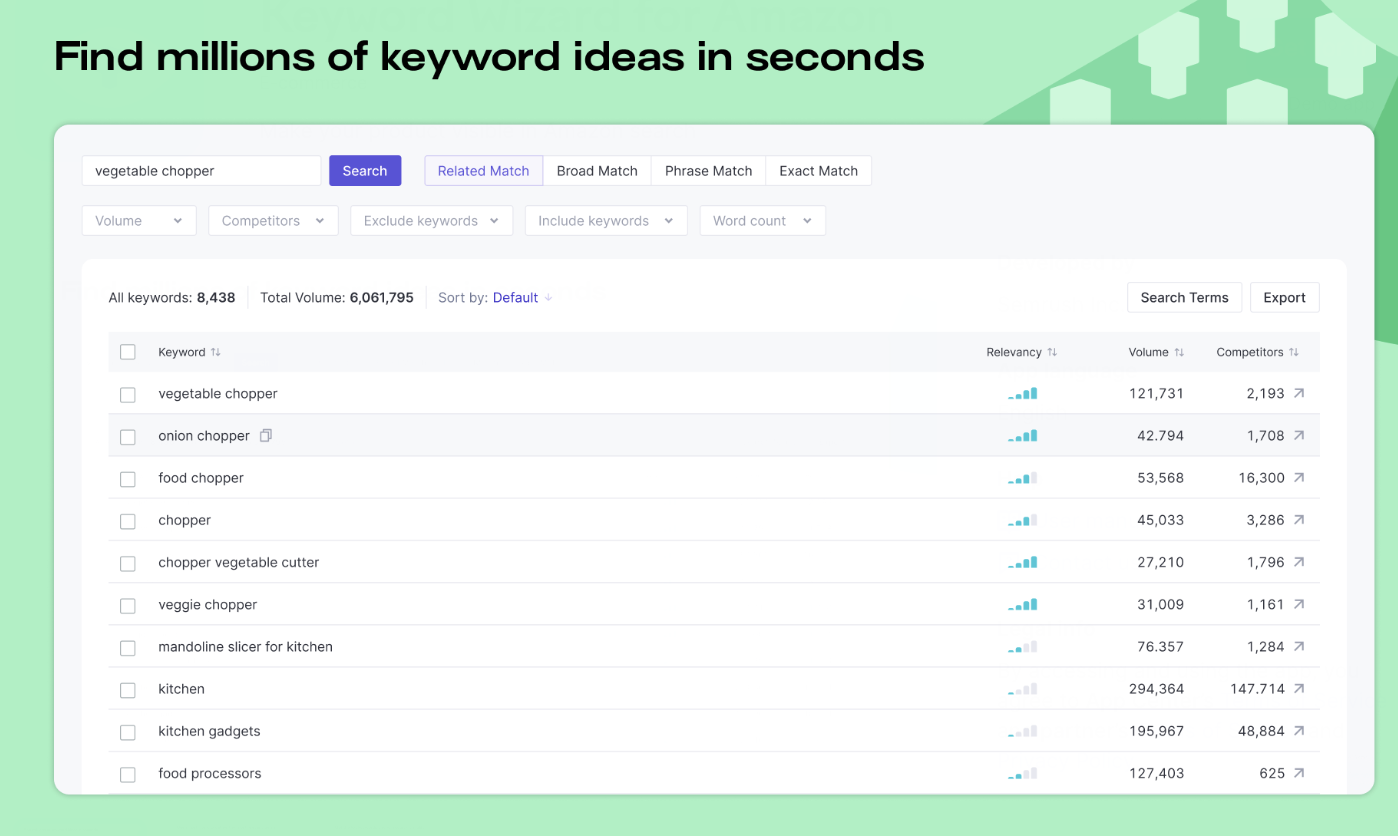 Part of this is attracting viewers that are most likely to become customers. You can do this by choosing the right target keywords to include in your product listing. The Keyword Wizard For Amazon in the AppCenter also gives you the ability to find optimal keywords for targeting the best prospects.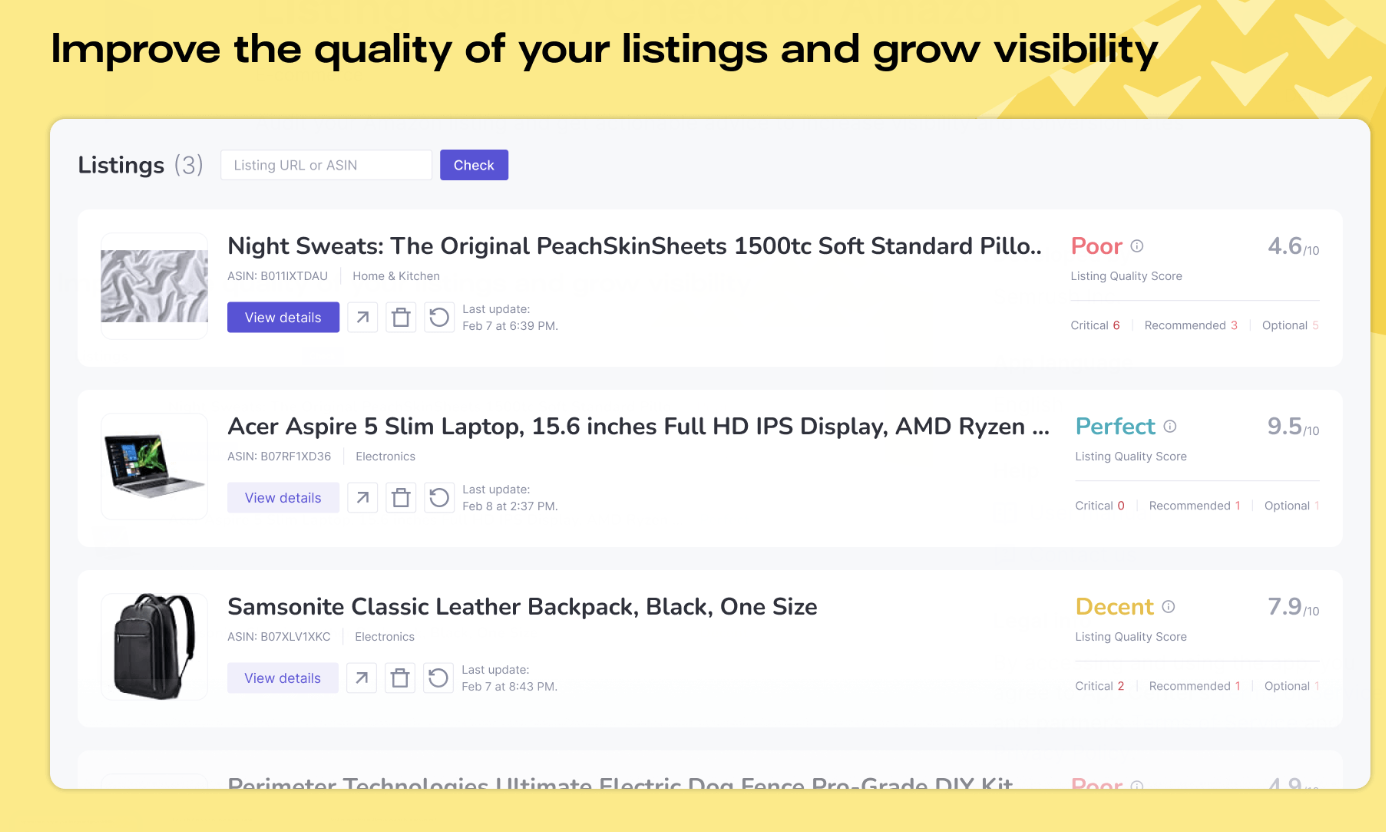 Once you've done your optimizations to your listing, you can then run the listing through the Listing Quality Check For Amazon tool in the AppCenter.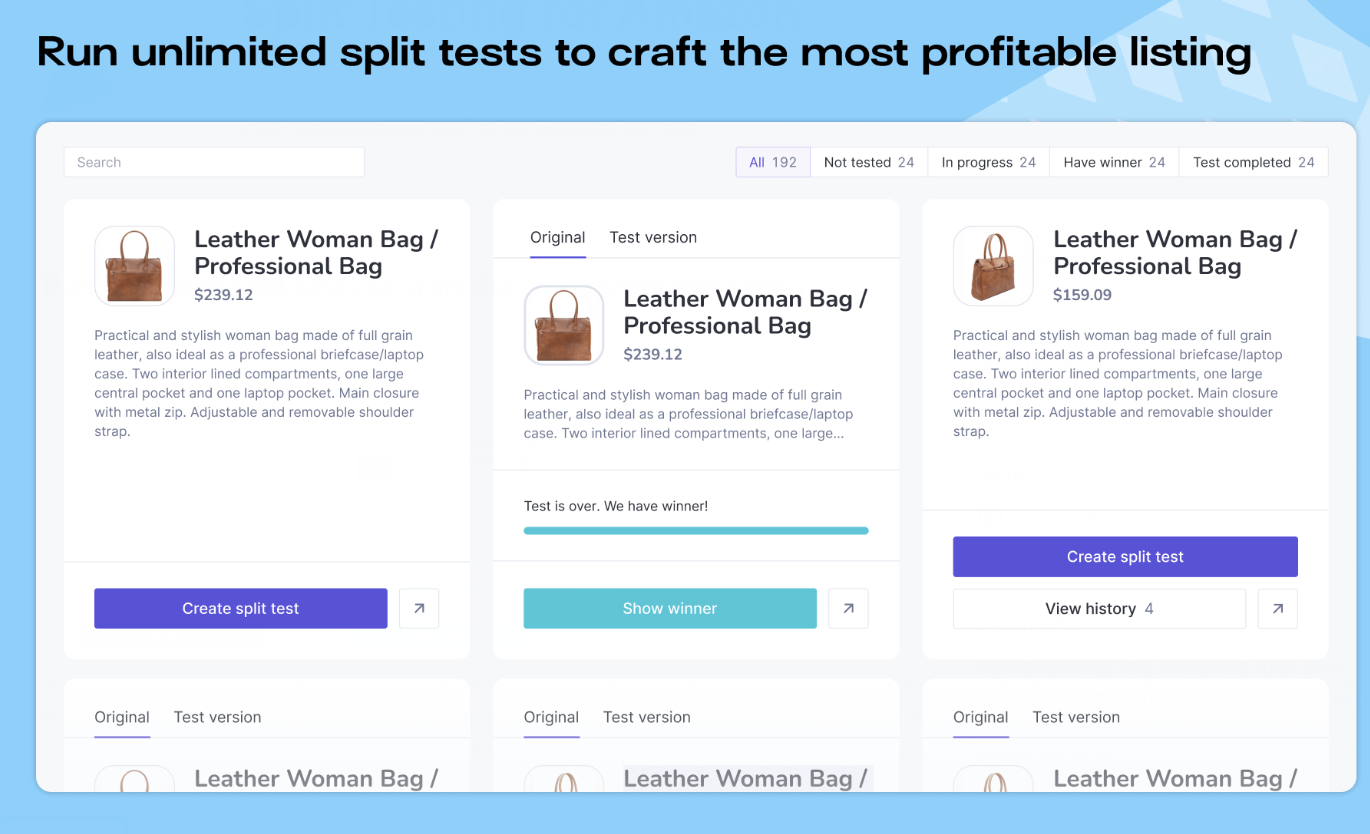 You can also try Split Testing your product listings. With this tool in the AppCenter, you can gain valuable insights into which ads work best with your target audience so that you can deliver enticing ads with maximum impact.
Conclusion
Once you have taken the time to make an Amazon seller account, you will need to learn how to manage it with tools, keyword research. 
Amazon makes the setup process relatively straightforward, so you can start selling your products and reaching millions of potential customers quickly.