Content marketers face more than their fair share of challenges: strategic analysis, ideation, content creation, optimization, distribution, and measuring performance, just to name a few. Because of all this, content creation can be a chaotic process. Often, content is created simply for the sake of creating more content. Processes fall by the wayside, and we end up with results that are neither predictable nor measurable.
If you establish a solid workflow, use data to make your content decisions, and automate some of your efforts, you can create better content more efficiently, and produce measurable results showing how all your work has paid off.
The Semrush Content Marketing Platform can help.
Below, we've collected 5 highly actionable ways (you might not have known about) Semrush can help you take your content marketing to the next level.
1. Find Ideas for Creating New Content
Are you looking to create a high-performing content plan? The first step is to brainstorm ideas you'd like to cover.
Strong ideas for new content can come from:
Trending topics 
Related search queries to your target keywords
Recent articles everyone is talking about or sharing
Common questions
All of these can provide essential insight into what your audience is interested in the most. 
You could choose to do this research manually — by exploring what content your competitors and peers are putting out and how it resonates with your audience.
Or, you could automate the process with Semrush's Topic Research tool.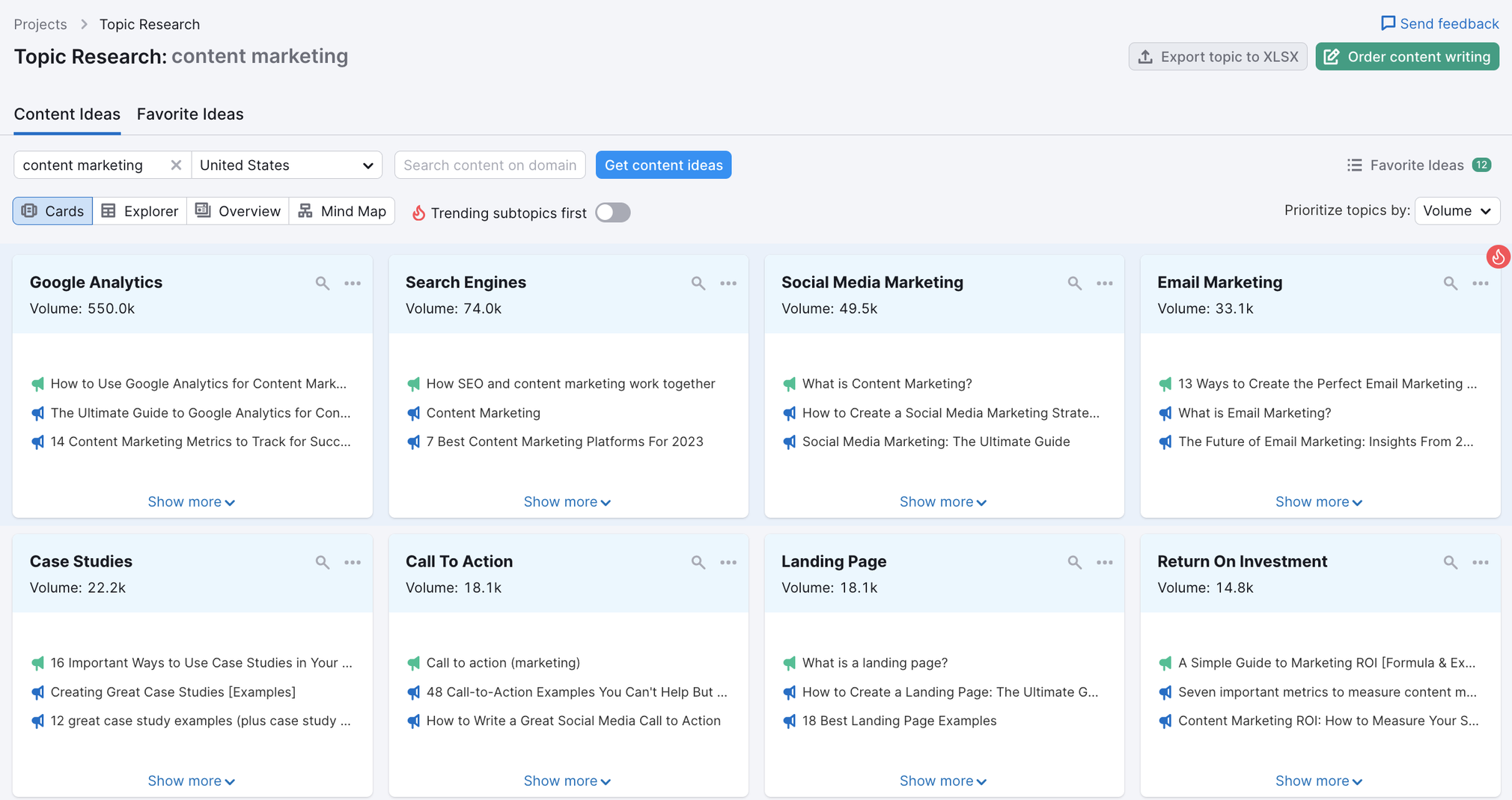 Here's how you use it: 
Enter a topic you want to explore into the Topic Research tool
Choose if you want to narrow by country, region, or city 
Review the popular related topics, questions, and article titles suggested by the tool
When exploring topics, you can choose the most comfortable view: Cards, a list, an overview, or a mind map.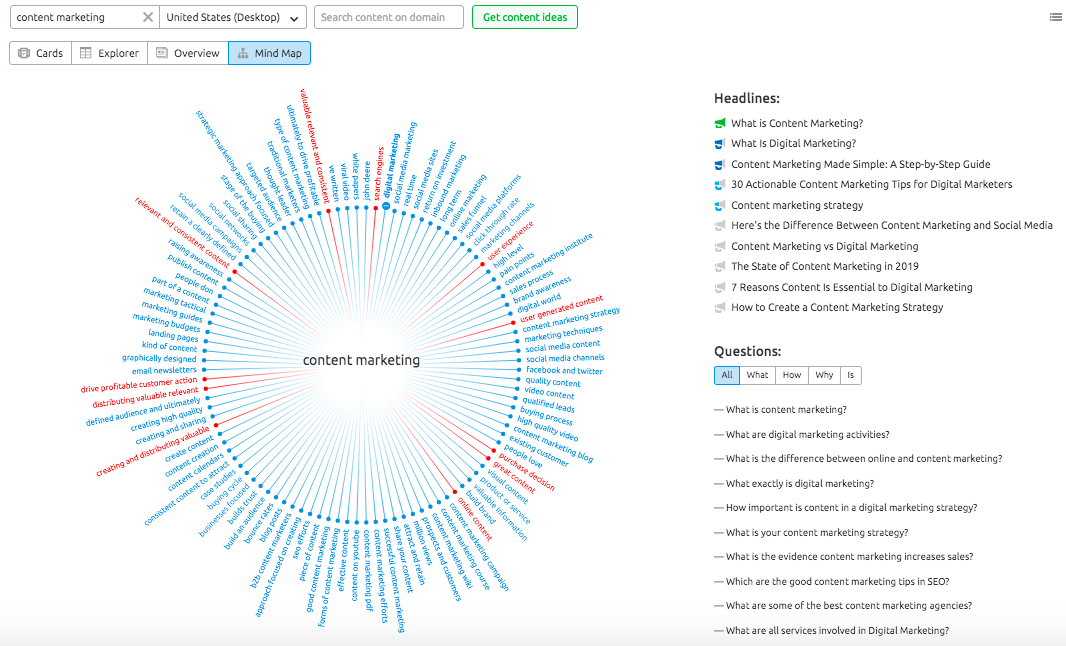 Once you've entered all of your search criteria and narrowed it down, you can sort the results a few different ways, depending on your priority:
By volume to view the most popular topics first.
By difficulty to see the keywords that are the hardest/easiest to rank for.
By topic efficiency to find topics with higher search volume and lower difficulty.
You can also identify trending topics, which have been popular over the last 60 days.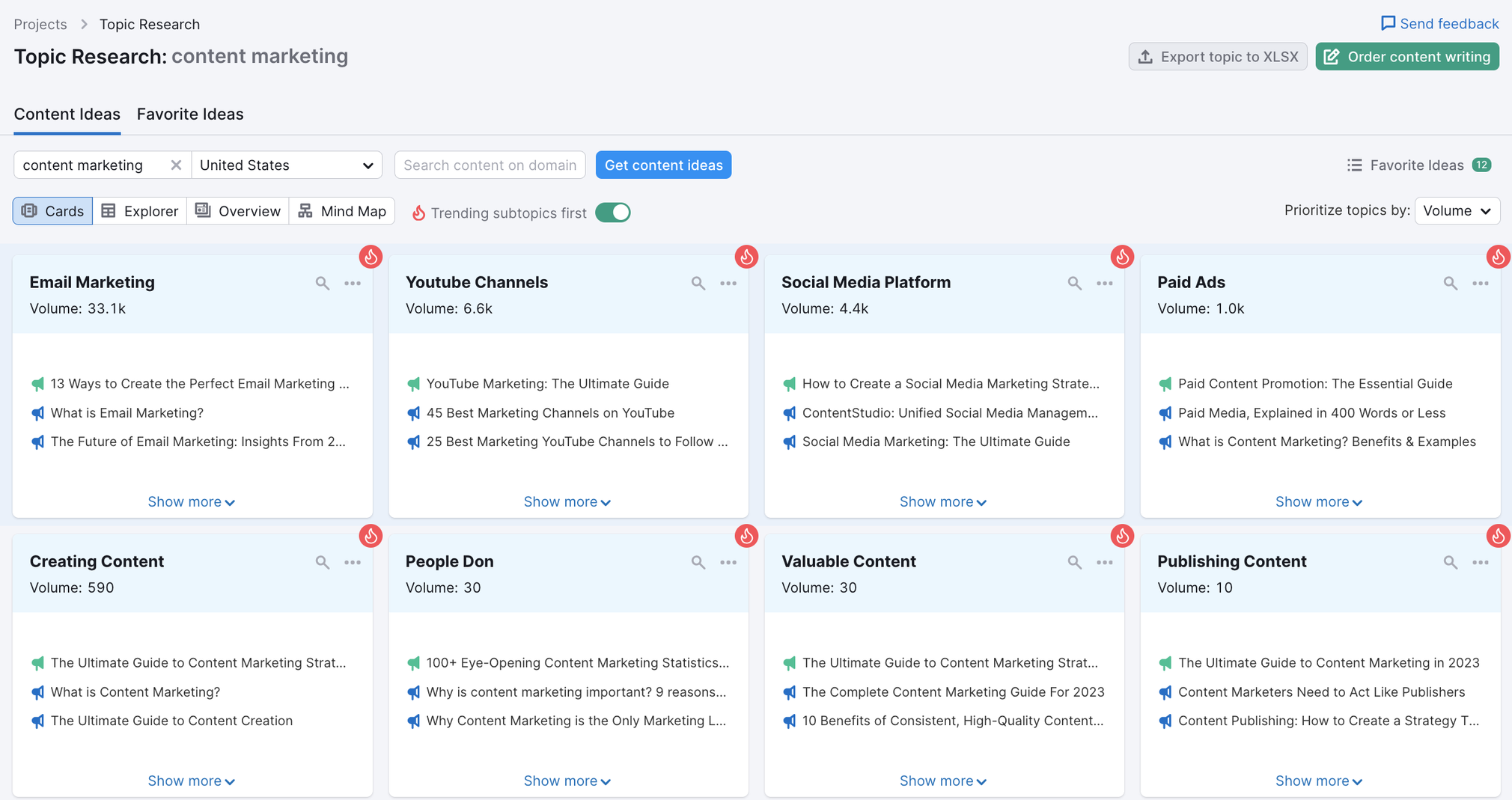 Bonus tip: Another tool that will give you content ideas is Keyword Manager - you can enter up to five seed keywords and get an expanded list of keywords, grouped into clusters.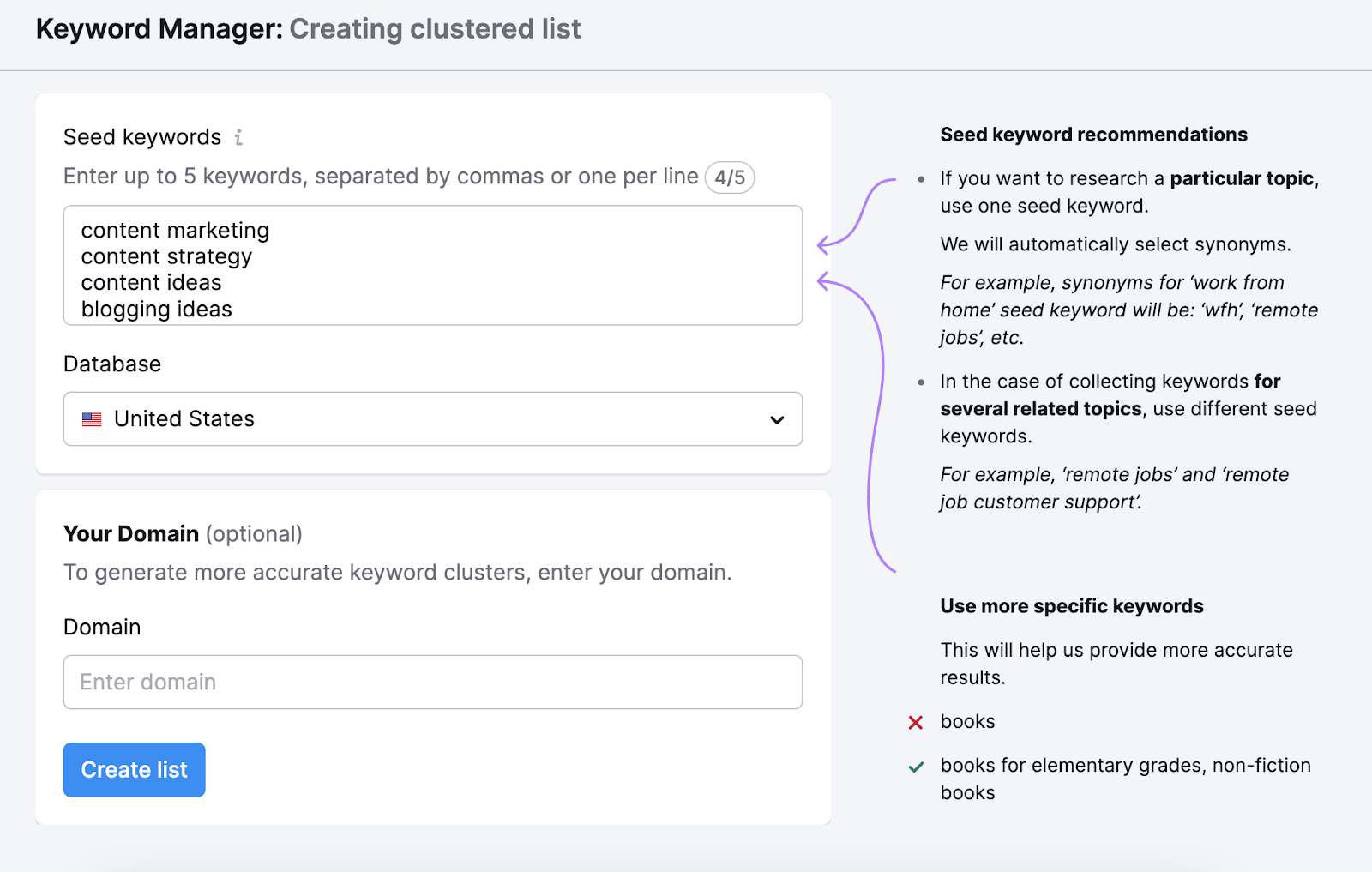 These clusters will translate well into your content plan - plan one piece of content for each cluster and you'll be targeting multiple keywords at a time.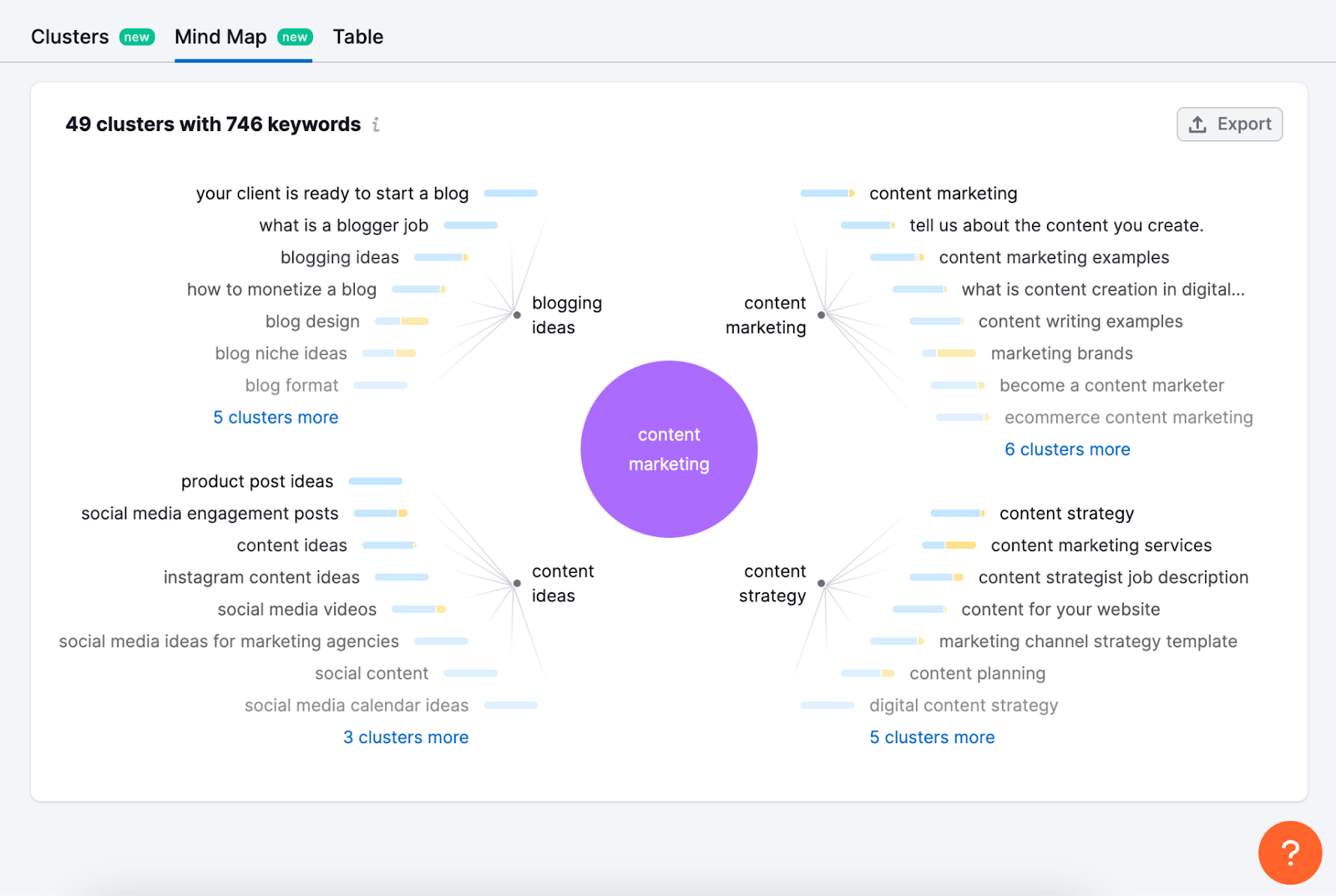 2. Structure Your Content 
Once you find a suggested topic you're interested in, select it to view titles, questions, and related searches.
Hover over the bullhorn icon beside a title –  it shows you its success in terms of backlinks. The green icons signal pages that most people link to.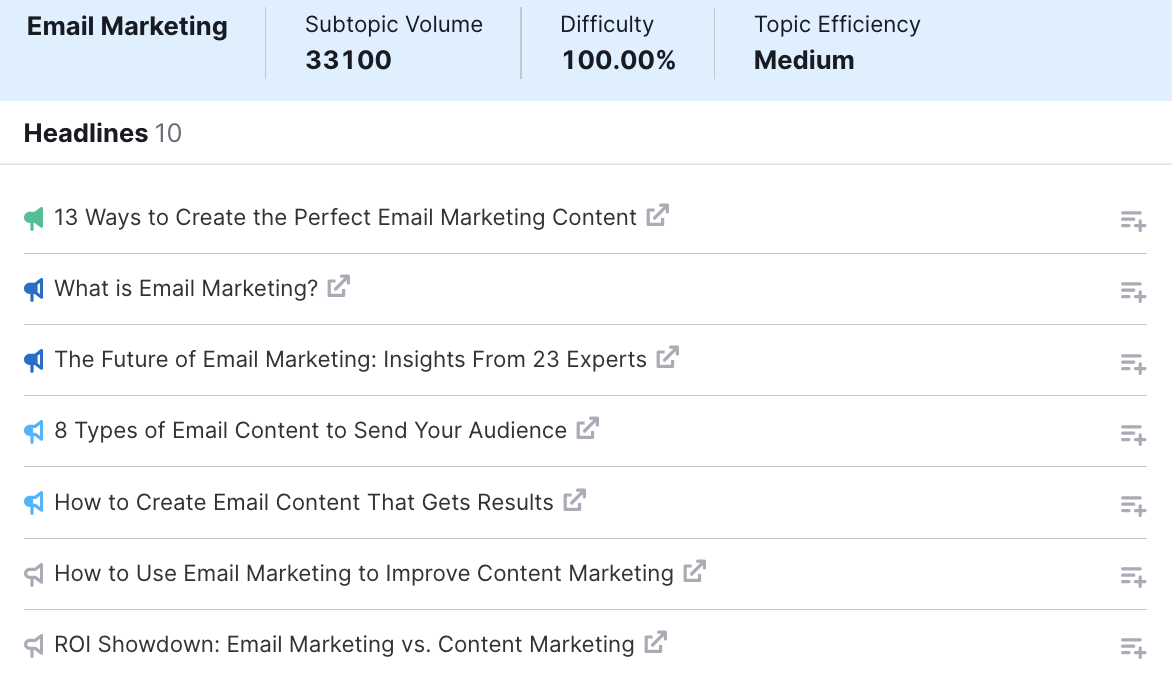 This way, you can notice patterns of topics and titles that generate the most attention.
After curating your list of topics to cover, you can also use the Topic Research tool to structure your content.
Try using suggested questions to build out your articles and get ideas for the subheadings and subtopics for every piece.
Finally, scroll down to see the related searches. You can include those keyphrases in your piece and research them to understand the topic and your audience's search intent.

3. Analyze Your Competitors' Content
Next, check for content gaps between you and your competitors.
A content gap is anything your competitors are covering — especially if it's getting a lot of attention and success — that is missing from your website.
This can be an excellent source of new ideas for your content plan, because you already know there's a relevant audience interested in it.
One way to analyze your competitors' content is to enter their domain into the Topic Research tool along with your target keyword. This will show you all the topics your competitor is writing about that appear in the top 100 of Google's search results. 
If you notice that they're gaining traction by writing on relevant topics you're not covering, make sure to add those topics to your plan.

Boost the Efficiency of Your Content Plan
Now that you have all this information in front of you, you can use it to build out your new content plan.
The Topic Efficiency metric is especially useful here, because it shows you which topics will bring you strong results with less effort on your part. B
y prioritizing highly efficient content, you can help your team be more productive without compromising on quality or results. 
Topic Research is also useful for developing content hubs.
A content hub contains specially curated content around a specific topic.
Since Topic Research generates suggestions based on your seed keyword, you can quickly collect related content ideas to build out a hub or content cluster. 
Quick tip: If you plan to create an article that will provide an answer to a user's question, make sure to include a question word or add a 'how-to' into your title to get more engagement and shares. This strategy could increase your chance to win a featured snippet, expanding your presence on Google's SERP.
User Review:  Hana Bednarova
As a content marketer, ideas and coming up with ideas is something I do (and have to do) every day. There is so much content out there that campaigns we create are competing with.

It is not about just being unique anymore, but understanding what is popular at the moment, what has been done and when (and how), and knowing the right time and ways to release our content.

I absolutely love Semrush Topic Research. It helps me understand what is out there, what are popular searches, and what are the most popular articles related to my topic. I use Topic Research almost every day when searching for ideas and validating campaign topics that I would like to focus on. I like the advantage of saving your favourite topics, so you can filter out those that you find interesting without creating an additional spreadsheet — it's all in one place. I really like filtering out my favourite topics and getting back to them, researching more about what has been done and why particular topics are popular.

I work with international clients so it's great that Semrush Topic Research lets you choose the country you'd like to explore your topic in. Very handy!
To find out how to find content ideas, read this article: How to Generate Content Ideas with Topic Research
4. Create an Optimized Content Brief 
SEO is one of the most efficient channels to make your content visible for your target audience. In fact, 53% of web traffic comes from organic search results. However, it is not easy to reach Google's top ten results, so it's important to make SEO part of your content strategy from the very beginning.
One way to ensure all of your new content is SEO friendly is to create an optimized content brief. A content brief provides writers with all the information they need to write an SEO-friendly article.
It helps you to make sure your writers truly understand the task at hand, including not just what you want them to write about, but also the specific keywords you're trying to target, your main competitors, and the strategy you want to use.
Some of the information you might want to include in an SEO-friendly content brief:
Important keywords to target (both primary and related keywords).
Target word count and complexity.
Information about content structure.
Suggested page elements (such as including a video).
Semrush can help make this process a little easier with our SEO Content Template. All you have to do is enter your chosen combination of keywords to obtain a list of recommendations for producing your text.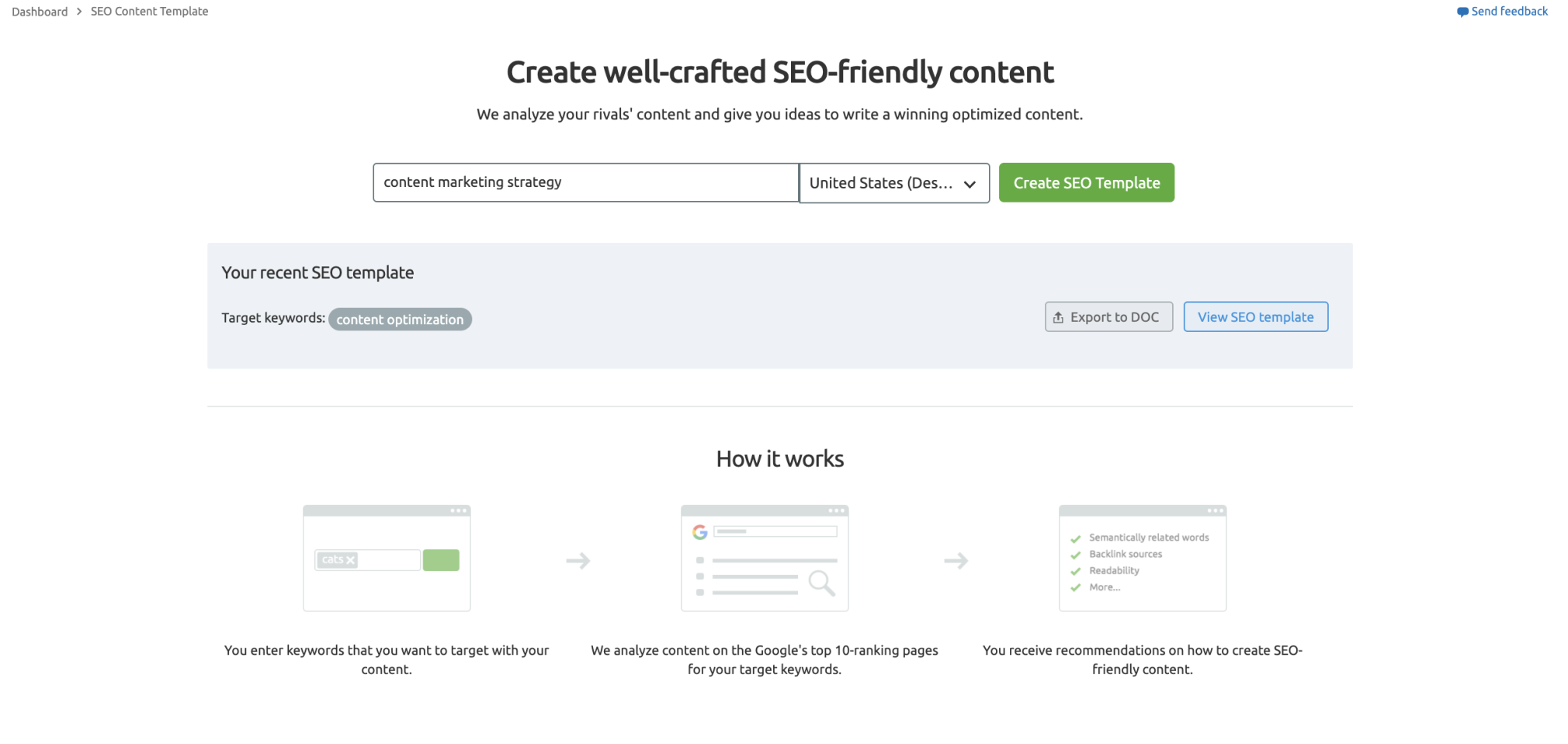 The recommendations are based on the top 10 Google results for your selected keywords, which are linked directly from the tool, so you can analyze exactly how they are using the keywords. After all, if something works for them, it might work for you too.
The SEO Content Template tool provides recommendations on:
Semantically related words 
Backlinks 
Readability
Text length 
It also allows you to see your top 10 rival articles in Google for each target keyword you've typed in.

Find Semantically Related Keywords
When you're doing SEO, one of the first steps is to identify the most important, primary keywords you want to target on a page. But if you want to conquer the SERPs, that can't be the only one you include in your content. That's where semantically related keywords come in. 
Semantically related keywords are search terms, topics or phrases that are closely related to your primary keyword, even if they don't align with it perfectly. For example, somebody searching for "SEO" might also be looking for "marketing strategy" and "technical SEO." 
These keywords provide additional insight into the types of things your audience wants to know, and can help you build out an article with all of the pertinent information your audience might be looking for. They also help Google understand how your article is structured, what information is included, and where, on the page, that information is. 
Identify Backlink Opportunities
Next, take a look at the potential backlink opportunities for each article, and include the ones you'd most like to target on your content brief. Why? Considering backlink opportunities this early in the process gives you an opportunity to tailor your new content and make it more backlink-friendly for the ones you most want to go after. 
Make sure you take a careful look at each opportunity, including the type of content they're publishing and the context in which these backlinks are provided, so that you can focus on the ones you feel are best. 
The SEO Content Template can help you identify backlink opportunities. These domains are typically already providing a backlink to your competition for this topic, meaning they might also be willing to link to you. 
Once you're happy with your template, you can export it, and continue working with it using SEO Writing Assistant (keep reading to learn more about it).
Quick tip: You can get recommendations for a specific location (country, region, city) or device (desktop or mobile) to create content with high local SEO potential.
User Review: Andrew Bruce Smith, Pr, Social Media, SEO & Analytics Consultant
Semrush's Content Template and SEO Writing Assistant are great, practical tools for helping to focus content creation efforts on things that are more likely to deliver higher expected value.

Assuming you have been diligent in doing your keyword research, you then clearly need to begin writing content. But where do you start? The SEO Content Template provides a framework rooted in evidence — namely, why is Google choosing to reward certain pages with the highest rankings for a given term? If you want your content to outrank them, you need to be aware of what you are up against. Fight the battles you have a chance of winning.

Armed with a rational brief, using the SEO Writing Assistant should keep you focussed on making sure your content is taking into account the on-page factors that are more likely to play a role in whether or not the page will be considered for high ranking. Having an idea of where you should prioritise your backlink outreach efforts is also helpful.

In short, I have trained literally hundreds of people in SEO over the last several years. Since the SEO Content Template launched in 2017, I've advised everyone to consider using it as part of their SEO content approach. The feedback I've had from trainees has been very positive in terms of time saved on thinking about content and for focussing people's minds on creating material that is far more likely to deliver real SEO and business value.
5. Optimize Your Copy for SEO and Engagement
Once you've used your content template to write your new content, the next step is to make sure that new copy is fully optimized. That means checking the article structure, content, readability, keywords and meta information and making any necessary revisions before you post. 
This can take some time and effort, but you can automate part of the process by using Semrush's SEO Writing Assistant, which is available as a Google Doc add-on, a WordPress plugin, and as a part of the Semush interface. It can analyze your copy and make recommendations to improve based on your top rivals in the Google results.
And best of all, any writer you invite to collaborate with you on the document will also have access to these resources via the plugin. 
The SEO Writing Assistant can help you optimize copy more quickly by providing targeted recommendations addressing specific issues that could impact your organic search performance:
Overall optimization status — ensure your text is perfectly structured for a target keyword and written in an SEO-friendly style before publication.
Recommended keywords — enrich your text with these keywords to get better SEO results; the tool will show you which keywords are already present in your text, assess their density, and showcase which semantically related keywords you still didn't use. 
Title recommendations — don't forget to use your target keywords in the title, and get other suggestions on length to optimize it.
Linking — find the optimal number of links for your text, detect broken links, and links without anchor text in one click.
Of course, just because readers can find your article through organic search doesn't mean your work is complete. You can also boost engagement by addressing the following recommendations:
Readability — analyze your copy's complexity and ensure it is close to an average score for your top 10 rivals on Google.
Number of words and reading time — check if your text matches the average number for your top 10 competitors. 
Tone of voice consistency — make sure your content piece complies with your overall brand voice, whether it is casual, neutral, or formal.
Originality — detect the total percentage of copied words in your text and find original sources of content from across the internet. Avoid plagiarism.
Using the SEO Writing Assistant, you can quickly and easily find and address any issues in your content that could impact SEO or readability. The metrics and recommendations are interactive and will update in real-time based on the changes you make to your copy. Overall, these recommendations will help you make your copy friendlier for crawlers and bots, and will help your audience spot your article in an endless Google list.
Targets for readability and text length are defined based on an analysis of the top 10 Google results for the keywords you're targeting, but if you want to change them, just click on the pencil icon.
Quick tip: The SEO Writing Assistant targets for readability and text length are defined based on your top 10 Google rivals analysis, but if you want to change them, just click on the pencil icon.
User Review: Andy Crestodina, Speaker, Content Marketer, Co-founder of Orbit Media
To find out how to create optimized content, read this post: How to Create SEO-friendly Content with Semrush
Conclusion
Content Marketing is recognized as one of the most effective digital marketing techniques. Today, most companies are producing digital content, so to stand out from your competitors and make your business more profitable, your content has to be exceptional in quality and valued by your readers.
It is a tough job, but a systematic approach and a powerful content platform like Semrush can make your Content Marketing efforts easier and more effective.
If you want to learn more about our Platform, sign up for our Content Marketing Toolkit Certification Course — watch free video tutorials, get tips from content marketing pros, and earn a certification.