Some technological innovations have transformed our daily habits, and among them are food delivery apps. These are applications that allow you to order your favorite food from your smartphone and have it delivered straight to your doorstep within minutes. You know those nights when you are tired and do not feel like cooking or going out to look for a restaurant? Or when you feel like having sushi or burgers for lunch but your favorite takeaway is on the other side of the city? That's what food delivery apps are made for.
The Recipe For Success
The surge in food delivery apps in recent years is a clear signal of their success, as confirmed by data: over 1 and a half billion dollars were invested in 2015 and a further growth is expected this year. Their secret lies in the ability to meet one of the most heartfelt desires of the modern era: to save time and effort in every aspect of life by providing a handy solution through smartphones. 26% of people order food online at least once a week while another 24% do so two or three times a week.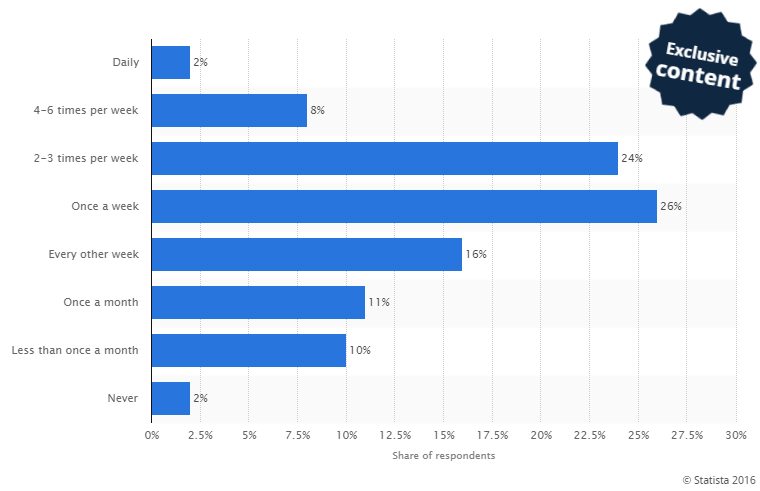 Food App Delivery Statistics
However, if food delivery apps are currently in demand, then this means that this sector is becoming increasingly competitive and not all apps have the same luck.
So what makes the difference? It's the strategy. The success of an app lies on the idea and the winning marketing strategy behind it. Mobile marketers operating in different sectors have so much to learn from the best ones. 
5 Appetizing Food Delivery Apps: For Marketing
Is your mouth already watering? Keep your hunger at bay, because in this article we will not be talking about the best app for tonight's dinner. But we'll guarantee you that this article will still be appetizing: below we will present five food delivery apps operating in various parts of the world.
You may not have heard of them nor you can try them tonight because they are not available in your area. But through their stories we will offer you something that you can try right away to improve your mobile strategies.
1. Just Eat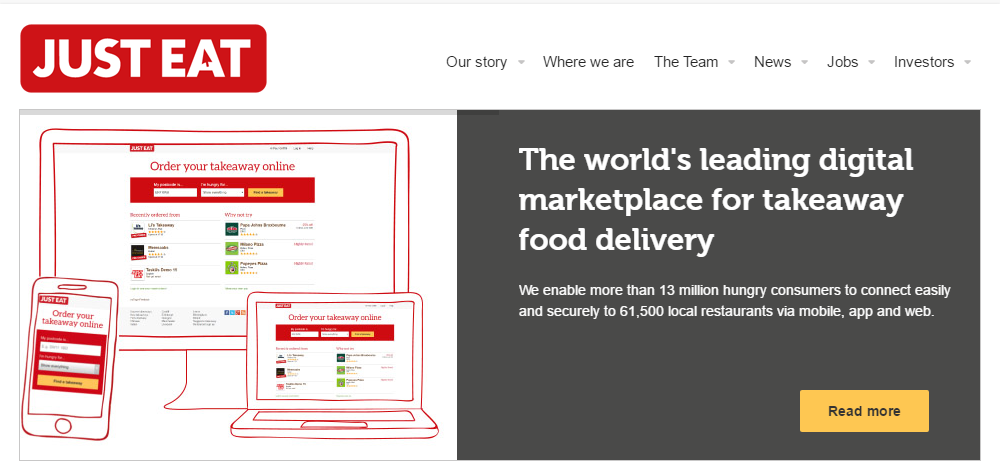 Just Eat
Active in over 13 countries, including Canada, Brazil, UK, Italy and Spain, Denmark's Just Eat Group works with more than 13,000 restaurants. Its software combines various menus offered by restaurants, mainly the ones meant for takeaways. The user makes an order on this food delivery app, the restaurant receives it instantly and prepares the required food, while the courier takes care of the delivery. 
Lessons:
Business focus: Each food delivery service connects three activities, the ordering platform, the preparation, and delivery. Just Eat manages only the first of these three areas. It charges a 10-15% service fee, which is lower than other food delivery apps. This is a good example to follow in your marketing strategy, and not just for mobile: focus on what your product does best and make it your competitive advantage.
Reviews visibility: With Just Eat, your choice becomes instant due to the fact that users can leave reviews not only for restaurants but also for individual meals that are immediately visible on the app. These have a great power over the mechanisms of choice. In fact, 63% of people prefer to buy on sites with product reviews. If you sell your products online, encourage your customers to express their opinions. Do not fear criticism because if it is constructive, it will help you boost your sales.
2. Seamless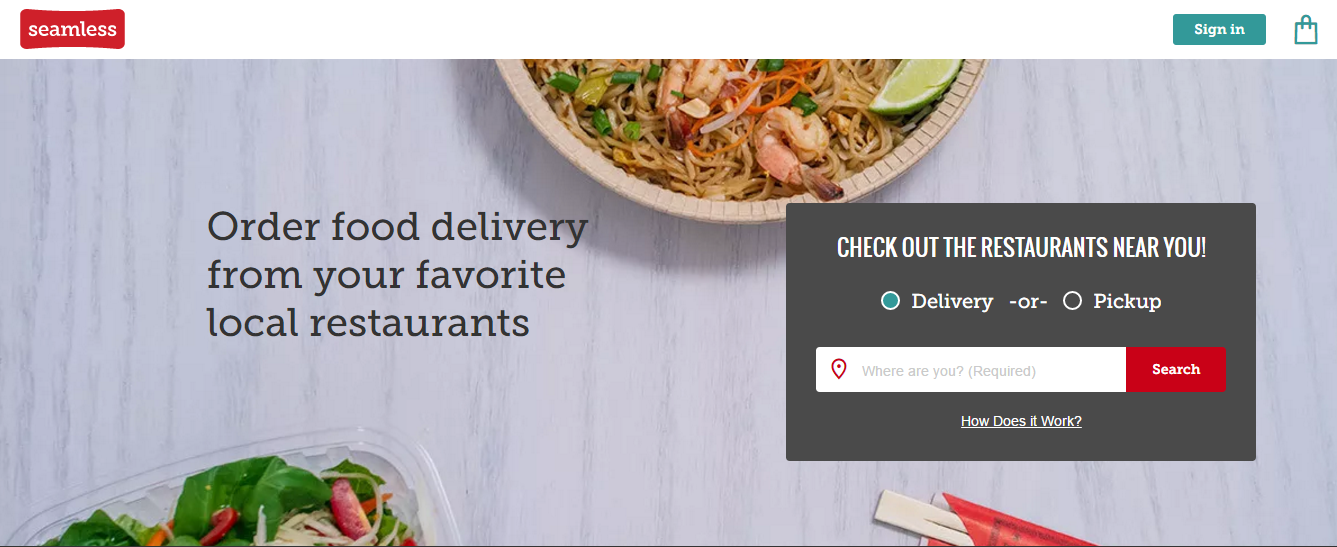 Seamless
Within its app there are over 7,000 active restaurants in major US cities. There is no fee to pay when you place your order, you can choose from thousands of menus and you can save your preferences, address and method of payment for your next order. 
Lessons:
Enticing discounts: Seamless immediately offers a discount on your first order and also frequent promotions on the following ones. Remember that coupons are very tempting and are the best way to convince undecided users to proceed with the purchase. Make your discounts readily available when people enter your website or app and make sure they can be easily activated on smartphones. Lastly, create customized discounts for those who have already placed an order, based on their previous choices.
The recipe for simplicity: Seamless lives up to its name exactly for its simplicity. Everything is simple: from browsing to the selection of the type of dish, from searching by price range to the ability to save users' data. Do the same with your site or app: make intuitive paths and allow users to save their data. They will appreciate this in their next order. Buying products from their smartphones will just be a click away. 
3. Maple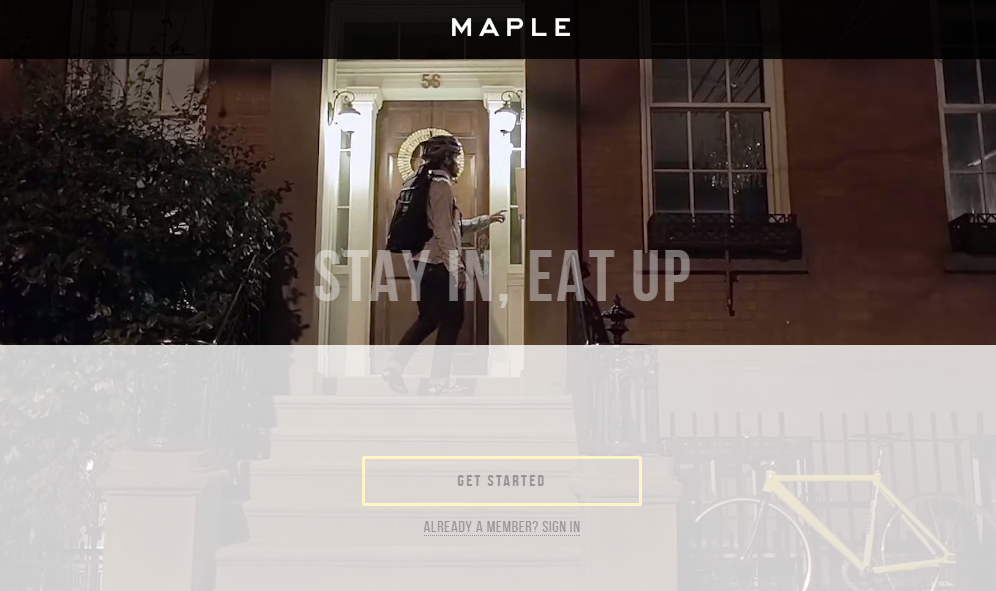 Maple
The recently launched app Maple proposes a new approach in the food delivery app scenario: it does not just connect customers with restaurants; it also takes care of the food preparation. This is made possible through the choice of combining New York's best chefs, gourmet ingredients and rotating daily menus. Users have a limited choice of menu on Maple's app, but all meals are made with high-quality ingredients, and are delivered right to the user's doorstep. The novelty is also the delivery stage: the food boxes are maintained at the optimum temperature, thanks to the preparation of the courier. 
Lesson:
Innovation makes the difference: Since food preparation is handled by Maple itself, orders can be delivered within 15 minutes. Furthermore, the choice of professional chefs, the use of high-quality organic ingredients and fast delivery, have allowed Maple to satisfy the most demanding customers, those who were reluctant to use the food delivery apps.
This is what Maple teaches us. Hundreds of new apps are launched every day in the world, many of which are similar to what you have in mind. If you want to be successful, look at the market, your competitors and what they are not able to offer yet. Aim to do something different, better or focus on a specific niche. Follow Maple's example: limiting your offer doesn't always mean limiting your business. In fact, offer on mobile should be segmented because only in this way you can carve out a space in a crowded context with increasingly competitive proposals.
4. Deliveroo
Deliveroo
This food delivery app is active in 12 countries and in more than 68 cities, reaching a total fund of more than $ 200 billion. The service covers both the ordering phase and that of delivery. Customers order through the app and the nearest courier to the chosen restaurant receives the request and can either accept or decline.
The couriers are connected to the mobile platform at all times, thus allowing customers to monitor their location and status of delivery in real time. This allows you to store a large amount of data such as delivery time and the optimal routes, which are useful to constantly improve your service. It is a great competitive advantage that many food delivery apps are lacking.
Lessons:
Promoting the brand: when Deliveroo's service is available in a new city, it is impossible not to notice it. Its kangaroo can be seen everywhere: on posters, billboards and flyers. The same couriers are also advertising tools on two wheels.
Thanks to the uniforms and custom vehicles with the logo and colors of the brand, its visibility has increased. They are reminders to people who have already seen the brand on the web. They are also a good way to spread Deliveroo's presence offline, to those who have never heard of it. Does your logo do the same?
Even if you have an app and your business is based online, do not forget to make it known in the real world. Use offline tools: from the traditional means, such as billboards and flyers, to the most innovative ones, which personify your logo or your mascot if you have one. Follow Deliveroo's example: their stuffed kangaroos wandering the streets are definitely an eye-catcher.
Continuous interaction with the user: Deliveroo allows to geolocalize the courier's position in real time. From order to delivery, users have full control on their smartphone of what's going on. Think of something like this in your strategy: maintaining a direct contact with your customers and allowing interaction at any time significantly increases customer satisfaction.
6. Foodora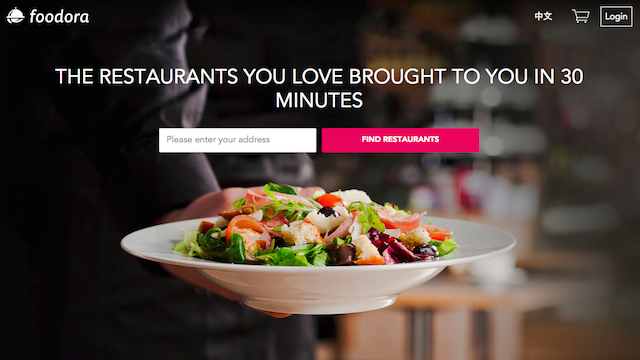 Foodora
Foodora is a startup launched in Monaco in 2014 and today it operates in more than ten European countries. Its app is a selection of the best restaurants in the various cities in which it operates. The delivery mechanism is similar to that of Deliveroo: the user selects the food they want and the order is sent to the nearest courier to the restaurant.
Lessons:
Targeting: the choice of partner restaurants for the various zones should be determined according to the predominant target in that particular area. The type of cuisine offered in a certain area varies, for example, depending on whether it is demographically young or ethnically diverse.
Online businesses should do the same or take into account peoples' locations when defining their offer. People are used to browsing on smartphones and they want immediate answers when they are looking for something. So when they reach your site, they do not want to waste their time scrolling through dozens of products or services.But if you are able to immediately guess what might interest them, you will have more chances to get them to click the "Order" button.
Have we given you some good inspiration for your mobile strategy and perhaps something more? We hope so. So what do you think is the best Food Delivery App from a marketing perspective?
You can tell us in the comment section below. We are hungry for your opinions.