Do you need your website to be seen by searchers in more than just one location? 
Semrush has a multi-targeting feature within the Position Tracking tool that allows you to track multiple devices or locations in a single project.
Guru subscription: 10 devices / locations per project
Business subscription: 5,000 devices / locations per project
You also have the ability to create a Heatmap tracker to follow your rankings in Google Maps in a specific target area with Listing Management.
This post will show you how!
What Are the Challenges of Targeting Multiple Areas?
As a local service company, it's common to aim to serve customers in a geographic radius extending beyond a single city.
For example, a plumbing company based in Philadelphia, Pennsylvania would benefit from visibility in the surrounding suburbs and southern New Jersey. 
In the map below, you can see locations as close together as Philadelphia, Cherry, Hill, and Upper Darby that could trigger much different search results for the same keywords.
The trick becomes finding out exactly how well your website is ranking for your target keywords in those other areas. 
When you check the search results on your own using a regular Google search, you only see the results Google provides based on your specific physical location.
With multi-targeted rank tracking, however, you can monitor the results in multiple cities at once.
In order to rank a website in search results across multiple cities, you will need a specialized local SEO strategy for each area. 
This means building local links in each city you want to target, having consistent NAP information on all of your citations, updating your Google Business Profile, and using Schema markups for things like reviews, events, and offers.
How can Semrush help?
There are two main tools to track local visibility with Semrush.
First, Position Tracking offers an all-in-one dashboard to follow sets of keywords across multiple locations and devices in the same project.
Then, Listing Management offers the ability to track Google Maps rankings down to a street by street level for up to five keywords. 
In addition to tracking positions, the Position Tracking tool will give you tons of insights like local search volume, local competitors, share of voice, and estimated traffic. 
What can you do with these local SEO tracking tools?
Identify local search volume differences in different cities 
Discover your biggest competitors in different cities
Compare traffic estimations for ten different locations/devices from a single dashboard
Compare mobile and desktop visibility for target keywords 
Analyze your competitor's top landing pages 
Compare traffic estimations for different locations and devices 
Track your Google Maps positions on a custom grid 
If you don't want to have to check your project every day, you can set up custom triggers to be notified of any significant dips or spikes in the results. 
How to Identify Local Volume Differences
Keyword research is an essential step in any marketing strategy, but many keyword research tools only provide you with search volume estimations at the national level. 
To find local volume differences on Semrush, take the following steps:
Set up a Position Tracking campaign and target a specific city showing local volume
Add your target keywords and start tracking
Once your campaign is running, select the Device & Location tab
Choose "add new device or location"
Add the additional location using the same keywords and device type 
Navigate to the Devices and Locations tab
Double check that volume is set to "local" at the top of the interface
Sort the table by volume and compare the differences for each keyword. It may take Position Tracking up to one day to gather local volume on the city level, so check on your project after a day or two to get accurate data.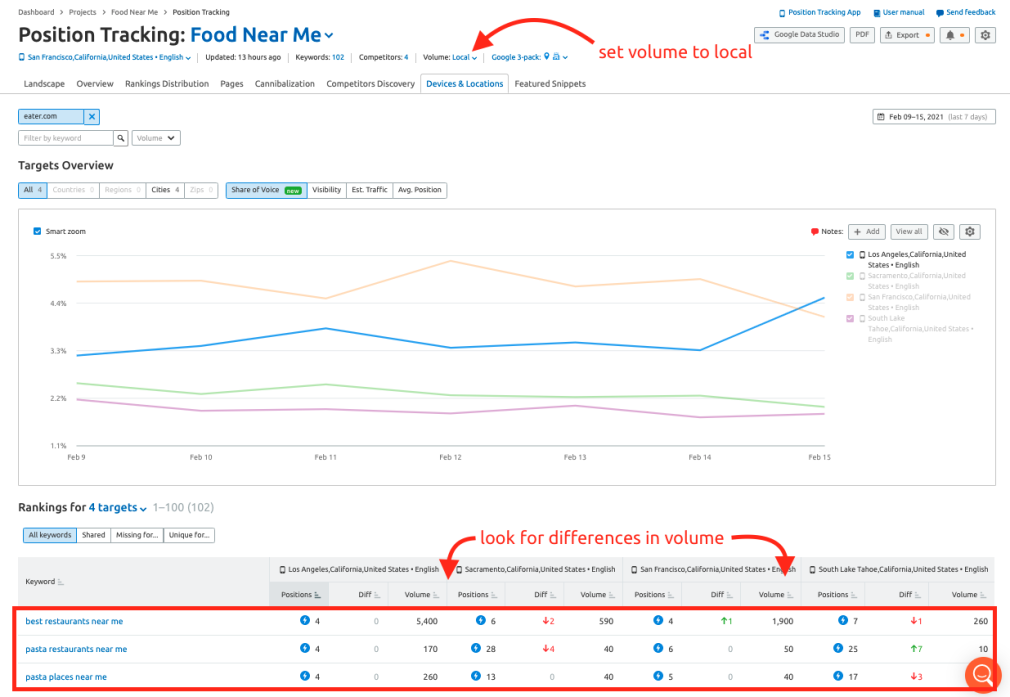 If you see a difference in search volume between two cities with similar population levels, you can infer that the city with the higher search volume has a higher demand for the product or service, right? 
For example, if "delivery food near me" has a higher search volume in San Diego compared to San Francisco, you could say that a food delivery website has more opportunity to market itself in San Diego.
How to Discover Local Competitors
If you are a local service business like plumbing, there could be a different plumbing business that ranks at the top of the local pack in every town you look at.
Open your Position Tracking campaign with multiple locations
Select which device and location you want to analyze
Navigate to the Competitors Discovery tab
Set volume to "local" at the top of the interface
Make sure to check "Local Pack" under the "Google 3 pack" dropdown option
Sort the table by Visibility to see who has the highest rankings for these keywords
Sort the table by Estimated Traffic to estimate who's getting the most visitors from these keywords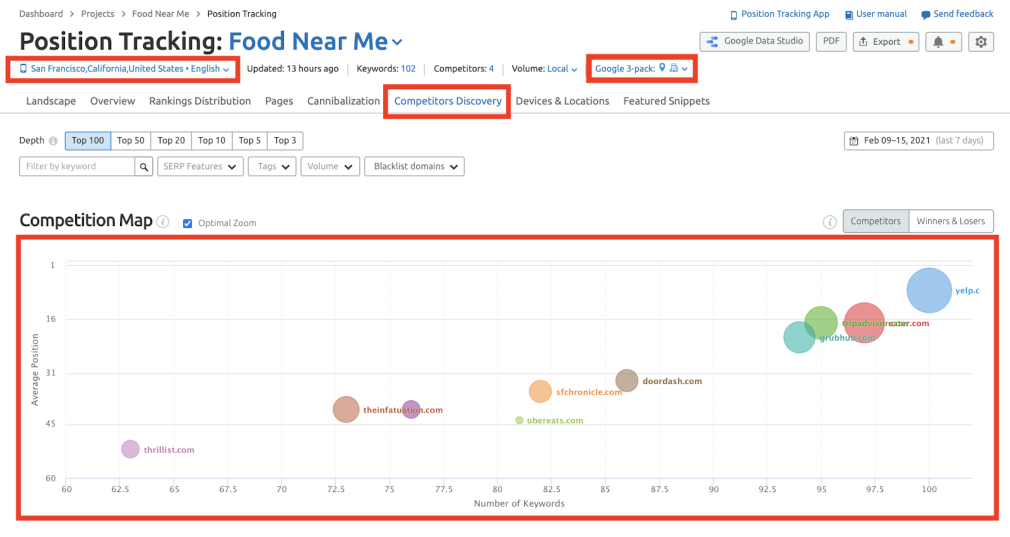 Taking these steps, you can discover your biggest competitors for visibility and estimated traffic for each location or device in your project. 
How to Compare Mobile and Desktop Visibility in the Same Dashboard
Set up a Position Tracking campaign
Choose your location and set the device type to "desktop"
Go to the Device & Location tab
Choose "add new device or location"
Change device to "phone" and add keywords from the first location you set up
In the Devices & Locations tab, you can compare share of voice, visibility, estimated traffic, and average position of the website on mobile and desktop results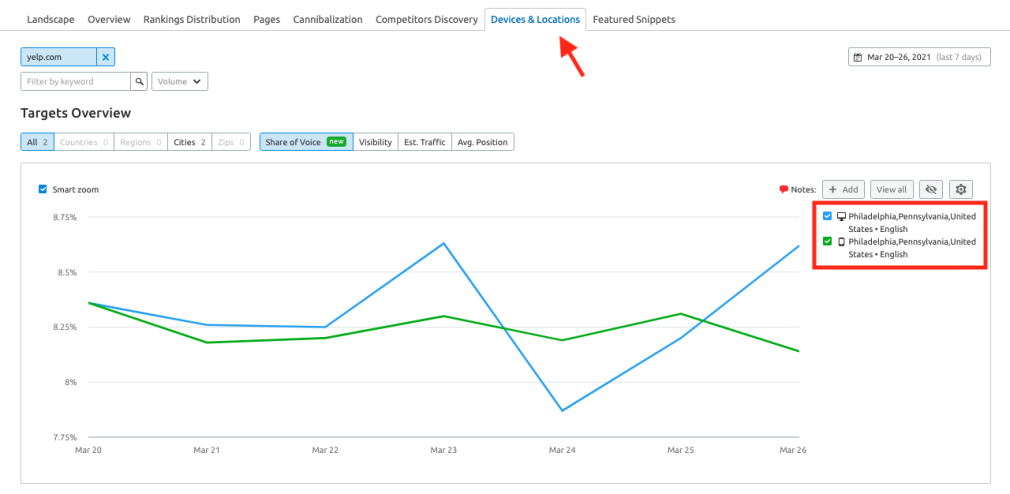 In the screenshot above, you can see an example project targeting mobile and desktop results in Philadelphia.
How to Analyze Your Competitor's Top Performing Landing Pages
If you want to know how your competitors are getting ranked ahead of you, just take a look at their landing pages. You might discover some ideas for your own strategy based on what works well on their website. Finding a competitor's top-performing landing pages on Semrush is easy. Just take the following steps:
Open your Position Tracking Campaign
Navigate to the Landing Pages tab
Set volume to "local" at the top of the interface
Enter your competitor's domain in the blue field above the table
Sort by Estimated Traffic to see the pages on their site that acquire the most organic traffic from your target keywords
Click the blue arrow beside the URL to inspect their page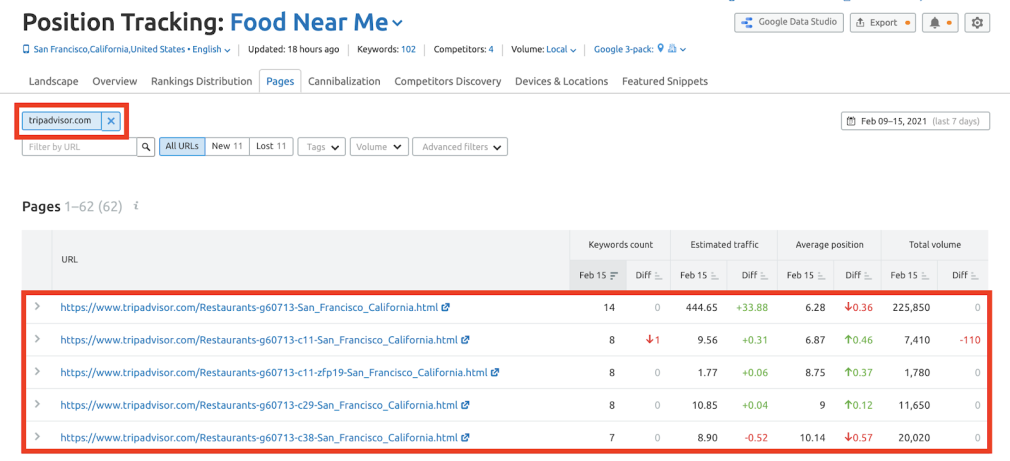 The list of pages in this report is a great source of information if you want to learn how to create content that will rank in your niche. 
Take a look at your competition's top pages and analyze what they do well to acquire backlinks and answer the questions that people ask in search.
How to Compare Traffic Estimations for Different Locations and Devices From One Dashboard
If you have visibility in more than one location, you can estimate how much traffic each area is sending you based on how high you rank and how much search volume each keyword has. 
Open up your Position Tracking campaign with multiple locations or devices
Navigate to the Devices and Locations tab
Set volume to "local" at the top of the interface
Select Estimated Traffic above the line graph to compare which areas are sending the most search volume to a website. The numbers represent daily estimations of traffic coming from your target keywords

How to Track Positions on Google Maps
If you want to get an even closer look at your local positions next to the competition, set up the Listing Management tool with these steps.
Go to Listing Management
Enter all of your business information and upgrade the location to Premium
Go to the Heatmap tab 
Enter up to five keywords to tack
Set up scan radius (how wide the map will be)
Choose grid size (3x3, 5x5, 7x7)
Hit "Scan Map" to reveal positions on each point of the grid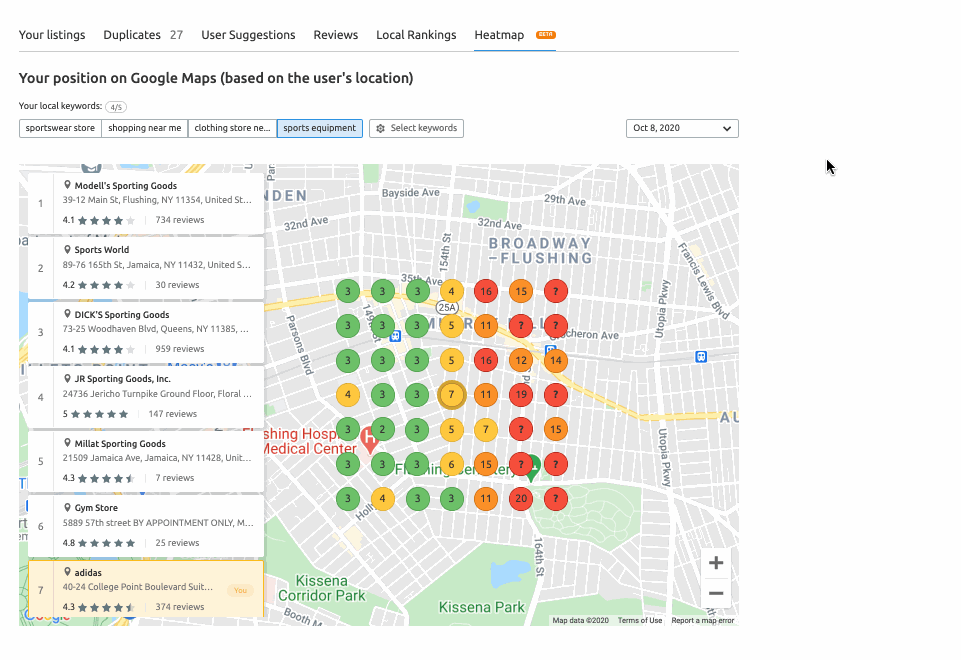 Please note: setting up your heatmap is "semi-permanent" because it can only be updated by contacting our customer success team, so be sure to set it up for the exact area you want to track.
Ending thoughts
There is a lot you can accomplish for your local SEO strategies using Semrush. Take these tips and formulate a plan to grow your business by targeting new areas.