Launching a new website is an exciting milestone.
But identifying what to do before launching can be overwhelming.
However, with our website launch checklist, you don't need to stress. 
We cover everything from pre- to post-launch so you know what to do.
Let's get started.
Website Pre-Launch Checklist
Here are the items to check off your list before launching your site:
1. Check Redirects
If you're redesigning your site, make sure old pages redirect to new ones.
You might need to redirect pages if you consolidate several pages into one. Or if you change a page's URL slug—the last part of the URL.
Create 301 redirects—permanent redirects—so users (and search engines) who visit old URLs end up on new ones automatically.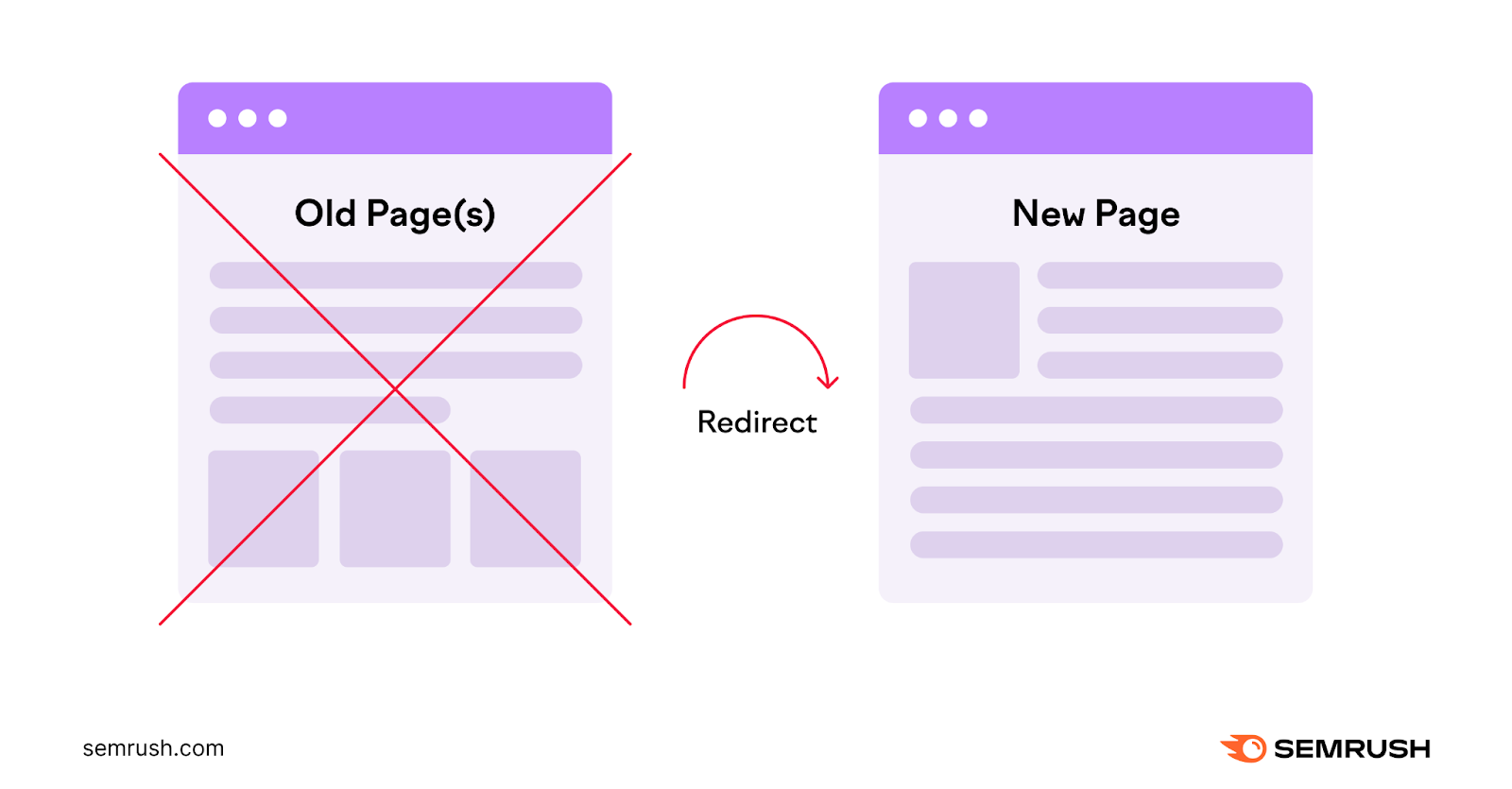 Tip: Not sure how to implement redirects? We put together steps to create 301 redirects. Clicking the link takes you directly to the section that outlines how.
2. Develop Your On-Page SEO Strategy
On-page search engine optimization (SEO) refers to strategies that improve your webpages to help them gain visibility in search results. These strategies help you drive organic traffic—traffic from unpaid search engine results—to your website.
Creating content focused on important keywords is a large part of on-page SEO. So, it's essential to identify the right keywords.
Let's say you sell painted pet portraits. And you want to rank high in search engine results when someone searches for terms related to your business.
But how do you determine which keywords are related to your business? Through keyword research. 
Here's how to do it:
Head to the Keyword Manager tool and click the green "Create list" button. 

Next, enter at least one seed keyword—a broad term related to your niche. 
In this example, it's "painted pet portraits." Select a database, enter your domain (optional), and click "Create list."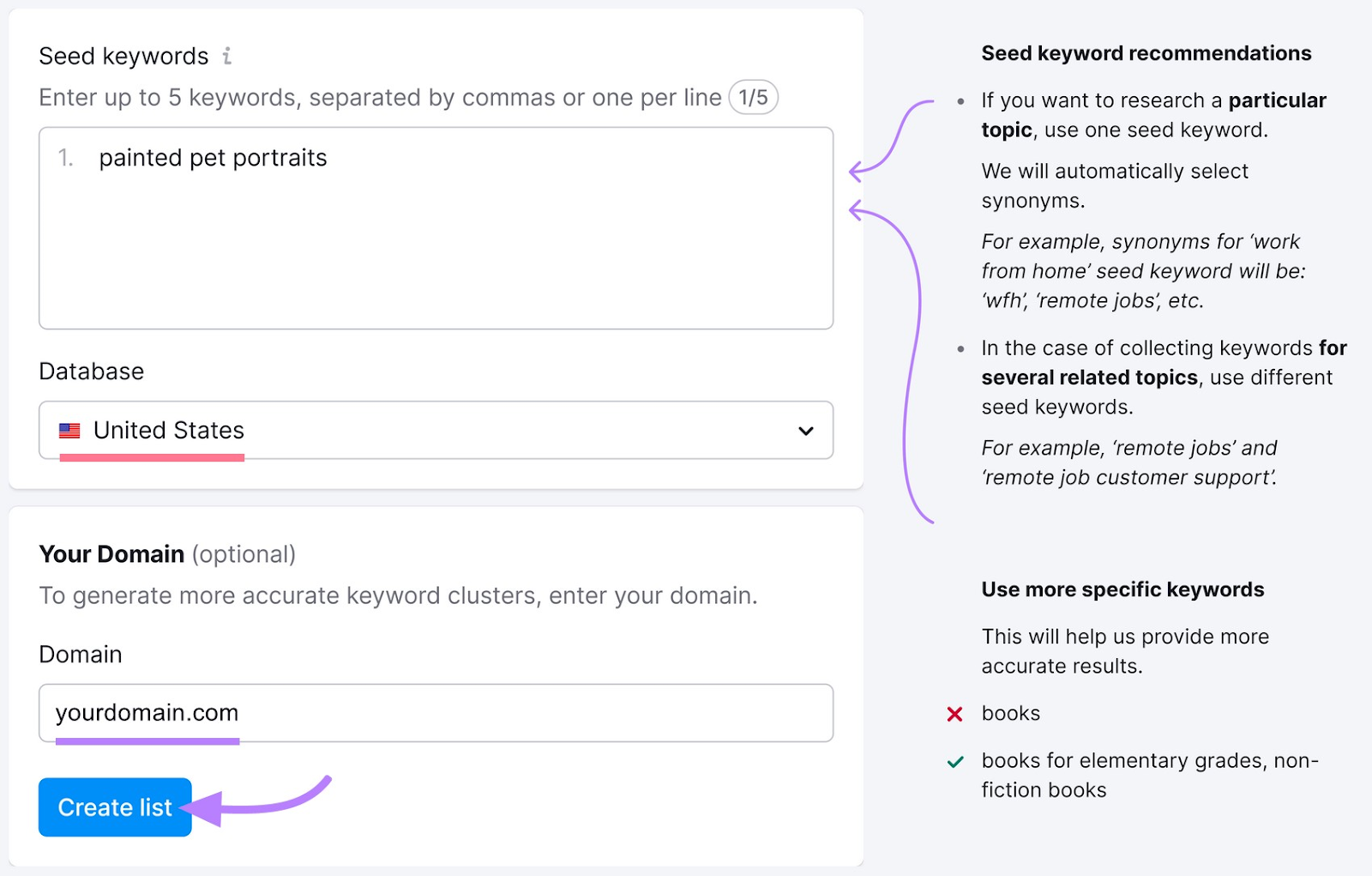 Then, the tool will create a list of keyword clusters (groups of similar keywords) relevant to your business: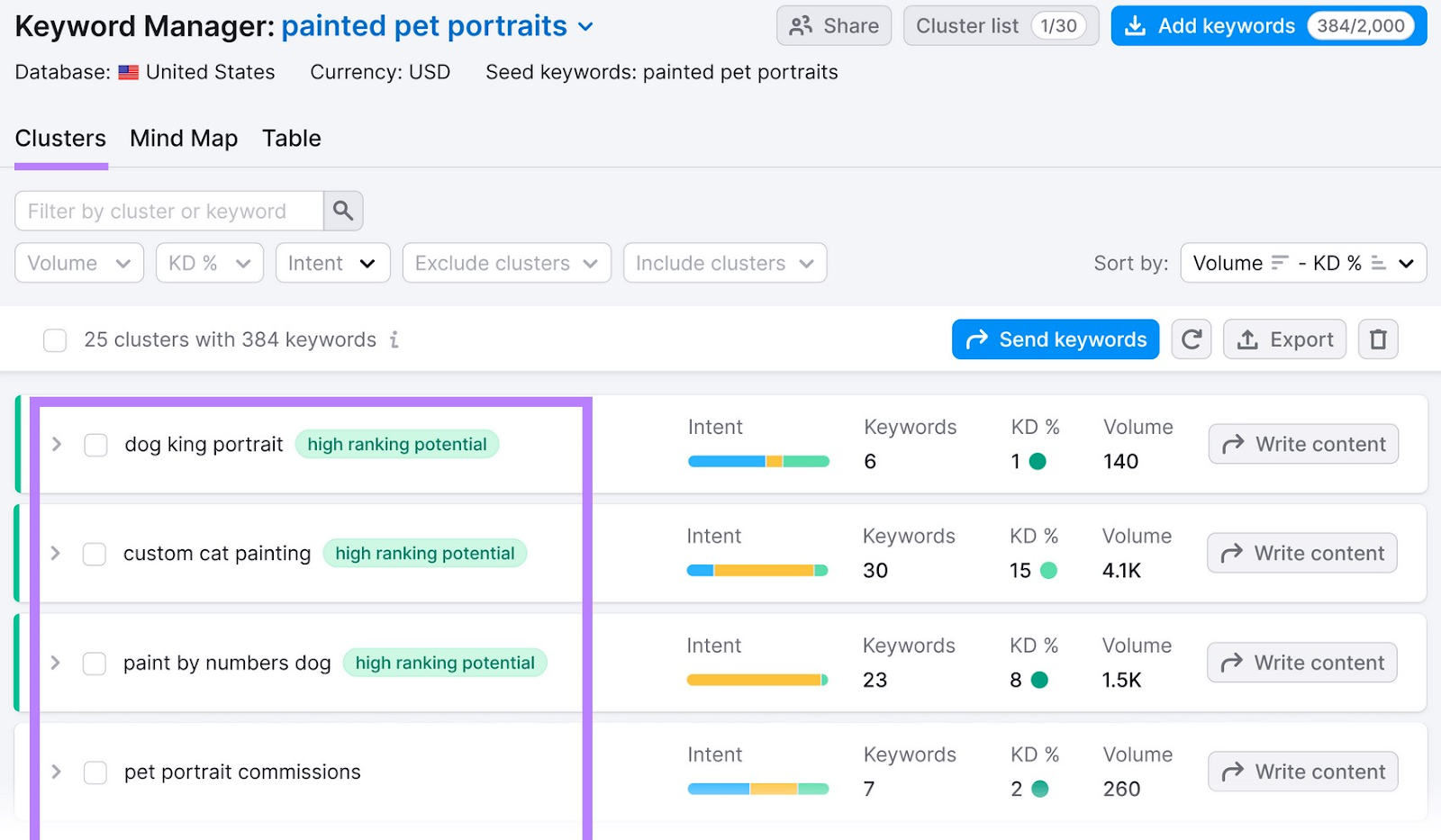 Choose which cluster you want to write content about and click "Write content."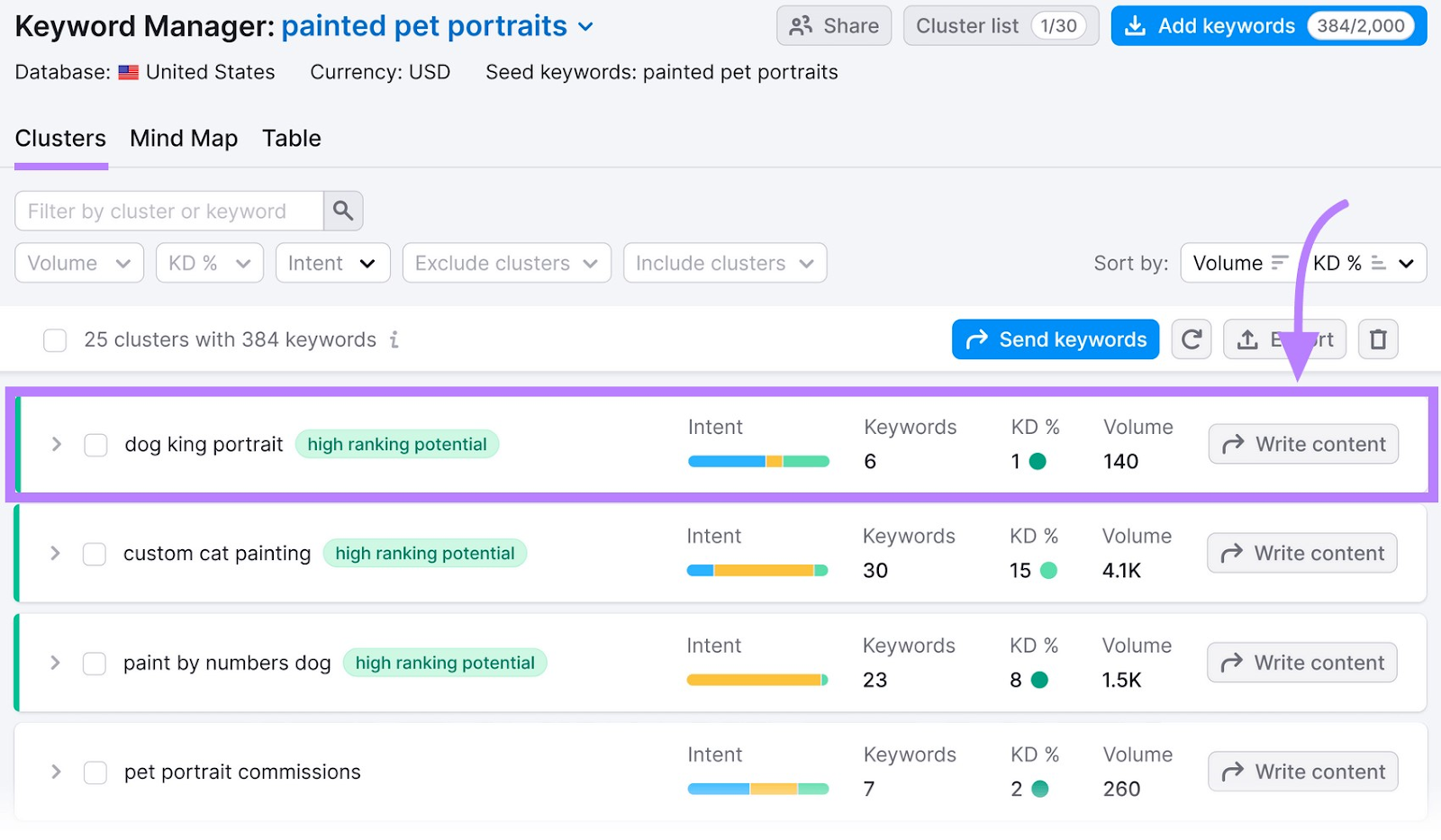 Next, choose which device you want to target: desktop or phone. (Search results can differ for desktop and mobile devices. Choosing a device helps Semrush tailor the writing recommendations.) 
Then, click "Send keywords."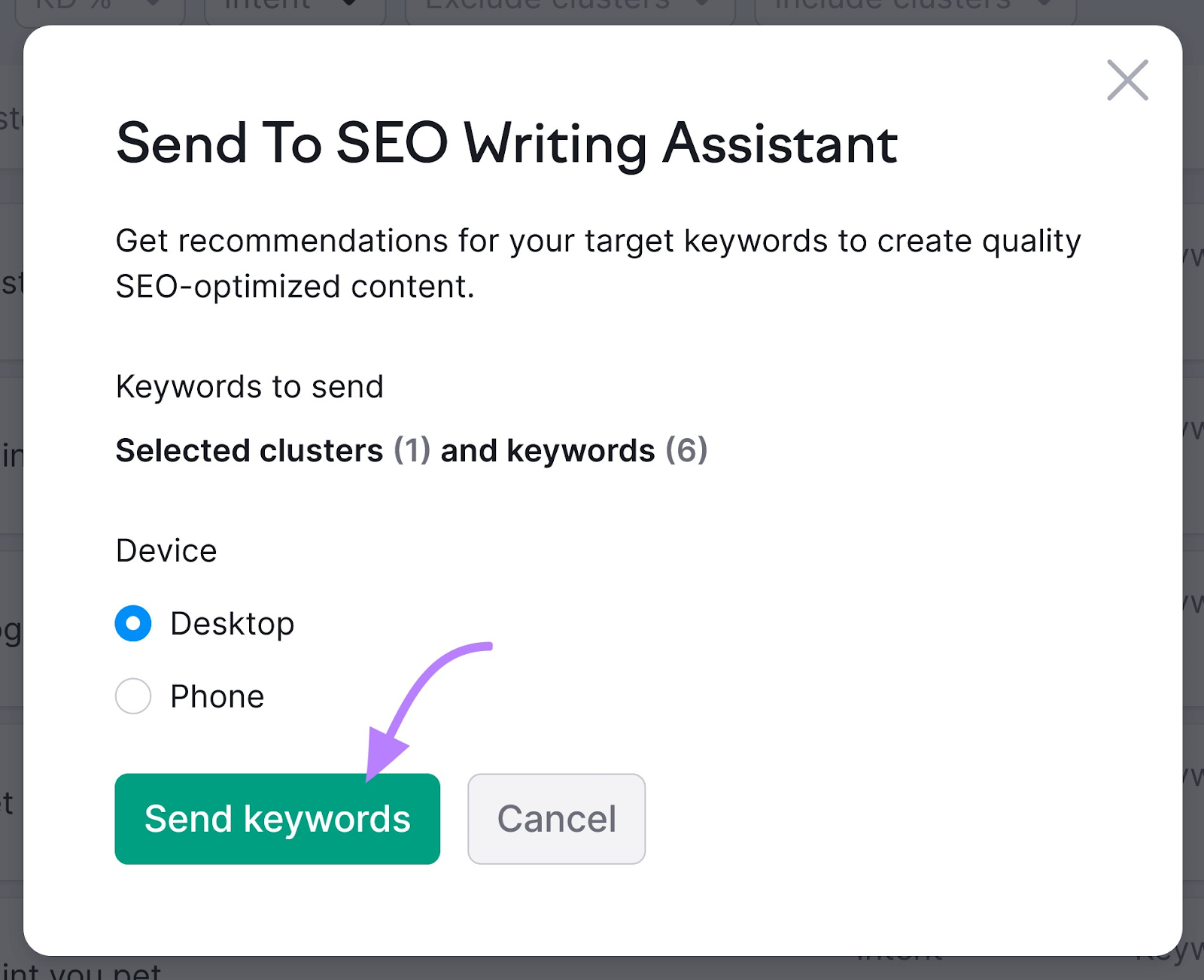 SEO Writing Assistant will open next. This tool helps you optimize your content for search engines to help you rank higher.
To get started, copy and paste your text or type directly in the editor (your target keywords will already be added):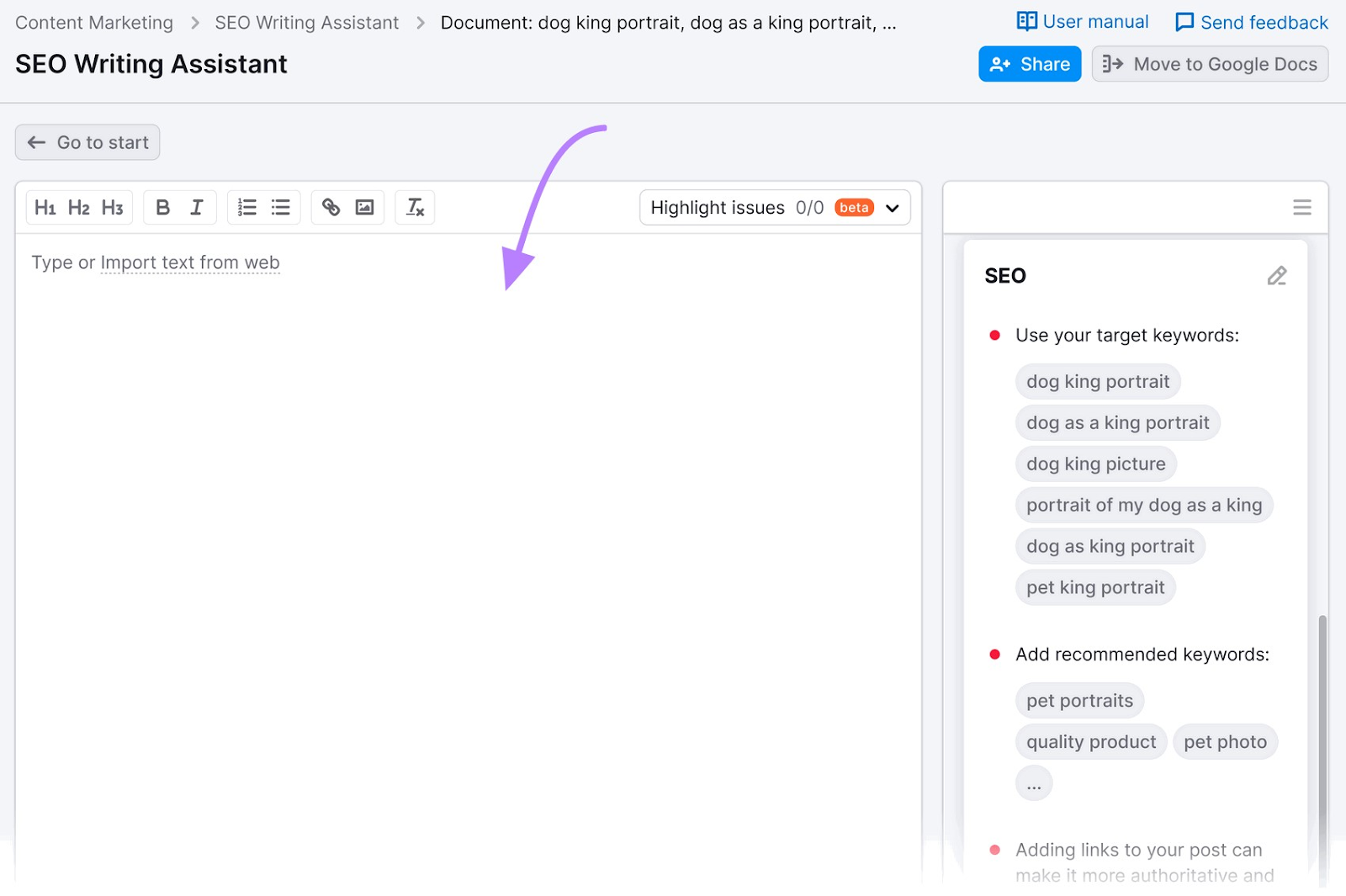 The tool will then give you helpful recommendations for readability, SEO, originality, and tone of voice. 
Other tactics to improve your on-page SEO include:
Writing enticing meta titles and descriptions (the text that displays in the search results) for each page
Writing descriptive alt text (the text used to describe an image)
Adding keywords to your URL slugs (the last part of your URL that identifies each page, underlined in the picture below):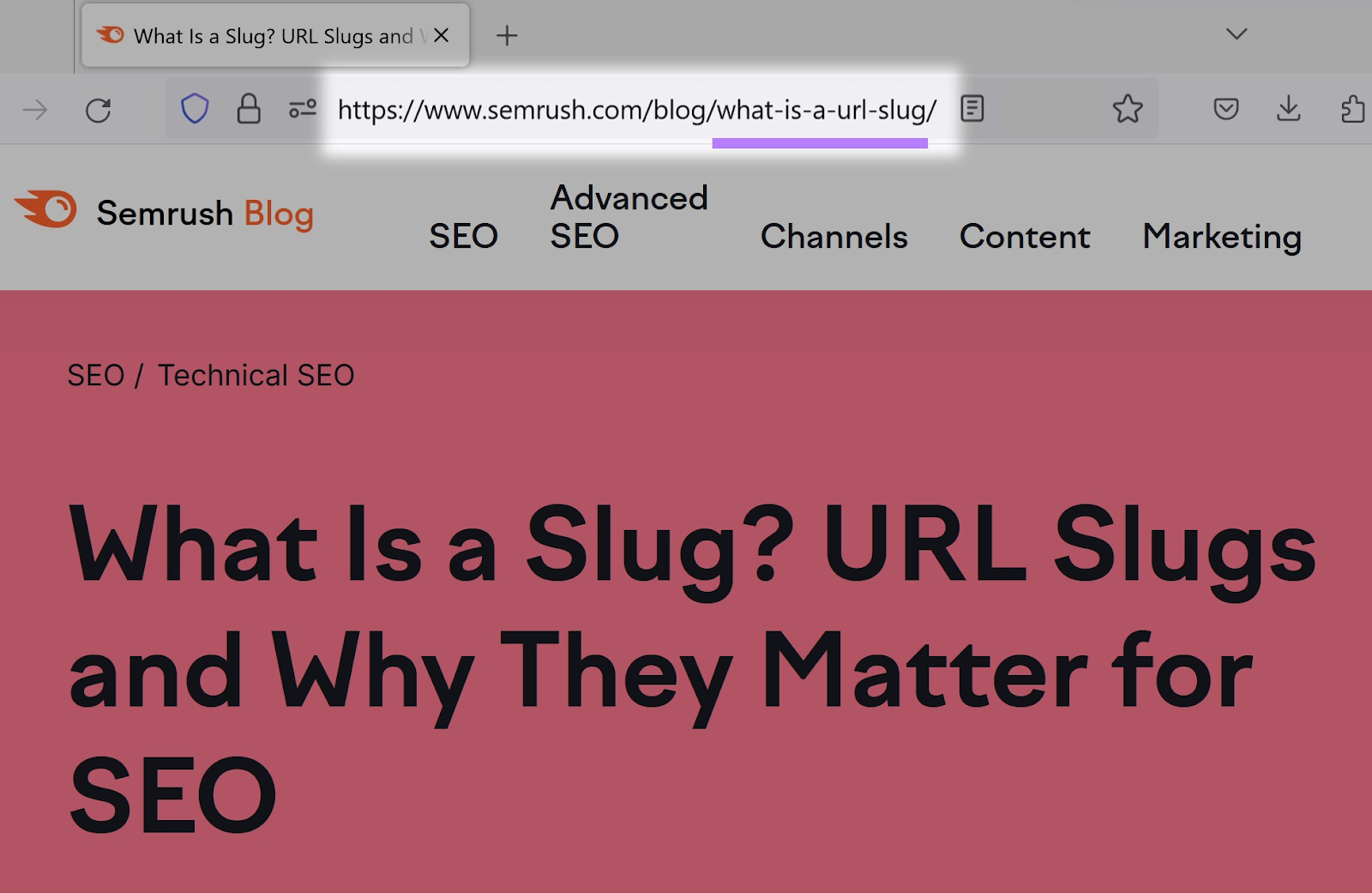 3. Review Copy and Media 
Things like correct spelling and high-quality media help build trust with website users.
So, check over all the copy and media for your site. 
Ensure there are no spelling or grammar errors. And that media like images, videos, and GIFs appear properly.
4. Review Your Website's Branding and Design
Make sure your website's branding and design is consistent across all touchpoints. To ensure a cohesive experience.
This goes for landing pages, contact forms, blog posts, and any other pages you have. 
For each page, ensure:
Your logo is visible
The typography and color scheme are consistent across all pages
The layout is clear and organized
No matter which page a user lands on, they should know it's your business. 
5. Check Your Site on Different Devices 
Taking a look at your new site (while it's in a staging environment) on different devices helps you steer clear of issues that might negatively impact UX, conversion rates, and sales. 
Imagine your online shop looks great on desktop screens. The product descriptions are easy to read and the photos look great. 
But when you visit your site on a mobile device, you notice that the text is minuscule and nearly illegible.
To avoid this, check your site on a range of devices with Google's Dev Tools.
Here's how.
Using Chrome, head to your site. Click the kebab menu (the three vertical dots). Then select "More Tools" > "Developer Tools."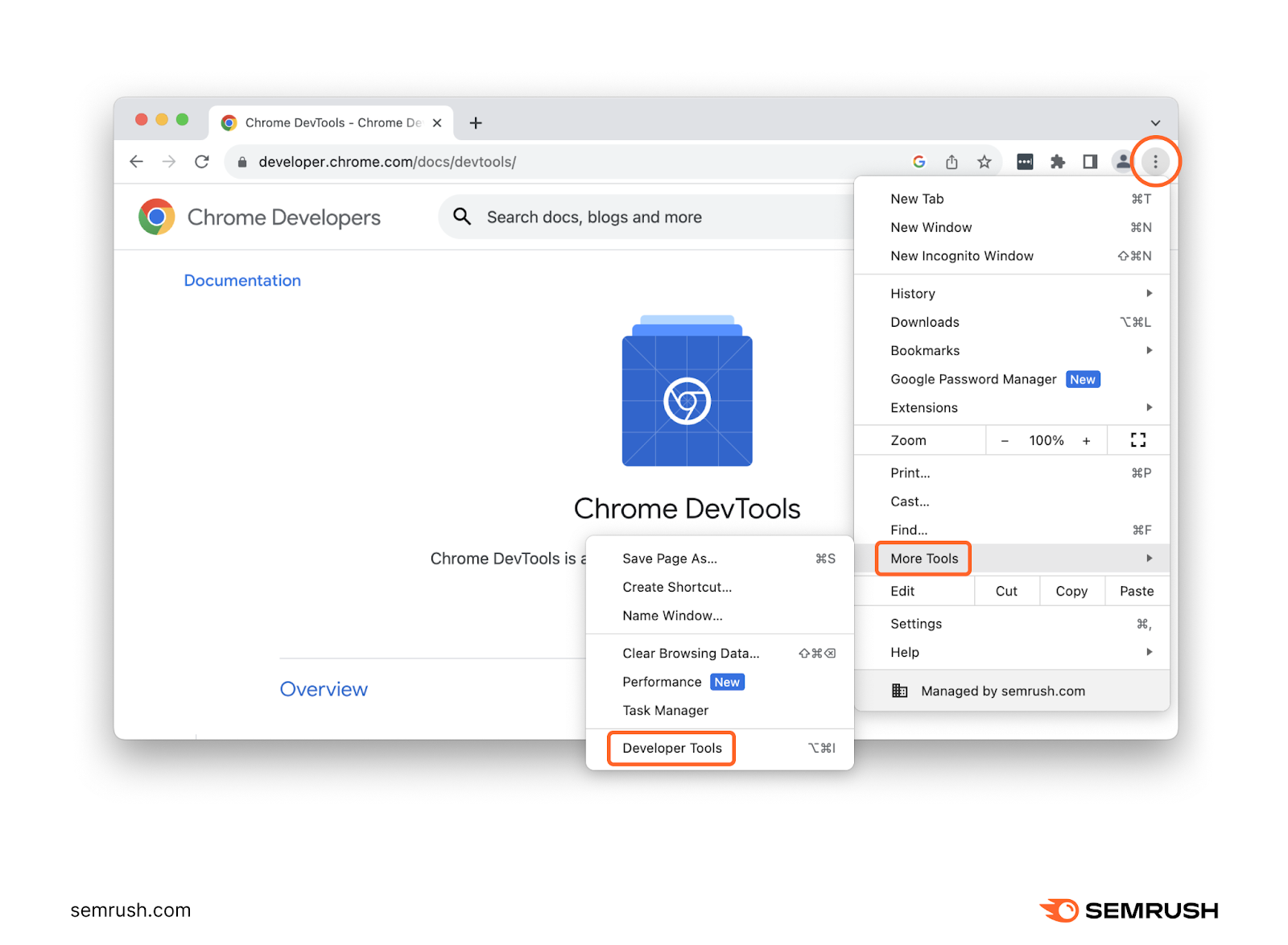 Click the "Elements" tab and select the "Toggle device toolbar" icon: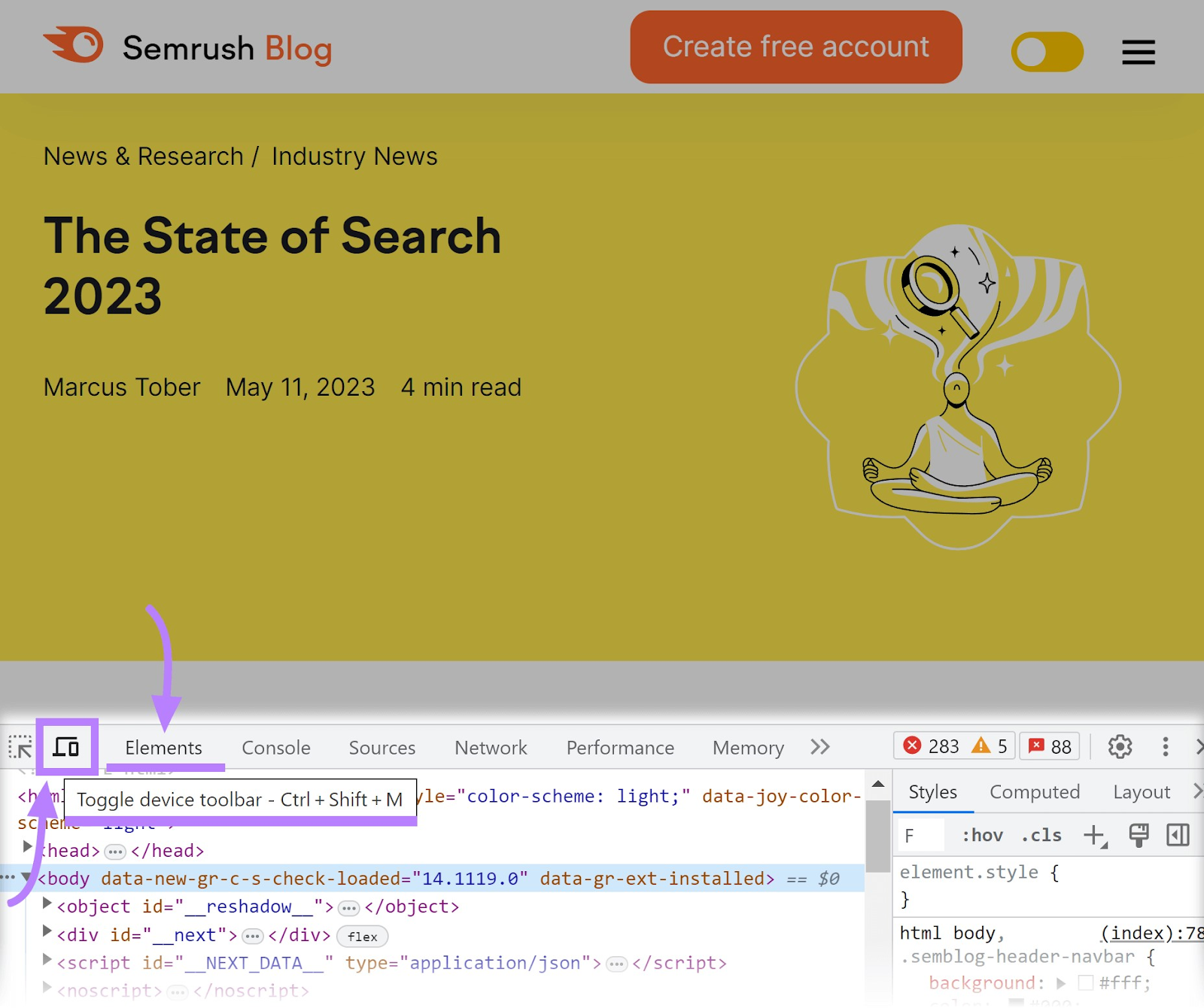 Next, review your website from different devices in the drop-down menu.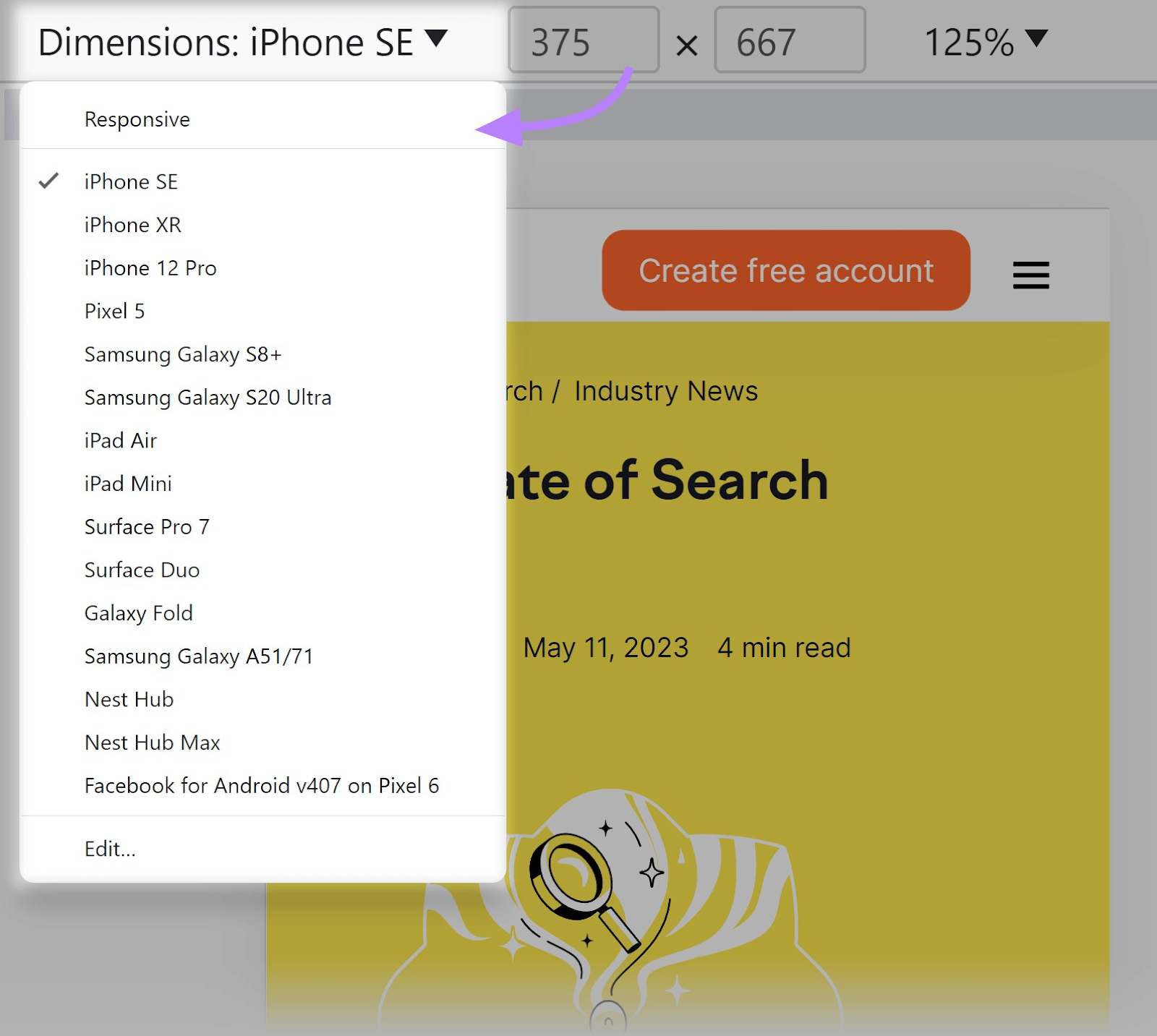 Fix any areas where:
The text is small and difficult to read
The content spills out of the viewport (the visible area of a webpage) 
The buttons are too small to tap easily
6. Test Your Website on Different Web Browsers
It's important your site looks great (and works) no matter which web browser people use. To provide a consistent experience for all users.
Different browsers—like Chrome or Firefox—read and display website code differently. This results in variations in appearance and functionality. 
So, it's important to test your website on different browsers before it goes live. 
Tools like BrowserStack let you test your website on different browsers and devices.
Or you can download various browsers to your computer and test your site with them.
Make note of any differences between browsers. And fix them before you launch your website.
7. Compress Your Images
Small image files help your site run fast.
So, make sure to compress your images. Which means making them smaller without significantly affecting their quality.
You can use a free tool like TinyPNG to automatically reduce your images' file sizes.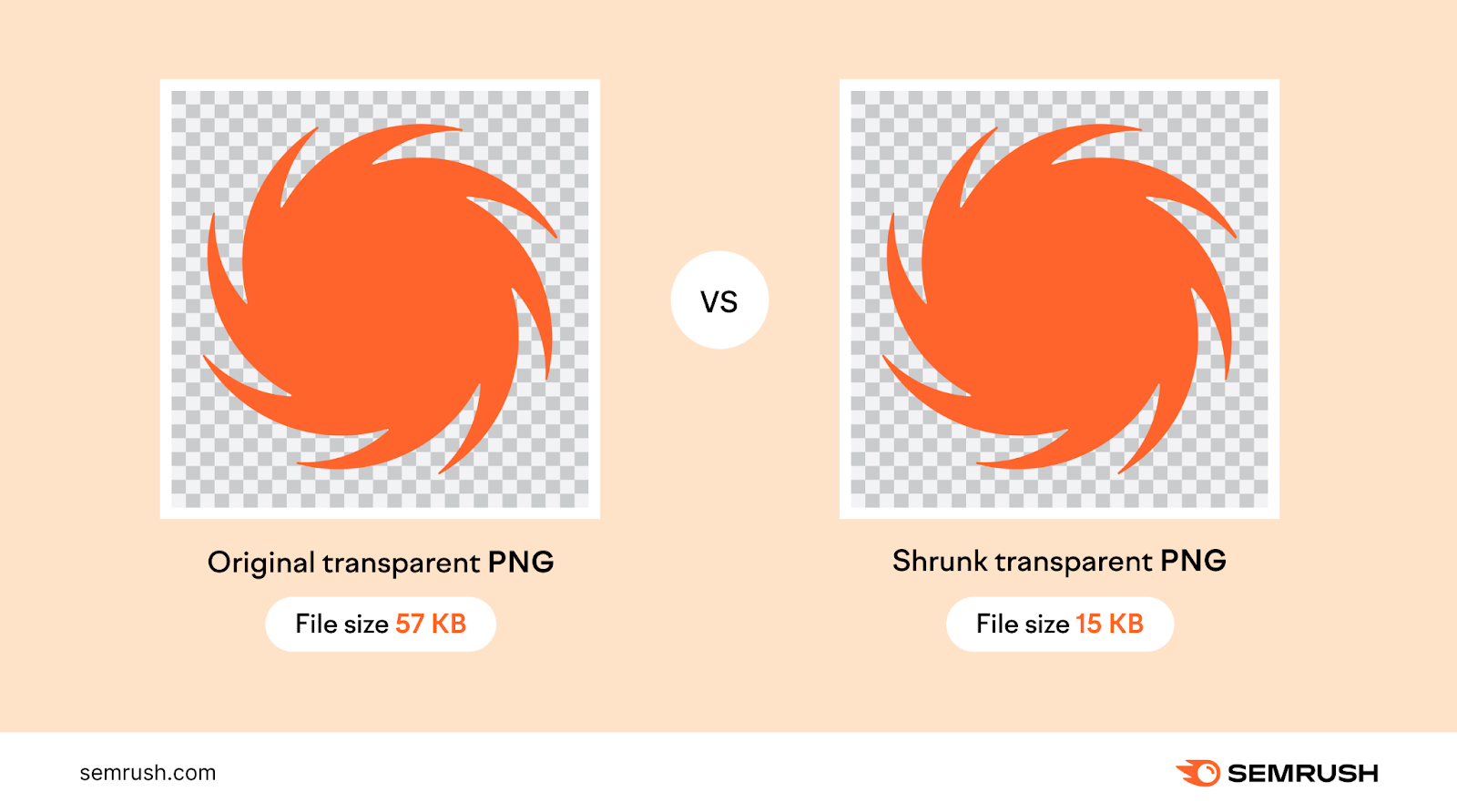 8. Create an XML Sitemap
An XML sitemap (a website file that includes all the pages you want indexed in search results) helps search engines find your site more efficiently.
To create a sitemap automatically, use an XML sitemap generator like XML-Sitemaps.com. It's free for up to 500 pages.
After that, submit your sitemap to Google. 
Here's how.
Log into your Google Search Console and choose your domain: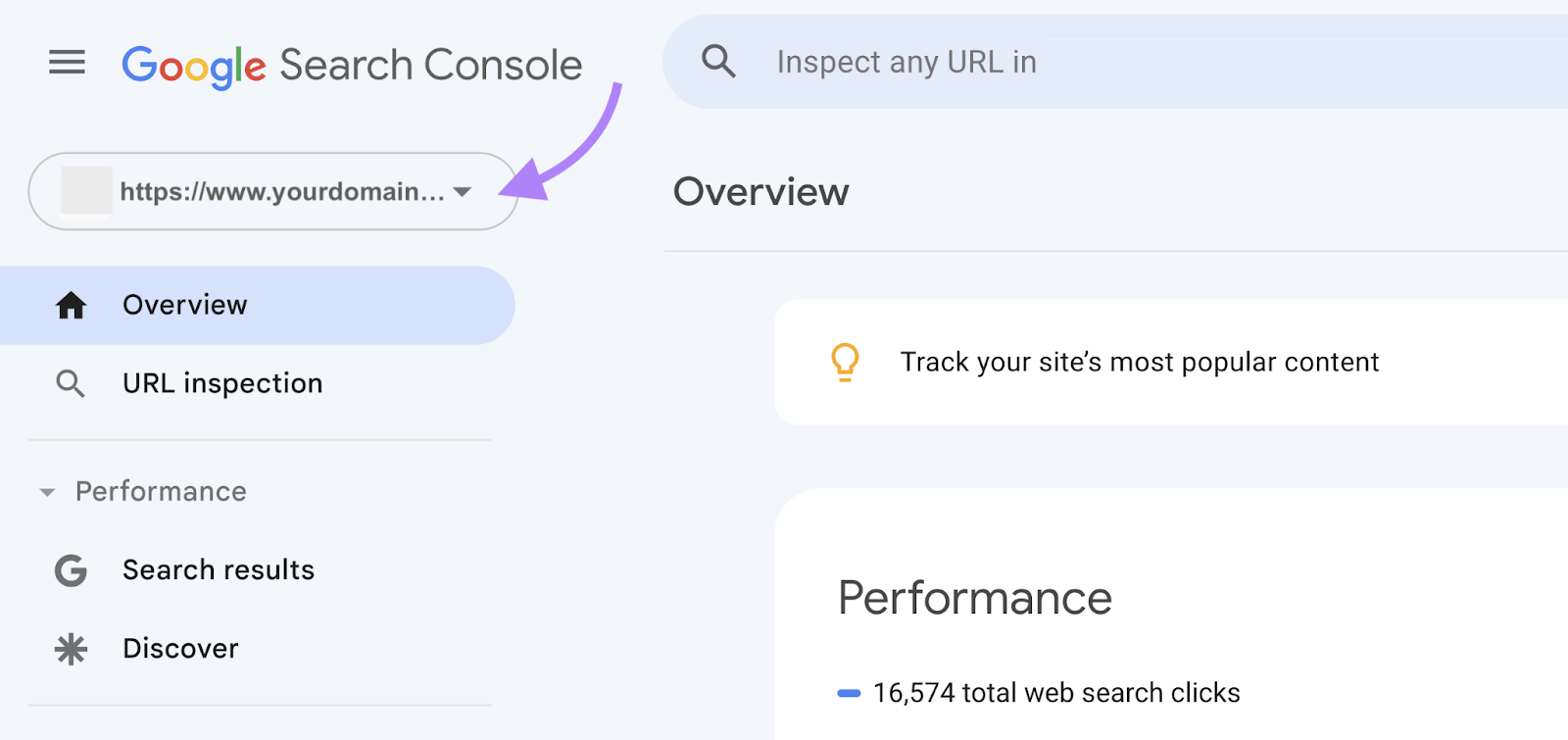 Click "Sitemaps" in the left-hand navigation: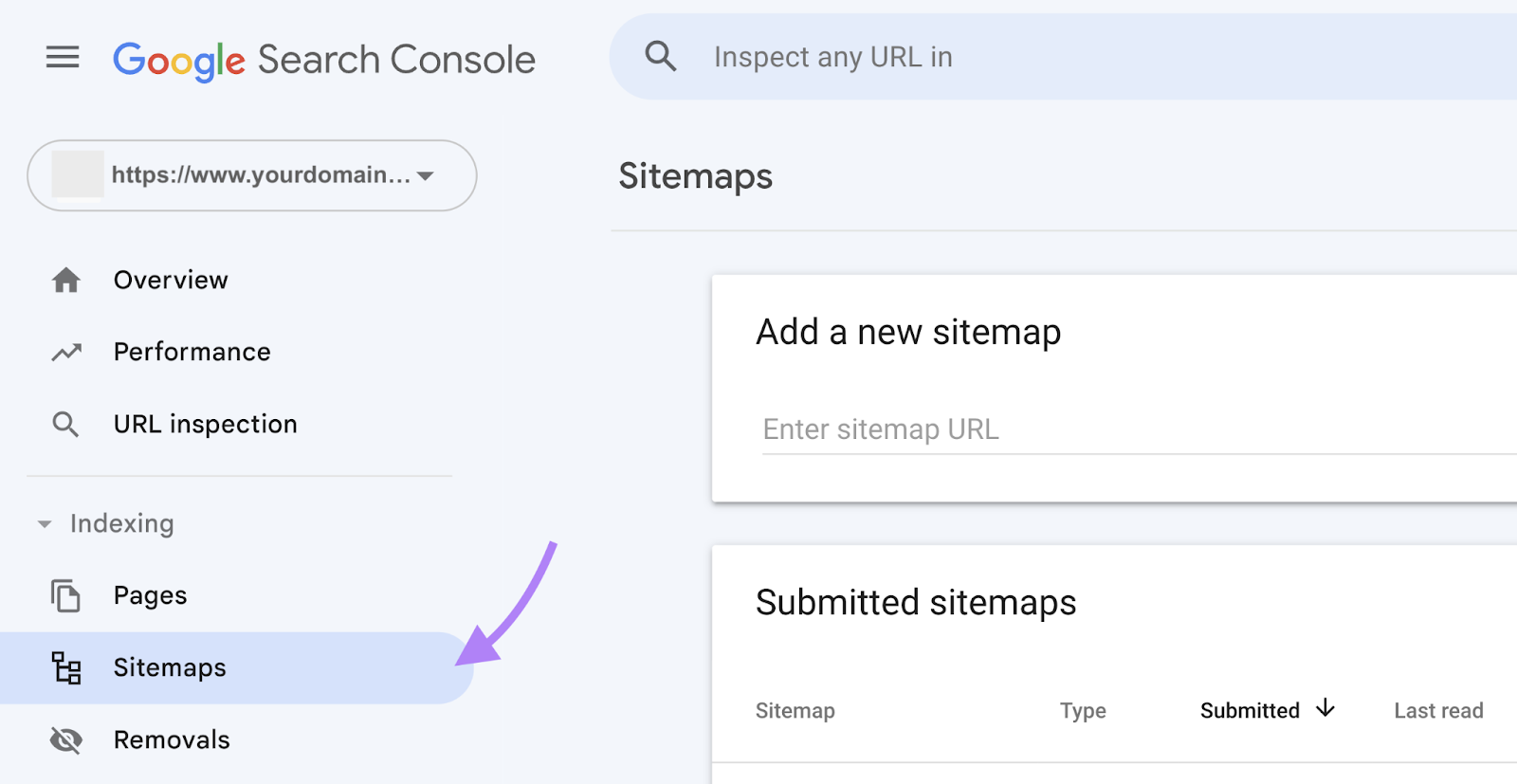 Enter your sitemap's URL and click "Submit."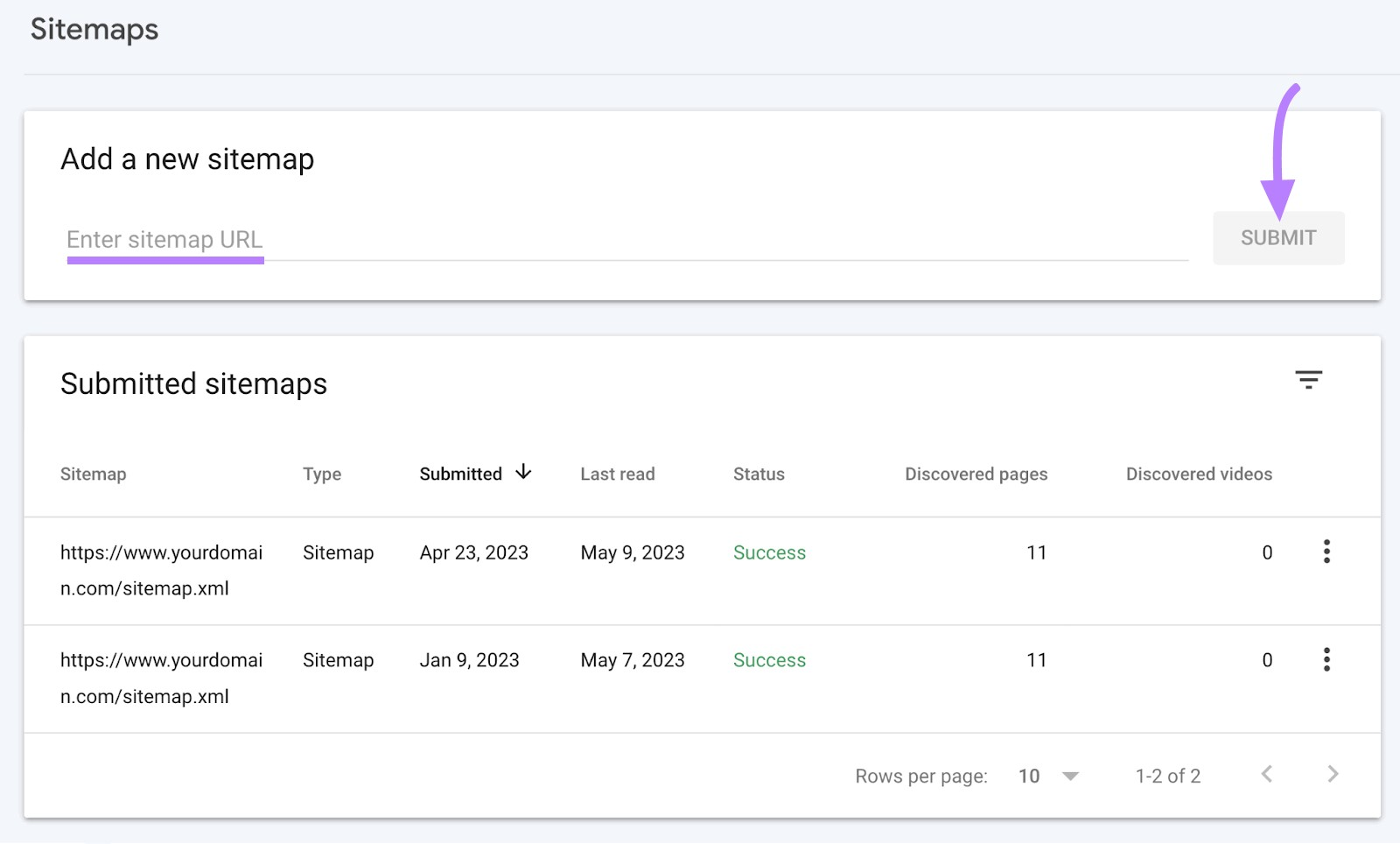 After some time (and if there are no errors with your sitemap), you'll see the word "Success." This means Google can read your sitemap. And no further action is required.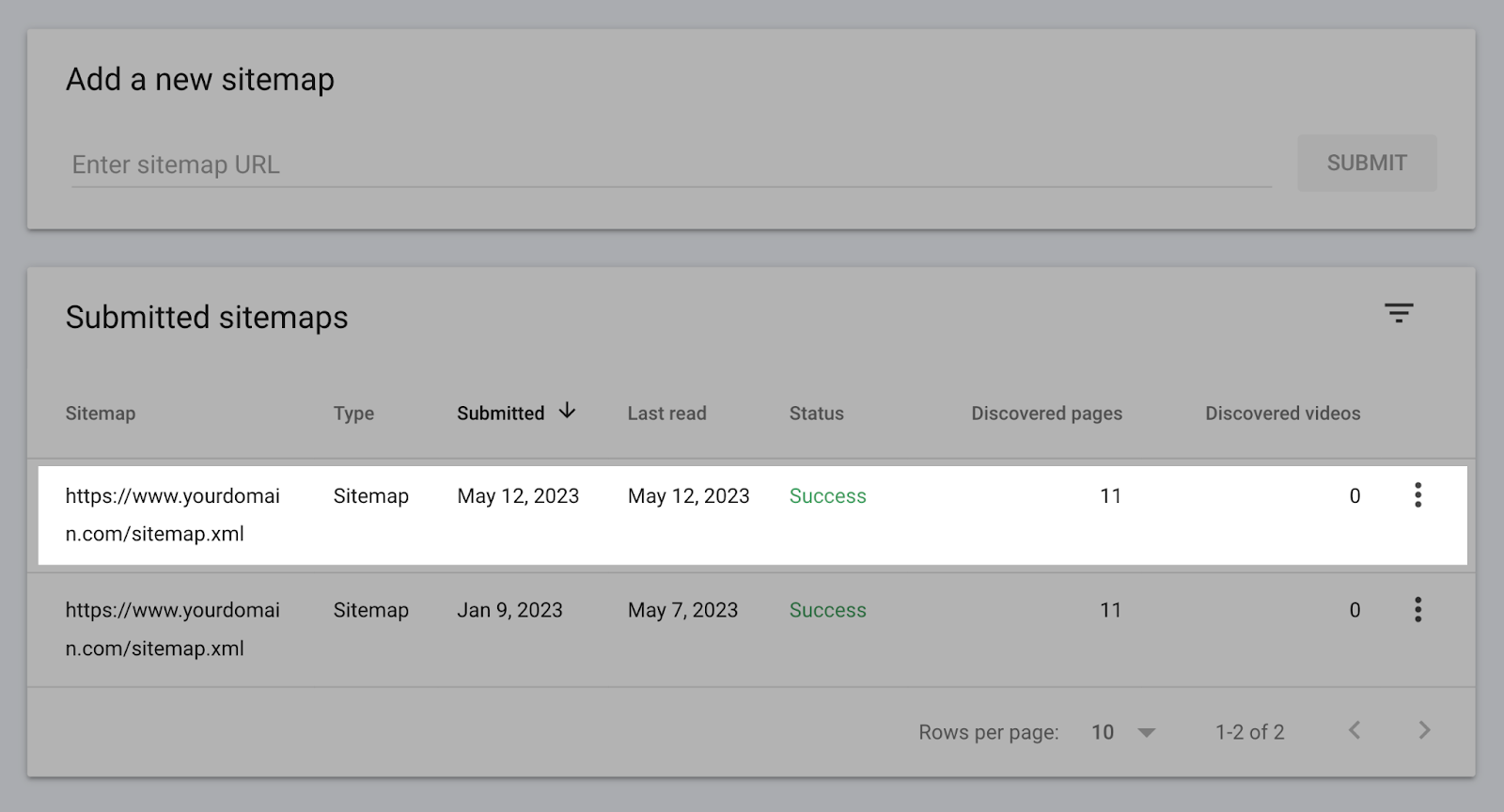 9. Check Your Robots.txt File
It's important to check your robots.txt file (which tells crawlers which pages they should and shouldn't access) to ensure search engines can crawl your website and display your content in search results.
You can view your robots.txt file by adding "/robots.txt" to the end of your URL. For example: "https://semrush.com/robots.txt". 
Here's what a robots.txt file looks like: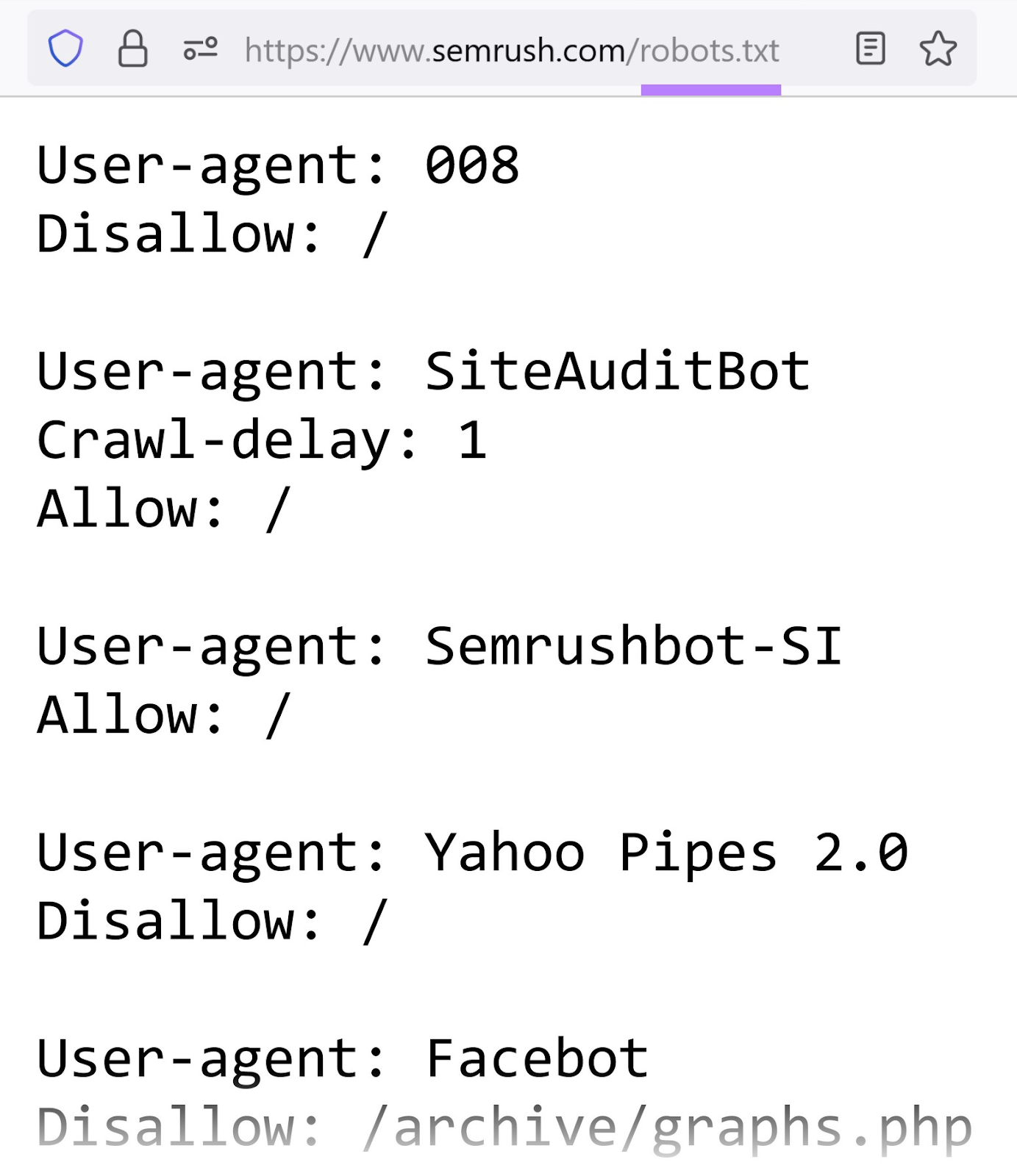 To allow all search engines to crawl your site, you'll have a line of code in your robots.txt file like this:
User-agent: *
Allow: /
And if you want to block search engines from crawling your site, your robots.txt file will say this:
User-agent: *
Disallow: /
Further reading: Robots.txt: What Is Robots.Txt & Why It Matters for SEO
10. Check That Your Site Serves HTTPS
Hypertext Transfer Protocol Secure (HTTPS) ensures information sent from a computer to a website is kept private and secure. And it's an essential element for modern websites.
You'll know if HTTPS is enabled if your live site has a padlock beside the URL: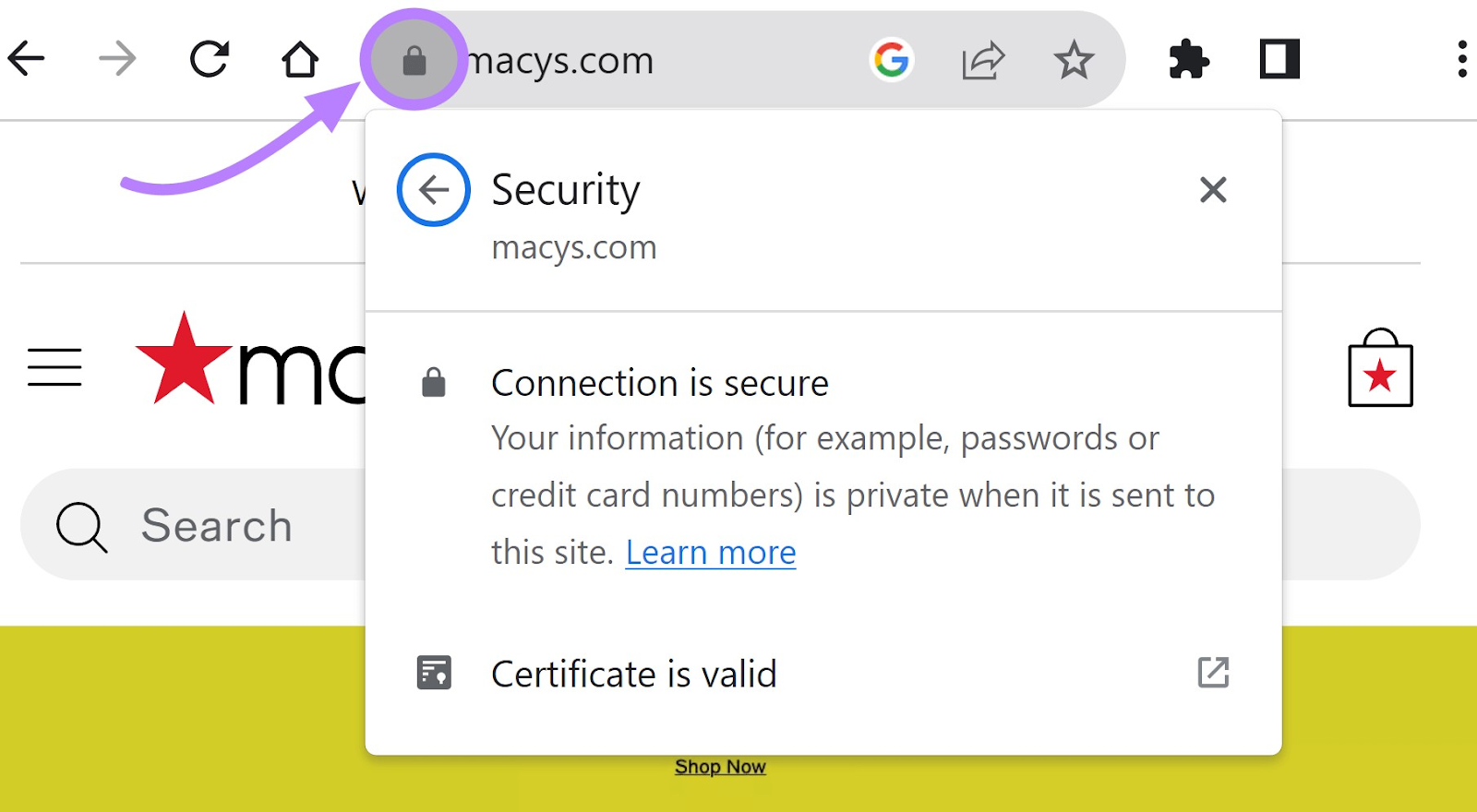 Why's HTTPS important?
HTTPS helps ensure that your visitors' information (like their IP addresses or their credit card information) isn't accessed by unauthorized individuals (like hackers).
And HTTPS is so important that Google made it a ranking factor. 
So, having HTTPS helps your SEO. And also builds trust with your visitors.
To enable HTTPS:
Purchase a Secure Sockets Layer (SSL) certificate—a certificate that encrypts data transmitted between websites and users
Install the SSL certificate through your web host
Redirect the HTTP version of your site to the HTTPS version (if needed)
If this feels too technical, most web hosts will help you set up HTTPS for a fee.
11. Check Your Conversion Paths 
Going over your conversion paths ensures you retain high conversions across your site. 
Make sure to test all conversion paths, including those for:
Contact forms
Lead generation forms
Checkout processes
Account registration
And any others.
Make sure there aren't any hurdles like excessive form fields or lengthy checkout processes. Which can prevent users from converting.
12. Set up Analytics
Analytics tools help you collect valuable insight into your users and what they do on your site. So you can understand what's working and what's not.
Set up analytics before your new site goes live. Or, if the old version of your site had analytics set up, verify that they're still properly set up in the new site configuration.
This way, you can collect data from the moment you launch your new site.
Analytics software like Google Analytics is free and straightforward to get up and running.
It provides plenty of information, like how many conversions you have and how many users visit your site each day (pictured below).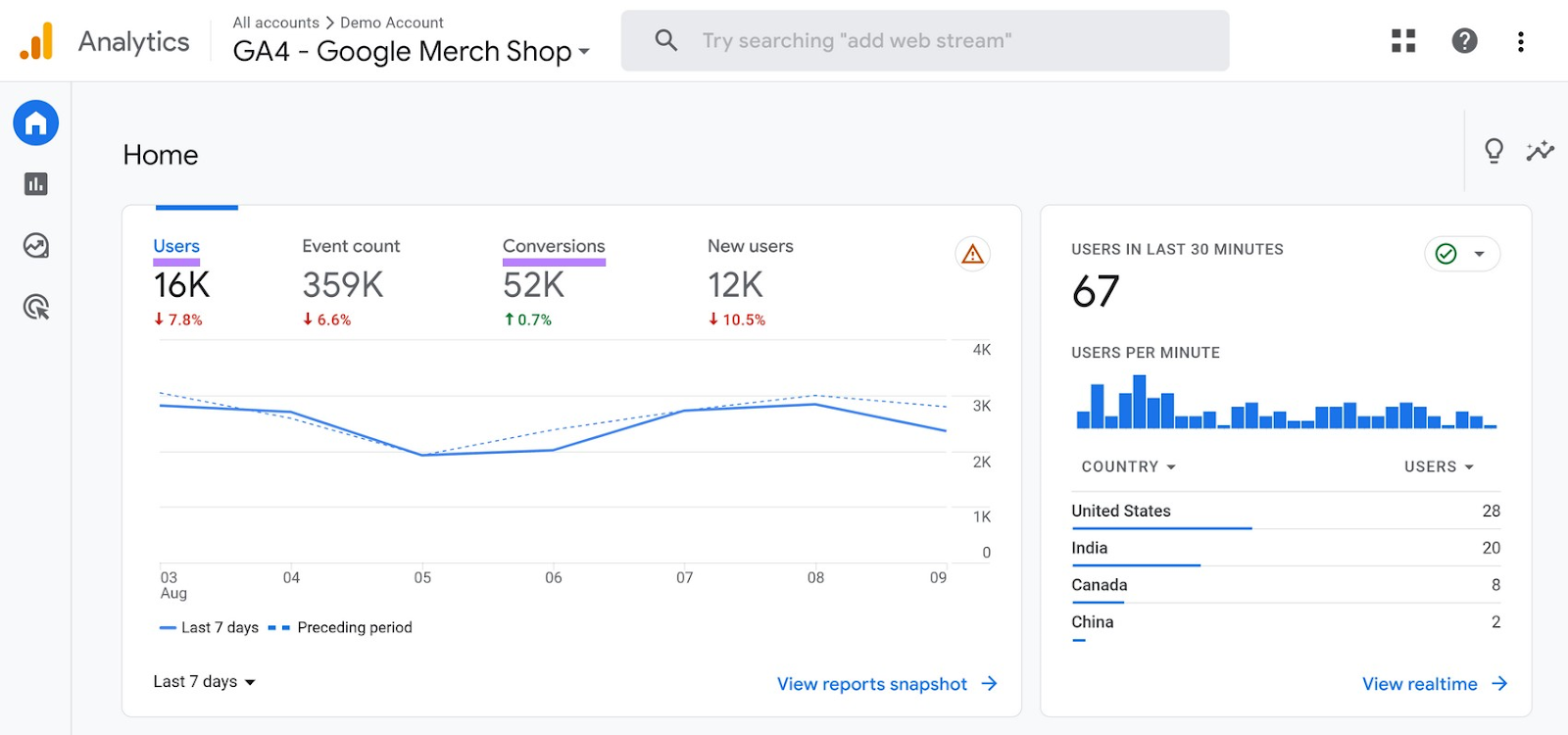 It's also useful to get a glimpse of your competitors' analytics.
For that, use Semrush's Traffic Analytics.
Enter the URL of a competitor and click "Analyze."

The "Overview" report tells you information like how much traffic they get and how much time visitors spend on their site. 
Clicking into the other tabs gives you even deeper insights into your competitor's audience, the audience's traffic journey, and more.
Understanding your competitors' analytics can provide valuable insight into your industry. To help you identify which areas you may fall short in. Then, you know what to improve on your own site moving forward.
13. Test the UX
Great UX can result in more leads, more sales, and happier customers.
Your site's UX includes everything users interact with. 
For example, say a visitor tries to purchase a product but the "add to cart" button doesn't work. This leads to a poor UX.
Many tips we've already mentioned contribute to UX. But here are some others:
Make sure all clickable elements work and take the user to the right destination
Include lots of white space on text-heavy pages so they're easy to read
Add important pages (like your contact page) to your navigation bar so visitors can quickly find it
Tip: Have someone who isn't familiar with your site review it. An outside perspective can tell you which areas cause confusion. And what needs improvement.
14. Test for Accessibility
Having an accessible website means everyone gets a similar experience, regardless of impairments or technological constraints.
For example, say a visitor is colorblind. The contrast between the text and the background should be distinct enough that they can still read the text.
Here's another situation.
Let's say someone has slow internet that prevents images from loading on webpages.
You should have alt text (text that describes each image) for all your images. Then, these visitors can still imagine what the image should be. 
Here's how alt text looks when an image doesn't load:

Here are more accessibility tips:
Make links stand out from the rest of your text so they're easy to see and click
Choose a typography that's easy to read
Make your font large enough to read
Add captions to videos for people who can't hear voice-overs
Make buttons large and clickable
Remove flashing elements
We also recommend reaching out to a lawyer in your area. Ask them what you need to do to make your site compliant with accessibility laws in your region.
15. Ensure You Comply with Privacy Laws
Your visitors are more likely to trust your site when they see you comply with privacy laws. (And you're less likely to get in legal trouble.)
There are different privacy laws around the world, including the General Data Protection Regulation (GDPR) and the California Consumer Privacy Act (CCPA).
While each regulatory body has its own requirements, here are a few best practices:
Add cookie consent banners to your site and allow users to opt out of cookies
Create a privacy policy that outlines how you collect data and what you do with it
Have a plan for what you'll do if the data you collect is ever breached
Allow users to delete their data
Since this is another legal issue, we recommend you speak with a lawyer. They can tell you what your site needs to comply with privacy laws in your country. 
16. Review Third-Party Tools and Integrations
Minimizing third-party tools and integrations can speed up your site. Which can improve UX and lead to better search engine rankings.
Before launching your site, review all third-party tools. And remove integrations you don't need and fix any that aren't working. 
17. Create a Backup Schedule
When you back up your site regularly, you don't need to worry about losing important information. 
The number of backups you schedule depends on how often you plan to make site updates (like publishing blog posts or uploading new products).
For example, those who publish multiple blog posts each day may want to create weekly backups. 
But monthly backups might be better if you rarely publish new content.
Free plugins, like UpdraftPlus, create automatic site backups for WordPress users.
For added peace of mind, store your backups in multiple locations like an external drive, your computer, and cloud storage.
18. Create a Social Media Launch Plan
Before announcing your new website, spend time crafting posts for social media. To drum up excitement and let your audience know what to expect.
Here's an example from creative agency We Are Reach: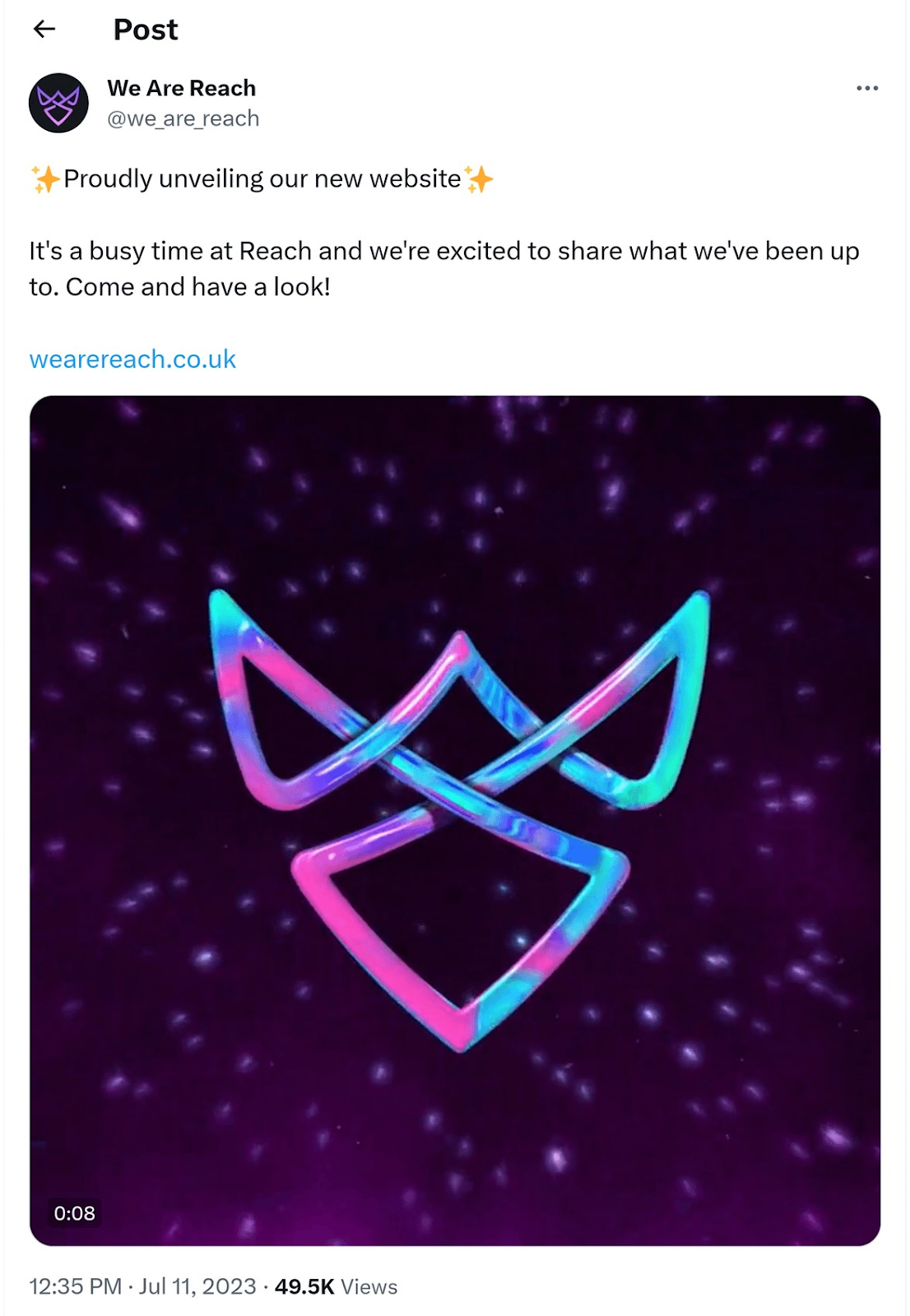 Consider creating content for before, during, and after your launch. 
This way, you can build up anticipation for your launch. And you can also remind folks about your new site if they miss your announcement on the day of.
Bonus: Website Post-Launch Checklist
This brief post-launch website checklist will help you keep your site running smoothly well beyond launch day.
Run a Site Audit
An error-free website builds trust and enhances user experience.
Check for any errors—like broken links or duplicate content—you may have missed during the staging process.
To start, use Semrush's Site Audit tool.
Click the "+ Create project" button.

Fill in your domain and project name. And click "Create project":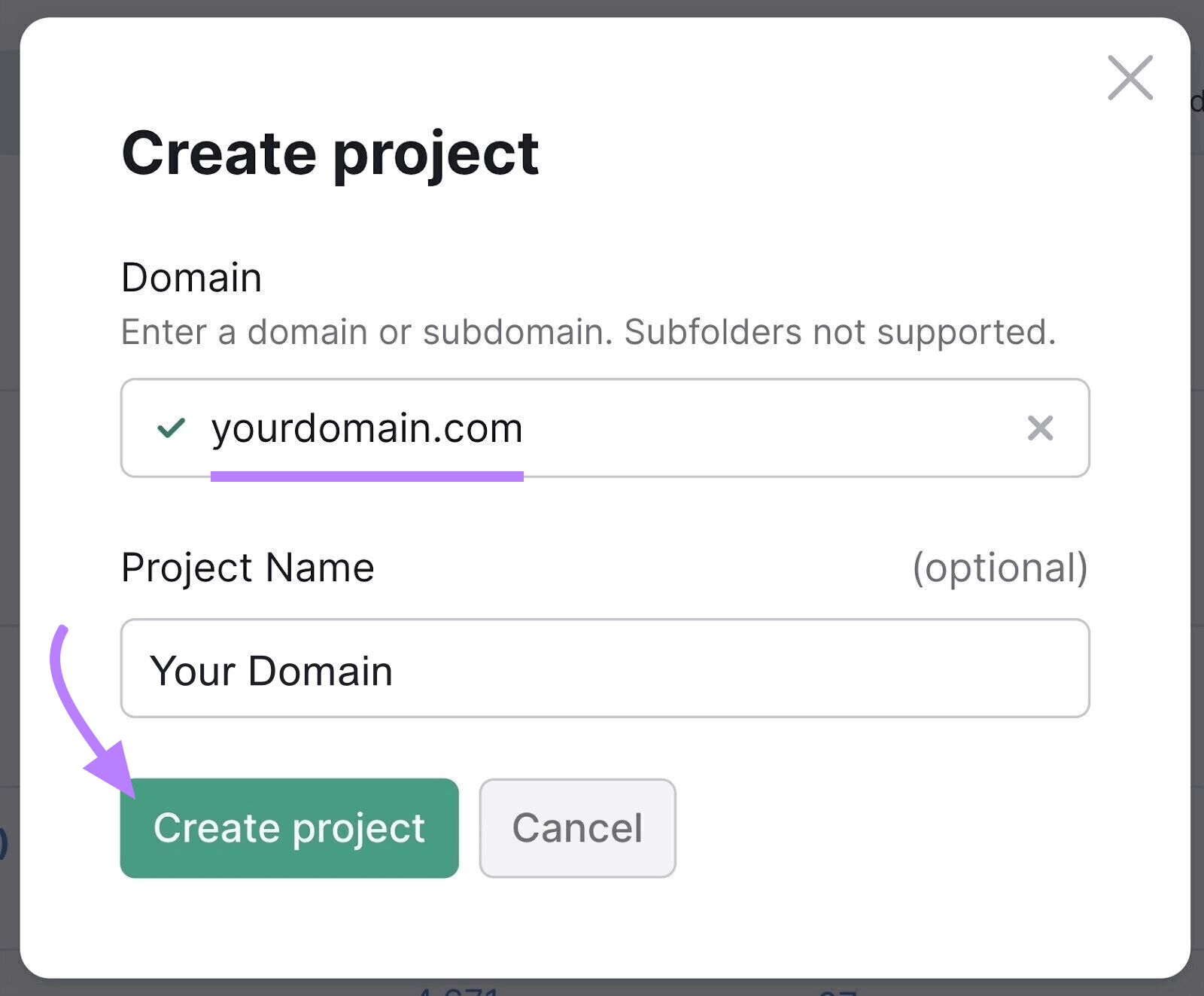 After you create a project, head back to the Site Audit tool and select your project.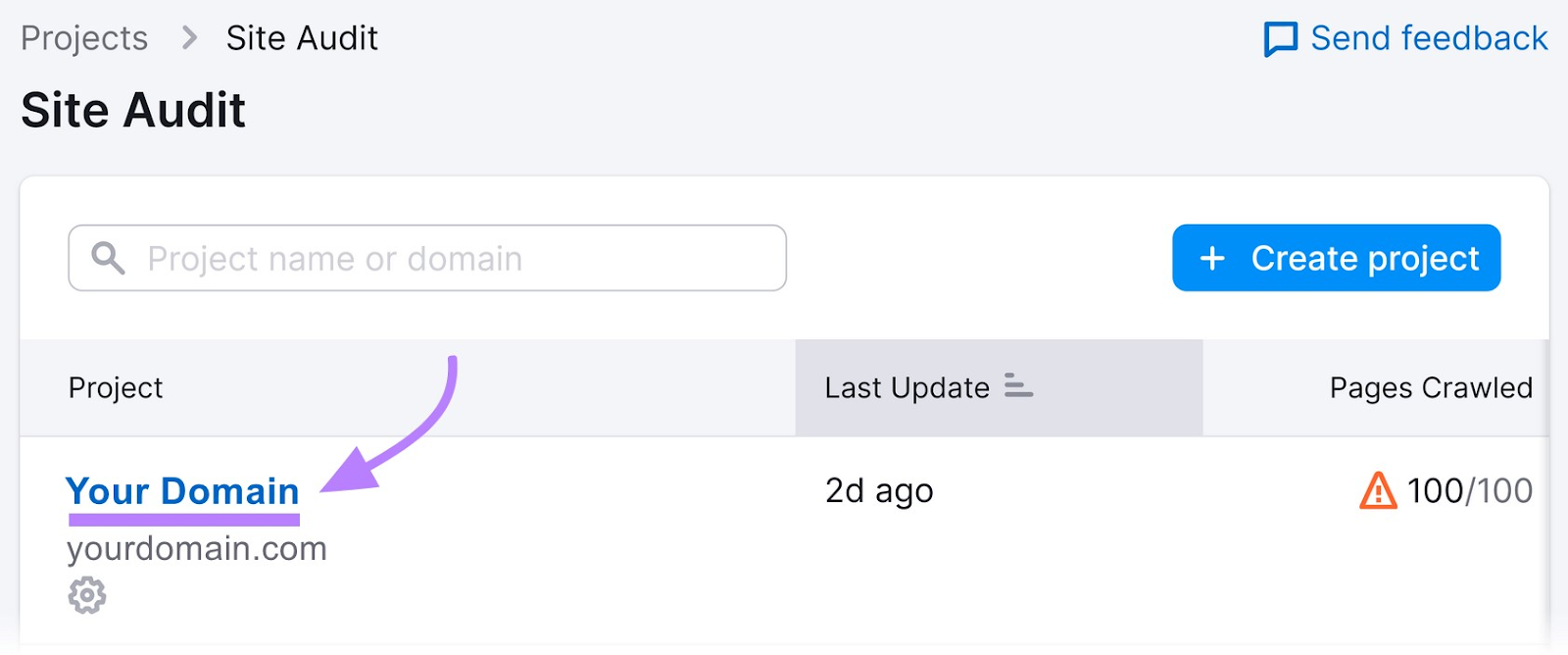 Next, configure the basic settings (pictured below). Or use our detailed setup guide to help you configure the audit based on your needs.
Then, click the "Start Site Audit" button.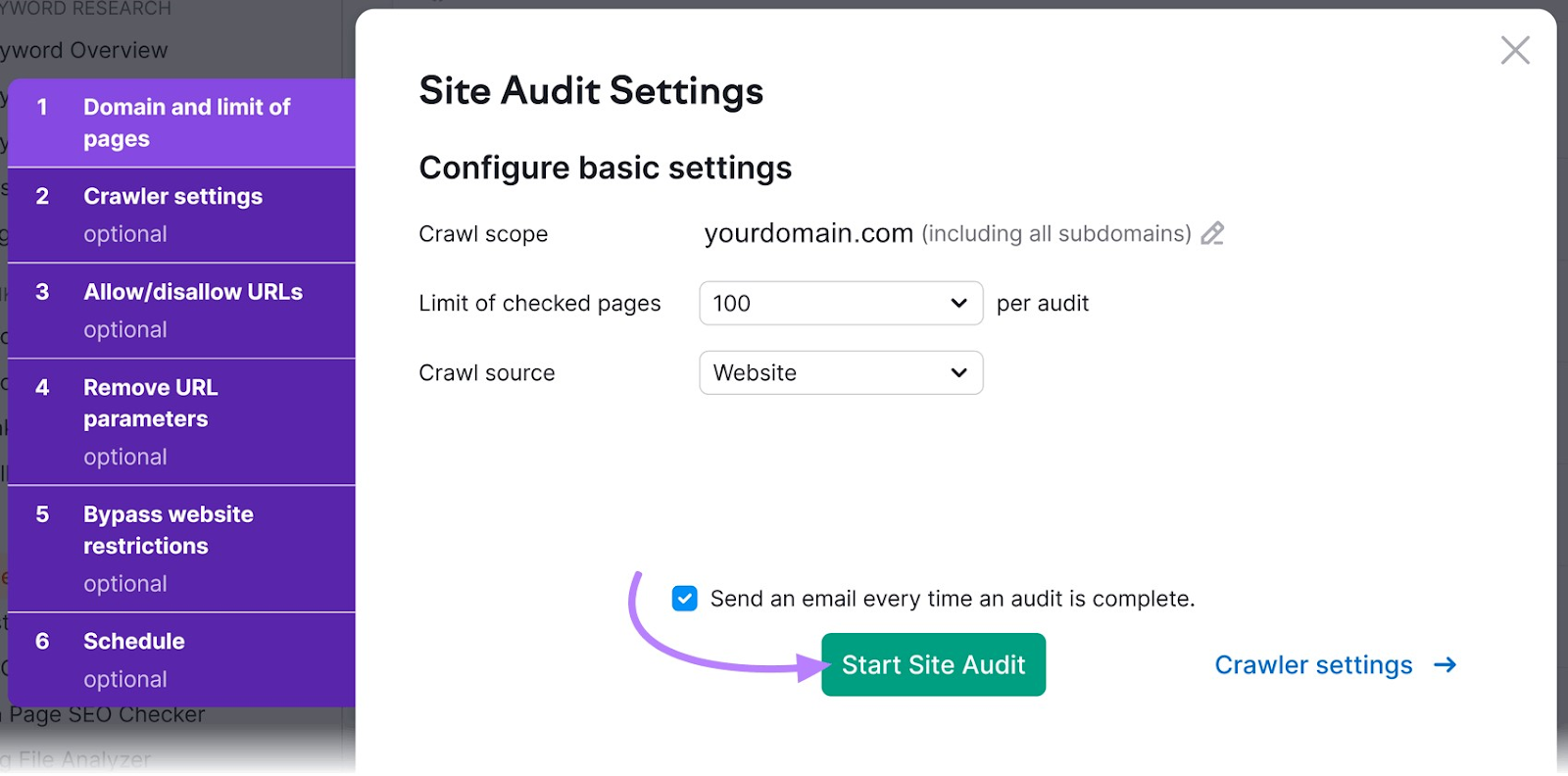 Click into the "Issues" tab to find errors you can fix before you launch your new site.
The issues are sorted into errors (most severe), warnings (medium severity,) and notices (least severe):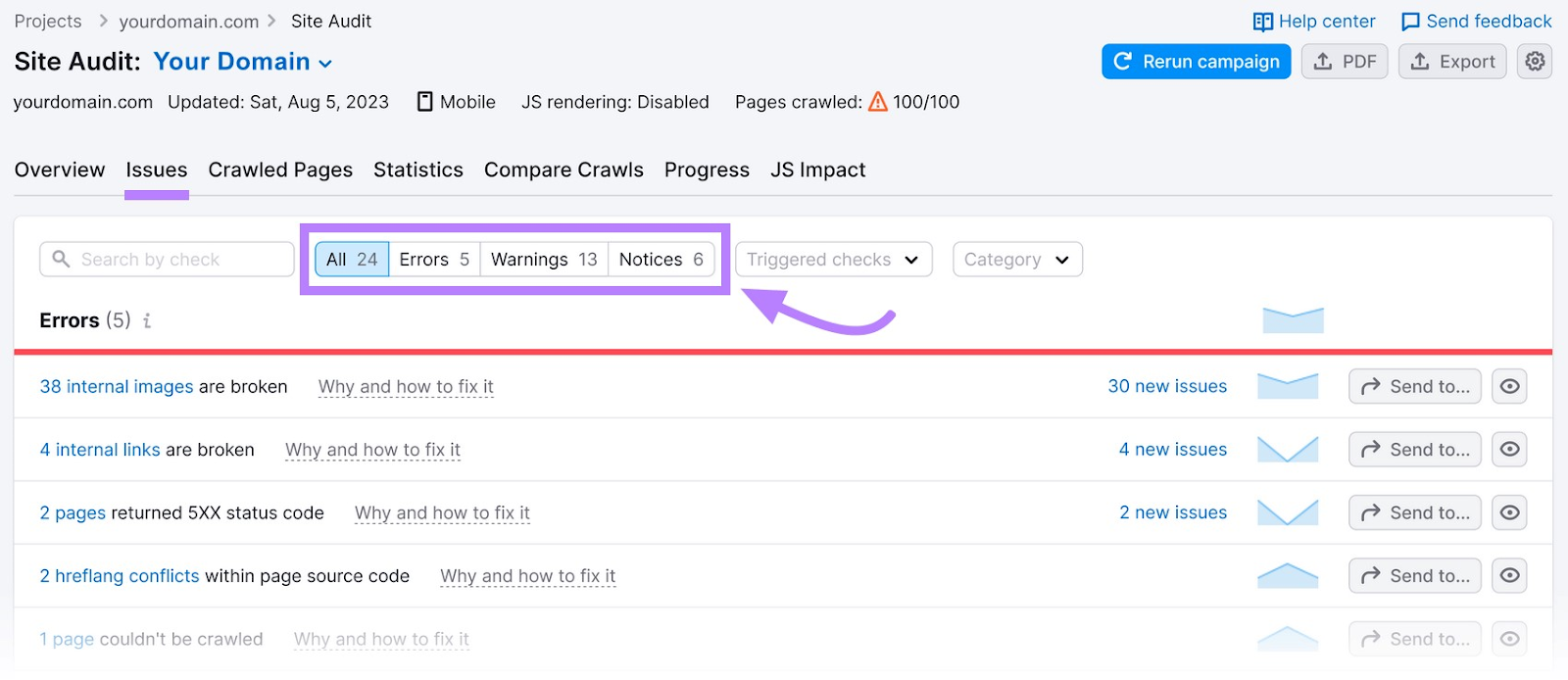 This prioritizes what to tackle first.
Optimize Your Page Speed
You can rank higher in the search results with a fast website, according to Google. And when you rank higher, you typically get more traffic.
To test your page speed (how long it takes for your page to load), use PageSpeed Insights.
Enter your URL into the bar and click "Analyze."

You'll get a detailed report (for mobile and desktop) that tells you how fast your site loads and which elements to improve: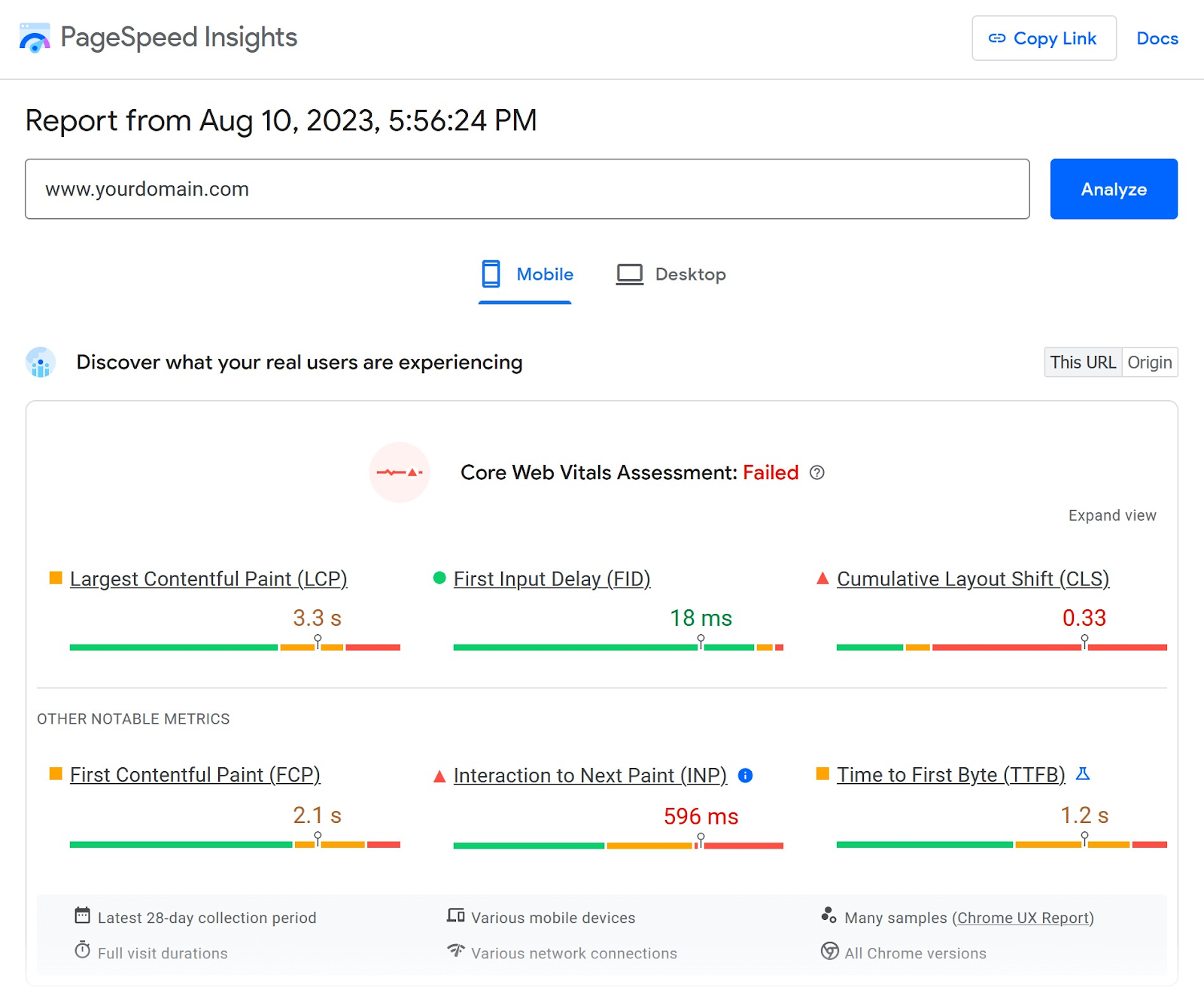 Reach out to a developer if you aren't sure how to improve the criteria listed. 
Optimize Your Conversions
Making small changes to your website can improve your conversion rates.
And the best time to optimize your conversions is once you start getting traffic to your site.
One way to optimize your conversions is through A/B tests.
An A/B test is when you test two versions of a variable to see which performs best. Here are some elements on your website that you can A/B test for conversions:
Call-to-action (CTA) copy
Headlines
Imagery
Button colors 
For example, let's say you want more people to sign up for your email list. You can test many different variables in your opt-in form, like the color of the CTA button.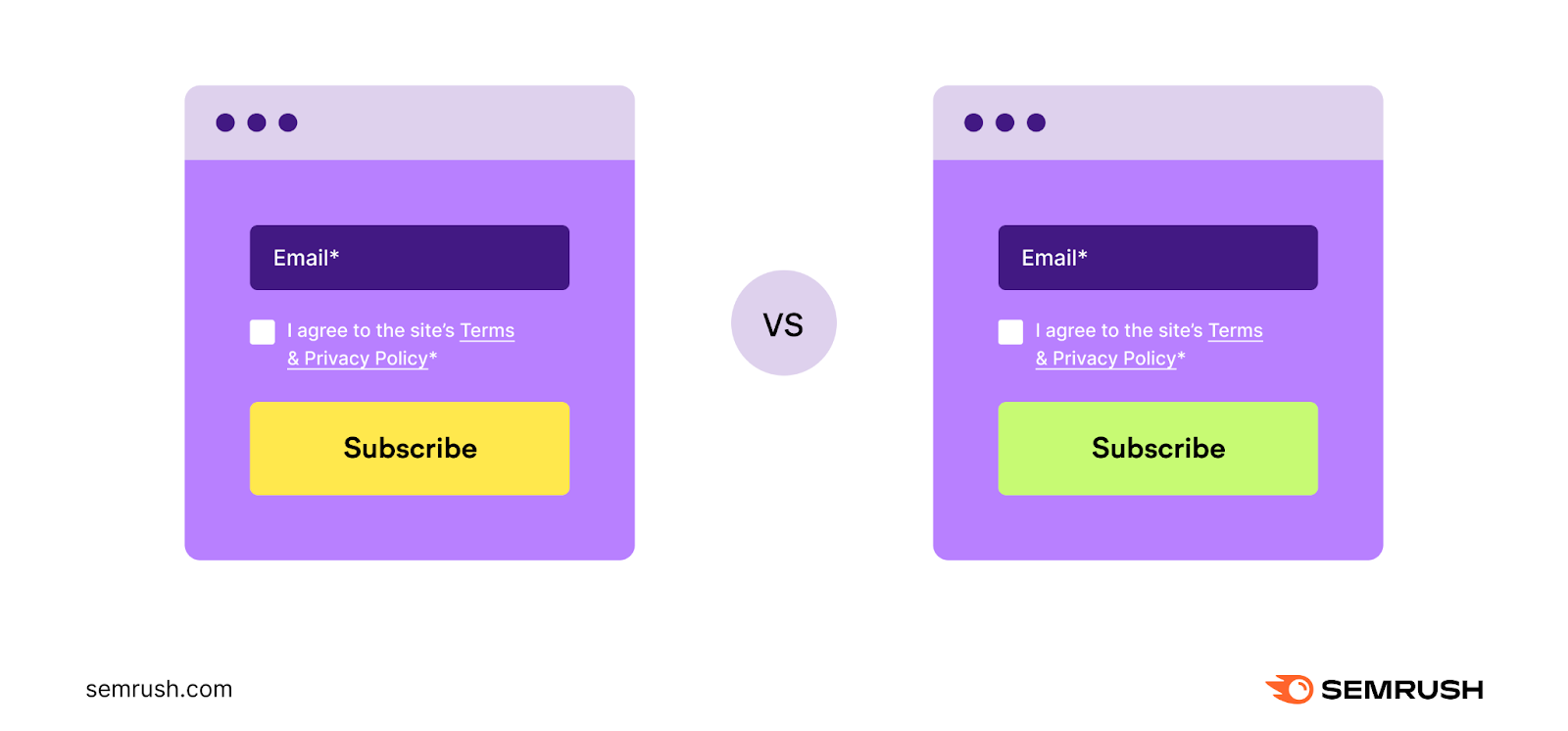 During the A/B test, you'll see which variable results in more conversions.
You can use SplitSignal to conduct A/B tests. It's easy to set up and lets you test different elements on your pages like headers, page titles, or meta descriptions. 
That way, you'll know which changes will increase clicks and conversions.
Tip: Only test one variable at a time so you know which changes lead to higher conversions.
Review Your Keywords
Checking keywords helps you spot which pages rank well (for your keywords) and which ones to improve.
To keep track of your efforts, use our Position Tracking tool. 
To start, click the "+ Create project" button.
Enter your domain and project name. And click "Create project."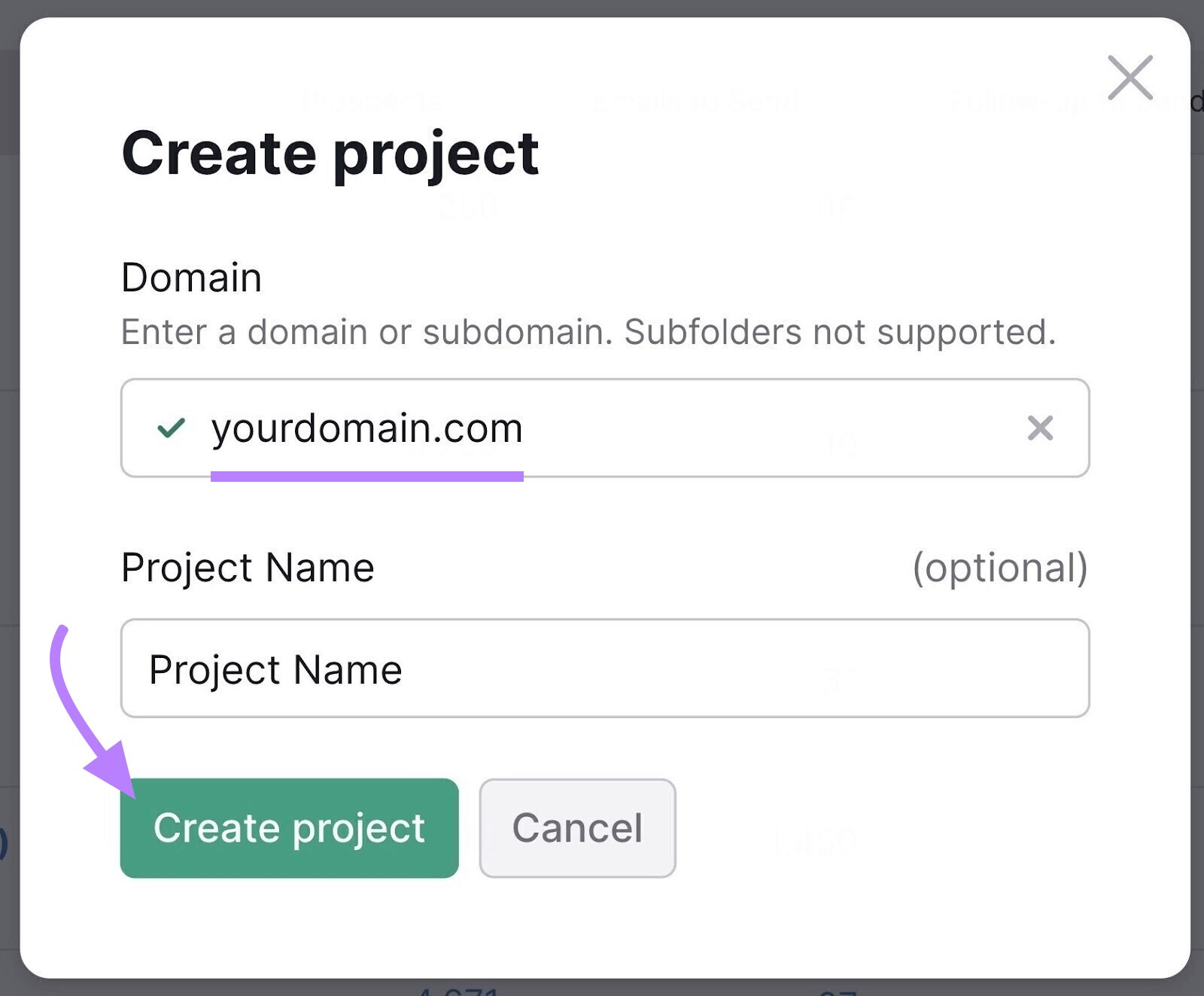 Fill out the information on the "Targeting" configuration page (pictured below). You can also follow our in-depth setup guide if you want more information on configuration. 
Once you're done, click "Continue To Keywords."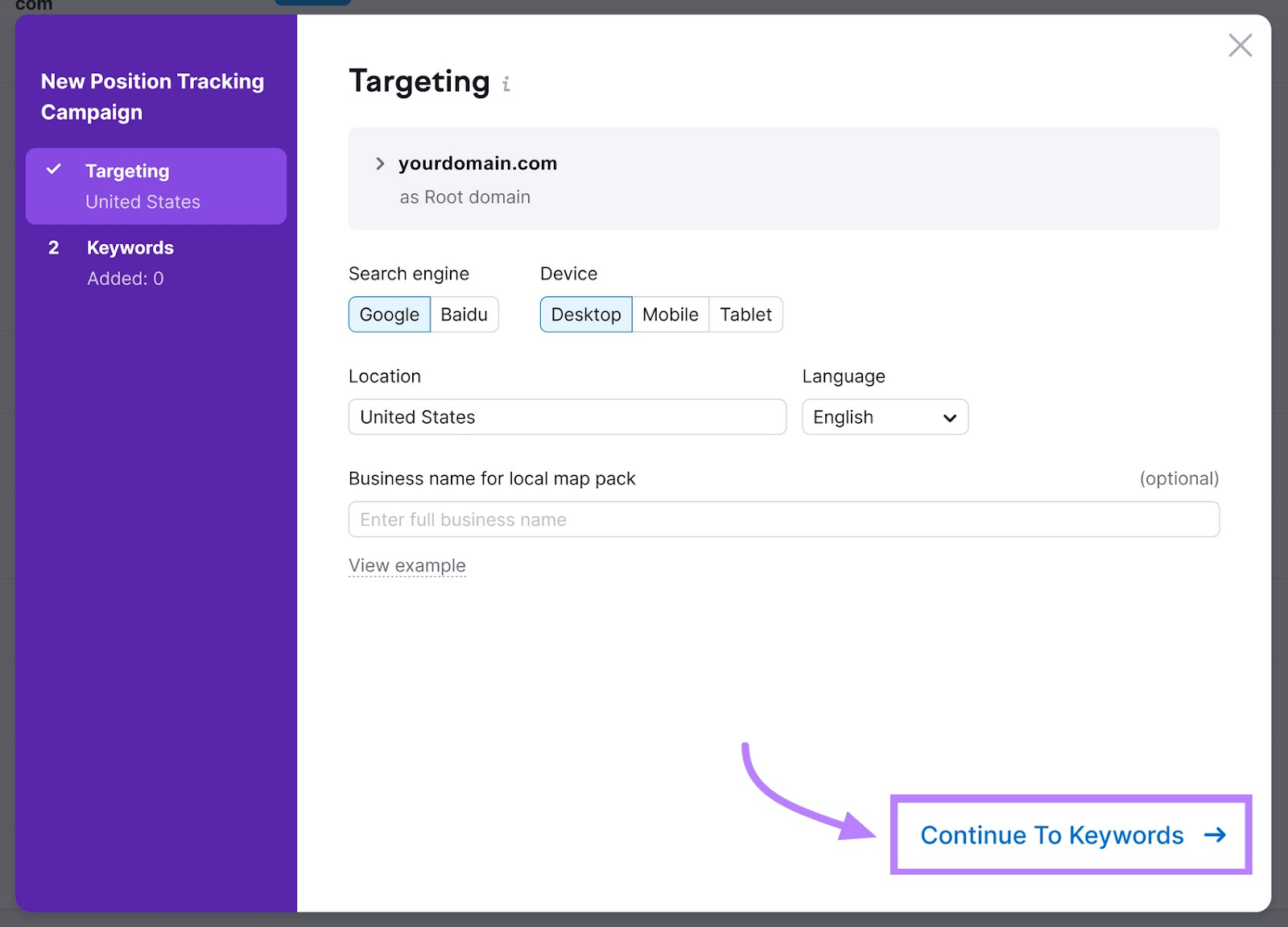 Then, enter the keywords you wish to track and click "Start Tracking."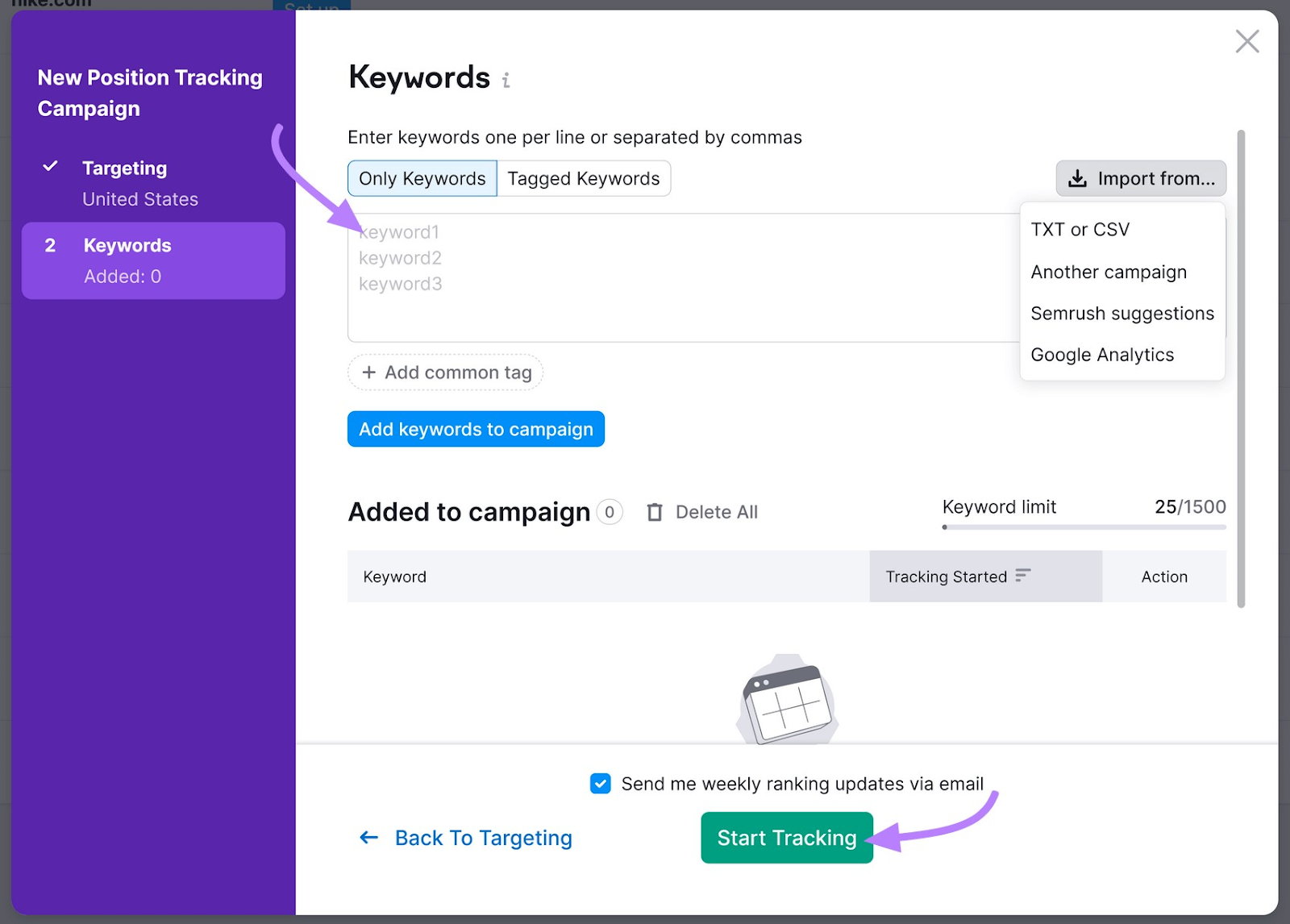 This report gives you an in-depth look into your rankings. So you can track how you're performing and see which content needs improvement. 
Perform Regular Updates
Updating software (like tools and plugins) to the latest version keeps your site running smoothly. It also improves site security and can prevent hackers from accessing your site.
Watch your software for updates and install new versions at regular intervals.
Get Ready to Launch Your New Site
This checklist will make your website launch seamless and straightforward. 
Now, it's time to go through each item and get your site ready for your big launch.