SEO (search engine optimization) can benefit any business with an online presence. Especially in a competitive market like the medical industry, SEO can help your facility stand out from competitors—even larger more established ones—and ultimately get more patients. 
We've turned the best advice from SEO experts at RicketyRoo and Pix-l Graphx into the top 10 steps you can use to leverage SEO to get more patients. 
What Is Healthcare SEO? 
Healthcare SEO (or medical SEO) is the practice of optimizing a healthcare facility's online presence to get more attention and visits from search engine users. 
Tweaking factors on your website and encouraging positive online mentions from other domains can help your site rank higher in search engines. In turn, a medical SEO strategy can attract consistent relevant leads for most healthcare practices. 
Completely new to SEO? Check out this guide for beginners. 
What Makes Medical Search Marketing Unique?
Most businesses can benefit from SEO. But the road to more search traffic is unique to each business, especially in the healthcare industry. 
Search engine traffic can help a wide range of health services, from doctors to medical recruiters, equipment, software, and pharmacies.
So, an SEO strategy that works for a medical equipment site very well may not work for a family doctor. This is partially because healthcare covers both business-to-consumer (B2C) and business-to-business (B2B) audiences.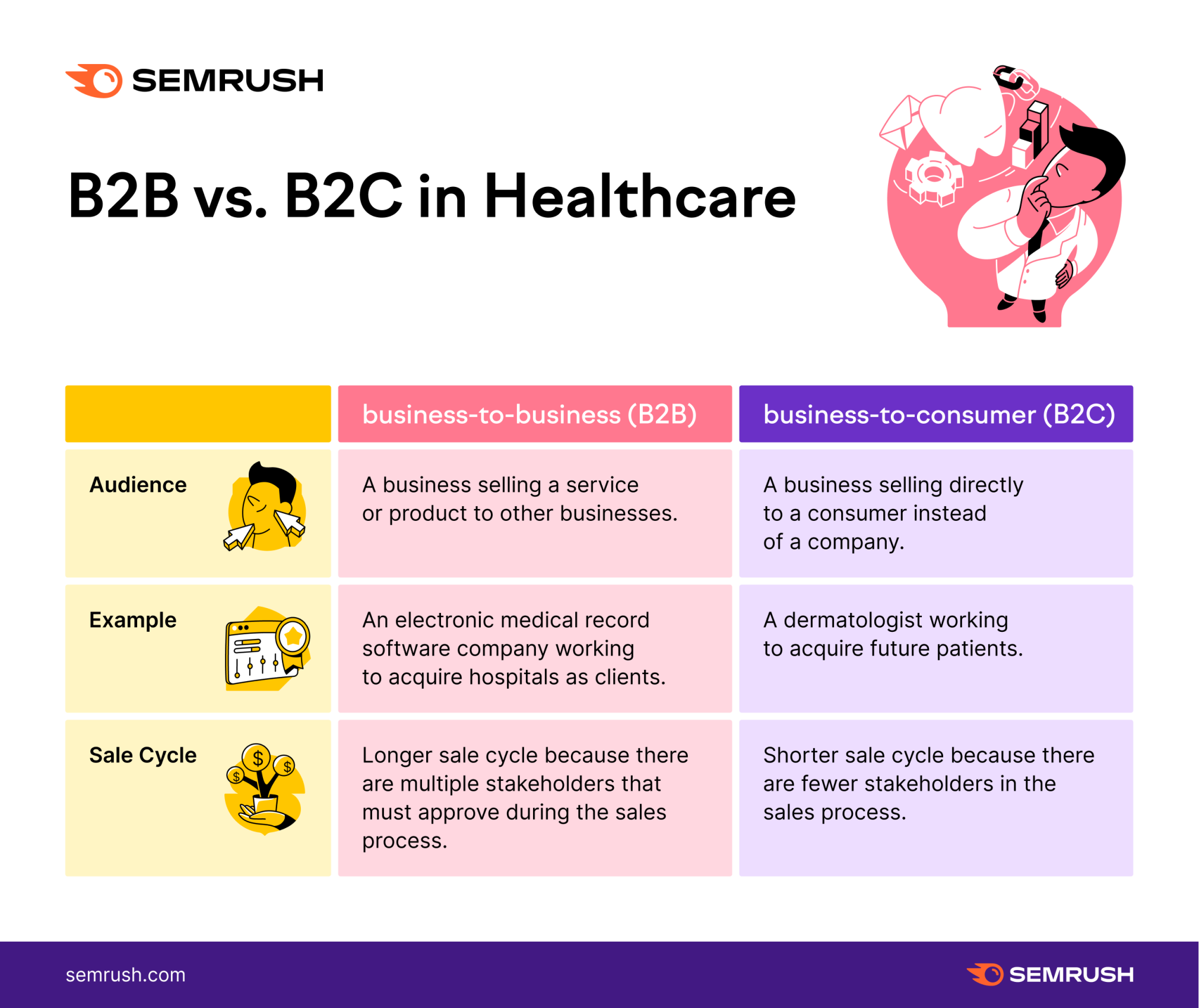 For example, a hospital's marketing team needs a different approach to SEO than an ecommerce site that sells medical equipment to the hospital. 
We'll be focusing on SEO for medical practitioners and institutions in this article. 
Why Is SEO Important in the Healthcare Industry?
One major benefit that healthcare businesses can get from SEO is positive online reviews.
Software Advice's survey explains why: 
71% of respondents look to online reviews first before they choose a doctor 
Only 20% of respondents trust personal recommendations more than online reviews 
43% of respondents would choose an out-of-network provider if they had better reviews than an in-network provider
Great healthcare SEO can also translate into:
More new patients, sales, and leads
Helping patients find key information, which builds trust in your practice 
Competing with larger healthcare businesses for less than paying for ads 
Staying top of mind in the medical industry and with patients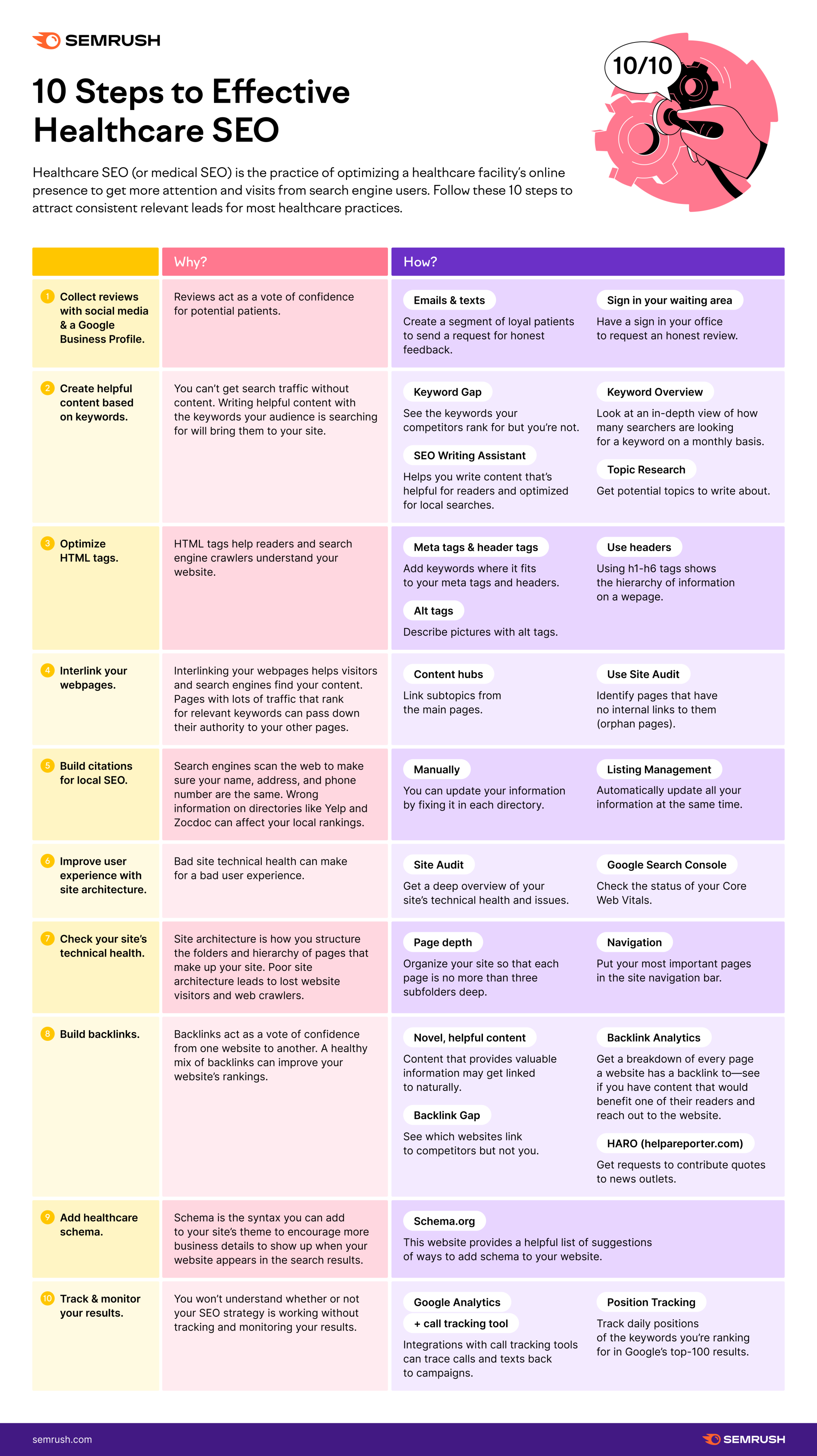 A Healthcare SEO Success Story 
Let's take a look at Columbus LASIK Vision, a client of creative agency, Pix-l Graphx.
Columbus LASIK vision needed a new website and a way to outrank its competitors in the search results. Their competition was every local LASIK center on Yelp along with larger, reputable LASIK centers that already had a strong online presence. 
Despite the challenge, Pix-l Graphx heavily focused on creating well-structured content, implementing technical SEO, and building backlinks based on competitive research they gathered using Semrush. 
The results? 
After 15 months, they dominated the local search for LASIK terms. Their site was able to rank for 444 keywords on Google's first page, leading to over 300 new monthly leads for each of their four listings.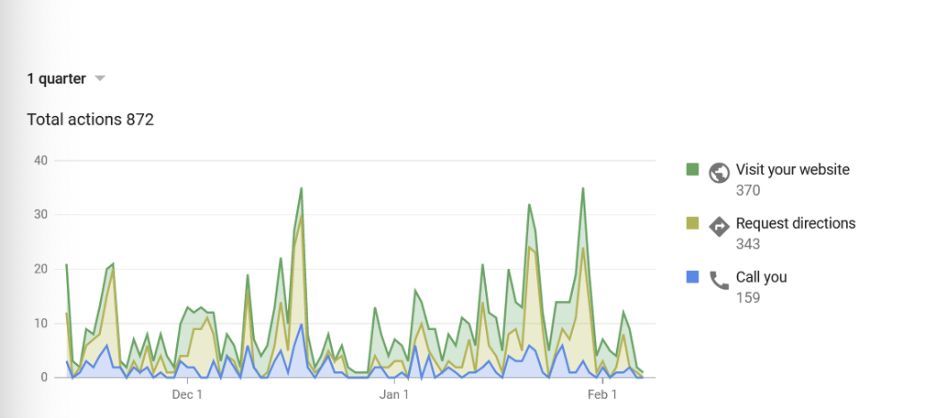 Now, let's talk about how you can achieve similar SEO results for your healthcare business.
Step 1: Use Social Media & a Google Business Profile for Reviews 
You can use reviews on your social media pages and on your Google Business Profile to prove to search engines and potential patients that they should trust your business. 
Notice that all of these listings have a substantial amount of reviews. 
There are many ways to encourage honest reviews from patients. Having stickers or a sign in the lobby, sending a follow-up email, or sending a text after an appointment is a good start. 
Your main objective is to make it as easy as possible for your customers or clients to leave a review and strike while the iron is hot.
Here's an example review request template from our blog on getting Google Reviews: 
Subject: Wee Favour
Hi XXX,
How are you?
XXXshoot the breeze hereXXX.
I'm after a wee favor but it will only take a few minutes of your time.
I wonder if you would mind reviewing my business on Google. Here's what you do:
Tap "XXXinsert company name here XXXX" into Google.
Click on the "write a review" button in the box on the right of your screen.
Sign in to your Google Account.
If you haven't got one, it takes two minutes to create one. All you need is an email address (it doesn't have to be a Gmail).
Write your review, give us a star rating, and press "post."
That's it.
Gratefully (for considering this request) yours.
Best,
XXX
P.S. XXXshoot the breeze hereXXX
To really maximize this opportunity, you can specifically reach out to patients who have seen you more than once or those who you know have had a positive experience.
Step 2: Create Helpful Content Based on Keywords 
You can't get search traffic without content. So, creating content for your website will be a main facet of your SEO strategy. 
Where to start when you have an entire website? 
Start with the main pages of your site's navigation.
That might look something like this for healthcare websites: 
Homepage 
Areas serviced
About us 
Billing 
Contact information
Services 
Your most important pages should rank for your target keywords while still providing the answers visitors are looking for. 
In SEO, a keyword is any search term someone enters on a search engine. "Primary care near me" is an example of a healthcare keyword. 
One way of measuring SEO success is how many keywords your site ranks for, and how much quality traffic comes from those keywords.
When you do keyword research, you should end up with a list of target keywords for your strategy. For healthcare businesses, these target keywords would be anything that people search online that are related to your area of expertise.
Pix-l Graphx's initial keyword list for Columbus LASIK Vision looked like this. Notice their use of location-based keywords:
LASIK [city name]
LASIK center [city name]
LASIK surgery [city name]
Traditional LASIK [city name]
Custom LASIK [city name]
Wavefront LASIK [city name]
PRK procedure [city name]
LASIK cost [city name]
LASIK financing [city name]
LASIK procedure [city name]
LASIK reviews [city name]
They finalized their initial keyword list with Keyword Overview, using the search volume metric as a guide.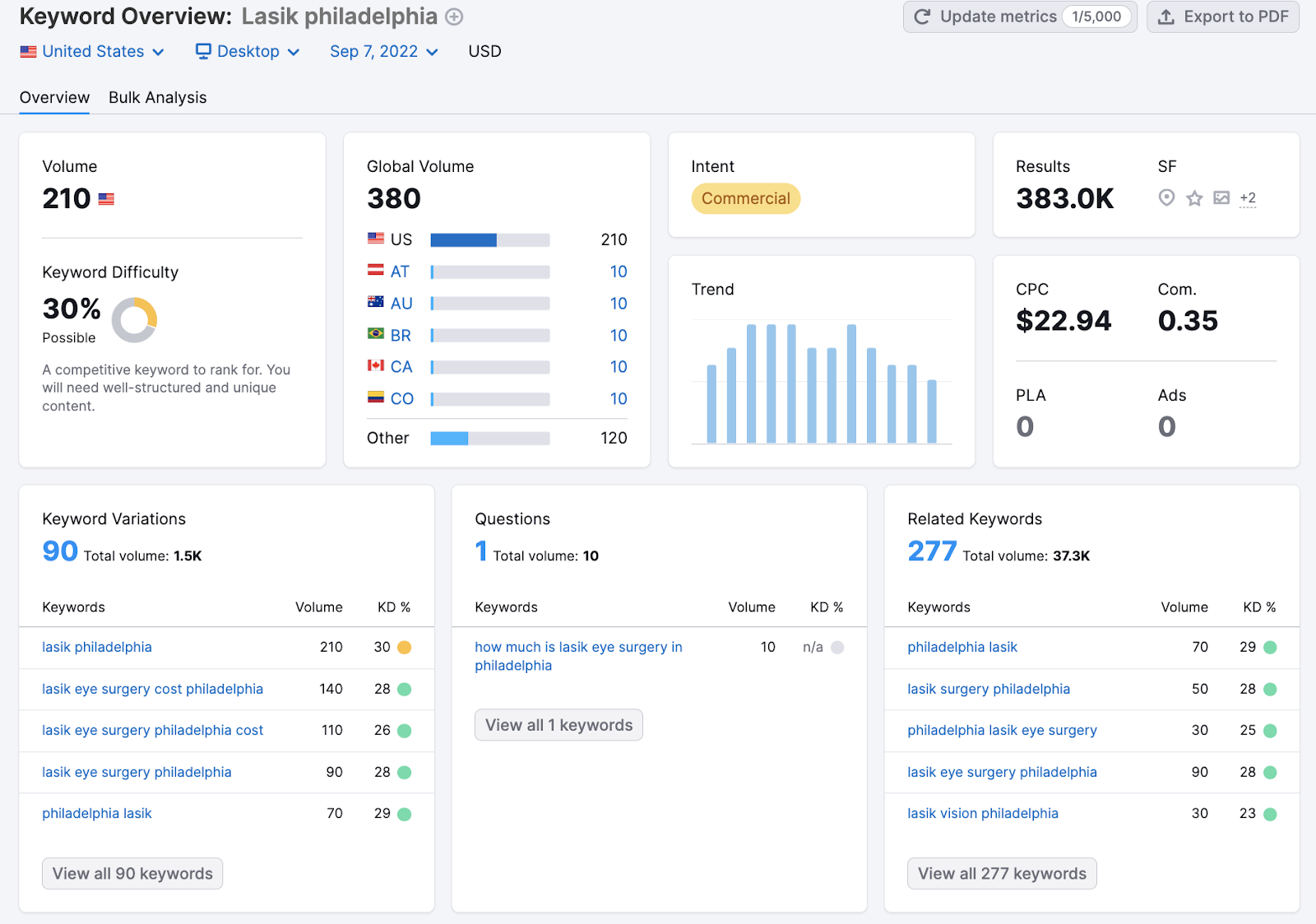 You can also look at your top competitors' content to see what keywords you could benefit from.
Head over to Keyword Gap and type in your domain. After, you'll key in up to four of your top search competitors' domains. The tool will suggest your top organic competitors if you don't know them.
Click the "compare" button when you're ready.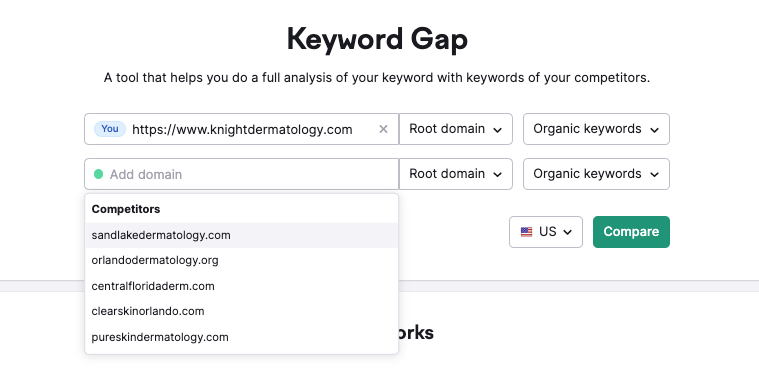 Keyword Gap compares your rankings with your competitors' rankings. Filter for keywords that your competitors rank for, but you don't with the "Missing" filter. 

The example "you" domain (knightdermatology.com) isn't ranking for 1.7k of their search competitor's keywords. But, some of their competitor's rankings are far down Google's top 100. 
Narrow down the potential keywords you'd like to target with the Position filter. Click on Competitors and then select Top 10.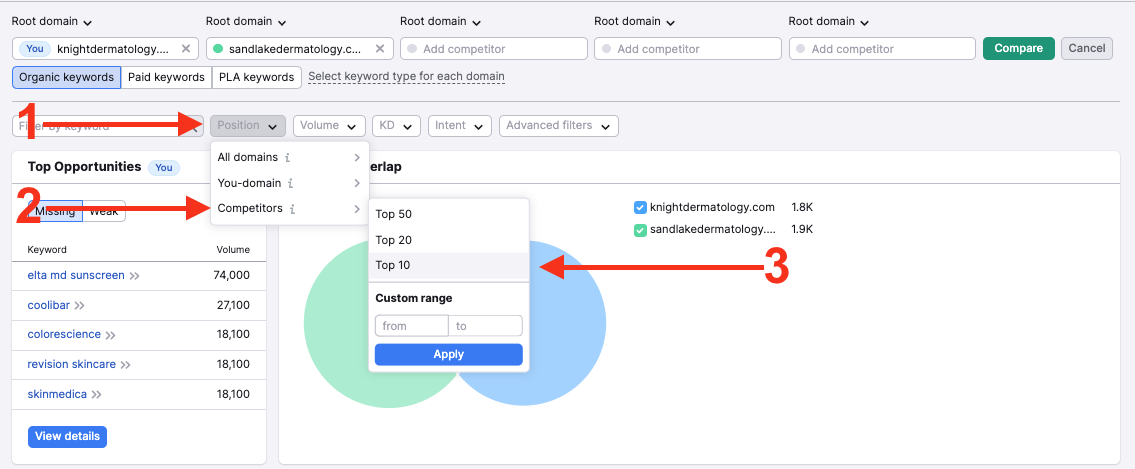 That should give you a list of keyword suggestions that are relevant to your business: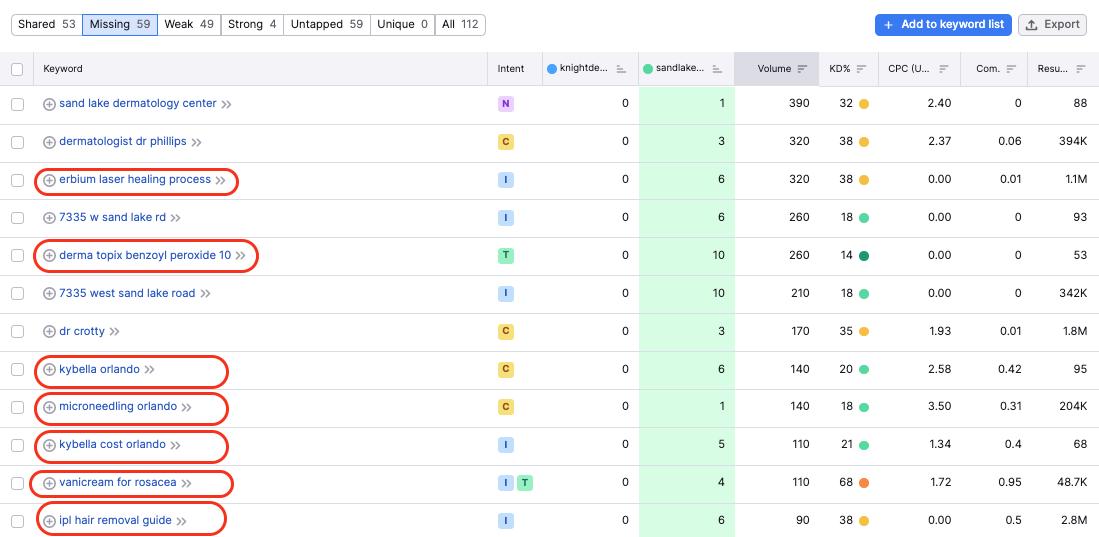 You can find the right keywords to target with metrics like: 
KD%: how tough it would be to rank for a keyword
CPC: estimated cost-per-click for each keyword
Intent: shows why a visitor is searching for a particular term—like informational (i.e. wanting to read about a medical issue) vs. transactional (i.e. an intent to book an appointment) 
Volume: estimates monthly searches for a query 
Clicking on the >> next to the keyword opens its mini analysis. Here, you can see the top 10 links on the SERP (search engine results page) for the term. 
Healthcare Blog
Your site needs content beyond its main pages to bring in web visitors. A healthcare blog can boost your site in search engines and provide value to potential patients.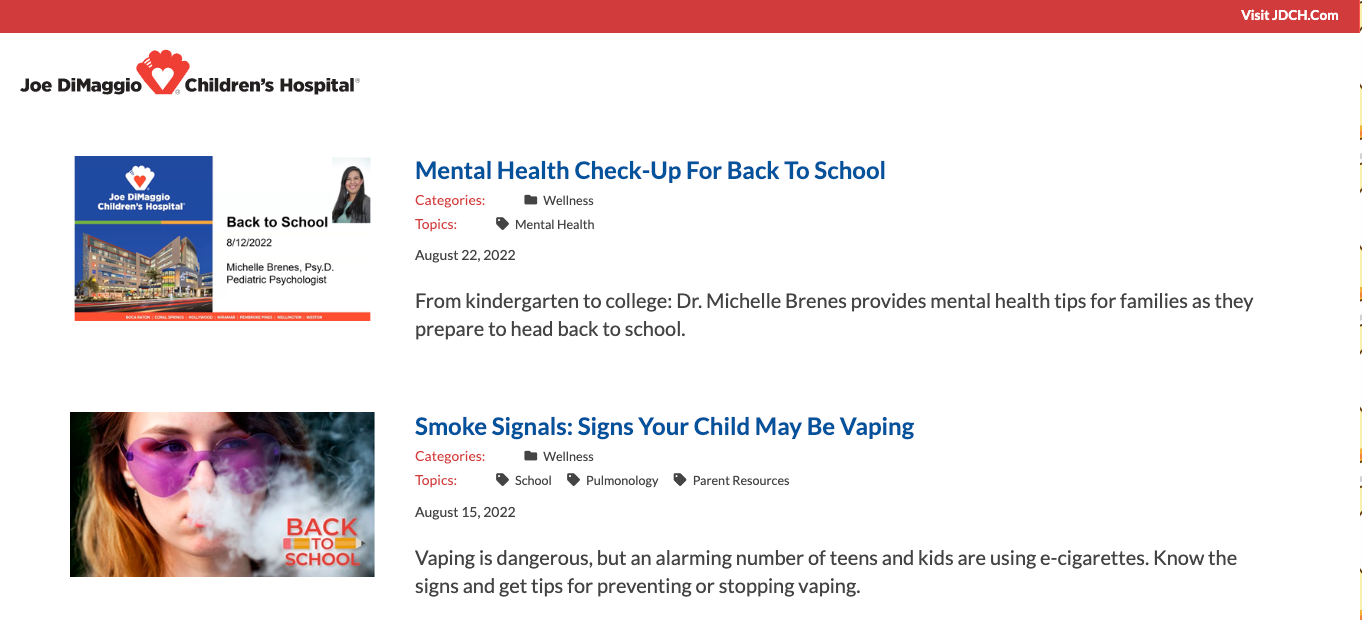 If you're stuck coming up with ideas for your blog, try out the Topic Research tool.
Type in a keyword or idea to see potential topics to write about. When the content ideas are ready, click where it says "view content ideas" to load up a list.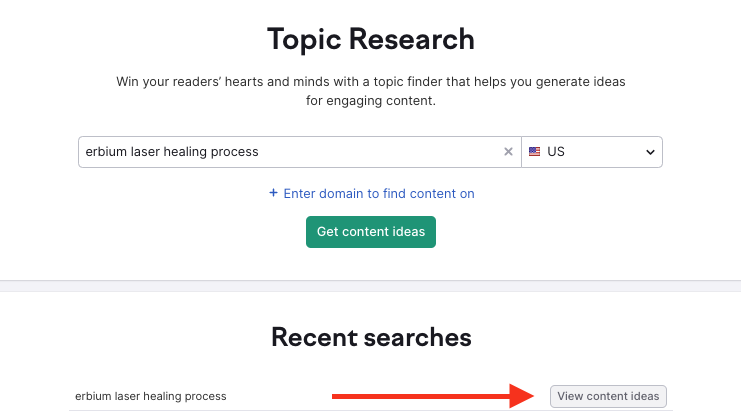 You can sort this list by difficulty, volume, and Topic Efficiency (topics with a high search volume and low difficulty).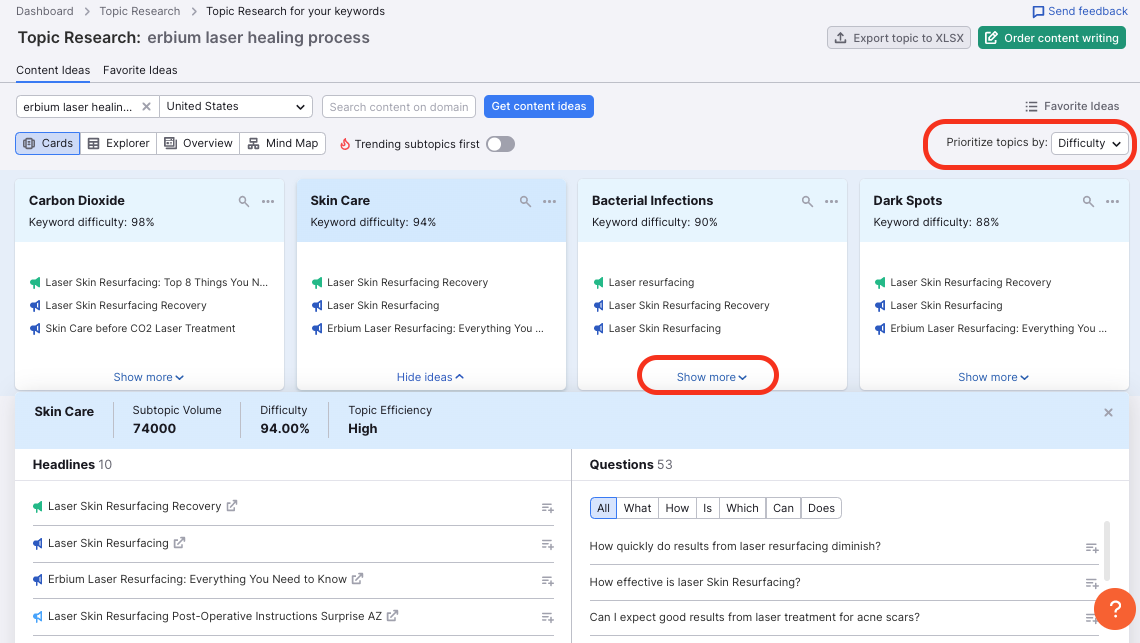 Once you have topics, it's time to write. 
Healthcare content must aim to add value to a searcher's life, not to just rank for a position.
Search engines work to provide the best answer to a question. And by best in the medical industry, that means a solution that is correct and comes from a source of authority. 
Medical websites have an extra layer of red tape to get around in terms of content and keeping patient information safe. Blake Denman, the founder of the local SEO agency RicketyRoo, agrees. 
A great start if you're thinking of working in healthcare as a niche is getting to know HIPAA [Health Insurance Portability and Accountability Act]. The last thing you want to do as an SEO vendor to a client is violate HIPAA, the client can get fined depending on the nature of the violation(s)...
Blake also mentioned the importance of looking into each state's laws as well as any laws specific to your niche in healthcare. 
Eliminating Kickbacks Recovery Act (EKRA) is a Federal Law in the US but SB-349 (California Ethical Treatment for Persons with Substance Use Disorder Act), similar to EKRA, makes it illegal to pay or receive kickbacks for referrals of persons with substance use disorders.
But beyond laws, Google also penalizes websites with content that can hurt a person's well-being. Sites like these are known as "your money your life" (YMYL) sites. Your healthcare blog must demonstrate EAT: 
Expertise
Authoritativeness
Trustworthiness
Content more often than not needs to be written by someone in the medical field, or at the least, must be reviewed by someone experienced. Google's major algorithm update in 2022, dubbed the Helpful Content Update, has made this even more of a priority. 
The Pix-l Graphx team used the SEO Writing Assistant to write content that's helpful for readers and optimized for local searches.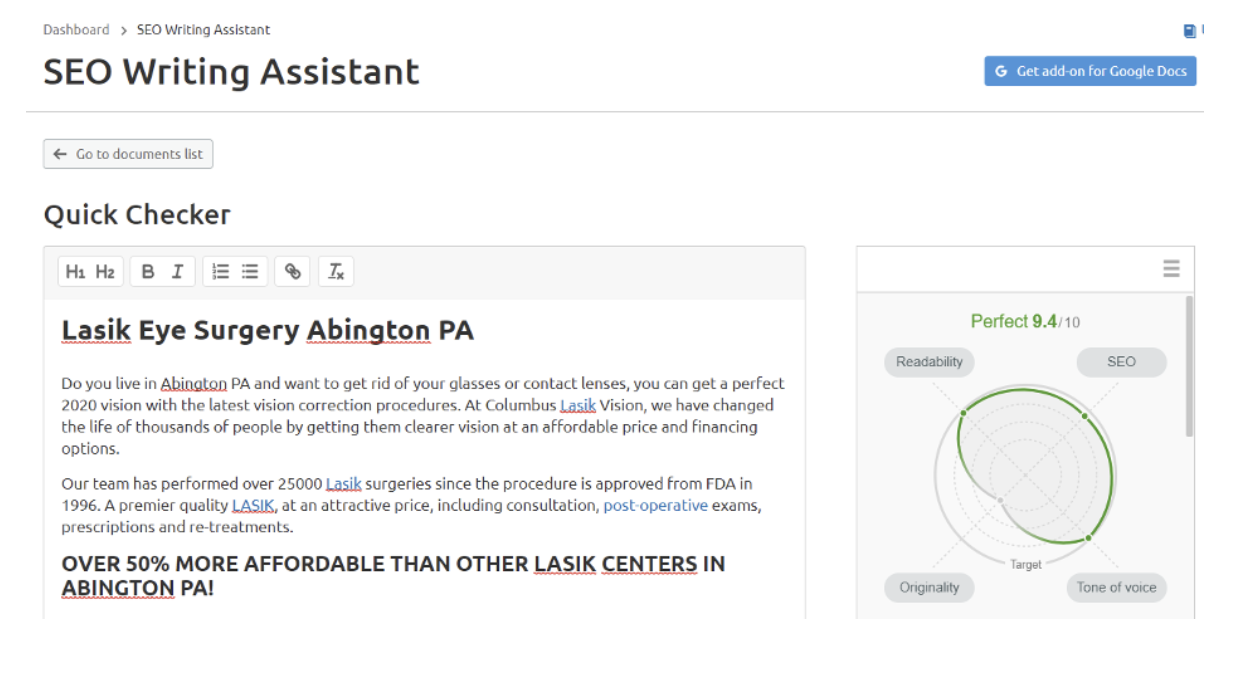 To learn more about the process of writing content for your website, read 5 Steps to Boost Your Healthcare Content Marketing in 2022. 
Step 3: Optimize Your Site's HTML Tags
Your website uses HTML tags to give it technical and visual structure. It helps both search engines and people digest your site's content. 
The example below shows what a website's text looks like with the <h2> tag and <h3> tag.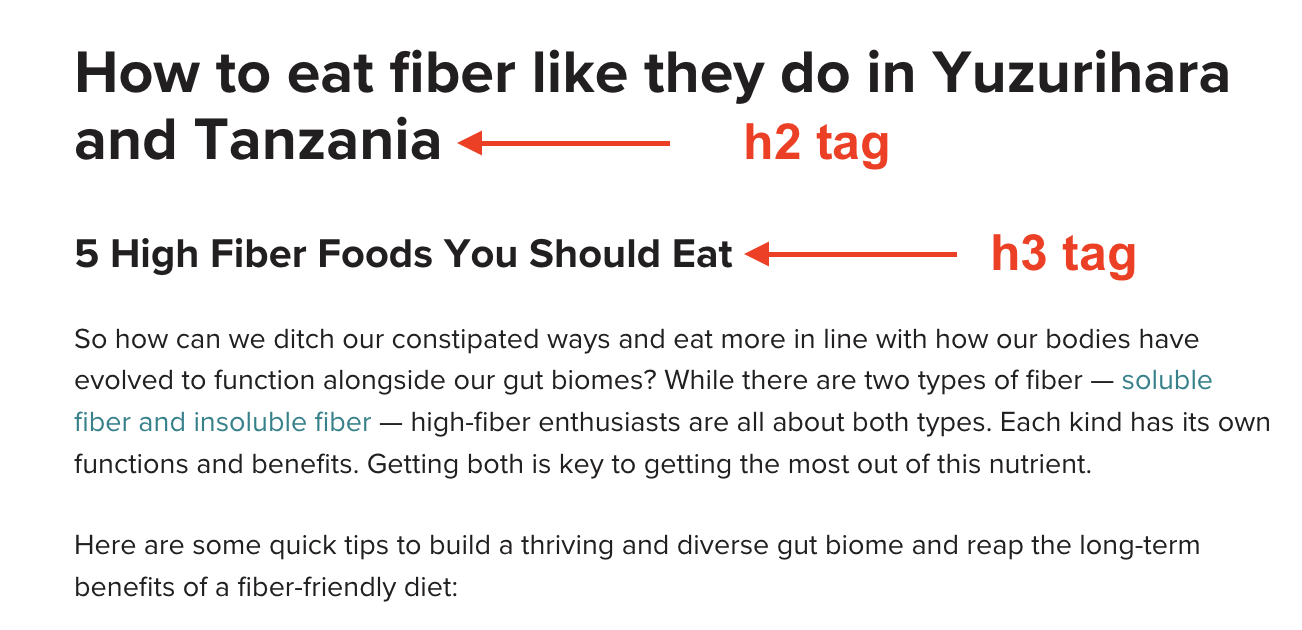 And this is how heading tags look like a website's code: 

Notice how the tags help show the hierarchy of information? 
Adding your main keywords to your titles and <h1> tag is a standard SEO practice. Your secondary, related keywords (the ones with less volume, typically) should go in the descending headings. 
When you upload content to your site, you can add simple tags to help with your SEO. How to do that depends on your content management system (CMS). However, a search of your CMS plus "how to add content" should show you how to do it.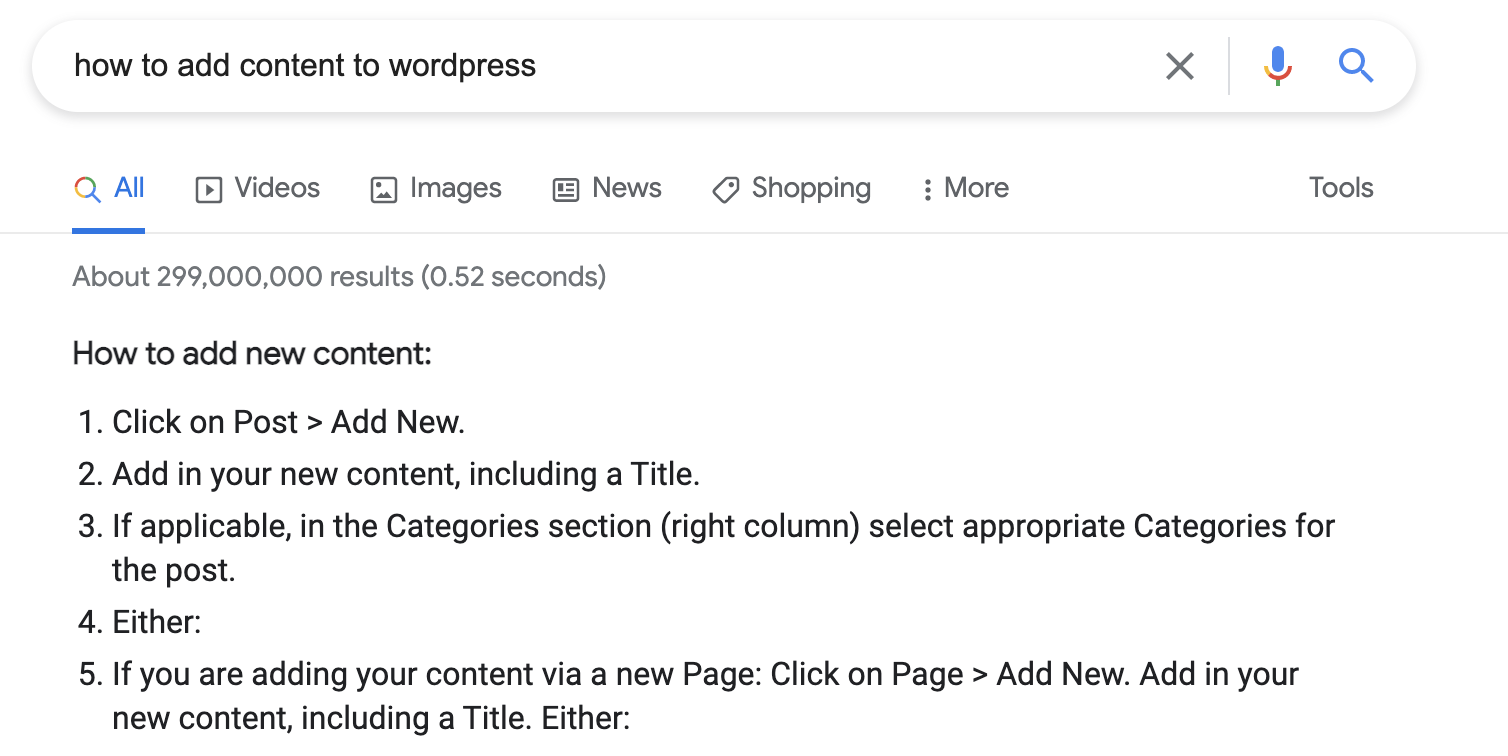 When you add content, your CMS should give you the option to add titles and headings. This adds them to your site's code in the background. 
Add in keywords to other tags on your site such as: 
Title tags 
Meta description tags 
Your main keyword should go in the title tag and meta description of a webpage. 
However, don't stuff in keywords where they don't fit. Your content's language needs to be natural. Including different variations of a keyword can make your content easier to read and understand. 
Step 4: Interlink Your Webpages 
You can think of your website as a series of roads. Roads connected to the highway will likely get more traffic. The highway brings the traffic to these smaller roads, and your high-trafficked pages can bring visitors to your site's deeper pages. 
Linking a highly-trafficked page to another relevant page can route more people to it. More than that, it helps that page's SEO. 
Linking from one page of your website to another is called an internal link.
Of course, it doesn't make much sense to link every single page to one page with the most traffic. However, you can create landing pages as jumping points for other pages. 
Let's take at Better Help, a telehealth counseling service.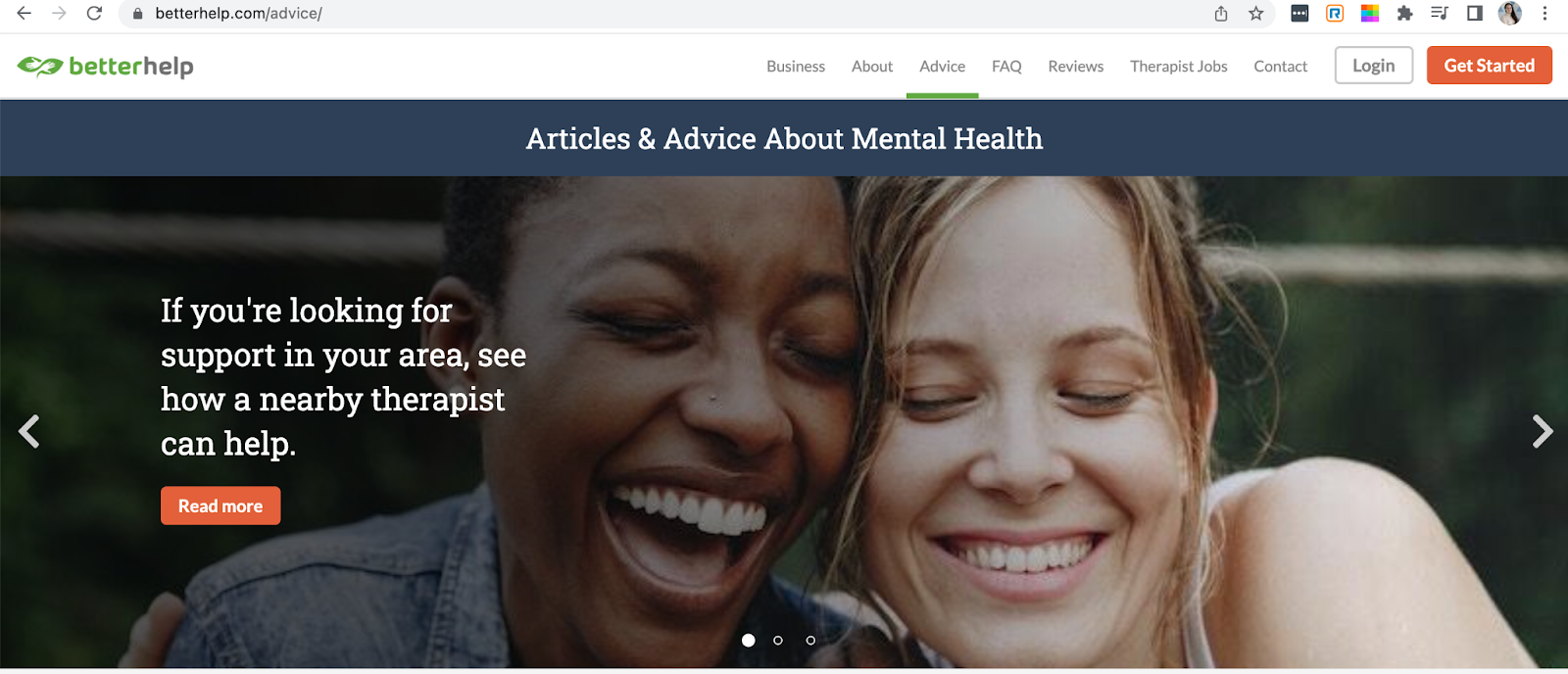 Their advice page (betterhelp.com/advice) links to all its different blog posts giving mental health advice: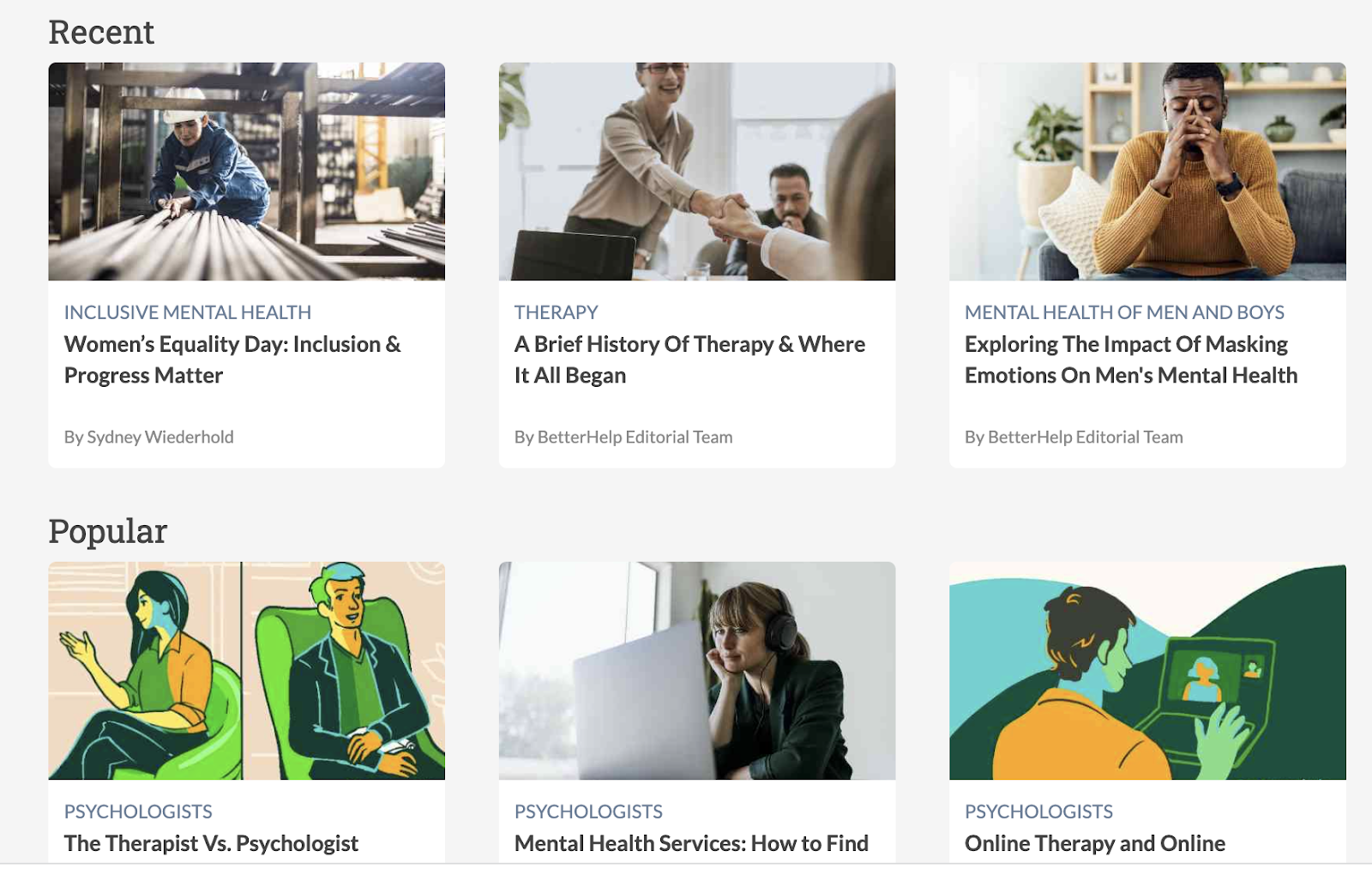 In this way, it passes down its vote of authority to the rest of these pages.

Internal links also stop pages from being left all alone. When nothing links to a webpage, it's called an orphan page. A page you worked very hard on may get no eyes because of that. 
Blake Denman understands the importance of interlinking webpages: 
January of 2021 I got referred to another addiction treatment center that got hammered in the December 2020 Core Update…After the July 2021 Core Update rolled out, more than 80% of their lost organic traffic had been regained.
He achieved these results, in part, by clustering topics together and then internally linking them. 
Link relevant content together to make sure all your content gets the attention it deserves. 
Step 5: Build Listings for Local SEO
Local SEO is the process of optimizing your on-page and off-page SEO to rank higher for searches in a particular area. 
Telehealth medical practitioners can benefit from ranking for location-based keywords. But facilities with a physical location can benefit even more. 
When you have a physical business location, you can implement a local listing management plan to rank higher. 
On your website, your contact information should include the name of your business, its address, and its phone number. You can also list this information in local directories, like Yelp or Zocdoc.

If your business info isn't the same in every online directory, Google gets wary about boosting your listing in local searches because the information isn't reliable.
So, what should you do?
Update your business name, address, and phone number (NAP for short) to make it consistent across the web. It's an easy and proven way to boost your local SEO and gain a competitive edge. 
You can often update your information directly through a directory's site, or you can use a tool like Listing Management to keep all your information up-to-date.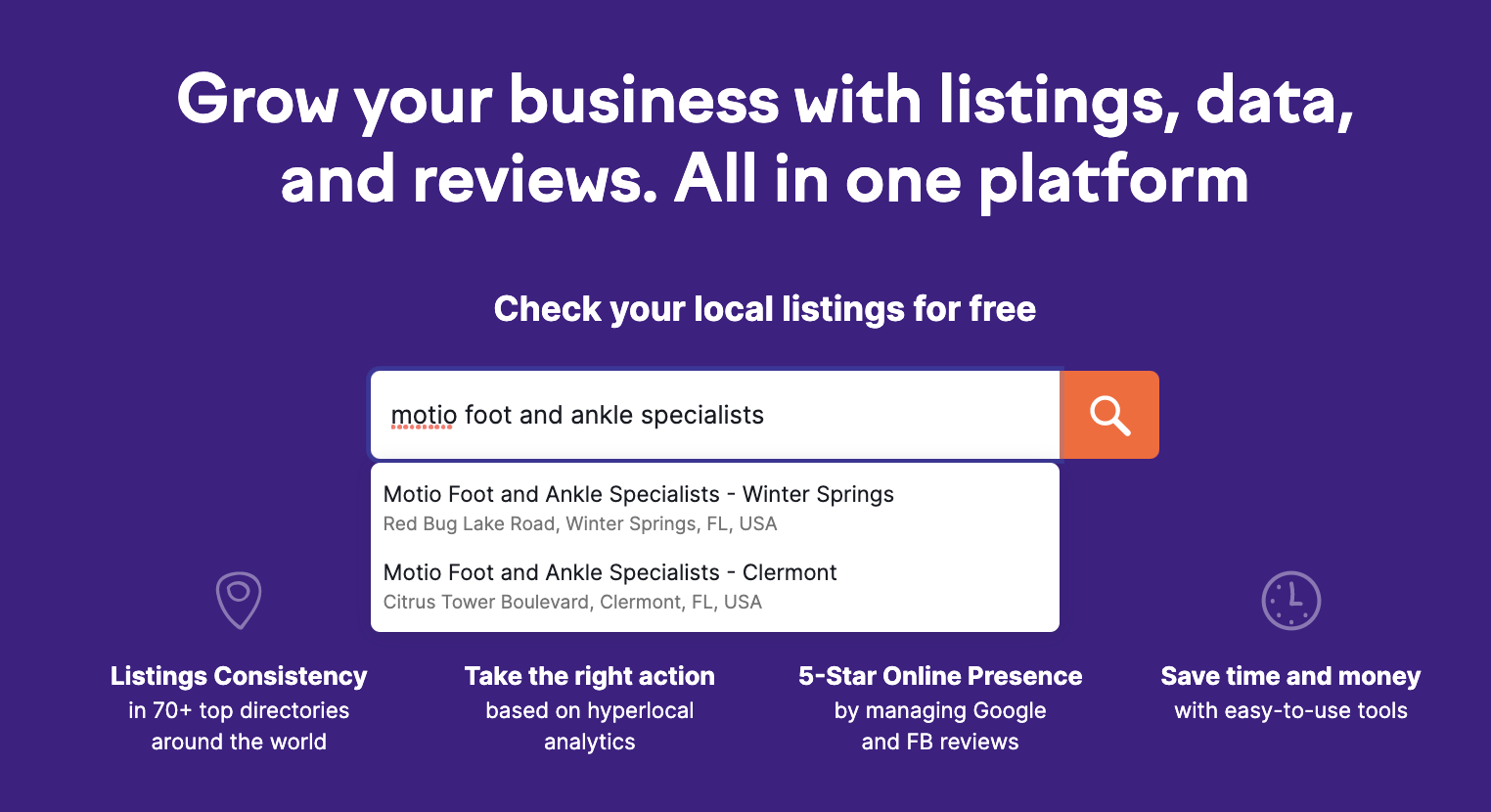 Type in your business name to see areas of improvement. With a subscription, you can update all your NAP information without going to each directory.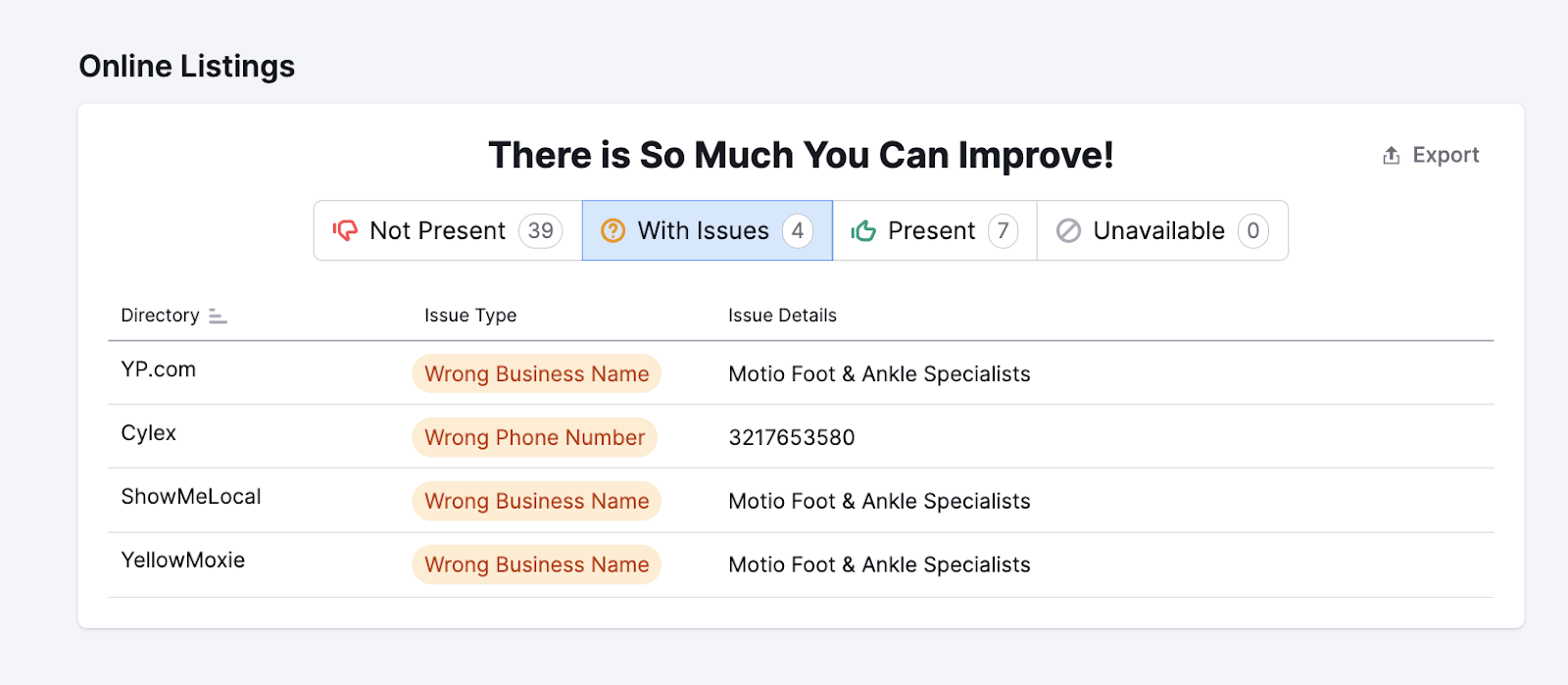 Step 6: Check Your Site's Technical Health
Your site's technical health can have a significant impact on your site's SEO. If something is going wrong with your site code, there's a chance you might not even know about it. 
Often, technical site issues lead to a poor on-site experience.
Potential patients may leave your site if it's too slow or tough to use. As a result, poor technical site health can negatively affect rankings. 
Looking at your site's health can help you uncover issues making your site difficult for patients to use. Luckily, there are many tools that can help you as a site owner.
Start off by checking that your site is indexed on Google Search Console. If your site's not indexed at all, then none of your content will rank. 
Navigate to Google Search Console (GSC) and click the "start now" button. 

If it's not set up you'll have an option to do so.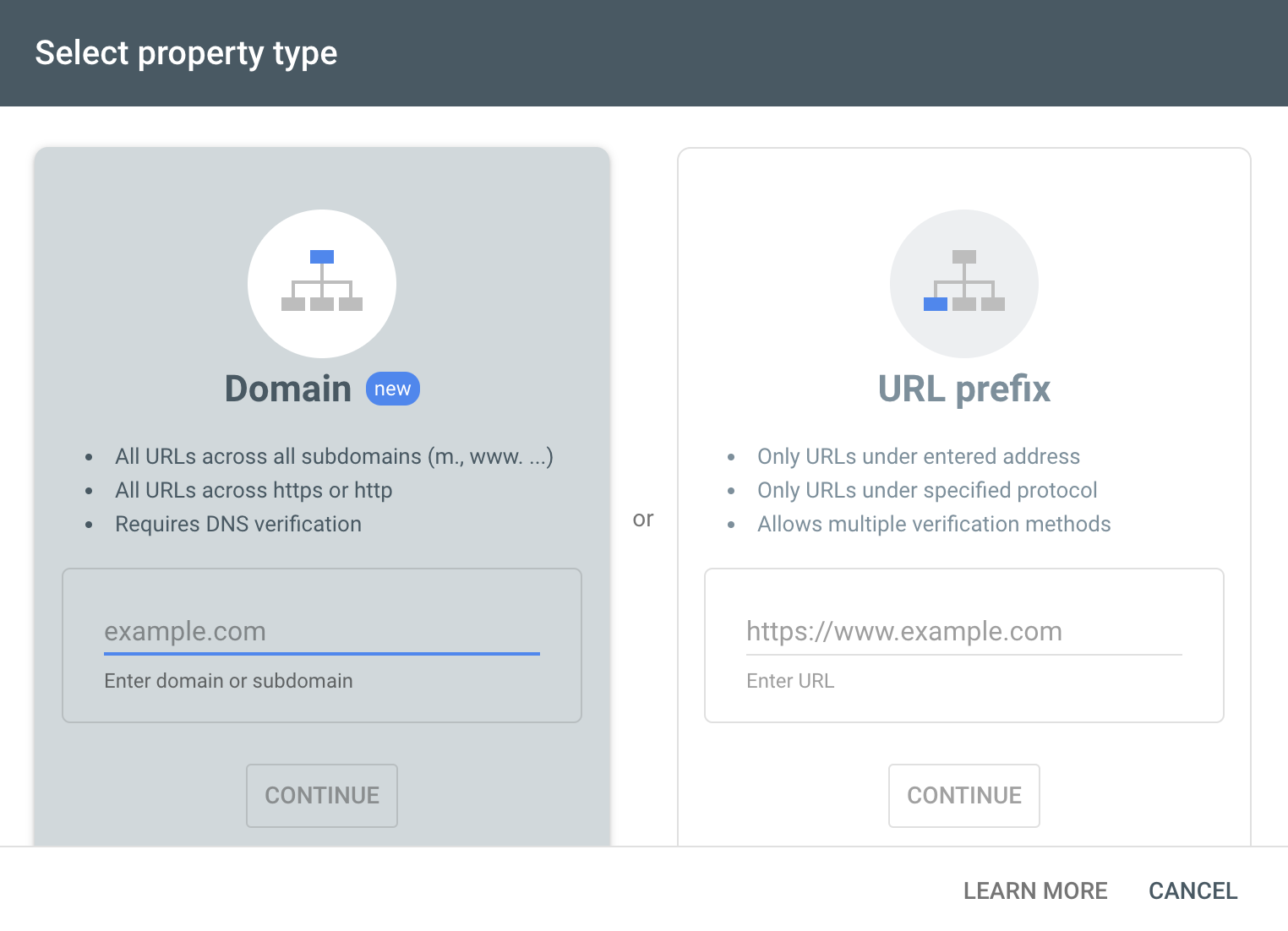 You can learn how to set up GSC on your website, but it might be best to let a web developer handle this part. Though, once it's set up, you have access to your site's Core Web Vitals. 
Core Web Vitals are a series of metrics that measure factors on your website like load time. 
Scroll down to Experience and click on "Core Web Vitals."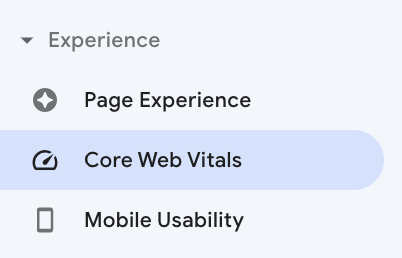 Clicking on it will lead you to two reports that give you an idea of your site's technical health. Opening the reports gives you a detailed list of all the pages of your website you can improve.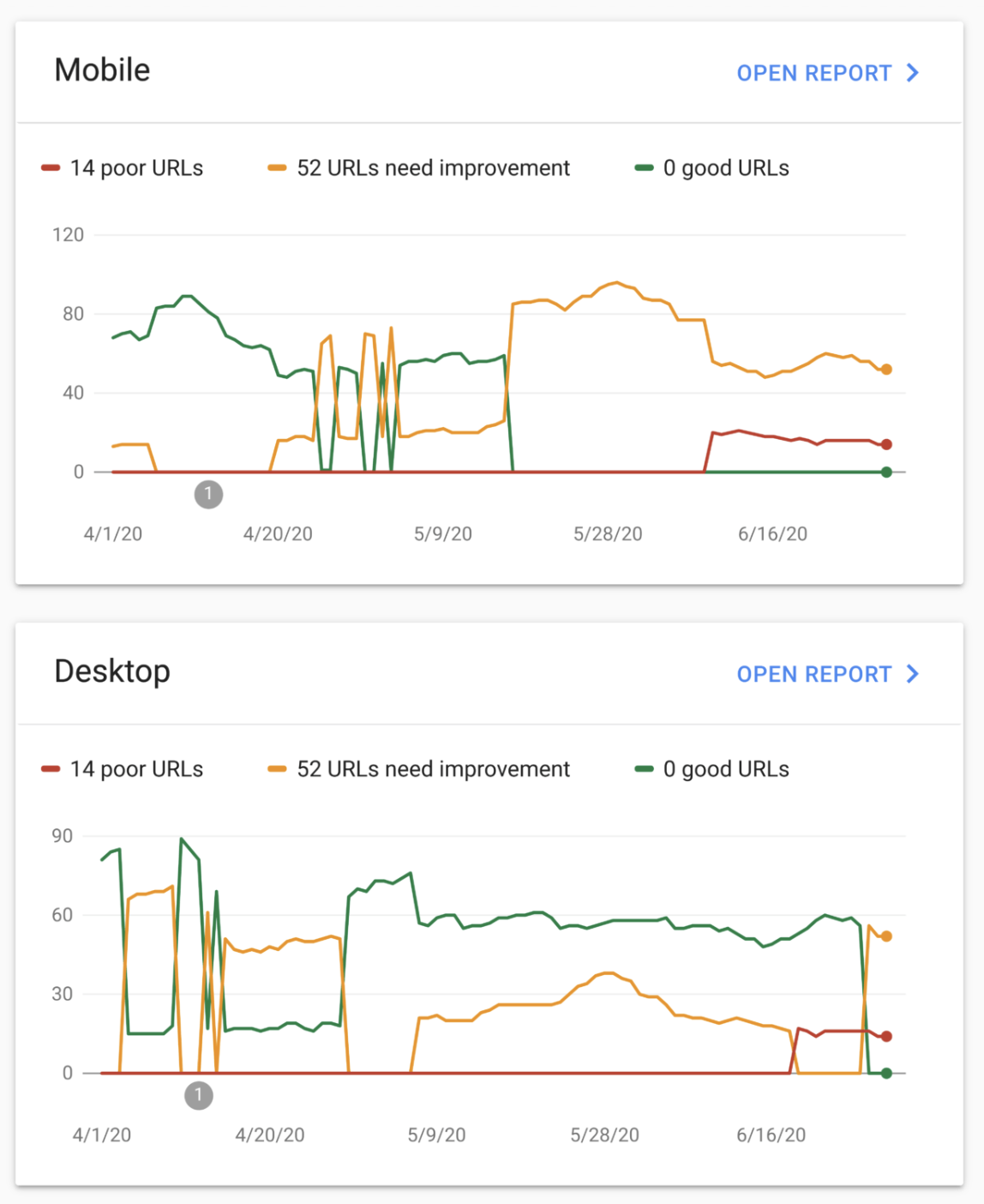 It won't tell you how to fix these issues, though. Unless you have a web developer to help you, you might want to use a site audit tool to give you actionable advice on how to fix these issues. 
Fixing technical issues can be hard, and we've only covered one of many ways you can boost your site's technical health. This detailed guide shows you exactly how to boost your site's technical SEO through an audit. 
Step 7: Improve UX with Site Architecture
User experience (UX) can be the factor in whether or not a patient books an appointment through your site or goes to your competitor. 
One of the best ways to encourage a positive experience is with your site architecture.
Site architecture is how you structure the folders and hierarchy of pages that make up your site. Poor architecture leads to people getting lost or not finding the info they're looking for.
Clean site architecture means making all of your most important pages easy to navigate to. It also means making all of your pages accessible and no more than 3 subfolders deep. 

Not only is this a good practice for patients, but for web crawlers too. Search engines have crawlers that look through your site to index its pages. If it's too hard to get to them, they just won't index them. 
Web crawlers have limited bandwidth and people browsing on the web for medical information do too. Focus on your site's architecture to encourage a positive UX.
Step 8: Build Backlinks 
We mentioned how reviews are a vote of confidence from a patient. Backlinks can be thought of in a similar way. 
Backlinks, also known as external links, are links from one website to another. It's a website's way of letting a reader know they should check out another website. 

Medical practitioners are a source of authority in their field of study. New medical research or observations are pieces of content that are likely to get backlinks, just like the example above. 
SEO strategy for a private practice vs a hospital is going to have a lot of differences…Hospitals usually have a lot more link authority than private practices, making link building more important for a private practice than a hospital.
But, there's another way to snag backlinks.
You can see who is linking to your competitors to see if there is a good opportunity to give you a link too. Remember Pix-l Graphx? They used Backlink Gap to do just that. 
Type in your website to find domains linking to your competitors' sites but not theirs.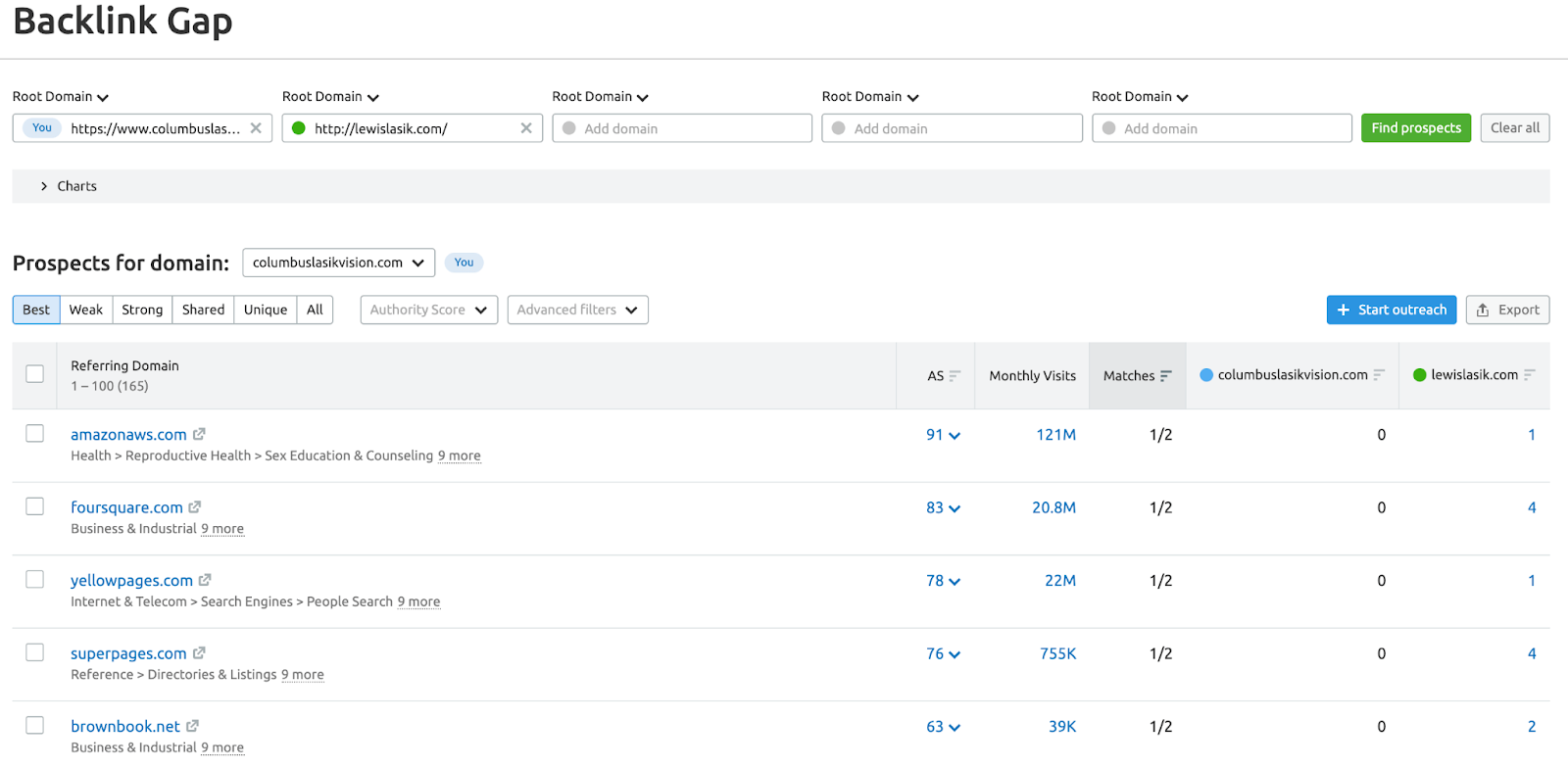 From here click on one of the domains to go to Backlink Analytics. You can check out the Backlinks report to see a competing website's backlink profile.
Let's look at Better Help's impressive backlink profile as an example.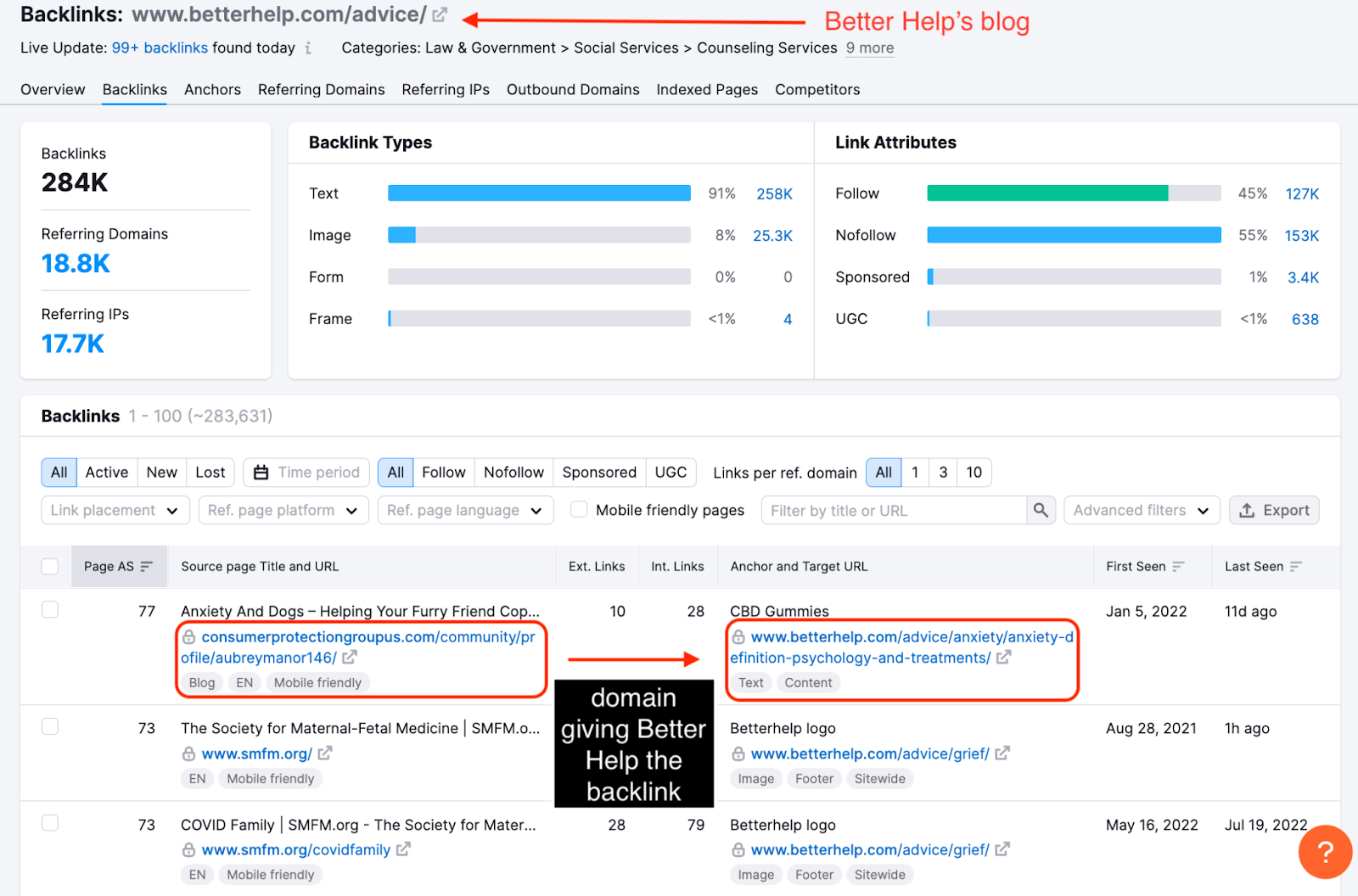 Better Help has a healthy mix of 284k backlinks. You can click on the domains linking to Better Help's blog and see if you have content that would benefit one of their readers. 
Then, you can contact the site to see if they're willing to link to your post. You can learn more about effective outreach strategies from this study. 
Another way to earn backlinks is by using Help a Reporter Out (HARO).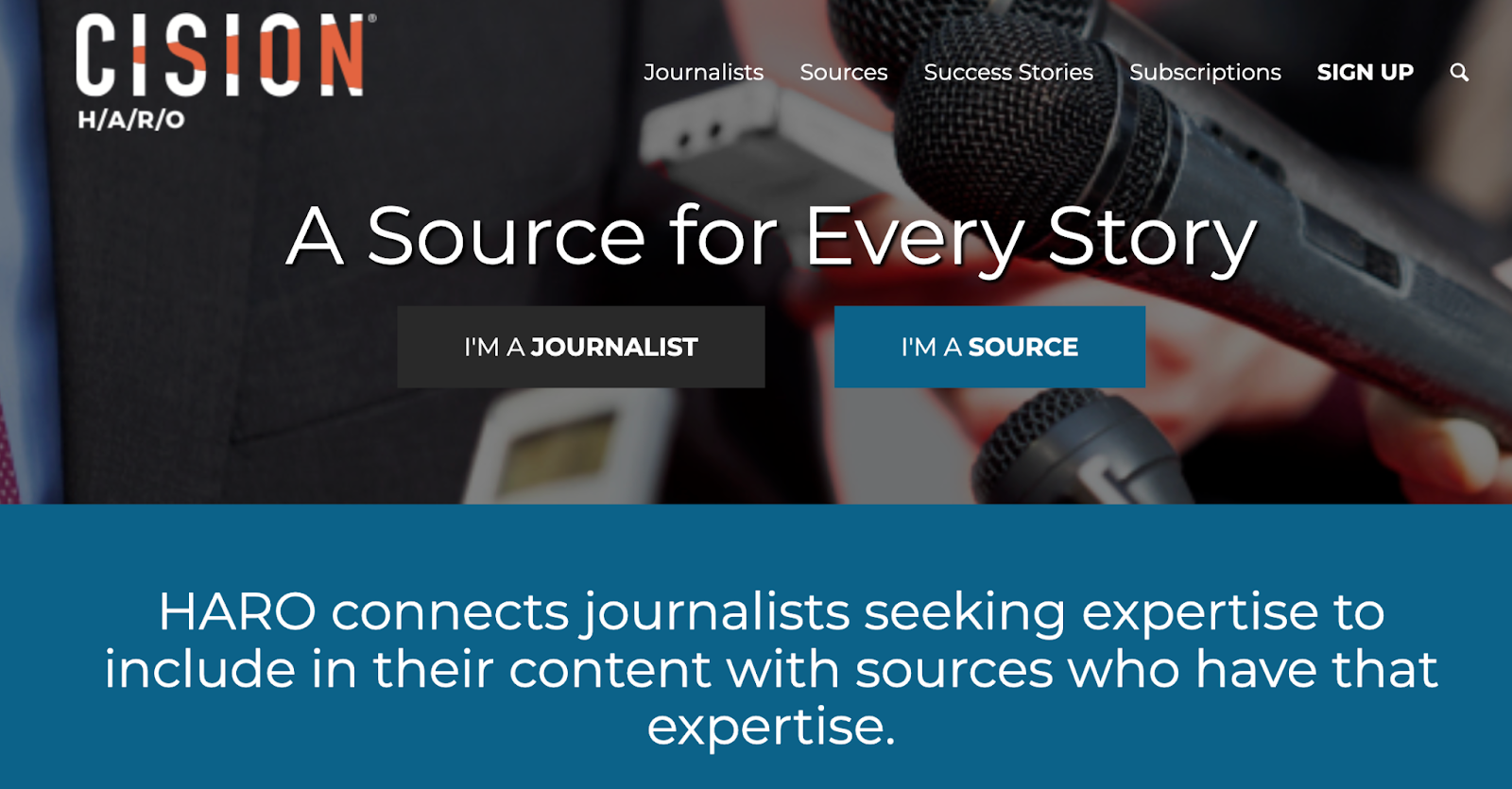 Reporters often need quotes from reputable sources. News outlets like Wall Street Journal and Reuters will go to HARO to find these quotes. 
A mass email goes out to those who want to act as a resource. The email includes a list of publications in need of quotes broken down by categories. 
When you successfully sign up as a source, you can select the category of requests you'd like to get by clicking on where it says "update and add to your account details."

It leads you to your account details where it lets you choose your preferences. Check off the specific lists that have to do with your expertise in the healthcare industry. 

After updating your preferences, you'll get queries directly from reporters that need to quote experts like you. While it's not guaranteed, they will often give your site a backlink if they choose to feature your answer.
Step 9: Add Schema for Healthcare Business Details 
Schema is the syntax you can add to your site's theme to encourage more details to show up when your website appears in the search results. When used correctly, the result can look like this: 

The example above is one of many ways you can include code on your site to make results to your page stand out from the rest. Here's a list of the many ways a healthcare professional can use structured data on their website. 
Some of these details you can indicate with schema and have shown up on Google include:
Medical specialty
Medical procedures 
Medical tests
Insurance/health plan networks accepted
Location
Reviews
Telephone number
Warning: this step is for the tech-savvy because you'll need to adjust the code on your website. 
Do you have a web developer you can trust to do this? 
If not, save this step for later. 
Or, if you're up to it, you can implement it yourself with this step-by-step guide. 
Step 10: Track Your Results and Maintain Growth 
The only way to know if your SEO efforts are paying off is by monitoring your results. Google Analytics and a position tracking tool can help you accomplish this.
With Google Analytics & Call Tracking Tools
Through integration with call tracking tools, Google Analytics keeps track of your campaigns. Through a dynamic phone number, software like Call Tracking Metrics (CTM) can track texts and calls. 
If you want to set up CTM with your Google Analytics account you can follow their guide. 
With a Position Tracking Tool
You can use a position tracking tool to monitor your keyword rankings. You can use any position tracking tool of your preference to make sure your pages are ranking for the right keywords and taking up those top positions. 
Feel free to try out our Position Tracking tool if you don't have one already.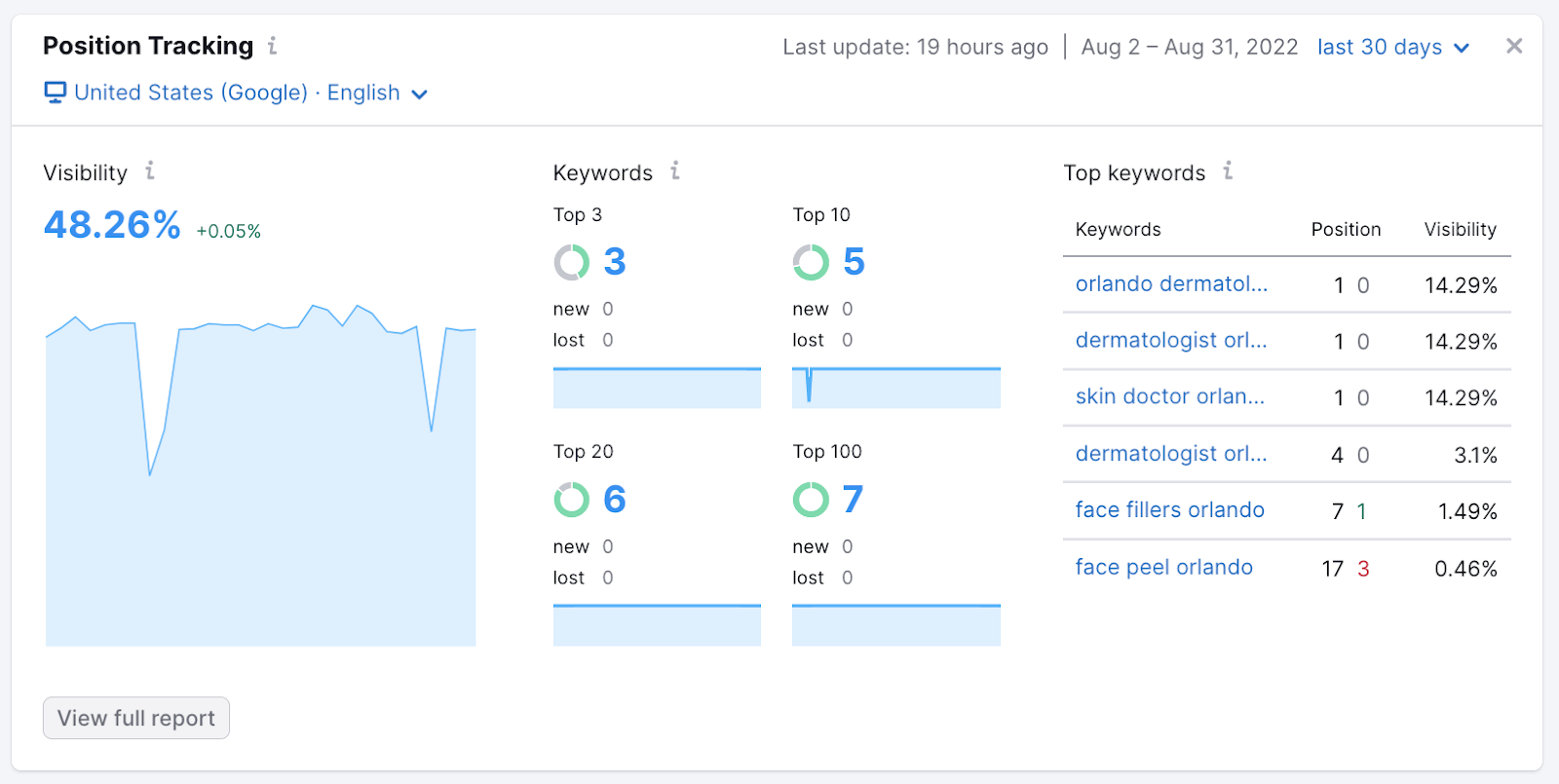 SEO Is a Commitment 
SEO is a continuous process. Although it's a lot of effort up front, the effort you do put in leads to long-term results. With a fully-fledged strategy, that could take 6 to 12 months. We promise it's worth the wait! 
In a competitive field like healthcare, it's a non-negotiable to do everything you can to outrank your competitors. You can't rely on word of mouth or paid ads alone. 
Refer to these nine steps to organically grow your business and maintain it for the future.