We have entered into the age of information overload — advertisements are continually bombarding your customers. They interact with digital ads, social media marketing, email marketing, and tons of other forms of advertising.
In a recent study, nearly 74% of people said that they felt overwhelmed by their emails alone. Plus, consumers see an estimated 11,250 ads each month. Yikes! There is a lot of clutter out there. So you need to get better at making sure your marketing efforts stand out.
Better yet, you need to find a way to stand out and get your customers to act and engage with your content. But how can you do this? I have a solution.
What if I told you that there was a secret weapon you could use to dramatically improve your click-through rates in emails, on social, the SERPs, and more?
You have been using it all along, but likely haven't been using it in your marketing copy.
I am talking about emojis. After all, a picture is worth 1,000 words, isn't it? But you can't just add a few emojis and think it is going to do wonders for your click-through rates. There are tactics you can use to leverage emojis for increased engagement.
I am going to show you how to properly use emojis to maximize your click-through rates and drive your customers to your website. But first, you need to understand why you would even need to use emojis in marketing copy in the first place.
Why Emojis Are the Answer to Your Bad Click-Through Rates
Marketing campaigns can easily miss the mark. You have to determine whether your message, copy, and design are moving your customers to act or if they are performing poorly.
One key metric in understanding the success of your efforts is your click-through rate.
A click-through rate is "the percentage of people who view your ad (impressions) and then actually go on to click the ad (clicks)."
It is an essential indicator of the success of numerous marketing tactics. If you don't measure it, then you need to start. When it comes to email marketing, most marketers agree that increasing click-through rates is one of the most critical objectives.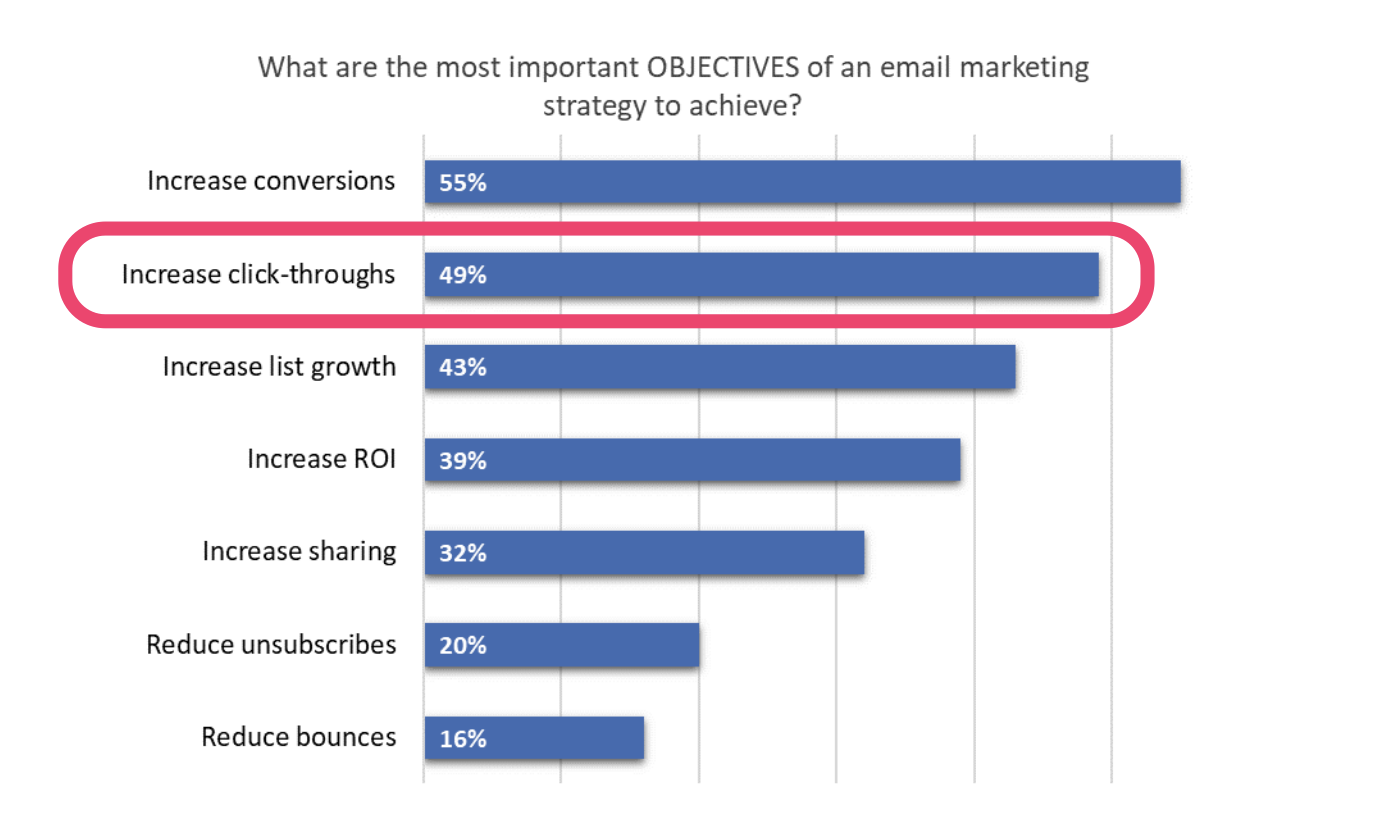 Often, a low click-through rate is an indicator that the campaign isn't resonating with consumers. Maybe the design is bad. Or maybe the messaging is off.
Maybe the targeting is misguided, or maybe your customers are just overwhelmed with all the clutter on the internet.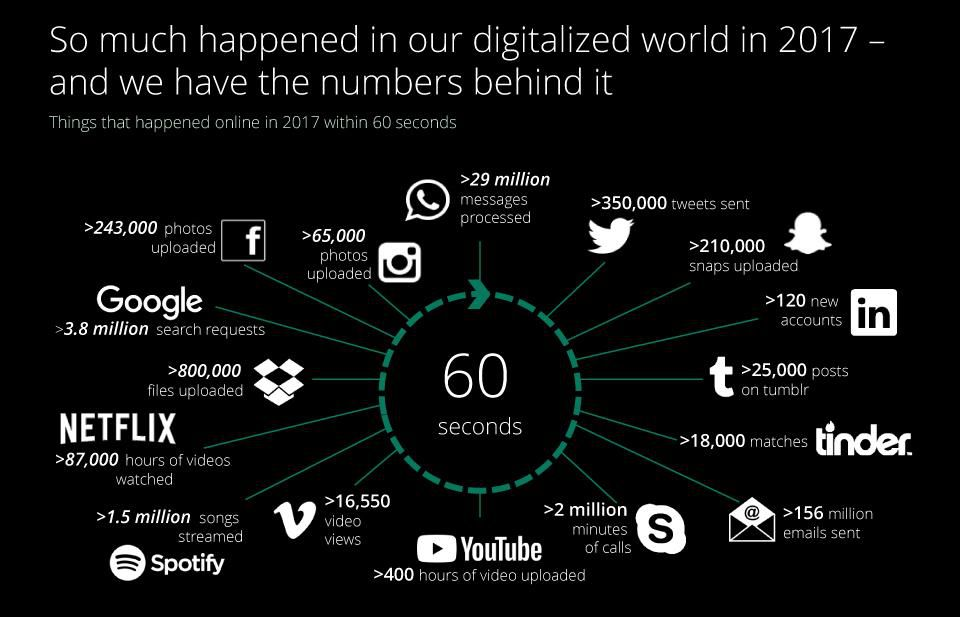 Your job as a marketer is to find out how you can make your campaign stand out from the clutter. And you probably want to humanize your brand to make it more relatable, too.
The Importance of Being "Human"
Brands need to be on the same level of consumers. Studies show that 45% of consumers say that they like "brands that do not take themselves too seriously." This component of your brand is so critical that companies are considering how to make their brands more human from day one. For example, look at Dave. I am not talking about a person.
I am talking about the Fintech company that makes sure you don't pay overdraft fees.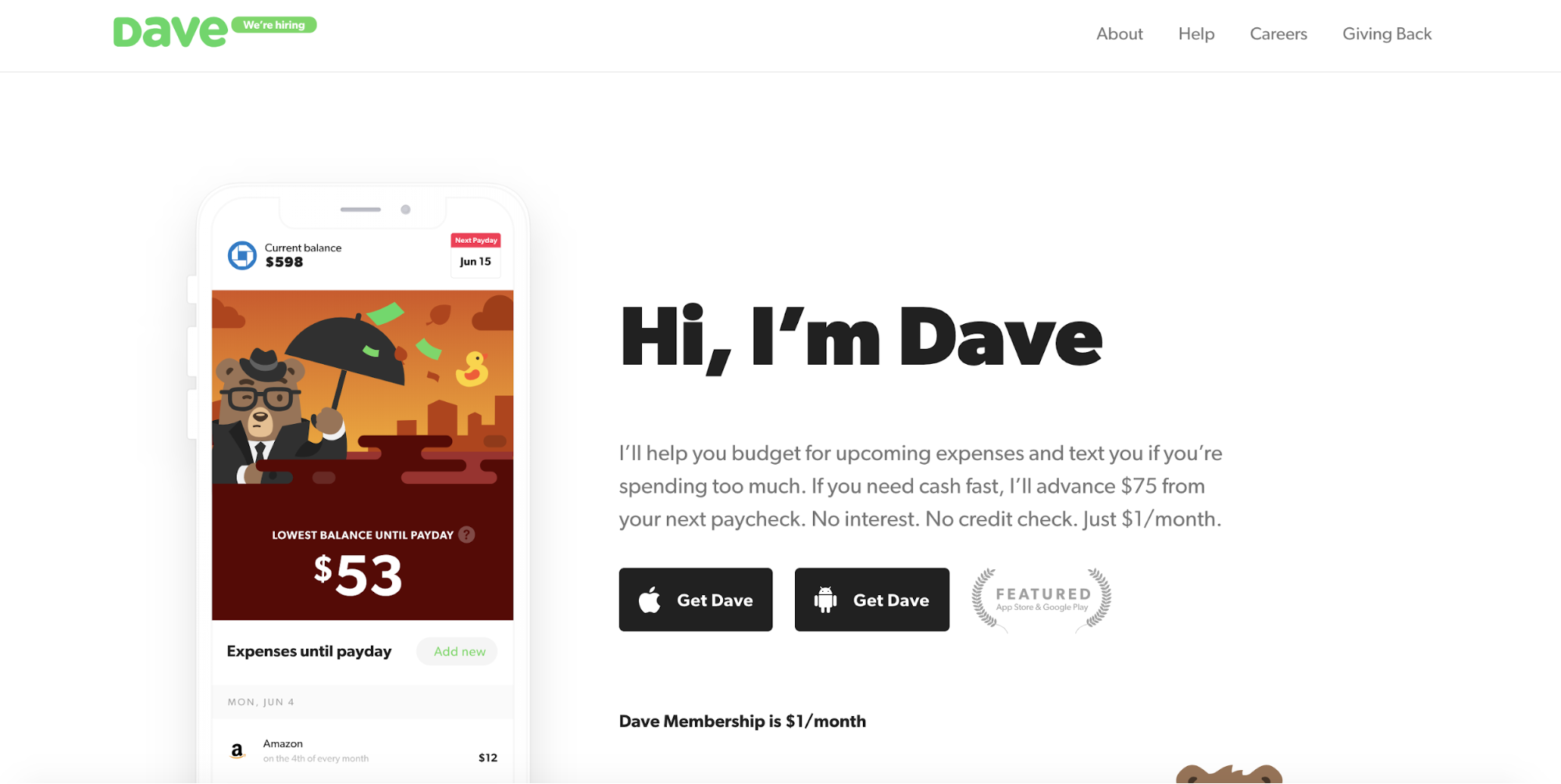 Dave's CEO Jason Wilk said, "We named the company Dave because we wanted people to think of the app as a friend they can turn to when they're in a financial bind."
That is dedication to making the brand feel more humanized. Dave felt that humanizing their brand was so important that they made their company name revolve around that objective. Now, you don't have to go that extreme. But what can you do?
Start with emojis.
Emojis are beginning to replace words more frequently in everyday life, and your brand needs to keep up. According to one study, "68% of millennials said they are more comfortable expressing emotions using images such as emojis."
By making an effort to "speak their language," you will humanize your marketing message to your audience. But which emojis should you use? As of June 2017, there was 2,666 emojis in the Unicode Standard. That is a lot of choices!
A recent study examined which emojis improved click-through rates. The results were a bit surprising.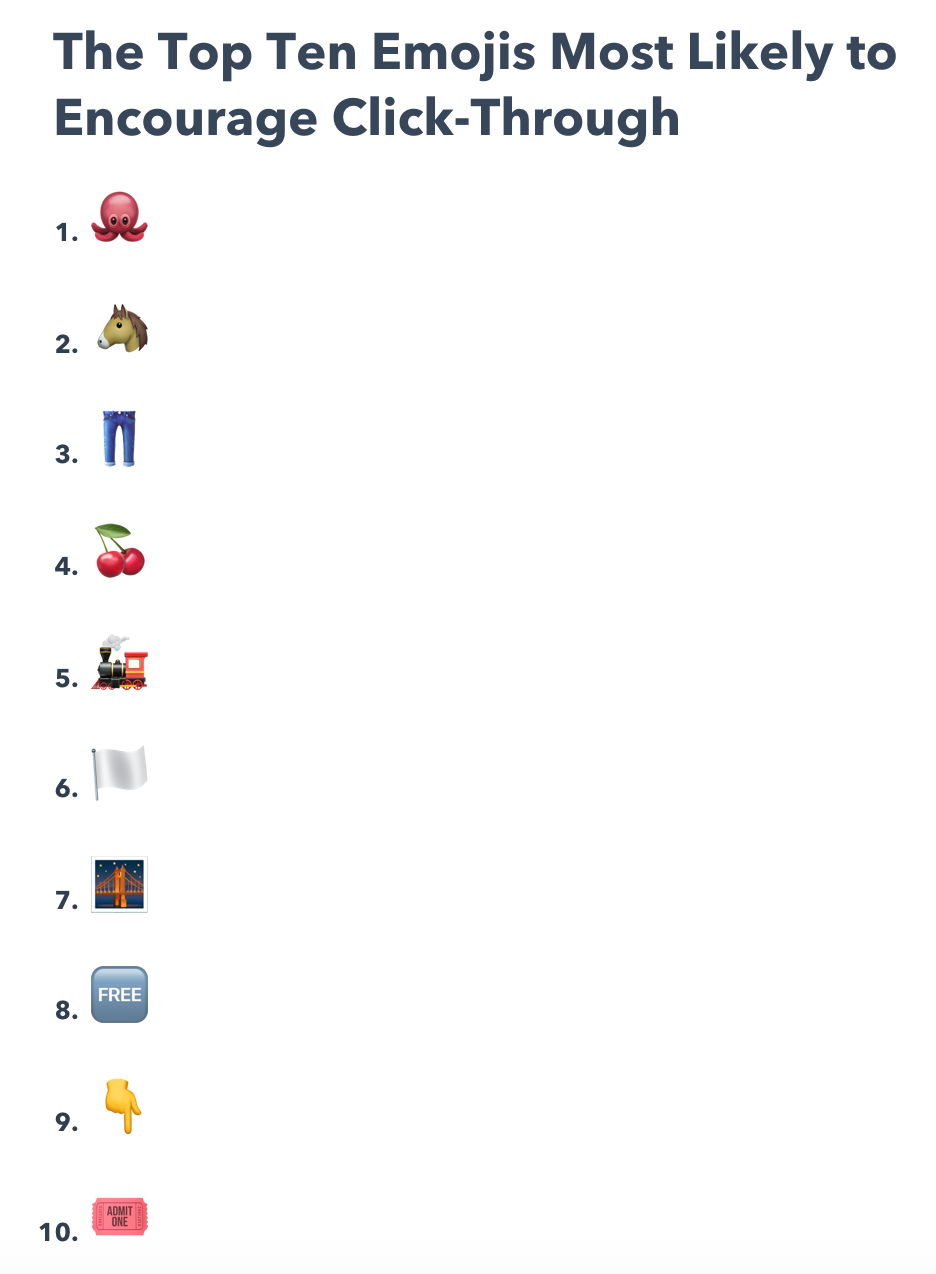 This list might seem completely random at first, but these emojis have one thing in common: None of them are face emojis.
One might think that face emojis would be a common type of emoji that brands would use to increase click-through rates, but the data shows otherwise.
The emojis that have a positive effect on your click-through rates seem a little more uncommon and random. Perhaps they stand out more because people don't see them very often.
Now that you know some of the best emojis to use in your marketing campaigns, you need to focus on how you should use them.
Add Emojis to Subject Lines and Body Text in Email Campaigns
Internet users send and receive approximately 269 billion emails each day. Let that sink in.
Now, think about your email marketing campaigns. That's a lot of mailbox competition. Should you abandon your email marketing strategy due to all the clutter?
No. Approximately 44% of consumers prefer email as the digital marketing platform for brand interaction. It is vital to your success. But with so much competition, it is easy for your audience to disregard your campaigns.
Even worse, you might successfully deliver your emails to your audience and get them to read it without moving them to act. One study examined the actions consumers take after they receive an email, and the results were surprising.
In this study, more than half didn't do anything at all.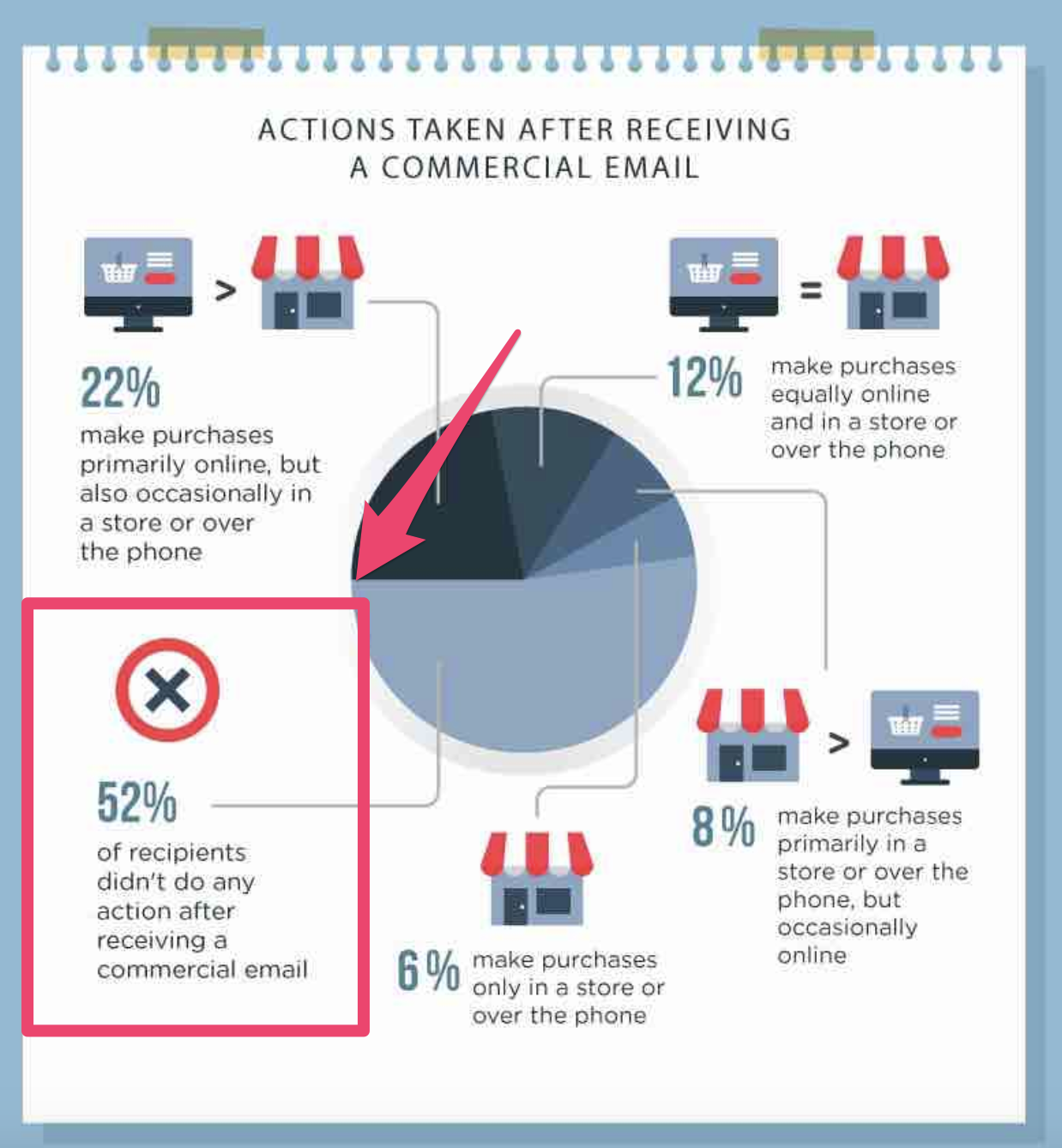 You invested time and money in setting up and designing the campaign, and nothing came from it. So how do you evoke a response from your customers? Try making a simple change: Use emojis.
To examine their effect, you should make sure you have a baseline understanding of your open rates and click-through rates to benchmark against your progress. While it would be easier if there were a one-size-fits-all open and click-through rate standard, these rates often vary from industry to industry.
Here is Constant Contact's list of industry standards for open rates and click-through rates: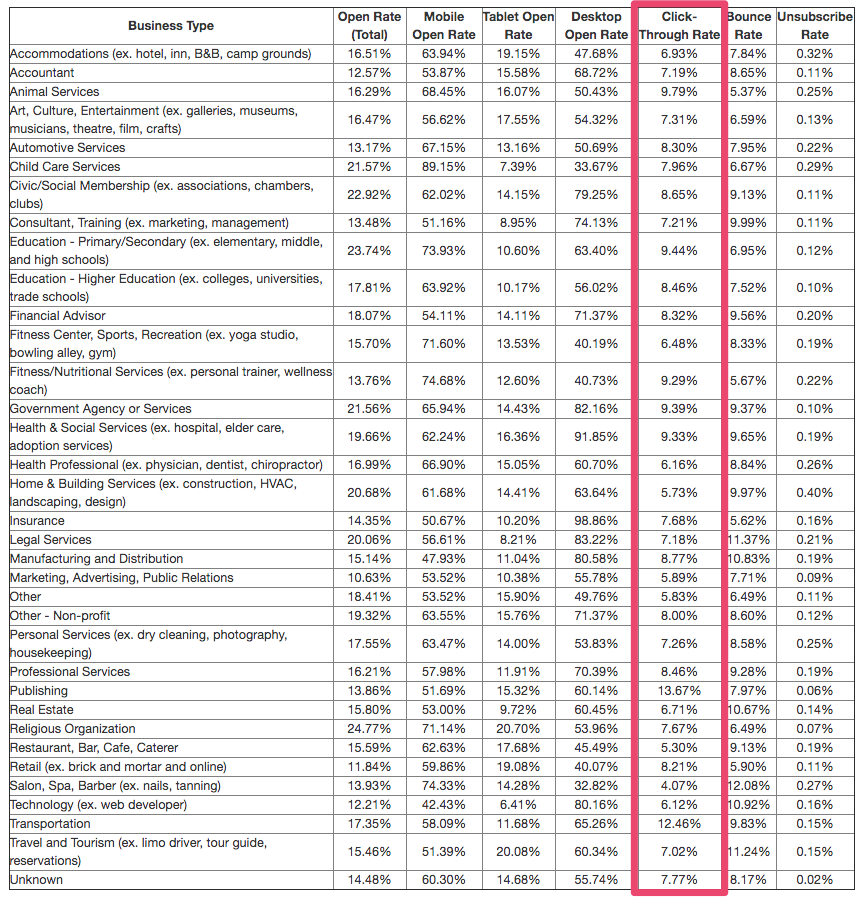 Are your open rates or click-through rates below average? If so, don't fret. Once you start tracking CTR, you can begin improving them. And the strategic use of emojis is the way to improve these numbers.
Research shows that emojis will help not only your open-rates but also your click-through rates. A study examined the use of emojis in two separate holiday campaigns: Valentine's Day and Father's Day.
For Valentine's Day, the study found that using a "lips" emoji in the subject line resulted in a 24% read rate and an 89% inbox placement vs. the text-only group which only achieved a 20% read rate and an 83% inbox placement.
For Father's Day, the study examined the impact of adding a "wrench" emoji to the subject line. It found that the read rate with the wrench increased by 1% and the inbox placement increased by 8% compared to the text-only control.
These aren't anomalies. You should be using emojis in your campaigns. Be careful, though. Not all email providers display emojis correctly.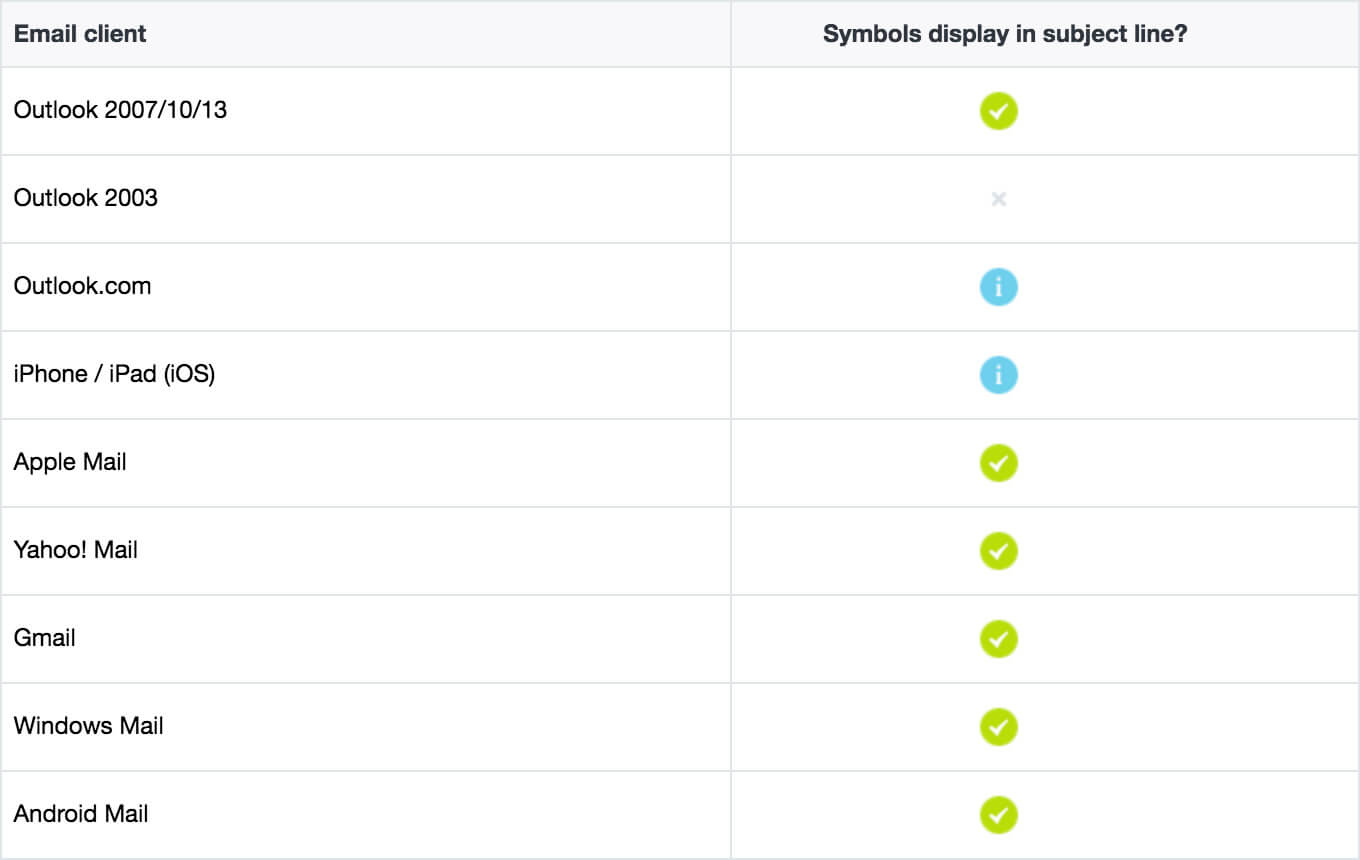 Though this is mostly out of your control, it is still something to which you should be aware. Also, if you are using Gmail, avoid using their emoji picker. It could result in a small, unappealing square rather than an actual emoji.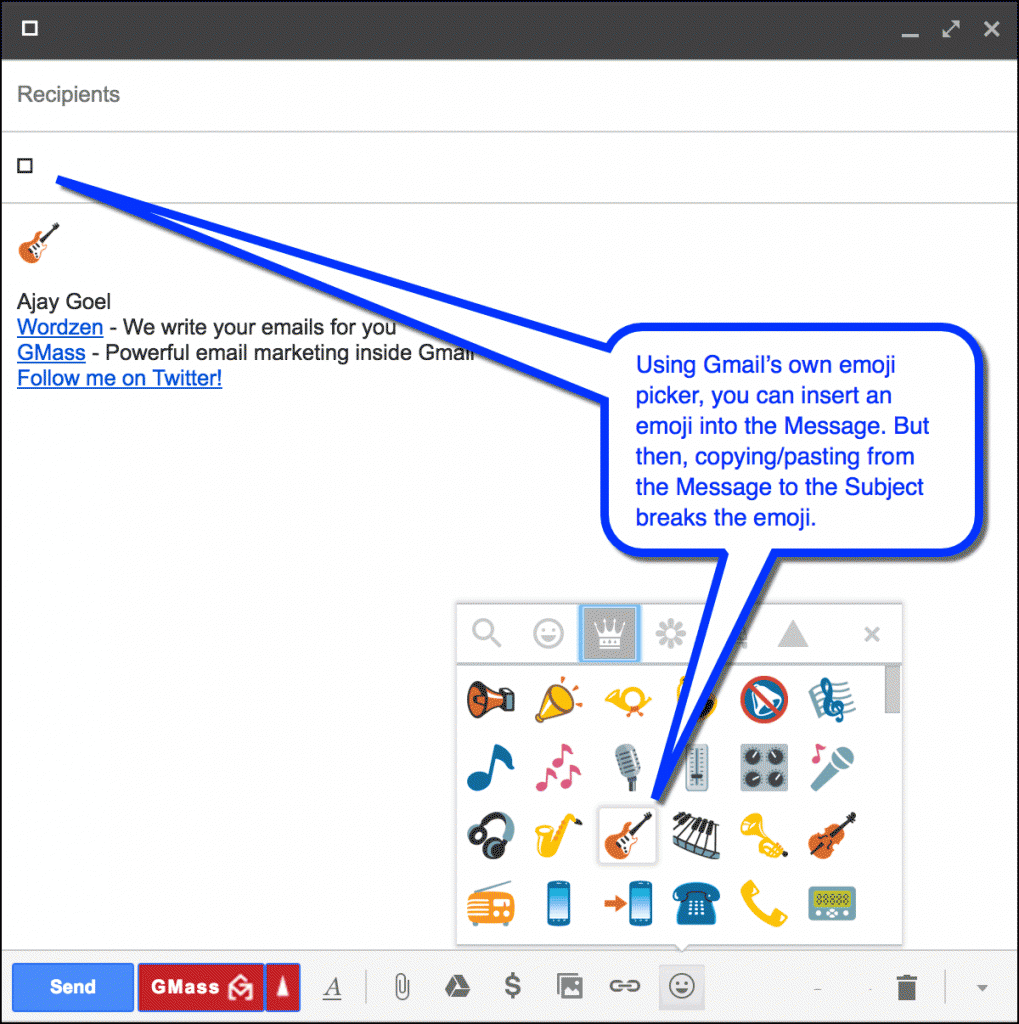 But despite potential compatibility issues, it is still beneficial to add emojis to your email marketing campaigns. You should, however, consider your audience.
Emojis in marketing resonate better with more of a millennial-focused audience since millennials use them often in daily life. Earlier, we saw that 68% of millennials prefer to express their emotions using emojis and other images. However, that same study found that only 37% of people over the age of 65 feel the same way. As always, your audience matters.
Here is the bottom line: Using emojis is generally a good idea. But before you decide to use them, be sure to consider your target audience.
Now, let's return to the discussion about which emojis you should use. Even though I have already shown you the top ten emojis for improved click-through rates, you still might be wondering which one you should use.
It is different for every brand. You need to test and optimize with multiple emojis in subject lines and text variants in your copy to see which works well for your brand. Depending on your email marketing software, you can likely test copy variations with a simple A/B test.
A/B testing sends out two versions of your email with two different subjects (or different body copy) to a sample audience from your list to see which performs better. 
Platforms like HubSpot, MailChimp, and Constant Contact support this functionality.
How to Use Emojis in Email Campaigns
There are numerous ways to use an emoji in subject lines and email copy. I am going to outline a few of my favorites.
First, look how well the colorful emojis stand out in a sample Gmail inbox. Umbel, a data technology company that helps sports and entertainment organizations understand who their fans are, used emojis in their subject line because they were running short on space.

Umbel's use of the basketball, soccer ball, musical note, football, hockey stick, and baseball emojis relays a comprehensive list of the types which sports fans can utilize. Since email subject lines limit the number of characters that recipients can see, emojis are a savvy way to make the most of your space.
You can replace words with their corresponding emojis to quickly share information. Plus, once you open the email, the emojis stand out even more.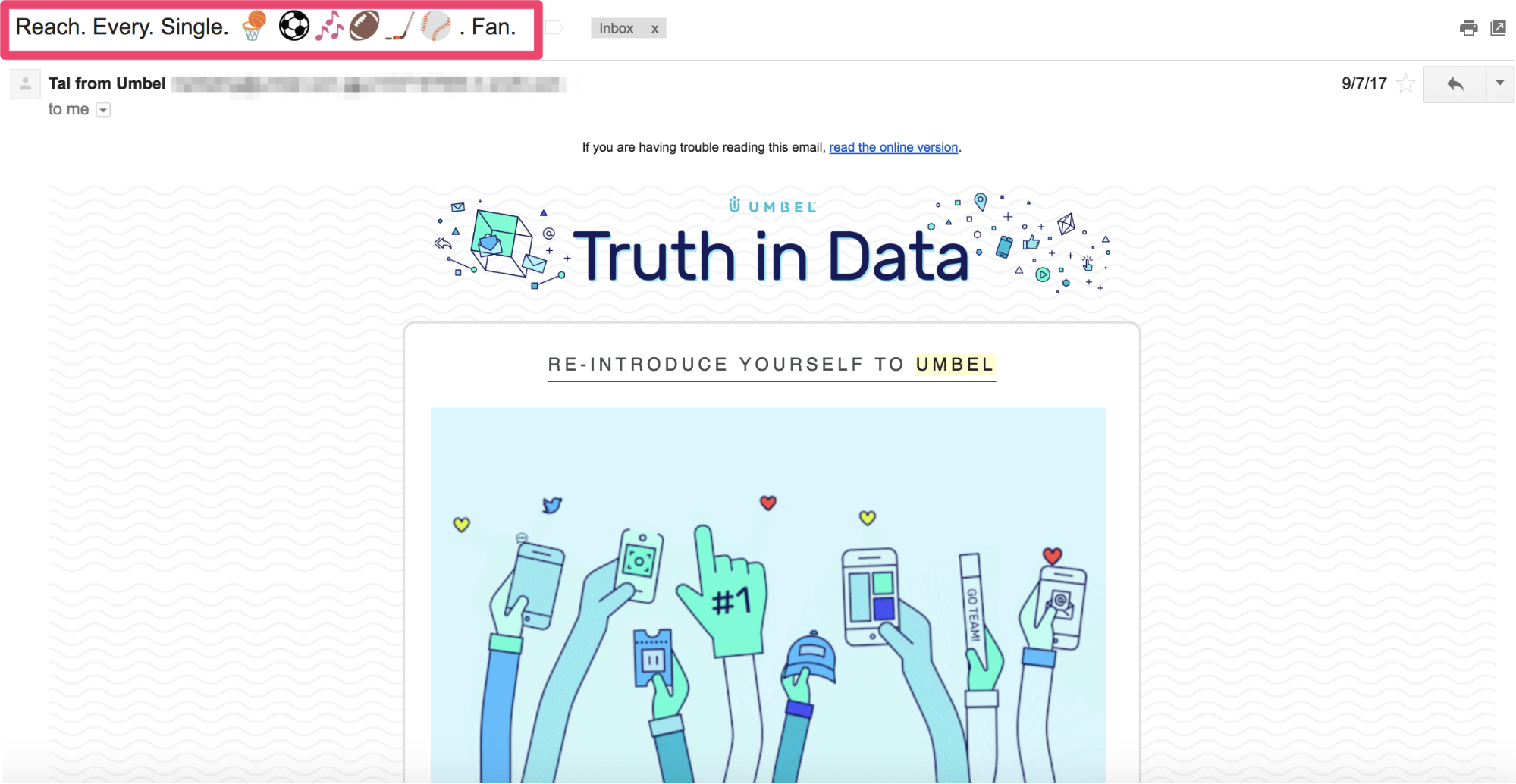 An email from ModCloth shows us another effective way to use emojis. They used emojis to tie together relevant content. Their National Cat Day email outlined their "purr-fect picks" for their audience.
Their subject line playfully read, "So good, we 'cat' even." Then, it included a cat emoji at the end. This cat emoji acted as an accent that tied together the subject line to the theme of the email. Plus, it drew users' eyes to the email.
Look at how it appears in an inbox:
Once a recipient clicks on it, the email opens to show more cat photos with a promotional offer of 25% off.
And the running company On used a cloud emoji to draw attention to their email. The cloud is relevant to their brand because they sell lightweight running shoes that make you feel as if you're running on a cloud.
Unlike the previous examples, their emoji starts off the subject line. The subject reads, "Up until June 9th: Try a pair of Ons for 30 days."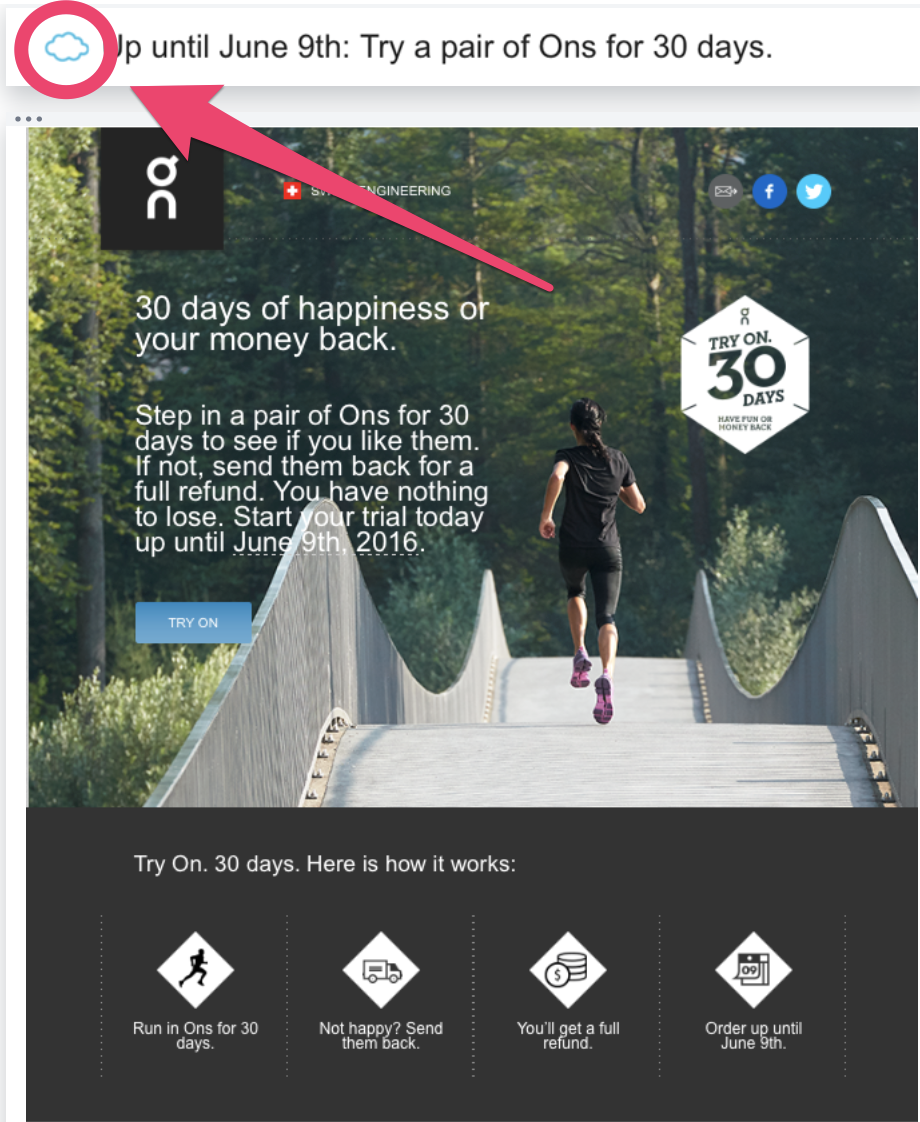 As these examples show, the simple act of inserting an emoji in an email can have a dramatic effect on readers.
Use Emojis in a Social Media Ad Campaign Header and Body Copy
Social media is another great medium to use emojis. After all, emojis can relay emotional feelings. Research shows that posts with emotional content achieve a further reach and can have more of an impact on your marketing efforts.
But it is important to know that the tactic of including emojis in your social media posts isn't exactly new. Facebook users send a total of 60 million emojis every single day.
As with any form of marketing, though, you should understand the click-through rate industry averages before you set your goal and begin working toward it.
Here are the average click-through rates (by industry) for Facebook: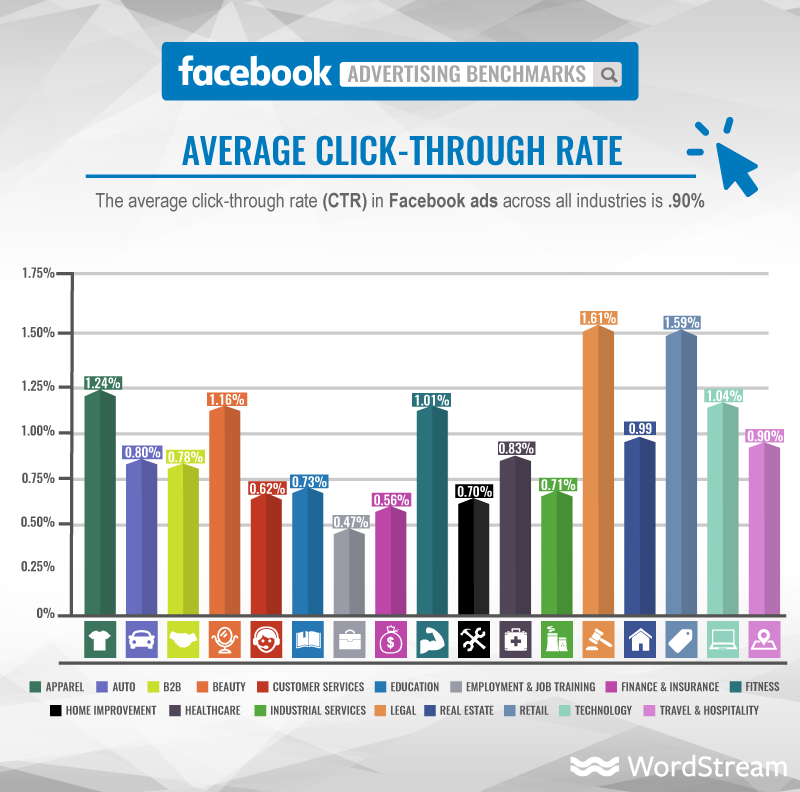 As you can see, the legal and retail industries typically have the highest click-through rates (1.59-1.61%), and the employment and job training industry generally has the lowest (0.47%).
Let's take a step back and examine the broad social media ecosystem. Here are the average click-through rates by social media channel: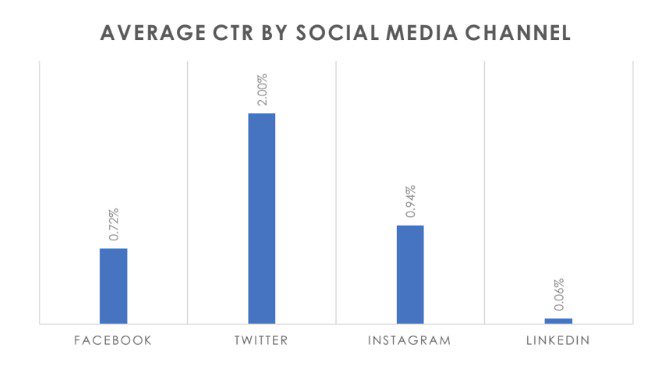 Now that you have an average to aim for, you can begin placing emojis into your social media content strategy, inserting them into posts and ad campaigns. For example, take a look at what Scoro did with their A/B emoji headline test.
They tested two ads with just one minor change: the second had a small flag emoji in the headline. At first glance, you might even miss it. But many people didn't, and the numbers don't lie.
Don't believe me yet? Well, let's look at some more data.
Recently, the Daily Mail conducted an expansive study examining the top posts that included an emoji vs. those that didn't have an emoji. A total of 28 of the top 100 news posts on Facebook came from the Daily Mail. Upon further examination, they found that 21 of those contained at least one emoji.
The Daily Mail also examined all their posts from November 2017 and found that 68% of their top 200 posts included an emoji.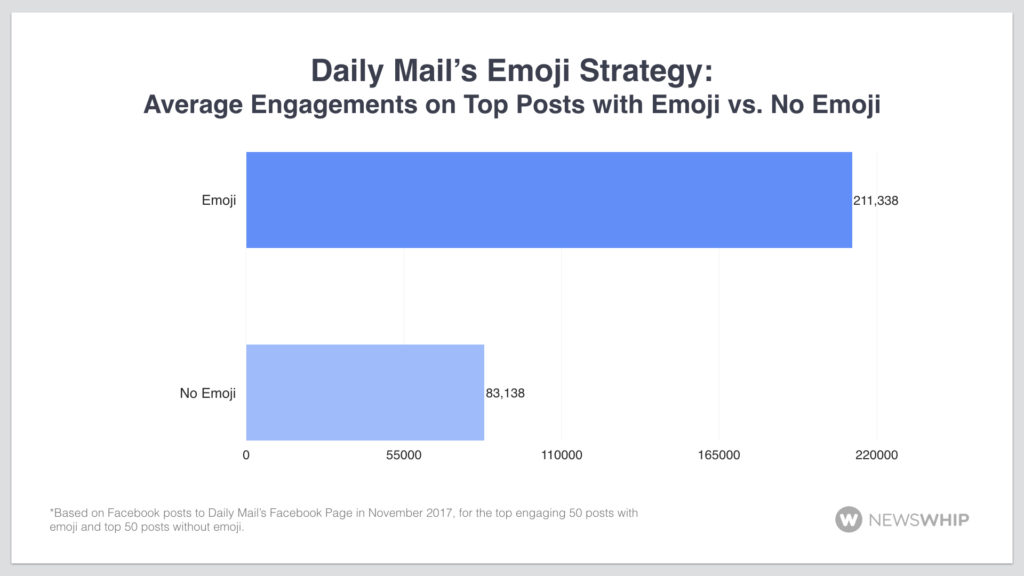 But what about emoji use on Twitter? Is that beneficial? Absolutely. In fact, Twitter upgraded its advanced search options to include the ability to search by emoji.
And the Emojipedia account celebrated this monumental moment: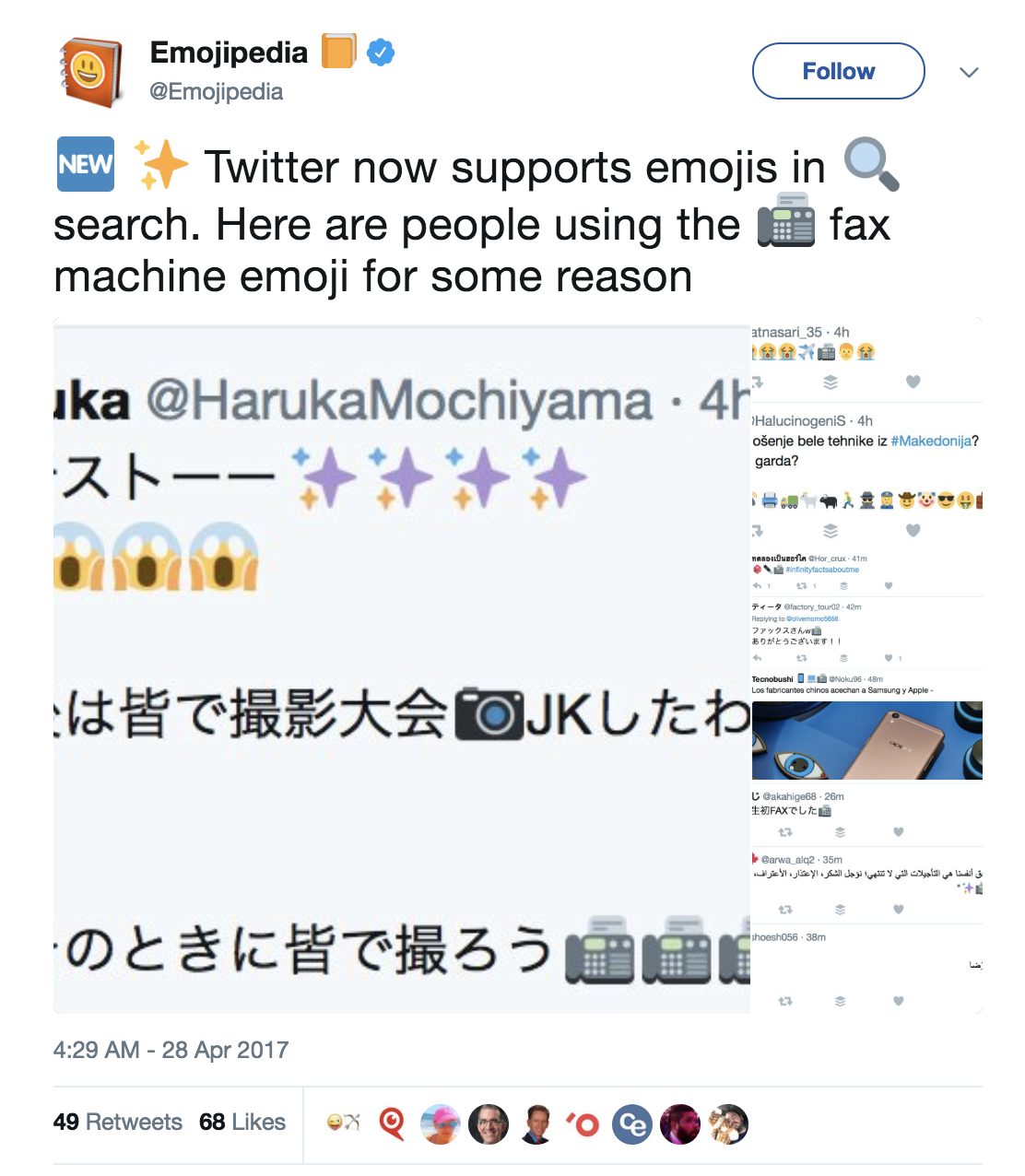 How to Use Emojis on Social Media
We have touched on a few different ways to maximize your emoji use for increased results, but I want to showcase a few more ideas that you can add to your bag of tricks.
To easily add emojis to a post, you can copy and paste them off of a variety of sites. One example is Piliapp, which will also aggregate and show your most frequently used emojis.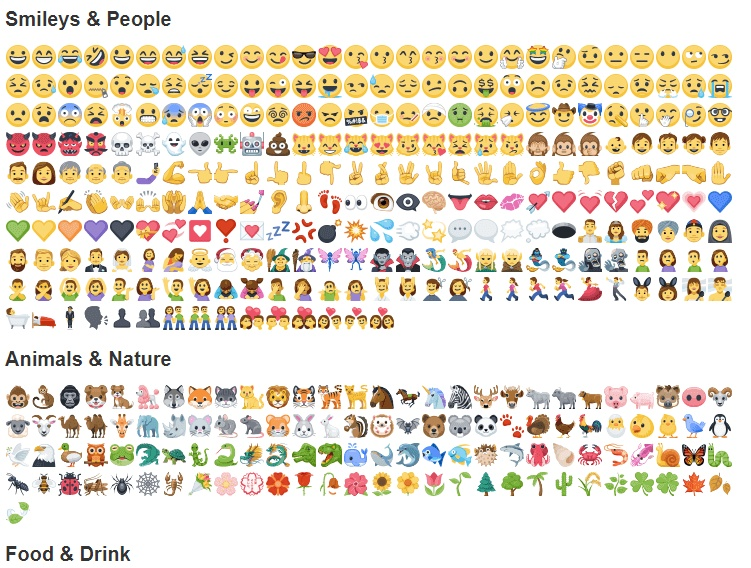 Blue Apron's Twitter Ad is an incredible example of proper emoji use. The company used emojis similar to using bullet points. Each emoji tied in directly to what the bullet point was describing.
Look at how the color of the emojis and the way the post is formatted grabs your attention.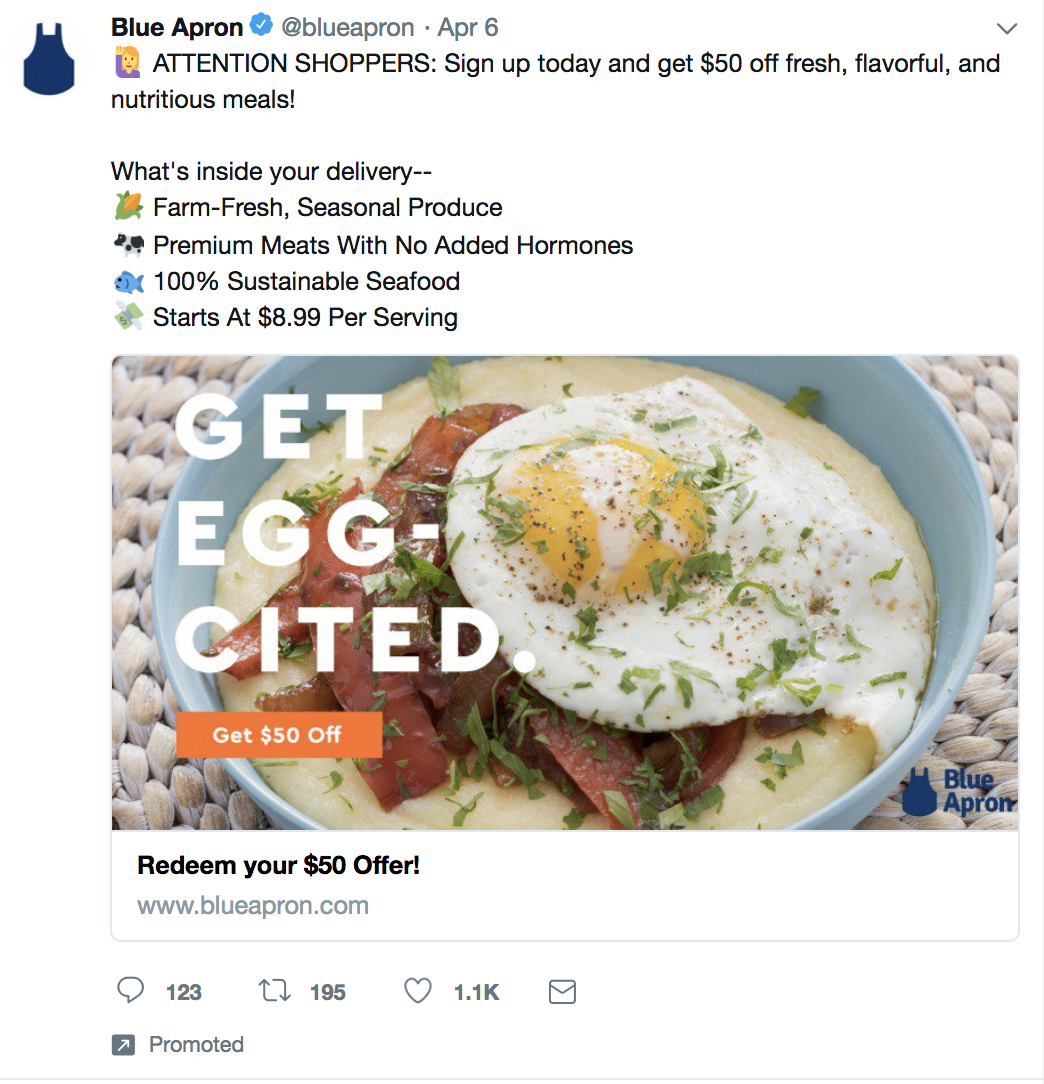 The social media platform Rapchat used emojis to emphasize their call-to-action.  In this post, look at which emojis they used. (Earlier in the article, I mentioned how the downward pointing finger is one of the top ten emojis for higher click-through rates.)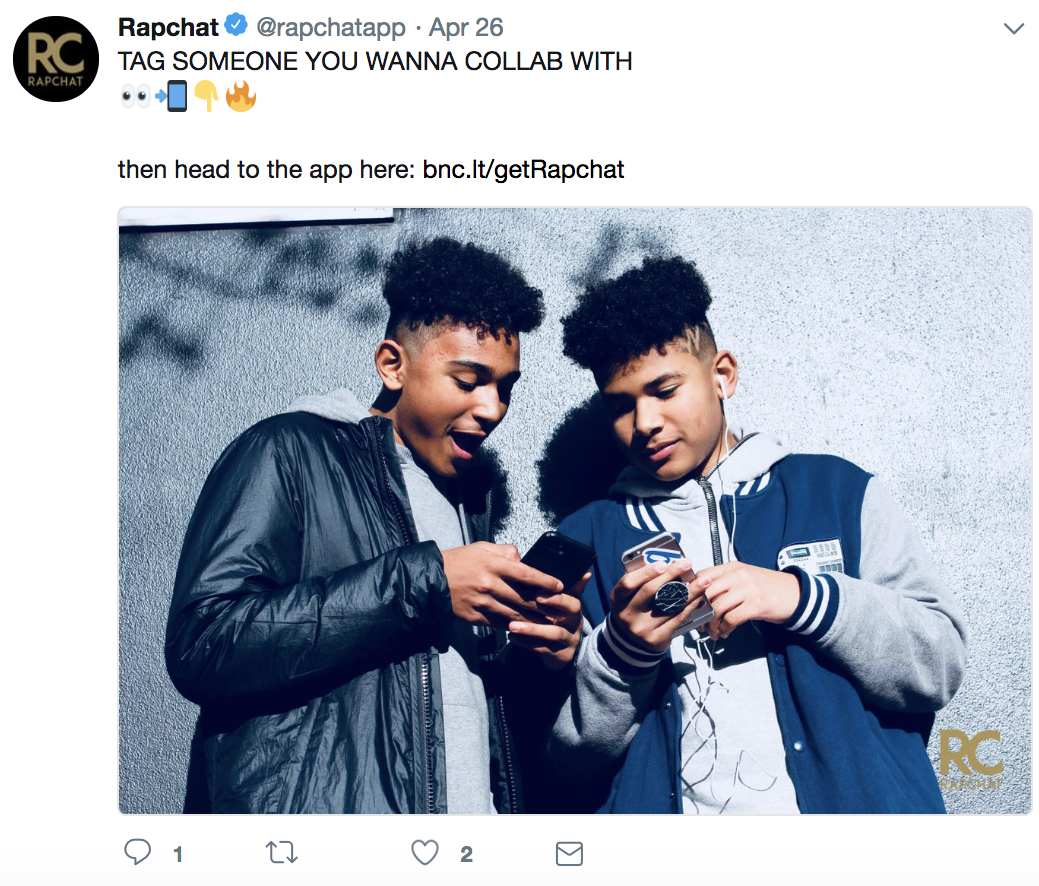 Emojis give off a "native feel" on social media since people use them on those platforms so frequently. You will stand out from other businesses, but also feel like you are a part of the conversation in the social media ecosystem.
Use Emojis in Your Meta Titles
You heard me right. You can now display emojis in your listings on a SERP. Google went back and forth on whether or not they would allow emojis in search results.
They introduced it, took it away, and now it seems that they have brought it back.

Emojis will now appear in snippets that are " relevant, useful, and fun." Obviously, emojis in any title will draw attention on a SERP. But emojis in this context play an even more powerful role.
Much like Twitter's emoji search function, Google came onboard as well and allows you to gather results based on a single emoji. After searching for a simple fry emoji, Google was able to pull the following results: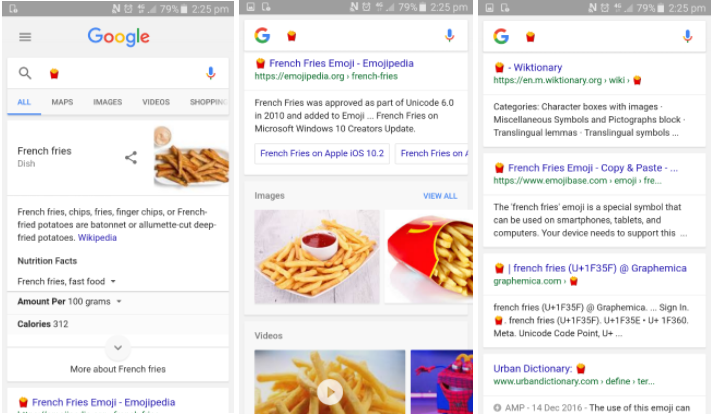 It is interesting if you take a closer look. Not all of the results include the emoji that you searched.
For example, look at the SERP for the dog emoji.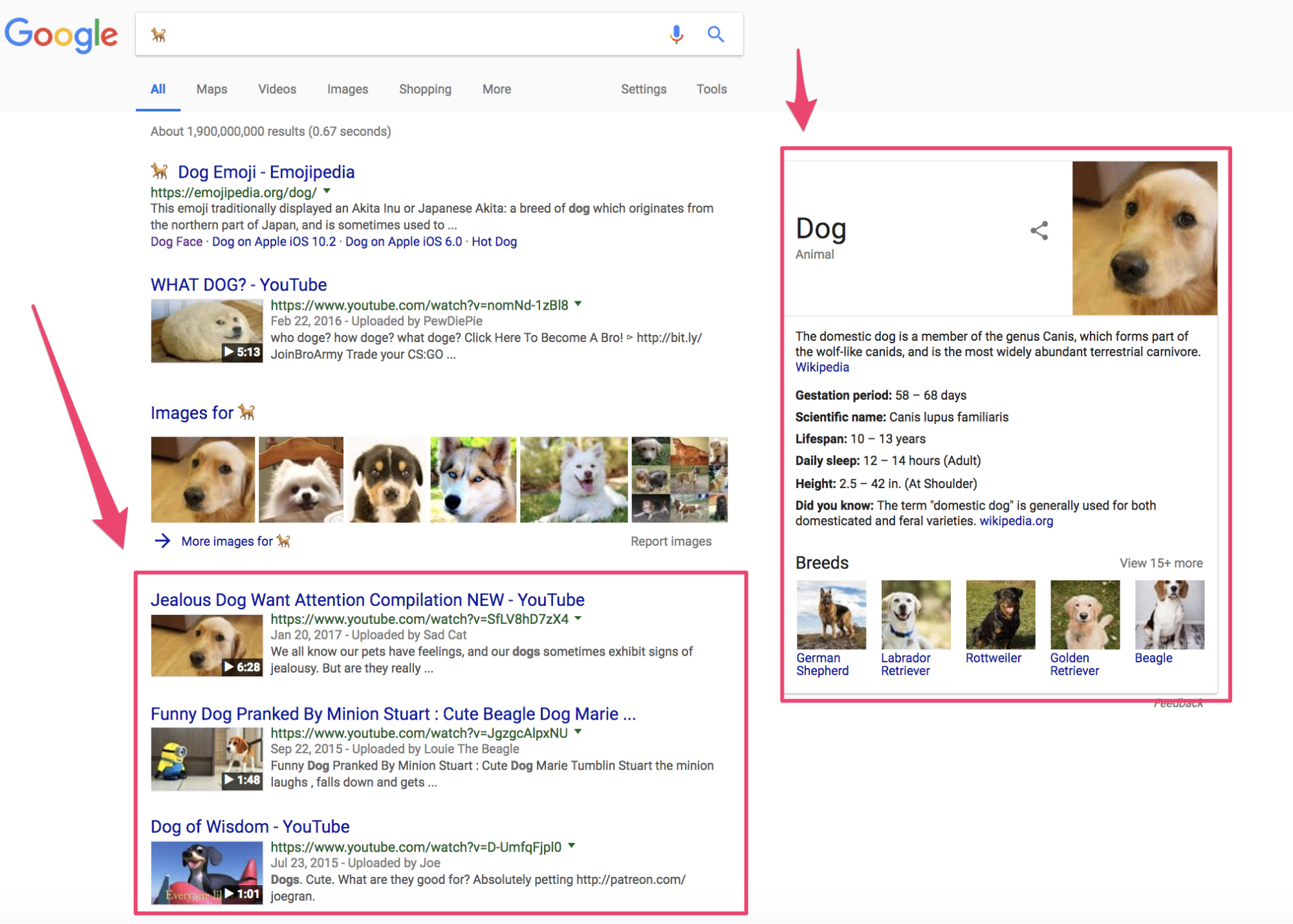 The first result contains the emoji in the page title, but the others do not.
Google is interpreting what you are asking for and providing a variety of relevant results, not just the results which have that specific emoji in it. Since emojis are indexed into Google's search results, Google took things one step further to help you find what you're looking for nearby.
You can Tweet @Google an emoji and add #KnowNearby to find options near you.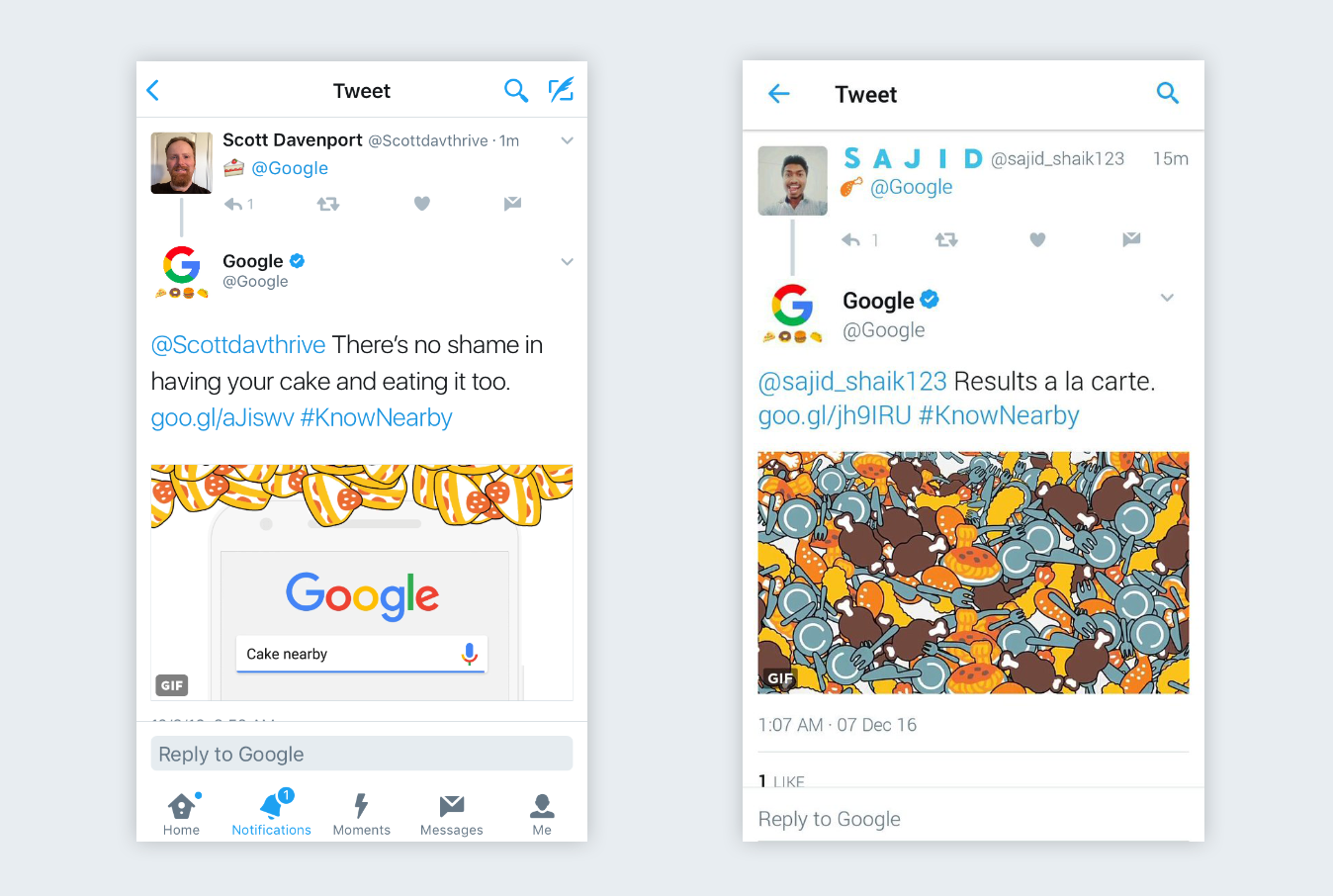 These functions are a game changer.
But to better stand out, you need to understand which emojis used more frequently in SERPs. A study found that the check mark emoji appears the most on descriptions and titles on SERPs, but there are other common ones, too.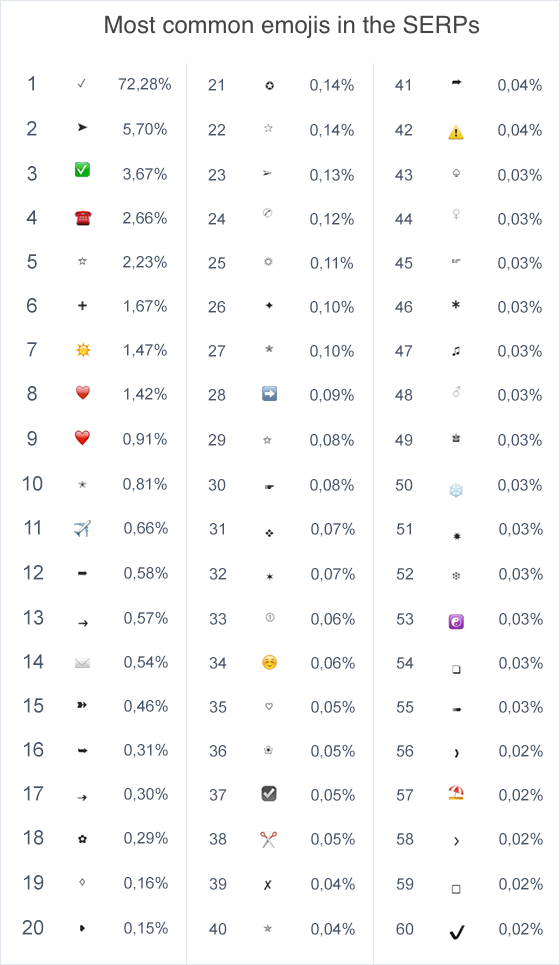 Keep in mind that the emojis aren't just drawing attention to the post and encouraging the reader to click. They are served as a way of making your posts indexed and readily available for your consumers.
Include Emojis on Your Push Notifications
You know that feeling you get when your phone lights up? You immediately look down and see a text or a notification. If it is something important, you will probably look at it immediately. But if it isn't, you disregard it and go back to what you are doing.
So, how can you entice consumers to interact with notifications you're sending out? Air Tailor uses emojis in their welcome messages. It is one factor that has helped them grow their business by over 100% each year.

If you have a mobile app or if you focus on mobile marketing, using emojis in your push notifications can have a massive boost in your click-through rates and in-app time.
For example, the company MobilityWare used an A/B test on their push notifications. One notification included an emoji, and the other omitted it. The result? The push notification with an emoji had a 9% increase in users who clicked the call-to-action.
NotifyVisitors ran a test with the same criteria. They concluded that push notifications with emojis drive a higher CTR and perform better than push notifications with only images.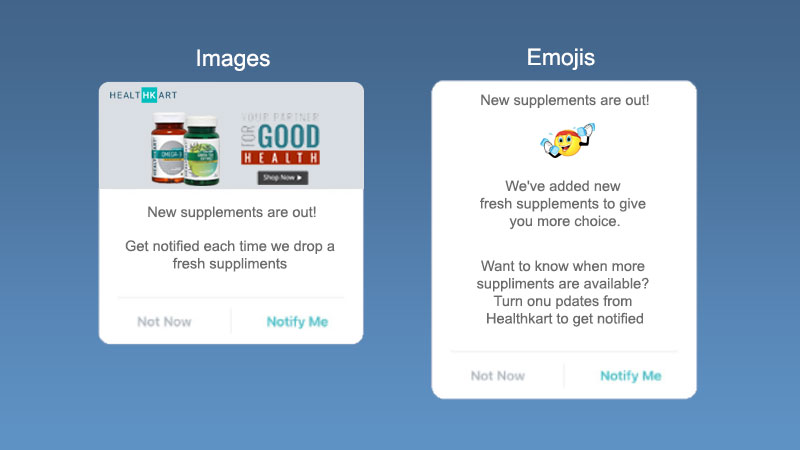 What intrigues me the most is the fact that out of all of these strategies— email marketing, social media, and now push notifications — emojis have the most significant impact on push notification CTRs.
Another study by CleverTap found that there was an " average uplift of 124% on CTRs for notifications that used emojis." That is not a small percent. It is a vast improvement in their campaign.
How to Use Emojis on Push Notifications
If you don't have a way to send push notifications yet, I recommend Urban Airship. First, visit their homepage and set up an account. Click "Get Started" in the top right-hand corner and enter your email address. Then click, "Start Free" and confirm your account.
Next, "Choose your adventure." If you've already made your app, select "Integrate Urban Airship with Your App."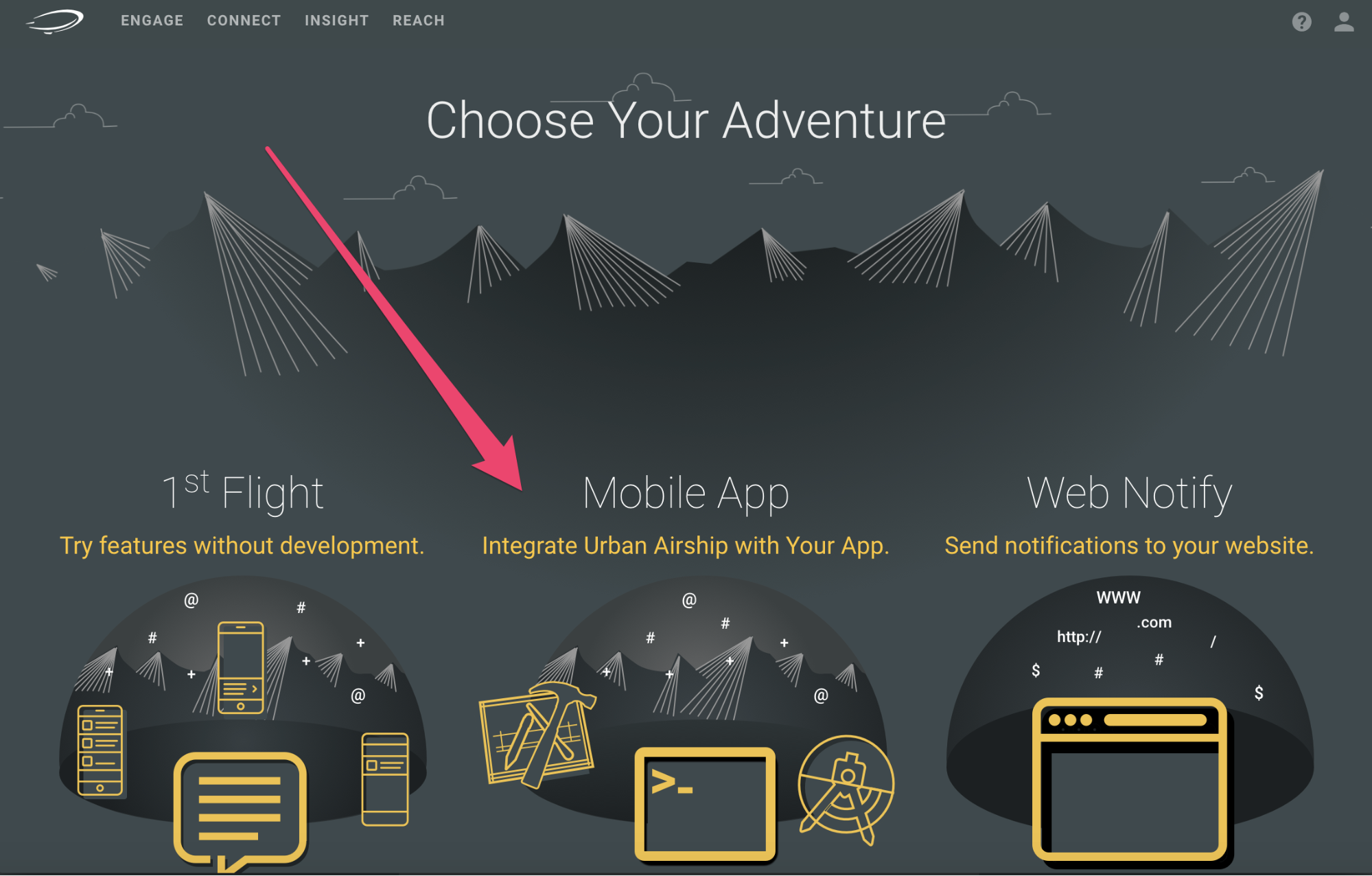 Next, name your project, select the platforms it will be on and the environment. Finally, hit "Create project."
Now, you will have to add your app's certificate password and upload the certificate. Click "Save Certificate." From there, you will select your preferred method for installing Urban Airship's SDK and then continue to the overview.
Once connected, you will have access to your dashboard. Select "All Devices" and then click "Content."
From there, you can select "Push Notification" and click "Next."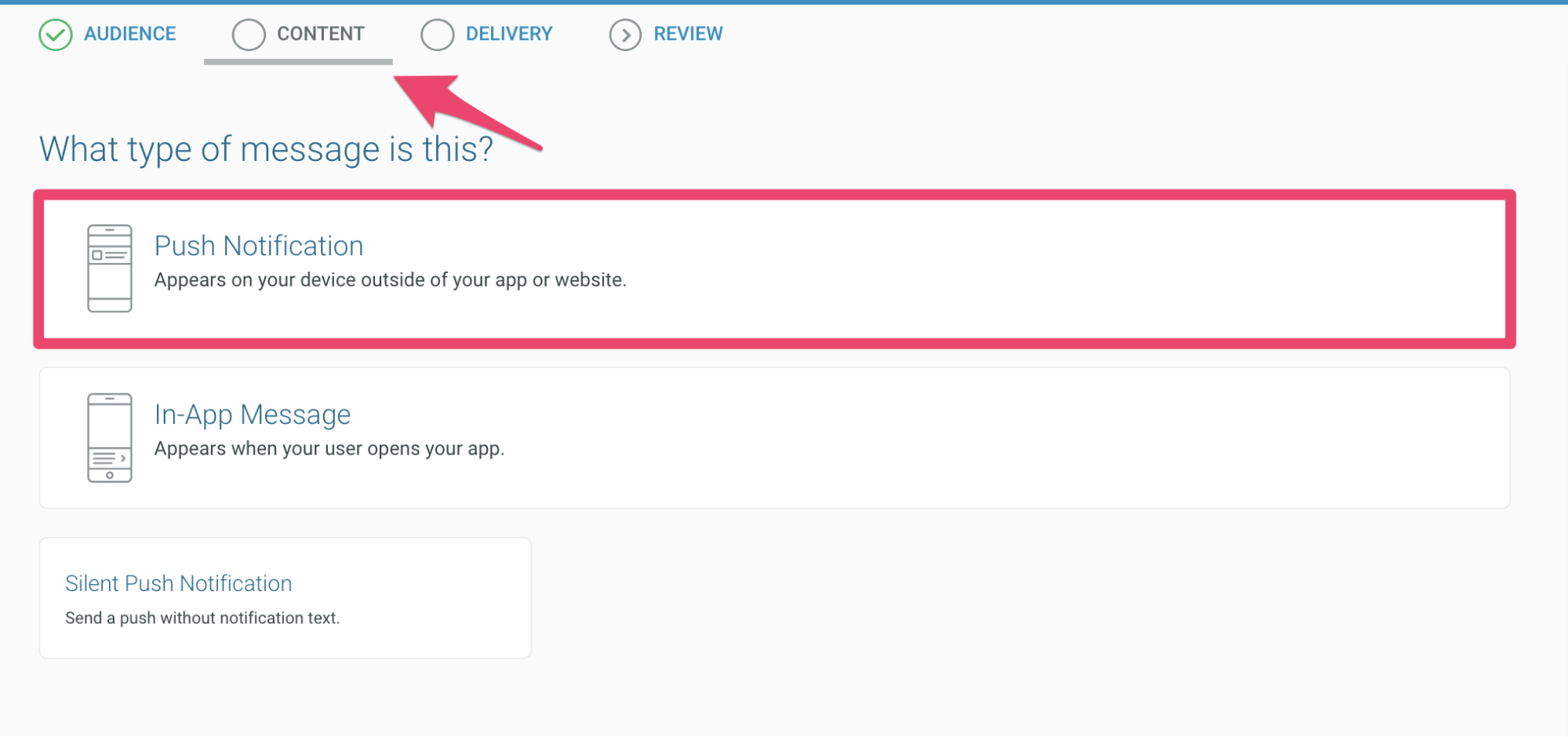 After selecting "Next," a "Push Notification Text" box will appear. Add your text and don't forget an emoji!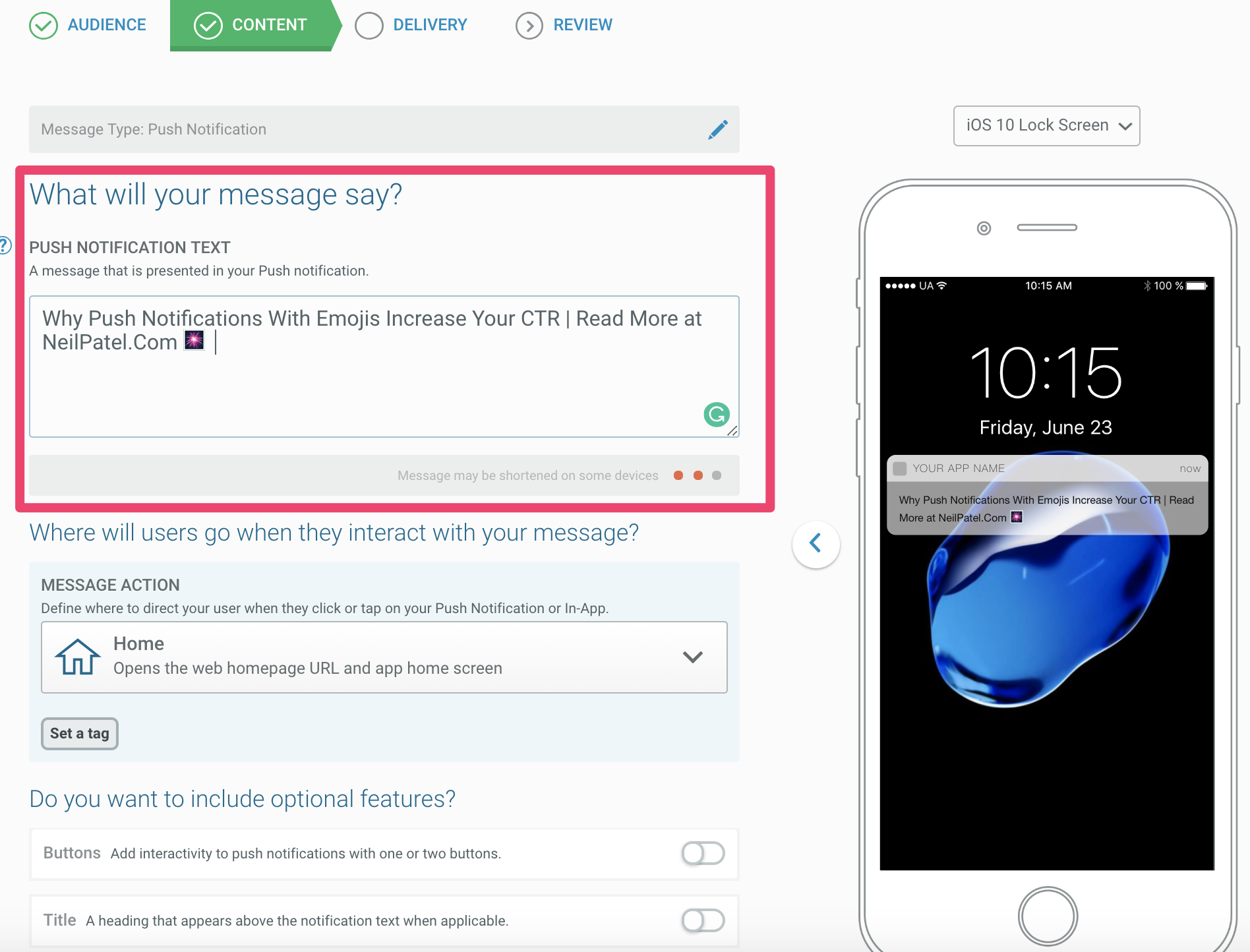 Then, navigate to "Delivery."
You can schedule a time for the notification to send, or you can send it immediately. After you select one of those options, click "Review."
Finally, you have the chance to review all the preceding information, and then you can click "Send Message."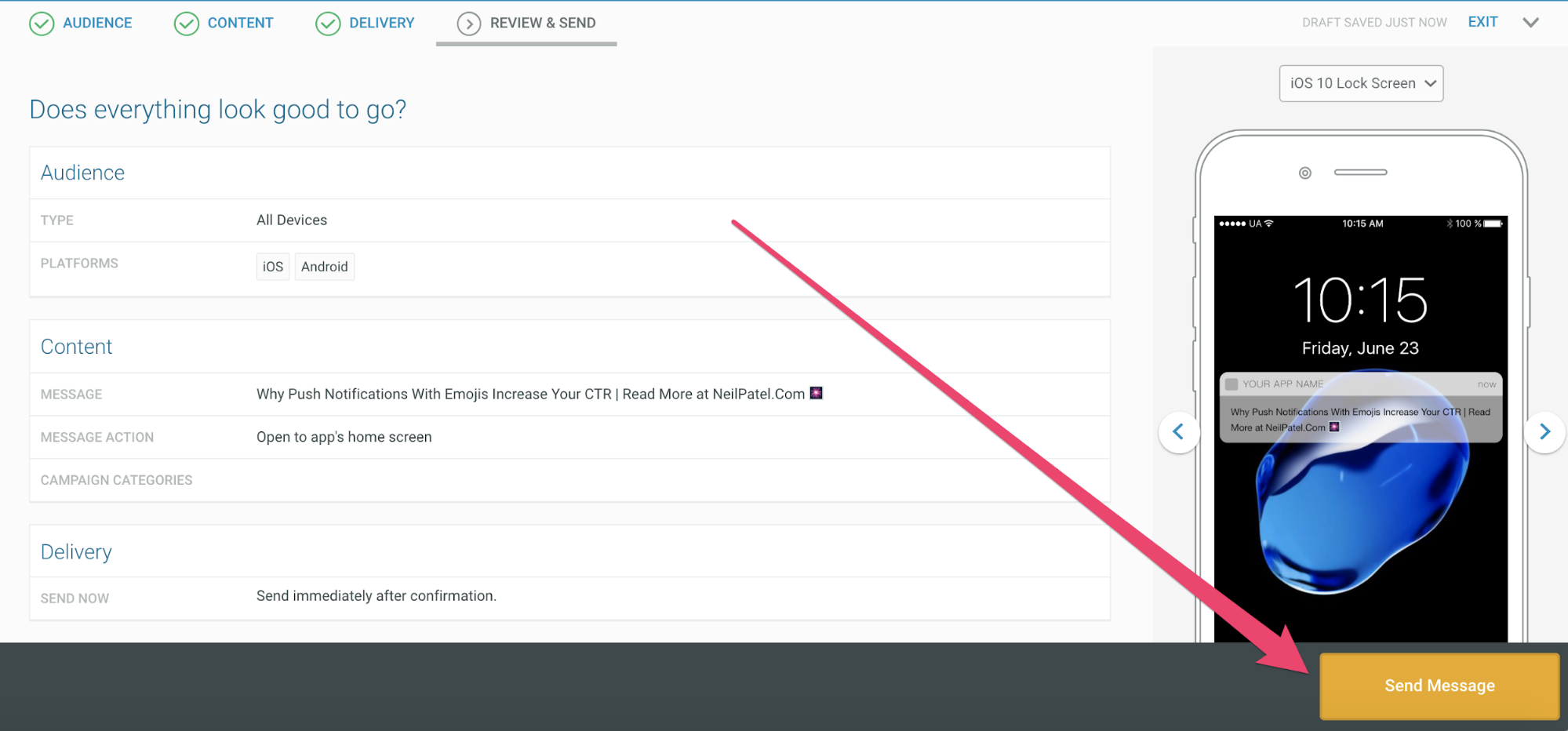 The message will now appear for users who have push notifications enabled on their phones.
Here are a few examples of actual push notification strategies that brands have previously used. First, QuizUp used a push notification to give away pizza. The notification ended with a pizza emoji.

The emoji doesn't convey any unique information to the notification. It merely reinforces the word "pizza," written in text. But it does add emphasis and could help grab the reader's attention.
CBS Sports used emojis to help categorize their content. Since CBS Sports covers many different sports, they added a baseball emoji to the start of one of their notifications to quickly identify the subject.

This can be especially useful if your business has different verticals. And look at how Buttery used emojis in place of words to simplify one of their notifications.
You only have so much real estate on such a small screen, so using emojis in place of words can be economical and worthwhile. Their playful equation relays way more information than typing out each word ever would.
Conclusion
How will you make your marketing messages stand out to consumers amongst all the competition?
To give yourself an advantage, use emojis. By using emojis, you can draw attention to your message and make your brand seem more "human," thereby attracting your target audience in and also increasing your click-through rates.
But don't just use them aimlessly. Make sure you deploy the right ones that are proven to increase your click-through rate. And be strategic, too.
Use emojis to make your emails stand out by including them in your subject headers. Add them to your social media campaigns to relate and showcase your brand's playful side on social media. Include them in your push notifications where space is tight. Try this simple approach to increase your click-through rates quickly.
How will you leverage emojis to increase your click-through rate?