The number of small businesses is on the rise. There are currently a staggering 30.2 million small businesses in the U.S. alone, accounting for 99.9% of all businesses that are in the country.
As a small business owner, it can sometimes be difficult to get your head around why your closest competitor ranks higher than you do on Google. You know that you sell superior products (or services) at a better price, but every time you run a search you see others outranking your website.
And this is frustrating for a simple reason: it means they're generating business that you could be picking up.
Demystifying SEO for SMBs
You may have heard that you'll need to invest thousands of dollars in a specialist or an agency every month to see your website rank when you search for your business's name. This is a myth, and it couldn't be further from the truth.
While SEO, especially for larger websites, can become very technically complex, small businesses are often competing on a local-level against other businesses just like theirs.
In many cases, the goal of small business SEO is to increase visibility and awareness in a relatively small geographical area. This will drive website visits, sales, or inquiries, as well as a higher level of foot traffic in a store or showroom. If you're prepared to invest a little bit of time, you can make some real gains in your business's online visibility. 
In this guide, we'll walk you through how to get started with small business SEO, specifically looking at:
The Importance of SEO for a Small Business
First things first, let's look at why SEO is so important for small businesses. Traditionally, small businesses would advertise themselves in the newspaper or on regional radio or TV.
But times have changed.
Consumers find suppliers of products and services differently from how they did five or ten years ago. When consumers need something, they get out their smartphone, open up Google, and run a search. From restaurants to electricians, accountants to attorneys to many more different businesses and services. In seconds, options can be found for someone to consider buying from or enquiring with. 
And this means that, as a small business, you need to make sure that your website is visible when someone searches Google. And your options here are either SEO or PPC (paid ads).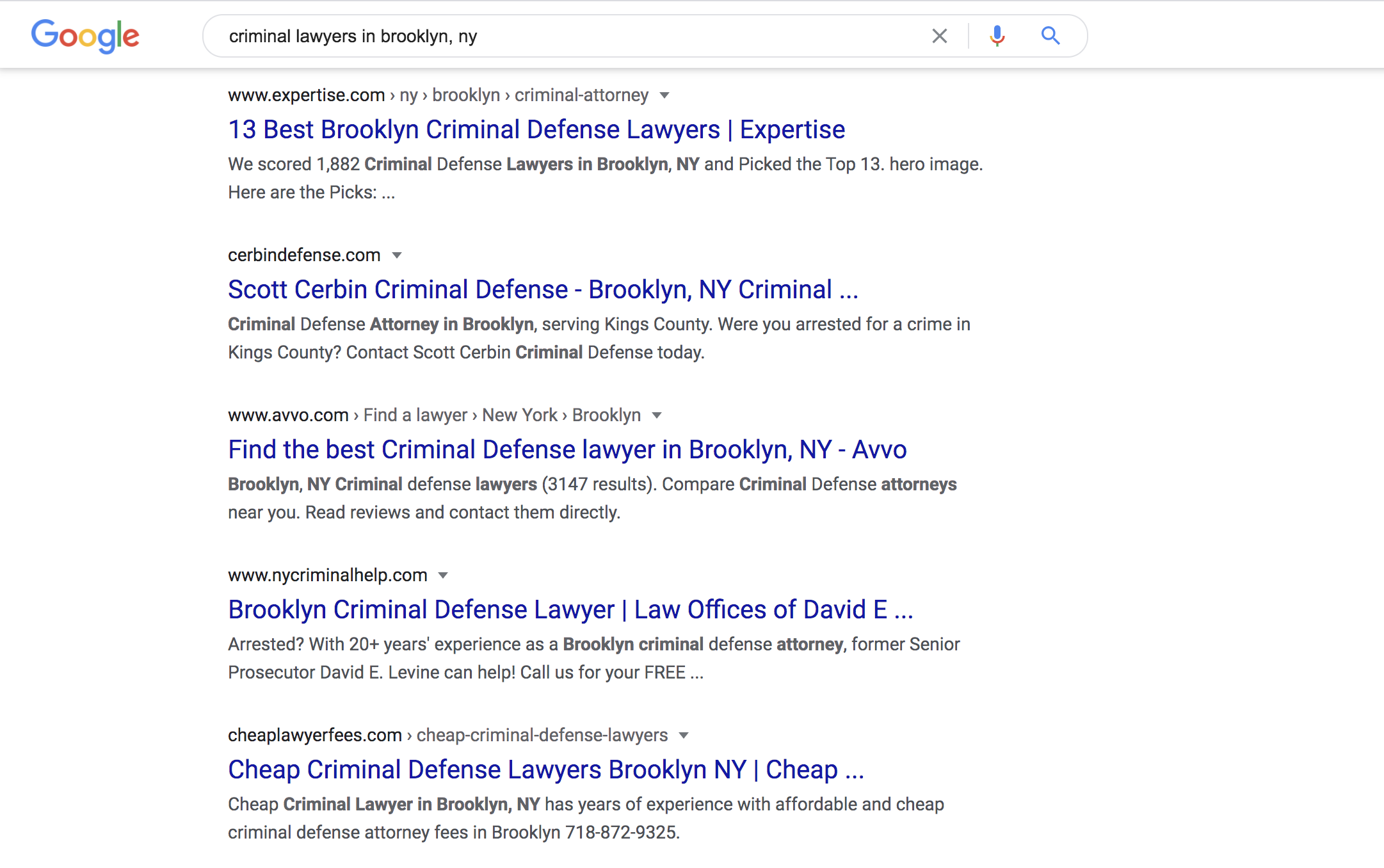 Quite simply, as a small business, you simply cannot ignore SEO as it's a proven way to win new business and make money.
If it isn't your business that's ranking on Google, it's your competitor's.
And that hurts.
SEO Issues Faced by Small Businesses
It's easy to sit there and feel frustrated that another business ranks higher than yours. There are a few reasons why many small businesses don't rank as highly on Google.
Specialist Resources and Knowledge
The first reason small businesses struggle to show up in a search result is a lack of specialist resources and knowledge.
There's no hiding from the fact that those who own and work for small businesses have to wear many hats and carry out multiple different tasks in their day to day jobs. This means many small businesses often lack dedicated marketing resources or those who have built up the skills that are needed to successfully rank a website on Google. 
Budget
Another key issue faced by small businesses is that their marketing budgets are often small, even when relative to their revenue.
If there are not the financial resources available to hire a full-time in-house marketing team, a specialist, or an agency to handle the business's SEO, then you'll find it more difficult to perform well on local directories and search results.
Time
The other main issue faced by small businesses and the reason why their SEO is often neglected is time. Even when a business owner knows that there are things that they could do themselves to see their website rank higher on Google, a lack of time often gets in the way.
If time can be made for a good small business SEO strategy, there are plenty of resources available to help you increase your website's visibility. 
Small Business SEO Tips to Get Your Site Ranking
If you're going to be working on your SEO for your business, there are numerous ways to help get your site ranking through careful planning, optimization and by using local SEO services. Here are 10 small business SEO tips that focus solely on things you can do to get started.
Please note: While these tips are also relevant to other types of business, they've been put together primarily for small websites to promote your brick and mortar or service business.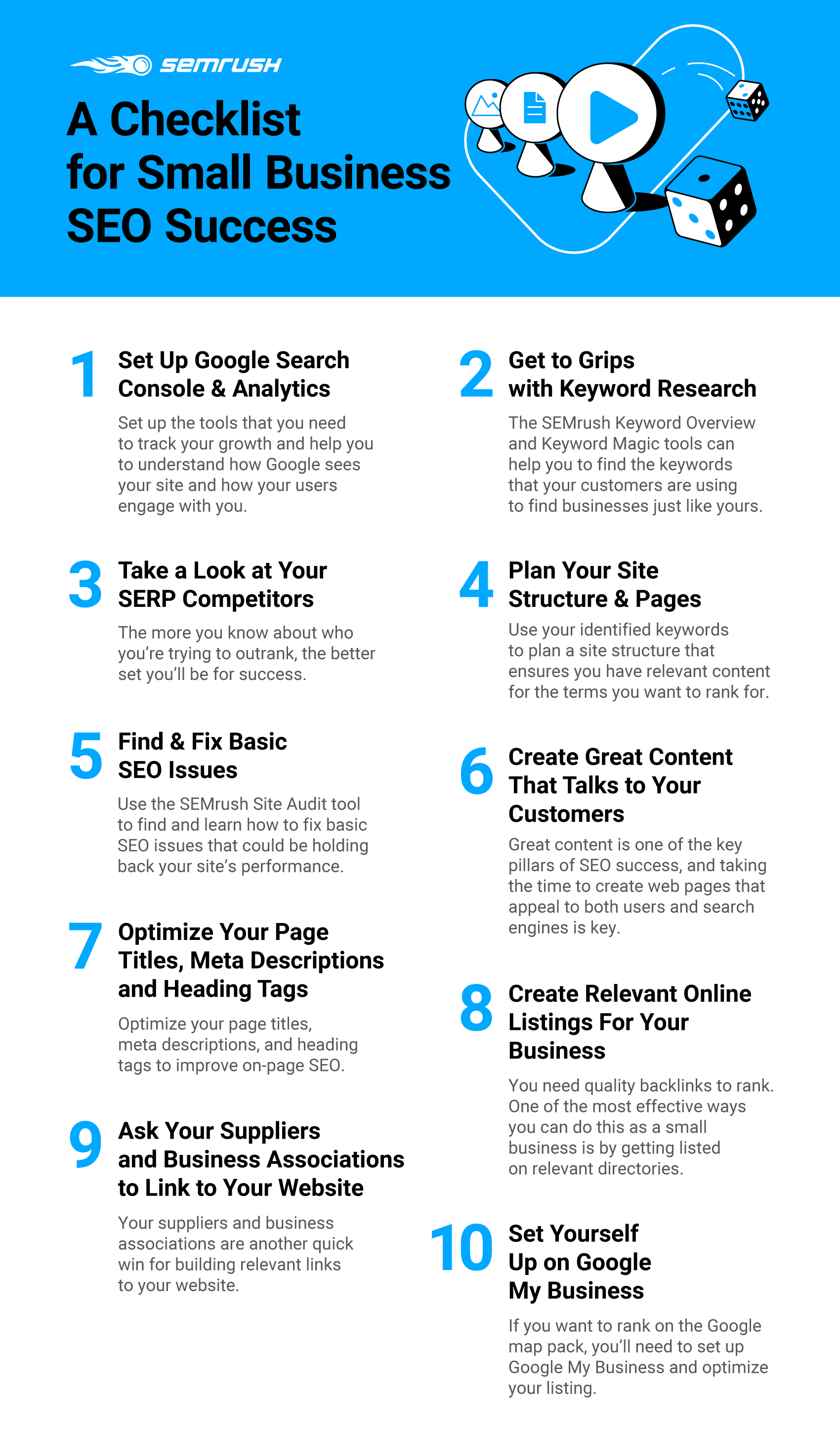 1. Set Up Google Analytics and Search Console
Without the right tools, you'll struggle to gain the insights needed to track progress and make decisions to increase your website's visibility. The two key tools needed are both available free of charge:  Google Search Console and Google Analytics. There's a chance that both profiles are already set up for your website, but if not, you need to get familiar with these tools.
Google Analytics helps you track and report on your website's traffic and conversions, see growth, and understand how your audience is using your site.
Google Search Console shows you how your site is presented on Google Search results. You're also able to fix errors, submit your site for indexing, and view other data.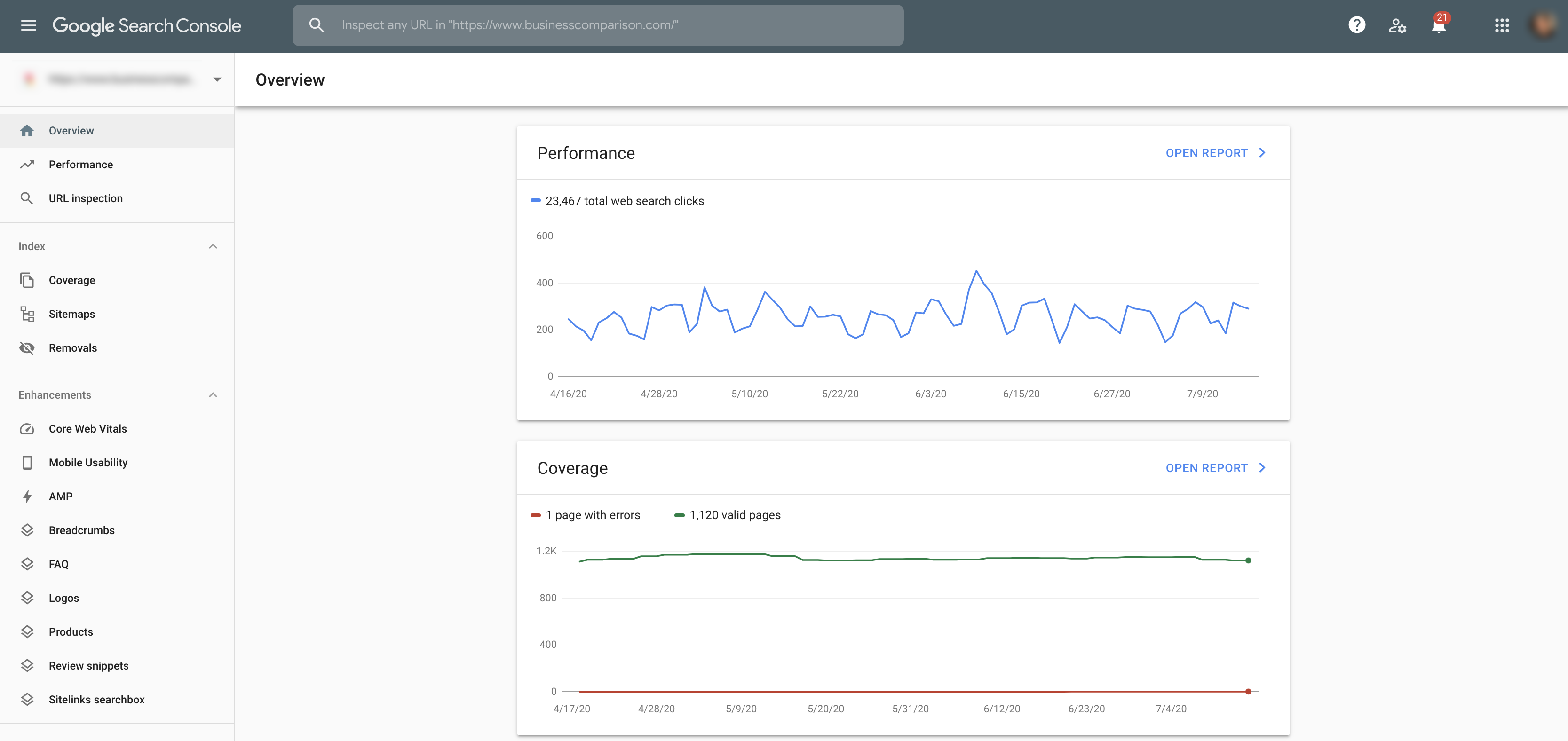 Go ahead and get these set up for your business before doing anything else, as the insights you can get from these tools will be invaluable as you work through other tasks. You can learn how to get started with Google Analytics here and how to add Google Search Console to your site here.
2. Get to Grips with Keyword Research
It's important to know how potential customers are searching for businesses like yours so that you can optimize your website properly. Finding the search terms that people are using is known as keyword research. The first thing to do here is to open a notepad and write down a list of terms that you would expect people to be searching for when they're trying to find a business that sells or offers what you do.
There are no right or wrong terms to list here. Keep going until you're struggling. You can then use the Keyword Overview tool to help you to find the right keyword to optimize your site for. Start by entering the words and phrases that you jotted down just now into the tool and hit analyze:

After you enter the keyword you came up with, you'll be served statistics including the number of monthly searches (volume) and the keyword difficulty (KD%).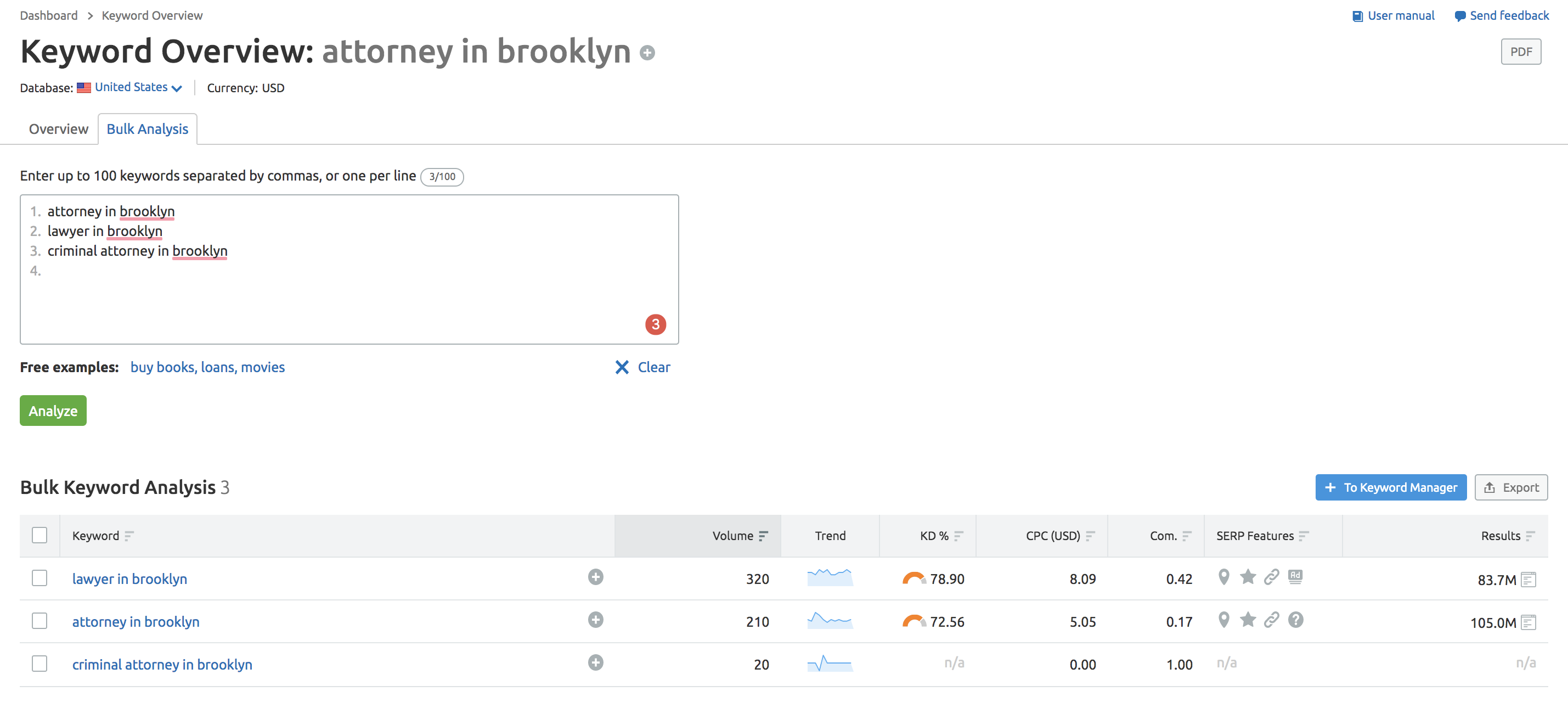 You can add keywords to a list to begin building out a keyword plan. While this is a great way to see how many people are searching for (and how competitive) the terms that you noted down, you won't have thought up everything.
And that's where the Keyword Magic Tool can help. Enter any of the main keywords that you've identified and hit 'search.'
You'll then receive a list of keyword ideas that are related to the main search term that you entered.

Go ahead and add any relevant terms to a keyword list that you'll use to plan out your site's structure, content, and SEO tags shortly.

3. Take a Look at Your SERP Competitors
It might sound simple, but one of the best things you can do when working on your website's SEO is to spend some time analyzing your SERP competitors after finding the keywords that you need to optimize your site for. Take a moment to write a list of the businesses that you think of as your competitors. Without turning to Google, for now.
But then let's stop for a moment and address one thing.
Your SERP competitors aren't necessarily your offline competitors. These might be included, but there are likely others, too. To put it simply, you need to know who (and what) you're competing against for a top-ranking spot so that you can tailor your approach accordingly.
Let's say you want to rank for 'divorce attorney in Brooklyn.' If we look at the SERP (search engine results page) for this search term, we see: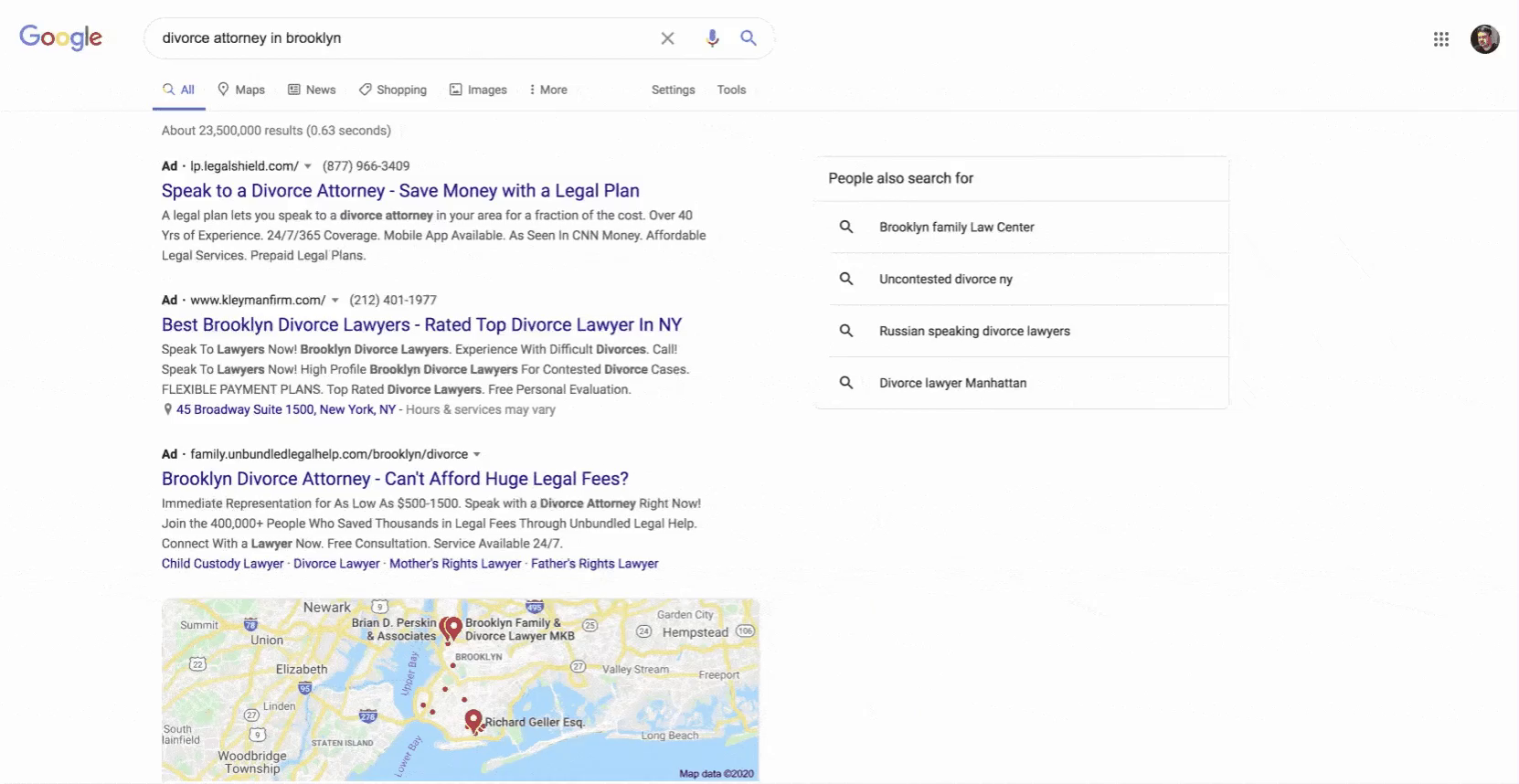 Probably not what you expected to see, is it? We'll take a guess you just expected to see a list of attorneys. Long gone are the days of Google only ranking businesses. After all, they aim to return the best results for users and that doesn't always mean ten links to different businesses. 
Here, we see a mix of:
Attorney directories
Generic directories
Legal practices (businesses)
And there are the map listings in addition to the main organic results. 
Understanding who you're competing against can help you figure out where to place your efforts. It's important to be analyzing the SERPs for your target keywords to understand what is already ranking and how you need to structure your site and its pages.
When conducting your own searches, you're going to be looking to establish whether a business's homepage or its internal pages are ranking. From the SERP we've just been looking at, we can see that it's mostly the homepage of the attorneys themselves that rank. There are a couple of results featuring one of their internal pages rank, too.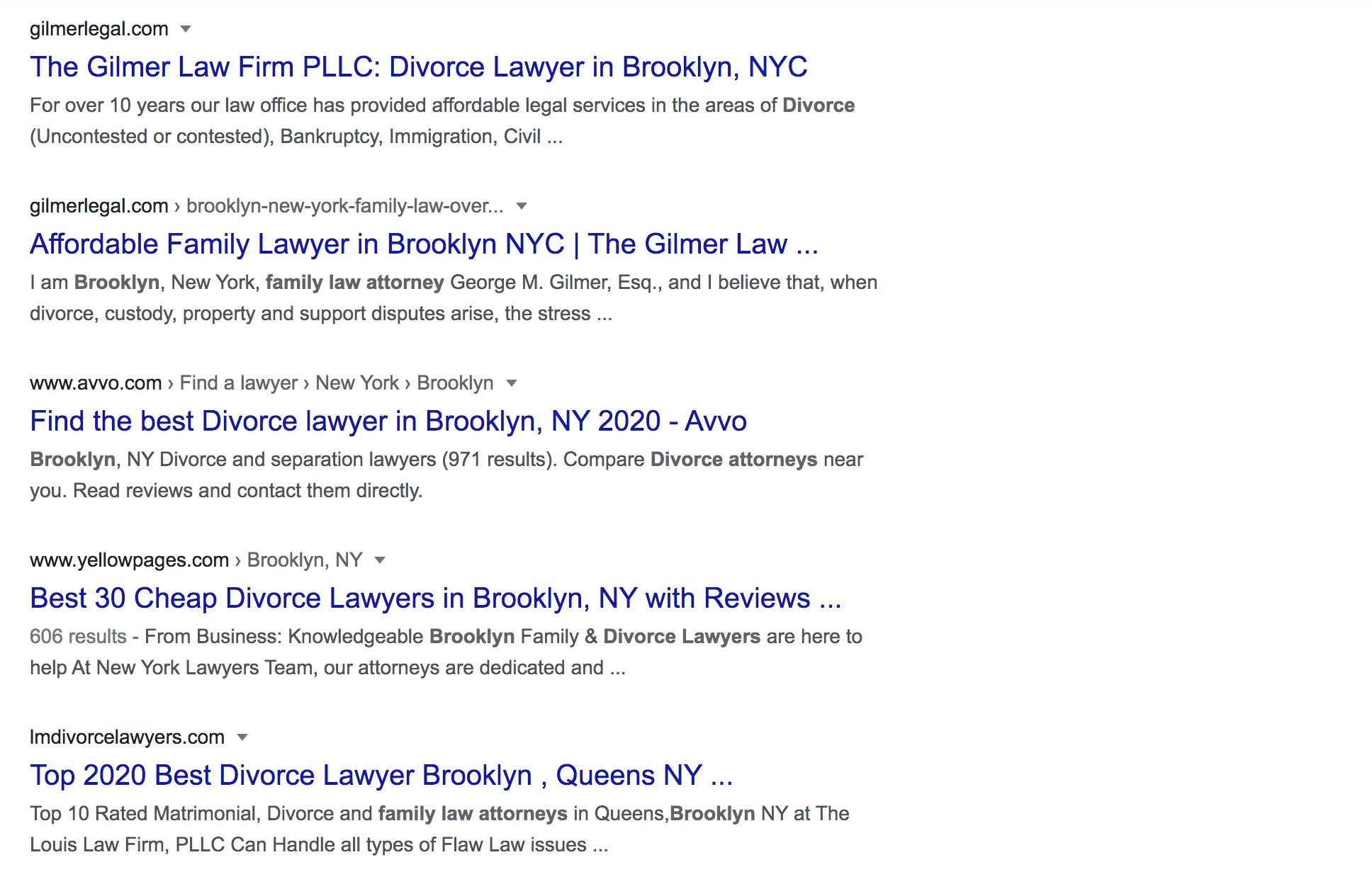 You should also spend time going through the pages that are ranked from businesses like yours and start to build a picture as to the content that they cover. If you want help finding out which keywords your competitors are ranking for on SERPs, take a look at our
Organic Research
tool. You'll be able to see where your competitors are placing and how you can strategize to begin taking top spots for relevant keywords.
4. Plan Your Site Structure and Pages
After identifying the keywords that you want to rank for, you need to plan out the right structure for your site and how you'll optimize it. That means putting together a plan for the pages that you need to create (or have in place) to rank for the terms that you want to rank for. The general rule here is to be guided somewhat by your keyword research, but also by common sense. A simple way to look at this is that you need a dedicated page to target the main keywords that you're targeting.
You've got multiple locations?
You'll need at least a page for each. For example:
domain.com/orlando/
domain.com/miami/
domain.com/tampa/
Or if you're operating in a single location but have multiple strands to your business, you'd want to go with something like:
domain.com/service-1/
domain.com/service-2/
domain.com/service-3/
Take the time to map out the pages that you need based on your keyword research, as well as carefully considering how your customers engage with your business.
5. Find and Fix Basic SEO Issues
While you must find the right keywords for optimizing your site and to structure your site in a way that makes it easy for both search engines and users, you also need to pay attention to basic SEO issues that could prevent your site from ranking.
But we're not about to tell you to go ahead and learn how to do a detailed SEO audit. That being said, you need to find and fix basic technical and on-page SEO issues such as:
Pages that have been blocked from being indexed
Broken links
A slow site speed
Sitemap errors
Duplicate content
And more
If you're looking for ways to easily identify all of these issues, as well as receiving guidance on how to fix them, you can use the Site Audit tool. Create a new project, begin your audit, and let the tool crawl your site. It will search for issues and collect data. Once this crawl has completed, you'll then be presented with a dashboard of recommendations.
Start by working your way through the errors, warnings, and notices and you'll see issues presented in these different severity groups. 

Click into any of the 'how to fix it' links alongside errors, warnings, or notices and you'll be given advice on what these mean and how you can resolve the issues. Spend some time getting to grips with the tool and work through as many areas as you comfortably can.
6. Create Great Content That Talks to Your Customers
When it comes to creating content, think carefully about what your customers need to know about your products and services. You need to educate users about your product, inform them of how your business can assist them, and sell them on why they should choose you.
But let's remember that content is one of Google's top 3 ranking factors, and it's often the difference between great and poor visibility. Content not only helps users to understand your offering and identify your unique selling propositions (USPs), but it also helps search engines to understand what a page is about and your level of expertise.
And content means more than just words. Think about how you could use images, videos, and other media to engage your visitors, too. If you're looking for other ways to improve your content, read through ' The Quick and Easy Guide To Create Relevant Content That Ranks and Converts,' which includes some great tips on creating content for your site. 
Author Chris Giarratana states:
The only real differentiator between websites today is their content, and great content is what gets you found in search engines and converts prospects into paying customers.
Take the time to create the content that would make consumers want to buy from your business.
7. Optimize Your Page Titles, Meta Descriptions, and Heading Tags
Perhaps one of the biggest changes that you can make is to properly optimize your site's:
Title tags
Meta descriptions
Heading tags
Not familiar with what these are?
Title tags, also known as page titles, are the titles that are displayed above each listing on Google. 

Meta descriptions are the lines of text that display on Google below the title to help add more information to a result.

And header tags are the visible page headings on a web page itself (H1 to H6 headings):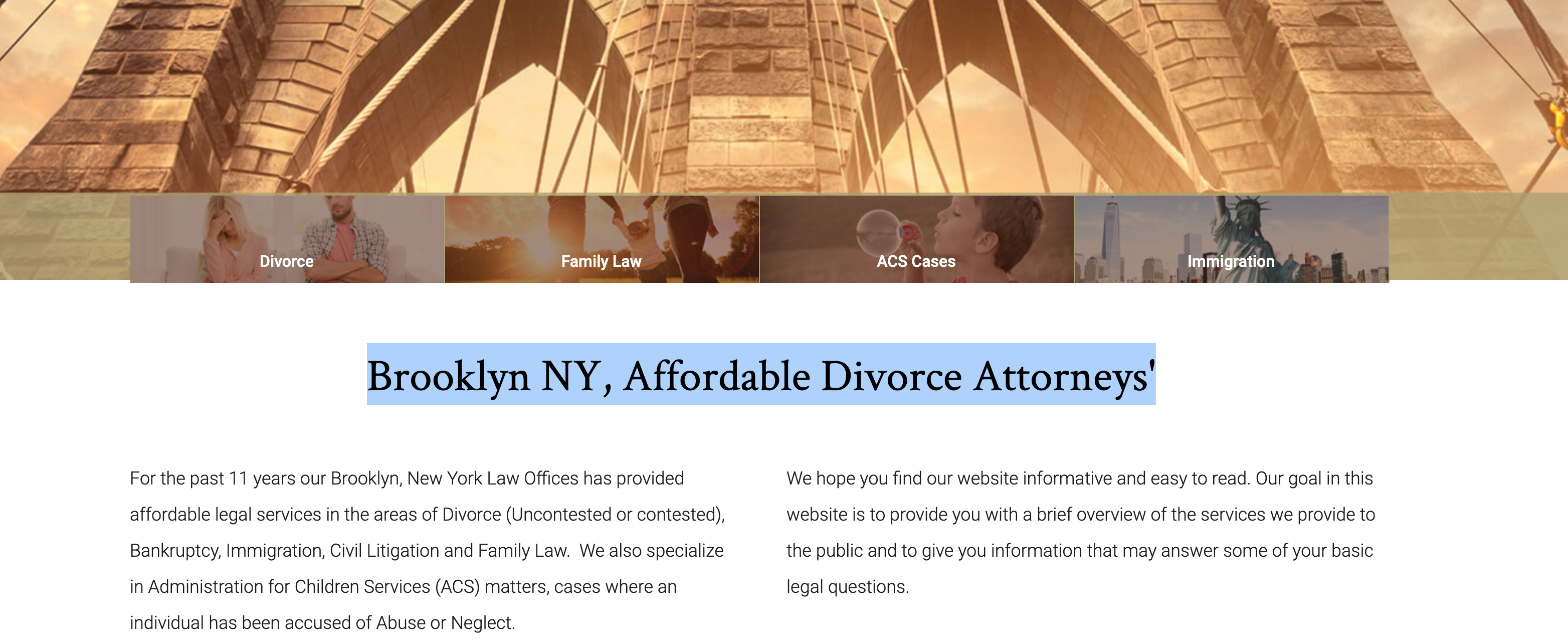 Optimizing title tags and heading tags using a page's main target keywords greatly influence your website's ranking. The meta description isn't used as a direct ranking factor, but it can help to increase your click-through rate, something that is a ranking factor.
But how do you optimize these on-page SEO elements?
Title Tags
Our SEO basics guide to title tags recommends the following tips:
Keep titles about 55-60 characters long
Use target keywords in titles
Describe your page content in the best possible way
Use words like how, why, what, and where - help people understand what they will find on the page
Use words like best, review, and ultimate - entice users to click 
Write unique titles, no duplicates
Use your company name or brand wisely
Keep it simple
Meta Descriptions
Our SEO basics guide to meta descriptions recommends the following tips:
Keep them about 1-2 sentences (140-160 characters) long

Don't forget to include your keyword

Add a call-to-action if it's relevant

Avoid duplicate meta descriptions

Make them meaningful and descriptive, matching your content

Target an emotion
Heading Tags
Our top tips for writing heading tags are:
You should use an H1 tag for the main heading on every page
Include keywords naturally - don't force them or over-optimize
Use H2 - H6 tags to break up your page content
Write for users, not search engines
Summarize what's in the content that they head up 
Work through each of your site's pages, optimizing based on the main keywords that you've identified. 
You can also use our On-Page SEO Checker to help you out here and offer further suggestions.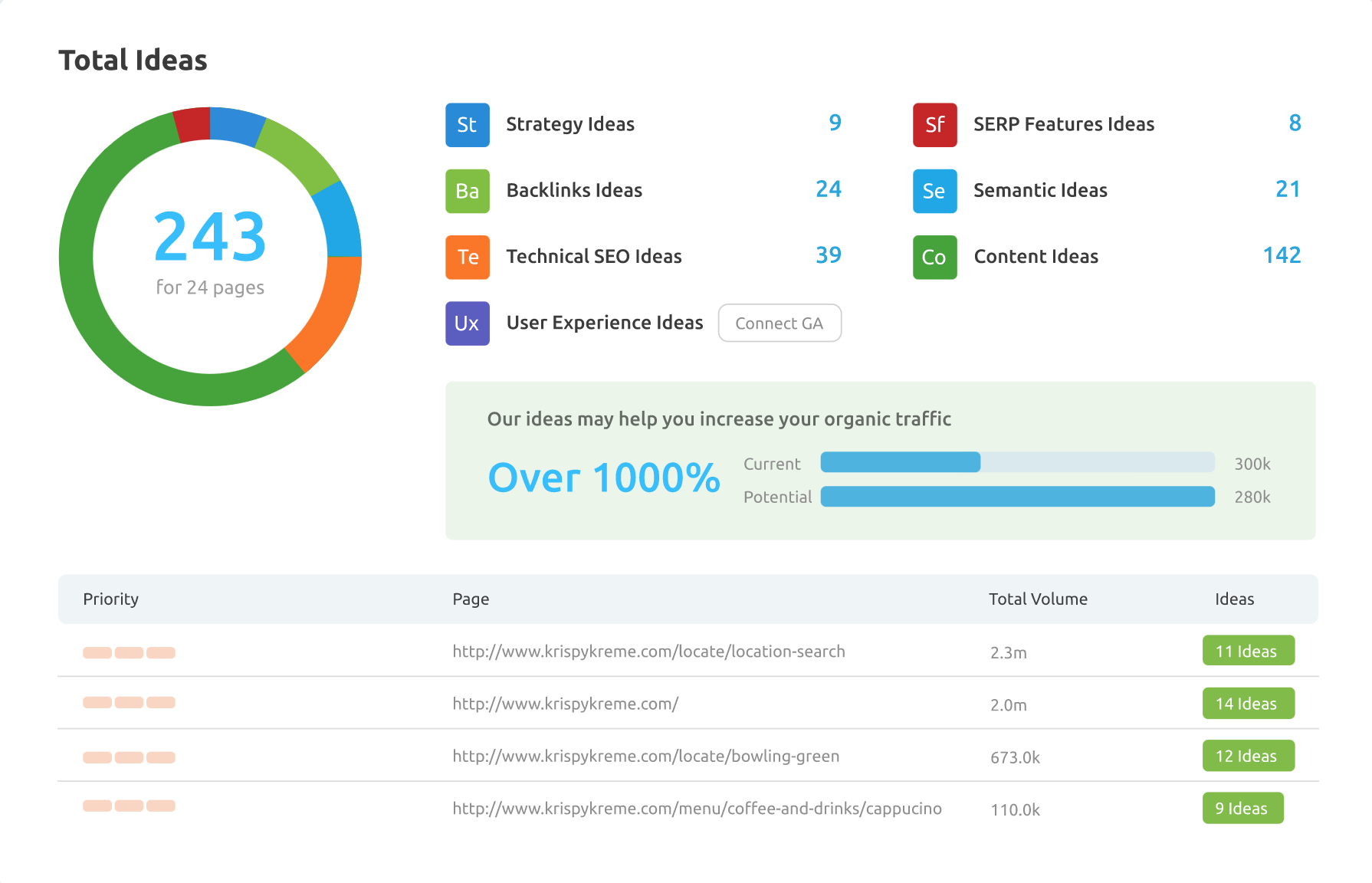 8. Create Relevant Online Listings for Your Business
One of Google's core ranking factors is links. A link from one website to another is a vote for its quality (you can read more about this in our guide to PageRank).
Getting other websites to link to yours isn't easy. It takes time and it's a skill, but small businesses still need links to rank at the top of Google.
So what are your options? One tried-and-tested approach is to list your business on relevant directories:
Getting your business listed on directories like this, as well as local listings, can help you to build relevant links while appearing on pages that rank on Google. There are also several business listings you should not ignore, and make sure that your business has a place in. This is why research is crucial when carrying out this step.
Look back to the rankings for 'divorce attorney in Brooklyn.' 
Half of the first page of results was lawyer listings. Taking the time to get listed gives you these two benefits - links and visibility on pages that rank (this is known as barnacle SEO). You can also check out this guide on  10 Local Link Building Strategies For Small Business to offer more ideas.
9. Ask Your Suppliers and Bussiness Associations to Link to Your Website
Business listings aren't the only way to build links as a small business. One proven link building strategy that almost anyone can execute is to reach out to suppliers and business associations and ask them to link to you.
Selling someone else's products? They probably have a 'where to buy' or 'stockists' section on their website.
If you don't see yourself listed, ask your contact to link out to your business.
10. Set Yourself Up on Google Business Profile
As the final step to driving SEO success as a small business, go ahead and set yourself up on Google Business Profile.
If you're not familiar with this, it's the platform that powers Google's map listings. And these are visible for almost all small business searches:
As a small business, you simply can't ignore the visibility that can come from ranking on the map listings. Our guide to Google Business Profile can help you to set up and optimize your page.
Further Reading to Help You Learn More about SEO
One thing with SEO is that you can always keep on learning, and as a small business, here are further guides we recommend reading to advance your skills and rank your website higher:
---
Of course, SEO can get complex.
But as a small business, you're usually not competing against global giants. Taking the time to build a sound, well-optimized website by following our SEO tips for small businesses can deliver big wins and with a little bit of learning and effort. With a good starting point, you'll be well on your way to outranking your competitors.