There are more tech products on the market today than ever before. People no longer have to walk to the family computer room and wait for the dial-up internet to connect to make a transaction—they can watch a YouTube video on their phone while they browse Amazon on their tablet.
This offers marketers and agencies a vast wealth of new data on what kind of technology people are leveraging, from what apps they download to what hardware they use. This data segmentation is known as Technographics. 
This technographic data can help agencies find and convert new clients. By knowing how prospective clients are using technology for their own businesses, agencies can begin to connect with them right when and where they are looking for help.
In this article, we will show you just how you can make technographics a huge lead generation resource for your business. 
1. Identify Your Target Audience
The first step of lead generation is identifying your target audience. Understanding who your ideal customer is allows you to make informed decisions and create targeted, personalized experiences that grab their attention.
Technographics is more than just data—it's a market research methodology used to profile accounts based on their technology stack. Much like how demographics and firmographics describe people and companies, technographics describe the technologies they use.
If you sell an online product or service, segmenting your addressable market by technology can be a powerful tool. Using technographics, you can identify customers of a complementary or competing product and try to convert them.
For example, a payment processor or shipping company might want to find eCommerce companies that use Shopify or Magento. A web design agency could benefit from knowing who's using WordPress or Squarespace.
Specialized data providers like Wappalyzer supply targeted lists of contacts that use technologies and services of interest.
2. Research your Competition
First things first, you'll want to know how your competition is targeting specific keywords. Our Organic Research tool shows you what kind of keywords your competition are targeting so that you can go after those keywords and produce superior marketing content.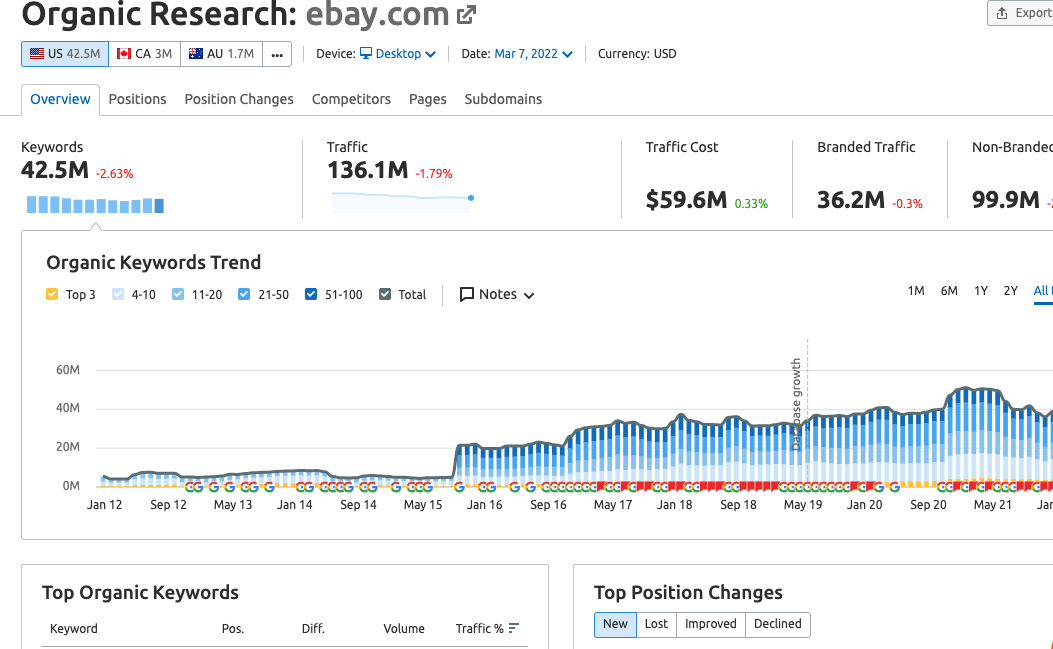 In addition, you can use the Keyword Gap tool to compare up to 5 competitors' digital content to see where there are untapped keyword opportunities for you to swoop in and write great tech-related content for. 
Understanding your competitors' technology stack gives you a peek under the hood. We integrated Semrush CRM with Wappalyzer to reveal the software your prospects use to run and grow their business, including eCommerce platforms, marketing, and analytics tools.
Our Enriched Lead Data feature in Semrush CRM shows you additional information in the Client Profile, including: 
Contact information (email, phone numbers, addresses, Skype handle, employee/staff names, and messengers) 
Companies' social media profiles
Connected analytic tools, trackers, CRMs, ad platforms, tag managers, and retargeting tools 
IP addresses and languages supported on client sites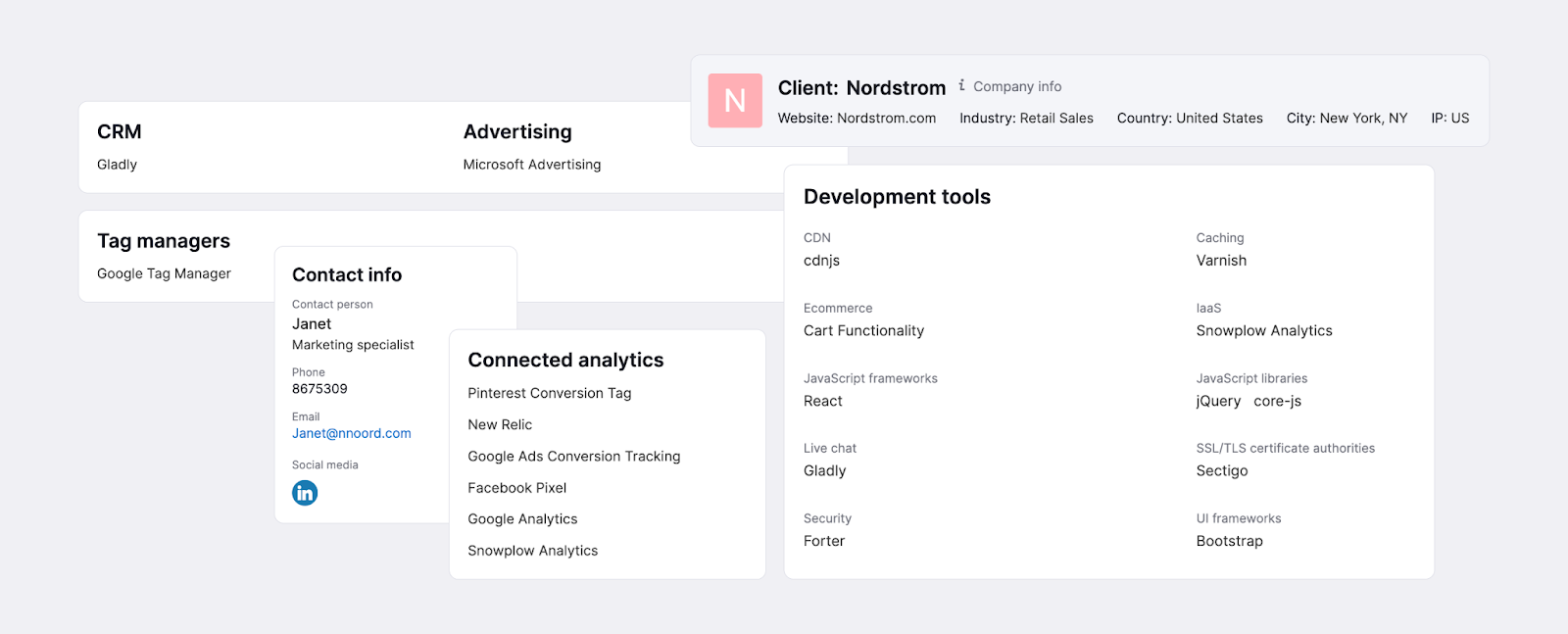 3. Promote your Business
Next, create a promotional plan fueled by your research that will get your products and services in front of your target audience.
Some marketing ideas:
Write and publish compelling content on your blog
Advertise on search engines and social media
Attend and speak at networking events
Appear on relevant podcasts and YouTube channels
Ask your current customers for referrals
Improve search engine visibility through link building
Build an email list
Building a targeted email list can be an effective strategy to reach a large number of potential buyers. You can build an email list yourself by funneling prospects to a landing page, and then incentivizing them to share their contact details. Alternatively, you can save time and effort by obtaining an email list from a leads data provider like Wappalyzer.
Now that you're in contact with prospects, it's time to cultivate those relationships so you can take them from the lead stage through a sale.
Lead generation should be thought of as a long-term and continuous process. Using the sales lead tips above, you can streamline the lead generation process and increase your opportunities for business growth.