What are White Label and Branded Reports?
Question
Branded and white-label reports are both ways to align the reports with your or your client's brand. However, in different sources, the meanings of these two terms can vary. In this article, you will find what we mean by white-label and branded reports at Semrush, and how you can create both types in My Reports or directly from Semrush tools using the PDF export button.
White Label and Branded Reports are available with the Agency Growth Kit subscription.
Branded Reports
Branding reports allows users to easily mark our data with their own company logos and header descriptions. This saves you time when dealing with multiple customers as you can simply integrate your brand information into your Semrush reports with a simple drag and drop.
You can place your logo on the front page of the report, as well as in the page header.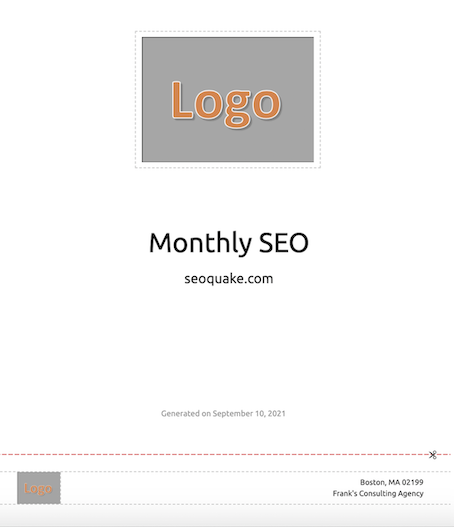 Keep in mind that by default PDF reports in Semrush are created with a standard Semrush logo in the header.
Example: Let's say Frank runs an SEO consulting business. He uses Semrush Branded and White-label reports for sending monthly updates on keyword rankings and traffic to his customers. They're happy with the data and remain loyal to Frank's business because they associate his logo with the successful SEO of their websites.
White-Label Reports
White-labeling reports lets you remove Semrush mentions from the report itself (1), and customize your automated report export email *, including customizing the body message (2). This is perfect for giving your emails a more personal approach making it look like you have sent them yourself.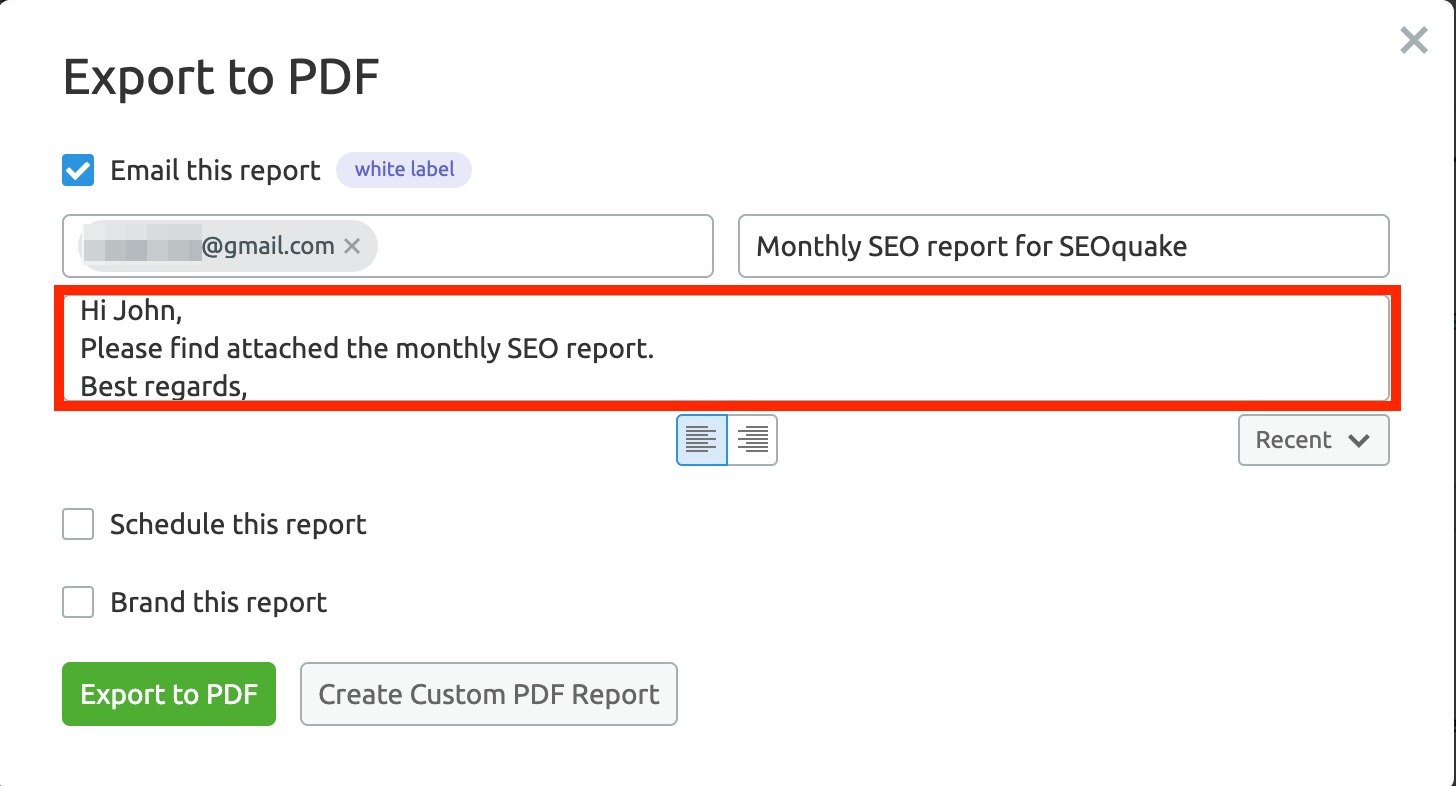 * (The report emailing option lets you send out your data to any email address with a customizable field for the subject line and body text.)
White-label reports are perfect for companies that are looking to provide quality data reports in a clean and professional manner.
Example: Let's say you are looking to branch out into the PPC world but do not have the funds to develop your own PPC team to issue out reports for your clients. White-labeling Semrush's PPC data will give you that same data for a fraction of the cost that it would take in developing your own, thus allowing you to maintain a high ROI.
Here is how both report branding and report white-labeling can help you remove any Semrush mentions and align the report data with your brand.
To start creating branded and white-label reports, get the Agency Growth Kit subscription, which is an agency-tailored toolkit for an additional $100/ month to your Semrush plan. With the subscription, you also get:
The Semrush agency partner status,
Your agency personal listing on the Agency Partners platform,
Extended opportunities for client and project management via Client Manager (task tracking, CRM, file storage, and more),
Automated client reporting via Client Portals,
And a lot more.