How to Expose Your Competitors in One Click with Domain Analytics
Unless you're a data scientist, it can be a tedious process to collect data. It takes even more time to analyze it to draw conclusions. 
But what if you could do it in one click with our suite of tools? You could, for free, even. 
Our suite of domain analytics tools can help you easily analyze your competitors' data. It's a lot of information at your disposal, so it helps to understand what the reports mean first.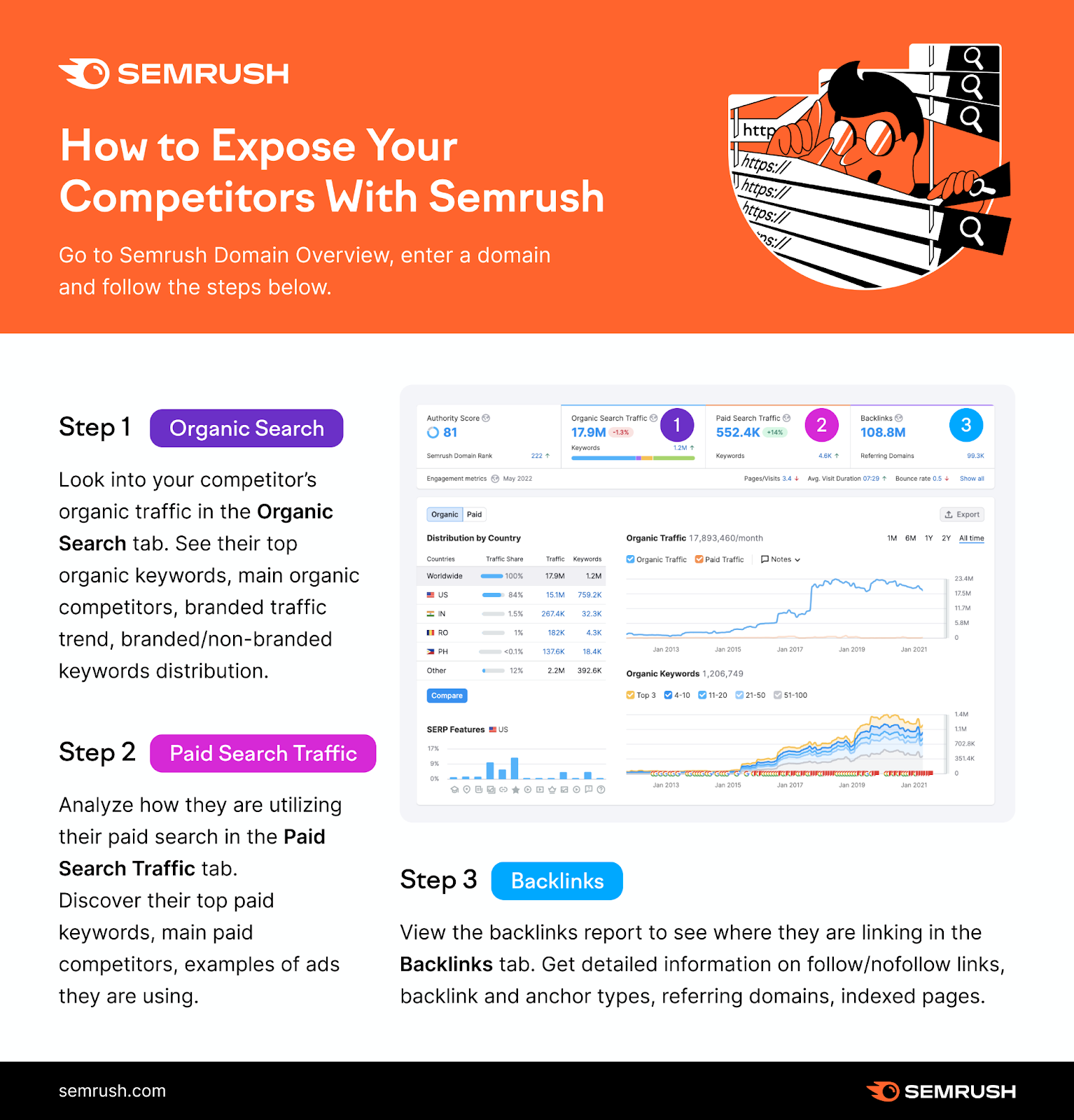 Instantly Expose Your Competitors with Domain Analytics

To jumpstart your competitive analysis, go to Semrush Domain Overview, enter a domain. Then, follow the steps below:

Step 1. Look into your competitor's organic traffic in the Organic Search tab. See their top organic keywords, main organic competitors, branded traffic trends, branded/non-branded keywords distribution.

Step 2. Analyze how they are utilizing their paid search in the Paid Search Traffic tab. Discover their top paid keywords, main paid competitors, and examples of ads they are using.

Step 3. View the backlinks report to see where they are linking in the Backlinks tab. Get detailed information on follow/nofollow links, backlink and anchor types, referring domains, and indexed pages.
How to Check Any Domain's Authority Score
You can see the Authority Score of any website at the top of our Domain Overview report (for free).
With a free subscription, you can analyze up to ten domains per day in this tool.
Once you enter a domain you can immediately see all of the data we have on the particular domain.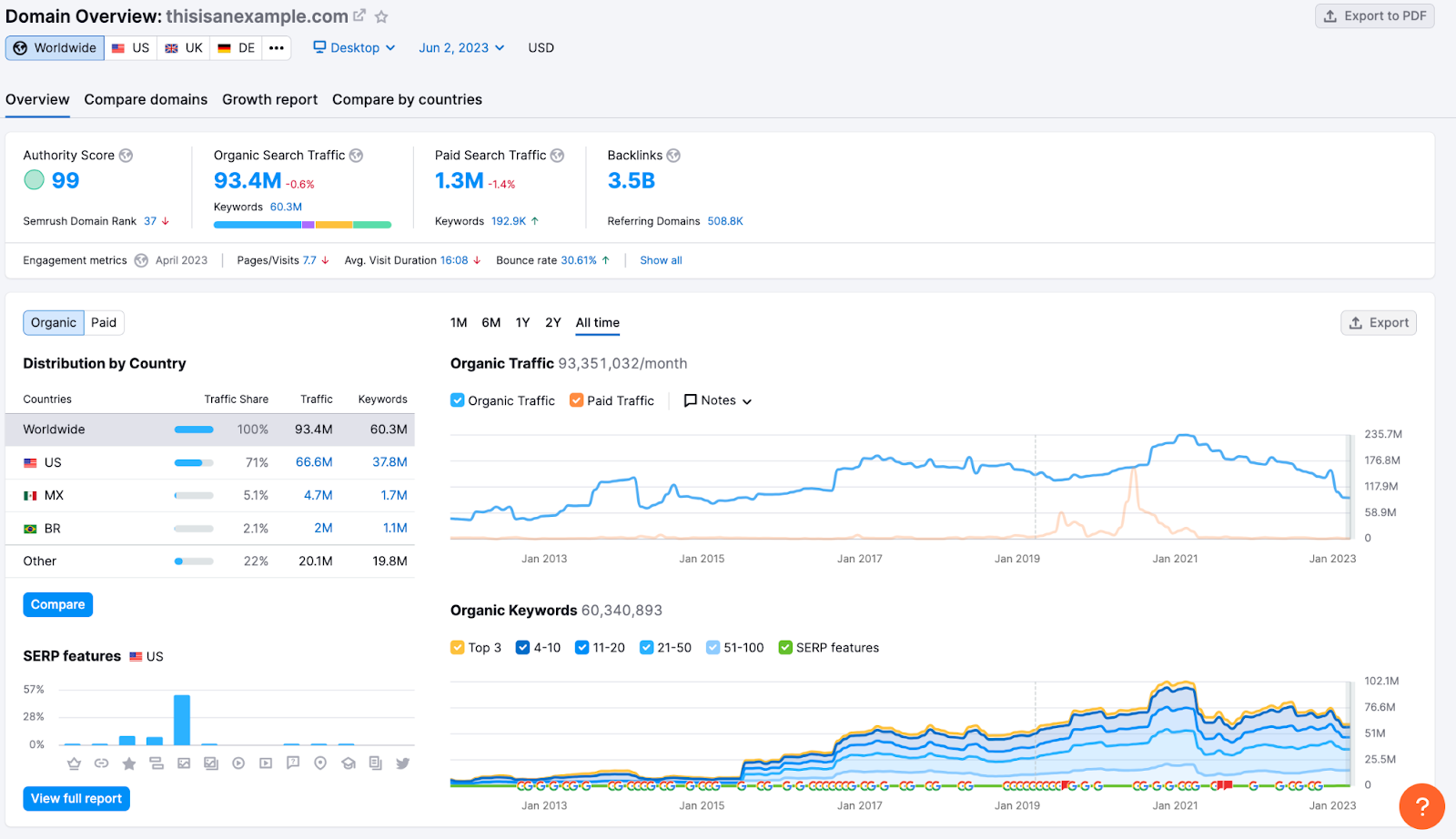 This could be overwhelming if you don't know exactly what you're looking at. 
To understand competitor website analysis, let's break it down piece by piece and analyze each section. 
Want an even easier way to digest everything on the dashboard? Click on the Export to PDF button to automatically craft a report. 
Sift through the report yourself to quickly draw conclusions, or send it over to your team members. You can schedule the reports to go out every week or month to always stay a step ahead of your competition. 
Organic Search
First, let's start by looking at a domain's organic search traffic. This is the place to be when it comes to understanding just the organic side of your search.
For this particular case, let's take a look at the organic search traffic for our example site. The 17.9 million blue number here says how much estimated traffic this site gets from organic keywords per month.
While you may know your website's organic search traffic from using Google Search Console, this is a great way to quickly estimate your competitor's SEO traffic.
It's important to keep in mind that this is an average monthly number, based on the keywords we found this domain ranking for in Google's top 100 results. 
In addition to estimated traffic volume, organic search data will let you analyze the number of keywords, traffic cost, branded traffic, and non-branded traffic.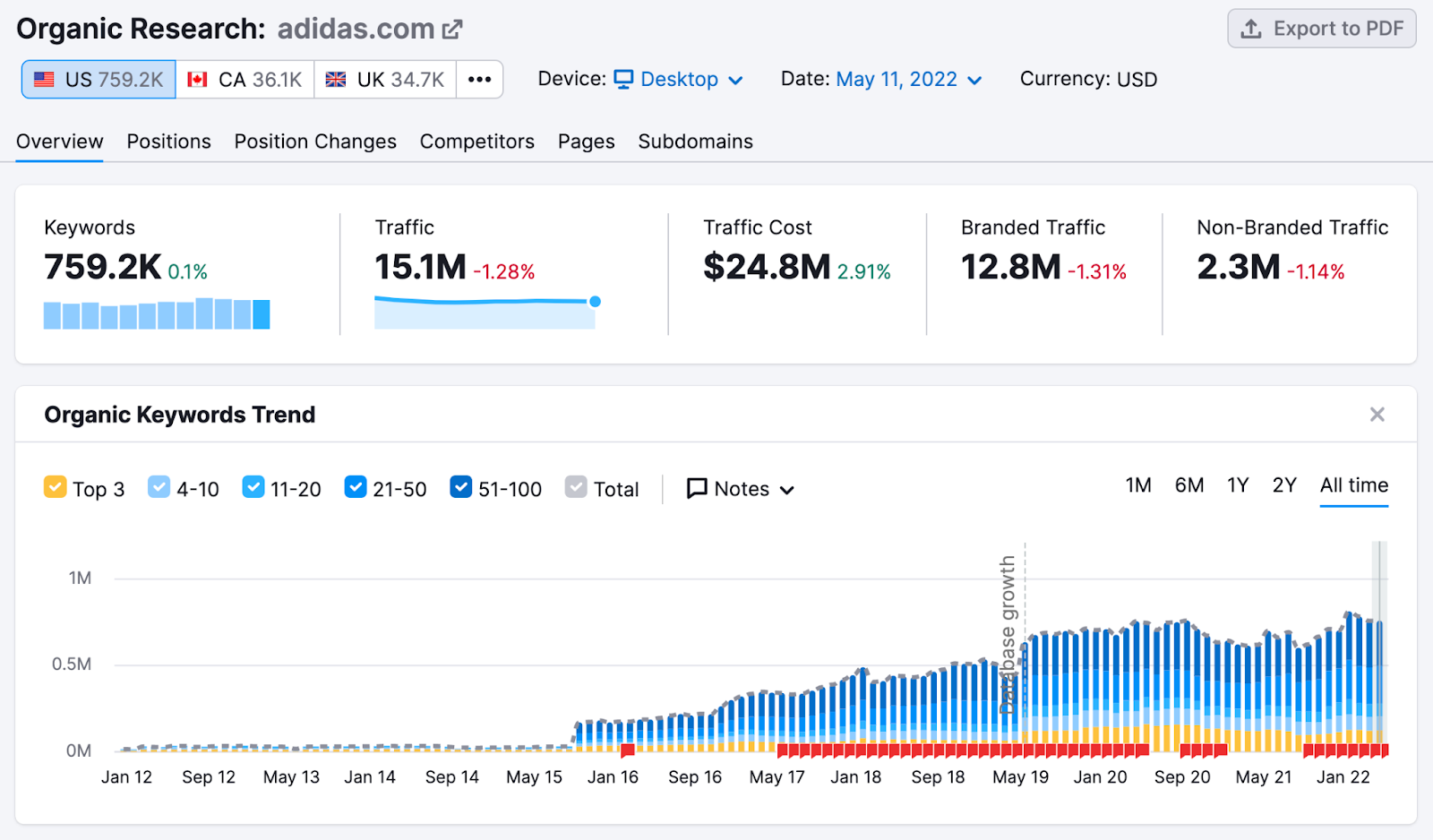 Keywords show you the number of keywords bringing users to the domain while branded and non-branded traffic shows their respective traffic.
Analyze Traffic Cost with Semrush 
Finally, Traffic Cost estimates the amount you would need to pay monthly in Google Ads if you wanted to rank with advertising where this website already ranks with organic results. 
This gives you a way to gauge how valuable a domain's SEO rankings are, based on the CPC x the amount of traffic the domain gets from it. 
Organic Search Traffic
Scroll down to the Organic Search part of the Overview page. As you scroll down you will notice the highlighted organic search traffic widget at the top of the dashboard. As you continue to scroll down, these widgets will highlight to match the section you are in.
The first widget in the organic research section is Top Organic Keywords. This shows the top keywords for the site, plus their volume, CPC, and traffic %.
Traffic % here is an estimate of how much of the domain's total organic search traffic comes from each keyword. Here, we estimate that 29.93% of our example site's organic traffic comes from the keyword "dog hats."

If you look to the right of this graph, we can see how its positioning is distributed amongst its keyword rankings in Google's top 100. It also shows SERP features it ranks for.
Keyword rankings in the top 3 are typically the most impactful and valuable, so all the keywords in those other bars represent a domain's potential to gain more visibility and traffic from SEO.
Moving further down the page you will see the top competitors for our site. We can see these competitors displayed in the graph to the right, representing each competitor in a bubble.
Each bubble's position will vary based on the keywords they're ranking for and their traffic. The more the bubble moves to the top, the more traffic they will be receiving from Organic Keywords. The more the bubble moves to the right, the more keywords they will be ranking within the Top 100 results.
The last portion of this report refers to branded traffic. This is based on the organic keywords the domain is already ranking for. 
This section shows the ratio of branded to non-branded keywords that the domain ranks for. You can find more information about branded keywords in the Knowledge Base.
Paid Search
When you're looking at a domain from a Paid Search perspective, you'll see your competitors' bidding information. 
In this example, we can see that our example site receives an estimated 552.4K monthly visits specifically from paid search ads. 
When you click on this paid search traffic number you'll be brought to the Advertising Research report. Here you will gain an even more in-depth analysis of a domain's paid traffic. 
You'll see the keywords, traffic, and traffic cost. The percentage change represents the difference from the prior month.

If we want to see how this occurred, we can go to the Advertising Research Position Changes report to see what changed in their keywords since the last update was conducted.
Paid Search Traffic
The same concept we applied to the Organic Search section can be applied to the Paid Search section. 
You'll see similar information to what was displayed in Organic Search, with top Keywords and Competitors displayed the same way for Paid Search.
The same goes for the competition position maps and position trend distribution. 
The other main difference between Organic and Paid is the Sample Ads section at the bottom. This will show you your competitors' Ad Copy for their Paid Search efforts.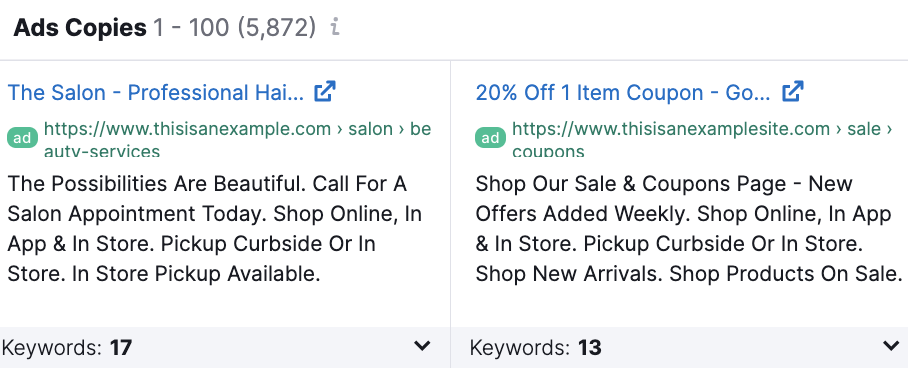 Backlinks

Under Backlinks, you will find the websites that are linking to the domain. For our example site, you can see that there are 108.8 million backlinks. 
The Backlinks section of the Domain Overview page will reveal a snapshot of what backlink information we're able to find for a domain. 
The first subsection listed will be a sample of individual backlinks pointing to the queried domain. Within this section, we can review the Link URL along with the referring page title. 
Next to this data, we can see a circle diagram breaking down backlinks by how many have a nofollow tag on them.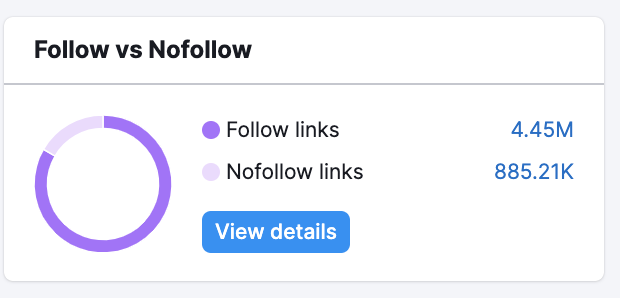 We can then also see what types of backlinks point to this domain through the diagram listed below.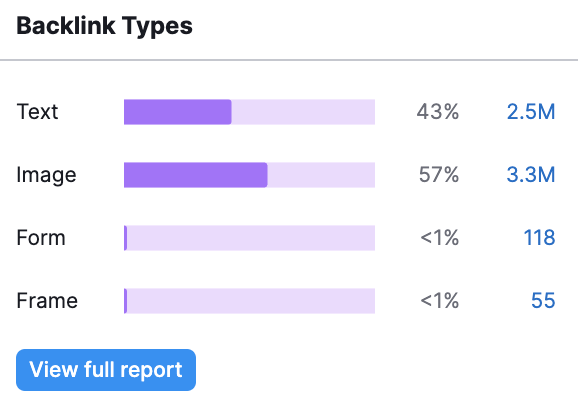 We can reveal more about the domain's backlinks by reviewing the Top Anchors section. This will show us what anchor text is used the most in their backlinks. 
This widget will also tell us how many domains use this particular anchor as well as the number of backlinks that use this anchor text. 
The referring domains section coincides with the backlinks shown. This tells you which websites are sending the most backlinks to the queried domain. 
If you're looking at your competitor's top referring domains, you might want to see if you could build links to your site from those same domains. 
Next, we can then review the domain's indexed pages. 
When reviewing these pages, this doesn't necessarily mean what Google has indexed. This information is coming from our own sources so this is telling you what indexed pages Semrush found for the queried domain.
Analyze Any Website with Domain Overview 
Now that you know how to expose your competitors you can take full advantage of this tool and see what you can dig up in their online strategy.
Follow the steps above to start a competitor analysis of some of your top competitors and identify where you need help closing the gap with your SEO and PPC competition.