Local SEO tools help you reach and engage localized searchers. By allowing you to streamline your workflow, gather valuable insights, and manage your presence on popular platforms.
Here are the 14 best local SEO tools in 2023:
1. Semrush Listing Management
With Semrush's Listing Management tool, you can easily manage your online business listings, manage your online reviews, and track your Google Maps rankings.
Note: The complete (Premium) package costs just $40 per location per month. But Semrush subscribers can access basic features for $20 per location per month. Check out the pricing FAQ to learn more.
Manage Your Online Business Listings
Listing Management makes it easy to add your business to popular directories. And keep all your information up to date.
This ensures users can find you through popular platforms like Apple Maps, Yelp, and Foursquare. And get the right contact details every time. So they're ultimately more likely to do business with you.
Plus, accurate citations can improve your local rankings in Google.
To see which directories you're missing out on, head over to Listing Management.
Then, enter your business name and click the right result.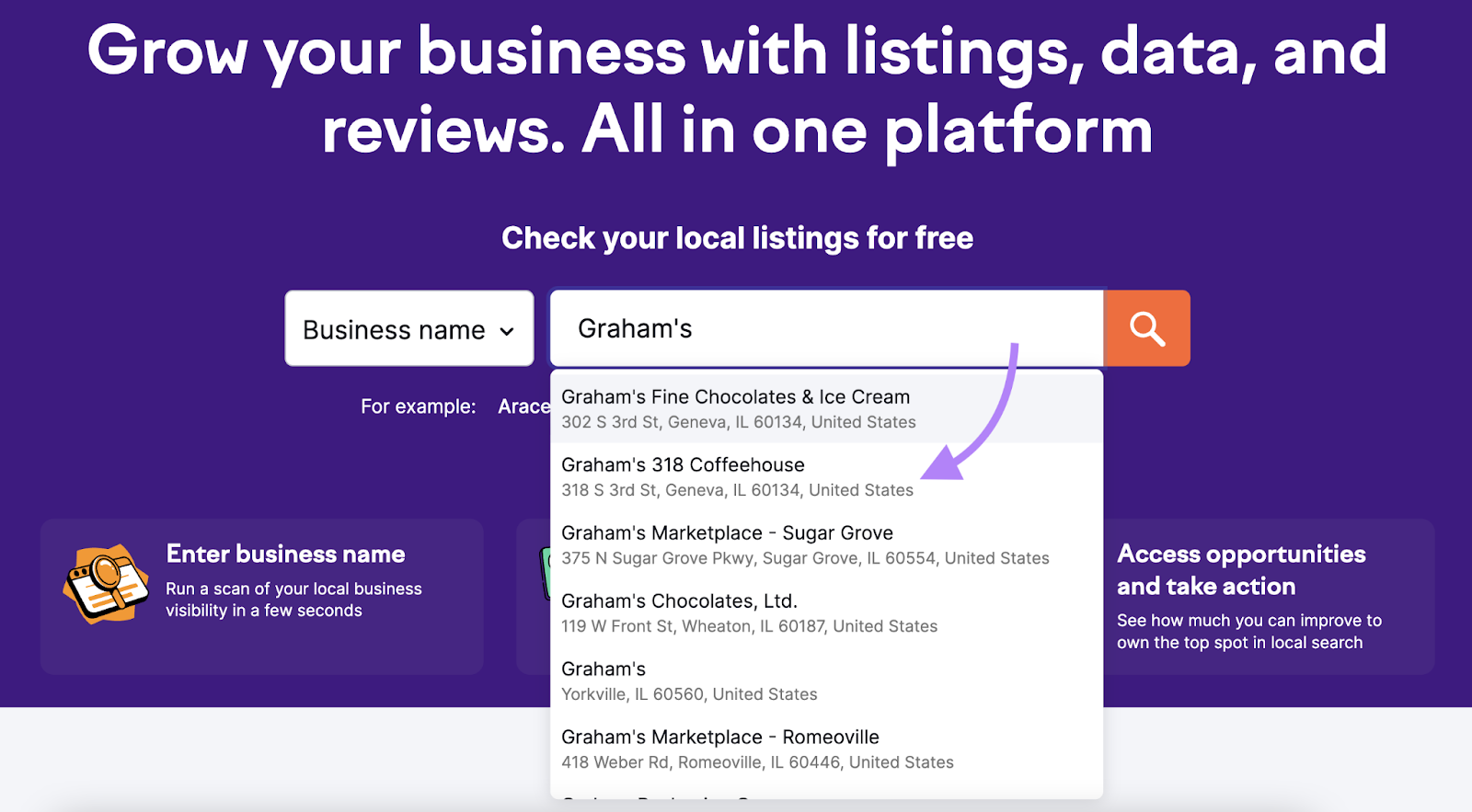 Scroll down to see your free report. Which highlights missed opportunities and incorrect information.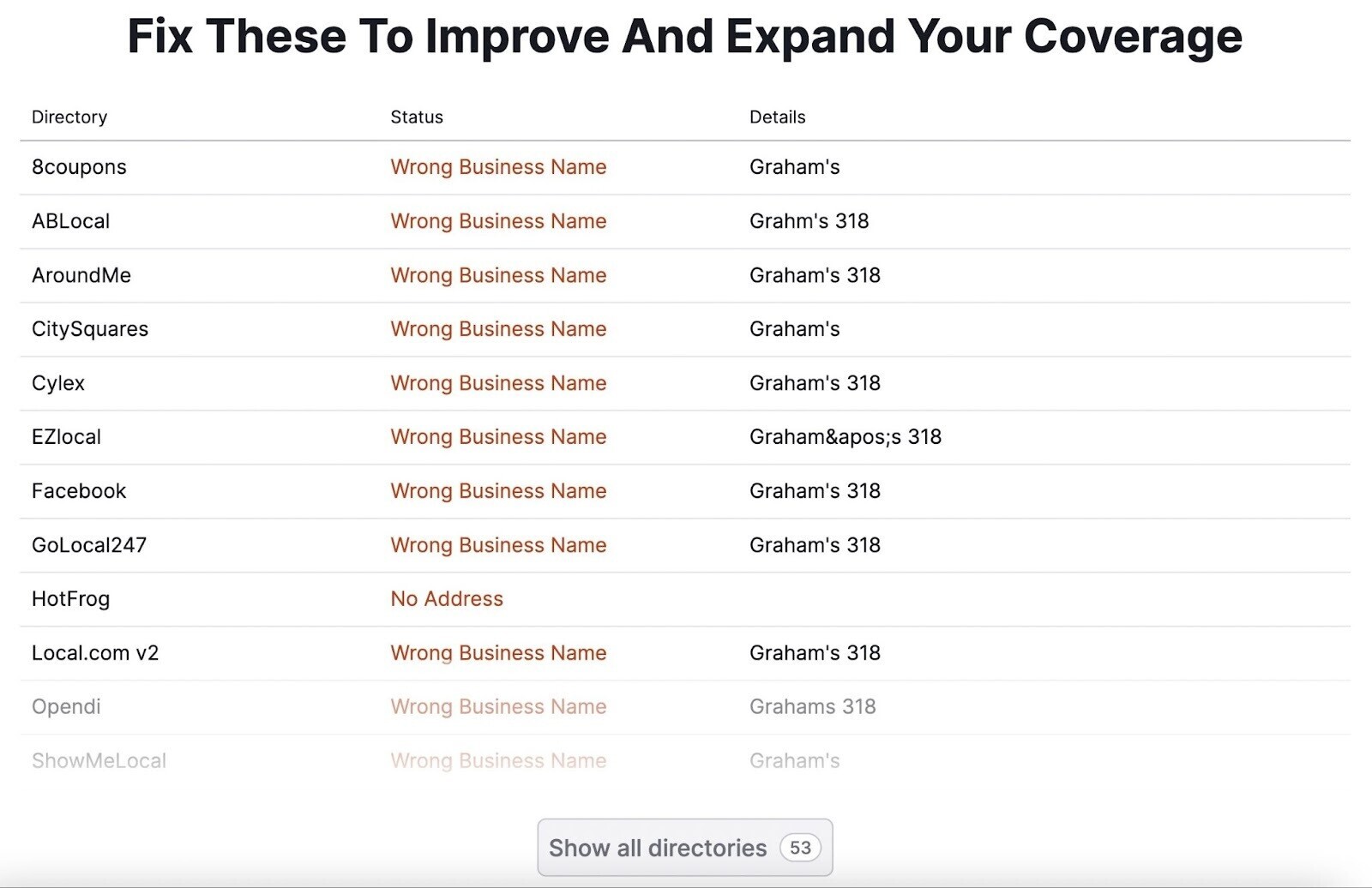 To update these listings easily, click "Enhance listings now." 
Then, purchase your subscription. And fill out this form: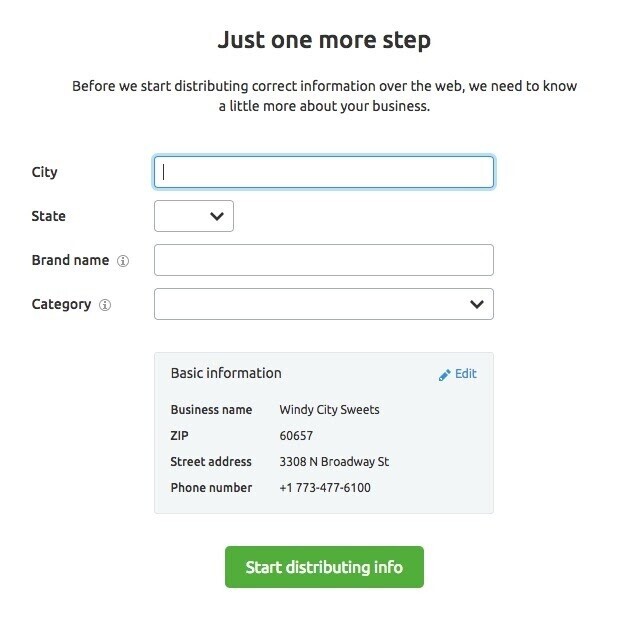 Once complete, monitor the status of your listings in the "Locations" tab. (Click through for more detail.)

Manage Your Online Reviews
The Review Management report gathers reviews from various online directories. So you can track, enhance, and protect your business reputation.
Monitor vital statistics (such as your average star rating) at the top of the page.

Then, scroll down to see your latest reviews.
You can reply to reviews on select directories without leaving Semrush. 
Just draft your response and click "Reply"—or use the AI-generated response to save time.

Online review management can help you rank higher in Google and other platforms. And increase the likelihood that customers choose you over a competitor.
So this is one of the best local SEO tools to have at your disposal.
Tip: Use the Review Analytics report to compare your review metrics against competitors'.
Track Your Google Maps Rankings
The Heatmap report lets you track Google Maps rankings at a hyper-local level.
Choose up to 10 keywords (don't miss the suggestions from ChatGPT) and the area you want to cover.
And the tool will show where you rank at each search location:
Scroll down to analyze your top 10 competitors. 
This can help you work out how to rank higher. And improve your local SEO strategy.
In the next section, we'll explain how to check your website's rankings in Google Search. Using Semrush's Position Tracking tool.
2. Semrush Position Tracking Tool
With Semrush's Position Tracking tool, you can track your website's Google rankings for target keywords. And see whether your business listing appears in the local pack.
Here's what a number-one organic (unpaid) ranking and local pack ranking look like: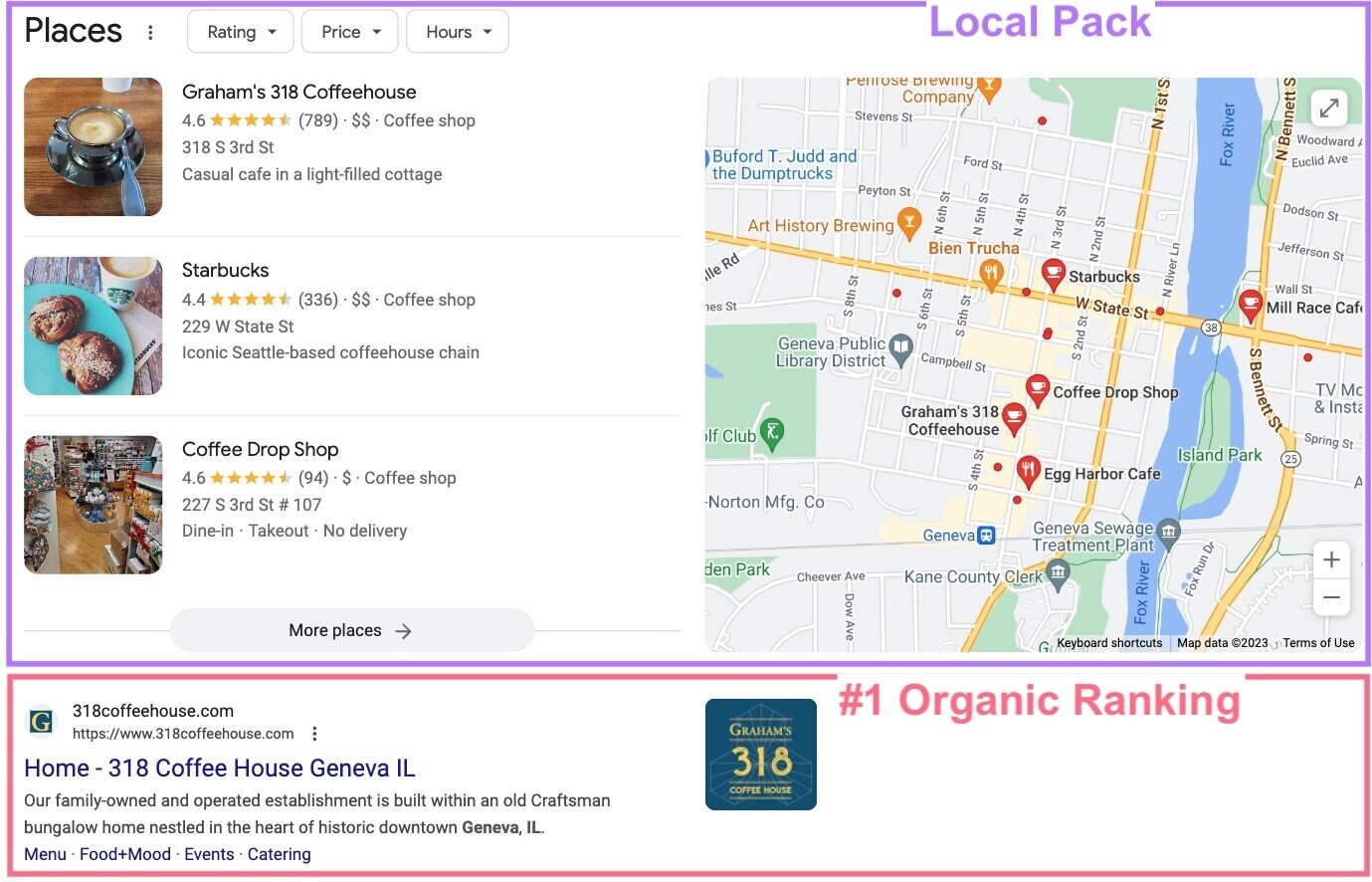 During the configuration process, you'll need to:
Enter the keywords you want to track rankings for. (Check out our local keyword research guide if you need help.)
Choose the country, city, street, or ZIP code you want to track rankings in. (This is important because Google tailors results to the searcher's location.)
Enter your business name as it appears in Google Business Profile. (So that the tool can find your local pack listings.)
Once setup is complete, go to the "Overview" tab. 
Scroll down to the "Rankings Overview" to see local rankings for target keywords.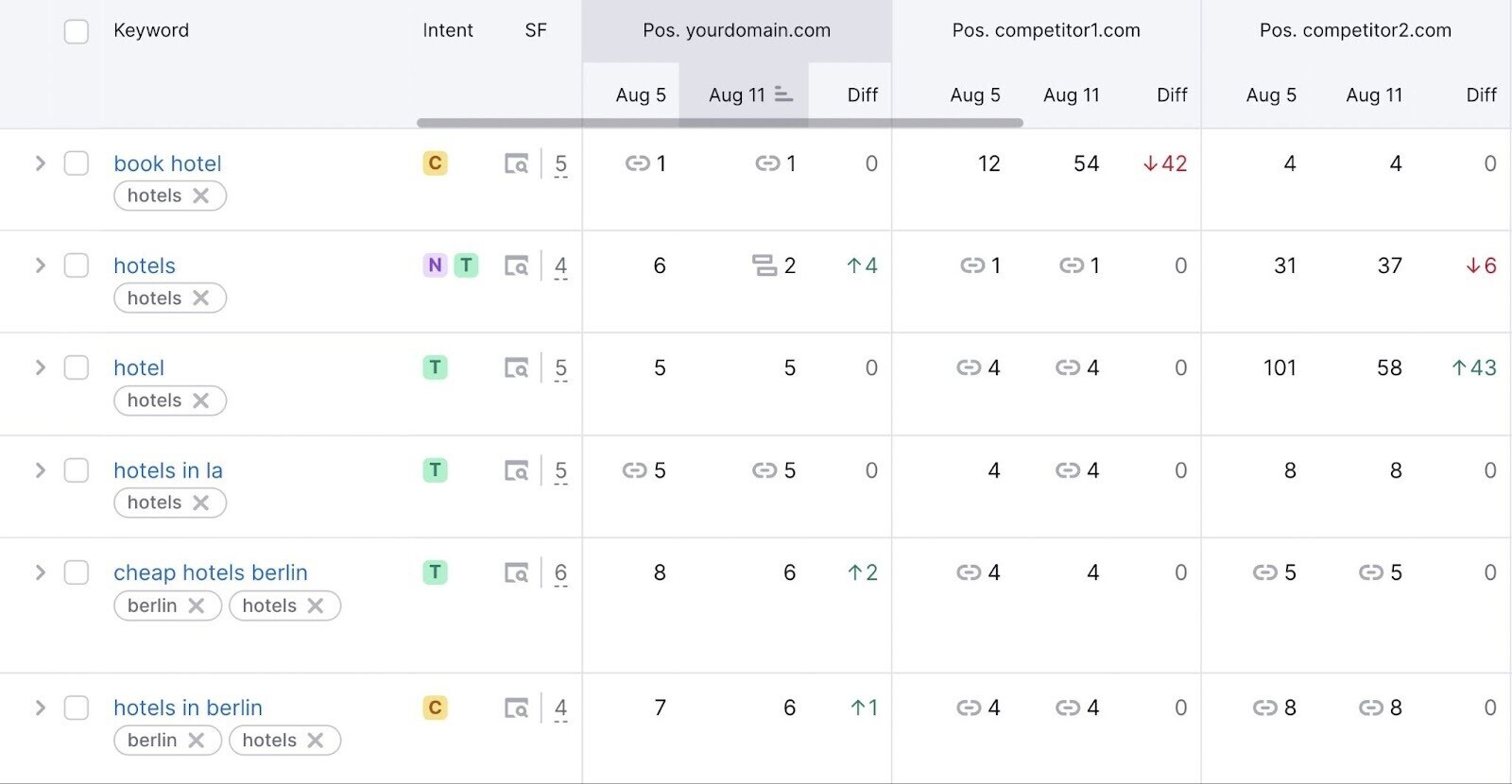 To check your performance in the local pack, click the "SERP Features" filter. And select "Local pack."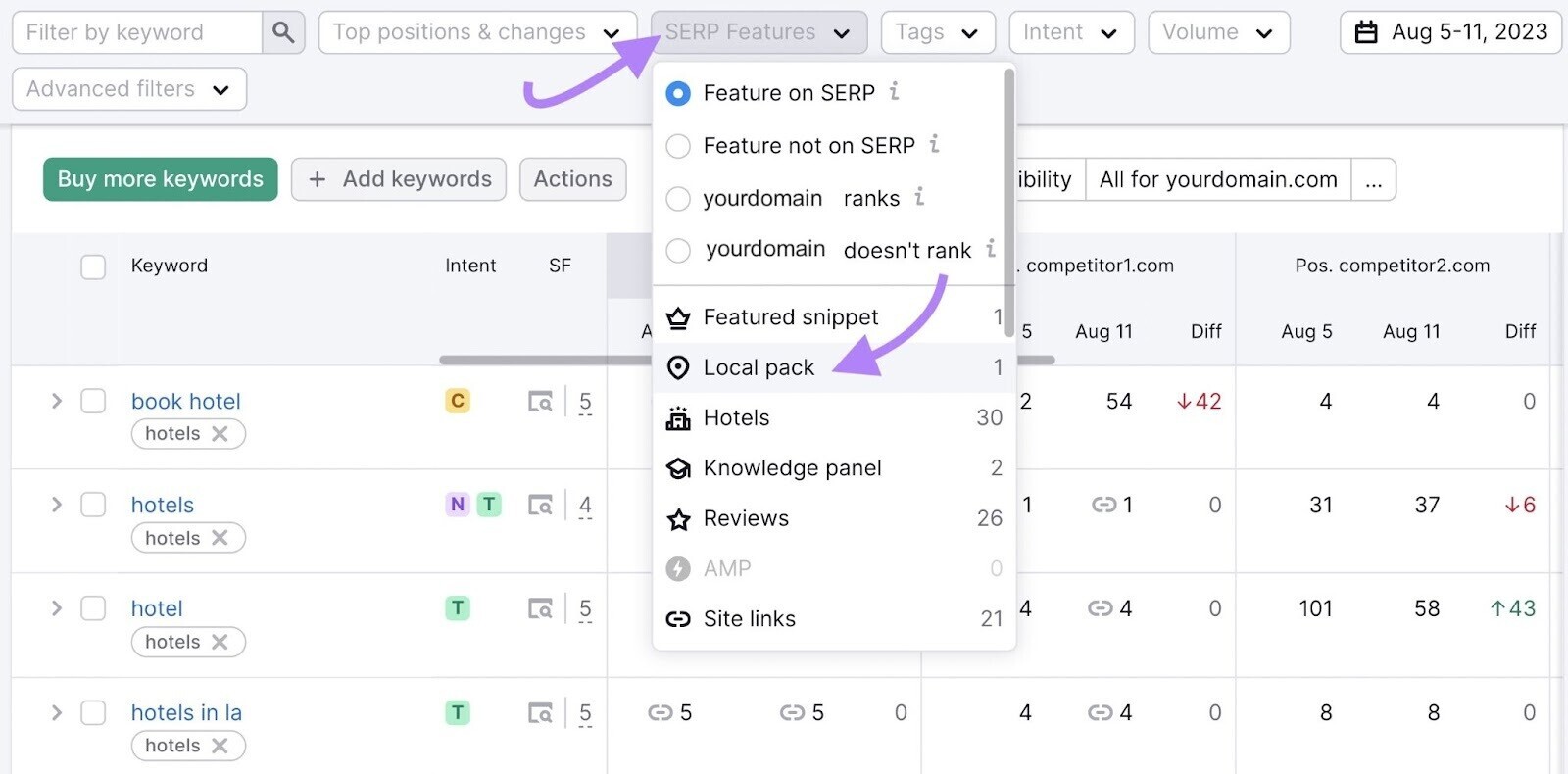 If your business listing appears in the local pack, you'll see a map pin icon in the "Pos." column. 
Like this: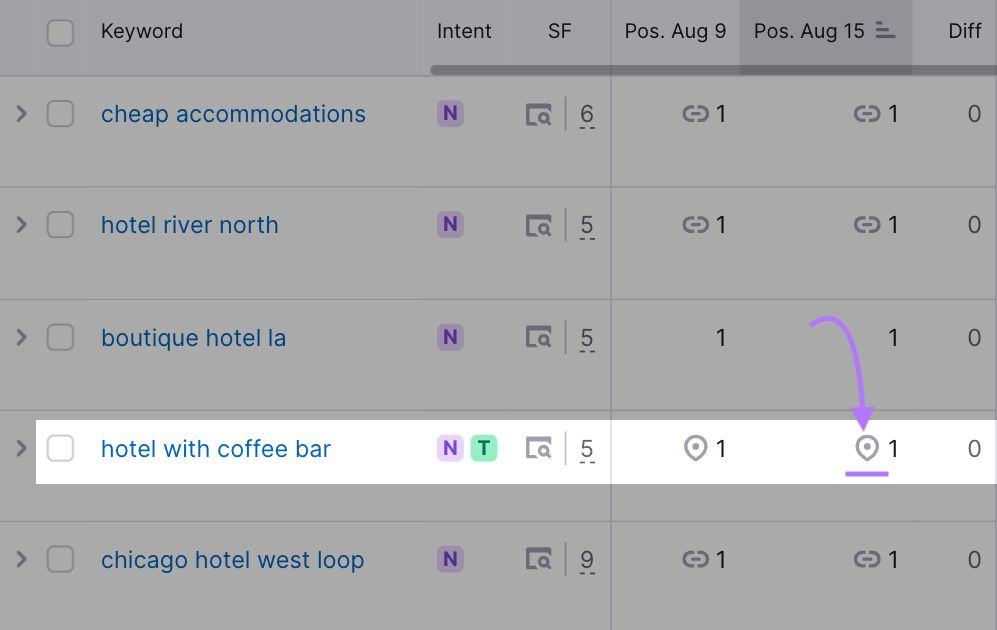 If your business doesn't appear in the local pack (i.e., there's no icon), consider reviewing your Google maps marketing strategy. This can help you rank in Google Maps and Google Search.
Tip: If your business has more than one location, use the multitargeting feature in Position Tracking. It allows you to monitor multiple cities and countries within one project: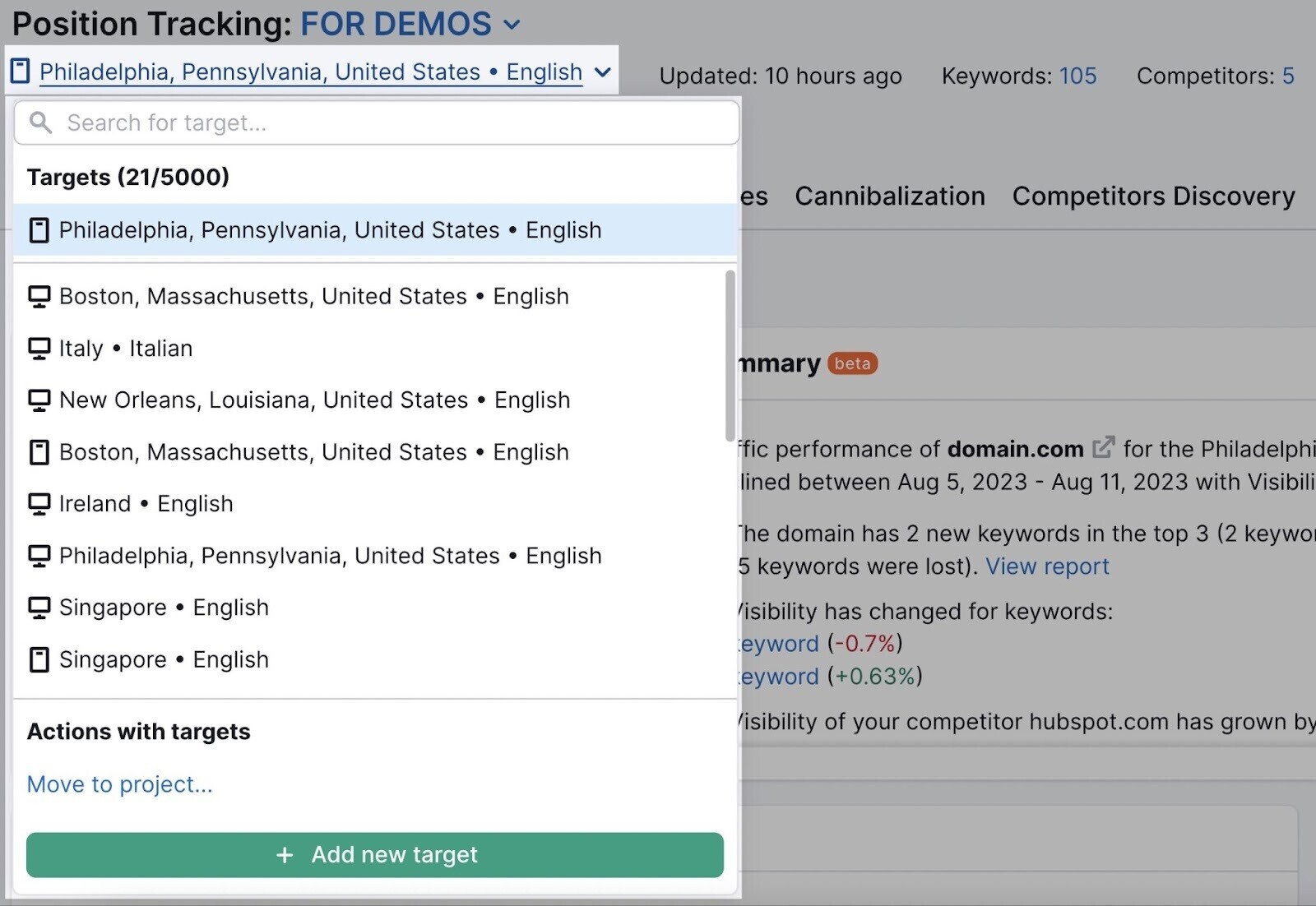 3. Semrush Keyword Overview Tool
With Semrush's Keyword Overview tool, you can analyze search data for keywords at a local level. It provides geo-specific metrics, including local search volume, keyword difficulty, search intent, cost per click (CPC), and competitive density.
Here's how it works:
First, enter the keyword you want to analyze in the search bar, choose your target location with the location drop-down, and click "Search."
The report header shows local metrics alongside national ones for quick comparison.

The "SERP Analysis" section is also geo-specific, showing you what searchers in that area are likely to see. Here's what it looks like: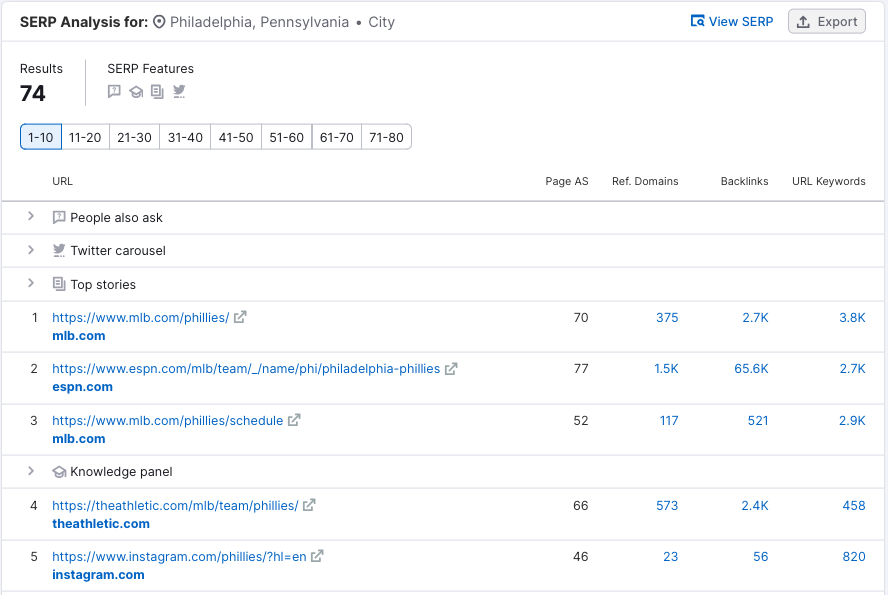 With this data, you can build an SEO strategy specific to your customers and community.
4. Growthbar (Chrome Extension)
Growthbar is a low-cost local SEO tool available as a standalone web app or as a Chrome extension. You can use the tool to track the position of the top keywords of a website, which can be useful for competitor analysis and local keyword research. 
Growthbar also provides insights into the domain authority of a website, so you can see and track your competitor's authority. Use the rank tracker to track which domains rank for certain keywords, or appear often for certain queries.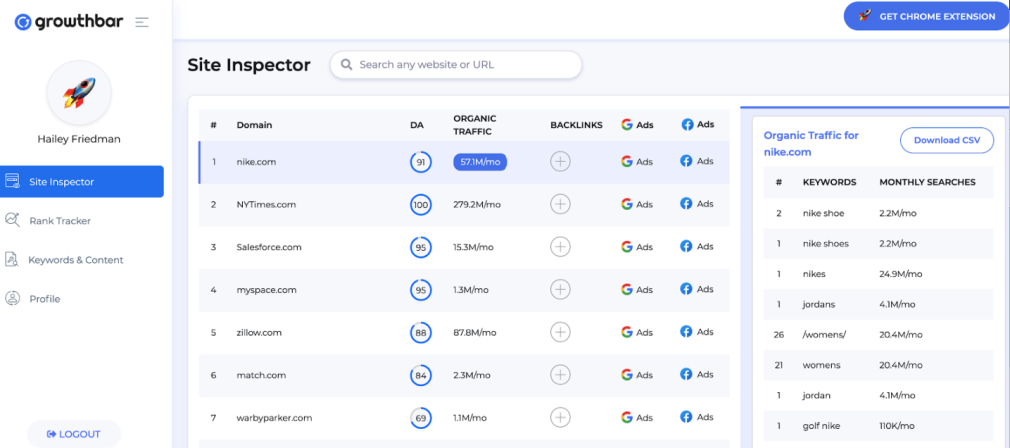 5. Georanker
Georanker has a unique feature that tracks the ranking of websites by multiple locations across the world. It displays this information through heat maps with distinct colors to show locations where the website ranks high.
Users can utilize this information while planning targeted campaigns to improve or maintain this ranking. The local rank tracker shows users the exact position of their targeted locations. It also has a citation tool that allows users to determine the sources of the citations their competitors use.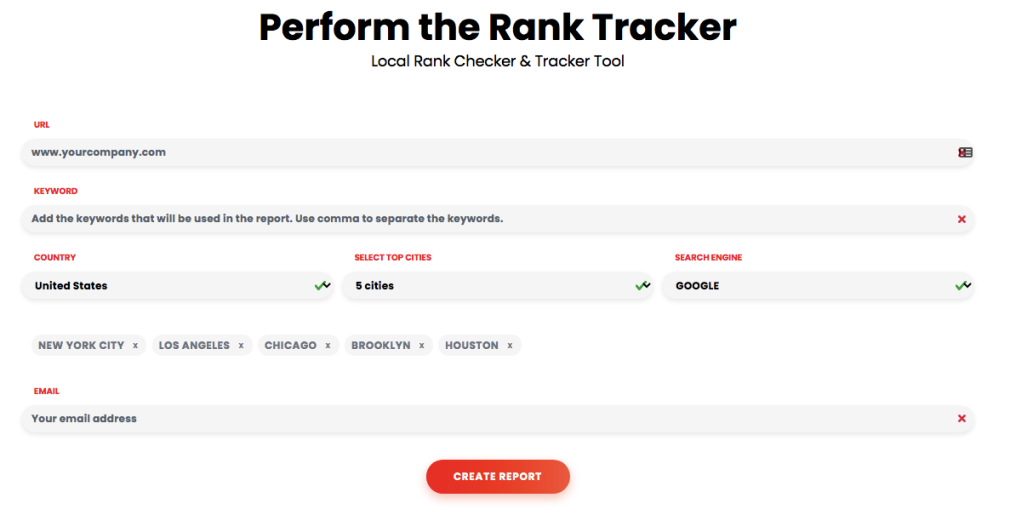 6. Yext
Yext's Review Monitoring feature integrates with third-party sites so you can track and respond to business reviews from every location into one dashboard. You can also grab any authentic first-party reviews directly from customers and add them to their website. 
Yext also provides robust tools to make your business listings compatible with voice search optimization.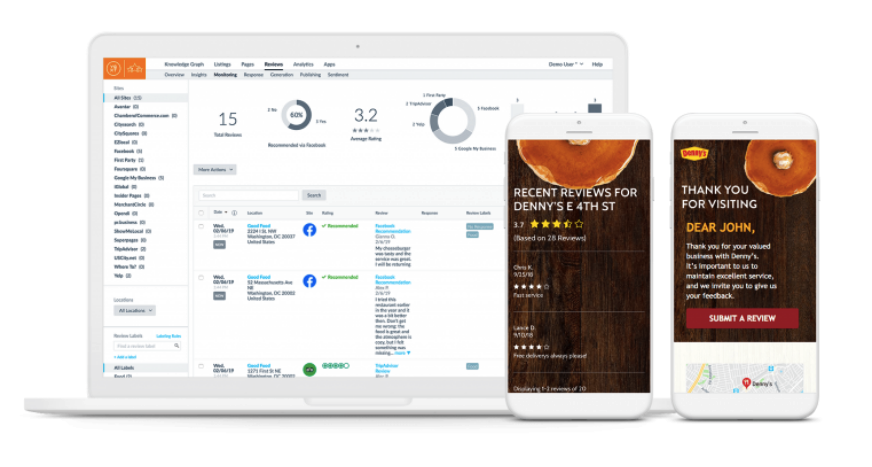 7. Synup
Synup tracks your business performance on search engines, local directories, and review sites. Synup crawls over 200 local search engines and directories to find data inconsistencies, ensuring your citations are accurate. 
It can also help you track your web rankings and traffic, notifies you when people leave comments and allows you to respond to them, and syncs your location data across different sites.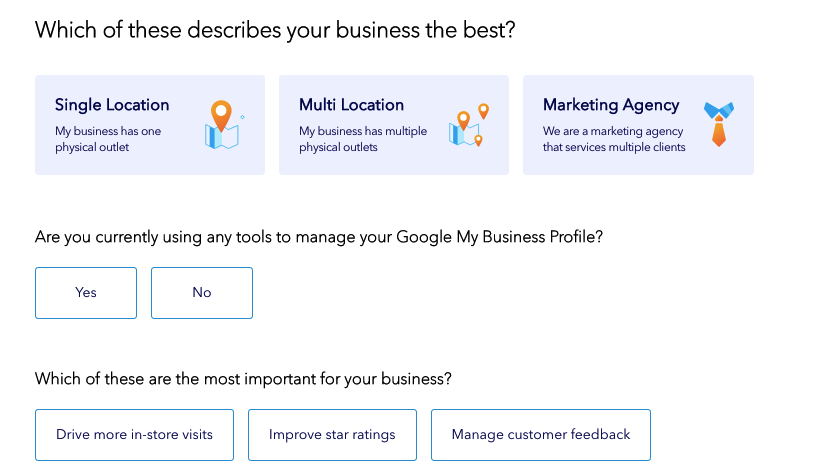 8. BiQ 
BiQ offers real-time rank tracking for 1000 keywords. It supports multiple languages and has a mobile app for on-the-go monitoring.
You can also use it for keyword analysis that helps boost your visibility and rankings. Use the rank intelligence feature to discover the content gap between your business and your competitors. In addition to these features, BIQ can also help generate ideas on how to plan your content and marketing strategies.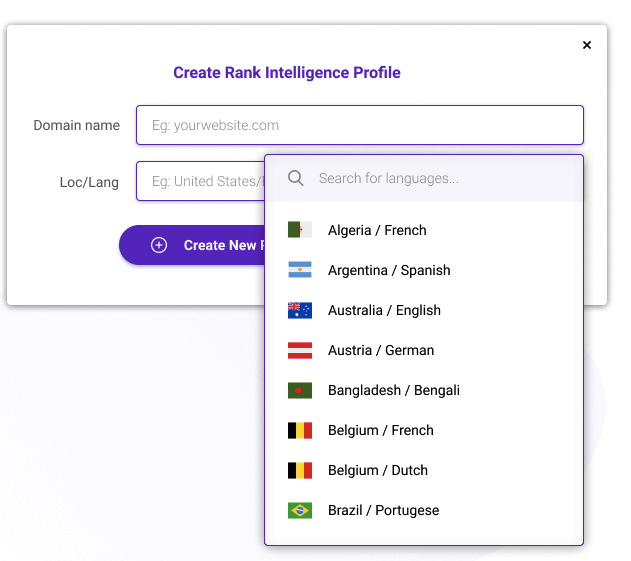 9. Localo
Localo has a free tool to check business visibility on Google and analyze the rank of competitors.The tool works quickly and intuitively. The entire process of checking a company's position and visibility requires no registration and no email address. And it's free.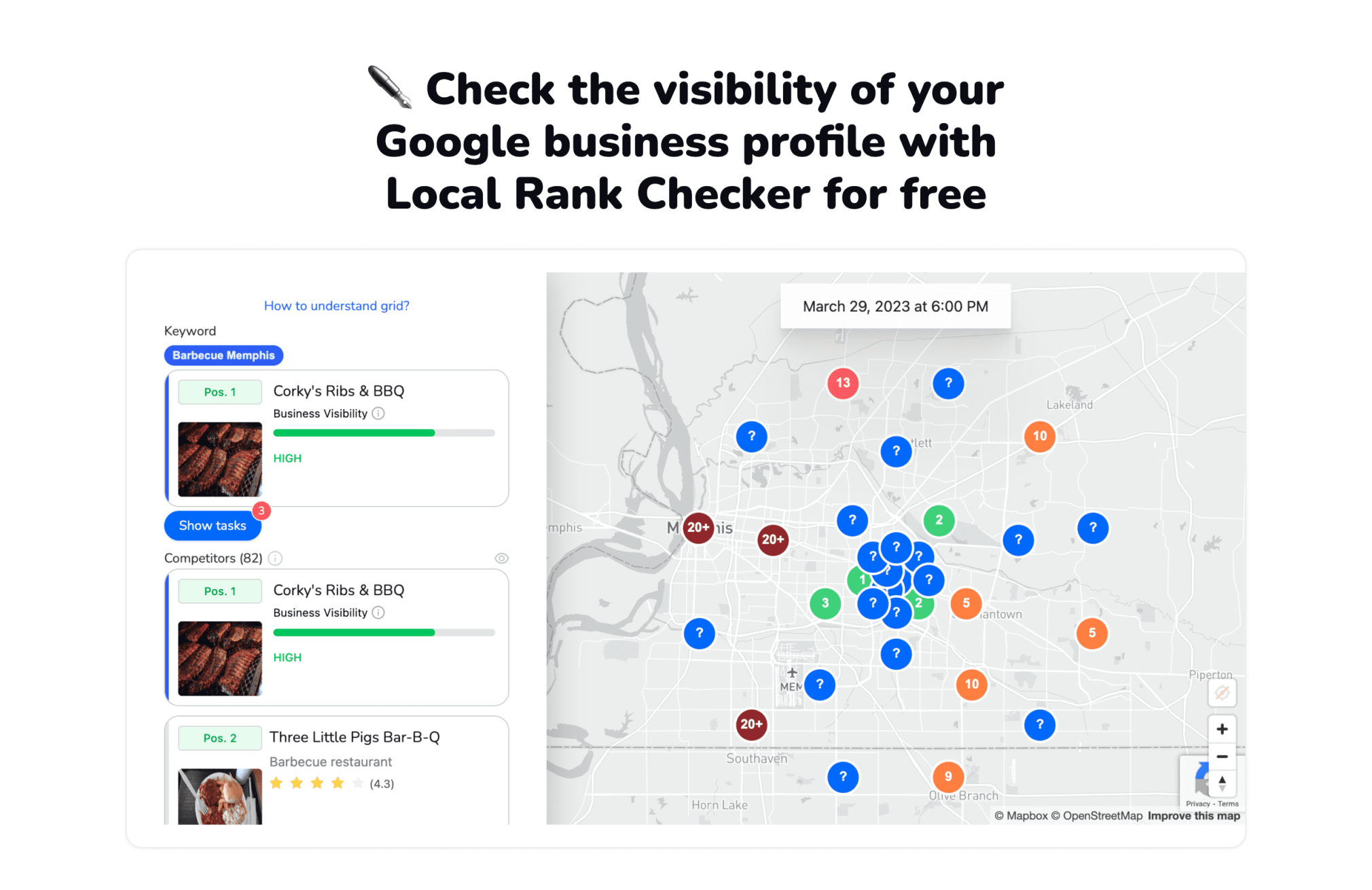 10. Google Ads Keyword Planner
Google Ads' Keyword Planner tool has several features you may find helpful for Local SEO. Though you might use the tool to plan PPC campaigns, you can take note of the competition column that shows how competitive ad placement might be for your target keyword. 
Check out our guide to using Google Keyword Planner for SEO and PPC Campaigns for an in-depth look into the Keyword Planner tool and its many uses.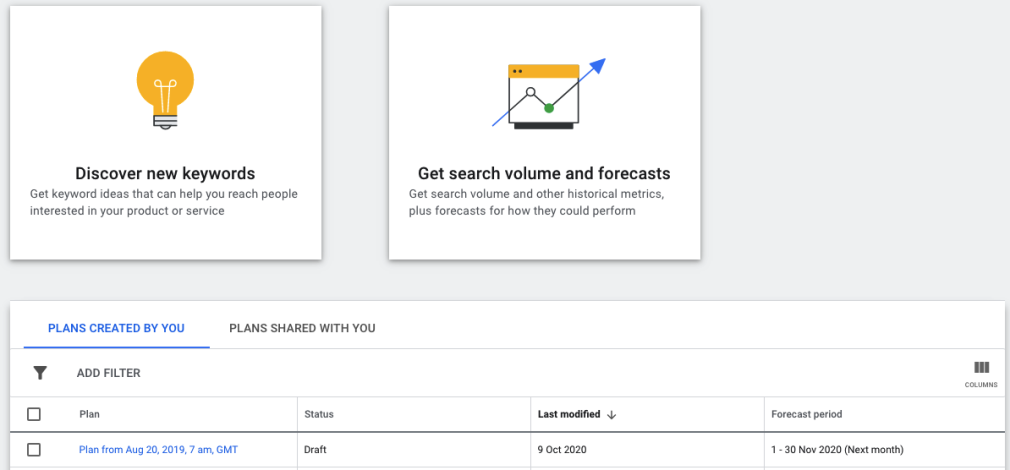 11. Google Business Profile
Google Business Profile is one of the best local SEO tools. And having a Business Profile on Google makes it easy for customers to locate information about your business such as an address or phone number. This is why it is important to keep your business up to date, and update your Google listing if necessary.
Compare businesses, discover your local competitors, and monitor and respond to reviews. Google also includes a "book an appointment" feature for customers, which can encourage them to engage with your listing further.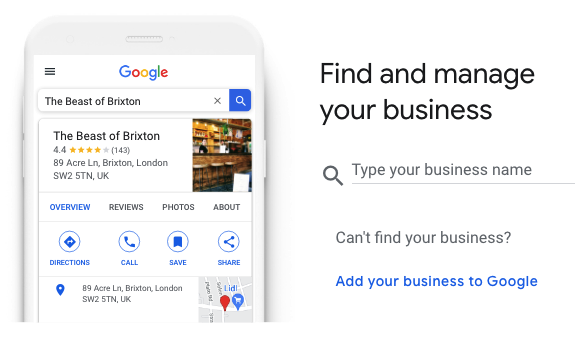 12. Google Search Console
Google offers the Google Search Console to help you ensure your website remains Google-friendly. You can also use it to check the keywords Google ranks your site for and the number of pages Google has indexed from your site.
The tool can also show you the number of clicks and impressions your website receives. The mobile usability section shows any usability issues your mobile site or pages are currently experiencing. Check for additional errors and other indexing issues that your website is having dynamically and take action to solve them. 
Check out our definitive guide to Google Search Console for an in-depth look at GSC.
13. Google Analytics
This web analytics service tracks and reports web traffic to users. Google Analytics report service shows the number of people that visit your site daily. The third-party referrals option enables you to see the third-party websites that sent you traffic.
You can also track session duration, bounce rate and pages per session and also get insights from demographic data to use in your overall marketing strategy.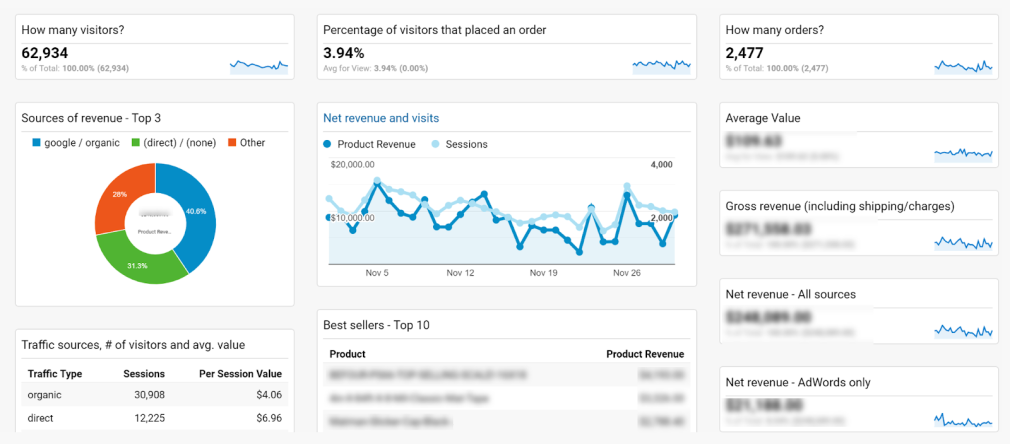 14. Google Trends
Google Trends is mainly used to compare keyword popularity and track event-triggered increases in the keyword search volume.
Though it's not a traditional SEO tool, it offers users helpful data like search volume index and the geographical information of the users. Businesses can use this data to create targeted campaigns and plan new ways to outrank competitors. 
Google Trends also includes what searches are likely to lead people to your website.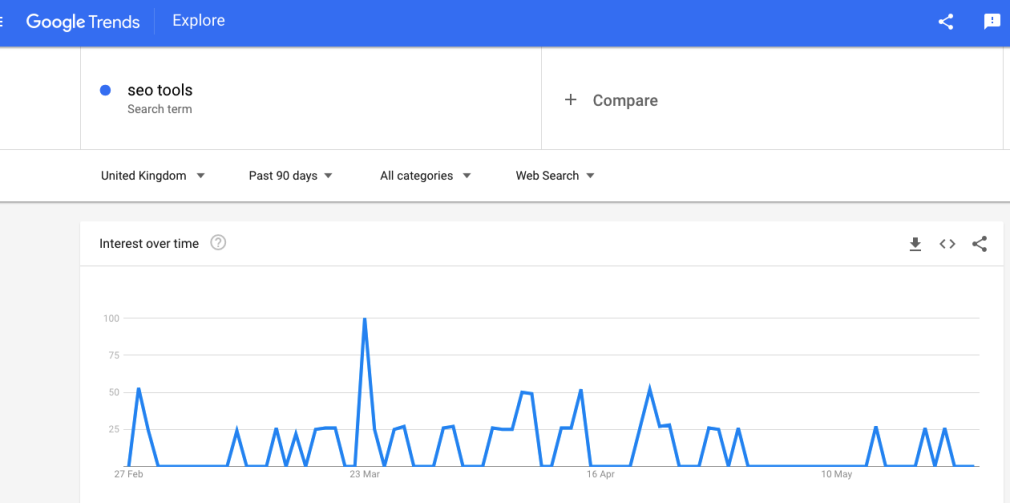 Local SEO solutions can boost online marketing strategies for businesses that have physical locations. Driving traffic online is never a straightforward task; there are several powerful factors to track if you want to receive more traffic. With the right local SEO tools, you'll save yourself time and resources while improving your engagement with your audience.