What's PPC Optimization?
Pay-per-click (PPC) optimization is a series of actions taken to improve Google ad performance. With testing, these actions can lead to a better return on ad spend (ROAS) and conversion rate.
Some examples of this are: 
streamlining ad groups 
tracking and adjusting campaigns 
analyzing your competition's ad history 
Without PPC optimization you'll waste hours of time on bad ads that will more importantly waste your money. Here's how to avoid that in 5 steps. 
PPC Optimization in 5 Steps 
Do your keyword research 
Look to competitor research for better-performing ads
Plan keywords, ad group ideas, and landing pages
Create ad texts and extensions
Track your competitor's performance
Follow along with a free trial of our advertising toolkit.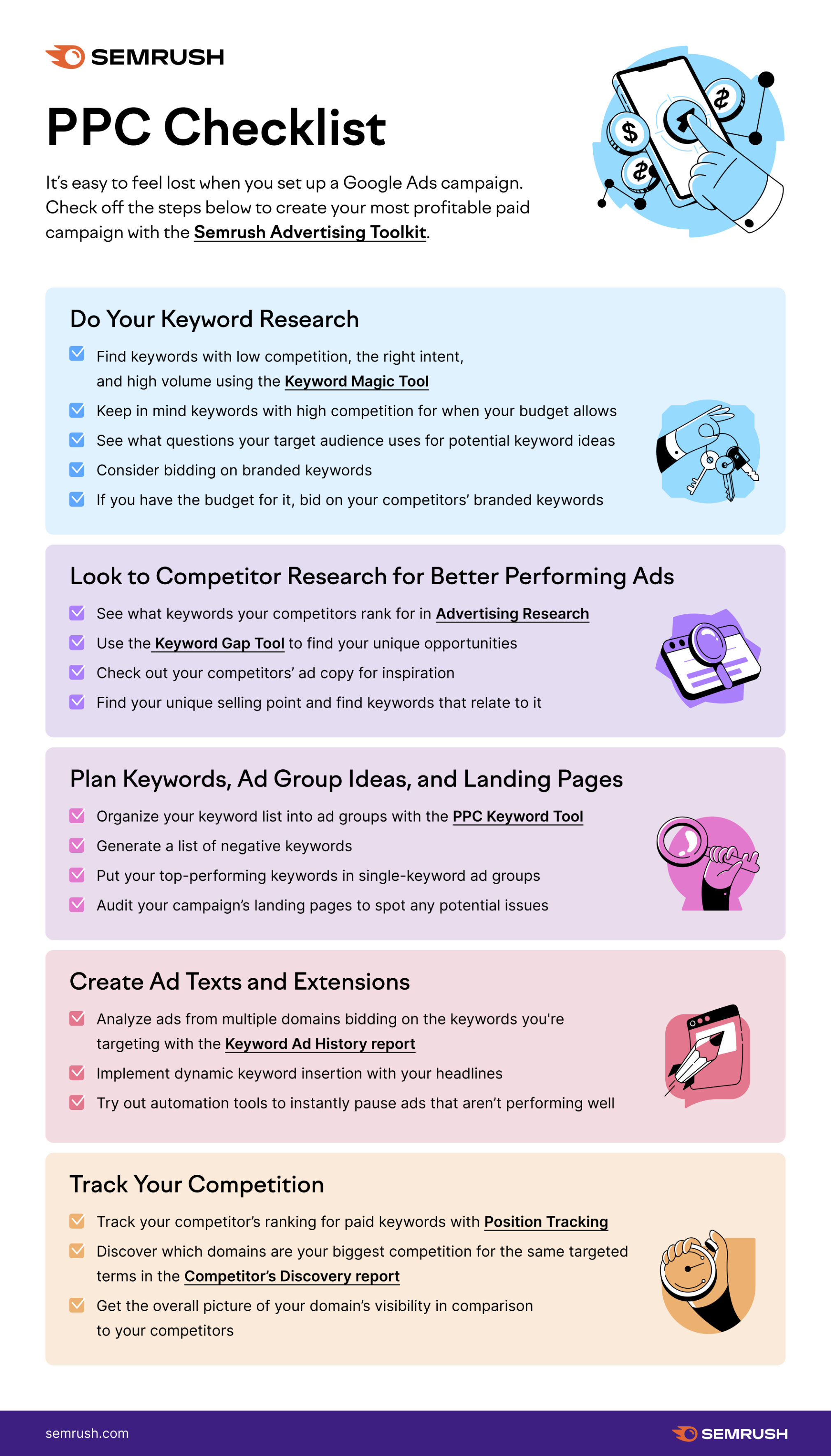 1. Do Your Keyword Research
The first step towards snagging the first ad position in the search engine is figuring out what keywords are most relevant for your campaign. 
Keywords are the heart of all search-focused digital marketing. However, finding the right keywords that will create conversions on your site is easier said than done.
Looking for keywords that resonate with your audience is a great start. Explore forums or your brand's social media pages for ideas. Hot topics, frequently asked questions, and popular products or services could all become your target keywords.
You can take these phrases and see which ones are worth going after by looking deeper into their data. Keywords that have high volume, the right search intent, and low competitive density are a good option if you're just getting started with PPC.
Semrush Keyword Research Tools
You probably knew you could find any keyword's search volume and cost-per-click, but did you know you could measure a keyword's competitive density, find search intent instantly, or export a .csv file with up to a million keywords?
This can all be done with the Keyword Research toolkit. Start off by entering any word or phrase into the search bar to receive a Keyword Overview report with this information. This report gives you a great overview of a search term you're interested in.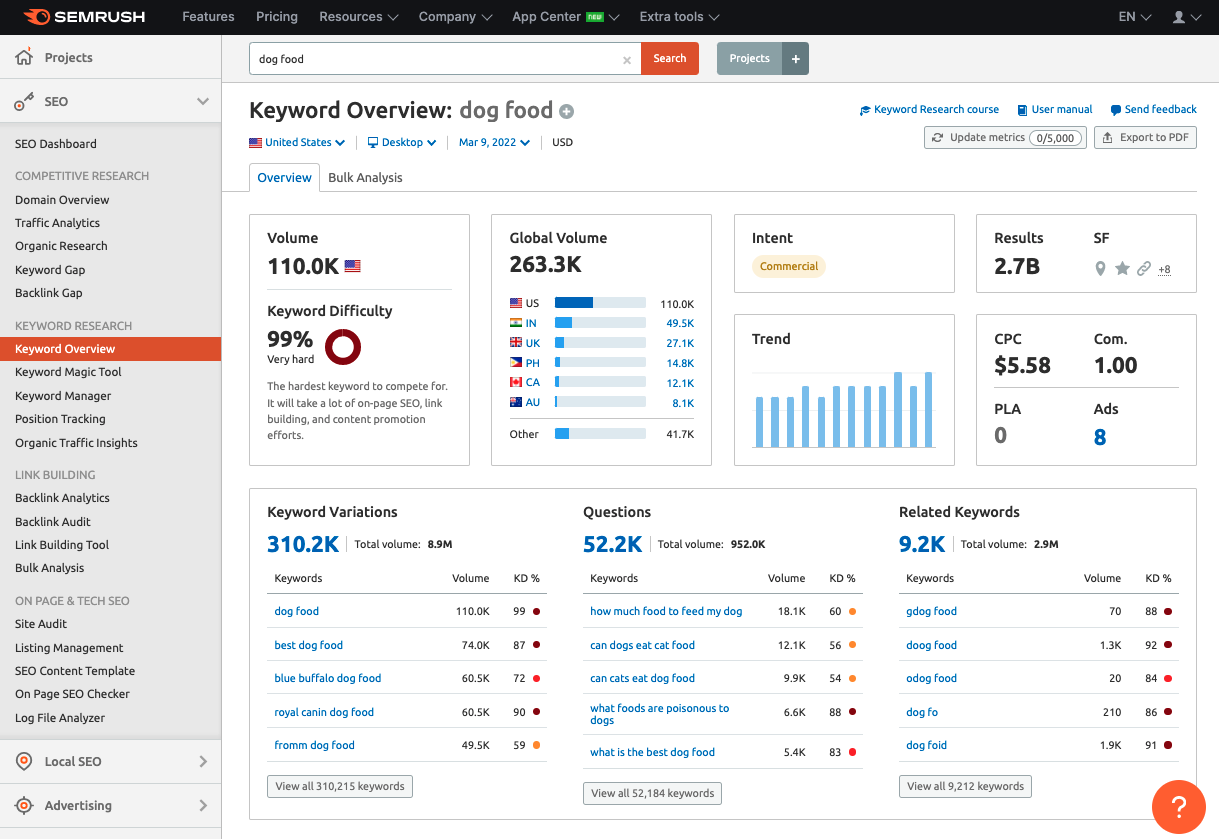 Scroll down to find info on the keyword's history of ads (Ad Copies widget) and trend of ads over twelve months (Keyword Ad History widget).

After looking deeper into the details of a keyword, you can widen your search and gather more ideas with the Keyword Magic Tool.
Break down the keywords into categories that can help inspire ad group ideas. Generate a master list with millions of related keywords with the Keyword Magic Tool. 
Look for under-the-radar searches with more specific search intent that you can target with a relevant landing page. Turn on the Phrase Match filter and the Search Intent filter to see the list of longer search phrases containing your keyword in this report.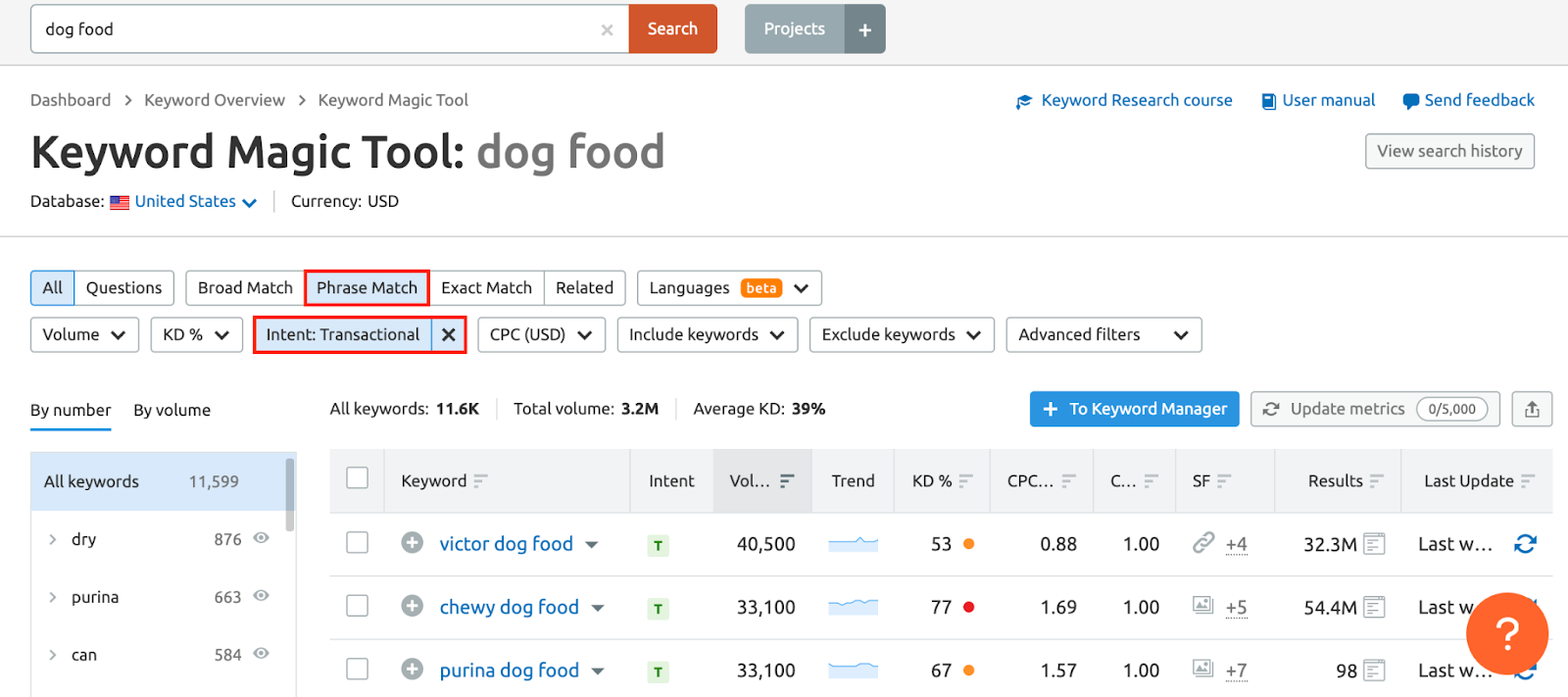 See the list of the closest related searches based on how similar their result pages are by using the Related filter.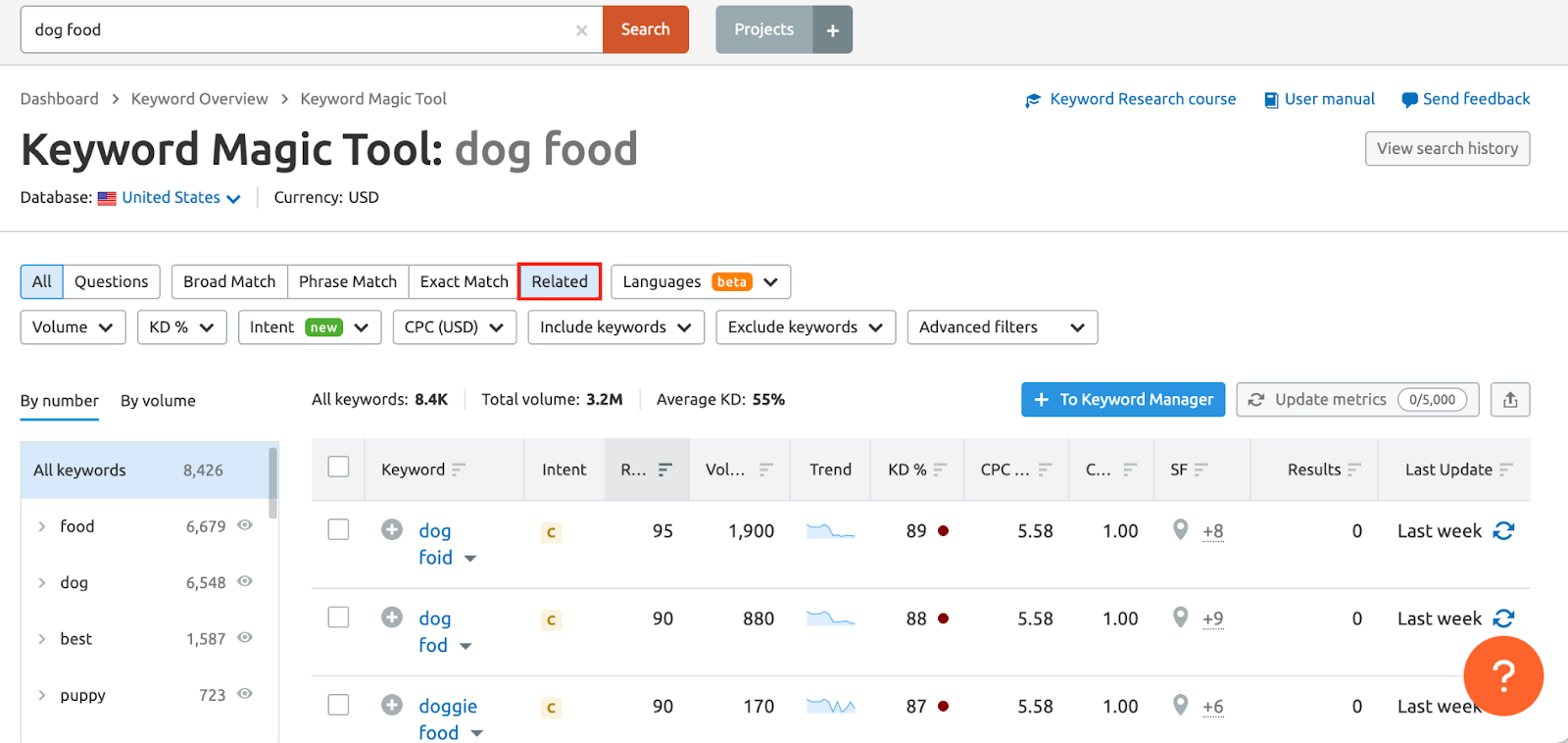 To see the list of advertisers that bid on and ranked in Google's top-paid positions for that keyword over the past twelve months, enter the keyword in the Ad History report.
2. Competitor Research for Better Performing Ads
Why is competitive research so important? Well, when you see how everyone else in your market is positioning themselves, it allows you to create your own unique selling point (USP). Your USP should be the focus of your ad campaign and address a problem and offer a benefit that's better than the competition. 
In a PPC search campaign, the problem you focus on solving should become your target keywords. If it's a big enough problem, you'll be able to tell by how many people are searching for it. 
So, after competitive research, you should have a list of keywords that are your best opportunities to outdo your competition.
You can quickly find the gaps in your competitor's strategy and use them to your advantage with our tools. Here are 5 quick actions to take, using Advertising Research:
Get a list of other websites that compete for the same terms as you. If you currently run any Google Ads campaigns, enter your domain in the Competitors report search bar within the Advertising Research Tool to receive this list. If your domain hasn't run any before, you can use a similar website in your industry to get results.

See the keywords that your competitors are bidding on and the ads they ran over the past twelve months by entering a competitor's domain in the Ad History report. If you have an ad-blocking extension, make sure it's turned off or the report may not load correctly.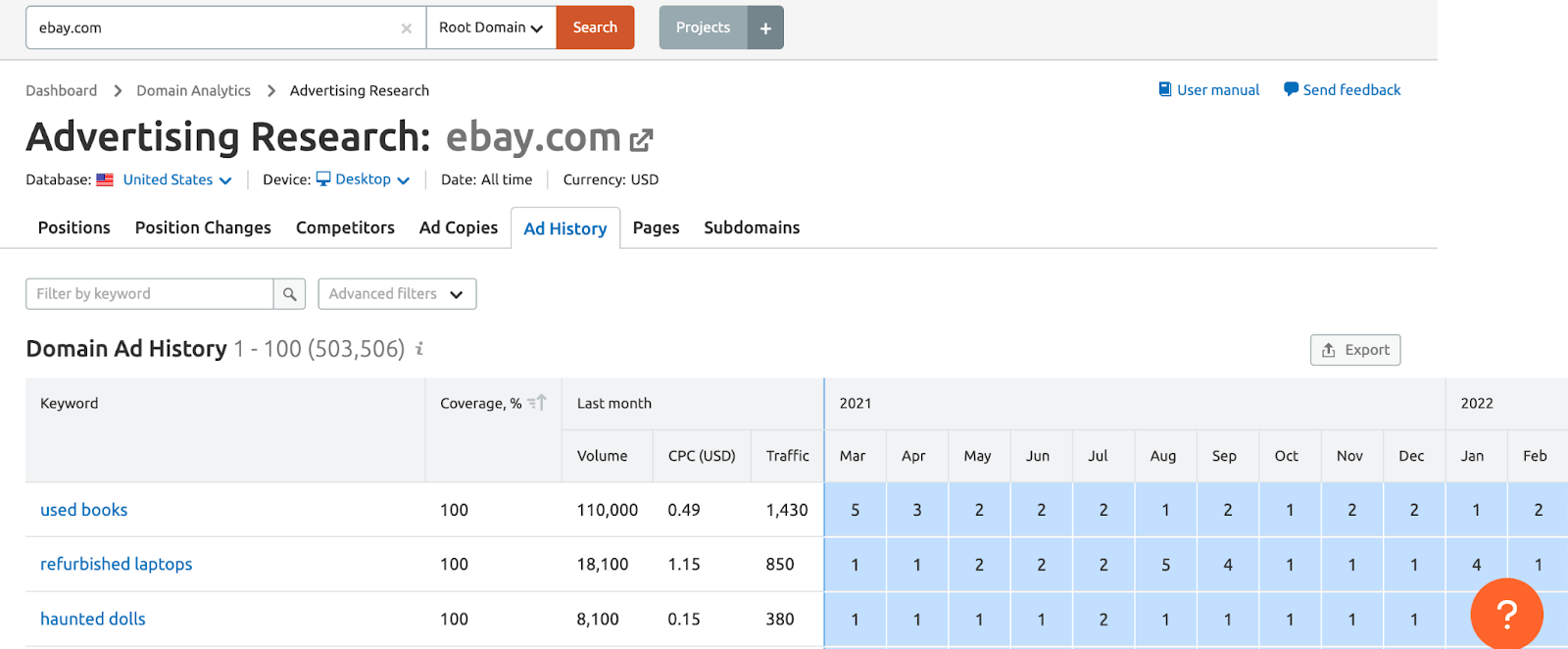 See the headlines, URLs, and body copy from a competitor's ads over the past year in the Ad Copies report.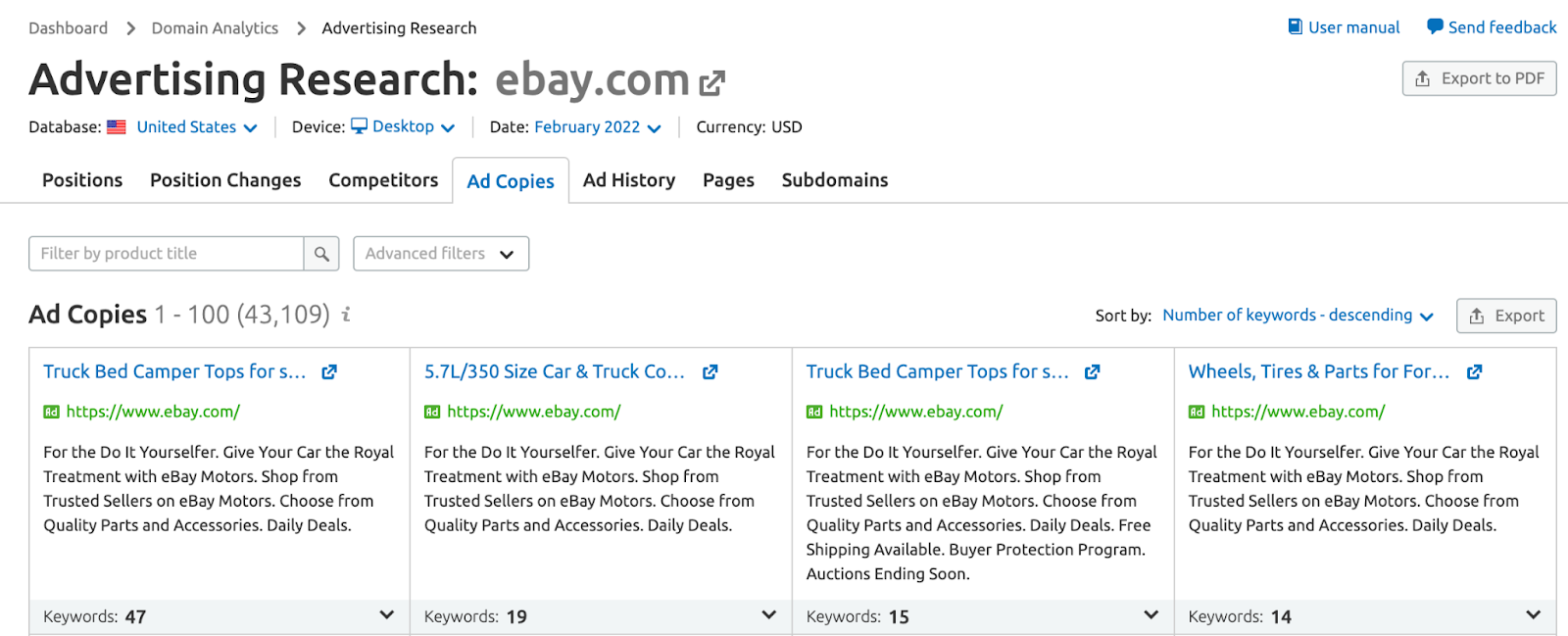 Identify any new, lost, improved, and declined positions for the keywords your competitors bid on with the Position Changes report. 
Compare similarities and differences between respective keyword portfolios by entering up to five competing domains (including your own) in the Keyword Gap tool. Don't forget to set the keyword type from Organic keywords to Paid.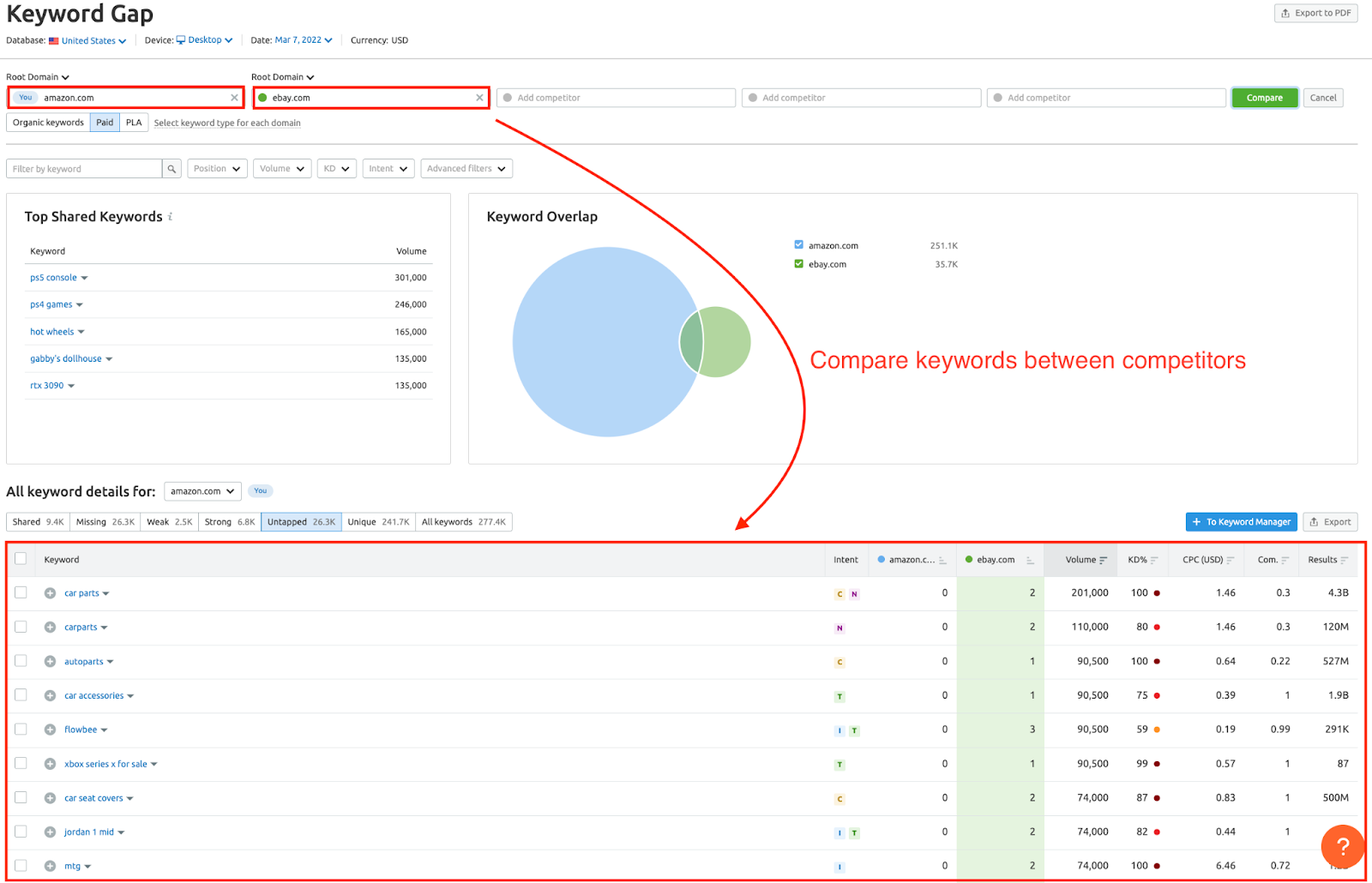 3. Planning Keywords, Ad Group Ideas, and Landing Pages
Once you have a thorough list of keywords to target, the next step is to organize them into ad groups for your Google Ads campaign. 
The structure of your Google Ads campaign will do a lot to help reduce ad spending and make the most out of your budget.
There are a number of ways to plan the pieces of your campaign using the Projects section within our platform:
Start by organizing a large group of keywords into ad groups for your campaign. You can do this with the PPC Keyword Tool. First, set up a Project using your website's domain. Then, add your chosen keywords to the campaign and organize them into groups within the tool's interface. Your keywords will be in a master list on the right, and the groups can be found on the left.

Generate a list of negative keywords for each ad group to prevent your ads from competing with each other on the results pages with the cross-group negatives feature.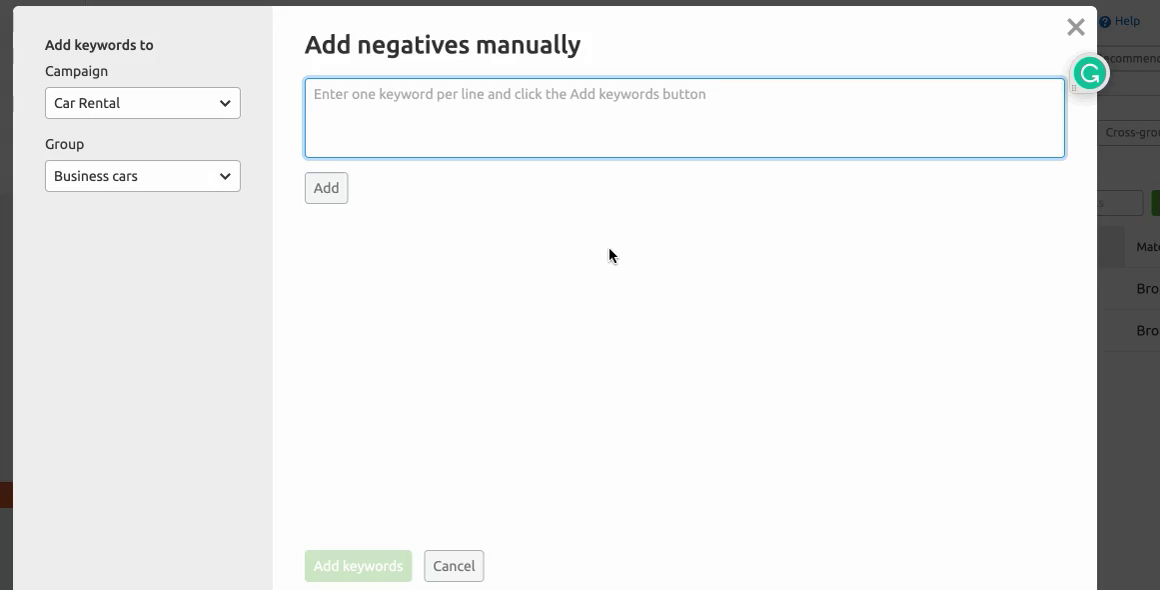 Create single-keyword ad groups. Put your top-performing keywords into their own group of ads to help create precise ads. With one keyword in an ad group, you can design a specific headline, landing page, and call to action for each keyword in your campaign.
In your same Project, run the Site Audit tool to audit your landing pages to spot any potential issues with their health and structure. Start a campaign to crawl your website, set the scope of the crawl to include your campaign's landing pages, and find any potential health issues on your pages that could damage the user experience or quality score.
To crawl only your campaign's landing pages, make a .txt or .csv file of URLs with one URL per line and set that file as the crawl source when configuring your audit.
4. Creating Ad Texts and Extensions
Your ad text and ad extensions can convince your target audience to take action. Or, it can make them click on your competitor's ad. Pay-per-click advertising is a precise game where every little detail can help make or break your ROI.
Ad extensions, in particular, can help you take up more real estate on the SERP, which translates into more opportunities to get traffic to your site.
Obviously, one of the best ways to stand out on the results page is with a great headline and call to action. To do this:
See how past advertisers wrote ads targeting the very same keywords that you want to target now with the Keyword Ad History report. Analyze ads from multiple domains bidding on the keywords you're targeting. Each blue box in this chart represents a month where Semrush saw the domain's paid ad on a SERP for the queried keyword.

Improve your CTR by implementing dynamic keyword insertion with your headlines. Then, save time on manual creation and testing of multiple ad copies by trying out automation tools such as Search Ads 360. It gives you the chance to pause poor ads instantly, and keep the winners. 
Using AI to Create Ad Copy
If you want to take advantage of AI technology in your ad copywriting, try out the AI Ad Copy Generator app from the Semrush App Center. This app (available with a free trial) auto-generates ad copy in just two quick steps. 
First, enter your URL. 
Then, enter your keyword list for your group(s). 
With this info, the app will email you a link to download the ad copy in a spreadsheet file, easy to integrate with your Google Ads account. 
5. Competitor Tracking 
PPC competition may sometimes seem intimidating. You don't have access to your PPC rivals' progress in Google Ads. So, you might feel left with only your common sense to interpret their campaigns. 
For a better way to stay up-to-date with how your competitors' ads perform and which of your rivals take up ad space at the top of SERPs for your target keywords, check out Semrush's Position Tracking. This tool can be a great help and a useful part of pay-per-click campaign management. 
Once you set up your tracking campaign in the tool (using the same Project as your PPC Keyword Tool and Site Audit campaigns), make sure to choose Google Ads as the keyword "type", not Organic, to track your competitor's ranking for paid keywords in the Google paid results.

Discover the domains that are your biggest competition for the same targeted terms in the Competitors Discovery tab of Position Tracking.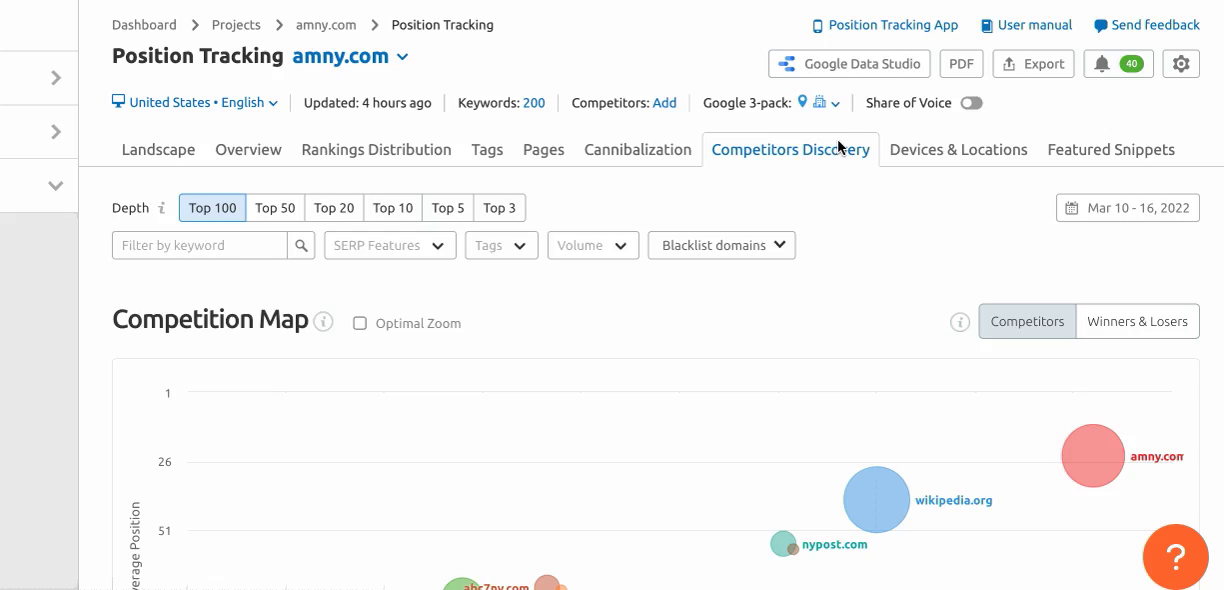 Uncover the daily ad position of your competitor's domain for a given keyword and check whether it improves or declines over time.
See the URLs of your competitor's landing pages and view how the ad is displayed in the SERP. You can also get the overall picture of your domain's visibility compared to competitors by reviewing the Landscape, Overview, and Rankings Distribution.

We know this checklist will lead you to campaign greatness! 
If you're still looking for more PPC news, tips, and best practices for optimizing your PPC performance, read How to Improve Your Ads Relevance with Your Google Ads Account.