The Social Poster gives you an interactive calendar in which you can plan out the entire year for your Twitter, Pinterest, Instagram business, Facebook business, and Linkedin company pages. Set the dates and times of your posts, make drafts, and create a queue so you always have content ready to share with your audience.
Viewing Your Calendar
One of the trickiest parts of running any social media campaign is being able to maintain an organized and optimized schedule of posts. With social media being such a fast-moving platform, it is important to have an idea of what you're going to post not just now, but also a couple of weeks down the road.
You can switch your calendar view between month and timeline (weekly). Change this by selecting the drop-down menu in the top left of your calendar.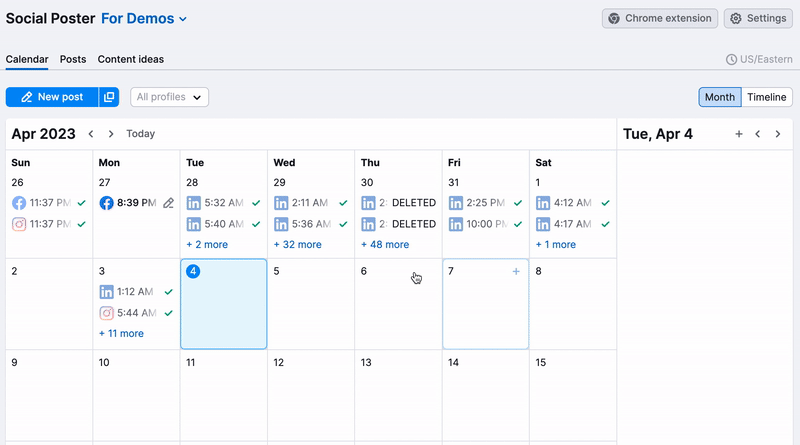 Posting
There are a number of different ways you can schedule a post on your calendar. First, you can simply click on the specific day of the calendar you wish to post and choose between the different time blocks on each day.
Once you click the day and time you want to have the post, you will be brought to the preview page of your new post. Here you will actually be able to create the content of the tweet or post and select the exact time you want the post to go live.
This same process can be done by clicking the New post button at the top of the calendar. Your post will automatically be posted on that day unless you change the scheduled settings in the preview screen.
Posting Videos
When scheduling a post for Facebook, Instagram, LinkedIn, or Twitter, you can also include videos. This allows you to create more interactive posts for your followers. To do this, click on the image box at the bottom of your post widget.
In order to post your video, the size of the video file must not exceed 100 MB. Only .mp4 and .mov video formats will work, and the aspect ratio of the video should be between 9x16 and 16x9 (additional Video length requirements applied for Instagram posts - 60 seconds max length and Twitter - 140 seconds max length).
Instagram Posting
You can schedule or post up to ten photos or videos to Instagram directly from the Social Poster, as long as you are using an Instagram Business account. Currently, the tool does not support posting to personal accounts. Also, please keep in mind that posting IGTV and Stories is not currently possible due to the official Instagram API limitations.
To create an Instagram post, select your Instagram account at the top of the post widget.
Then click on the Image box at the bottom of the post widget and select the image or video you want to upload.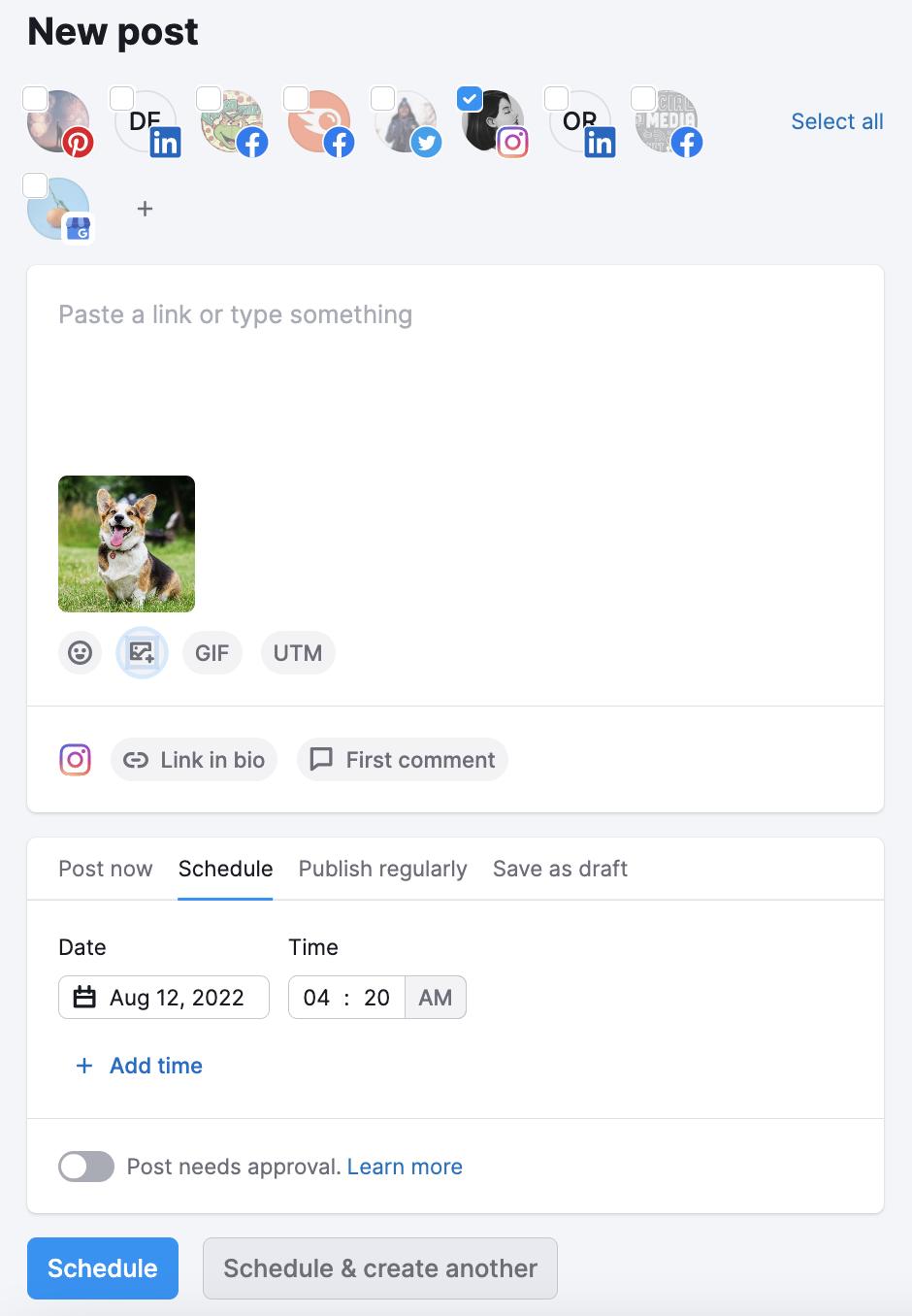 To post a video, the size of the video file must not exceed 100 MB and 60 seconds in time length (according to Instagram requirements). Only .mp4 and .mov video formats will work, and the aspect ratio of the video should be between 9x16 and 16x9.
If you upload a video to your Instagram post, the tool will automatically suggest publishing it as a reel. You can switch between reel and regular video in the post settings: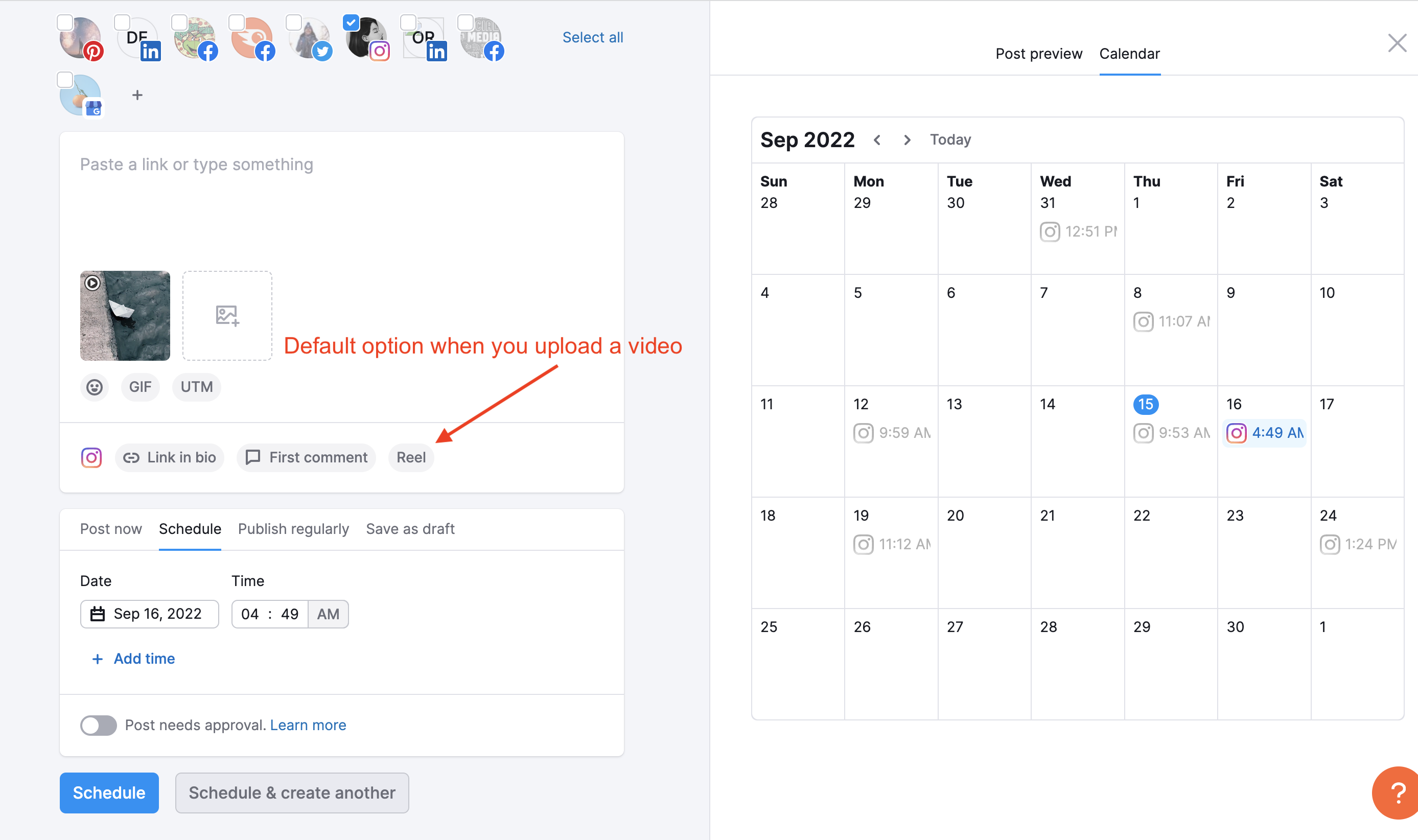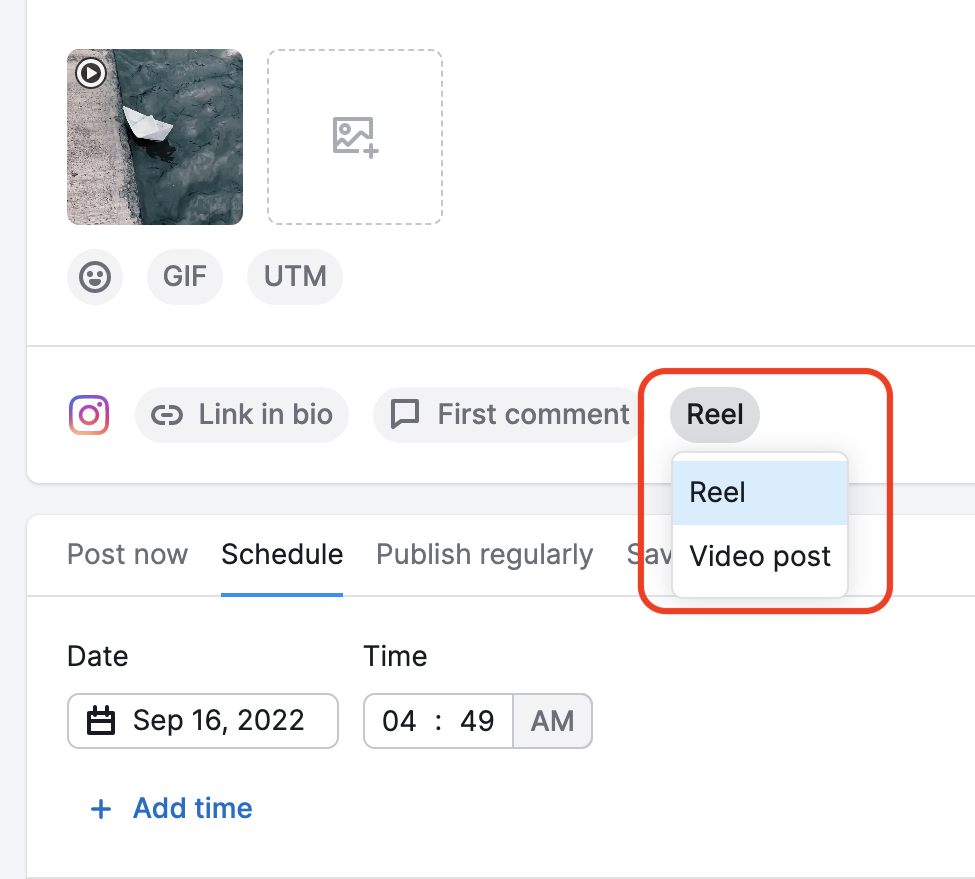 Once you are satisfied with your Instagram post, you can schedule it, add it to a queue, or post it instantly. If you choose to schedule it, the post will be added to your Calendar alongside any other scheduled posts from your connected social media accounts, indicated by an Instagram icon and scheduled posting time.
Bulk Scheduling
If you already have a fully planned campaign in a spreadsheet and want to quickly upload all of your posts at once, you can do that with the Bulk Scheduling feature.
Directly on the right of the New post button will be the bulk scheduling button.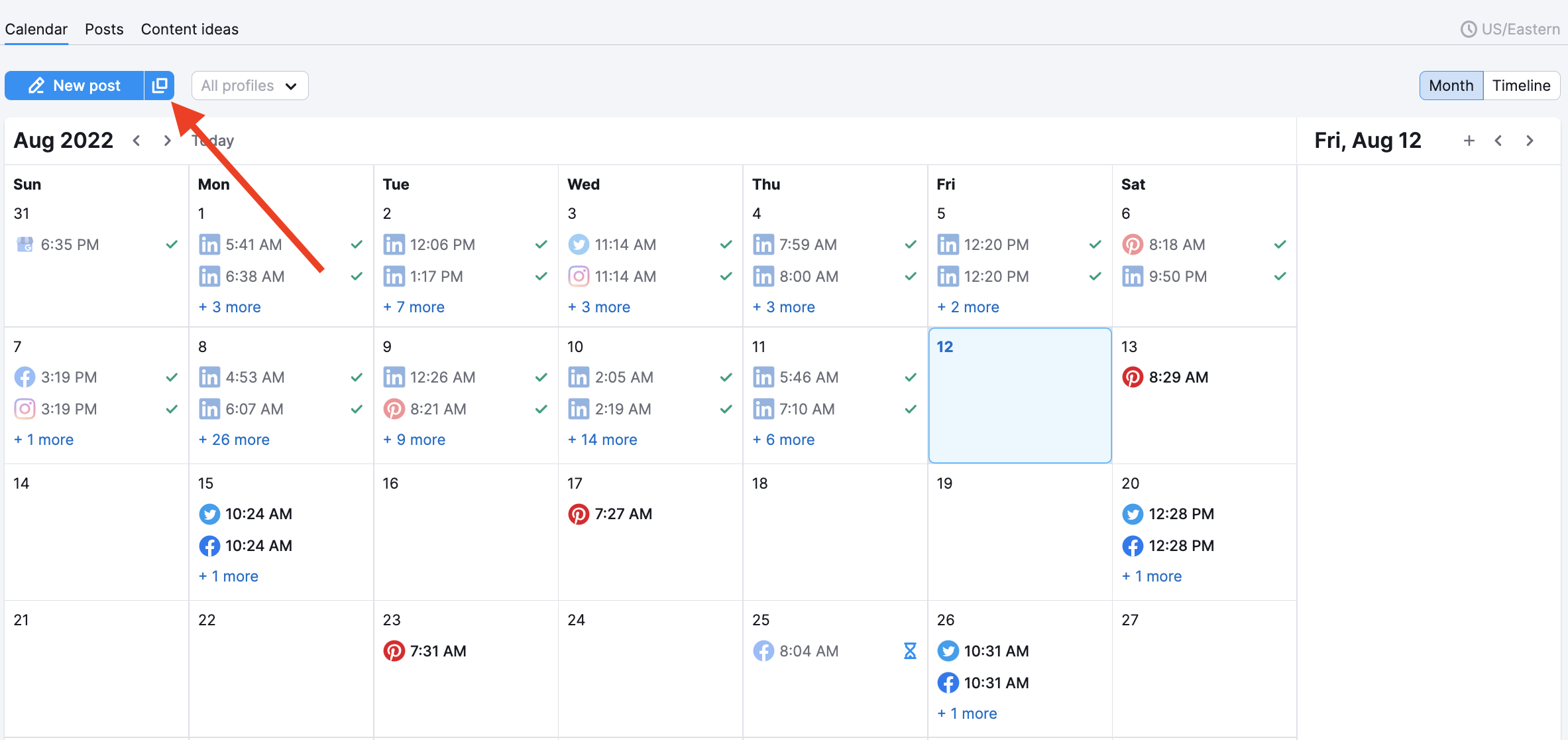 Click on this, and you will be prompted to import your CSV file containing up to 100 premade posts. If you are unclear how to format your upload file click the button and the link that says "More information."
This will instruct you on what kind of table you will need. The only required column is for your content. This will be what text you want in your posts (bulk scheduling works for text posts only, once scheduled, you can add images in the tool). The other three columns are recommended but optional. These include date, time, and which social media channel you want to post on (Facebook, Twitter, LinkedIn, Instagram, Pinterest).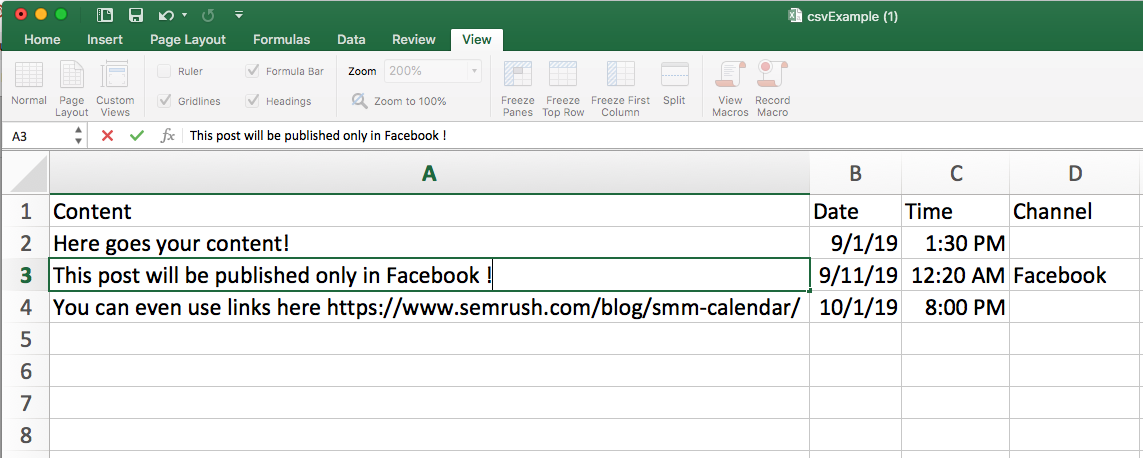 Shortcut Posting
The final way to create a post is to use the keyboard shortcut "N." This will immediately prompt you to the preview window. To find out all of the keyboard shortcuts, you can view them in the settings section in the top right.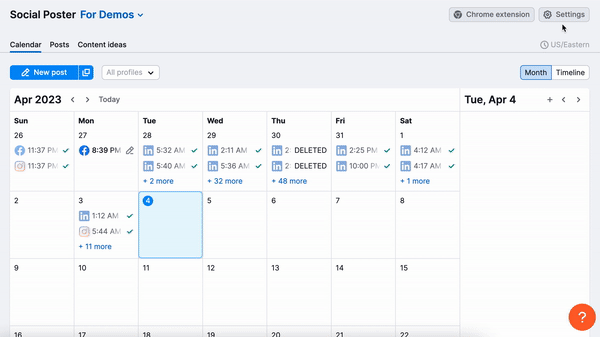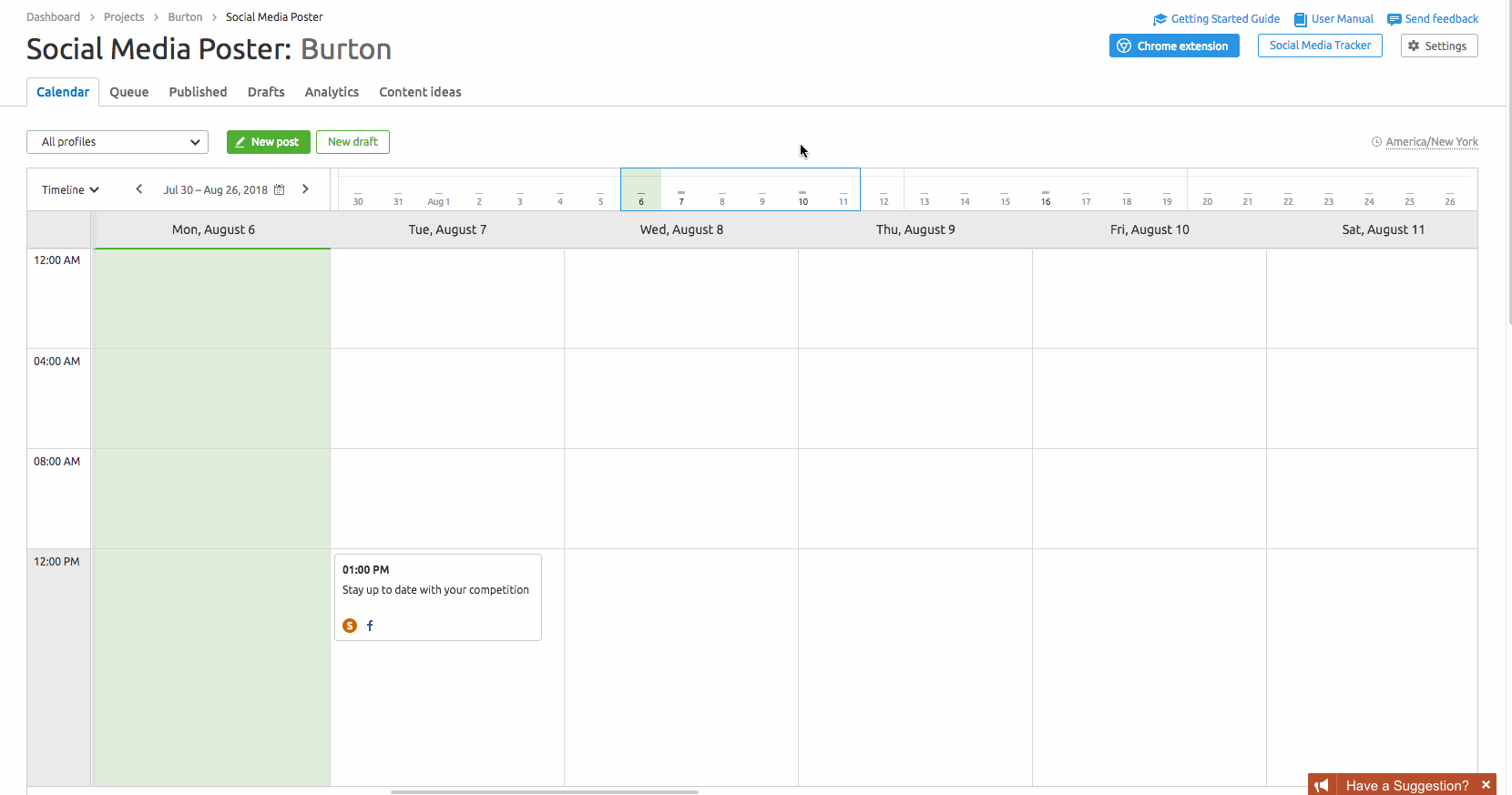 In the draft screen, you have five different actions to take with your new post:
Add directly to your queue
Post now
Schedule
Publish regularly
Save as a draft
You can include emoticons to help increase the creativity of your posts which can lead to more engagement with your audience. To add them, simply click on the smiley face at the bottom of your posts.
Not only can you add emoticons, but you can add animated GIFs as well. This can be done manually through the GIF button or by choosing to add them through Giphy.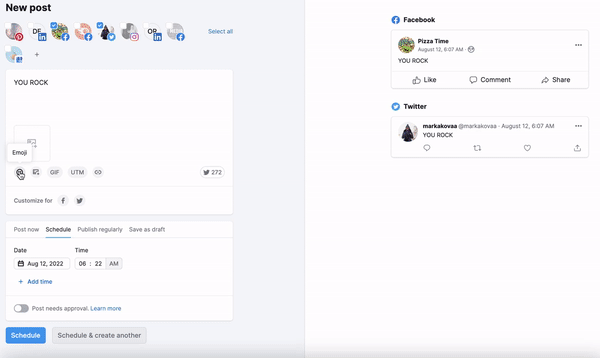 After deciding what to do with your drafted post, you can view your future post by selecting a later date with the date range drop-down menu. This can be perfect for letting you know what type of content you have down the line so that you can synchronize your other campaigns to match.
This can also be helpful in making sure you are not posting any duplicate content to your social sites. If you are running multiple social media campaigns, the social media poster lets you plan out these posts for all of your campaigns at once. You can schedule posts on Twitter, Pinterest, Facebook (business), Instagram (business), and LinkedIn all on the same calendar.
Next Steps