When your website appears on the first page of Google search results, you're far more likely to get clicks. Few people venture to the second page.
On desktop, the top of the first page looks something like this:
When you scroll to the bottom, you'll find page numbers or a "More results" button:
(On mobile, pages are harder to recognize. Because Google uses infinite scrolling—that is, it automatically loads more results when you reach the bottom.)
Google's first page often includes ads.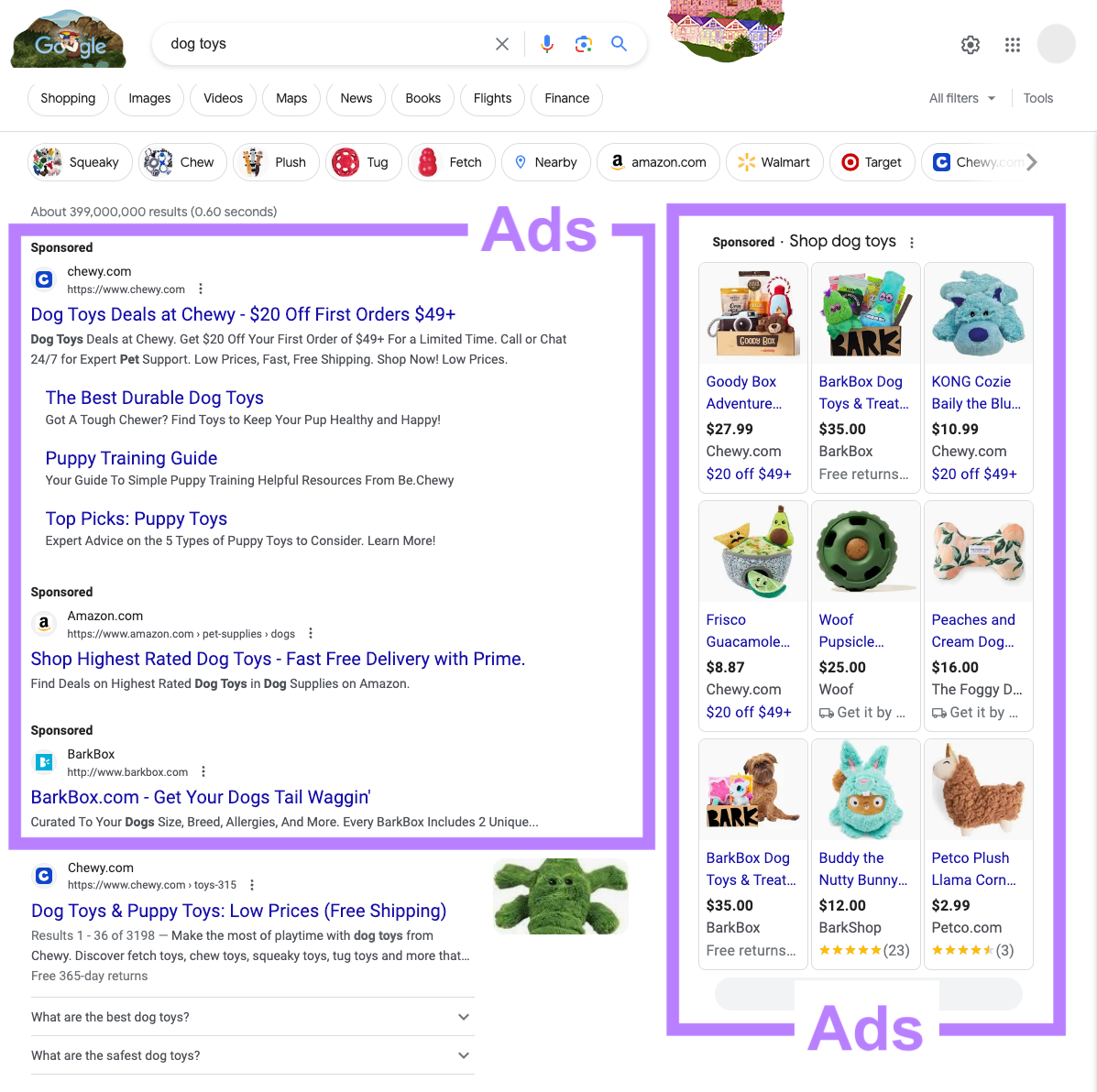 But there are ample opportunities to rank organically (i.e., for free). 
Typically, there are seven to 10 organic search results on the first page. Like these:
And many search engine results pages (SERPs) have SERP features that display content in different and often easily digestible formats.
For example, the "People also ask" box: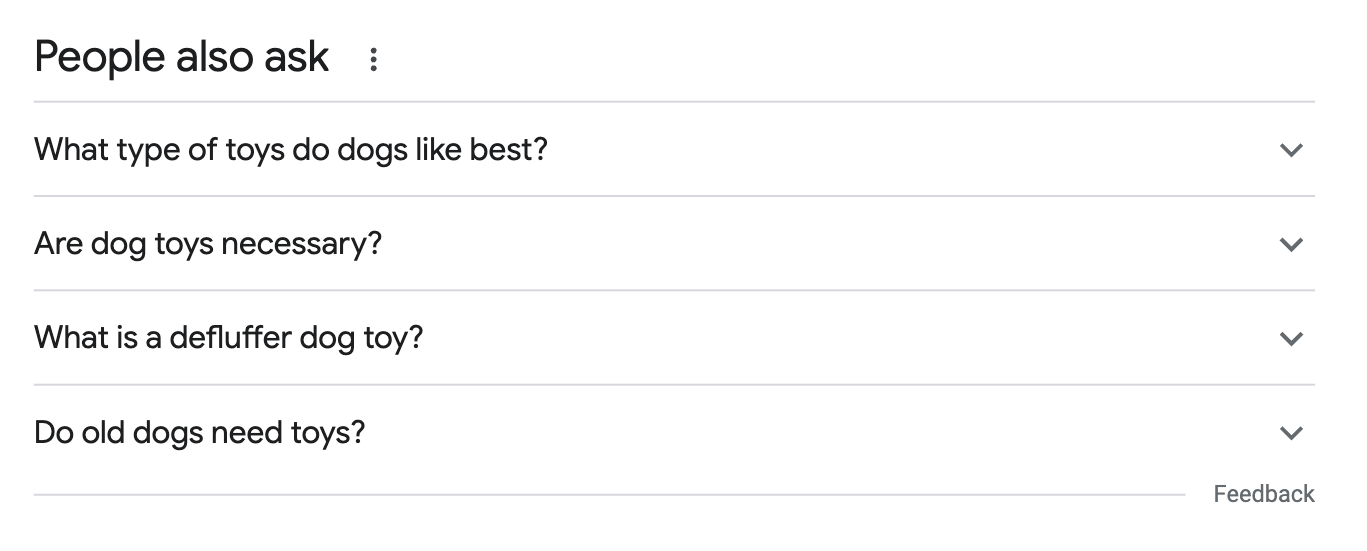 If you don't want to pay for exposure, you have to earn your spot. 
Google ranks organic search results based on five main factors:
Meaning: The intent behind the user's search
Relevance: How well the content satisfies the user's intent
Quality: The helpfulness of the content
Usability: The functionality and accessibility of the page
Context: The user's search settings and history
Today, you'll learn how to get on the first page of Google. Using beginner-friendly SEO techniques.
1. Choose a Target Keyword
The target keyword is the search query you want to rank for. 
When you know what you want to rank for, you can plan how to get your website on Google's first page for it. And start taking action.
Generally, it's a good idea to improve existing rankings before pursuing new ones. Because you have a foundation to build on.
Keywords ranking on the second page are particularly good candidates for improvement. After all, Google clearly thinks your page is in good shape. You just need to beat out a few rivals.
Check your existing rankings for free using Google Search Console.
Go to the "Performance" section and click "Search results."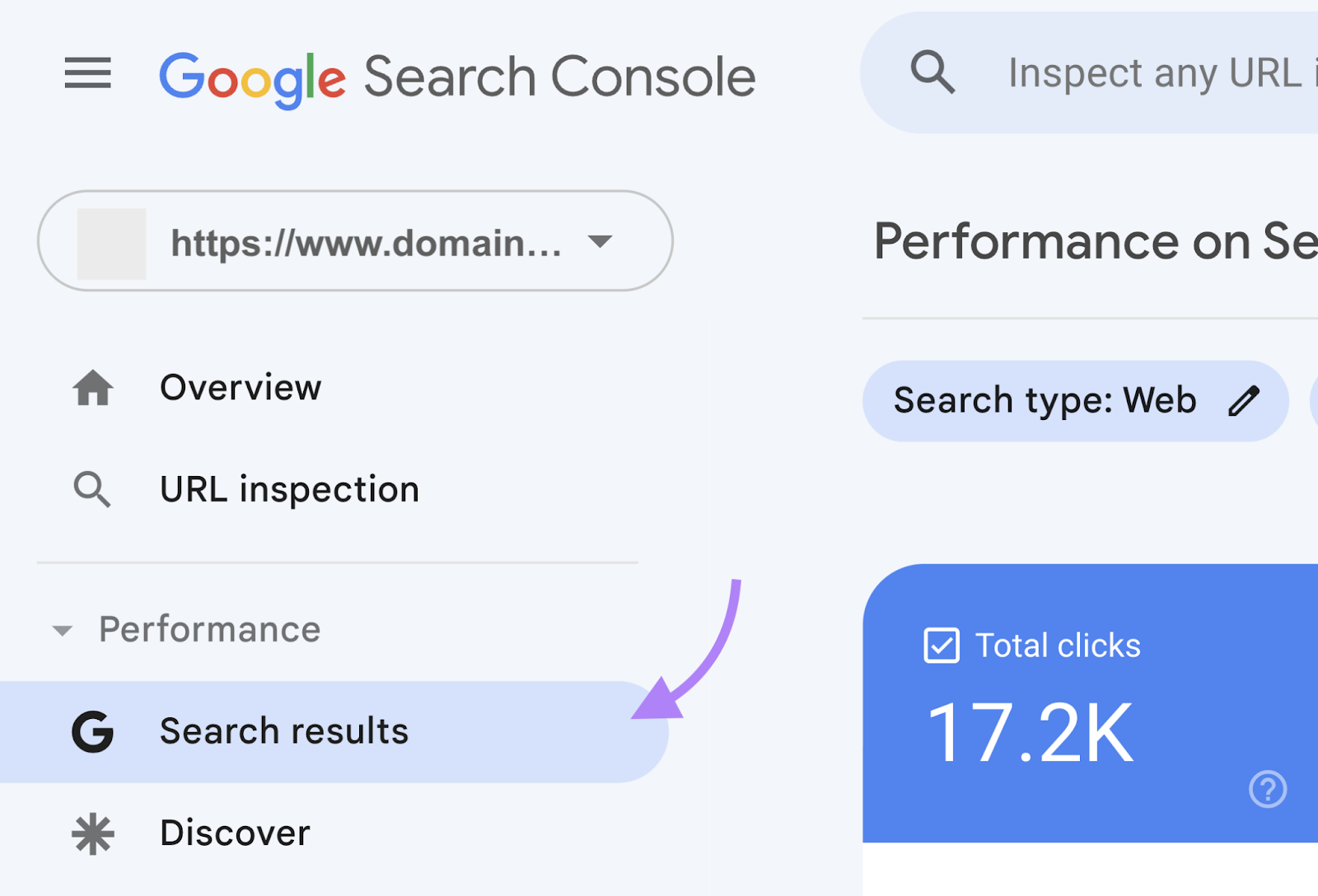 Then, click the "Average position" check box at the top.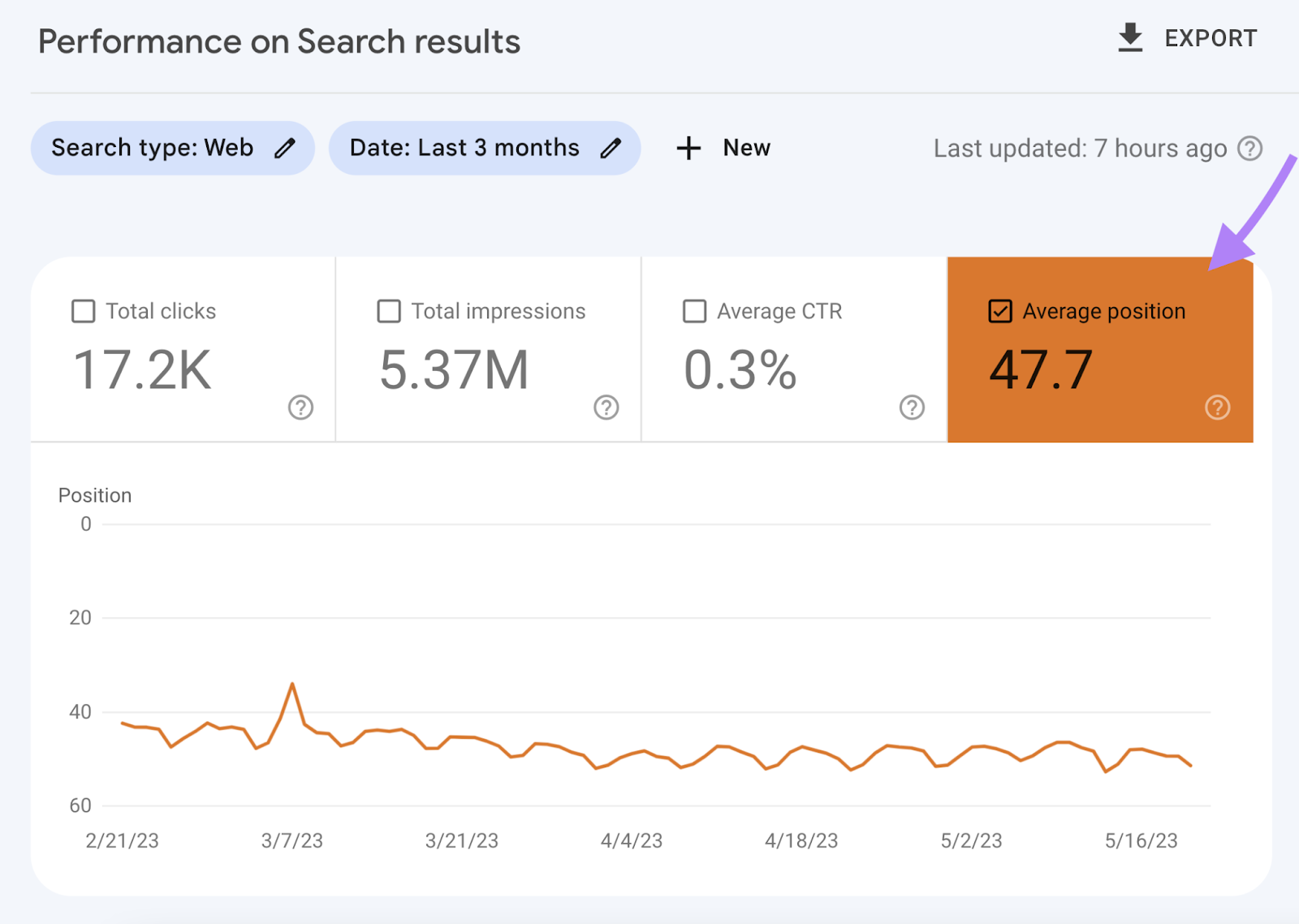 Scroll down to the "Queries" table to see a list of keywords your website ranks for.
The "Position" column shows your average ranking over the selected time period.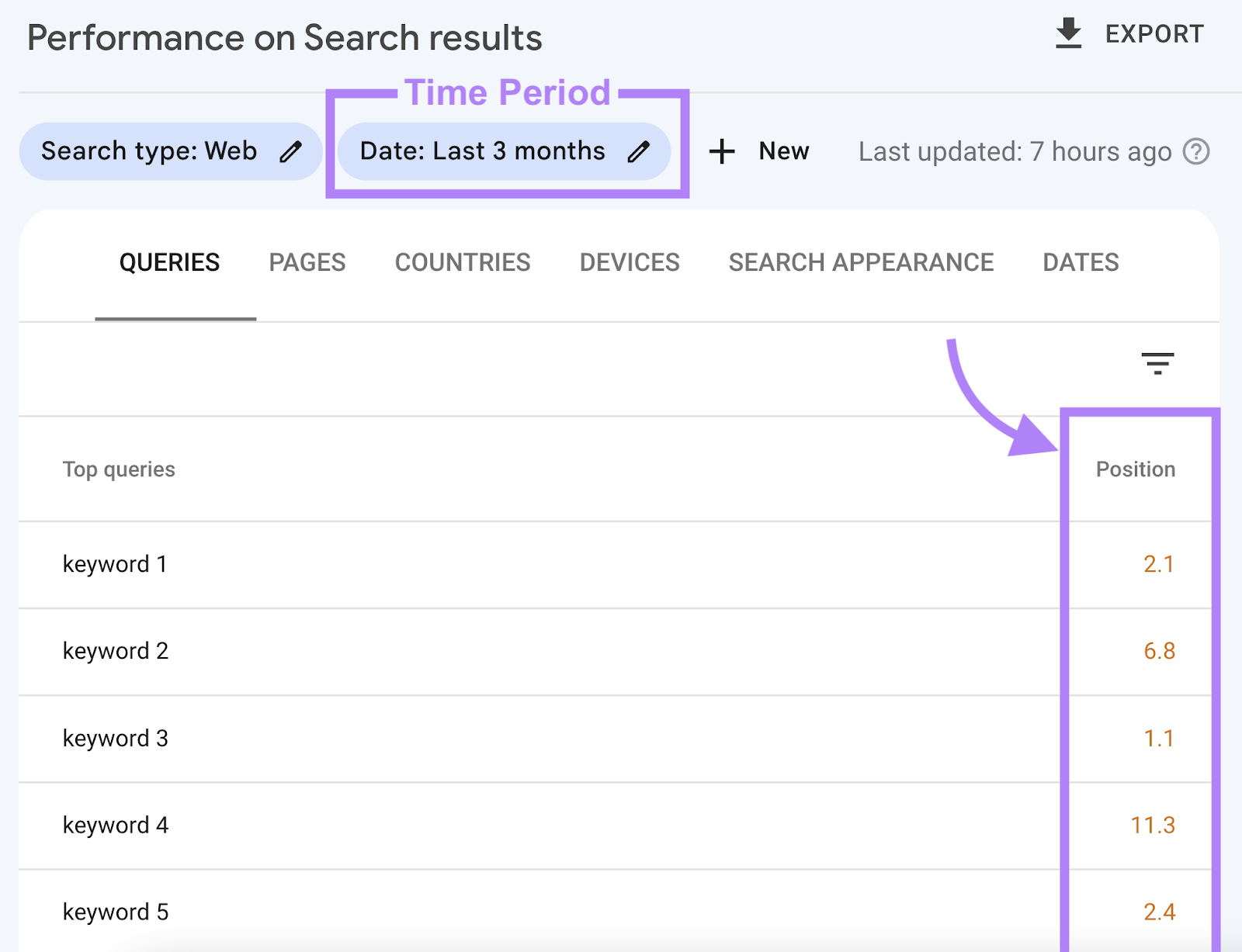 To make your data easier to work with, open it in a spreadsheet.
Click the "Export" button at the top to create a Google Sheets, Excel, or CSV file.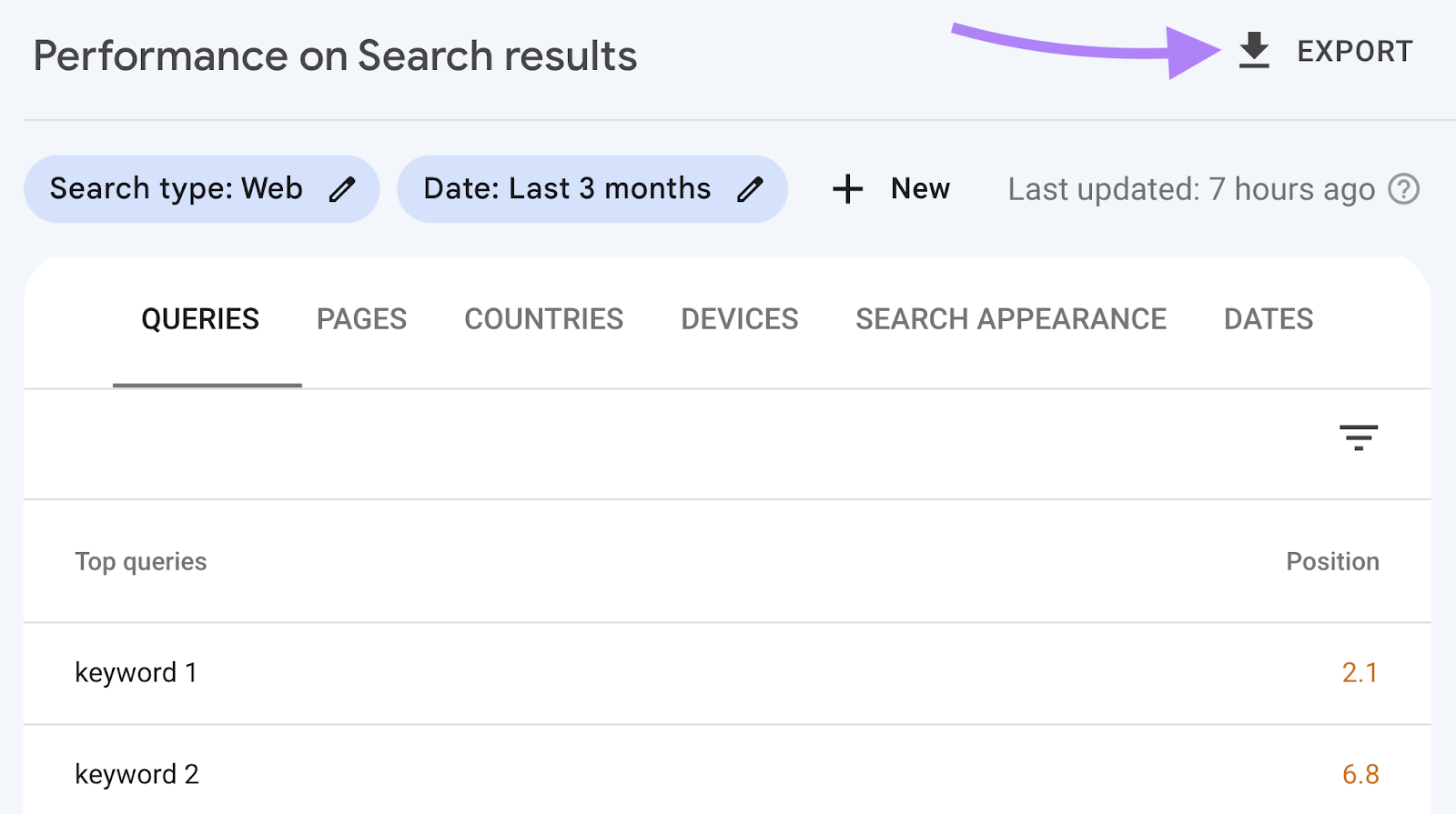 From there, you can filter for keywords ranking in positions 11-20 (which roughly corresponds to the second page of Google).
Alternatively, use Semrush's Keyword Gap tool. This allows you to compare your rankings against competitors'. And gather valuable keyword data.
To start, enter your domain and up to four rival domains.
Then choose your country and click "Compare."
Open the "Position" drop-down and select "You-domain." Then set a custom range from 11 to 20.
(This filters for keywords that you rank on the second page for.)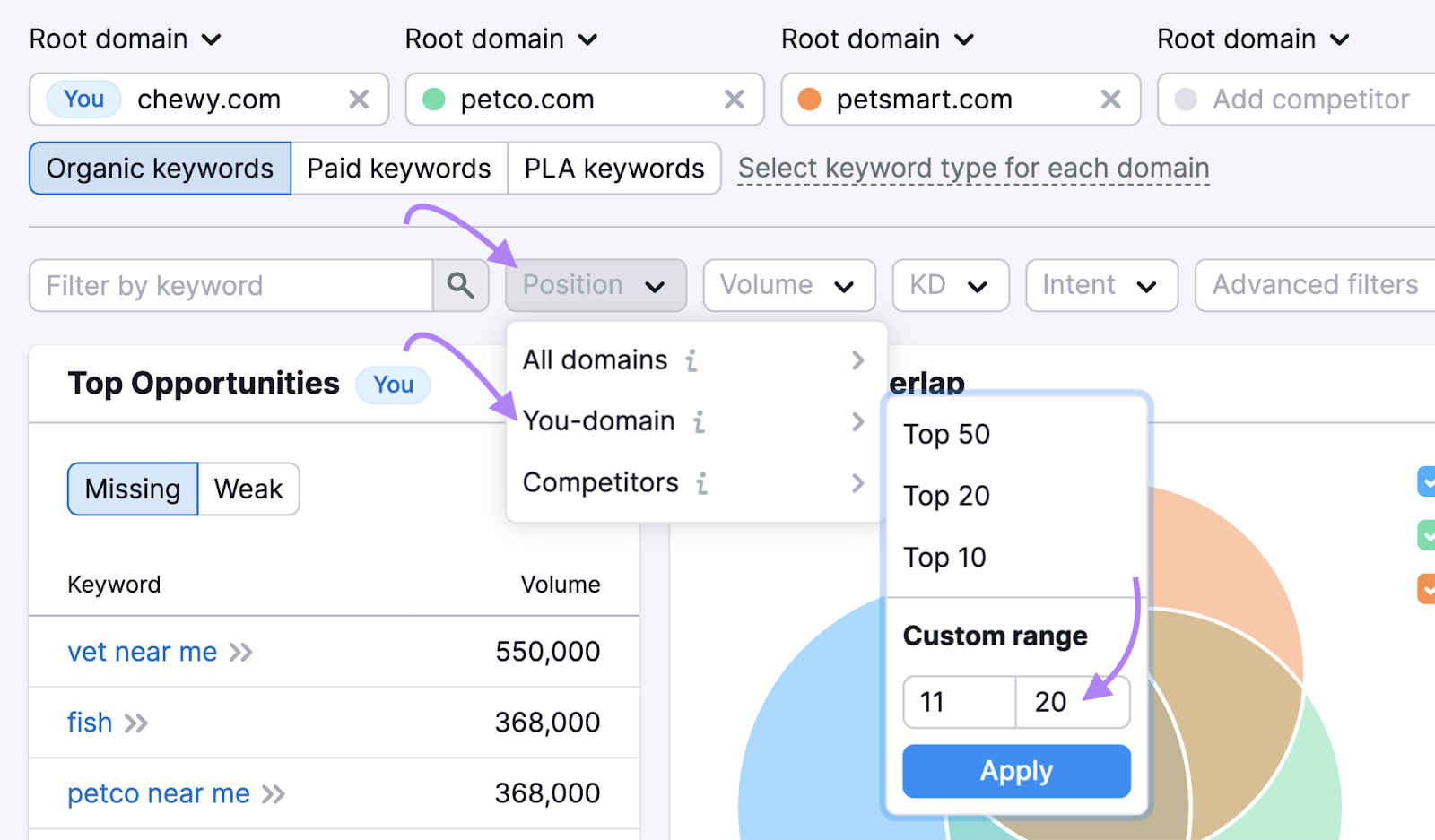 Scroll down to the keyword list and select the "Weak" tab. This filters for instances where your competitors all outrank you.
For example, you rank in position 20. But your competitors rank in positions 1 and 4.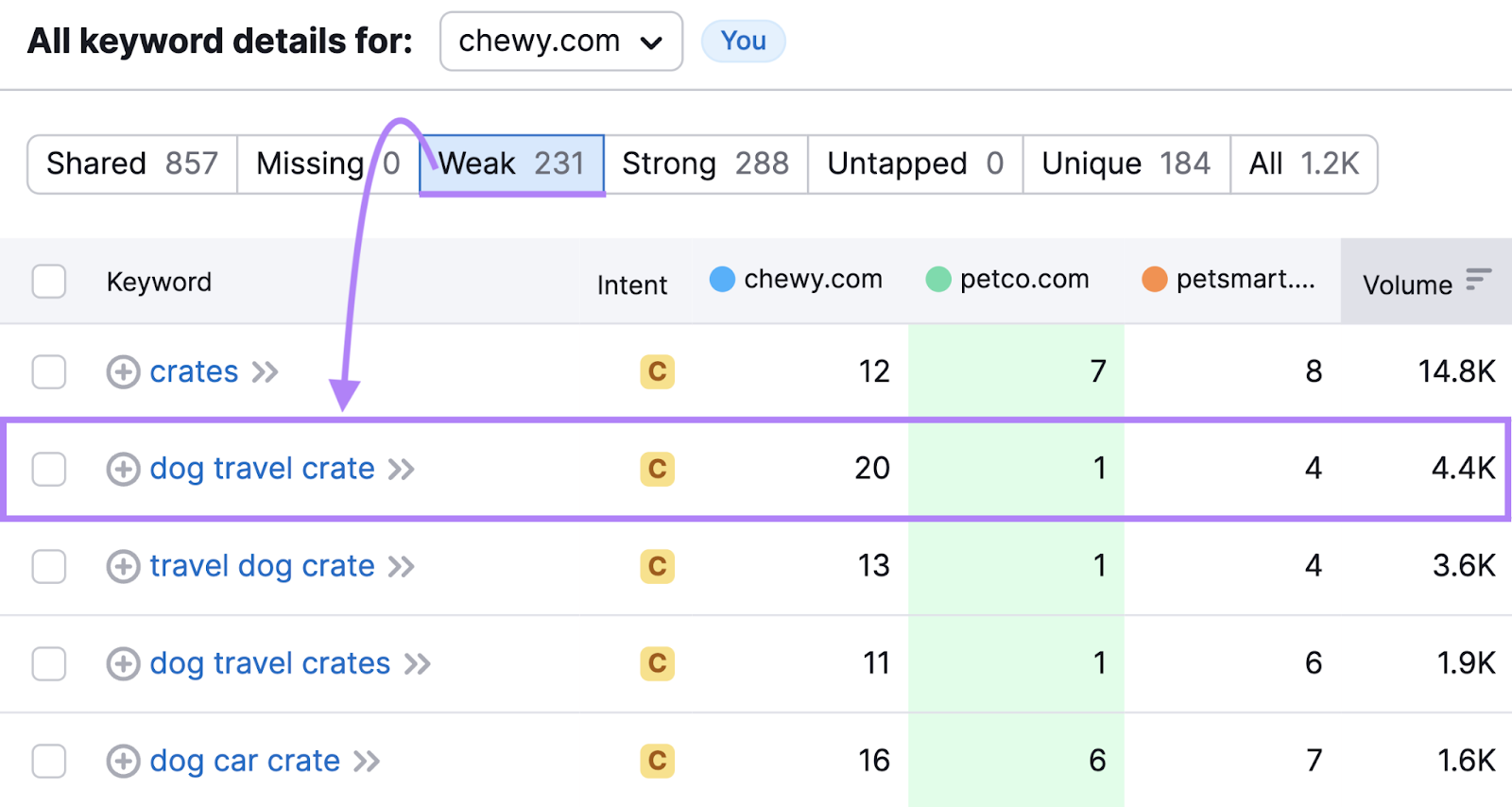 Use the metrics supplied to find keywords with the best potential for your business. 
The "KD %" column lists the keyword difficulty score.
This is a measure of how hard it will be to get on the first page of Google without paying for ads. 
Consider starting in the "Very Easy" to "Easy" range (0-29%).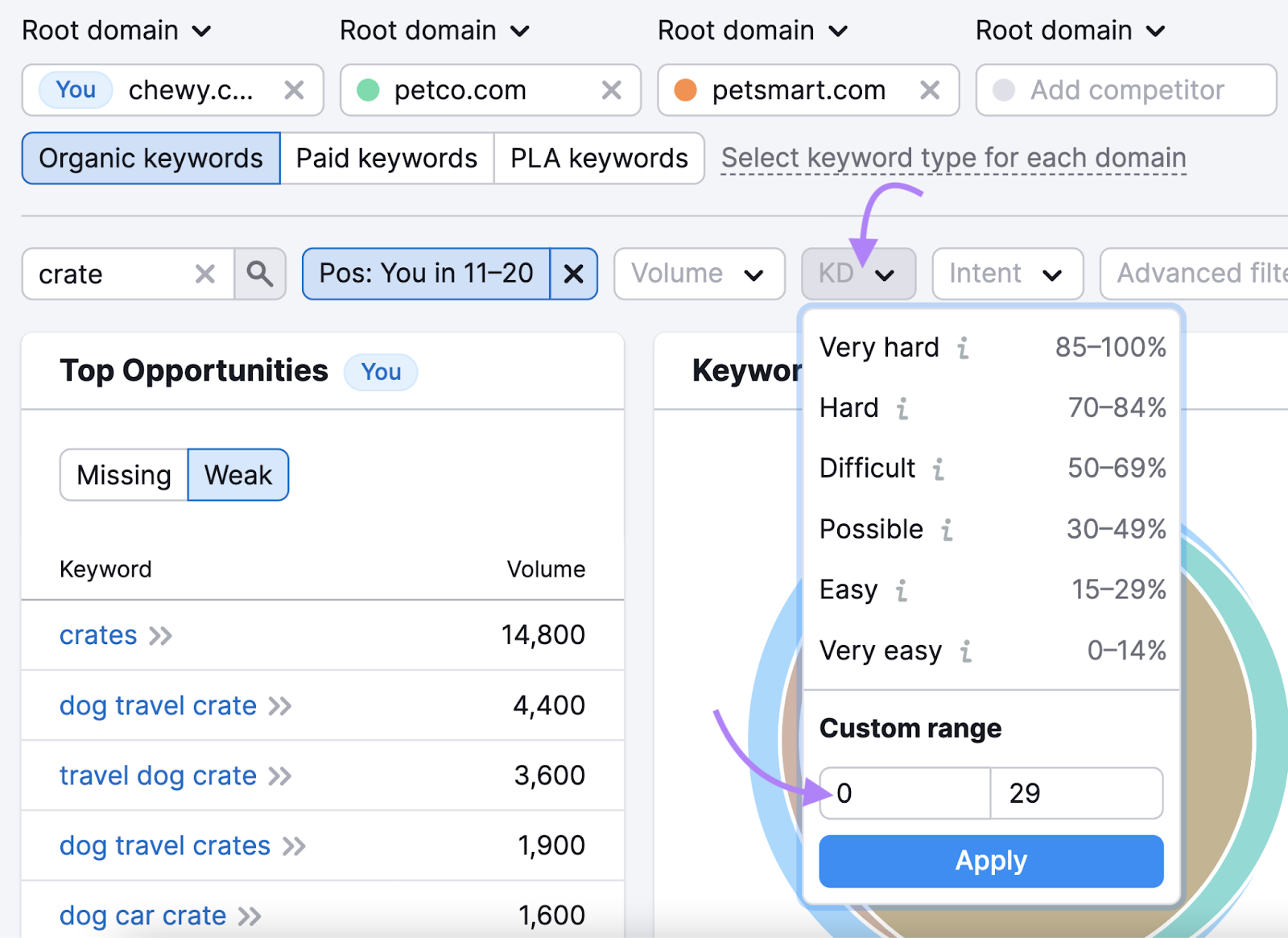 Another valuable metric is "Volume": the average number of monthly searches. This indicates the potential reach of your search result. 
But higher-volume keywords are usually more competitive.
For example, "dog toys" gets 40,500 searches per month and has a keyword difficulty of 81%.

Whereas "tug of war dog toy" gets 1,300 searches per month and has a keyword difficulty of 13%.

Once you've selected a target keyword (or a keyword you want to explore in more detail), click on it to open Semrush's Keyword Overview tool.
Here, you can get additional data and SERP analysis.
Tip: Want to find new keywords to target? Check out our keyword research guide.
2. Understand Search Intent
To get your website on Google's first page, you need a strong understanding of search intent. This is the why behind a user's search.
For example, "toy dog" is a similar phrase to "dog toy." 
But "toy dog" yields results about a dog breed group: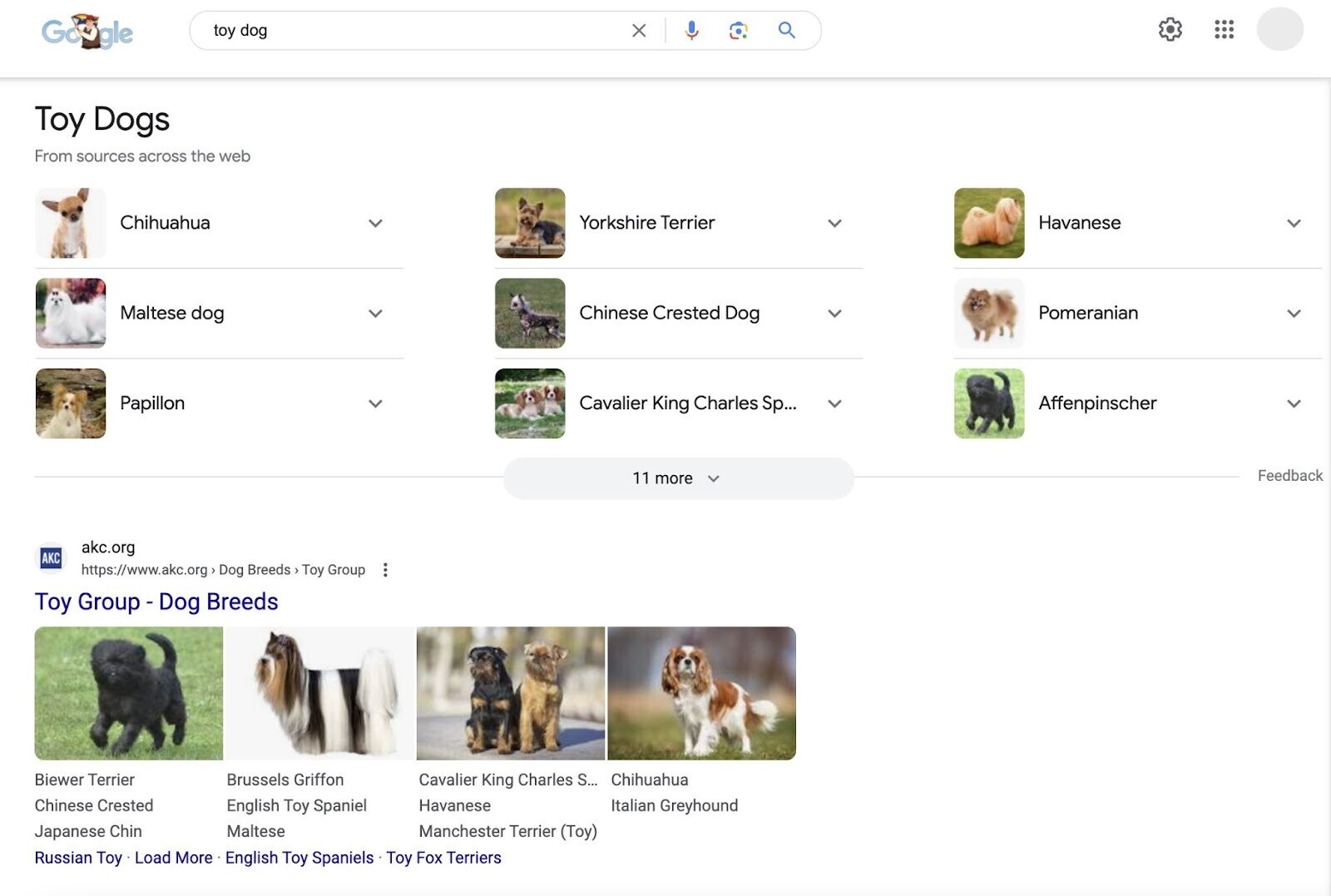 Whereas "dog toy" results are product-related: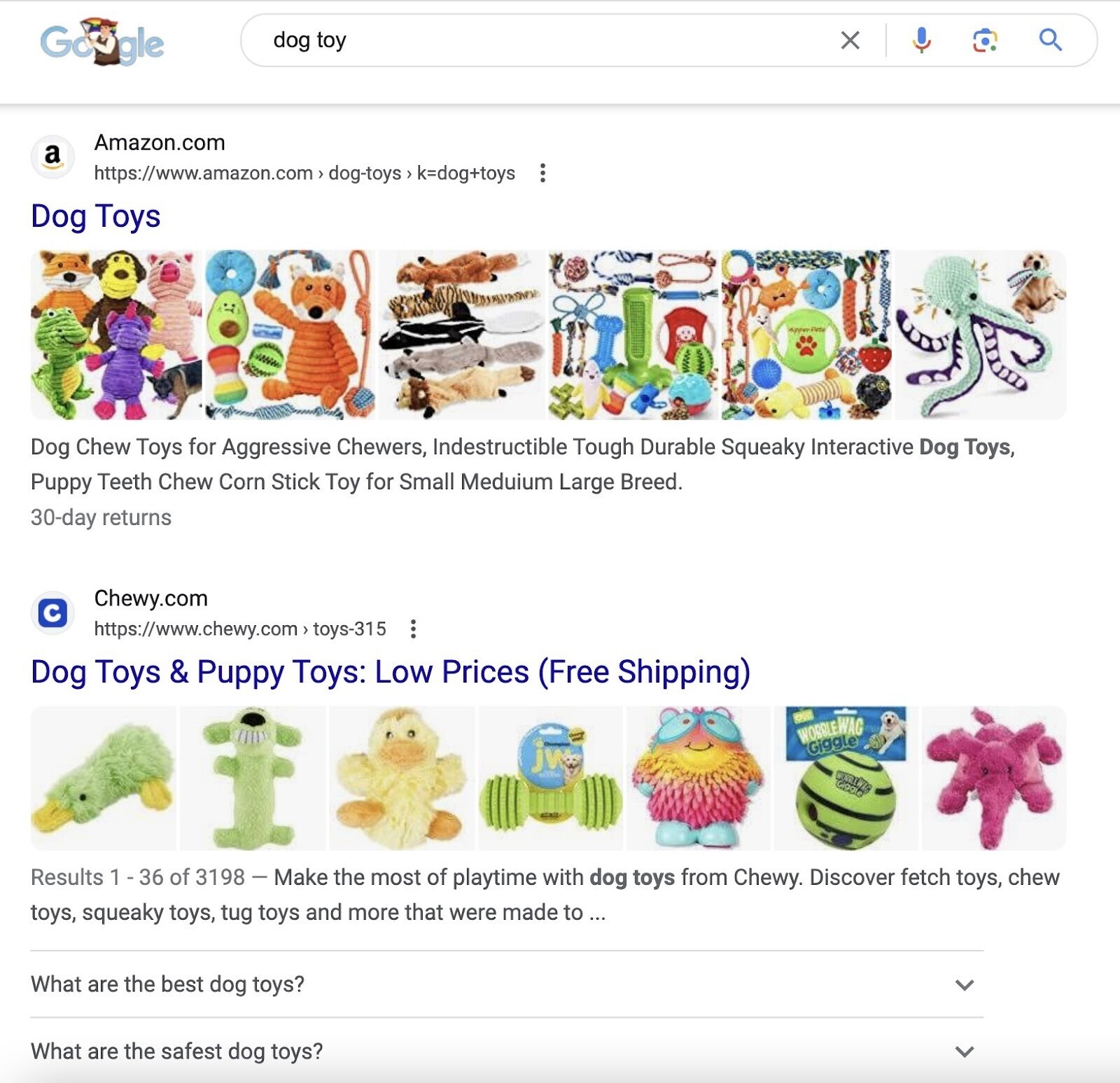 Search intent isn't always obvious. The best way to understand it is to analyze the SERP.
You can search the keyword yourself and review the first page. But Google may personalize results based on your location, search history, and more.
Semrush's Keyword Overview provides an unbiased view. And data that makes analysis easier.
Enter your keyword, choose the country you want to rank in, then click "Search."
(If you click a keyword in Organic Research or elsewhere, this step is done for you.)

The "Intent" section tells you the type of search intent. Which can be one or more of the following:
Informational: Users wants to learn more about something (e.g., "toy breed dogs")
Navigational: Users want to find a specific page (e.g., "dog toys amazon")
Commercial: Users want to do research before making a purchase decision (e.g., "good toys for dogs")
Transactional: Users want to complete a specific action (e.g., "buy dog toys")
Scroll down to the "SERP Analysis" section to find information about the top 10 organic results (the typical first page of Google.) 
And any SERP features that appear.
The "Search Traffic" column indicates the number of visits you could earn if you reach those positions.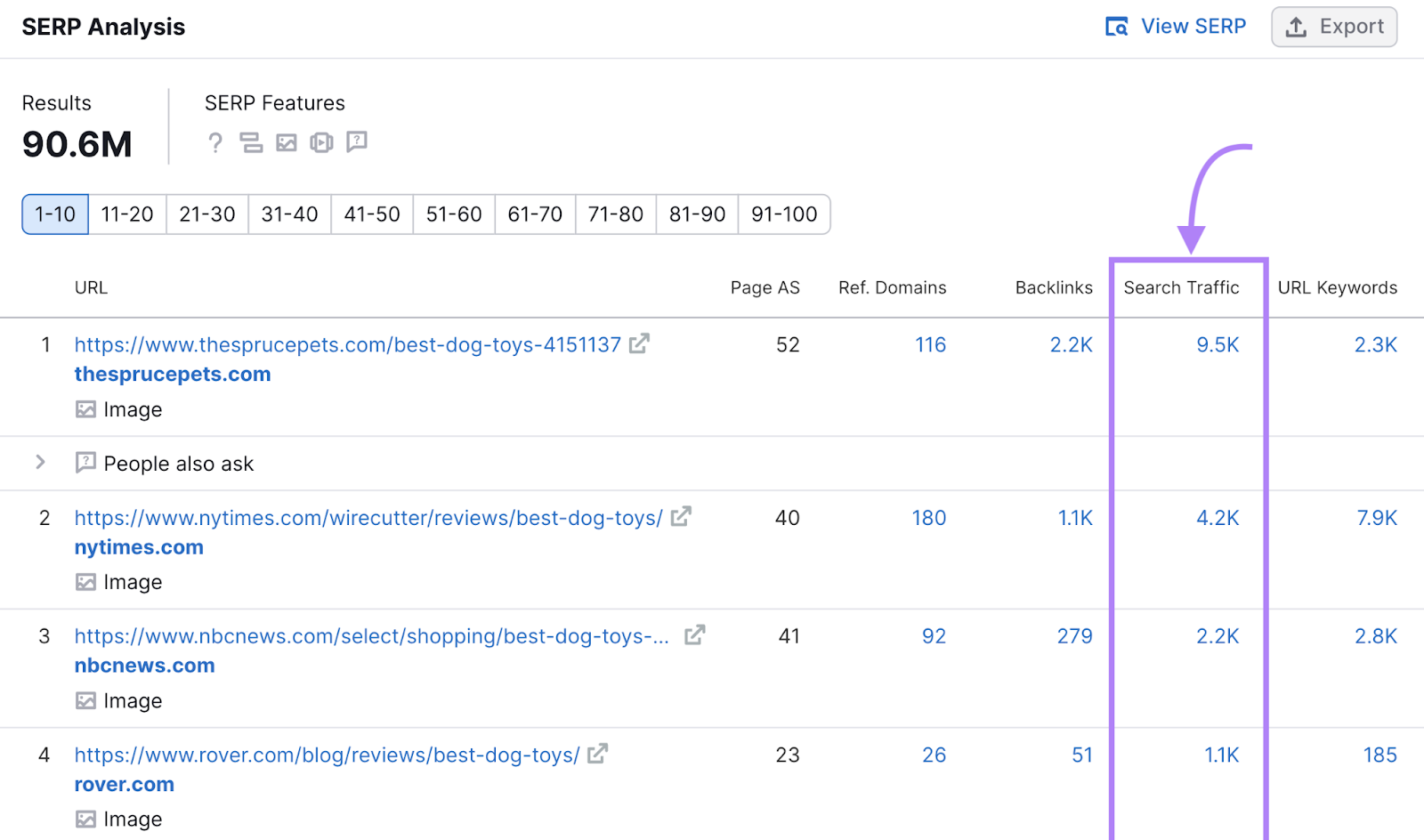 Click "View SERP" to see the SERP snapshot. And get a better understanding of the websites and pages that rank.
(In this view, results aren't separated into pages. Try to focus on the top 10 results or so.)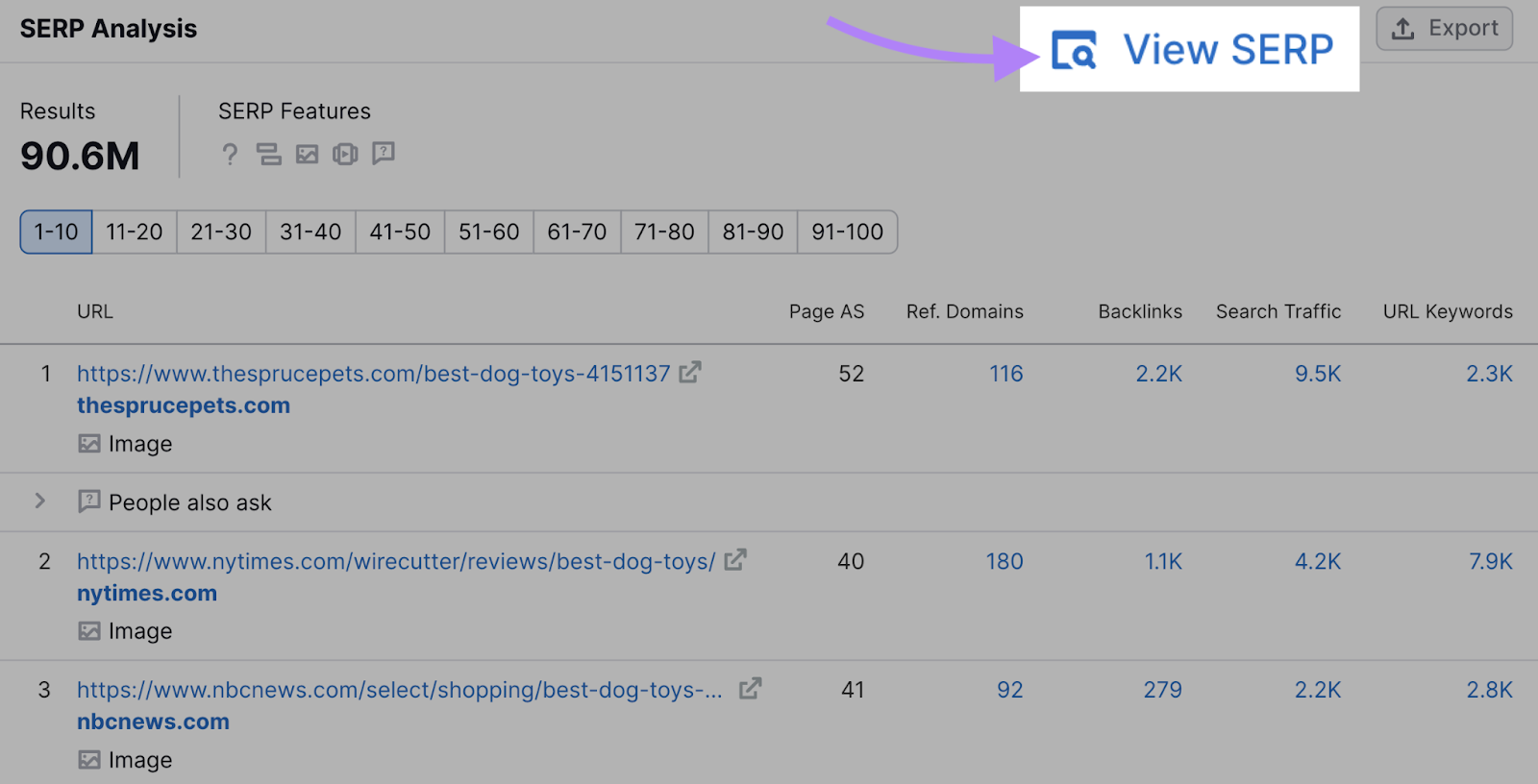 If you search "good toys for dogs," the first page of Google is dominated by product roundups.
Published by media websites like The Spruce Pets and NBC News: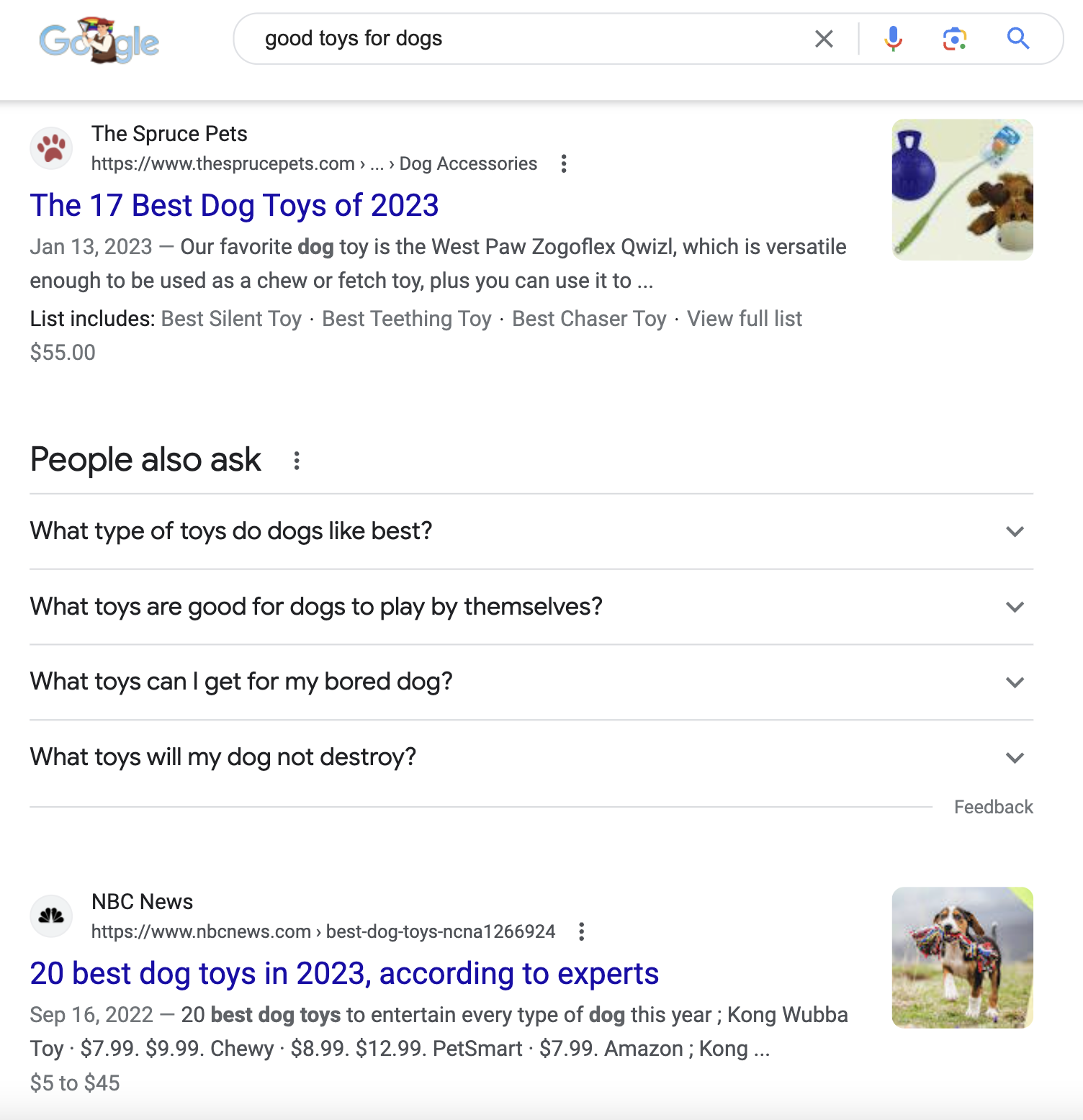 Other website and content types may struggle to rank highly.
If you want to compete for your target keyword, you need to create something similar to what's ranking. But better.
The next section will tell you how.
3. Create Quality Content
If you already have a page that aligns with your target keyword's search intent, update that. Otherwise, you'll need to create the content from scratch.
To get on the first page of Google, you need to create quality content. 
In other words, content that's:
Helpful
Comprehensive
Accurate
Trustworthy
Original
Further SERP analysis should give a good idea of the best content type(s).
Let's consider the "good toys for dogs" example. 
It predominantly features listicles (and images from them).

These articles also include product descriptions, prices, and links. Ensuring users get all the information they need.
And they cover various subtopics. Such as the best toys for small dogs.
Top-ranking pages usually demonstrate strong E-E-A-T (Expertise, Experience, Authoritativeness, and Trustworthiness). 
For example, The Spruce Pets describes itself as a "Vet Reviewed & Pet Approved" website.
And CNET's recommendations come from real dog owners.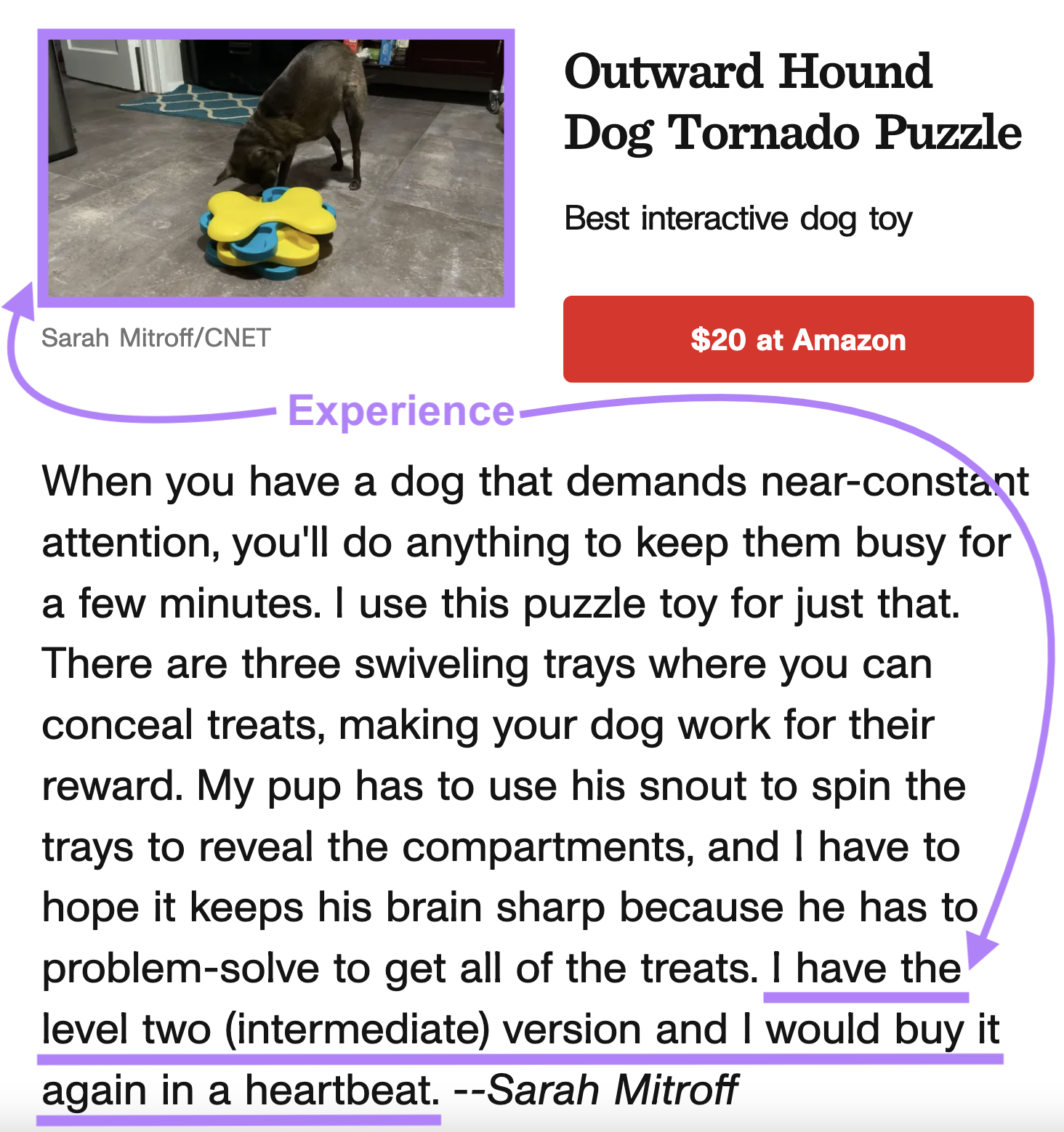 In addition to having strong E-E-A-T, the most helpful content delivers a good page experience.
This means that the page is fast, secure, and mobile-friendly. And users can easily access the content they need.
Google Search Console can help you identify page experience issues. 
Simply enter the URL you want to inspect. Then review the recommendations provided.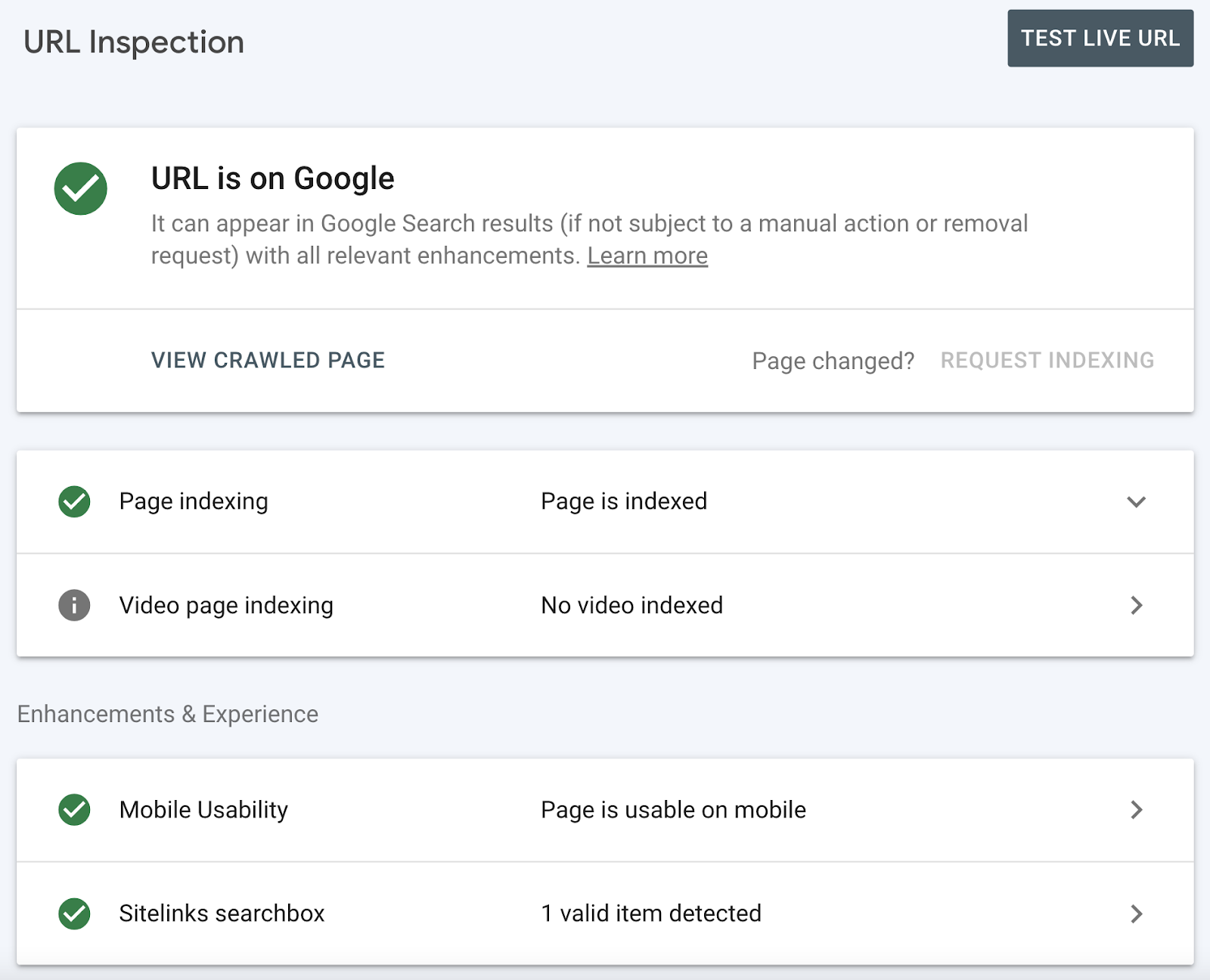 Not signed up yet? Check out our Google Search Console guide. 
Tip: You can perform a sitewide check for page experience issues with Semrush's Site Audit tool. 
4. Optimize for Google
Google says "SEO can be a helpful activity when it is applied to people-first content …"
In other words: 
If you want to rank on the first page of Google, it's worth optimizing your content for search engines. Not just humans.
This is on-page SEO. 
One of the most basic yet crucial steps is adding keywords to your content.
Include the target keyword you identified earlier. But you may also want to include other related keywords with the same intent.
For example, "best dog toys" brings up similar results to "good toys for dogs."
You could target both keywords on the same page. And potentially get on Google's first page for both.
One of the easiest ways to find related keywords is to see what your top competitor ranks for. Using Semrush's Organic Research tool.
Just click their URL in Keyword Overview.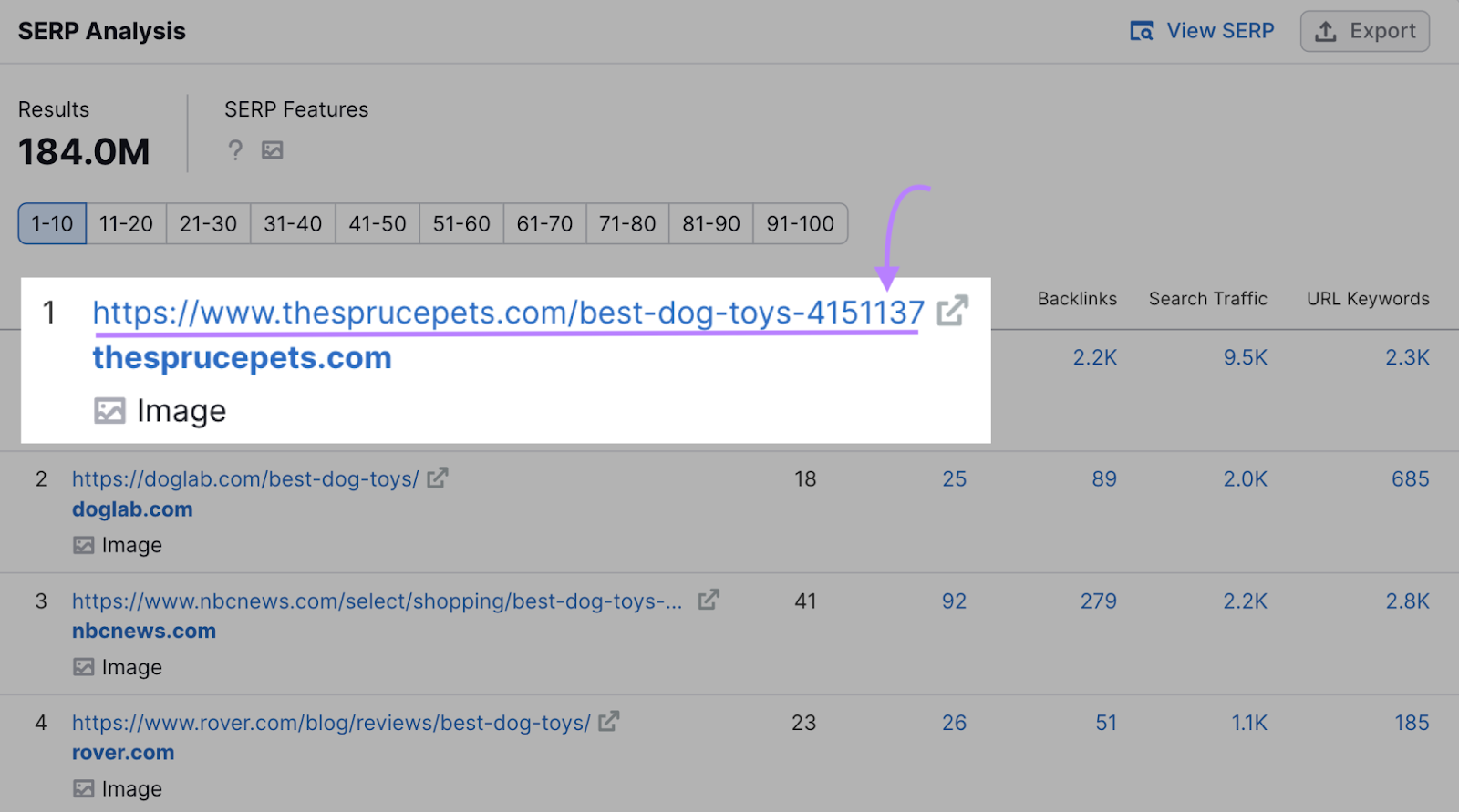 Or search the URL in Organic Research manually.
Go to the "Positions" tab to see rankings data.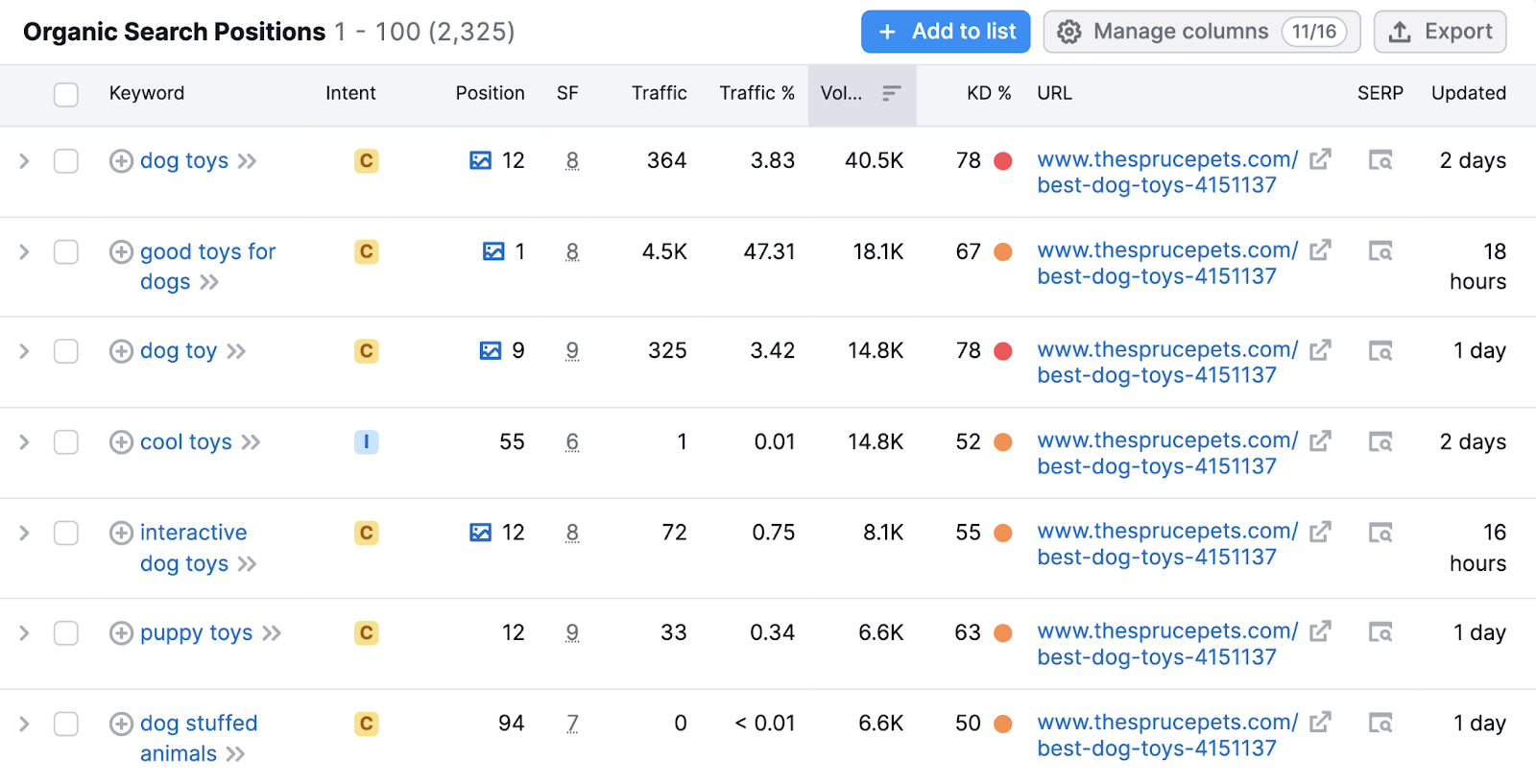 Identify the keywords you want to target on the same page. Make sure the search intent is the same or very similar.
(Those ranking in the highest positions are usually the best candidates.)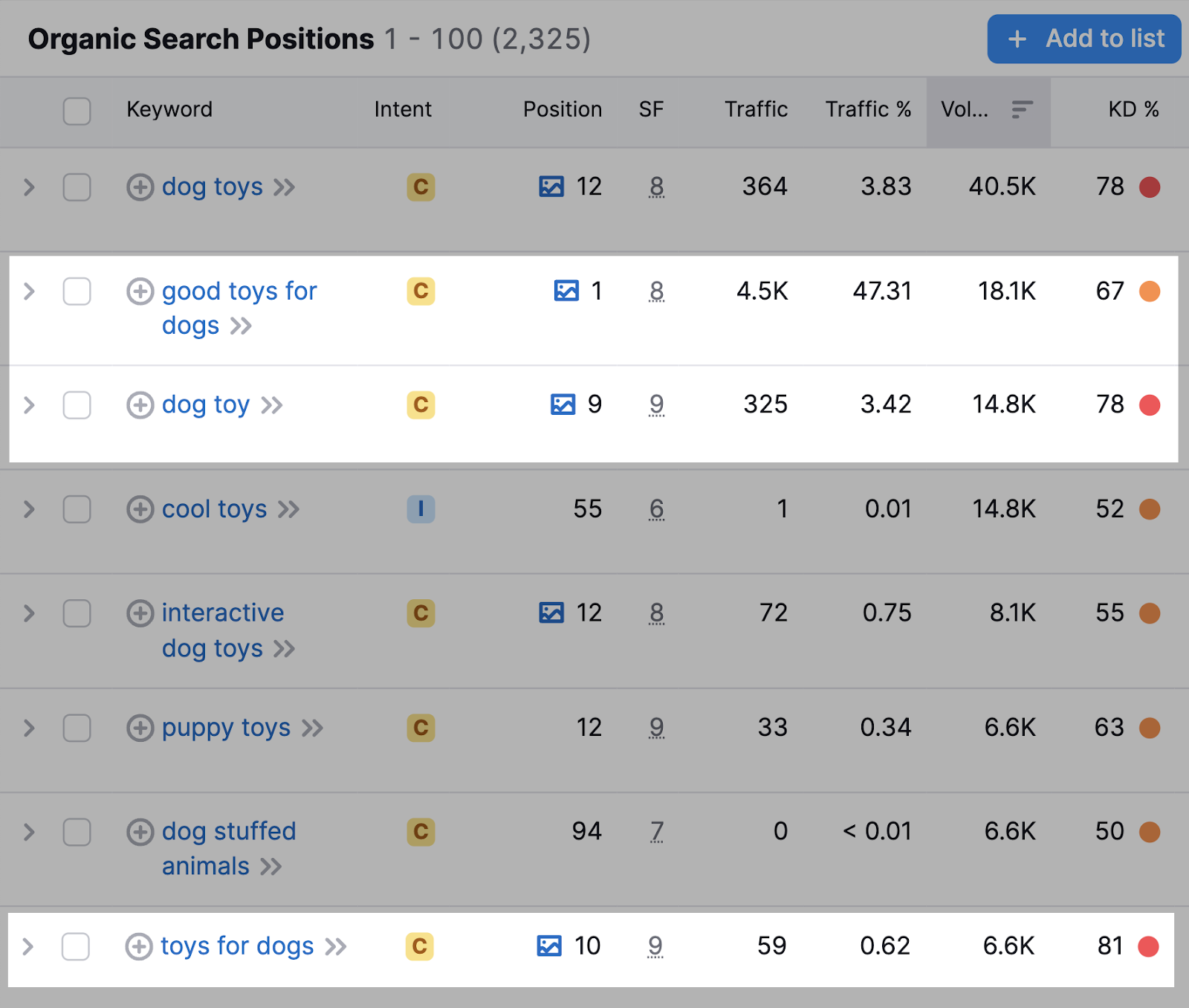 Together, these keywords can form a keyword cluster. Which you can optimize your page around.
However, it's a good idea to choose a primary keyword—a focus keyword for your page. Making sure to consider metrics like keyword difficulty.
Your other keywords then become secondary keywords.
Tip: If you have a Semrush trial or subscription, save and organize your keywords in Keyword Manager. This also makes it easier to track your rankings later.
When creating or updating your content, naturally incorporate keywords throughout. Try to use your primary keyword within the first two sentences.
If appropriate, use secondary keywords (or parts of them) within subheadings.

Make sure to include the primary keyword in the title tag (the clickable title that appears on the SERP).

And the on-page title. Which should be marked up in H1 tags, so Google understands it's the main title on your page.

It can also help to include your primary keyword in the URL slug (the part of the URL that's unique to the page).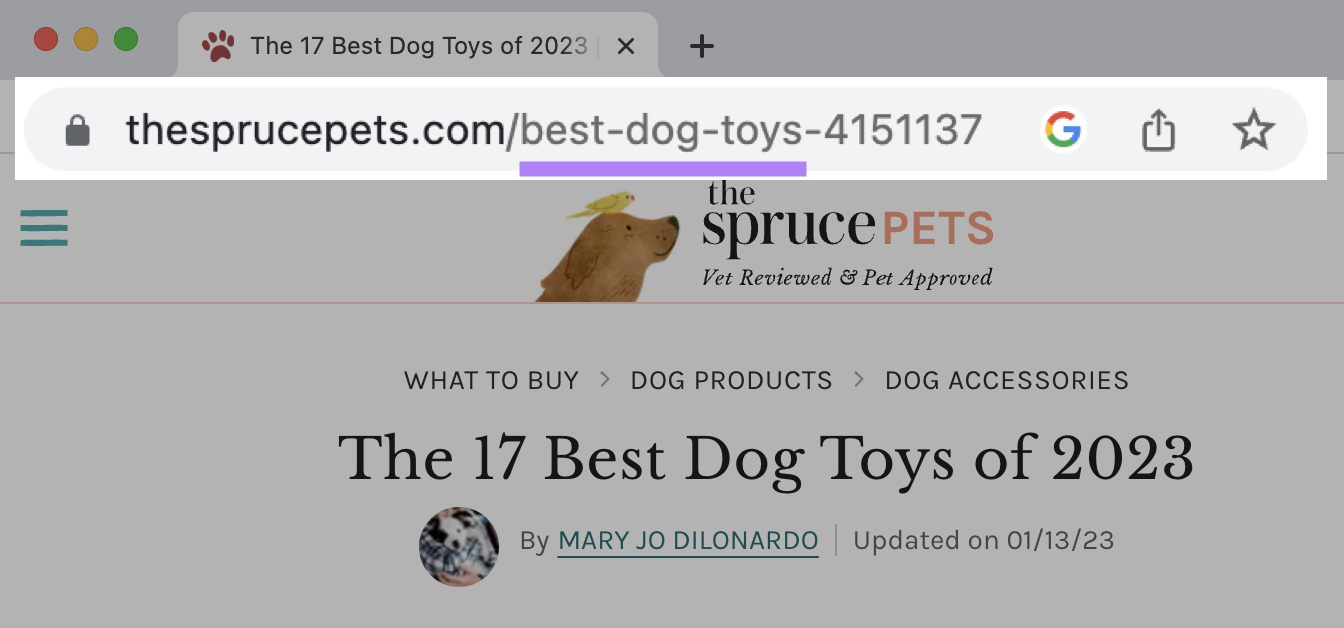 To learn what's working for competitors, use Semrush's SEO Content Template.
The tool provides SEO recommendations based on the top 10 results for your target keywords. So you can learn how to get your website on Google's first page.
Enter your target keywords, choose your country, and click "Create content template."

When the template is ready, scroll down to "Key recommendations (based on your Google top 10 rivals)."
You'll find suggestions for semantic keywords, text length, and readability. And even ideas for backlinks (which you'll learn more about later).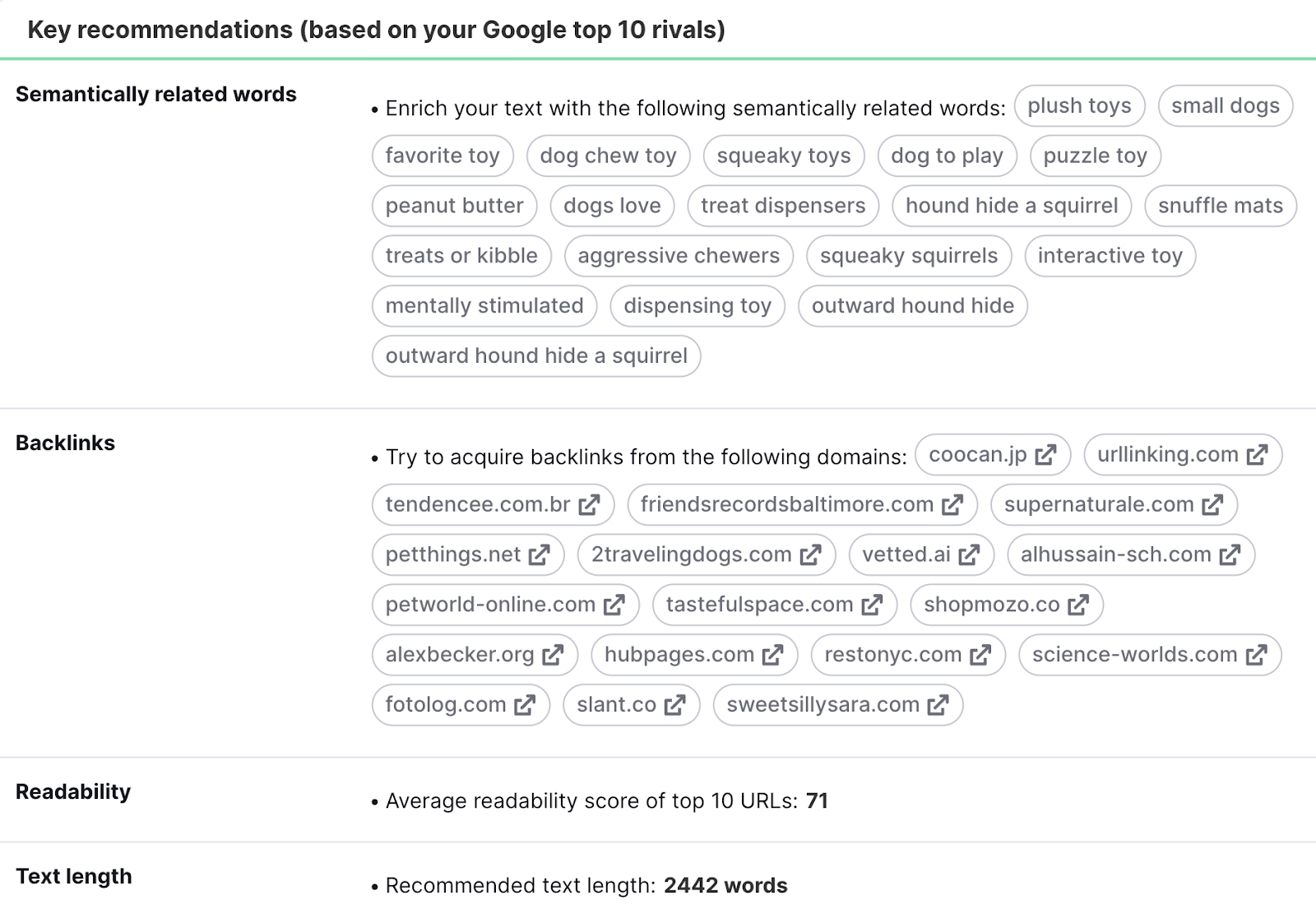 Further down, see how your competitors use your target keywords. Then, use the insights to guide your own optimization strategy.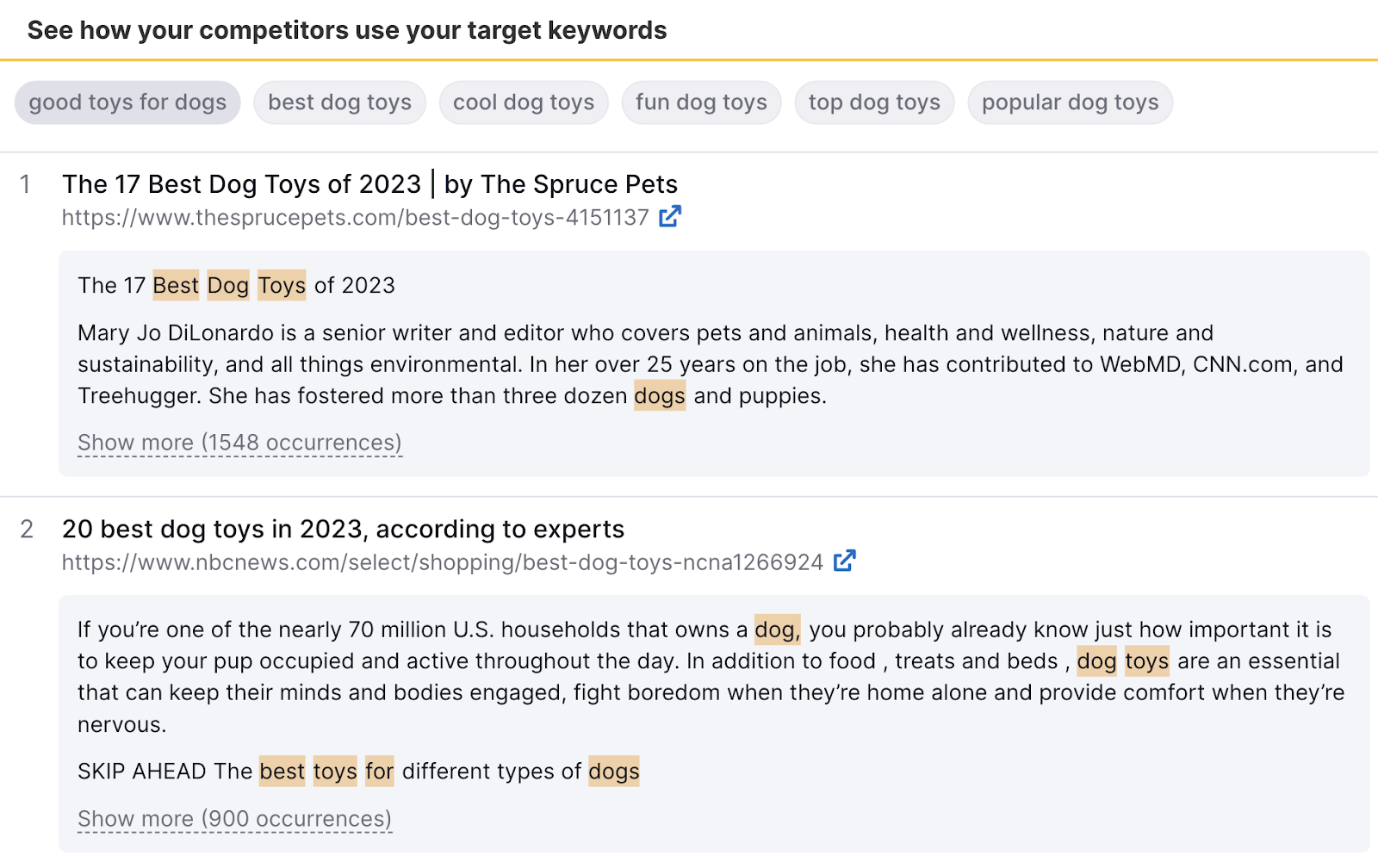 Ready to start writing?
Go to the top and click "Real-time Content Check," then "Open in SEO Writing Assistant."
The SEO Writing Assistant will review your writing in real time. Helping you meet readability, SEO, originality, and tone of voice targets.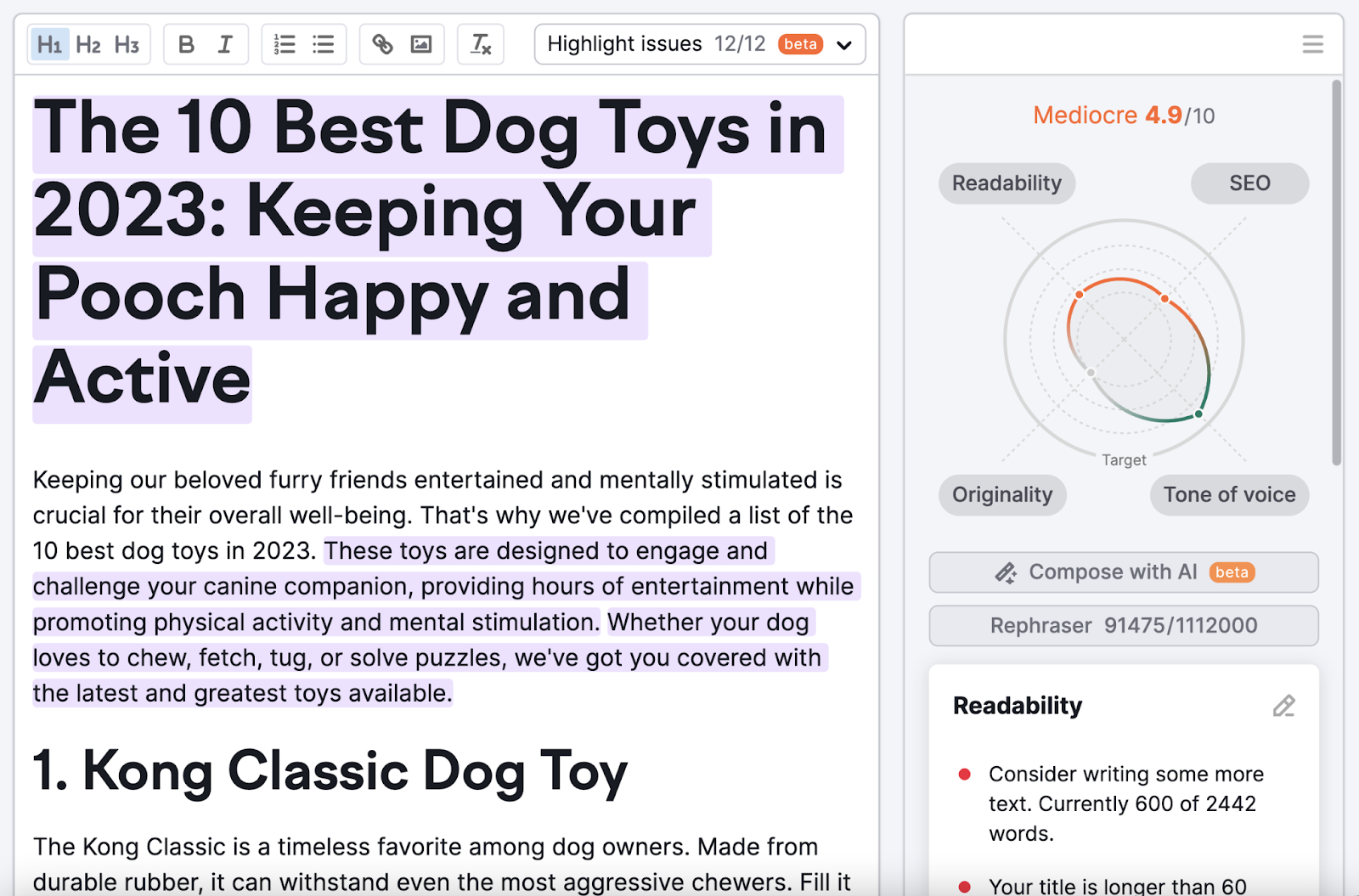 5. Build Backlinks
When Google finds a link to your page on another website, it may treat it as a recommendation. 
These types of links are called backlinks. And, along with strong content, they can help you get on the first page of Google.
For example, let's go back to the SERP for "good toys for dogs."
Keyword Overview shows the top-ranking page has 2,200 backlinks from over 100 websites (referring domains).
Pages with fewer backlinks tend to rank lower.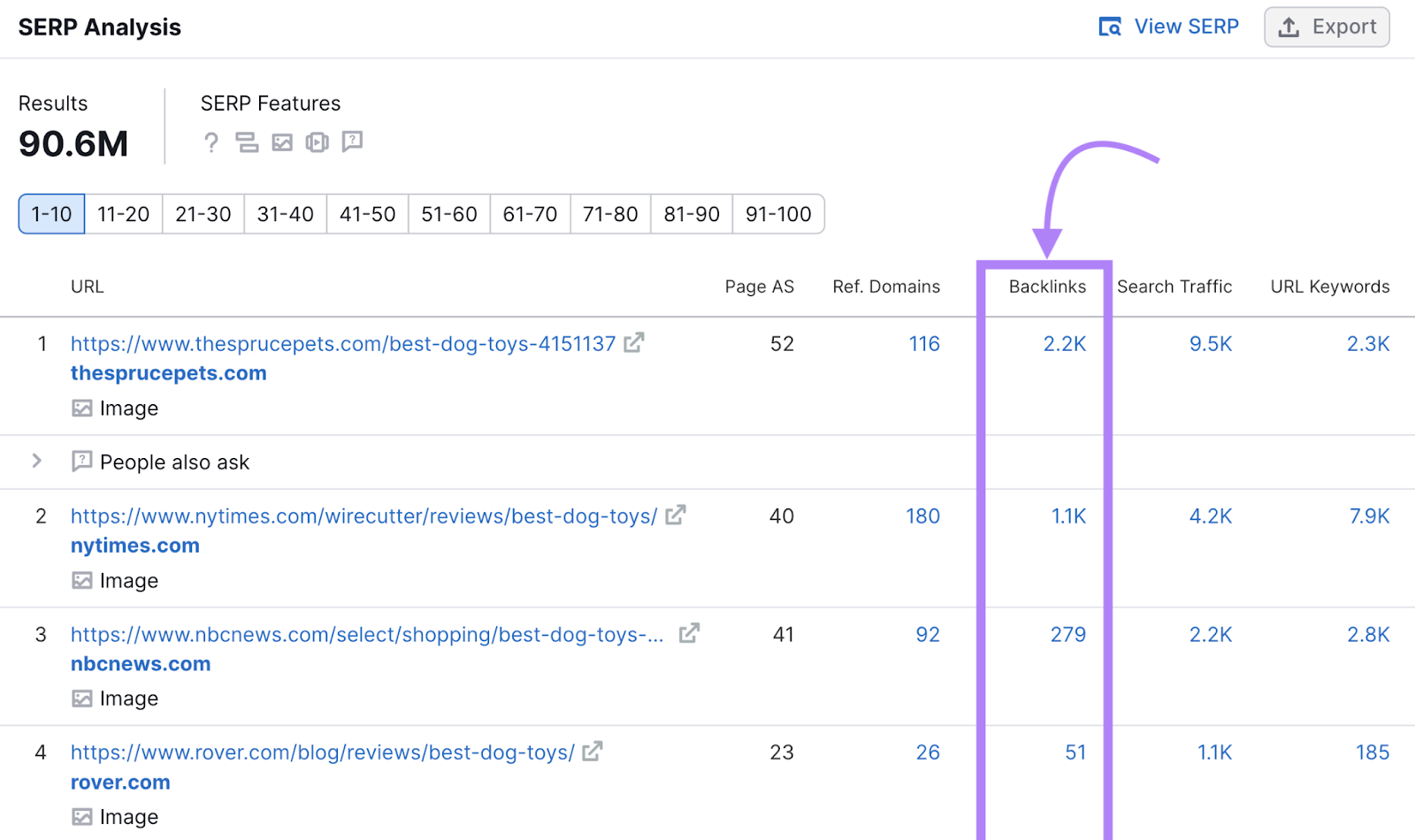 To check your own backlinks, use Semrush's Backlink Analytics tool.
Enter the URL for the page you're working on. Then click "Analyze."

The "Overview" page provides key data.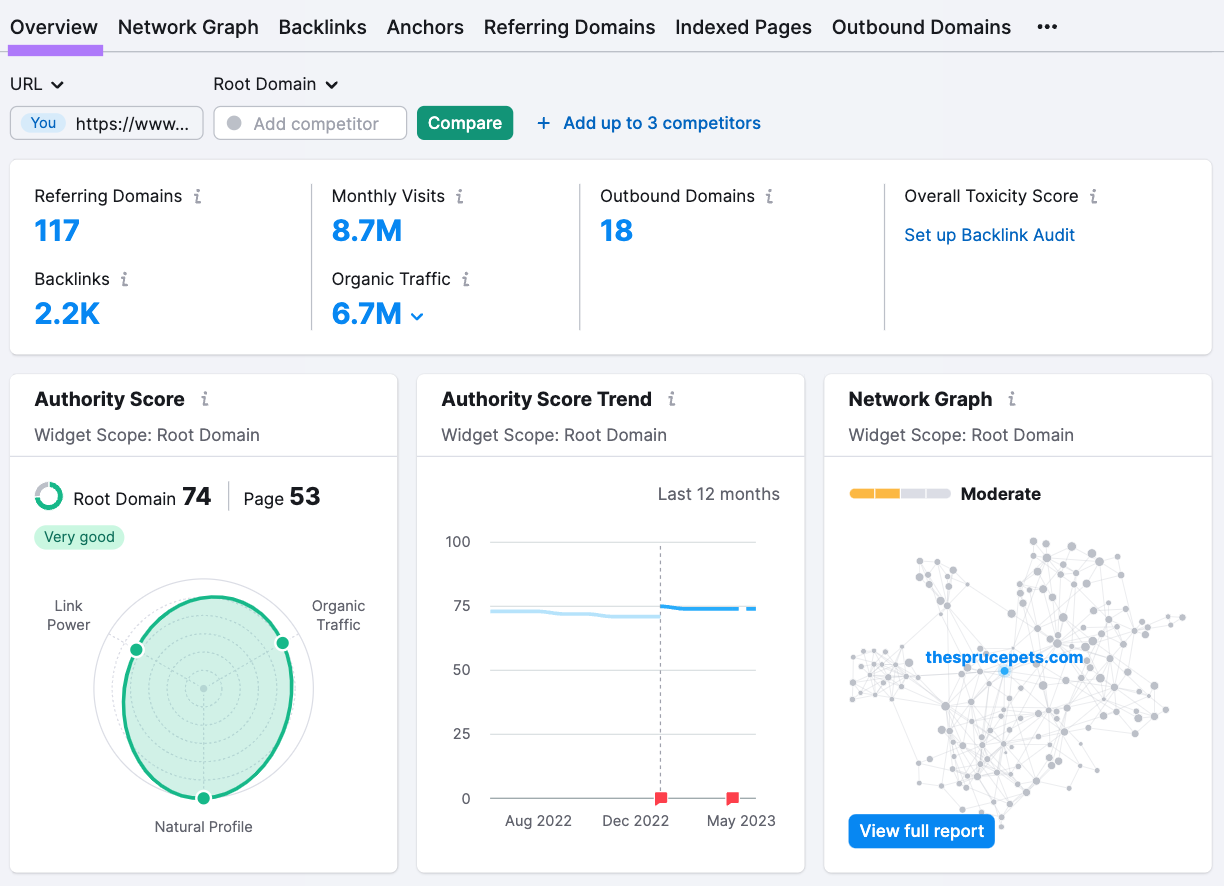 For further insights, view the individual reports: 
The "Backlinks" report provides a detailed breakdown of external links to your page
The "Anchors" report lists the anchor text of your backlinks
The "Referring Domains" report shows which sites link to your page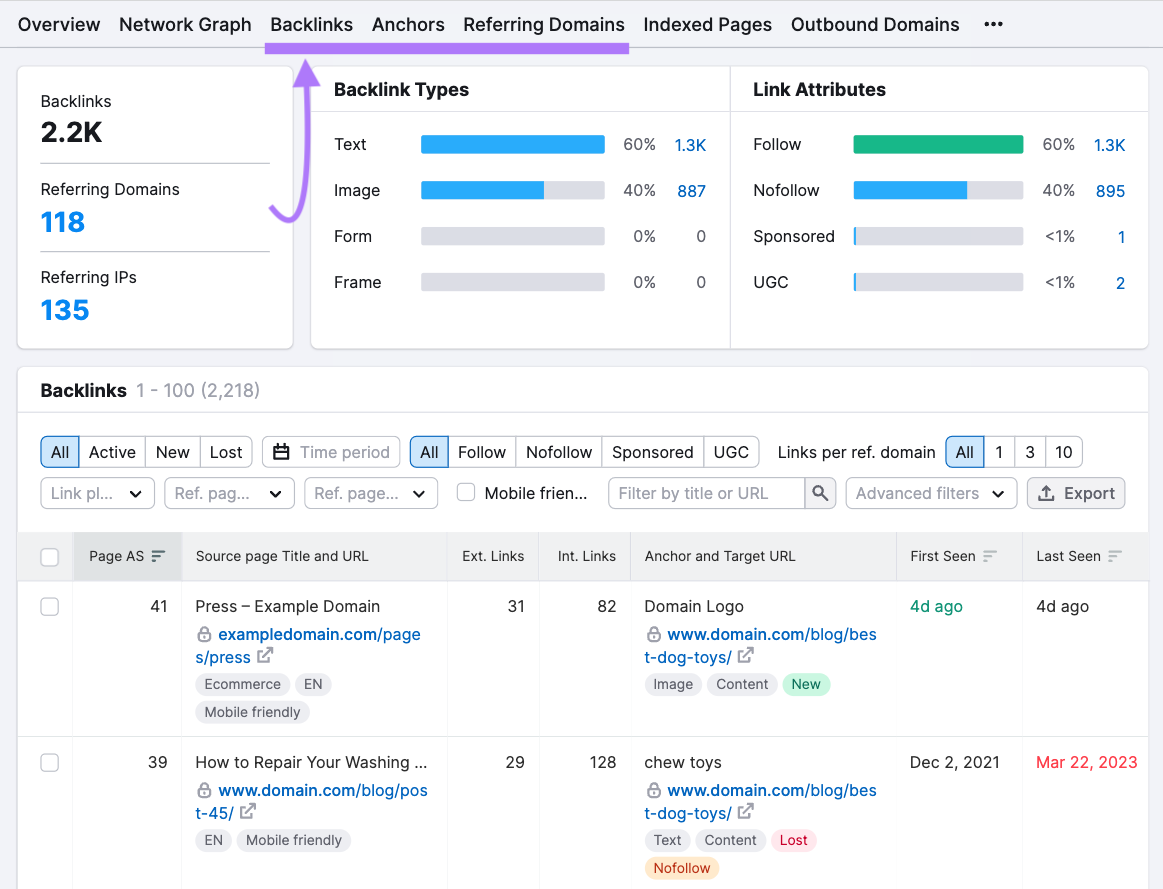 To compare your page's backlinks against competitors', go back to the "Overview" tab.
In the "Add competitor" field, enter the URL of a rival page. (Ideally, one that ranks on the first page of Google.)
Click "+ Add up to 3 competitors" if you want to add more.
When you're ready, click "Compare."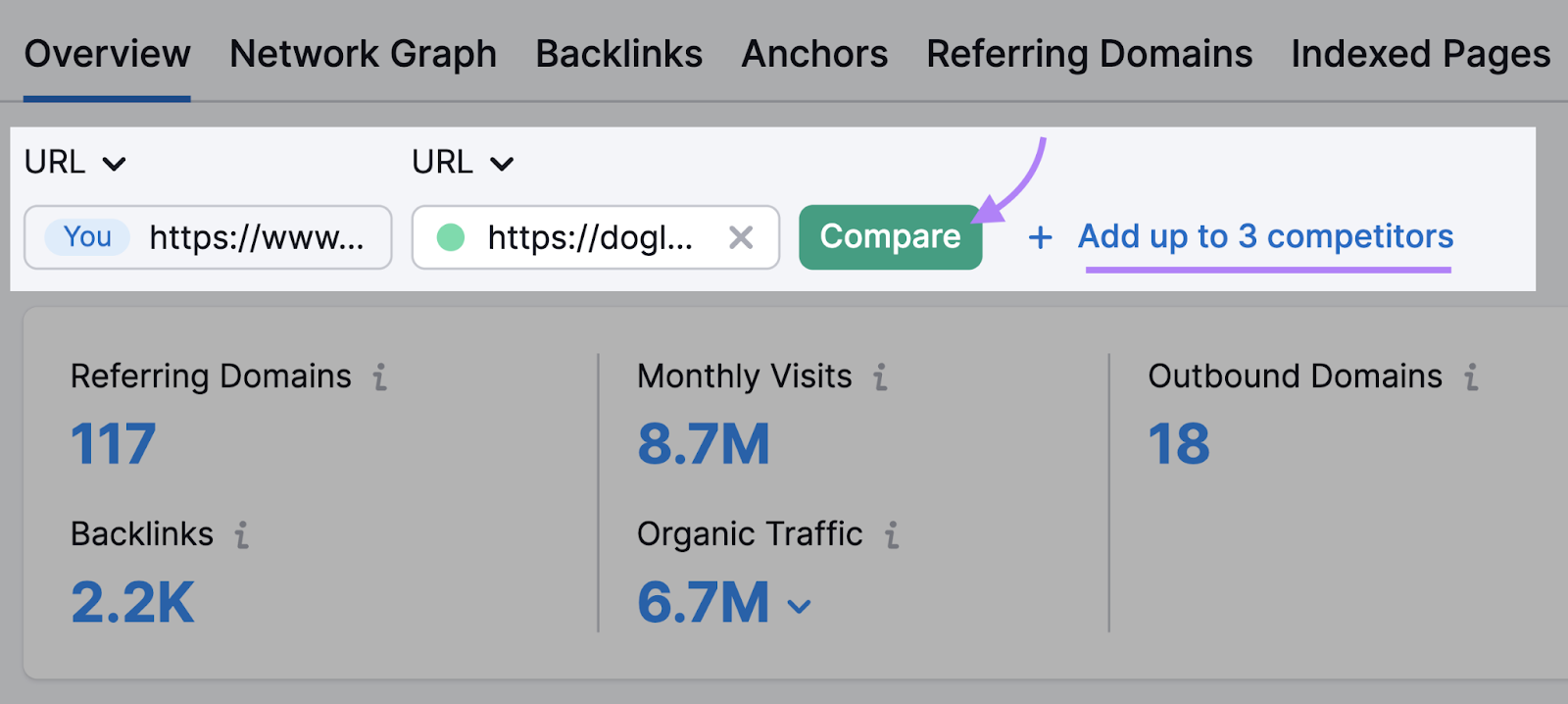 You can now compare key backlink metrics, such as the number of referring domains. 
Think your page could benefit from more backlinks? 
There are many link building techniques, such as:
Outreach: Send your content to publishers who might want to share it
Broken link building: Identify broken backlinks and ask owners to replace them with your relevant, working links
Unlinked mentions: Use a tool like to Brand Monitoring to track brand mentions and ask owners to link them
Semrush's SEO Content Template provides backlink ideas based on the top 10 results for your target keywords. But you can also find sites that might link to you by using the Link Building Tool.
The tool also helps you manage and track the link building process.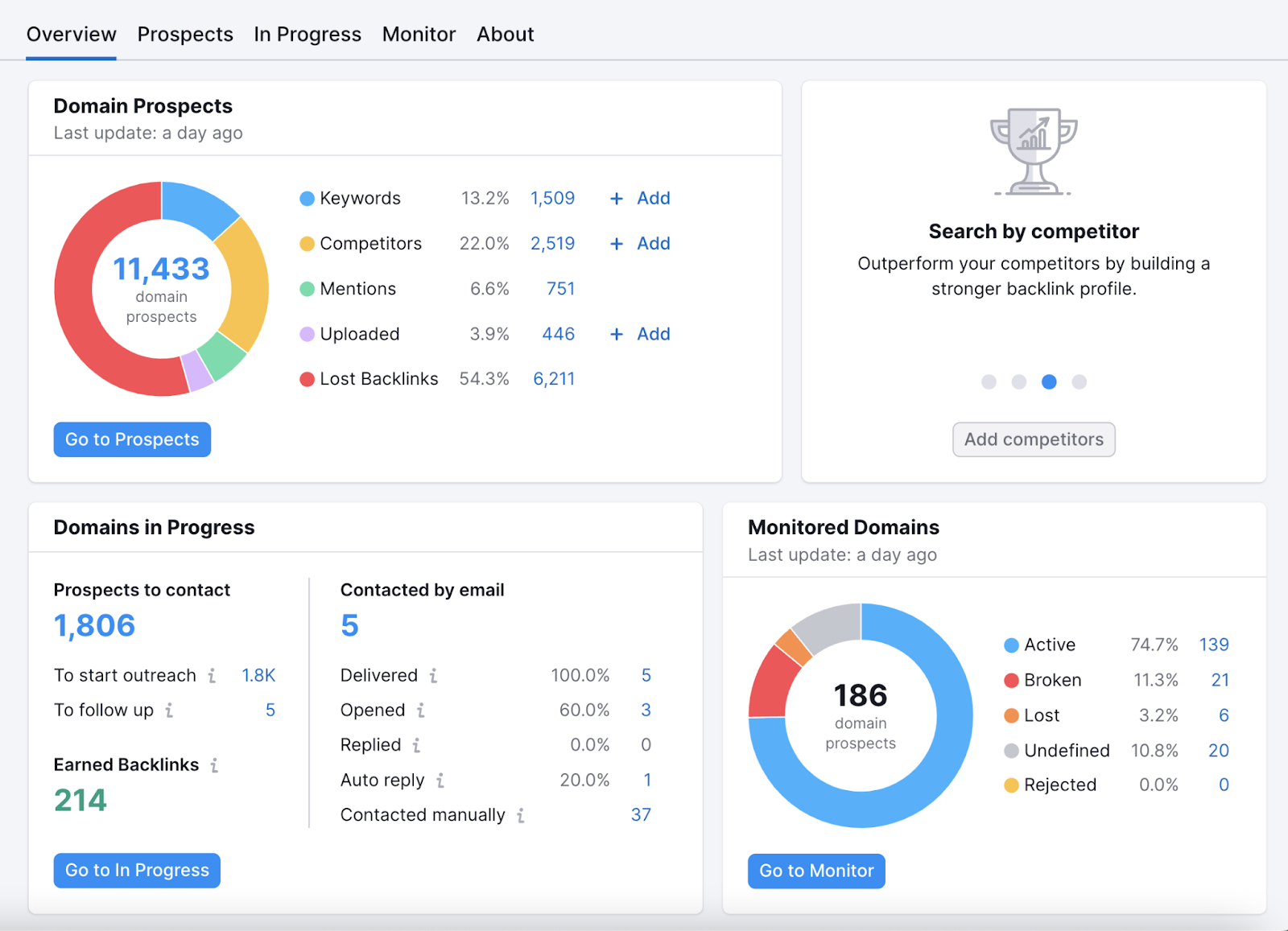 6. Track Your Rankings
When you make SEO changes, it's important to track website rankings. To ensure they move in the right direction. (And you can take corrective action if not.)
With Semrush's Position Tracking tool, you can track your organic rankings at the country, city, street, or ZIP code level. And get detailed information about SERP features.
Plus, you can get alerts when you make it to the first page of Google. 
After configuring the tool, open your project.
Then, click the bell icon in the top right. 

Set up an alert for when you "Enter the top 10" (the typical first page of Google). 
Then, click "Add my first trigger."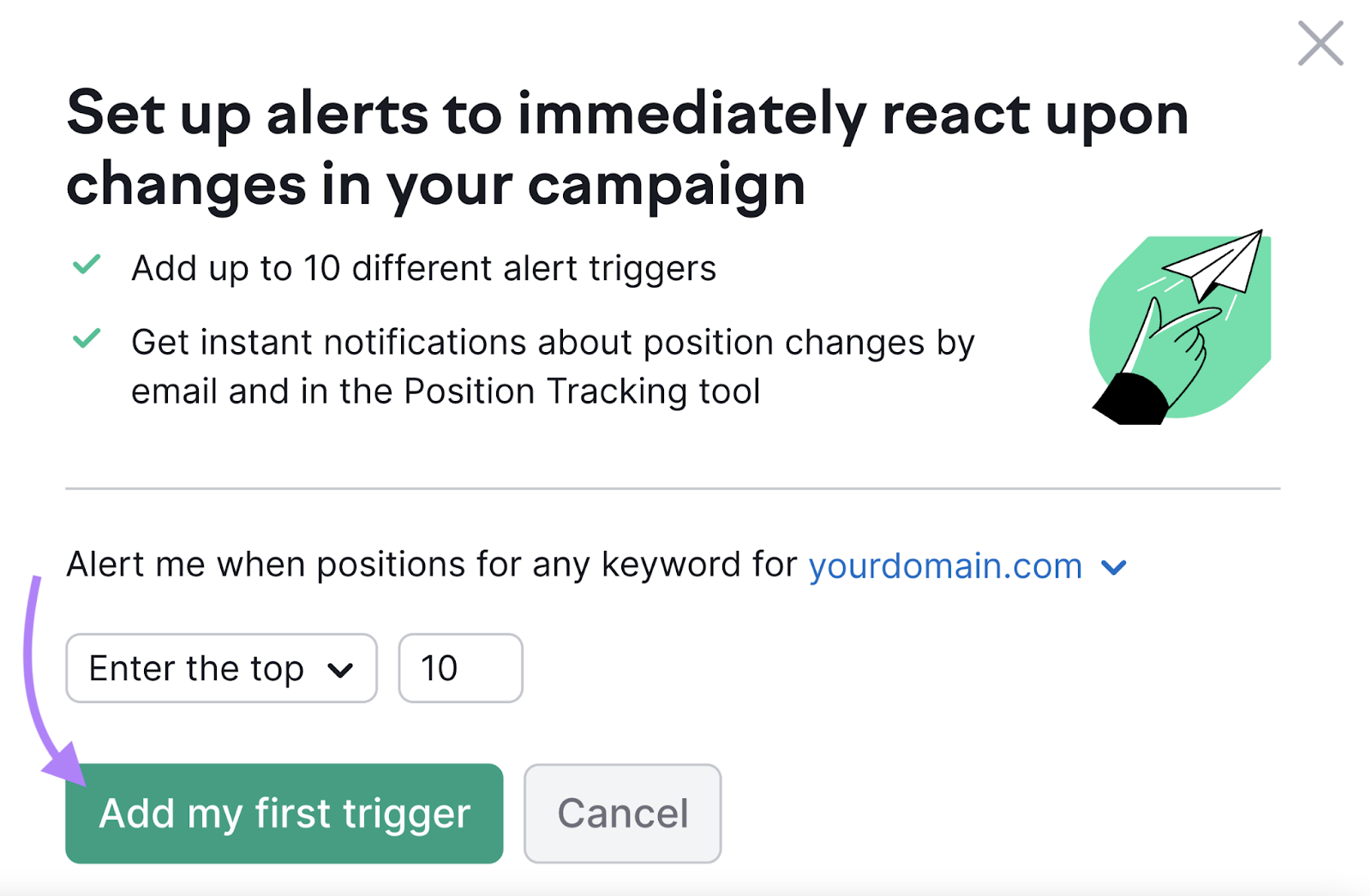 You can also create an alert for when you "Leave the top 10."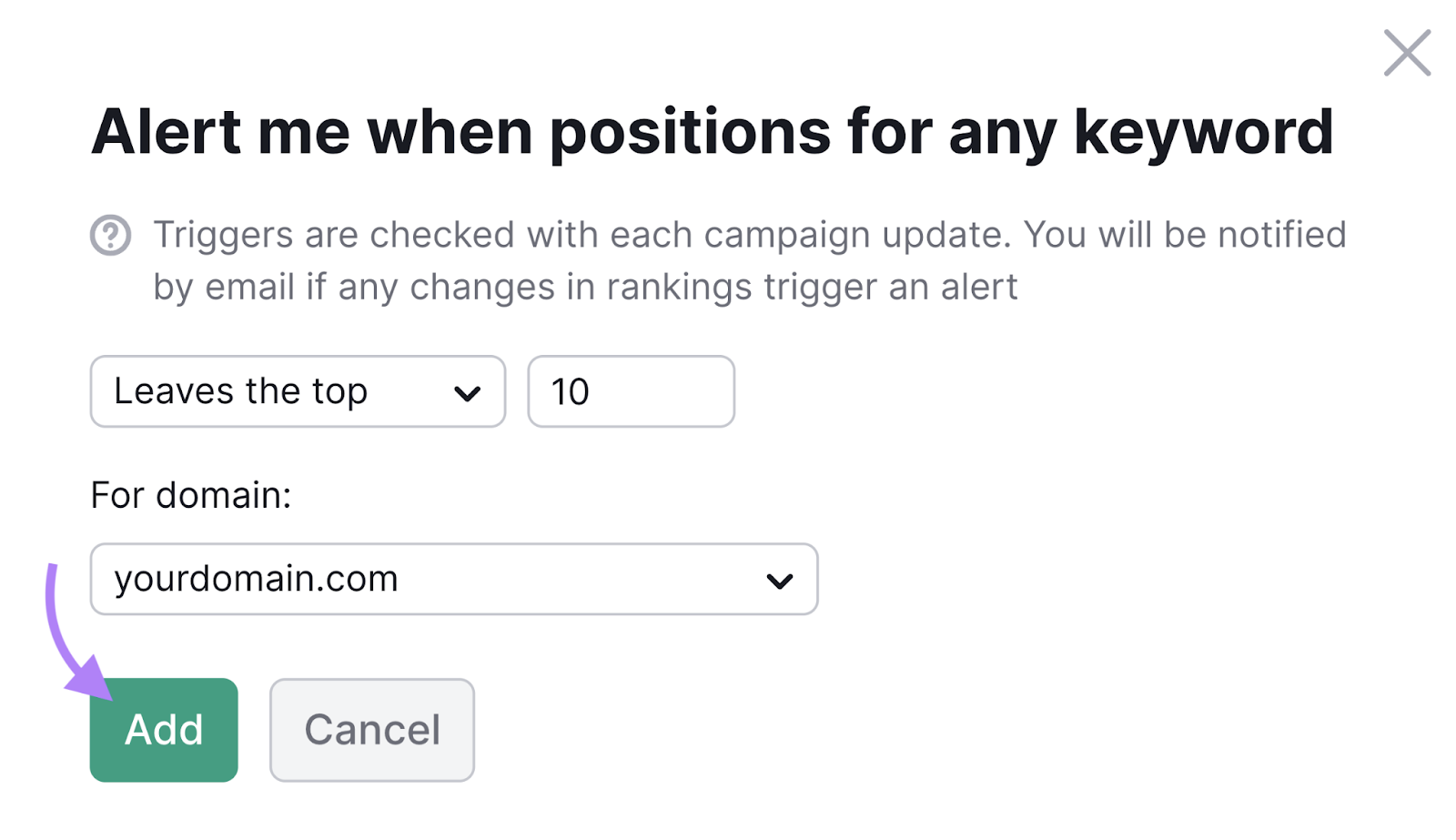 To review your rankings, go to the "Overview" tab.
And choose a date or time range.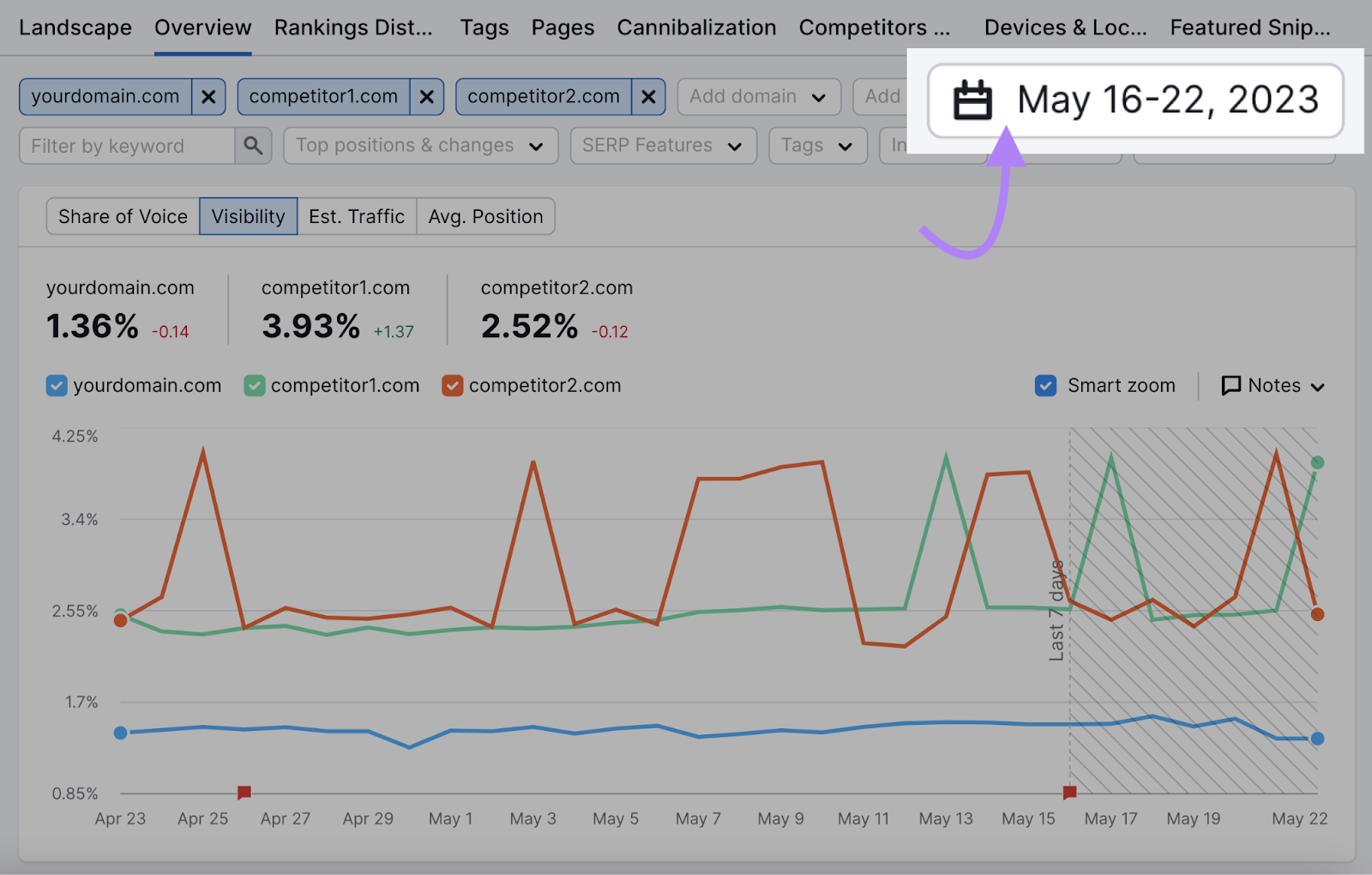 You can then filter keywords by position.
Click "Top positions & changes" then:
"Top 10" > "All" to look at rankings on the first page
"Top 10" > "Lost" to look at rankings that have dropped off the first page
"# 11-20" > "All" to look at rankings on the second page
(This assumes each page contains 10 organic results.)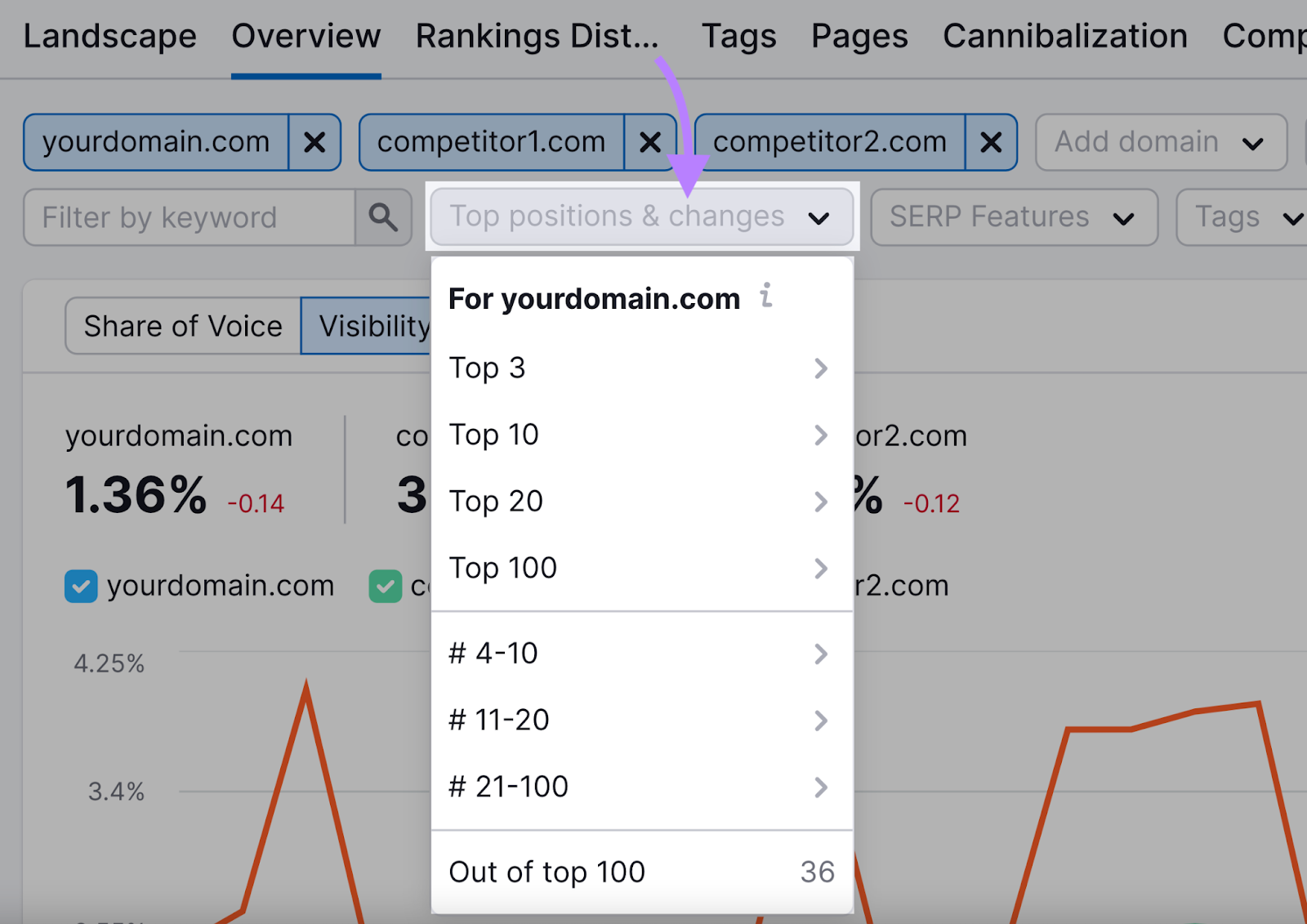 Use the "SERP Features" filter and select "[domain] doesn't rank" to find opportunities you've missed. 
Then, craft a strategy to win these SERP features.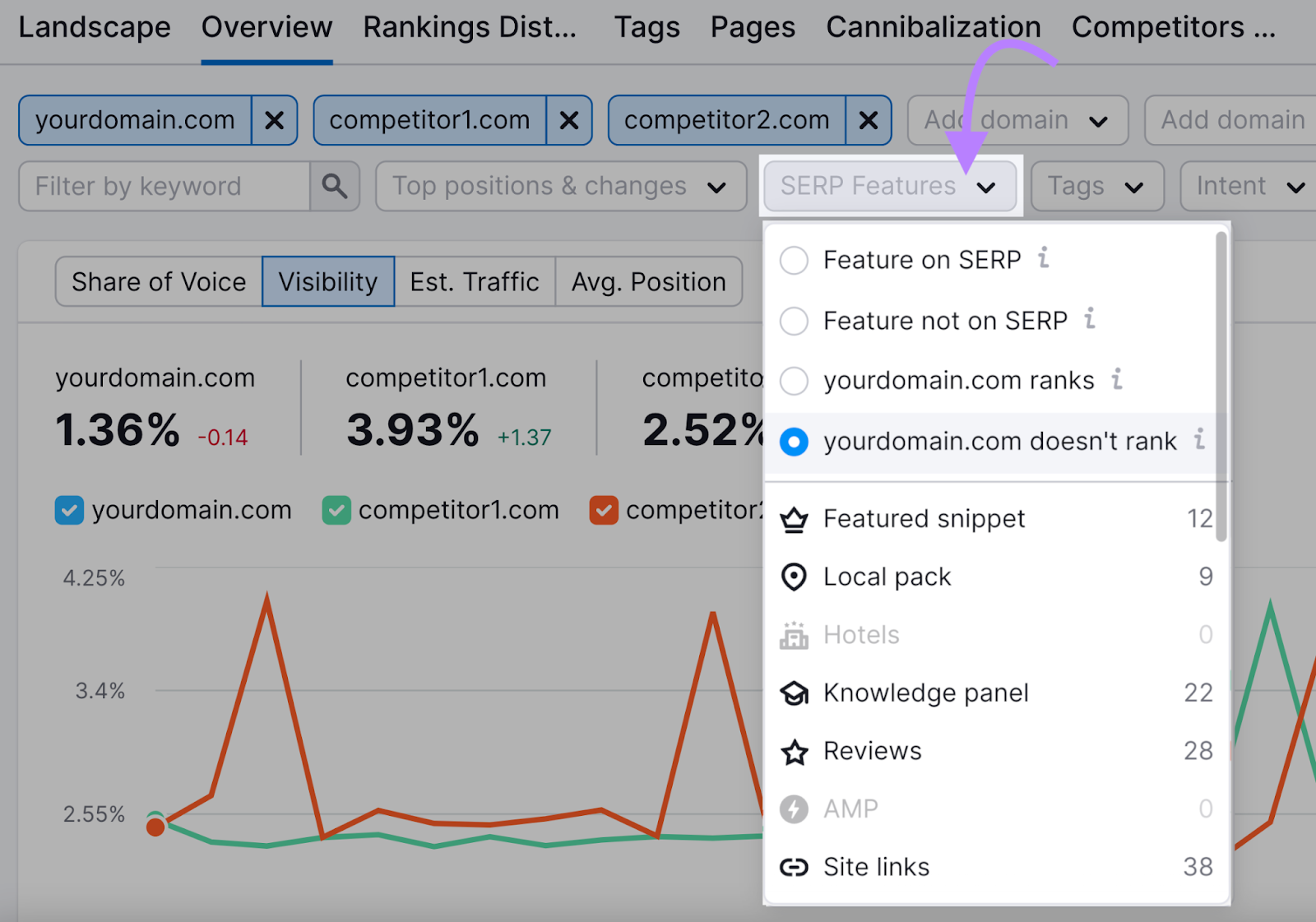 There are lots of other filtering and sorting options to help you focus on results that matter most.
7. Improve Your Sitewide SEO
Google doesn't evaluate webpages in isolation. The quality of your site overall can impact an individual URL's rankings.
This means making sitewide SEO improvements can help you get on the first page of Google for various keywords.
Here are our top recommendations:
Improve or remove unhelpful content
Perform a Site Audit to find and fix technical SEO issues
Build high-quality backlinks to your domain
Build internal links between relevant pages on your website
Semrush's On Page SEO Checker helps you identify the biggest opportunities. By analyzing your pages and the top 10 results for your target keywords.
After configuring the tool, you'll see ideas related to content, backlinks, and more.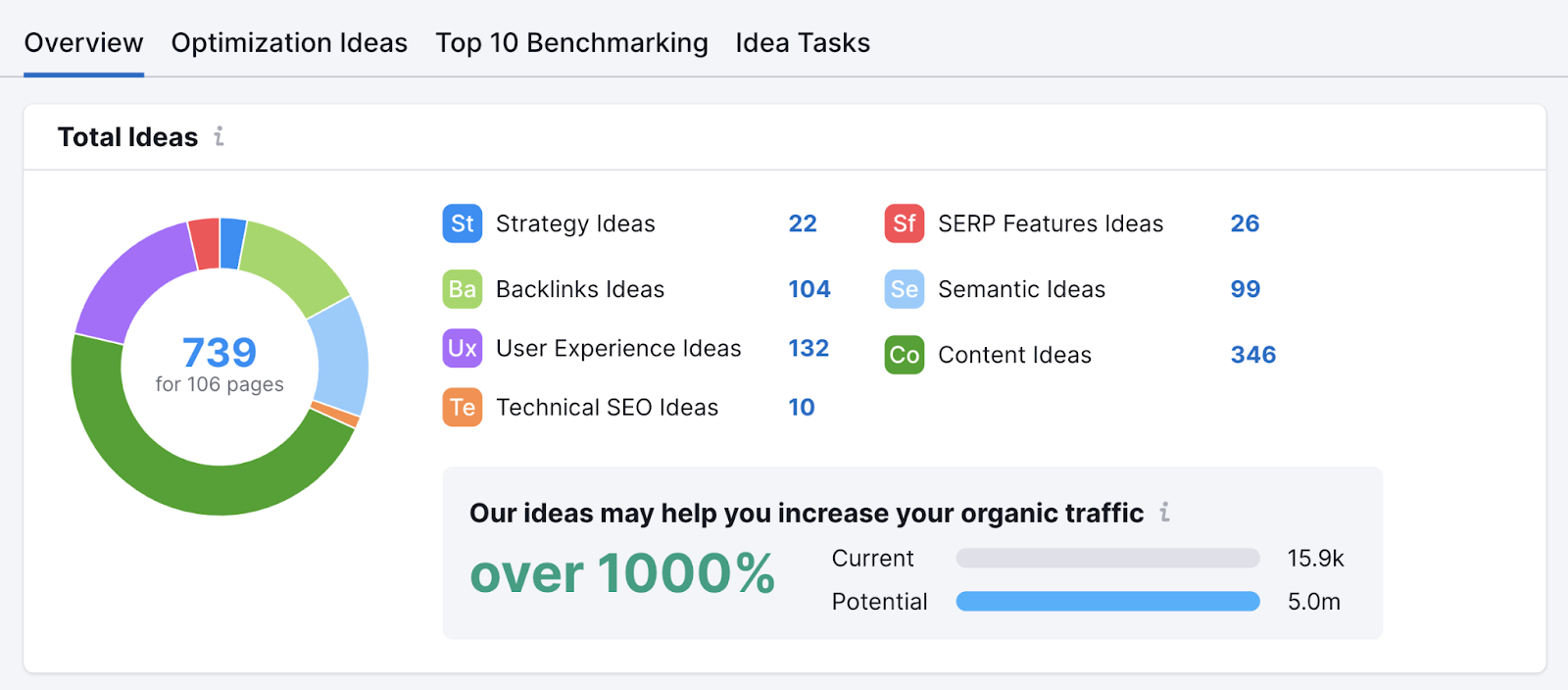 Scroll down to "TOP pages to optimize" to access ideas by URL.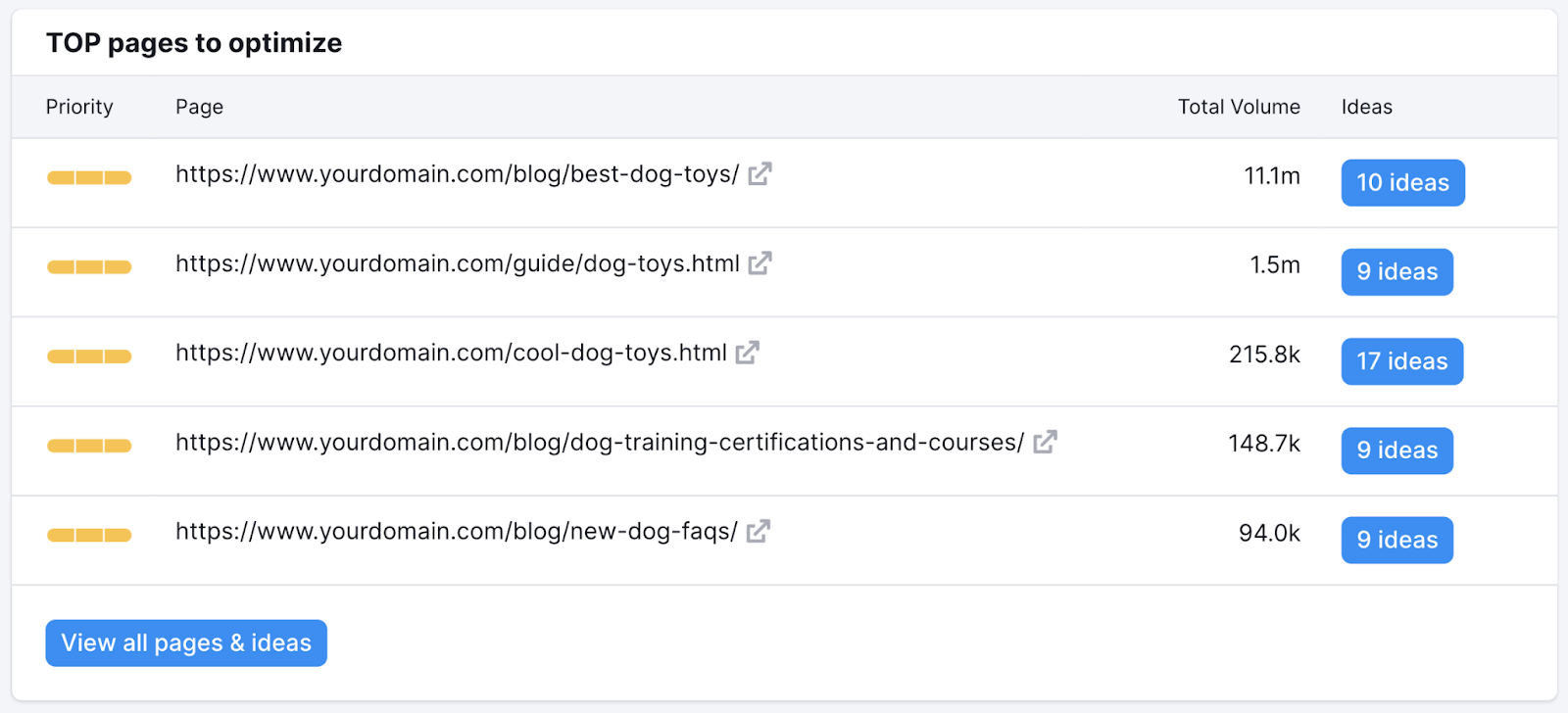 FAQs
How Long Does It Take to Get on the First Page of Google?
The amount of time it takes a website to rank on the first page of Google varies significantly. 
Perhaps one website published their content and ranked within a day. While others spent months improving their content and rankings.
Google changes its rankings all the time. And Google algorithm updates can change things dramatically.
That's why it's important to focus on creating people-first content. To treat SEO as a long-term strategy. And to pursue a variety of relevant keywords.
Check out our guide to learn more about how long it takes to see SEO results.
Should I Advertise on the First Page of Google?
Google Ads makes it possible to advertise on the first page of Google. These ads work on a pay-per-click (PPC) basis, which means you pay only when someone clicks.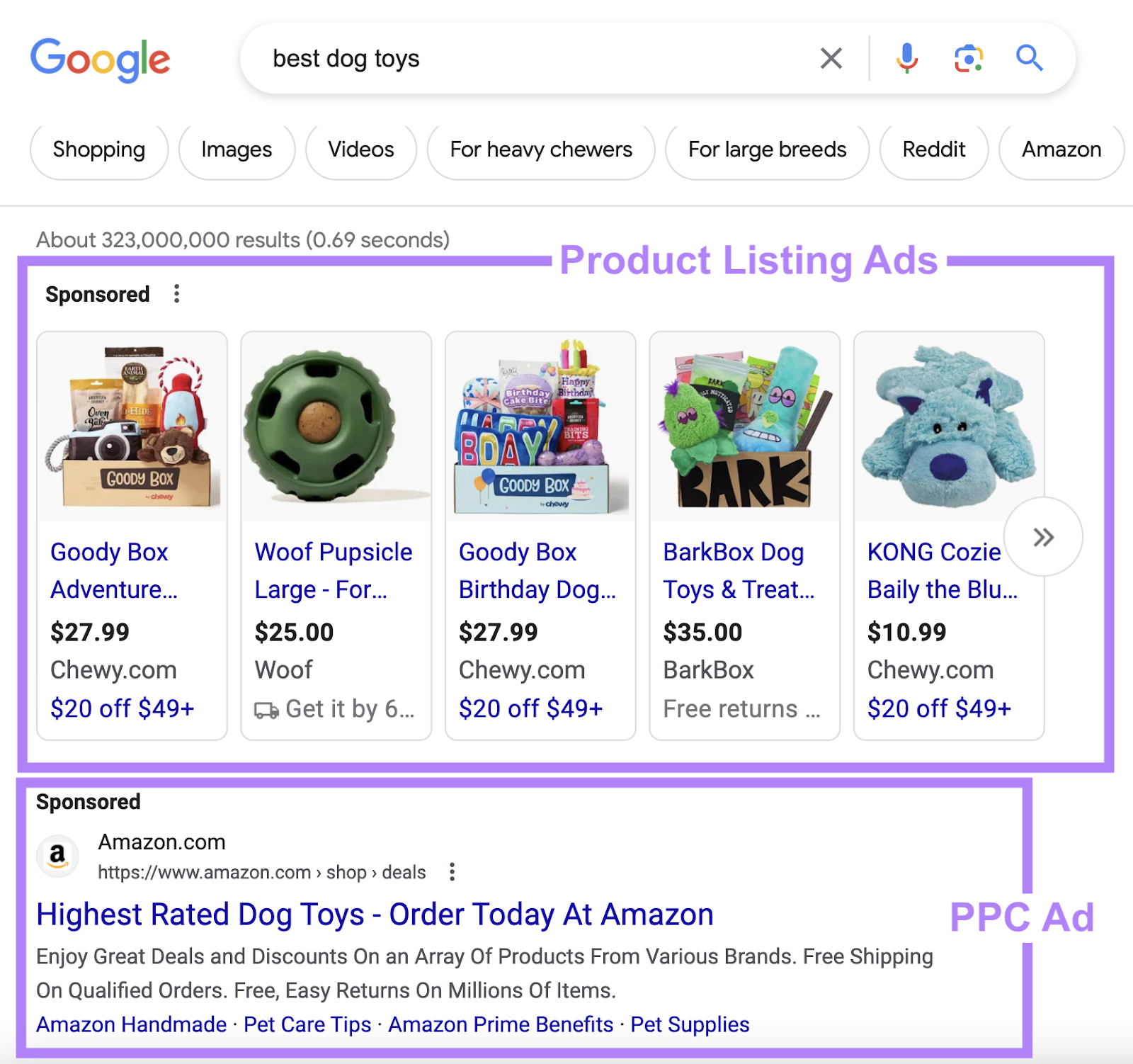 PPC (or paid search) can be a great way to generate valuable clicks. Especially if you're not ranking on the first page organically.
There are lots of ads types available, each with their own requirements. The right approach depends on your resources and goals.
Check out our beginner's guide to advertising on Google.
What Are the Click-Through Rates on the First Page of Google?
The average click-through rate (CTR) on the first page of Google ranges from 22.2% to 1.6% on desktop. And 22.4% to 2.3% on mobile, according to the Semrush State of Search 2023 report.
This research supports the idea that higher rankings generate more clicks.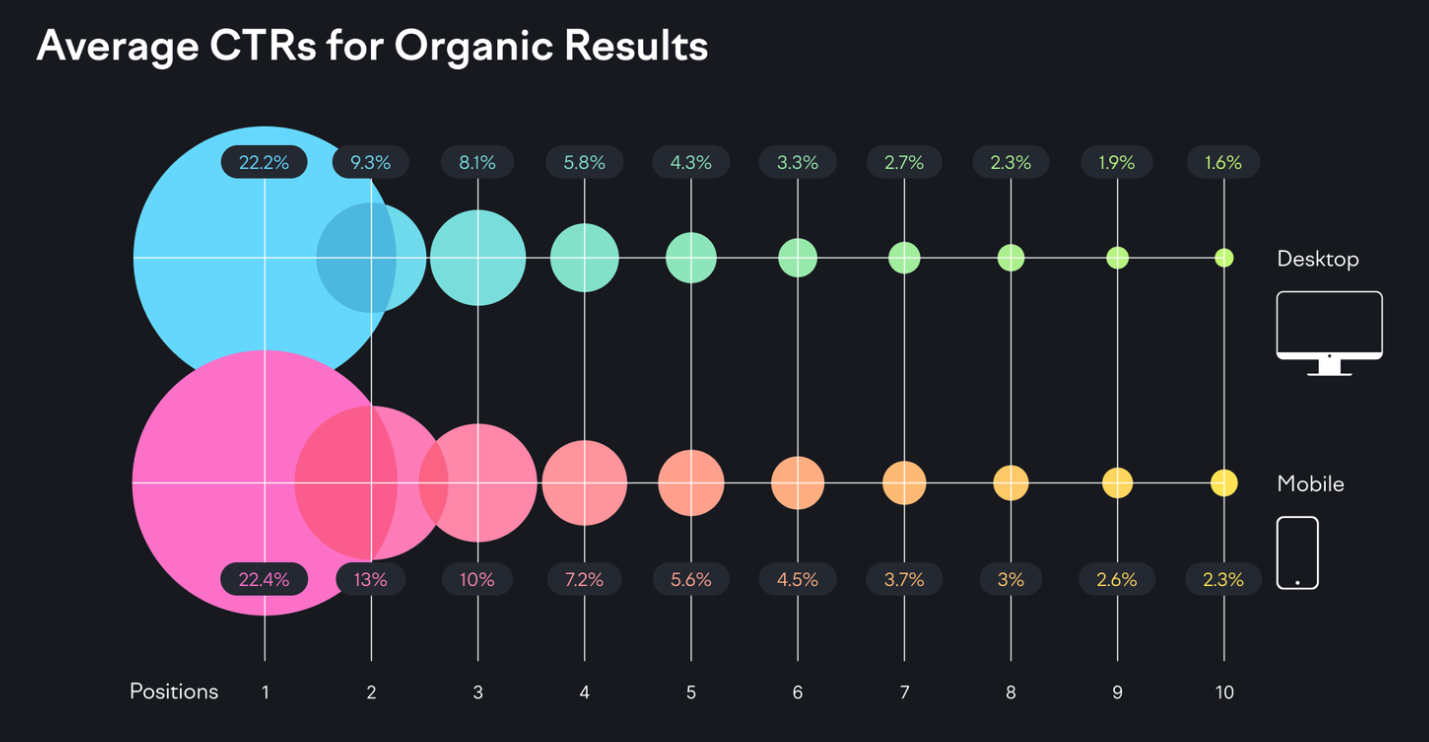 However, CTRs vary significantly depending on the search query and results available.
You can track your CTRs through Google Search Console.
Go to "Performance" > "Search results." 
And click the "Average CTR" check box.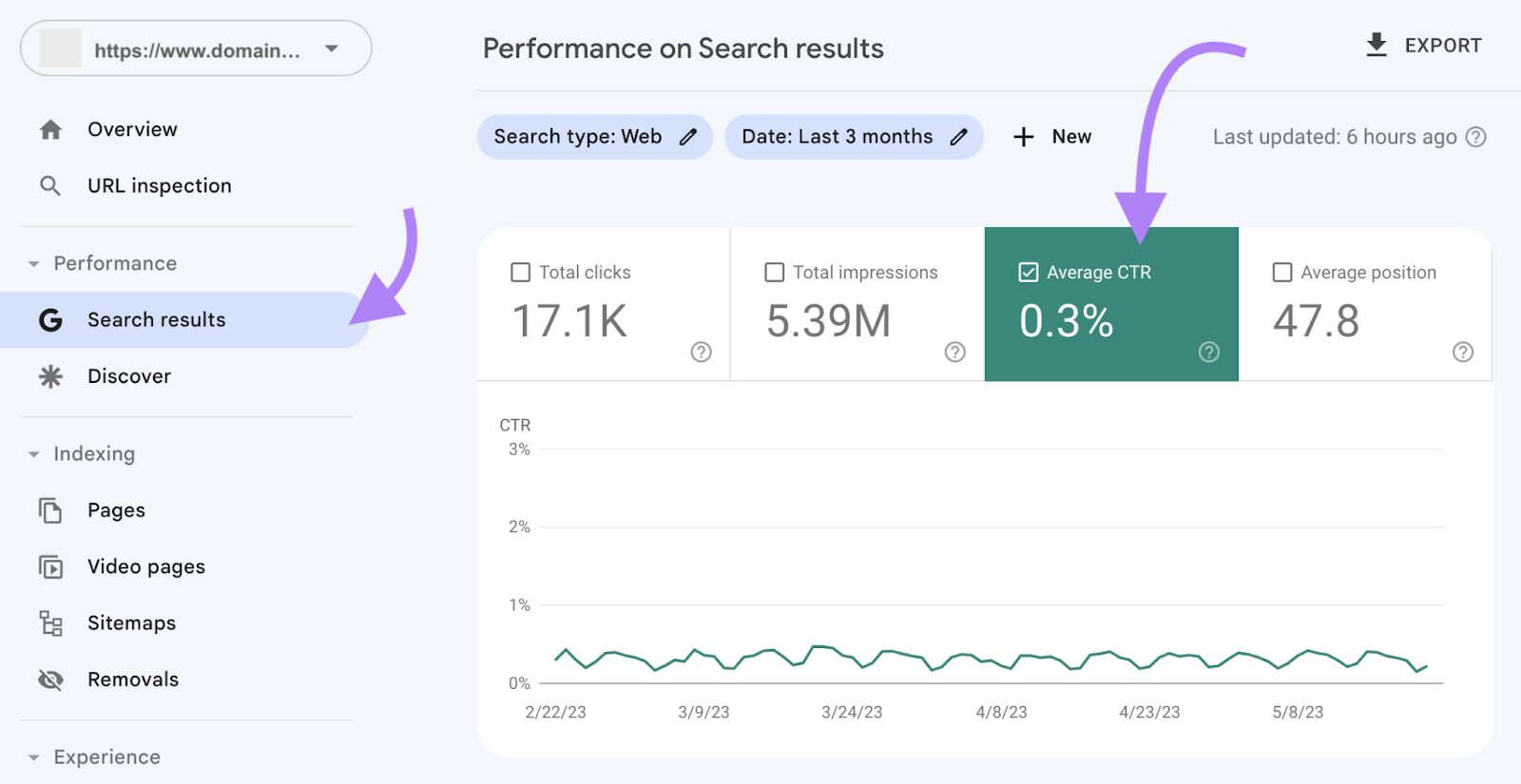 Then, scroll down to see the average CTR by query (keyword).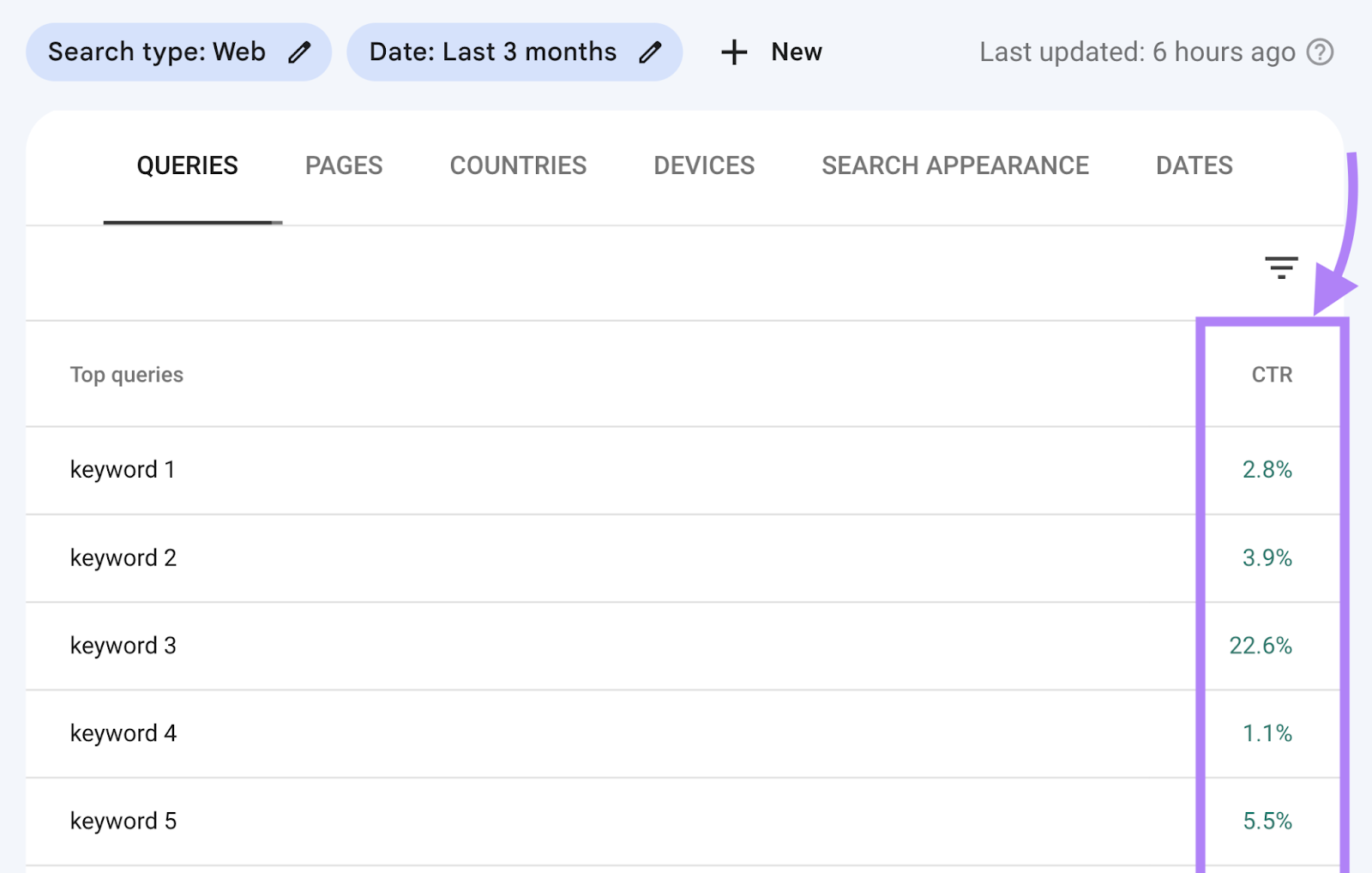 Tip: For a more comprehensive view of SEO performance, connect your Google Search Console and Google Analytics accounts to Semrush's Organic Traffic Insights tool. You can see key landing page data all in one place.