Last year, the whole world changed. As everyone around the globe was impacted by COVID-19, small businesses everywhere had to face the change head-on. They had to mitigate shutdowns, new safety requirements, and a tough economic market. 
We conducted a survey-based study to reveal the biggest marketing challenges that small businesses are now facing. In this post, you'll find the survey results and we will take a look at how one of our agency partners successfully overcame some of these key challenges. Read on to get some actionable tips you can use when building a marketing strategy for your own small business or your SMB clients in 2021.
Survey Methodology 
To better understand how recent challenges have impacted how small businesses market and advertise, we launched a multi-platform survey across Twitter and TypeForm. 
We had 219 responses on TypeForm and 65 comments in our Twitter and LinkedIn polls. We had a diverse range of participants, giving us a well-rounded look at different types of business structures and how their marketing was impacted. 
Twitter Survey
Hey, friends! We need your help again — we are working on a big study and would love to ask you to share your thoughts on this: What are the biggest marketing challenges small businesses face in 2021? Leave your comments to be featured!

— Semrush (@semrush) September 22, 2021
LinkedIn Survey
After compiling all of the data, we grouped all answers into one of 14 different categories. We then followed up with a poll for our Semrush users, which asked them to identify the five biggest challenges they were impacted by.
Survey Results
Audience Breakdown
52.5% of our survey's respondents are small businesses that have fewer than 50 employees, 8.7% defined their businesses as "freelance," and 21.5% were agencies. 
34% of respondents said that the business owner is the person running marketing campaigns, 41.2% said they have one or several employees/dedicated in-house team running campaigns, 5.2% relied on an outside agency, and 2.6% worked with freelancers.
The average self-identified marketing proficiency of respondents is 6.8, with "0" being "beginner" and "10" being "advanced."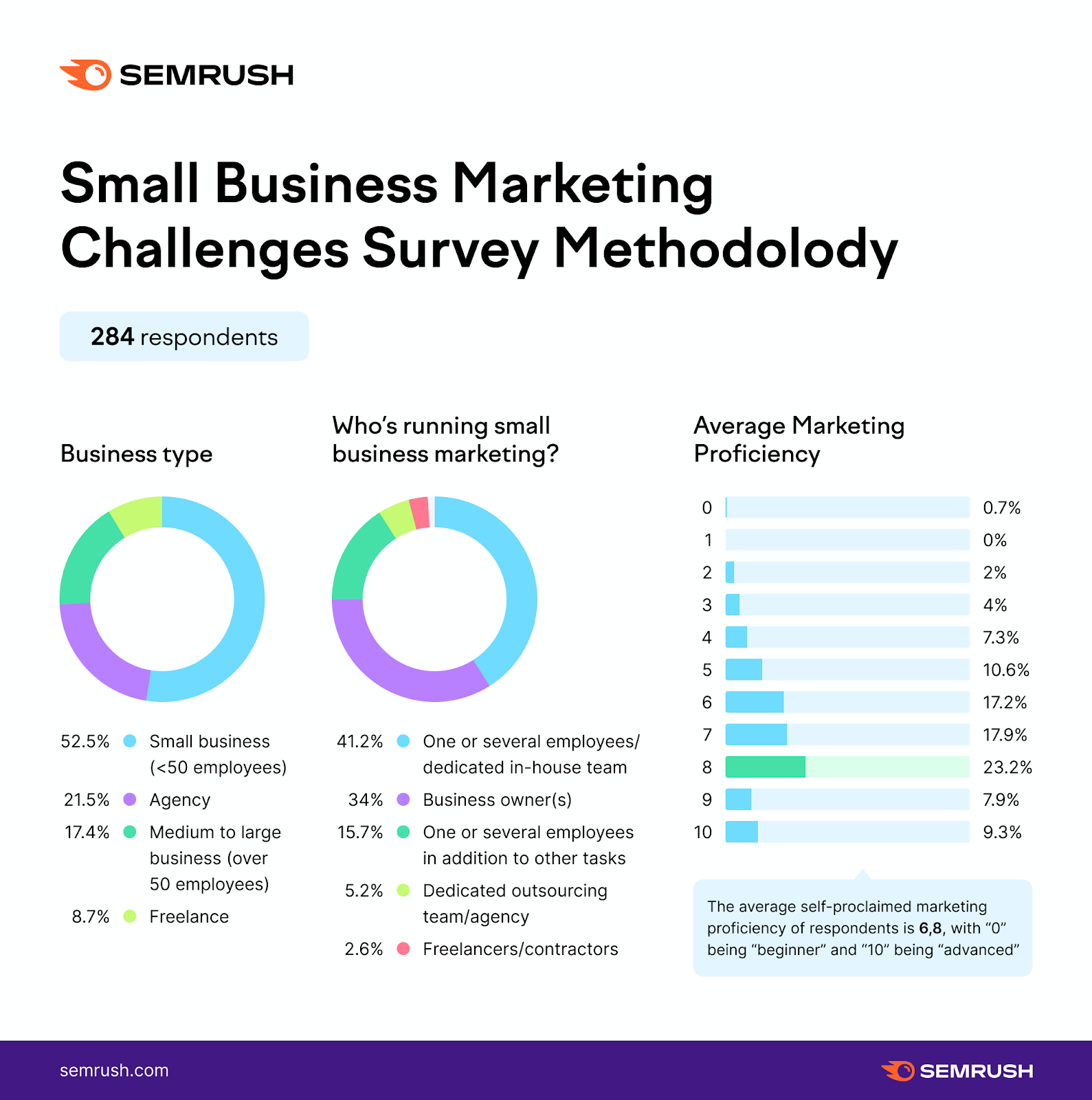 Top Challenges Revealed
Our survey showed that there are a handful of challenges impacting small-business marketing. These were the top challenges that small businesses faced, in descending order: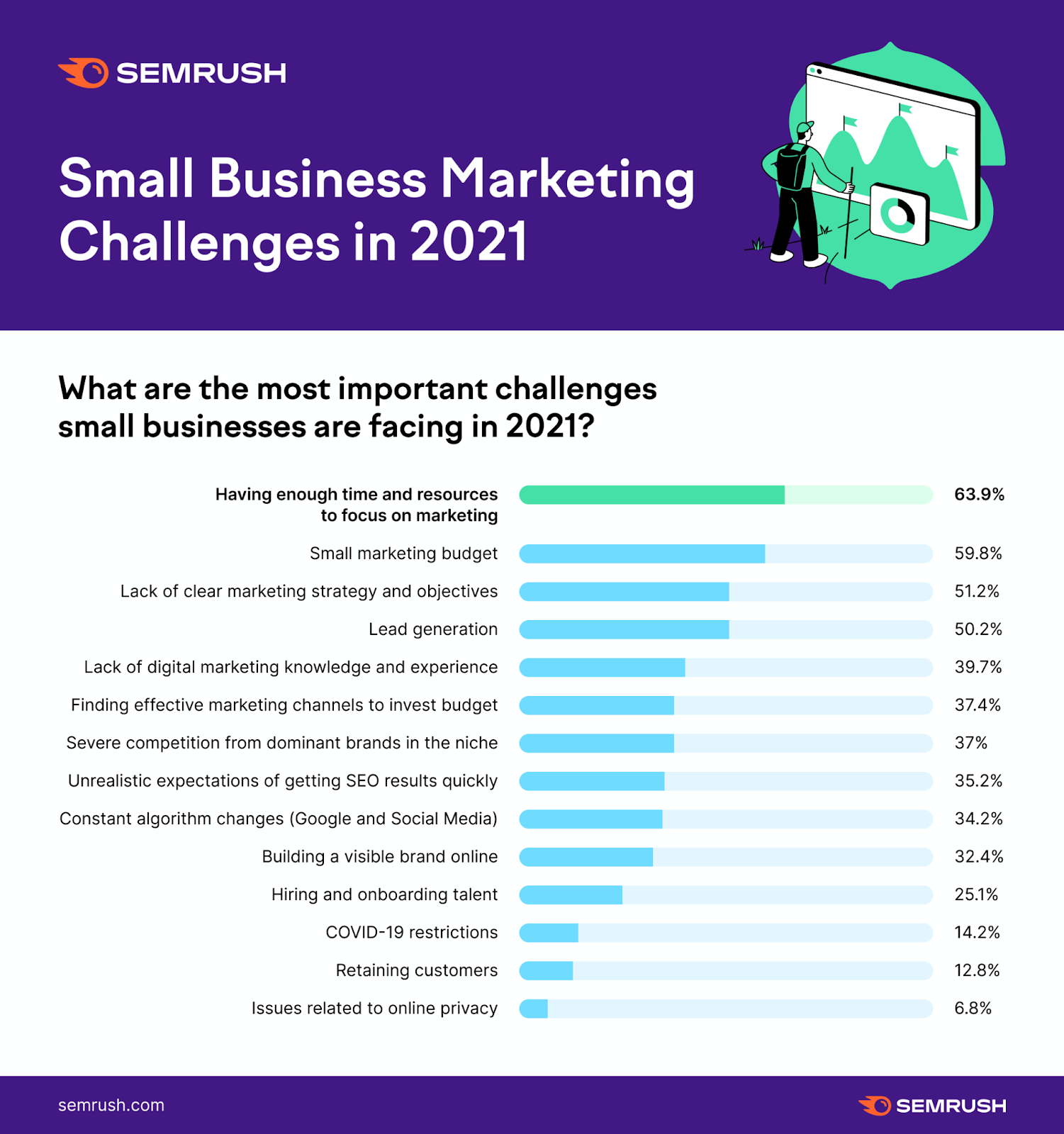 How One Agency Addressed These Challenges
After reviewing the results of the survey, we asked one of our agency partners to give us their best tips and practices they use when addressing the top challenges that our survey participants identified. This agency works with lots of small businesses to help build their digital brand presence. In fact, they are currently helping their client, a small Florida-based bakery, to increase their online visibility. We're sharing their story in the Semrush SEO Reality Show Series. Here's what they had to say about these top-5 small business marketing challenges: 
Challenge #1. Not Having Enough Time and Resources to Focus on Marketing
1. Automate SEO tasks with tools 
Anything can be successfully automated, should be. Automating parts of your content creation/content marketing strategy not only saves money, it also saves you time and frees small business owners up to wear all of the other hats that they typically do. When working with the bakery client the agency used powerful tools to automate a number of digital marketing tasks. This freed them (and by extension the client) up to tackle other important aspects of brand building.
2. Use templates that marketing professionals use 
Using structured templates for different digitals marketing tasks, such as Competitor Analysis, Keyword Research, etc, allows small businesses (and agencies!) to deliver quality marketing materials on a consistent basis. Our agency partner is not an exception: the team uses a number of templates that we share through the Reality Show series so that other agencies and SMBs can easily replicate them.
[Competitor Analysis Template]
3. Delegate the critical, big, and technical tasks to professionals
Some technical tasks like Site Audits are better to delegate to SEO professionals. Technical website upgrades and data collection are also mission critical for digital marketing, even for small businesses. SEO agencies and other professionals can deploy their resources so you can focus on other parts of your business. 
Challenge #2. Small Marketing Budget
While small or limited marketing budgets can pose a big challenge, our agency partner has a few recommendations to help you get the most bang for your buck: 
Invest in what's already working
Budget for SEO and know that lasting results can take time.
Prioritize fixing your most critical marketing issues, first.
Our agency partner knew that their bakery client would benefit from a holistic Site Audit first, and then a website structure redesign second — so they did it in that order. 
Challenge #3. Lack of Clear Marketing Strategy and Objectives
Without a clear and detailed plan, executing a successful digital marketing campaign can feel virtually impossible. Setting a step-by-step strategy and objectives will not only make the campaign easier to manage, but it can also lead to high rates of success and more conversions.
1. Prepare a foundation for your strategy
Know your offline and online competitors. Here's how the agency is revealing real competitors for their bakery client.
2. Add SEO metrics to your marketing strategy
Adding SEO metrics to your strategy will give you a tangible way to measure the effectiveness of your digital marketing content and advertising. Our agency partner always collaborates with their client to collect and deliver metrics that matter to their business strategy. These metrics can always be added, adjusted, or removed to suit the client's brand needs.
Challenge #4. Lead generation
1. Use attractive lead generation forms
By integrating impactful CTA buttons (with the form attached) to your website, you attract high-quality prospects, which have a bigger chance to be converted into real customers. Read this episode to learn how our agency partner implements these types of forms on their client's website.
2. Consider creating a blog
Blog creation can be a great way to drive more organic traffic and attract potential leads to the website. Here's how and why the agency creates a blog for its client.
Challenge #5. Lack of Digital Marketing Knowledge and Experience
Many small businesses aren't sure where to start when it comes to digital marketing. Often, the data can be confusing or tough to access/digest. It can be hard to assign enough in-house resources to create a robust strategy. The agency identified three ways that a small business can tackle this problem: 
1. Hire external professionals
Sometimes it takes a professional touch to really get your marketing strategy off the ground. Hiring an external resource/vendor often gives you the benefit of having an established, expert party look at your business goals to better align what you're offering with what your customers' needs and pain points are. Depending on what your needs are, you might hire freelancers to help you craft high-quality, keyword-targeted content, or maybe you need to hire an agency to help create your entire outbound digital marketing strategy. 
2. Always use a data-driven approach 
If you do decide to approach your digital marketing strategy in-house, always use a data-driven approach. Data gives you objective information about what type of content, site structure, and other elements are working (or not working).
3. Don't be afraid to make mistakes
If you decide to approach digital marketing in-house (or with the help of occasional freelancers), you'll be responsible for gathering and interpreting the data around your business' marketing strategy. Don't be afraid to try things and make mistakes! This is a normal and natural part of building a great strategy. Play around with different approaches and types of content and use the data you get to better inform your strategy. 
Other Marketing Challenges
There were other small business marketing challenges that our audience experienced that may resonate with you and your small business: 
Finding effective marketing channels to invest budget — 37.4%
Severe competition from dominant brands in the niche — 37%
Unrealistic expectations of getting SEO results quickly — 35.2%
Constant algorithm changes (Google and Social Media) — 34.2%
Building a visible brand online — 32.4%
Hiring and onboarding talent — 25.1%
COVID-19 restrictions — 14.2%
Retaining customers — 12.8%
Issues related to online privacy — 6.8%
While a holistic approach to your marketing strategy may not be able to solve all of these problems, approaching the challenges above from a data-driven, strategic, expert-informed approach can have massive impacts on the success of your business, even in uncertain times. 
Conclusion
If you're struggling with your digital marketing for small business in 2021, know that you aren't alone. Keep in mind that there are plenty of successful marketing strategies for small businesses that were built around tight budgets and a big learning curve. Taking one challenge at a time (and using our action times to overcome them!) can go a long way.