This year, the whole world changed. As everyone around the globe was impacted by COVID-19, small businesses everywhere had to face the change head-on. They had to mitigate shutdowns, new safety requirements, and a tough economic market. 
Recently we conducted a survey-based study to reveal the biggest marketing challenges that small businesses are now facing. In this post, you'll find the study results and actionable tips to successfully overcome the challenges.
Study Methodology 
To better understand the small business challenges that have recently impacted marketing and advertising, we launched a multi-platform study across Twitter and TypeForm. 
We had 141 responses on TypeForm and 130 comments in our Twitter poll. 
Hey, friends! 🧡 We need your help again — we are working on a big study and would love to ask you to share your thought on what are the biggest marketing challenges small businesses face in 2020? Leave your comments to be featured 👇 #SmallBiz

— SEMrush (@semrush) August 11, 2020
We had diverse participants, giving us a full look at different types of business structures and how their marketing was impacted. Here is some core audience information to take into consideration:
66% of our survey's respondents are small businesses that have fewer than 50 employees, while 12% defined their businesses as "freelance" and 9% were agencies. 

60% of respondents said that the business owner is the one running marketing; only 8% relied on an outside agency and 5% worked with freelancers.

The average self-proclaimed marketing proficiency of respondents is 5,4, with "0" being "beginner" and "10" being "advanced."
After compiling all of the data, we grouped all answers into one of eleven different categories, and then followed up with a poll for our SEMrush users, which asked them to identify the four biggest challenges they were impacted by. 
Study Results & Actionable Tips
Our study showed that there are a handful of challenges impacting small business advertising and marketing. These were the top challenges that small businesses faced, in descending order: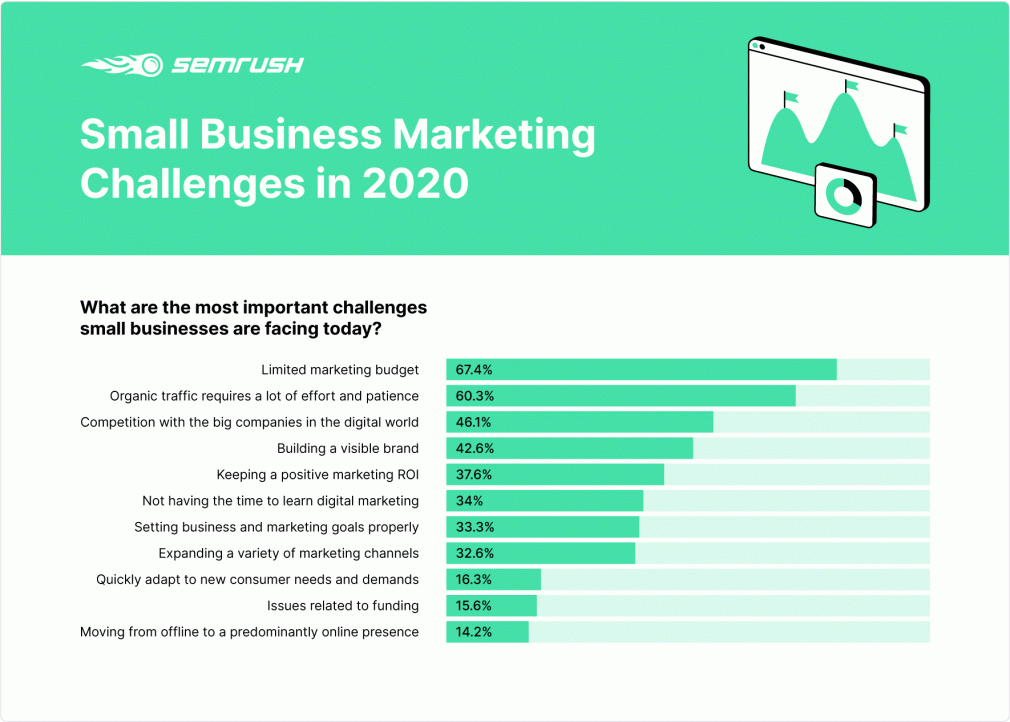 Small Business Marketing Challenges 2020 - SEMrush Study
Limited marketing budget is a core small business marketing challenge for 67.4% of respondents
While tight marketing budgets can be difficult to work with, there are steps you can take to stretch your budget further. These include the following:
Invest intelligently in paid ad spend. If you're putting your money exactly where it needs to be, reducing ad spend waste, you'll see more of an impact. Start by defining your overall digital marketing objectives, and then decide which of the paid advertising options we've outlined in this guide will help you to achieve your goals. Select 2-3 paid traffic sources which make the most sense for your goals and start experimenting.
If you've got a limited budget for ads, just run a few tests. You get results quickly, so you could test Google ads for a month, then Facebook ads for a month, then Instagram ads for a month, and so on. Find the ads that perform the best and start there.
Invest in what's already working. If you're on a tighter-than-normal budget, it's typically a good call to go all-in on what you know is performing. This prevents the need to spend exorbitant portions of ad spend on split tests or platforms that may not work for you.

Look for your competition's best-performing channels. If you want to break out into new channels, looking at your competitor's marketing mix with Semrush's Traffic Analytics tool can be a safe bet. This can help you see what's working for them, and you can test out the platforms with less risk.
Organic traffic requires a lot of effort and patience for 60.3% of respondents
In order to generate organic traffic, both time and effort are consistently needed, along with plenty of patience. Here's what you can do to fight back against slow progress with organic traffic: 
Identify SEO issues that need resolving first. Most sites have a few changes that can be made to improve their SEO potential. Using a tool like our On-Page SEO Checker will help you identify what issues are impacting you so that they can be fixed right away.

Prioritize paid advertising. PPC campaigns are able to quickly drive short-term results while also allowing you to take time to establish a long-term SEO strategy. Find out how to launch a successful PPC campaign in our checklist.
Taking the time to establish a well-optimized, issue-free website for your small business can bring in big wins. You can learn more about how to do this with some of our top SEO tips here. 
Keeping up with the competition in the digital world with the big companies is a challenge for 46.1% of respondents
Large, established corporations often come in first in the SERPs, and it's hard for small businesses to compete. 
Small businesses face brand visibility issues. Competing against big businesses which have larger budgets for SEM and SEO is a big challenge. #SmallBiz

— Mamvura Gladman (@MamvuraG) August 11, 2020
Here's what you can do to fight back against this major challenge:
Develop strong buyer personas. The better you understand your target audience, the more effectively you'll be able to reach them with improved messaging and content. 

Target long-tail keywords. These keywords are more specific, meaning it's easier to align with search intent, and they also typically have less competition. This makes them easier to rank for and easier to deliver on. Our Keyword Magic Tool can help you find these keywords. 

Establish a customer-centric approach. Don't be afraid to get personal, establishing relationships with your customers. Big companies, after all, rely heavily on automated approaches with scripts and online chatbots, so here's where your customer service team can stand out. Send personal emails, and get detailed feedback from your customers.
Building a visible brand is a challenge for 42.6% of small businesses surveyed
Building a visible, recognizable brand does take time… and careful strategy. Here are some steps you can take to build a visible brand more effectively:
Create an appealing website. This should include your home page and individual product pages. Make it clear what makes you unique. 

Use a funnel approach in content marketing. Understanding which format works best at each customer journey stage is a great asset in terms of delivering value to your audience and building a visible brand. To learn how to successfully map content to the different funnel stages (Attract → Engage → Convert), discover our recent survey-based study.

Boost your social media presence. Create business profiles on the major platforms you know your followers are using. It gives you a great way to stay in touch with interested followers while building brand awareness. 
Keeping a Positive Marketing ROI — 37.6%
Marketing can be expensive and making sure that you make a profit off of the ad spend that you put in can be challenging. Fortunately, there are steps you can take to increase your overall ROI, keeping it in the green:
Use budget calculators. This will help you plan your campaigns accordingly, helping you to assess how much you should spend. When choosing maximum CPCs, for example, this can help increase positive ROI. 
Use a marketing ROI formula. The following formula will help you assess a campaign's potential ROI: [((number of leads x lead-to-customer rate x average sales price) – cost or ad spend) ÷ cost or ad spend] x 100
Invest in campaigns that you know bring conversions. Retargeting, for example, will often be more successful at driving conversions than trying to reach cold audiences. If you want to reach out to the new audience, you can try out Maximize Conversions — one of the automated bidding strategies, that tells Google and Microsoft to spend your budget, driving as many conversions as it can.
Setting business and marketing goals properly — 33.3%
It's hard to know exactly what we should be optimizing for or how good our progress actually is if we haven't set strong goals beforehand. Fortunately, these tips can all help with that:
Create SMART goals. These goals are specific, measurable, actionable, relevant, and timely. You should know exactly what you want to accomplish, by when, how you plan to do so, and how you'll measure success.

Set up your goals in Google Analytics properly. Whatever your site's goals, Google Analytics Goals provide a way for you to assess how well it fulfills them. In this detailed guide you can find out how to correctly set up your goals and track their progress.
Expanding a variety of marketing channels — 32.6%
It's overwhelming for most business owners to look at every potential marketing channel out there and to feel like they need to be on all of them at once. Knowing your limits and where to invest your time, though, is key. Here's what we recommend:
Start slow. Don't invest everywhere at once. Instead, test different platforms gradually to see what works best for you.

Test and adapt. If Pinterest really isn't working for you, that's okay. Now you know; invest your time elsewhere. You can also test outsourcing marketing on certain platforms to qualified freelancers or agencies that align with your budget. 

Prioritize. Prioritize the platforms that you believe will have the most significant potential. 
Other Marketing Challenges
There were three other small business marketing challenges that our audience experienced: 
Quickly adapt to new consumer needs and demands — 16%

Issues related to funding — 15%

Moving from offline to a predominantly online presence — 14%
Small business with old fashion owners find hard to believe digital marketing works. Covid-19 push digital marketing to the limit, and it's great! The challenge now is educate to the old business owners over the digital transition #smallbiz @searchbizgroup

— Ron Arellano (@RonArellanoP) August 11, 2020
Quickly adapting to new consumer needs and demands can be difficult, but having strong social listening and competitor monitoring tools can help. For social listening, pay attention to feedback from customer surveys and check out Mention. 
Funding can be challenging, as we discussed in the limited marketing section. If you're looking to scale but lack the budget, look for low-cost or free marketing platforms. If you're doing your own content writing and social media marketing, that's a great start. You can also use money from business loans to fund marketing campaigns to help you scale. 
And when it comes to moving offline to a more online-heavy presence, be patient with yourself. This will take some getting used to, but there's no time to start like the present. Focus on your site, and branch out from there. 
Conclusion
If you're struggling with your digital marketing for small business in 2020, know that you aren't alone. Keep in mind that there are plenty of marketing strategies for small businesses that were built around tight budgets and a learning curve. Taking one challenge at a time (and using our action times to overcome them!) can go a long way.