If you're spending money on digital marketing, analytics are the main focus and a top priority. It's easy to get lost in the mix, so digital and content marketing analytics tools are awesome time savers and avenues to better insights and results.
They're used by SEO experts right across the globe, each having their own favorite tool for analyzing their content marketing and digital output. Here we're no different and have a number of tools we consider to be the very best on the market. 
The Top Digital & Content Marketing Analytics Tools
If you're ready to streamline your digital marketing analytics process, check out these top six digital marketing analytics platforms for you and your business.
1. Cyfe
What Is Cyfe?
Cyfe is an all-in-one online business. Cyfe integrates all of your online marketing analytics in one dashboard, helping you see all of your information in one place. With Cyfe, you can see historical data, get real-time reports, integrate custom data sources such as custom widgets or APIs and more.
Benefits of Cyfe
Cyfe is full of benefits for online marketers. It has separate dashboards showing insights for all of your platforms: social media, marketing, web analytics, finance, sales, project management, IT and startup with lead generation tracking.
With Cyfe's pre-built widgets, connect to your Google Analytics and Cyfe will do the mining for you. Also use Cyfe for analytic insights on platforms like Salesforce, Google AdWords, GetResponse, all major social media platforms and many more. And if you have a program not included on the list, easily create a custom widget or push API to connect to the dashboard.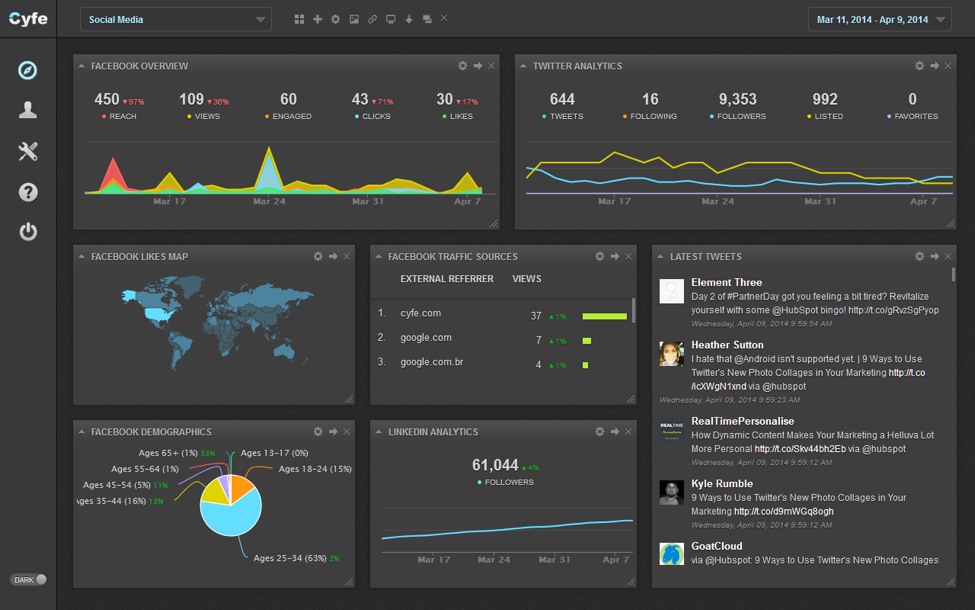 Cyfe
Here's an example of a social media dashboard. Easily see all of the analytics you can get in one place.
Who Is Cyfe For?
Cyfe is for any marketer in need of an easy platform to see all of their online business insights. Cyfe allows you to visually see, track and gain analytics insights, from keyword rankings and backlinks in the SEO dashboard to web analytics to social media demographics and more. Cyfe is definitely worth the time to check out.
2. Mixpanel
What Is Mixpanel?
Mixpanel is a trusted, advanced mobile and web analytics platform. It's acclaimed for being simple, because you don't have to write SQL queries. It helps you track actions (instead of page views) and also comes with predictive analytics features. Therefore, Mixpanel helps you measure and predict what actions people take on your app, whether it be on iOS, Android or web.
Benefits of Mixpanel
Mixpanel lets you mine your data and segment it, visualize it in different way and gives you the ability to use annotations and bookmarks for reports and significant events. Easily create a dashboard of the important metrics to your business, and learn awesome insights with this integrative platform.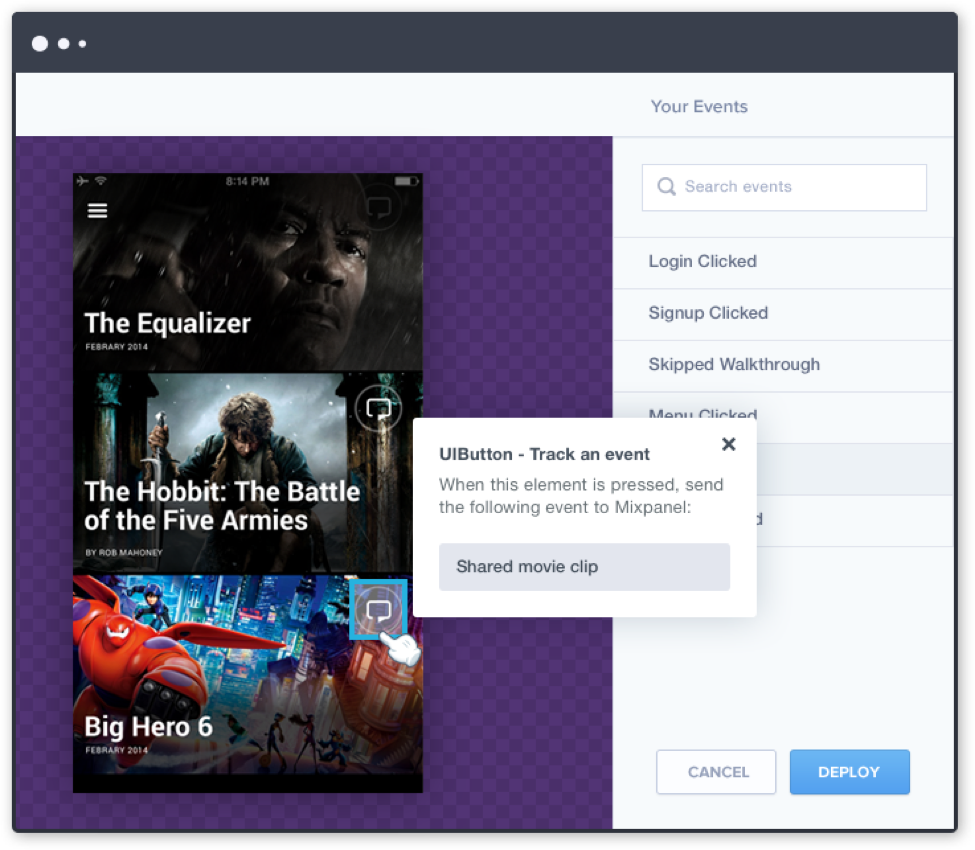 Mixpanel
From learning why people are dropping out of your sales or conversion funnels to A/B testing, this dashboard seems to have it all. The picture below shows how you can use tracking to test different actions.
Who Is Mixpanel For?
Mixpanel is for app marketers because it takes away the pain of writing code to get analytics from your app. This platform can be a marketer's go-to source to mine, analyze and get insights from your app analytics. Mixpanel helps you understand your app users better, so you easily can develop, refine and create better relationships with them. 
3. Moz Pro
What Is Moz Pro?
Moz Pro is an SEO analytics and performance platform, built by industry experts, which provides intelligent data and tools to help marketers and SEO professionals generate actionable insights. It can be your complete SEO toolset.
Moz Pro helps you boost your online visibility and stay ahead of the competition. You can trust that you're getting the highest quality data from the industry leader in SEO metrics that will help you find tons of information about everything from link equity to domain authority and ranking.
Benefits of Moz Pro
As expected, Moz Pro has seemingly endless features for SEO insights, including rankings, keyword research, links, site crawling, page optimization, reporting, and even workflows.
No more messing around with your extensive list of free tools – Moz Pro saves you time by putting all of your SEO analytics in one place, with results you can trust. 
MozPro takes the pain out of link tracking by giving you the best information possible about your links, such as link profile analysis, opportunities, competitive metrics, spam analysis and more.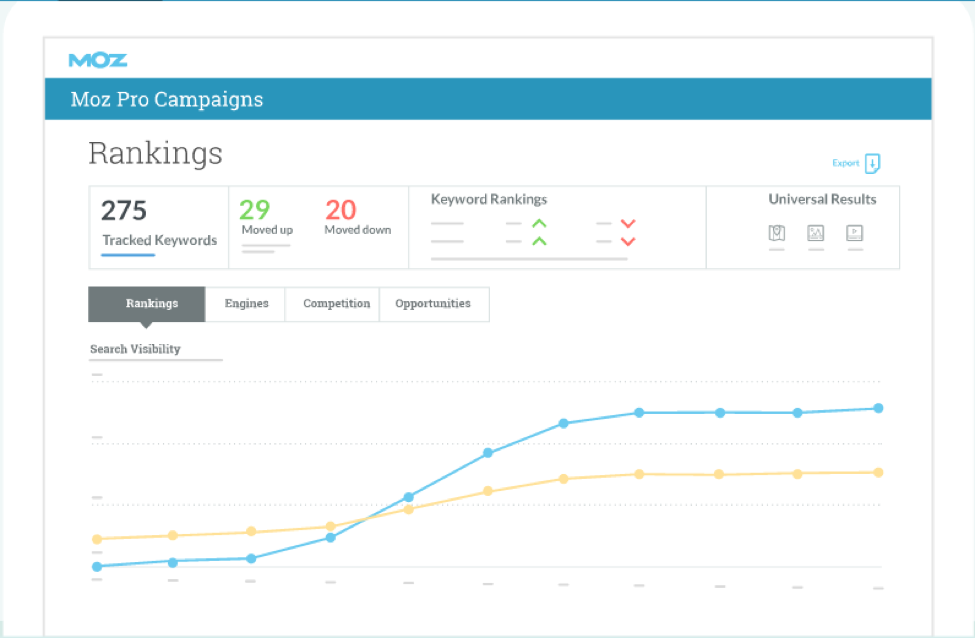 Moz Pro
Moz Pro's global rank tracking helps you track any keywords you need on Google, Bing, Yahoo and in 200+ countries. Get segmented data, competitor rank tracking, local rankings, mobile rankings and even universal rankings. Track over time to see how keywords rank over time. 
Who Is Moz Pro For?
Moz Pro is a great platform for SEO professionals or online marketers of all knowledge levels. It's an SEO platform you can trust to help you keep track of everything you need for your SEO growth: the right metrics, error monitoring, high-quality data, advice, predictions and more. It is more of a consultant and data system, since it makes tracking SEO simple, high-quality and efficient. 
4. Kissmetrics
What It Kissmetrics?
Kissmetrics is a top digital marketing analytics platform that is focused on optimizing your marketing.
Specifically, Kissmetrics helps you track, analyze and optimize your digital marketing to find more of your best customers and keep your current ones.
Benefits of Kissmetrics
Kissmetrics helps marketers make better decisions by analyzing intelligent audience behavior and helping engage with automation.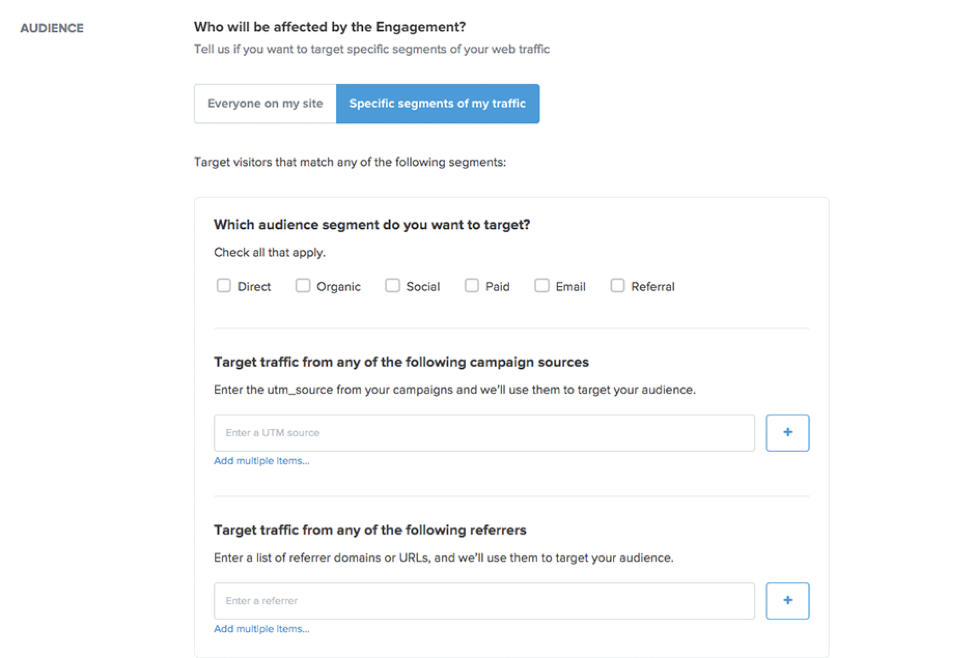 Kissmetrics
Get reports that help you see where you are losing customers, help drive better retention and see customer behavior over time. Use Kissmetrics for A/B testing, revenue tracking, automation marketing, audience segmentation and more.
Kissmetrics audience analytics features are invaluable. Use the data on this dashboard to create highly personalized communications to specific groups of visitors. You can nurture relationships by targeting people who are in the same stage of a funnel, for example.
In the same vein, triggers automate your engagement with customers in a specific event, whether it is idle on your site or an action after scrolling to a specific page section of the website. You can design your action, choose targeting, etc. 
Who Is Kissmetrics For?
Kissmetrics is ideal for marketers wanting to integrate both their analytics and automation in an easy to use, intelligent marketing dashboard. If you're looking to increase your conversions, customer retention and customer base, Kissmetrics can be great help to you and a great time saver.
5. Hotjar
What Is Hotjar?
Hotjar is an all-in-one analytics and feedback dashboard, helping you truly understand your web and mobile website visitors. It's called Hotjar because of it's heatmap benefits.
Benefits of Hotjar
Hotjar's top features include heatmaps, helping you see where your customers are spending time, clicking, and how they're interacting with your web and mobile sites.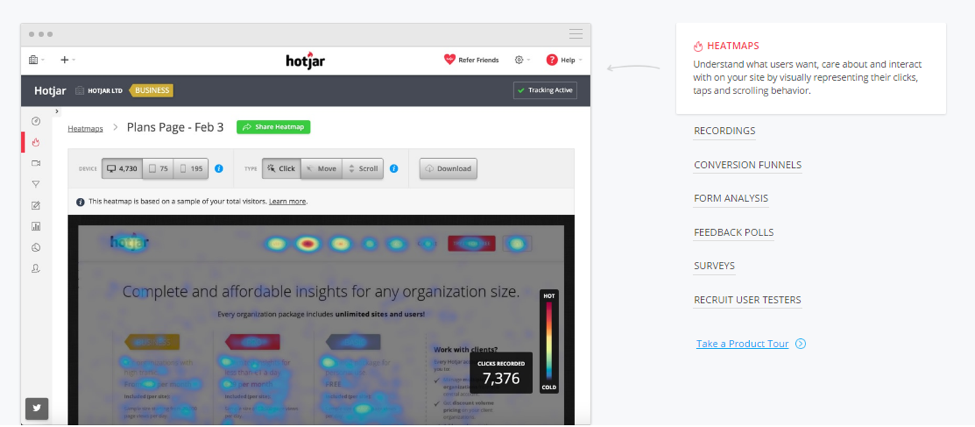 Hotjar
It also has a feature called recordings, which are actual recordings of where visitors click, tap, move their cursors and navigate your site(s).
Even more, it offers conversion funnels, form analysis, feedback polls, surveys and even recruiting user testers. 
Get information you've always wanted to know about your forms: how long they take to fill out, how many people fill out specific sections, and much more. Hotjar takes away the guesswork in learning about the customer experience on any website you manage, which can then be put into practice in how you create content and build your site. 
Who Is Hotjar For?
Hotjar is a cutting edge platform that is especially beneficial for new or newly improved websites. No data on customer interaction with your website? No worries, just get Hotjar. This awesome platform will truly help you understand customer behavior and in turn, help you grow fast. 
6. SEMrushSEMrush
What is SEMrush?
SEMrush is a competitive analysis tool that allows you to take a close look at what your competitors are doing online, so you can adjust your strategy to beat them in search rankings. A complete marketing toolset, SEMrush lets you monitor your brand (and your competitors' brands), social media accounts and more.
Benefits of SEMrush
SEMrush's top features include analytics reports that let you see a wealth of information like keyword analysis to discover your competitors are using, find new organic competition, see their ad strategies and budgets, analyze ad copy and keywords, learn more about their display advertising to help you find new publishers and more. There's also a backlink analysis tool that helps you see who's linking to you.
SEMrush also includes a number of tools to help you see the difficulty of keywords you may want to go after, and help you find keywords with less competition. The keyword difficulty tool will help you decide whether or not you want to invest time in going after the competition.
The domain vs. domain tool allows you to set side-by-side comparisons between your domain and your competition, or just between competitors. You can see the common and unique keywords for each domain, better allowing you to adjust your strategy. Plus, it makes it easy to visualize the data so you can share it with others.
The charts tool allows you compare domains easily and conduct a competitive analysis with a few clicks.
Who Is SEMrush For?
SEMrush is for anyone who needs to see what their competition is doing online. It's hard to craft any kind of SEO or online marketing campaings if you're just guessing. The data at hand allows you to stop wasting time and shows you exactly where to focus your efforts to get results, fast. This tool is especially helpful in displaying ROI of SEO and content services in a dashboard format.
Streamline Your Analytics Process
These top six digital and content marketing analytics dashboard tools are different and each can help busy marketers and SEO professionals looking to streamline and improve their processes and results.
With the help of these analytics platforms, you can see more insights, save time, and best of all, improve results for you and your clients.
Which of these tools have worked for you? Let us know in the comments!