As most SEOs know, it is very rare to get the chance to create and implement an SEO strategy for a brand new website. You typically inherit a website, and more often than not, it is one that wasn't built with a solid SEO foundation. Ultimately, much of your time is spent doing a full overhaul of optimizations and otherwise cleaning up mistakes that have been made over the years.
Fortunately for us at Liquid, we were recently chosen to compete in the 2019 Wix SEO Competition as the Wix SEO Haters and, therefore given the opportunity to start from scratch.
While we were certainly hesitant to participate in a contest like this after reading this tweet from John Mueller:
We saw this as an opportunity to test new tactics and teach clients and others the importance of implementing a well-planned SEO, on-going content creation, and link building strategy.
With our team's expertise in a myriad of digital marketing areas combined with the toolset SEMrush offers, we were very confident in our ability to perform well and (hopefully) win the contest.
Our Experience with SEMrush
We have been using SEMrush as our preferred tool for years. In a market flooded with SEO tools, we think what SEMrush has to offer is superior to its competitors.
They have a unique advantage, in my opinion, in their consistent commitment to innovation. Not only are they always improving their tools, but also, they have ventured into other digital marketing areas such as Content Marketing, Local SEO, Social Media, PPC, and more. SEMrush evolves as the SEO and digital marketing industry does – which is quite frequently – ensuring its users and their clients stay ahead of the curve.
SEMrush Tools We Use to Create a Solid SEO Strategy
Keyword Magic Tool
As every SEO has most likely drilled into their heads by now, any project or initiative should start with keyword research. For the Wix SEO competition, we started with the Keyword Magic tool.

The Keyword Magic tool enabled us to find and develop a master list of keywords, semantically related long-tail keywords, and the top questions being asked regarding our topic. To start, simply insert a keyword or phrase into the search bar and click the "search" button.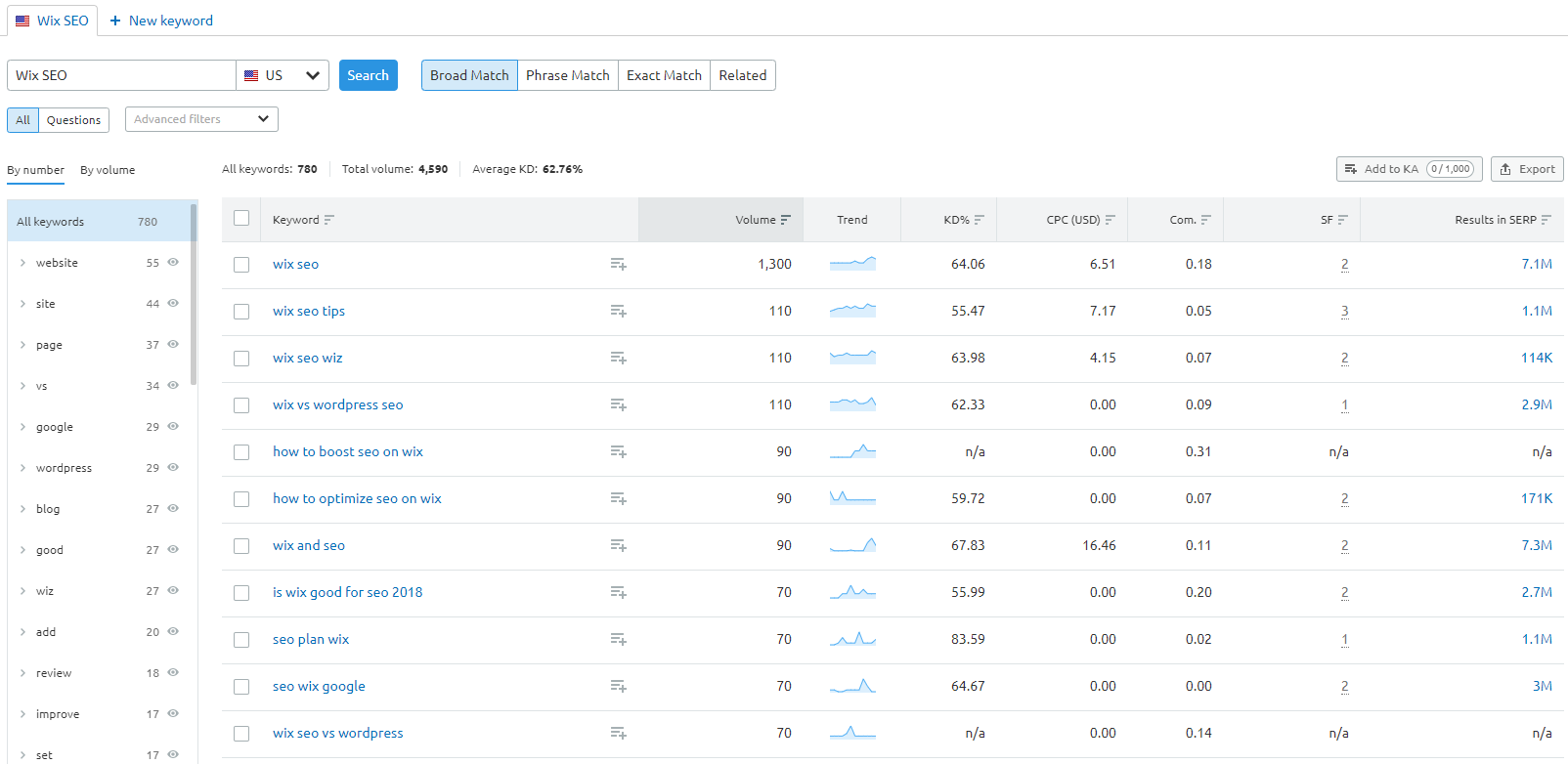 SEMrush then provides you with a table containing related search terms broken down into topic-specific subgroups from a database of over 16 billion keywords.
This one search for "Wix SEO" not only provided us with hundreds of relevant keywords and topics but also then allowed us to take some of the more popular and related topics and further expand our research into those areas.
For example, in the screenshot below, you will see there is search interest around Wix vs. WordPress. So, what we did was further expand that topic by doing a broad match search for "Wix WordPress".
This tool allows you to do some pretty comprehensive research, whether you are overhauling metadata or identifying opportunities for content creation, as we did, shown here.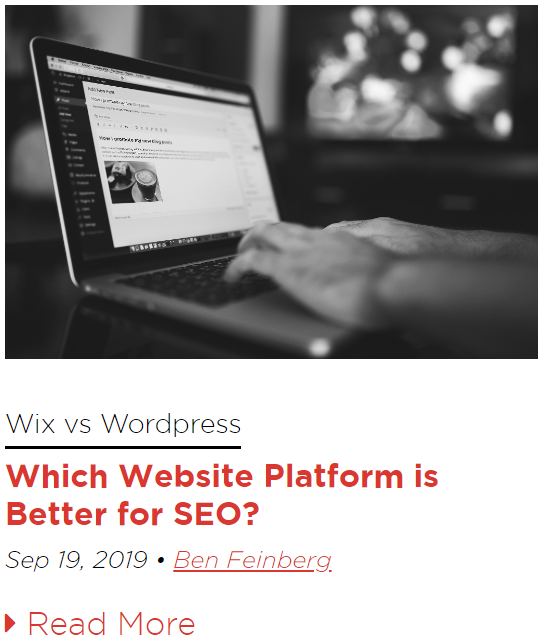 Topic Research
In addition to discovering topics through the Keyword Magic tool, SEMrush also offers an extremely helpful Topic Research tool.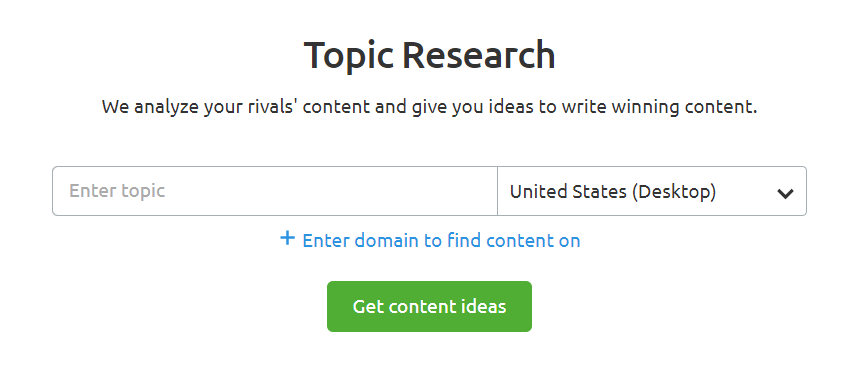 This tool gives content creators and marketers a helping hand in brainstorming efforts. Simply enter a topic in the search bar, and it will populate related subtopics, the top articles regarding the topic, and ideas to include in your content. We use this tool to develop everything from new headlines to new blog topic ideas, as well as strategies to outperform competitors. 
Using the tool to search for "Wix" related topics allowed us to discover top questions being asked, such as "Is Wix SEO Free?" or "Is Wix OK for SEO?". This data helped guide the content and FAQ section of our website. We also discovered other, larger topics that would need to be fleshed out regarding how to improve your SEO on a Wix website. That led us to develop a comprehensive SEO guide specific to Wix.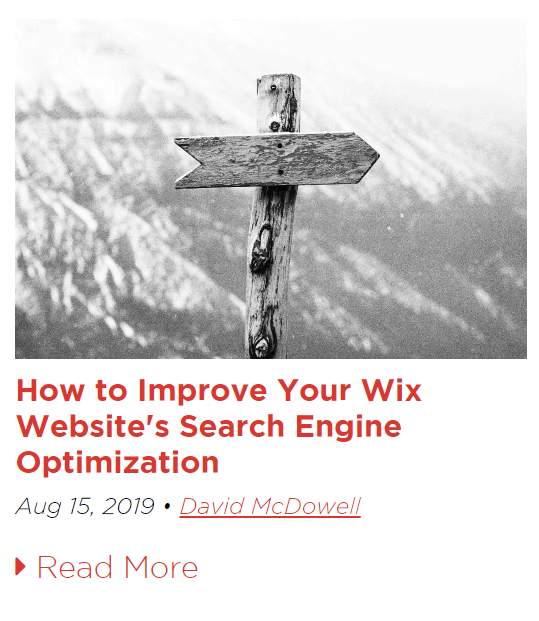 Both the Keyword Magic and Topic Research tools help reduce the amount of time you waste just spitballing ideas for new content – and helps to ensure that the content you are going to spend time creating will land.
Position Tracking
The Position Tracking tool from SEMrush lets you track a website's daily rankings for the keywords you choose. You can set your targeting for any specific geographic location and any device type (mobile phone, tablet, or desktop).
While typically we would add hundreds or thousands of keywords to track, we only needed to add one, as the purpose of the competition is to rank highest for the term "Wix SEO".
As you can see, despite some major influxes around algorithm updates, we have held a lead consistently.
As I briefly alluded to, the beauty of the Position Tracking tool is that it is much more comprehensive than its name suggests. Not only can you track your ranking positions, but also, you can track Google algorithm updates, post notes when changes are made, track performance and opportunities for featured snippets, and discover competitors.
This tool is much more than just a digital scoreboard. You will discover optimization opportunities and be able to track the impact of your efforts and algorithm updates easily, all in one spot.
Site Audit
Stop me if you have heard this before: "Content is king."
While this is certainly true, you can't have a king without a well-built, functioning castle. That is where the Site Audit tool comes into play.
The Site Audit tool has over 120 checks for SEO issues, ranging from surface level issues such as broken links or duplicate content, and optimizations to deeper issues such as HTML configuration and hreflang tag implementation.
We use the Site Audit tool to continuously monitor our site's health and to identify opportunities to further improve performance.
Link Building and Brand Monitoring Tool
In addition to content quality and technical health, link building is a huge aspect of SEO. While link building has been and continues to be largely influential in terms of SEO performance, it is often neglected or overlooked because it is difficult and time-consuming.
SEMrush makes it much easier.
The Link Building tool creates a list of link building opportunities based upon the keywords and competitors you have entered.
A unique feature SEMrush's Link Building tool offers, compared to its competitors, is that it provides an easy-to-use outreach functionality.
To use it, first set up custom outreach templates for the different types of links. For example, below is an example message template for suggesting a guest post.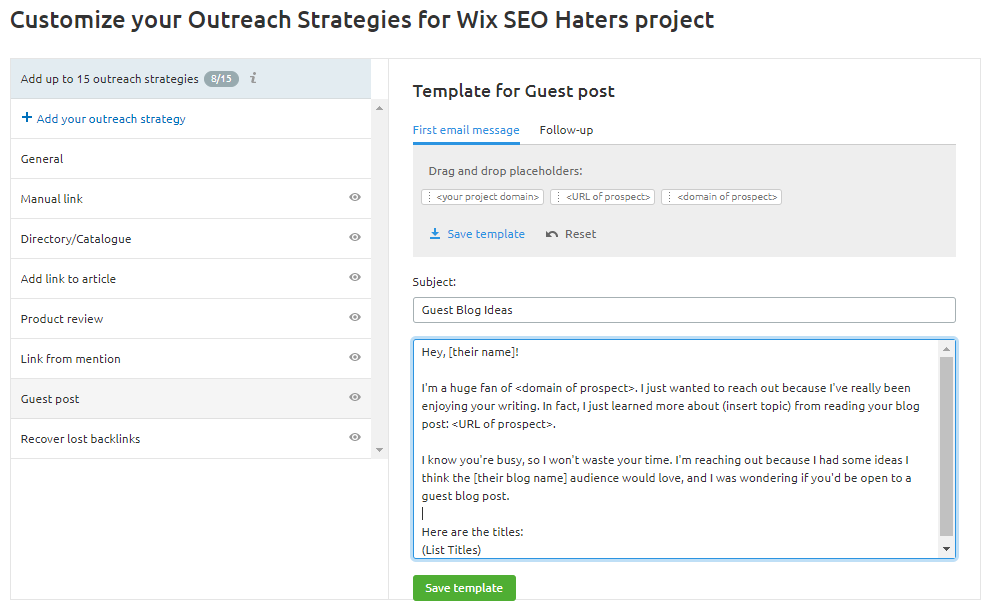 Then, select a prospect who you believe would accept guest posts and move them to the "In Progress" section.
SEMrush will automatically pull the website's social media accounts, contact email addresses, and the location of the contact page. Basically, it gives you every point of contact you need when link building.
If you chose to send an email within SEMrush, just click the blue "Contact" button. Select the email template you created and who you would like to send it to. Don't worry; you can preview and edit the message before you send it as many times as you would like.
Once you feel as though it is ready to send, click the "Send and proceed to next" button.
If you sent the message manually, select "I have sent it manually" in the bottom right corner.
A great feature of this tool is that once you send a message, you can then track your link building efforts within the "Monitor" section. This will let you keep tabs on which domains you reached out to actually ended up linking to you. That way, you don't have to manually keep checking and digging through your inbox to follow up.
Another tool SEMrush offers that allows for effective link building tactics is the Brand Monitoring tool. Similar to Google Alerts, the Brand Monitoring tool enables you to track brand mentions across the web.
Brand mentions are one of the easiest ways to obtain links. Simply visit the domain, see if it is a relevant, non-toxic, and viable option, then contact the website asking them to include your link on the page mentioning your brand.
Link building can be tricky, confusing, and slow-moving, but SEMrush helps immensely.
Thanks to this tool, we have been able to gain over 800 non-toxic, dofollow backlinks in just a few months with (hopefully) many more to come.
Backlink Audit
Now, with all of that being said, not all backlinks are created equal. It is about quality as well as quantity.
This tool helps you avoid Google penalties from toxic backlinks. You can easily audit all of your links, analyze the toxic scores, send emails to website owners (to ask them to remove your link), and ultimately create a disavow file to send to Google. It is everything you need to protect your site for spammy links, all in one area.
The backlink audit tool lists all your links and assigns a Toxic Score level between 0-100 (the higher, the more presumed toxic by the tool). Below is an example of what that looks like, with our links covered, in case our competitor is reading ?.
If you are 100% sure a link is toxic, click the blue "Delete" button, and select the "To Disavow" button. This will transfer the domain to the disavow section. From there, you can export the domains into a .txt file and submit to Google's Disavow Tool.
Always be sure domains are toxic before disavowing them. Disavowing nontoxic, high-quality links can be extremely detrimental to your SEO performance. If you are not sure, either leave them be or seek professional advice.
Content Analyzer
A common misconception with SEO and Content Marketing is that you need to continuously crank out content like you have a Ford assembly line for blogs.
While yes, a consistent and regular content creation plan is beneficial to your website's SEO, just like link building, quality is important to consider in addition to quantity. So, instead of wasting your time writing blog after blog that no one is reading, focus on your existing content with the Content Analyzer tool.
The Content Analyzer tool tells you how your content is performing both on and off your site. The tool assesses and measures social shares, backlinks, keyword rankings, and even Google Analytics data.
However, this tool isn't just a basic metric puller; it is a collaborative workflow channel. To start enhancing your content, select one of the blogs the tool has analyzed. The content and metadata will appear in a pop-up.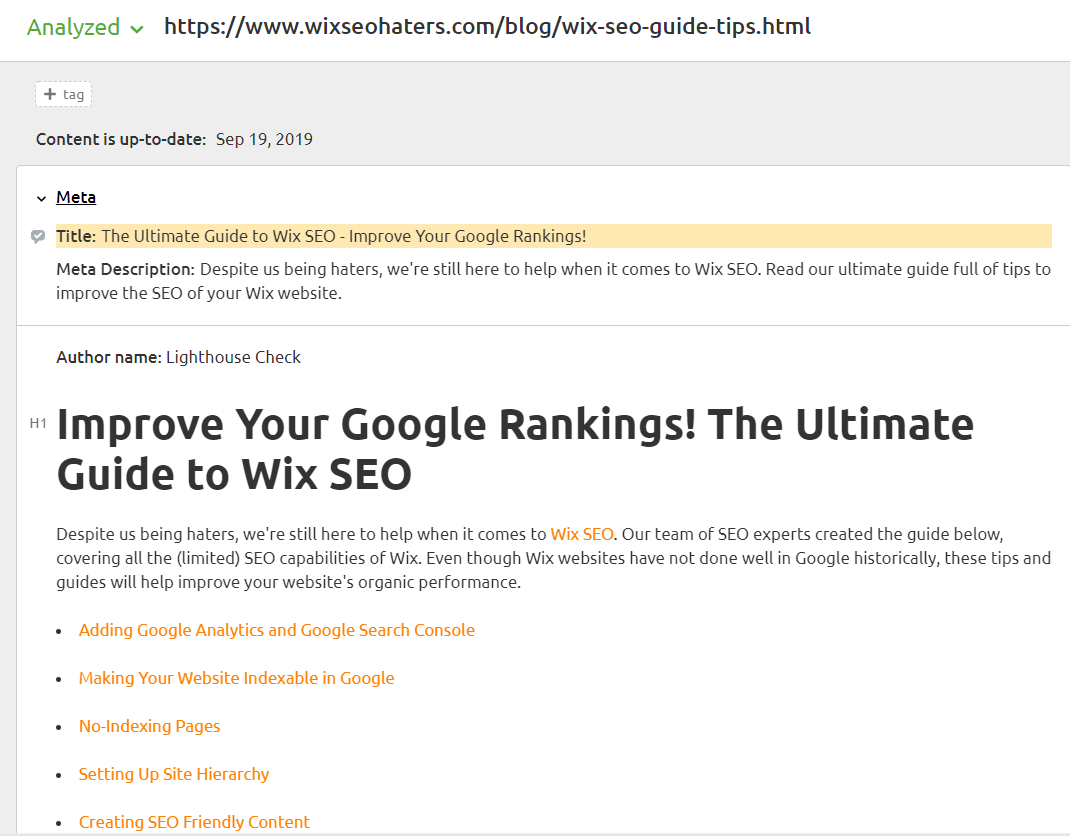 In the tool, you can mark which areas need to be rewritten or deleted, or you can add a custom task. In terms of collaboration, you can invite other members of your team (who have SEMrush profiles), add notes, and track your tasks.
Auditing and improving all of the content on your site can seem like a monumental and non-practical task, but the Content Analyzer tool makes the process much more manageable and easier to measure.
Competitive Research Tools
When it comes to running a successful SEO campaign, especially in a head-to-head competition, competitive research is necessary. You not only need to worry about your own performance, but also the performance of your competitor(s) to enhance your reach, visibility, and overall performance.
SEMrush offers a slew of helpful competitor research tools. Aside from the Topic Research tool mentioned previously, two of my favorite tools are the Keyword Gap and Backlink Gap Analysis tools.
Keyword Gap:
The Keyword Gap Analysis tool offers a comparison of similarities and differences between keyword ranking performance for up to five competitors. This tool provides you insight into the gap in ranking performance for specific queries as well as provides you with insight for additional keywords your competitors are ranking for that you are not.
For example, below are some of the keywords our competitor is ranking for that we are not:
With this information, we can make content enhancements or provide ideas for new content to help close this gap.
Backlink Gap:
Similar to the Keyword Gap tool, the Backlink Gap Analysis tool compares backlink profiles of up to five competing websites at once. What you get is a list of domains linking to your competitors' websites but not your website. This helps to create a targeted strategy to capture domains your competitor already has to close the gap and level the playing field.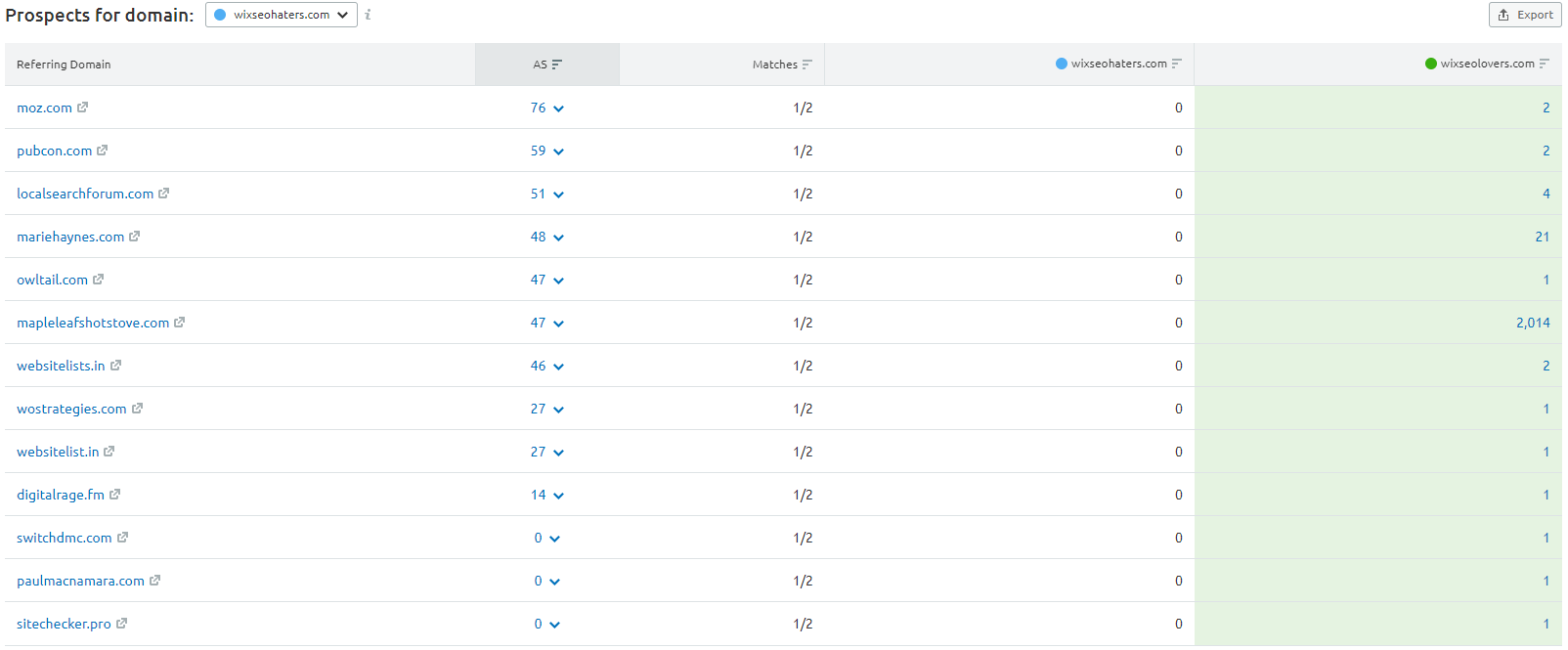 After placing our domain and our competitor's domain in the tool and selecting our domain in the "Prospects for Domain" drop-down, we received a list of domains linking to them and not us.
Some of these can be easily eliminated (their main domain and other sites they are affiliated with). But, once the list is cleaned up, we can move forward with an outreach strategy to gain links from these websites.
Use both of these tools to discover where you or your client is lacking compared to the competition and develop a targeted strategy to not only bridge the gap but also get ahead.
To Sum Things Up
SEMrush is a fantastic tool for businesses and agencies alike who are looking to improve their SEO. They offer an abundance of features and insight that help you to create a multi-pronged, integrated strategy.
If you are new to SEMrush, or just trying to improve your knowledge and expertise of their tools, they have an amazing Academy to help get you up-to-speed.
What are your favorite SEMrush tools to use for SEO? Let us know in the comments below.