Keyword Gap offers a side-by-side comparison between keyword profiles of up to five competitors.
All you have to do is enter the domains and choose the types of keyword rankings (organic, paid, or PLA keywords) to analyze. The report will then show you all of the top opportunities for each site, total keyword overlap, common keywords shared by all sites, and more.
This information is super beneficial to planning an SEO campaign as you can see exactly where the best opportunities lie in your niche.
Instant SEO competitive analysis between you and your top competitors
See the unique keywords your competitor is ranking for that you are not
Organic, Paid, and PLA (Google Shopping) analysis
Visual charts of keyword overlap between sites
Ability to compare mobile as well as desktop keywords
Ability to compare subdomains, subfolders, and URLs (available with a Guru or Business subscription only)
Advanced filters for quick and efficient keyword research (Position, KD%, Intent, and more)
Why should you use this tool?
It's important to know where you stand against your competitors so that you know where to focus your SEO efforts. So using this tool before starting a campaign can be key.
You will be able to see the keywords that your competitors are ranking for that you're not. You can also identify the keywords that are unique to your domain and discover gaps in your competitors' strategies.
You can also use this tool for PPC research by identifying the keywords where your competitor is ranking highly, but there is little to no advertising competition. These keywords could be a great test to try to take away some of their traffic with an ad campaign.
Comparing Your Domain's Keywords to Competitors
To get started, simply enter the names of the domains that you want to compare. To identify your top competitors, use the Organic Research Competitors report or Advertising Research Competitors to identify domains with similar keyword rankings.
After entering your domain name, the tool will automatically list some top competitors in the drop-down below the competitor fields.
You can also specify an exact URL, subdomain, or subfolder in one of these fields to compare keywords on a more granular level.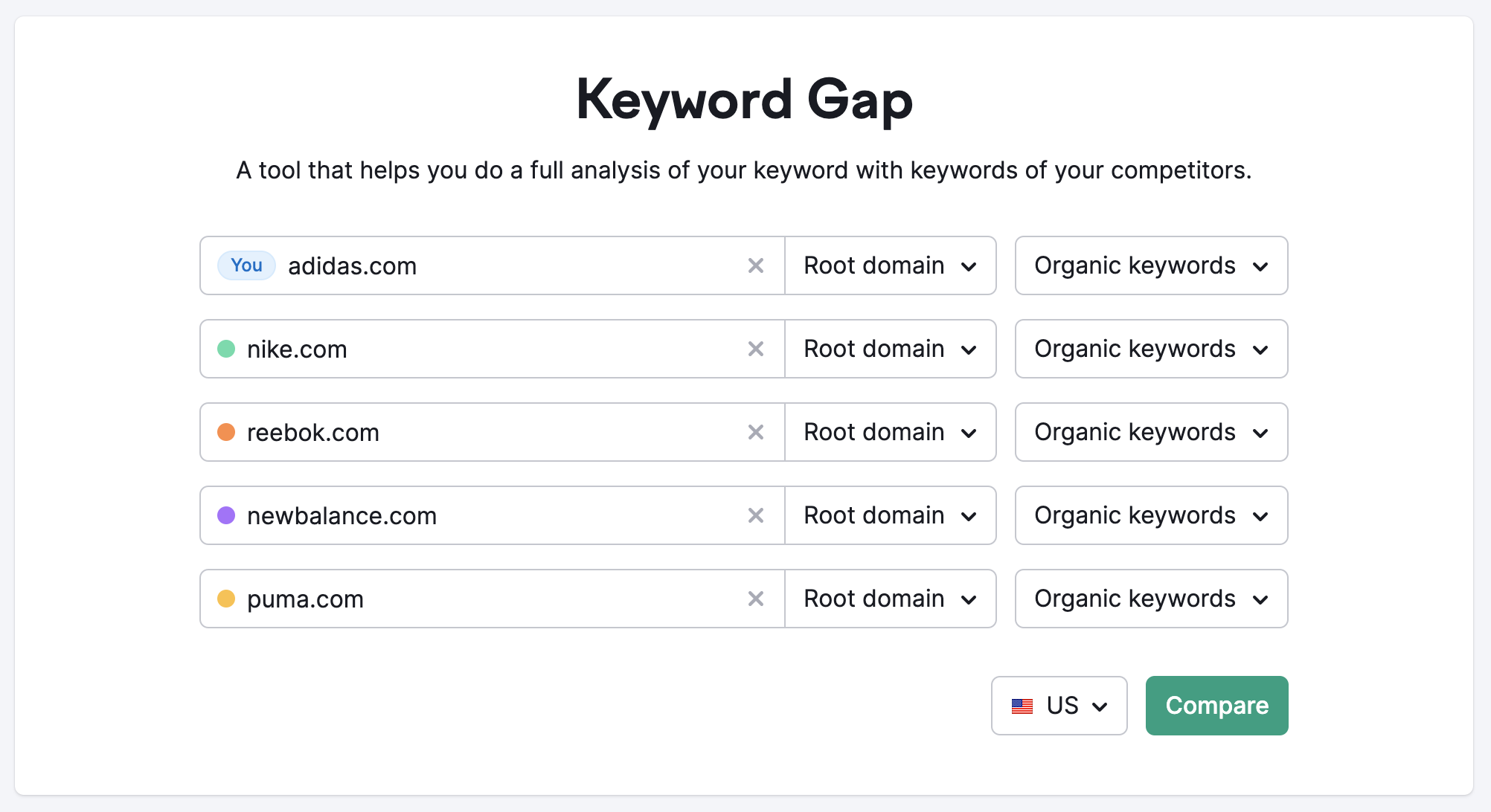 Keyword Type
After entering the domains to compare, select your "keyword type." This refers to the type of search engine results you're analyzing.
Organic keywords are keywords where a domain has an organic ranking within the top 100 results on Google.
Paid keywords are keywords where the domain is ranking through Google Ads on Google's top 8 positions.
PLA keywords are keywords that triggered the domain's product listing ads paid for through Google Shopping.
If you click on "select keyword type for each domain," you can choose to compare different types of keywords between sites.
For example, you can choose to compare your paid keywords to a competitor domain's organic keywords.
You can also compare different keyword types on the same domain. Just enter the domain twice and set the keyword types accordingly.
Once you've set these parameters, choose your regional database, and hit "Compare."
The report will then populate information into the Top Opportunities widget, Keyword Overlap chart, and keyword table at the bottom.
Top Opportunities
The Top Opportunities widget previews the best keyword opportunities for the site labeled "You" (the domain entered in the first field).
This info, along with the entirety of the report, will adjust based on any filters you enter. For example, see below the top opportunities based on a filter to include keywords containing "basketball."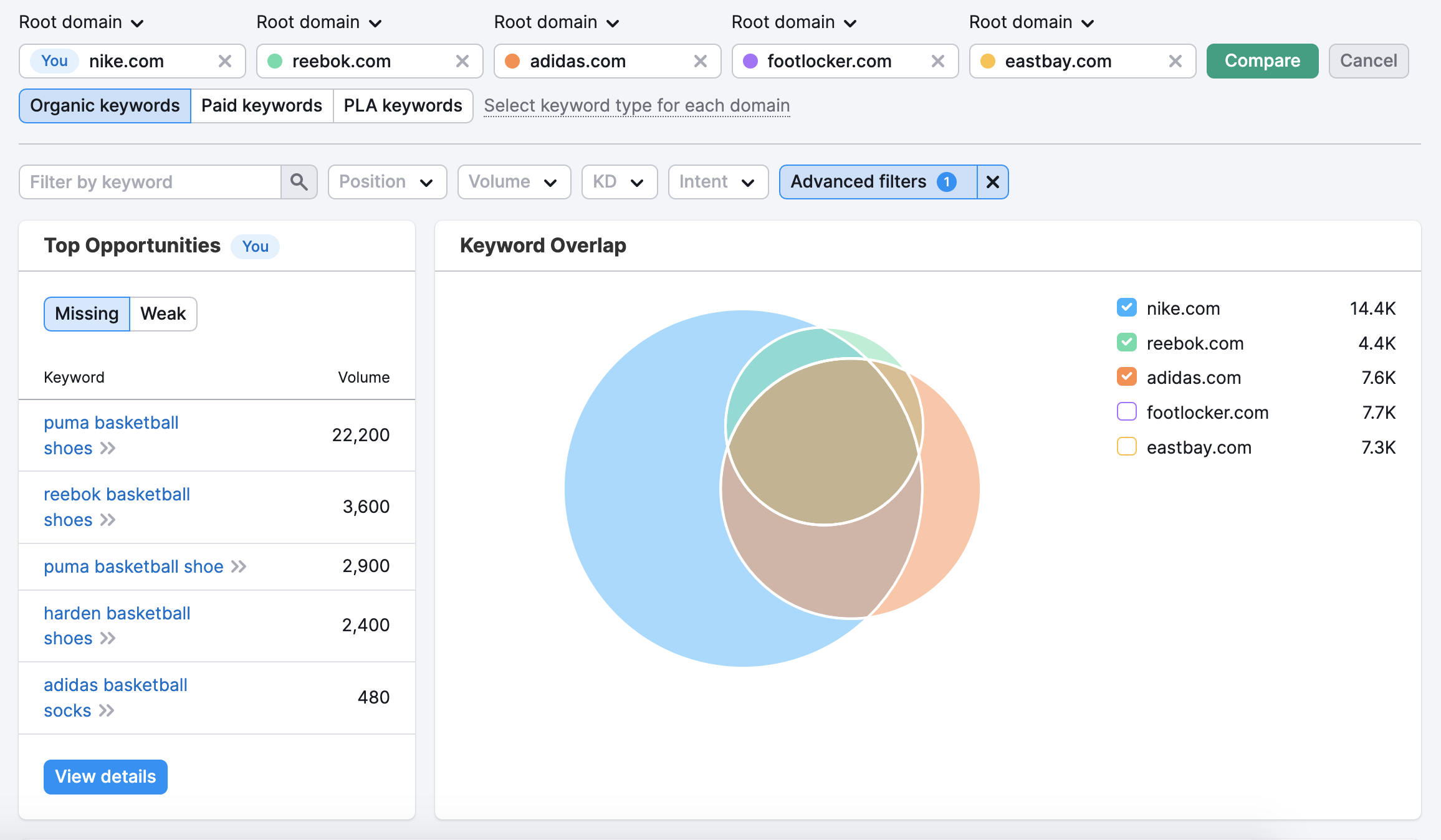 Keyword Overlap
This visualization shows you the overlap of keyword portfolios among the competitors. Again, this chart will adjust when you enter filters.
If you click on a specific intersection, the report will adjust to only show keywords that were inside that intersection (watch below).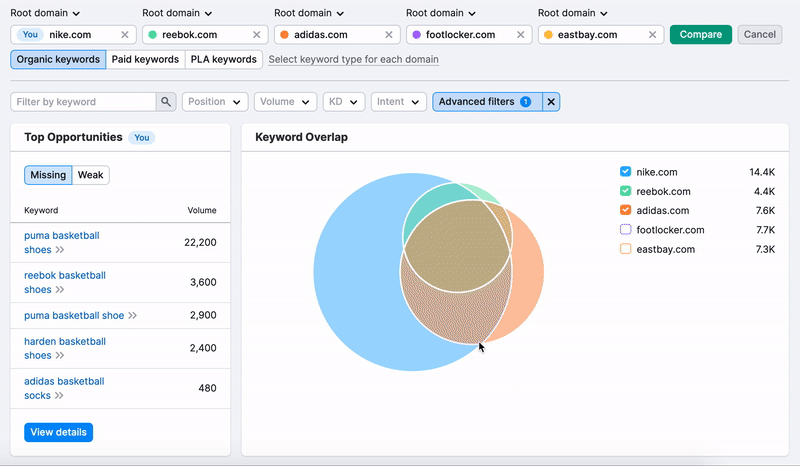 Keyword Table
The bulk of this report is the table at the bottom, where you can dig into the details of each site and how their keyword profile intersects with their competitors. The intersection types are:
Shared: keywords, where every site entered has a ranking.
Missing: keywords where all of your competitors have rankings but your site (the site entered in the first field labeled "You") has no ranking.
Weak: keywords where you have a ranking but it is lower than all of your competitors' rankings.
Strong: keywords where you are ranking higher than all of your competitors.
Untapped: keywords in which you don't have a ranking but one of your competitors does.
Unique: keywords where you have a ranking but none of your competitors do.
All keywords: The combined list of all keyword rankings between the competitors.
How can you use these intersections?
Obviously, you can use the missing and weak labels to diagnose a website's weaknesses compared to its competitors. Use these filters and export the list to a spreadsheet. You can then plan an SEO campaign around these terms to try to win back some traffic from your competitors.

The strong and unique filters can be used to diagnose a site's strengths. Finding one of your competitor's unique keywords could also be a good way to find new opportunities, as it implies that your other competitors are not capitalizing on this keyword either.
Filters
To dive deeper into the data, use the filters available at the top of the report. You can add filters for words to compare keywords around a specific subject.
Using filters lets you get specific and find gaps where you should take action.
First, there are options to change the database, device type, or date range. This lets you analyze historical data, mobile data, or data in a different country.
Then, a Position filter allows you to filter a custom set of keywords where your site or competitors are ranking in a specific range.
For example, you can pinpoint all of the keywords where your domain is on the second page or further with the following filter:
Positions - You-domain - Custom range from 11 to 20
This generates a list of keywords you should optimize to compete with your competitors for traffic from the first page.
The Intent filter allows you to quickly sort and analyze keywords by specific search intent. You can select one or several intent types to filter out the list of keywords in the table. After you have applied the filter by intent, you can export the data from the table for the filtered group.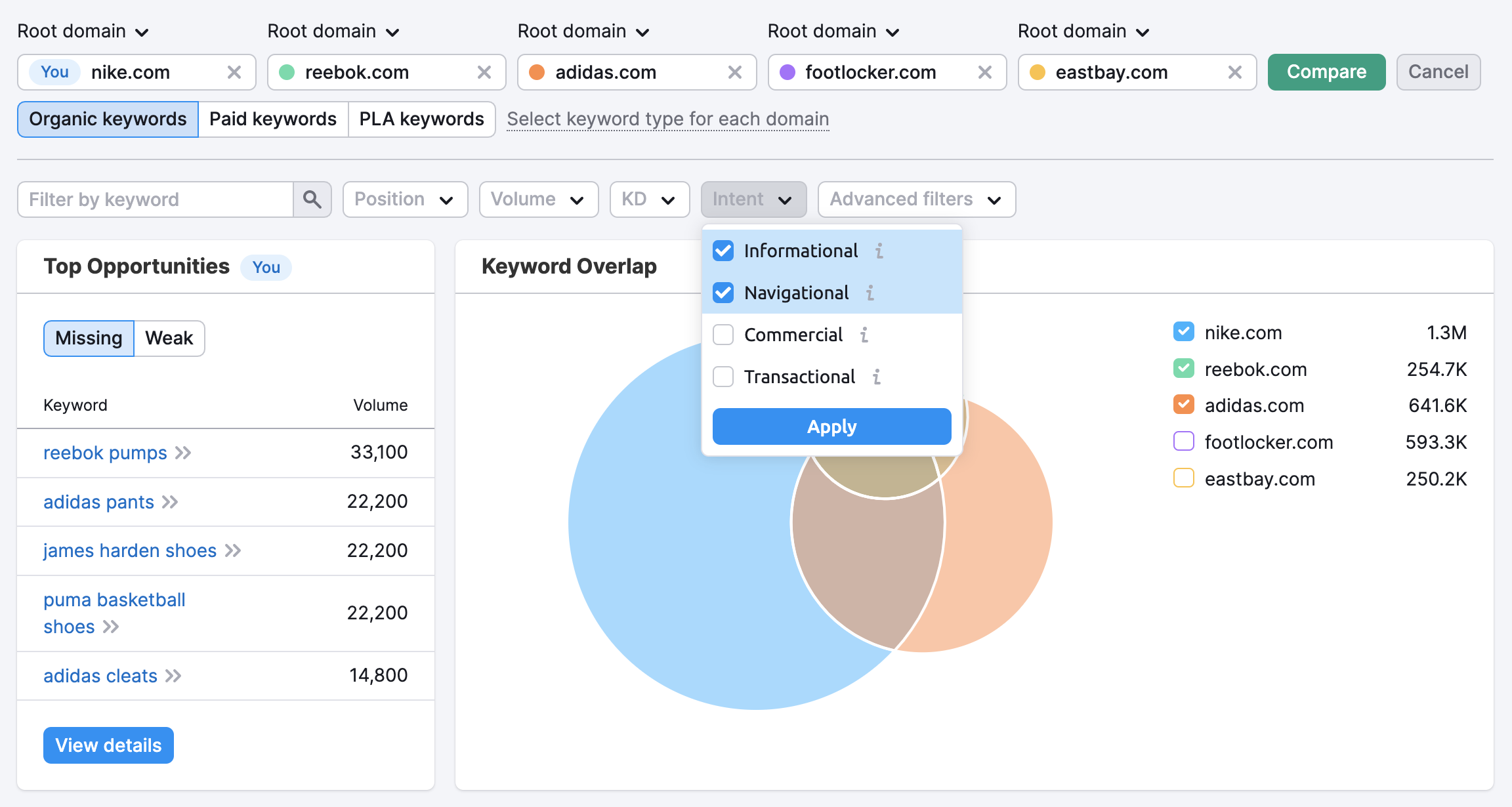 The filter makes it easy to compare how your competitors rank for the keywords of a specific intent type. You can get valuable insights into content alignment in no time. If the competitors rank higher for your target keywords, check their landing pages to see why they might rank better than you. Then review your existing content or create new content matching the search intent.
To see the full URL associated with a certain keyword, you can hover over the position to reveal the full URL.

The Keyword Difficulty filter includes 6 levels of how difficult it is to rank a page for a specific keyword. The higher a keyword's KD score, the harder it would be for a website to rank organically in the Google top 10 for the analyzed keyword. Use this filter to quickly sort the useful and viable keywords for you.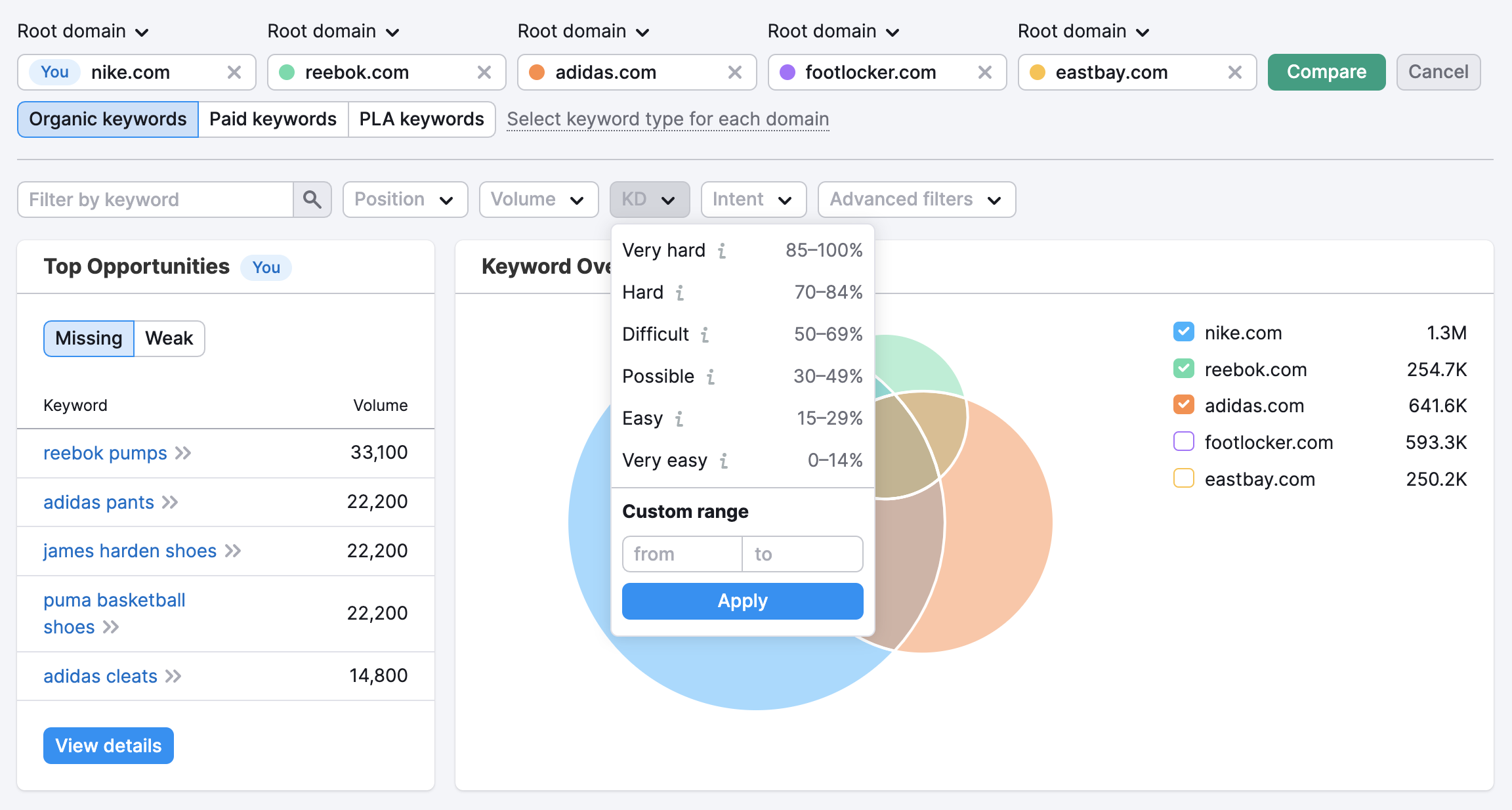 Advanced filters include the ability to filter by keyword (include or exclude), search volume, CPC, Competitive density, and the number of results.
The filters can be combined to get even more specific data. See below an example of filters for including keywords containing "basketball," with a transactional intent and CPC less than 2 USD.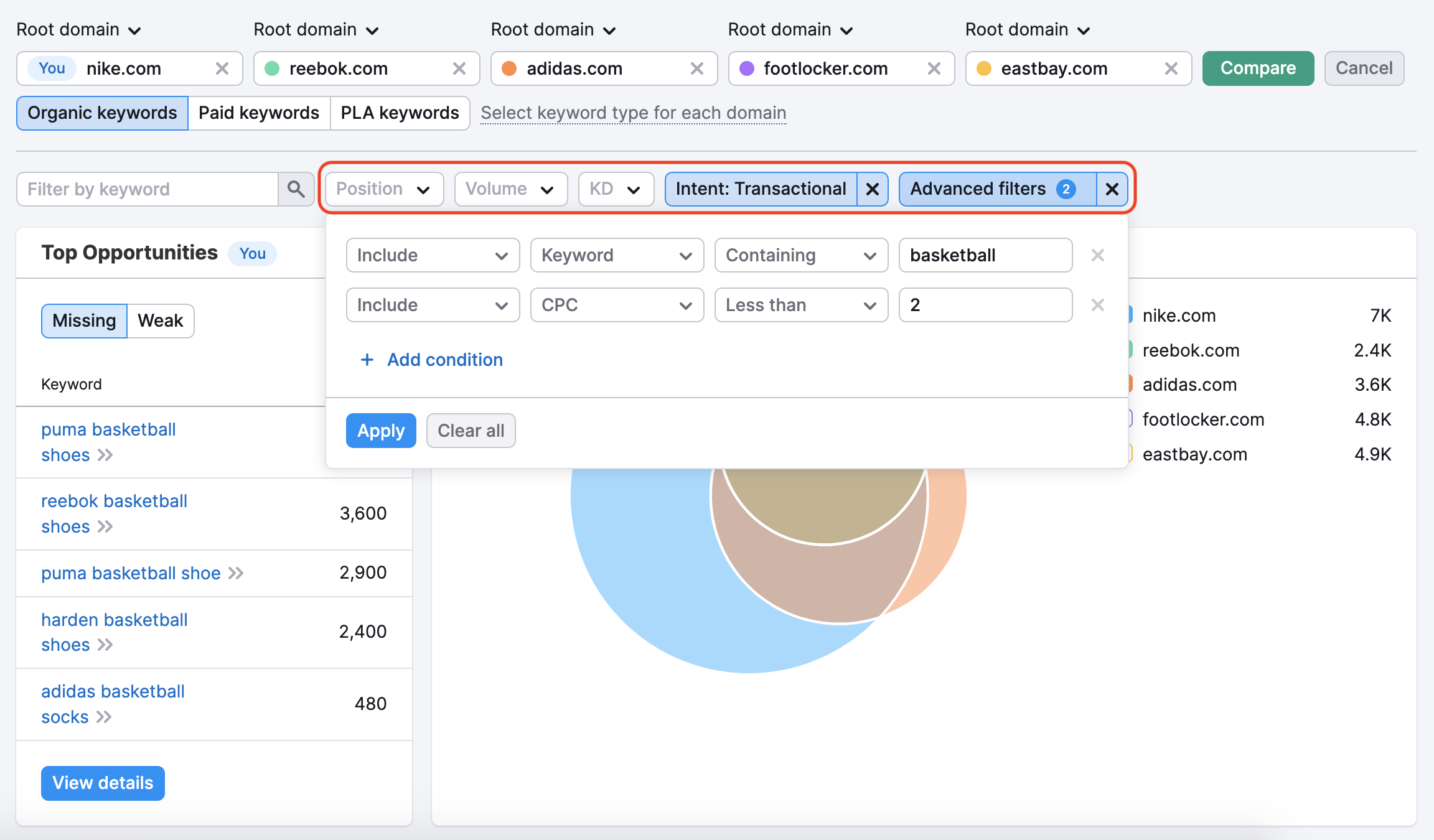 Every time you apply a filter, it will automatically update the keyword table, top opportunities, and keyword overlap chart.
Exporting Keywords
You can export your favorite keywords at any time into an Excel file, CSV file, CSV Semicolon, or PDF. Exports do great research for competitive analysis and can be used for a search marketing campaign. In an export, you'll be able to see each domain's rankings for the keywords that they compete for.
You can choose to select individual keywords with the checkbox and export those, export all of the keywords in the list, or export the first 100, 500, 1,000, 3,000, 10,000, 30,000, or 50,000 (depending on the size of the report).
If you are exporting selected keywords, you can also clear them from your list after your export is complete.

Before exporting, you can also add keywords to the Keyword Manager. Keyword Manager lets you refresh metrics on keywords to get up-to-date stats on demand.
To export the report to PDF, use the "Export to PDF" button in the top right corner of the report.
In the exported PDF file, you will find the Top Opportunities widget and Positions Compare table.
You can also find Top Opportunities and Positions Compare widgets in the My Reports constructor under the Domain Analytics/Keyword Gap section.
If you are interested in more ways to outperform the competition, check out our "How to Benchmark Opportunities for Growth" workflow.