Follow these best practices to improve SEO on your website.
1. Update Existing Content
Optimize your site's existing content
Here's exactly how to do it: 
First, find pages that haven't been updated in the last 12+ months.
Then, review the page to see if any of the content is outdated. Or just needs an improvement.
For example, this post from our blog was first published over two years ago:
The content is still solid. But a lot of the info and visuals could use an update.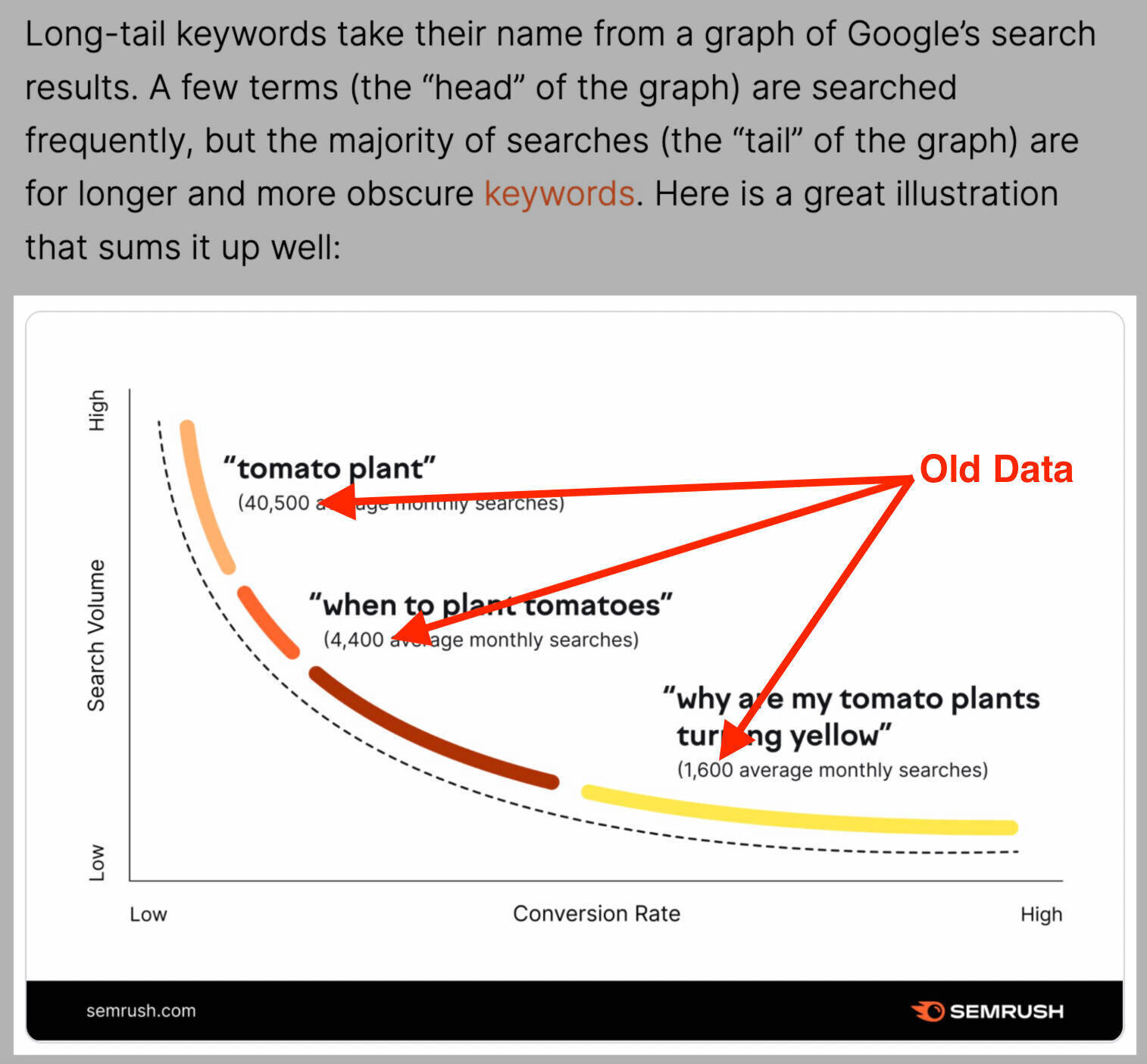 So during our review, we identified changes that need to be made. And sent those changes to someone from our editing team. 
Finally, we pushed the changes live so that Google could index the updated content.
If your updates are significant, your pages can get a "freshness boost" (almost like the page was just published.)
Plus, because your content is objectively better, it should perform better in search.
Pro Tip: Use Search Console to speed up indexing of your newly-updated page.
Just enter your URL into the top field:
And hit "Request Indexing":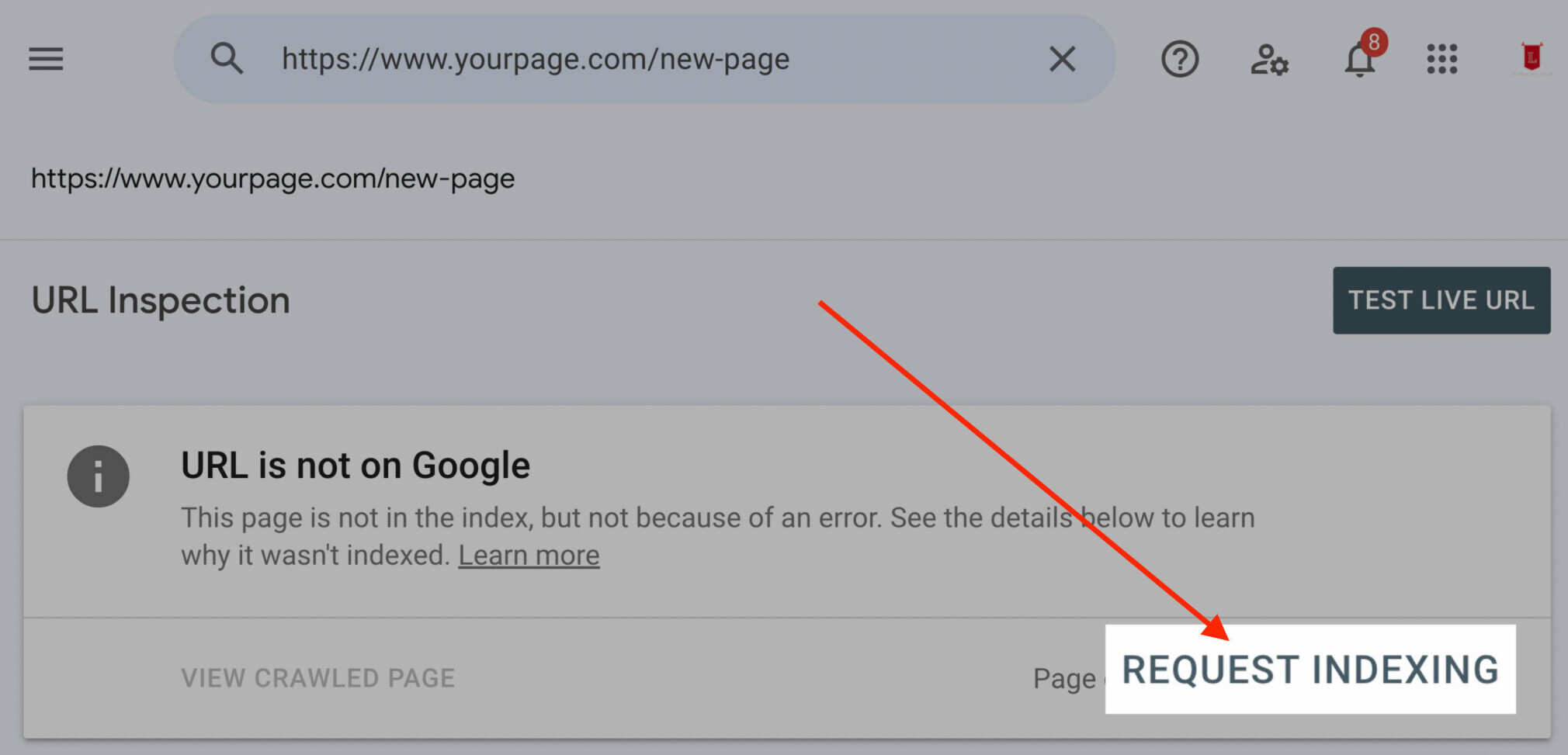 This will send Google crawlers to your webpage ASAP. 
Improve High-Potential Pages
High-potential pages are just like they sound:
They're pages on your site that have some traction. But could use a boost to get them into the top three.
According to a study by Backlinko, the top result in Google gets 31.7% of all clicks.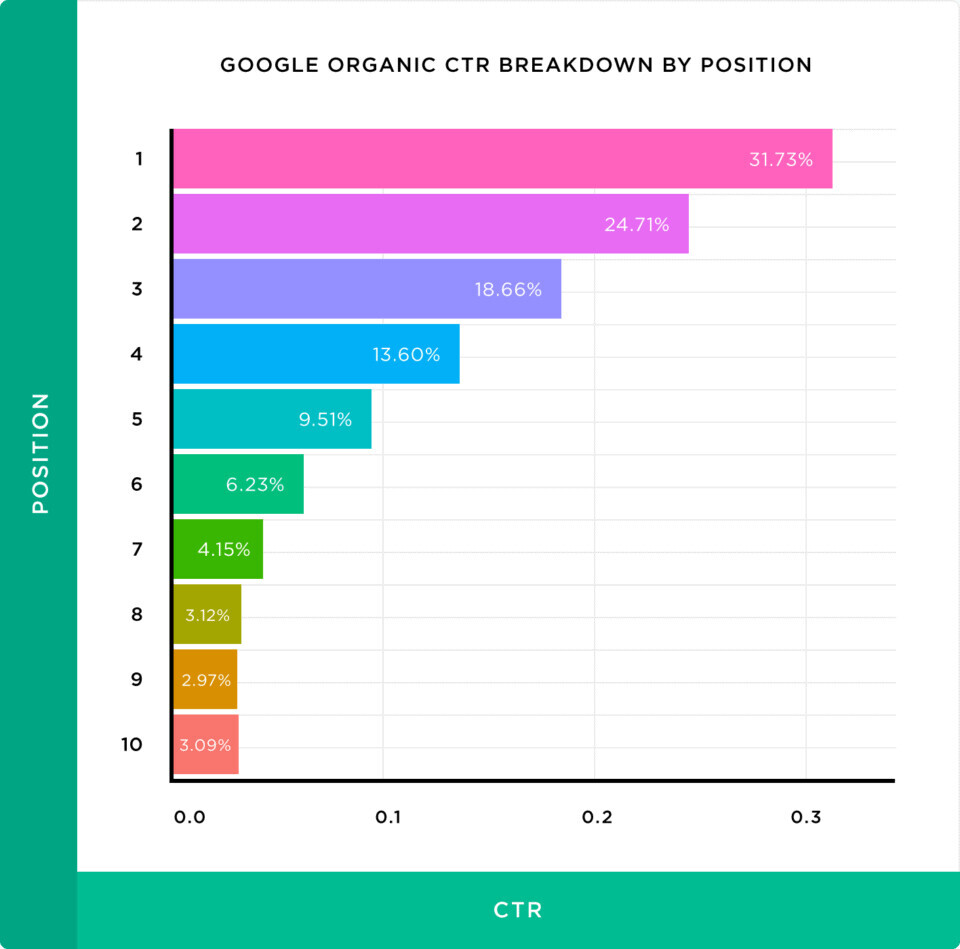 Which is why ranking on the first page of Google usually isn't enough.
To really maximize organic traffic to a page, it needs to be in the top three results.
Your first step is to find pages that have the most potential to crack the top three.
First, head over to your Search Console's "Performance on Search results" report.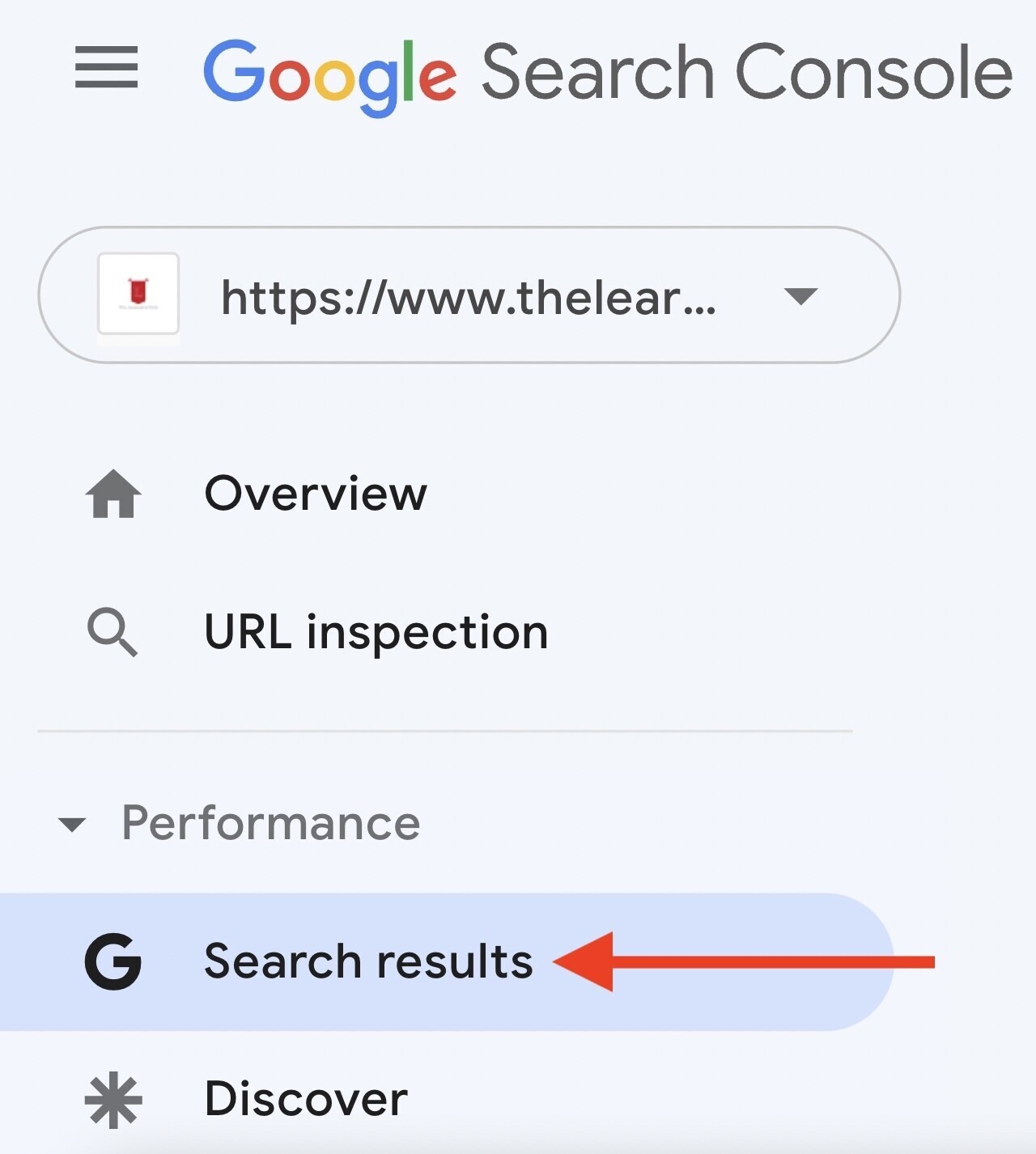 Then, sort by position so the pages ranking #1 show up first.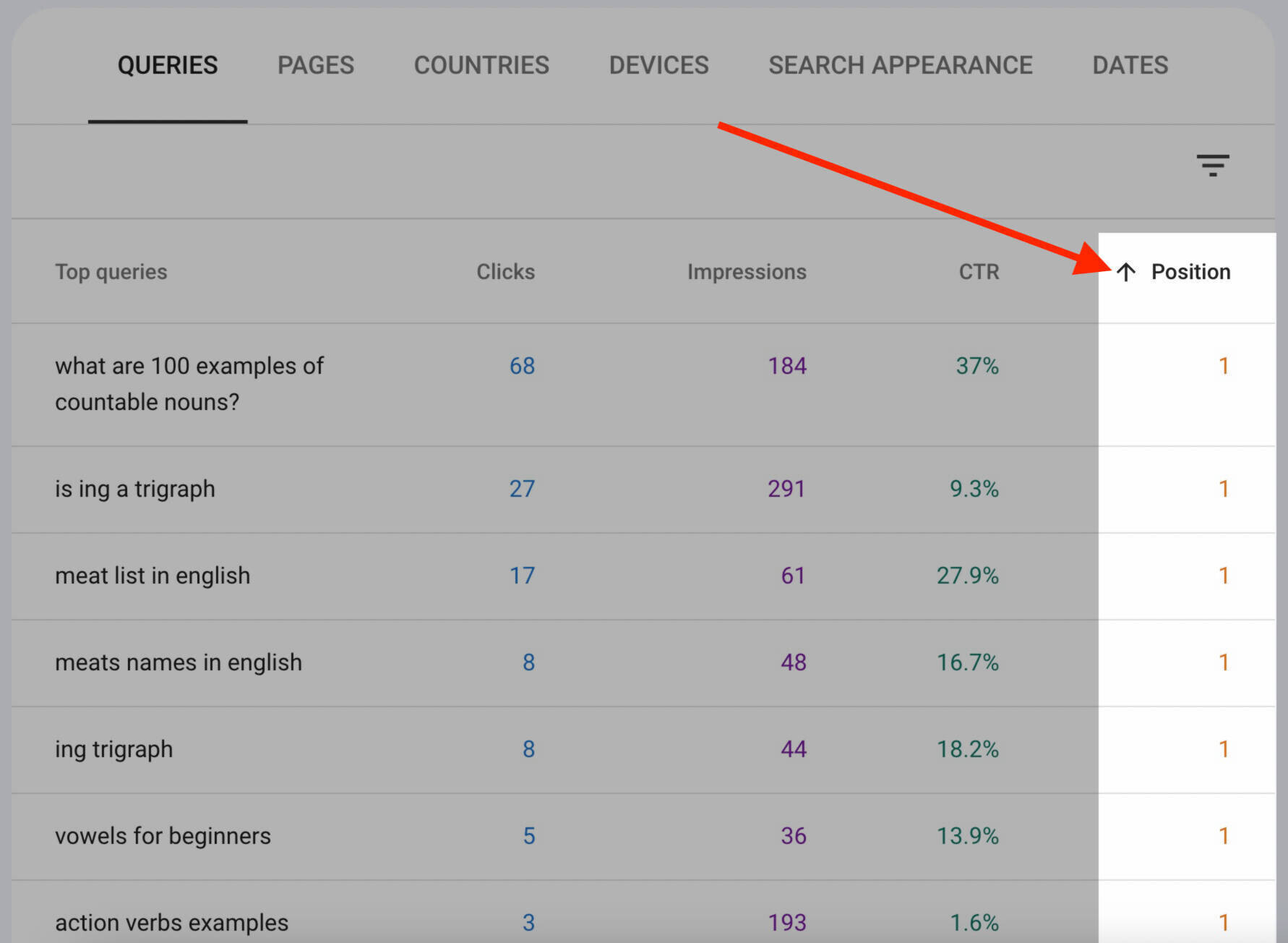 Finally, scroll down the list until you see queries that you rank between 5-15 for.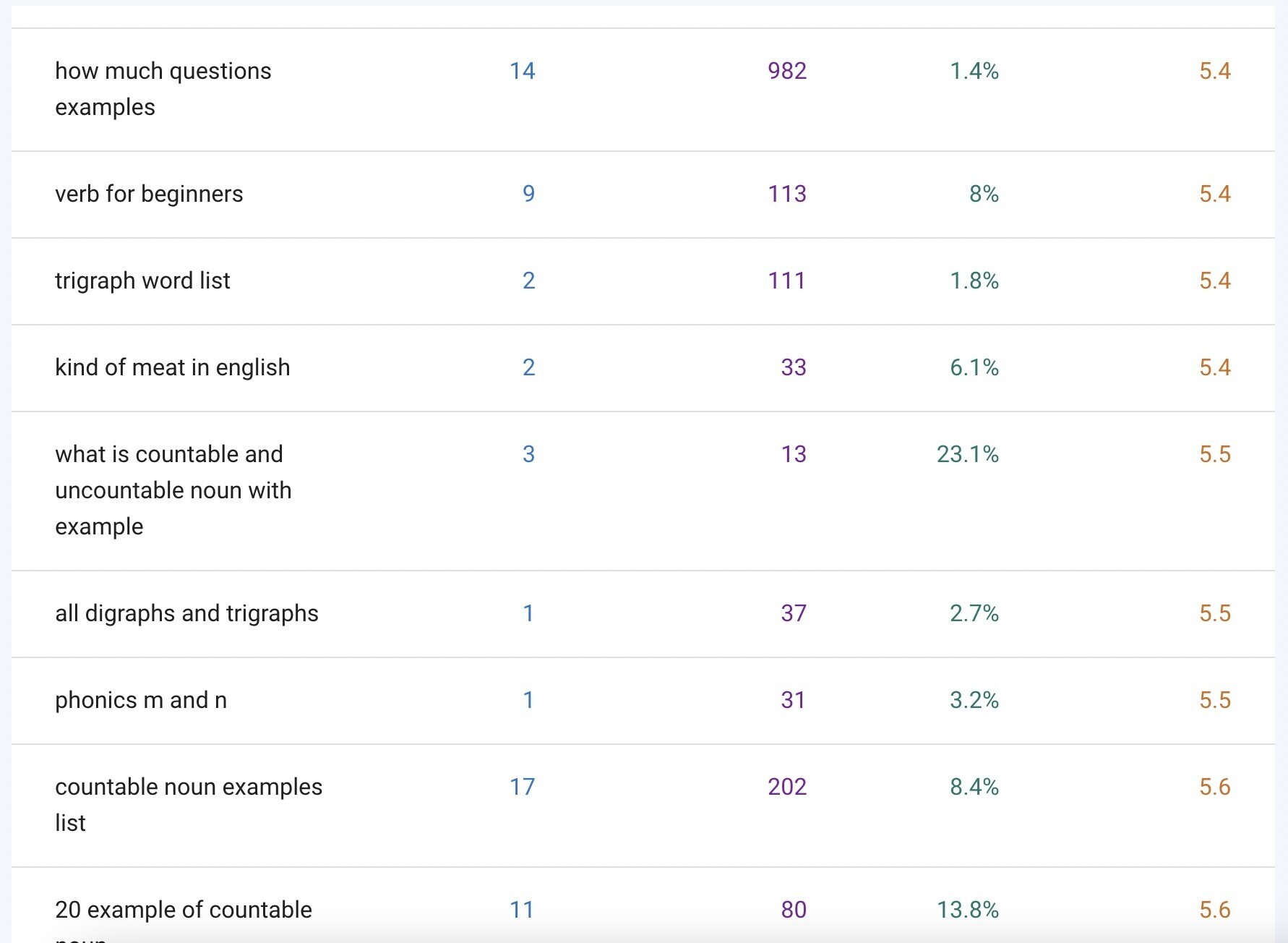 Those are pages that you want to focus on improving. 
How you improve those pages depends a lot on the existing content.
But in general, here are some ways that you can make your content better:
Optimize your content to better meet search intent
Format your content, so it's easier to skim
Add more graphics, visuals, and illustrations
Add internal links to and from each page
Remove fluff and focus on actionable strategies
On Page SEO Checker
The On Page SEO Checker analyzes each page's weaknesses. And suggests specific on-page SEO improvements.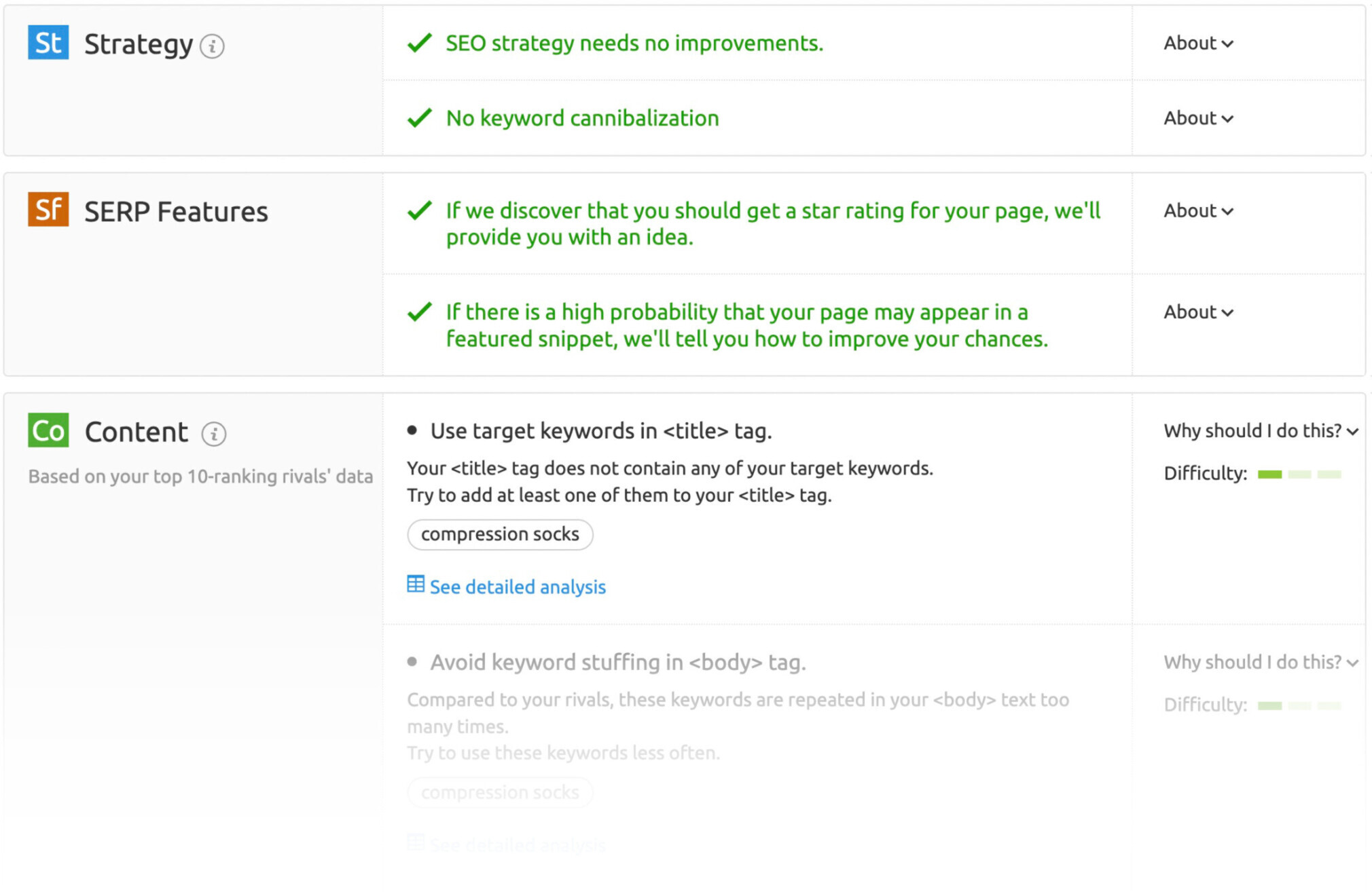 In each report, you'll get a breakdown that includes:
Strategy: Suggests keywords you should target and helps identify keyword cannibalization issues 
SERP Features:Highlights opportunities for earning a Featured Snippet position or displaying a Review Snippet
Content: Provides suggestions for your content based on the top 10 ranking pages
Semantics: Reveals semantically related keywords that your content should also include
Backlinks: Shows you specific domains that you'll want to earn backlinks from
Technical issues: Identifies technical SEO issues, including whether there is duplicate content
User experience: Integrate Google Analytics to better understand how users are engaging with the page
2. Structure Your Content for Featured Snippets
Featured snippets are those large boxes that you see at the top of Google's search results. (Above the traditional #1 ranking.)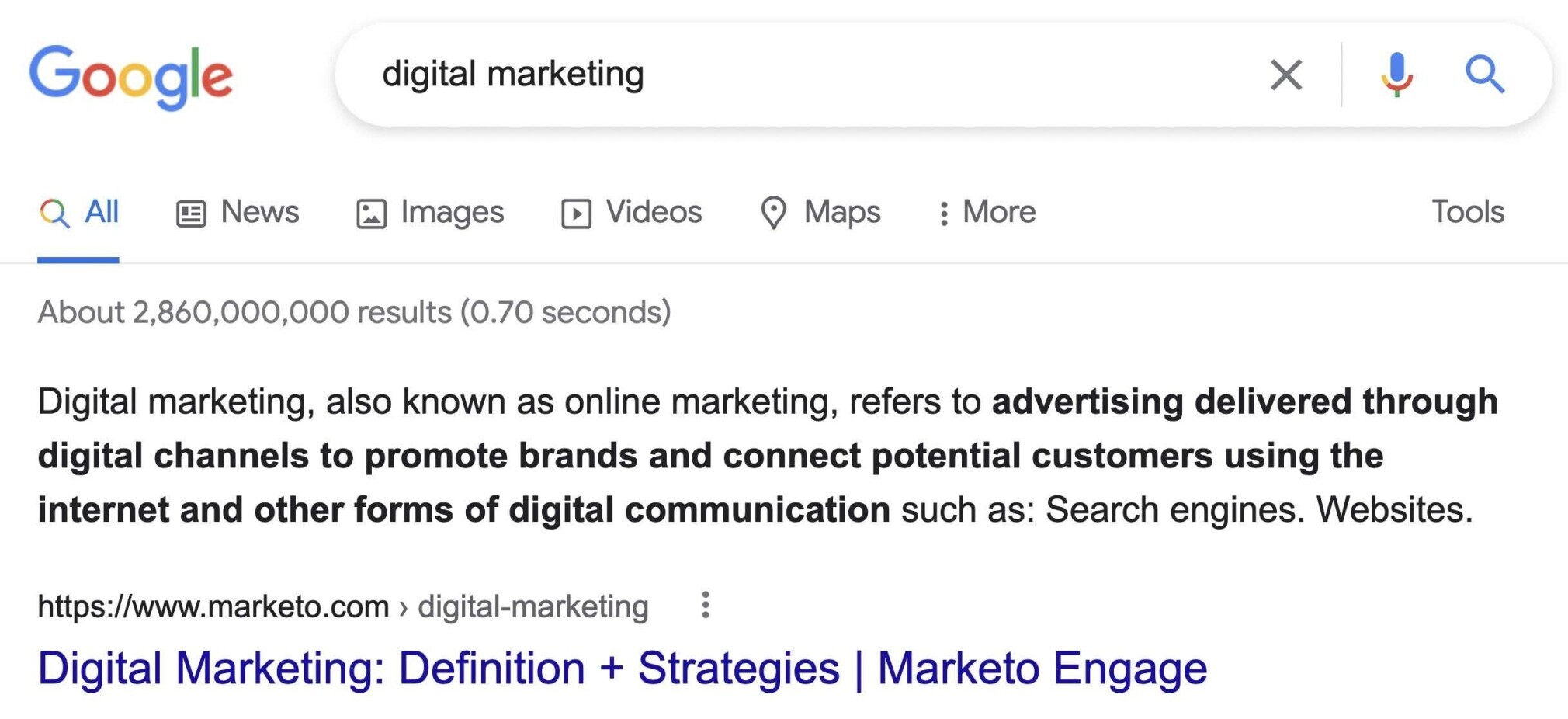 The content inside of featured snippets is pulled from one of the results in the top 10.
And if you format your content correctly, you can end up in the coveted featured snippet spot.
Here's how:
First, use subheadings that describe each section of your content.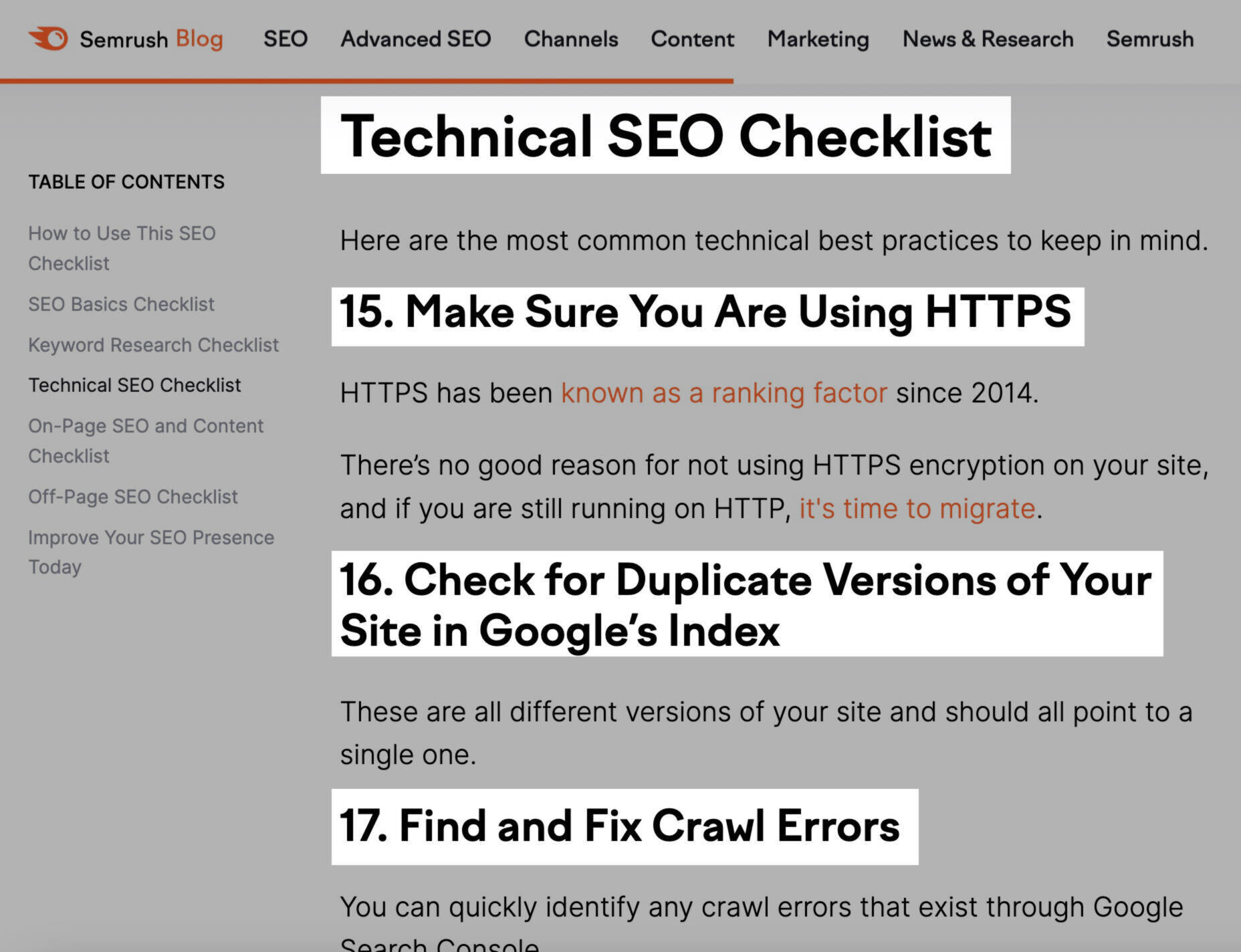 Google will sometimes pull these subheaders into a list-based Featured Snippet: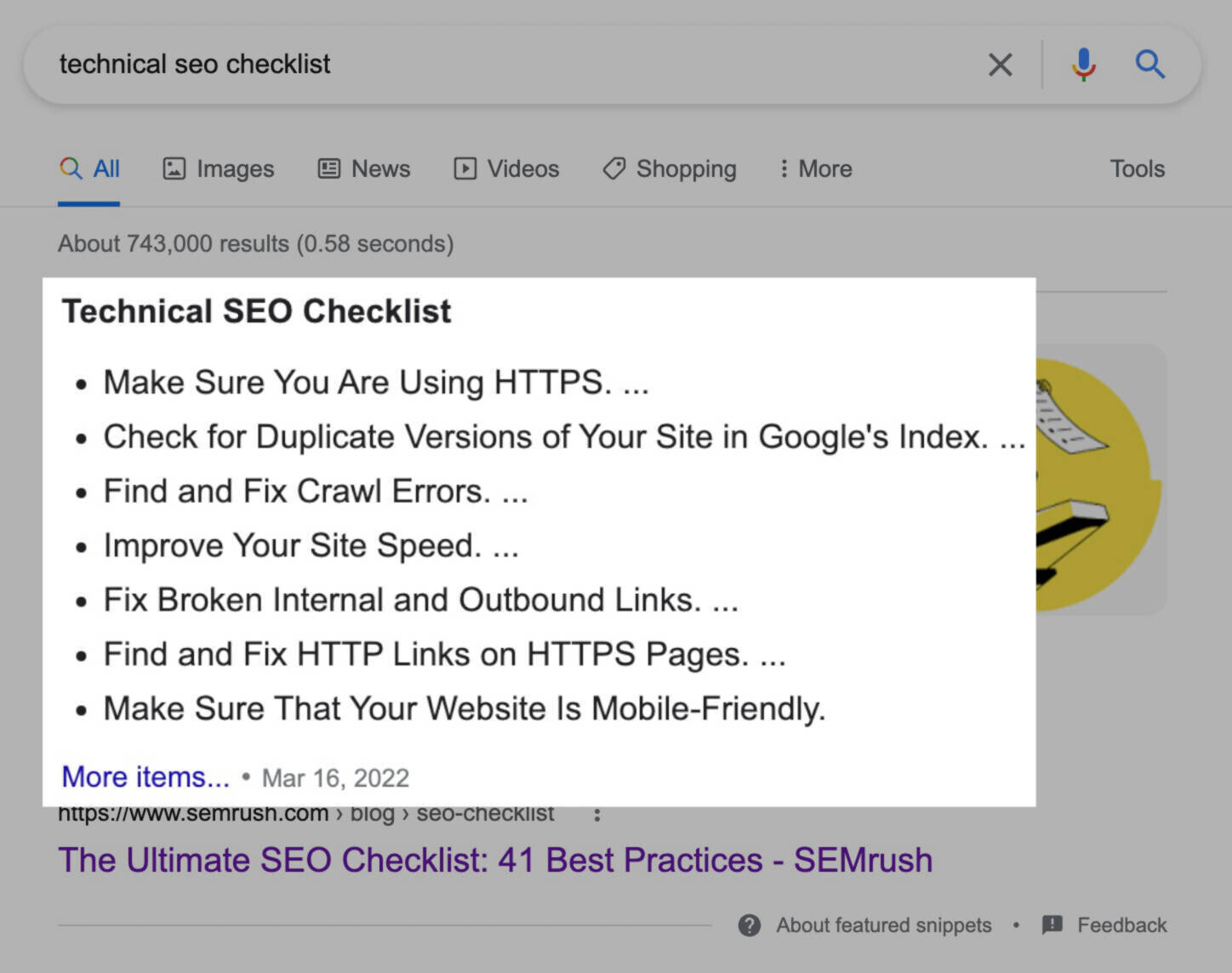 You just need to make sure that each of those subheadings uses the same H tag (H2, H3, H4 etc.).
Why?
Consistent H tags tell Google that each subheading is "equal" on the page.
Most CMSs (content management systems), like WordPress, make it easy to add the same H tag to each subheading.
But you can also look at the source code to double-check that all of your subheadings use the same H tag. If so, you're good to go.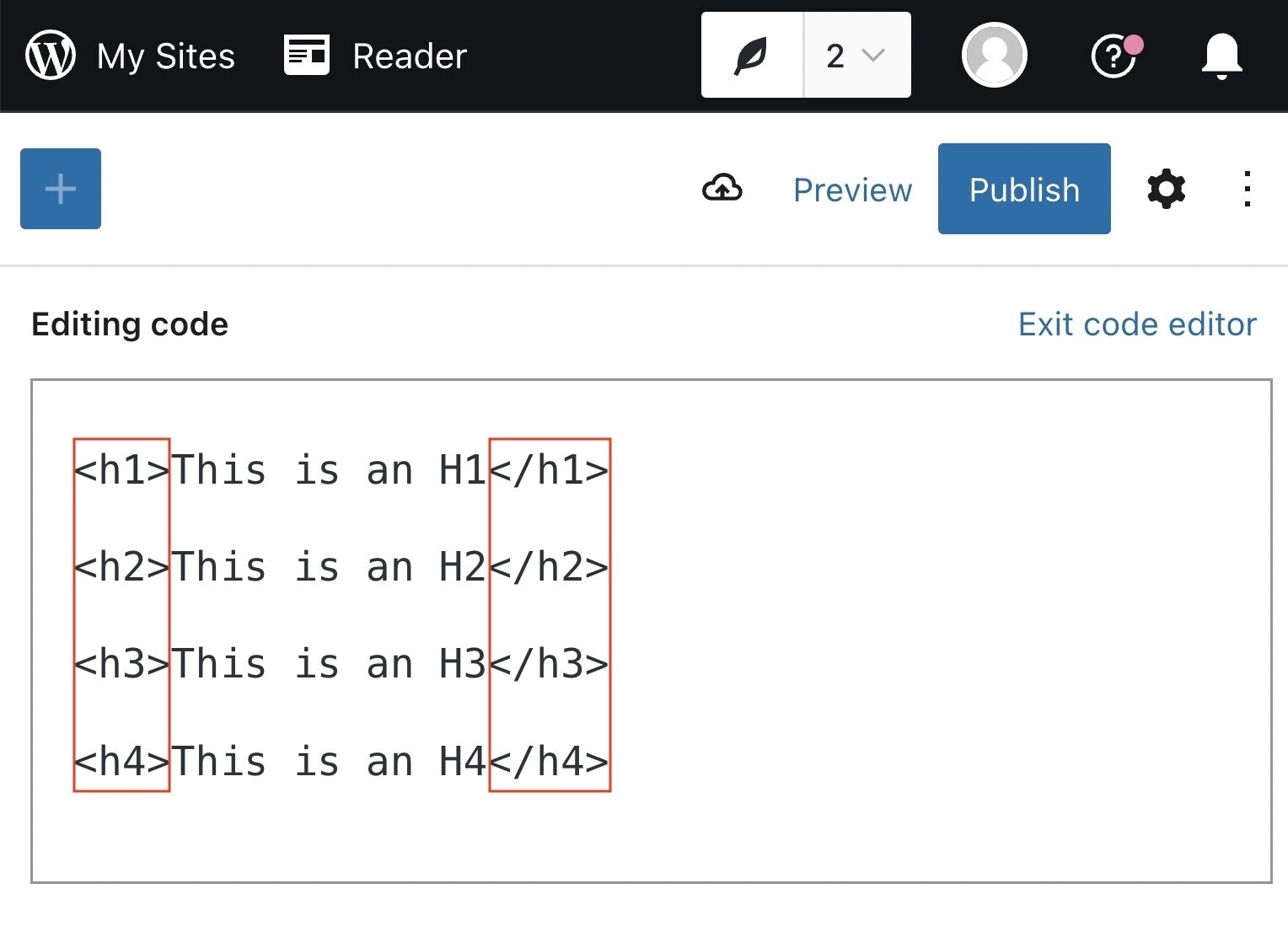 3. Create New Content Based on Low-Competition Keywords
Many sites struggle with SEO because they target keywords that are too competitive.
Here's how to find untapped keywords with little-to-no competition.
Target Question Keywords
Question keywords are great for SEO for two main reasons:
They're highly-specific questions that your target audience needs answers to
They're generally not super competitive
For example, take the keyword "housing market."
This keyword has a Keyword Difficulty (KD) of 66%: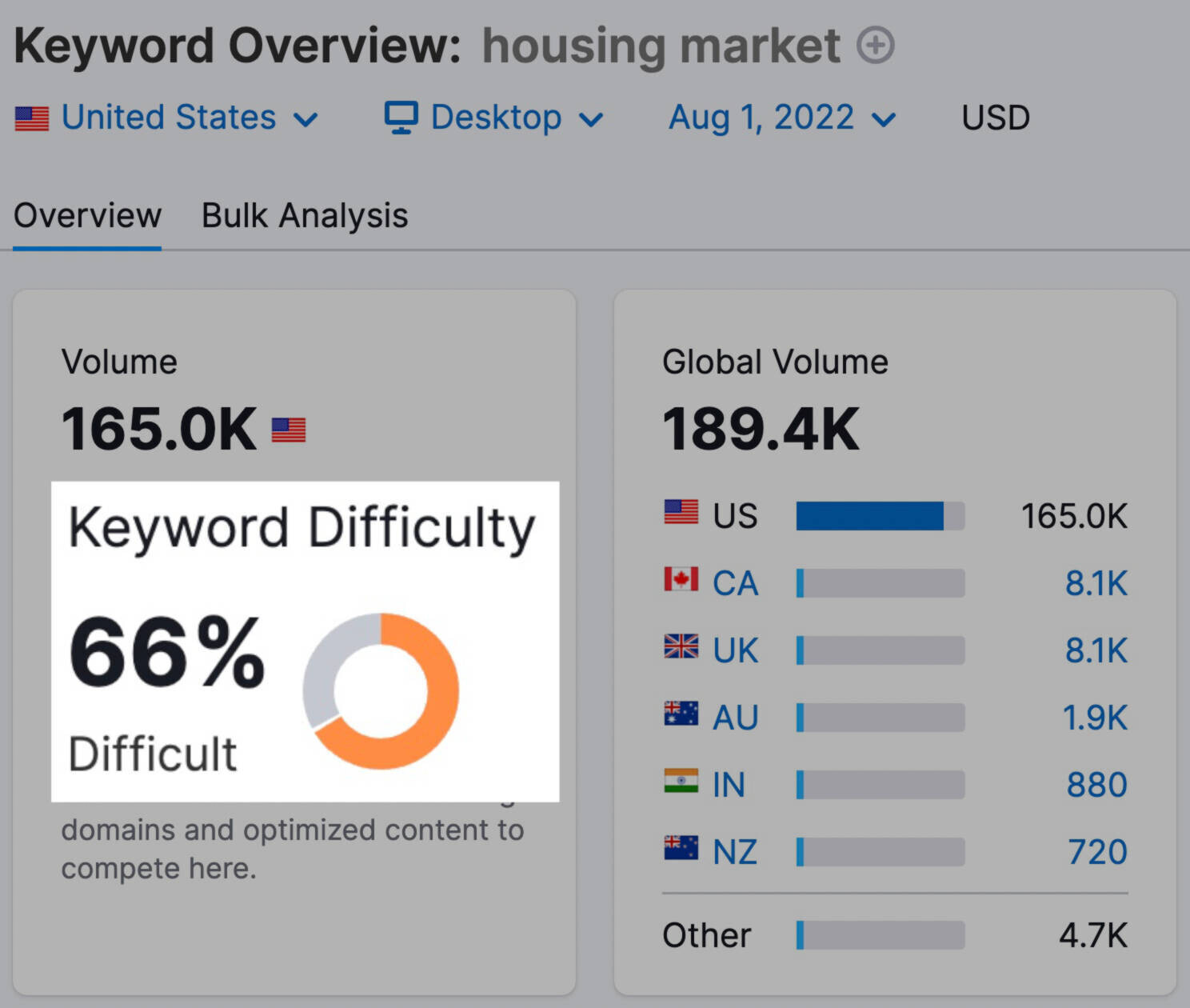 On the other hand, a question keyword containing that same term has a KD of only 21%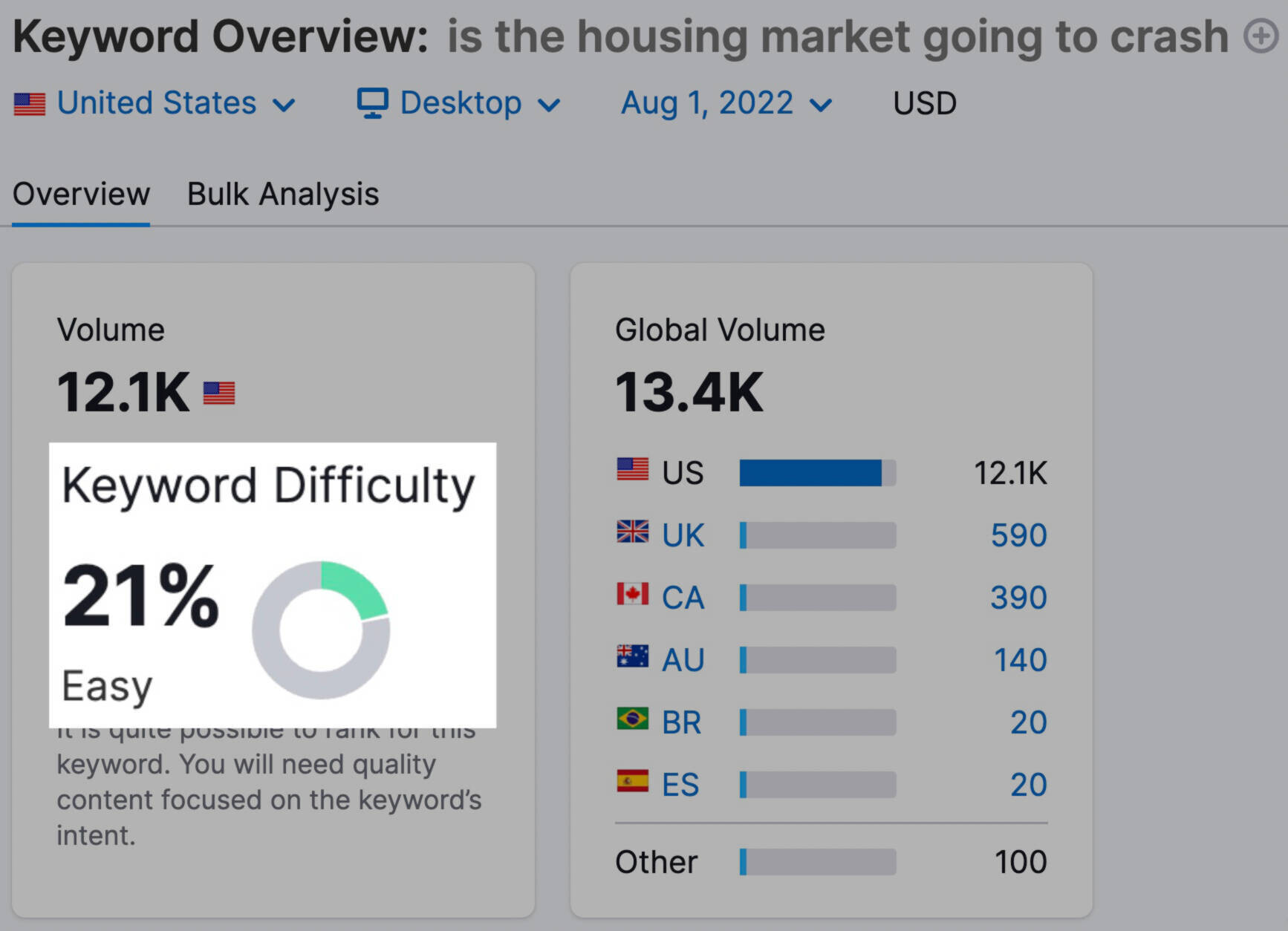 You can easily find question keywords by checking out the "People also ask" sections of Google search results.
Just search for a keyword. And scroll down until you see a set of "People also ask" questions.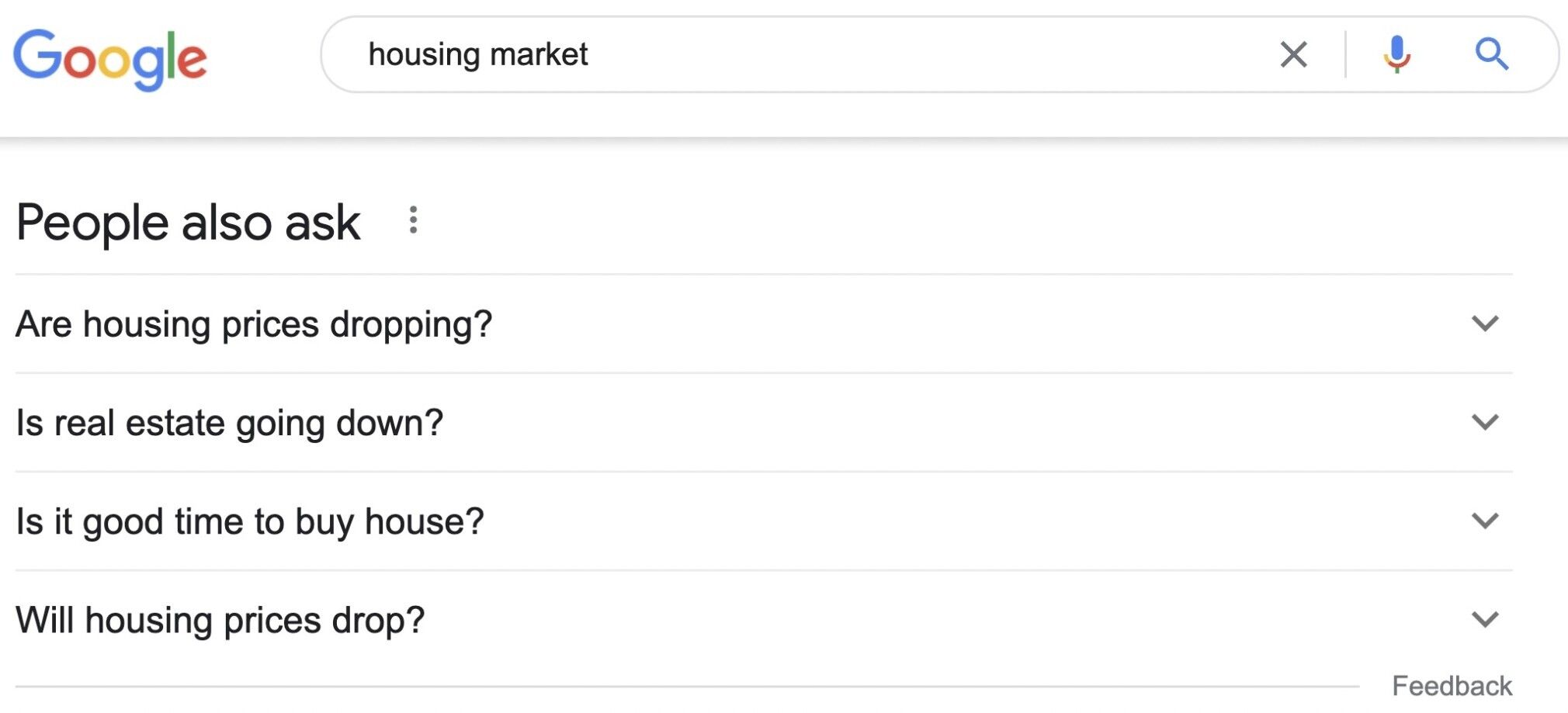 These are questions that people are asking around your topic. 
(According to Semrush Sensor, nearly 60% of search results contain a "People also ask" section. So not every SERP that you look at will have one.)
Pro Tip: Click on one of the "People also ask" questions. This will expand the section, revealing even more questions.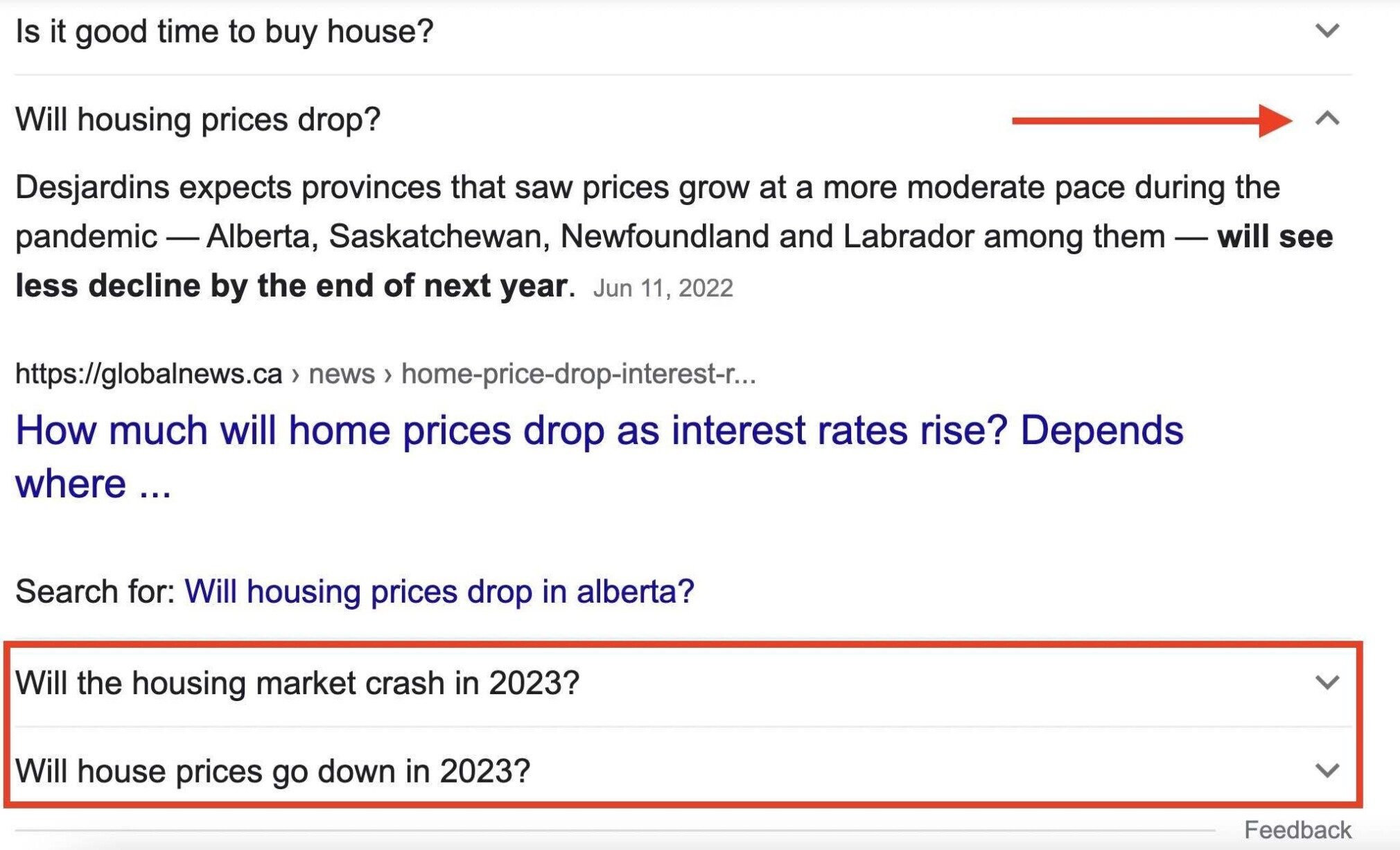 You can also find questions in the Keyword Magic Tool.
Enter a keyword that you're considering. And you'll get a massive list of related words and phrases.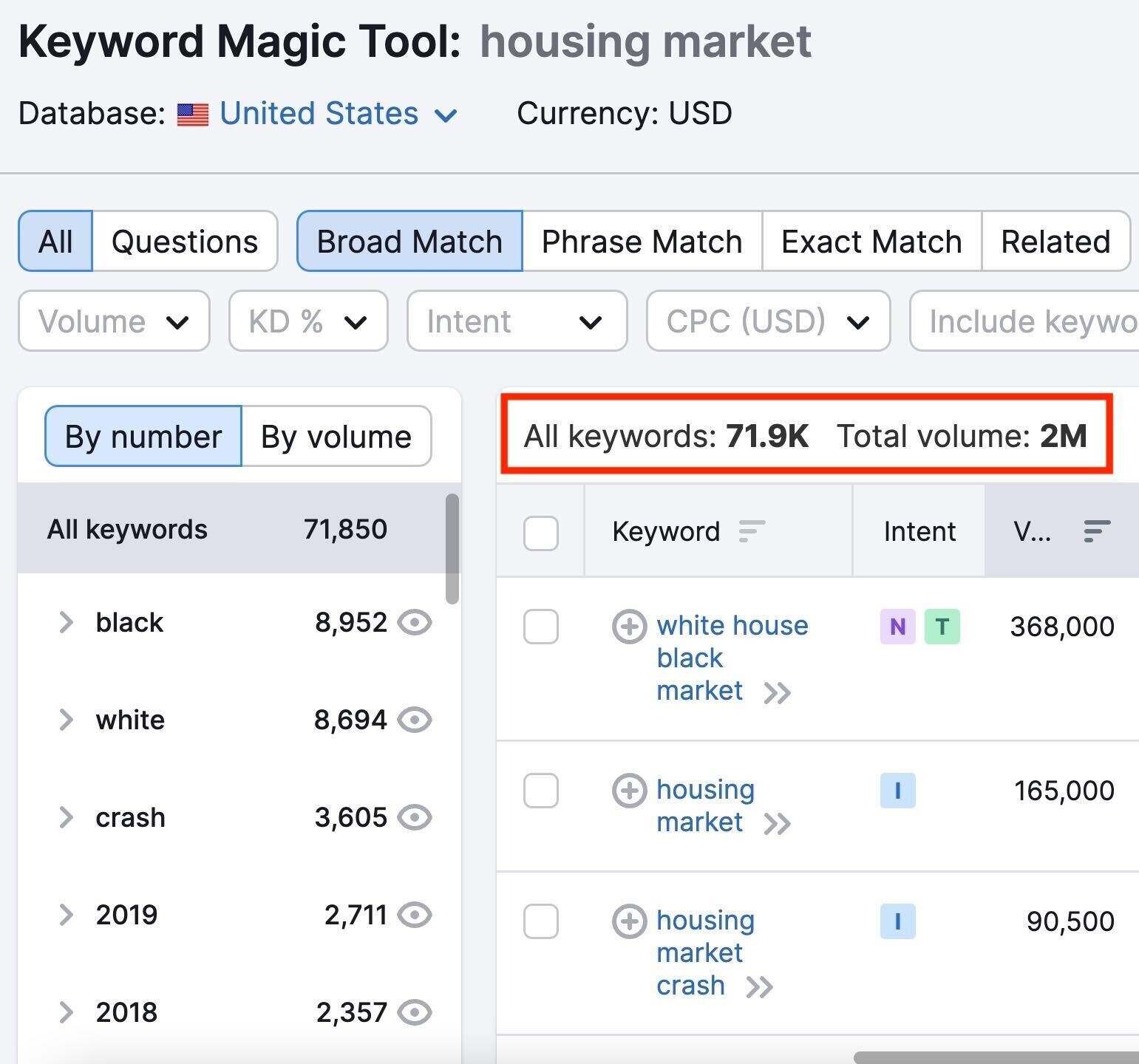 Then, filter your results between "All" or "Questions" to help you identify the related questions that match your primary keyword.
Optimize Around Long-tail Keywords 
Long-tail keywords are terms that don't get that many searches individually. But make up a high percentage of the total number of terms that people search for.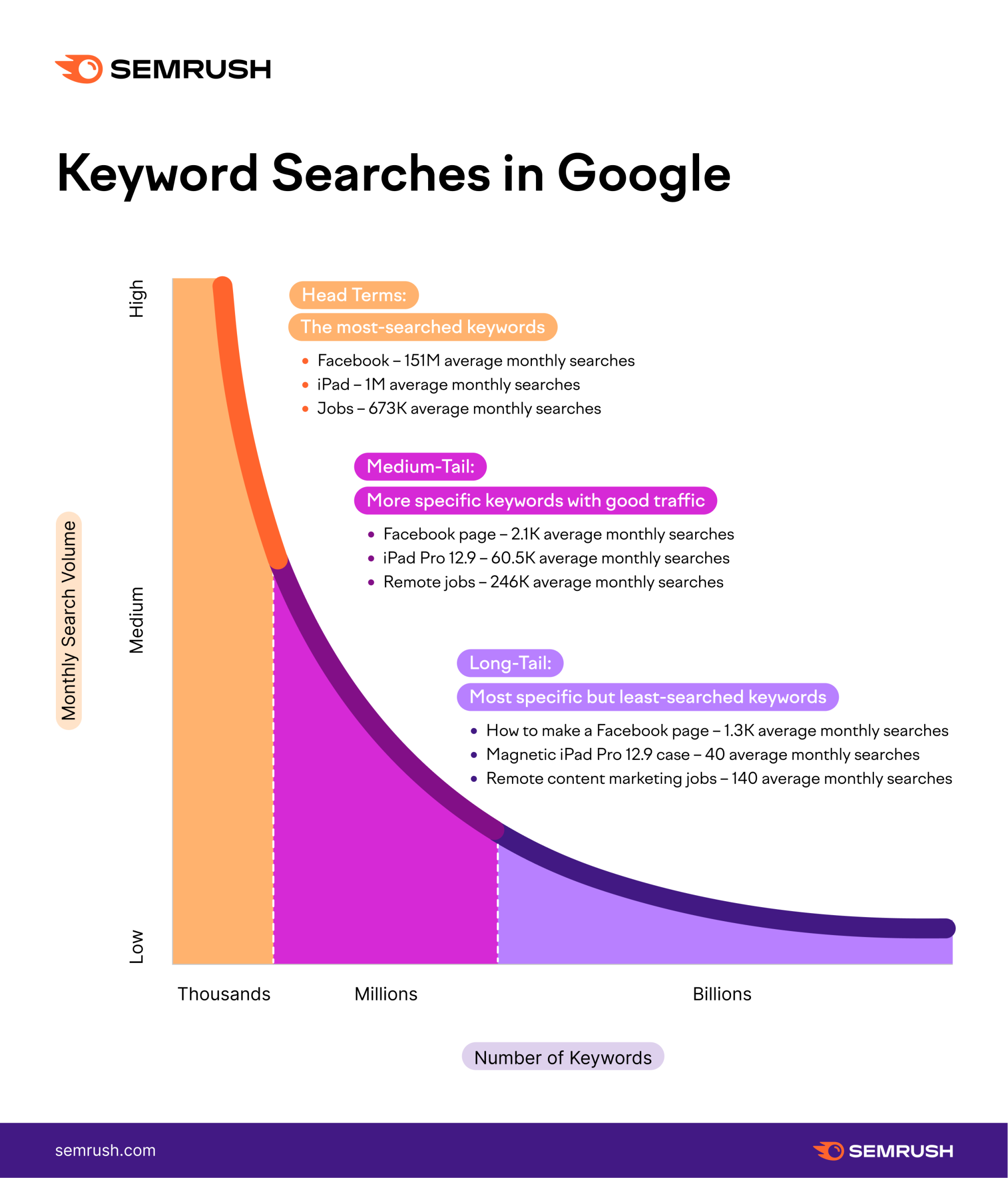 In general, newer sites or sites struggling with SEO should focus heavily on long-tail keywords. 
For example, the keyword "hiking boots" sounds like a great fit for a new shoe store.
After all, it gets 90,500 searches per month. And sounds like a keyword that a potential customer would search for.
But if you look at the keyword difficulty rating for that keyword, it's out of reach for most small businesses.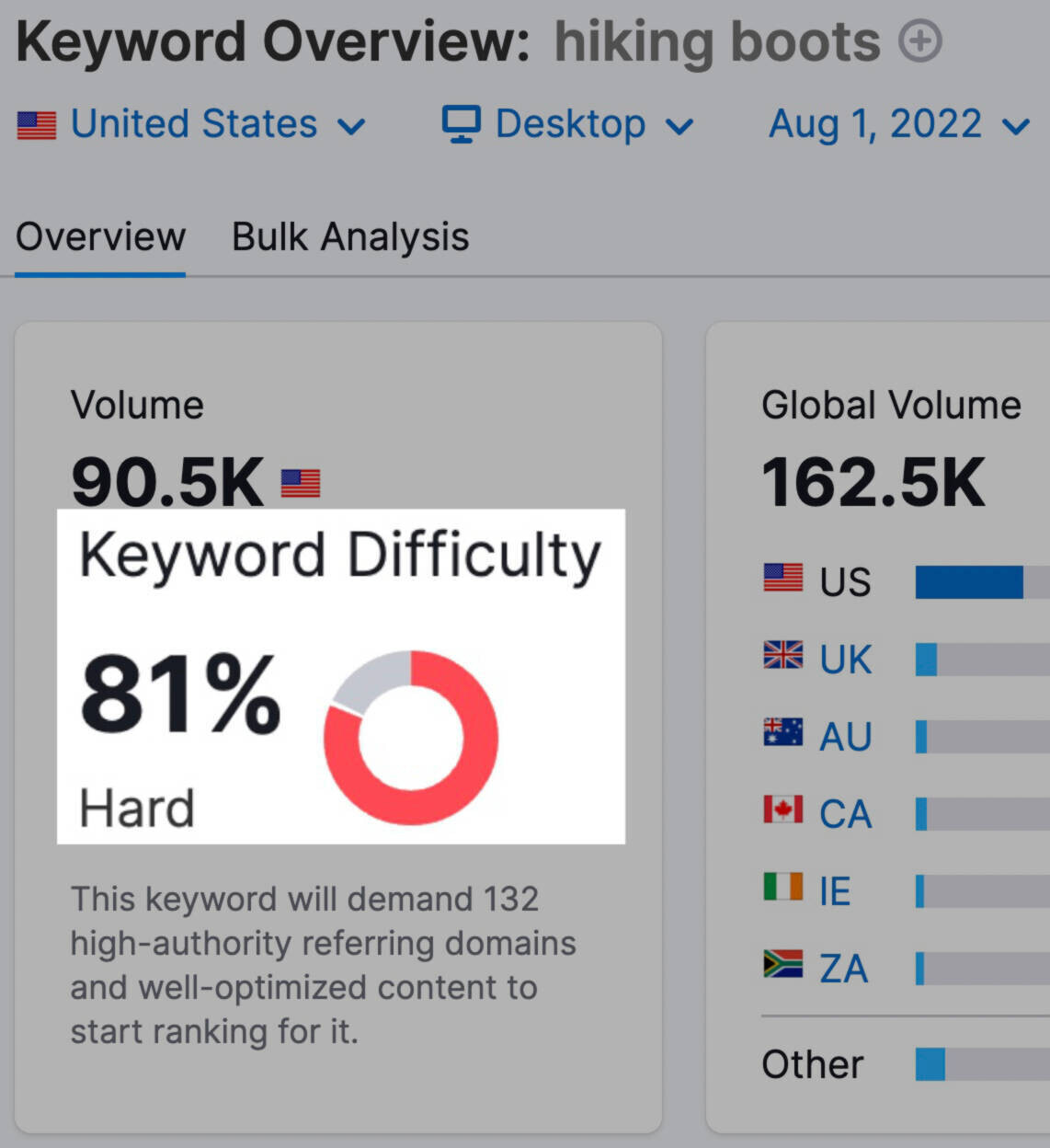 On the other hand, a similar long-tail keyword (hiking boots with red laces) has a KD of only 29%: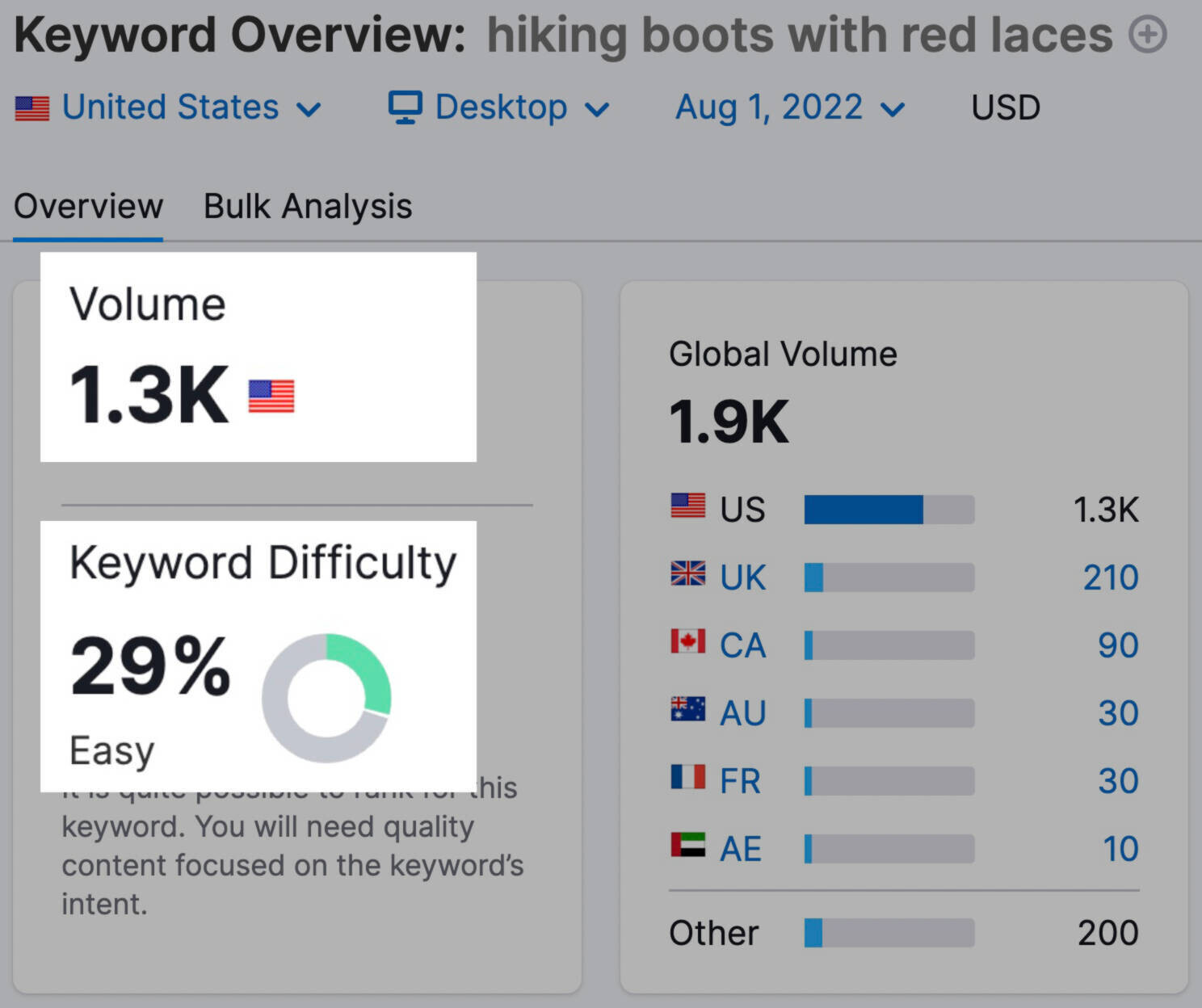 Granted, this long-tail version gets 98% fewer searches. But that's the trade-off you're making with long-tail terms.
4. Get Backlinks From Authority Sites
Even if you follow on-page SEO best practices to a "T," your content is not guaranteed to make the front page of Google. 
Which is why getting backlinks from a variety of high-authority sites should be a big part of your SEO strategy.
There are literally thousands of link building strategies you can use. 
But here are some of the most effective:
Create highly shareable content: Publish linkable assets that are specifically designed to generate backlinks from blogs and news sites in your niche.
Test out data-driven content:Data-driven content that tells a story is one of the best ways to build more links to your website. Whether through an original survey, public data, or internal data, create content around your results and share this with publishers. 
Follow the trends: If you're able to tie your company or industry study to a trending news story, there is a high likelihood that the publisher will want to feature your data and credit you back with a link.
Help a Reporter Out: Free service that allows you to contribute quotes and insights to journalists looking for sources. 
Legit guest posting: When you contribute content to other sites in your niche, the links from those posts can help improve your Google rankings. Just make sure not to avoid turning this strategy into a "link scheme."
If you want to see even more link building opportunities, the Backlinks Analytics Tool can help you find your competitor's backlinks. In fact, you can compare up to four competing URLs to get a sense of where there might be an opportunity.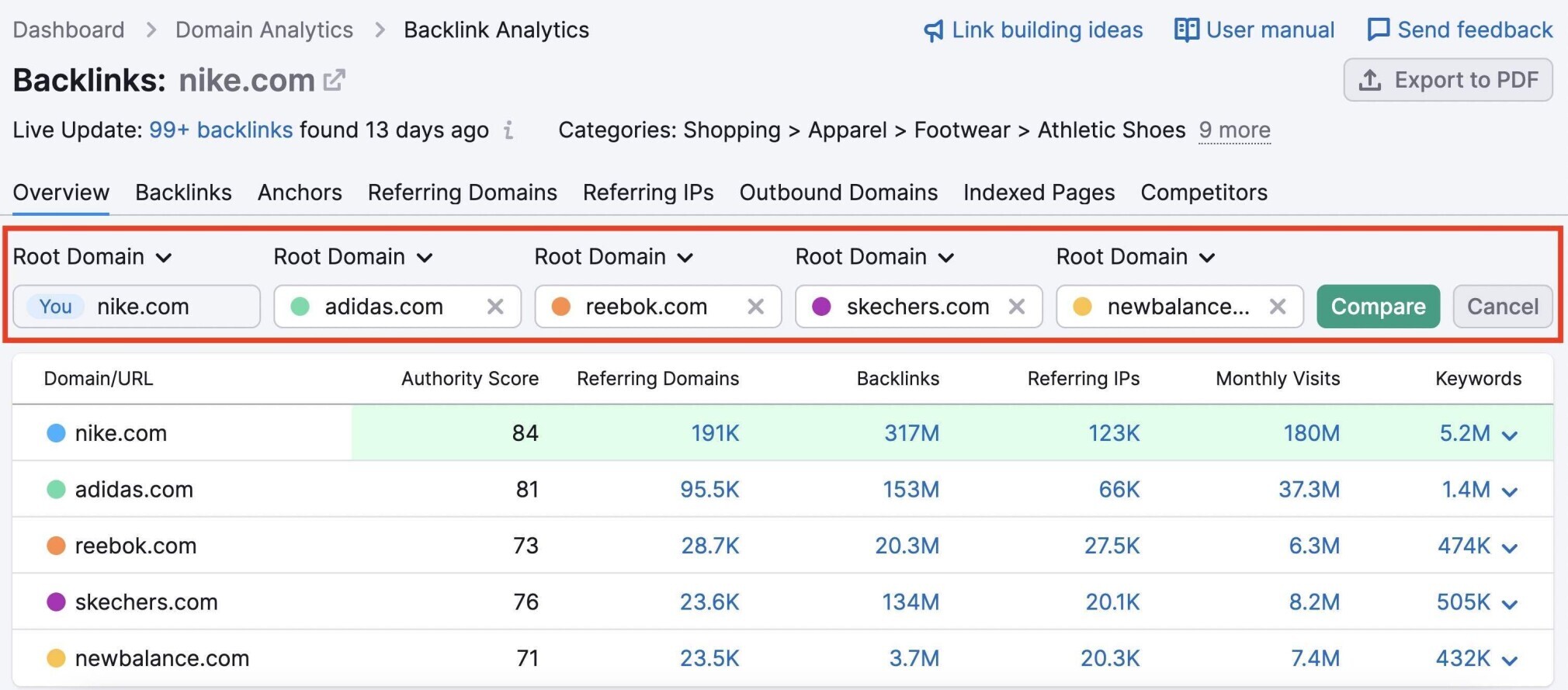 5. Optimize Images
Image optimization is usually considered an afterthought in terms of boosting SEO. However, optimized images can help drive traffic to your website when done correctly.
Benefits of Using Visual Content
Besides directly sending people to your site via Google Images, visual content can help enhance your text-based content.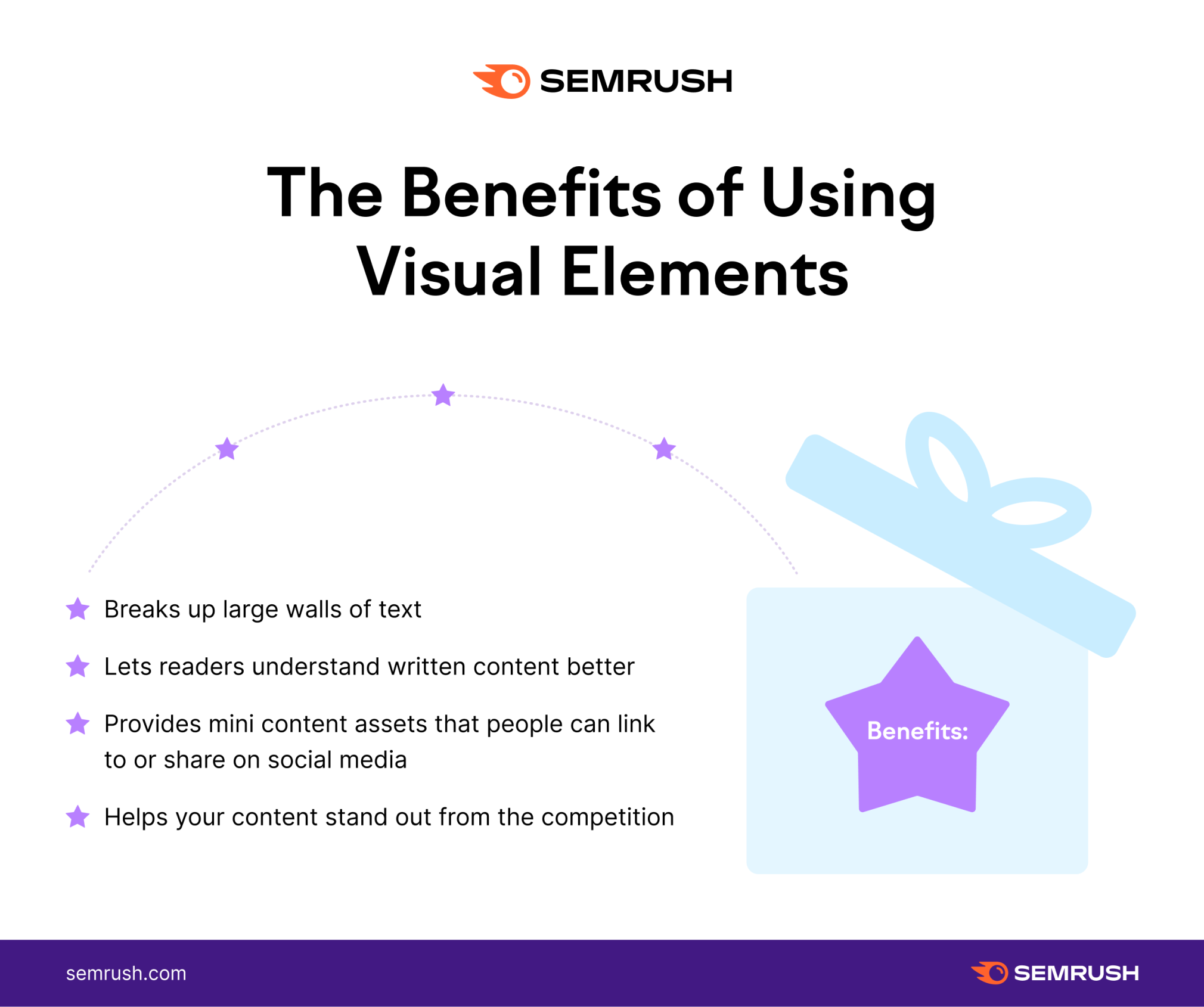 That's because high-quality visual content:
Helps break up large walls of text 
Allows readers to understand written content better (and makes it easy to follow specific steps)
Provides mini content assets that people can link to or share on social media
Helps your content stand out from the competition (especially when using 100% unique graphics)
Tips for Optimizing Images
Here are a few things that you should keep in mind when optimizing images on your site:
Image file size and format: Use image formats (like WebP) designed for fast-loading 
Descriptions and Names: Optimize alt tags, image file names, and image titles
Copyright: Make sure the images can be legally used in your content
Relevancy: Ensure the images are relevant to the content
Mobile-friendliness: View the images to ensure they appear correctly on mobile devices
Unique: Try to limit the use of stock photos that have been used on lots of other sites already 
How to Write Effective Alt Tags
Image alt text is something all search engines (including Google) use to understand what an image is.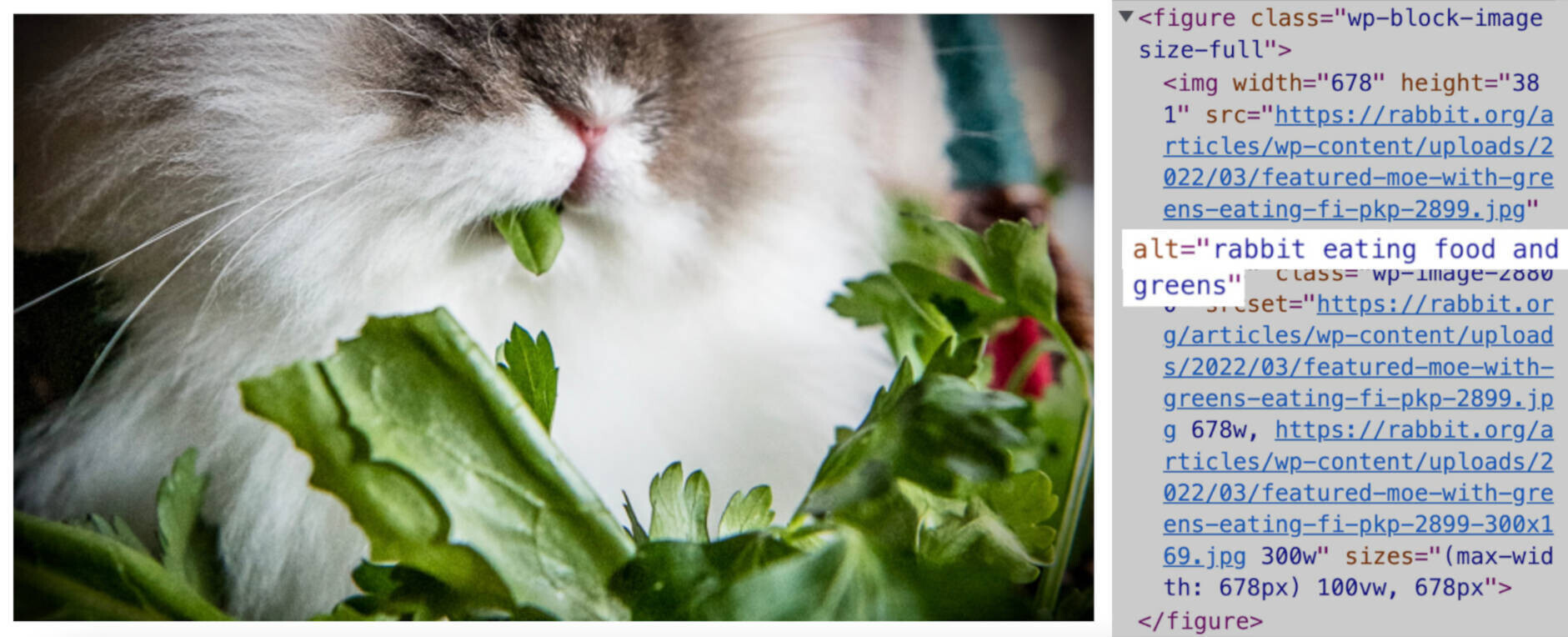 Here's how to write effective alt text:
Be descriptive: Describe the image in as much detail as you can. Imagine you are describing it to someone who can't see it. In addition to being helpful for search engines, this also helps those who use screen readers better understand images.
Be unique: Every image on each page should have unique alt text. 
Be relevant: Just like keywords in your content itself, you want to write natural-sounding alt text. This means you don't need to stuff keywords into your alt text. 
To learn more about determining if your images need optimization and how to optimize them, check out our guide to image optimization.
6. Track Metrics with Google Analytics
If you follow the strategies in this post, you should start to see some improvements to your site after a few months. 
To see exactly how your SEO is improving, it's important to know which metrics to pay attention to in Google Analytics. 
Organic Traffic
Go to Behavior → Landing pages to see the specific pages people use to find your site.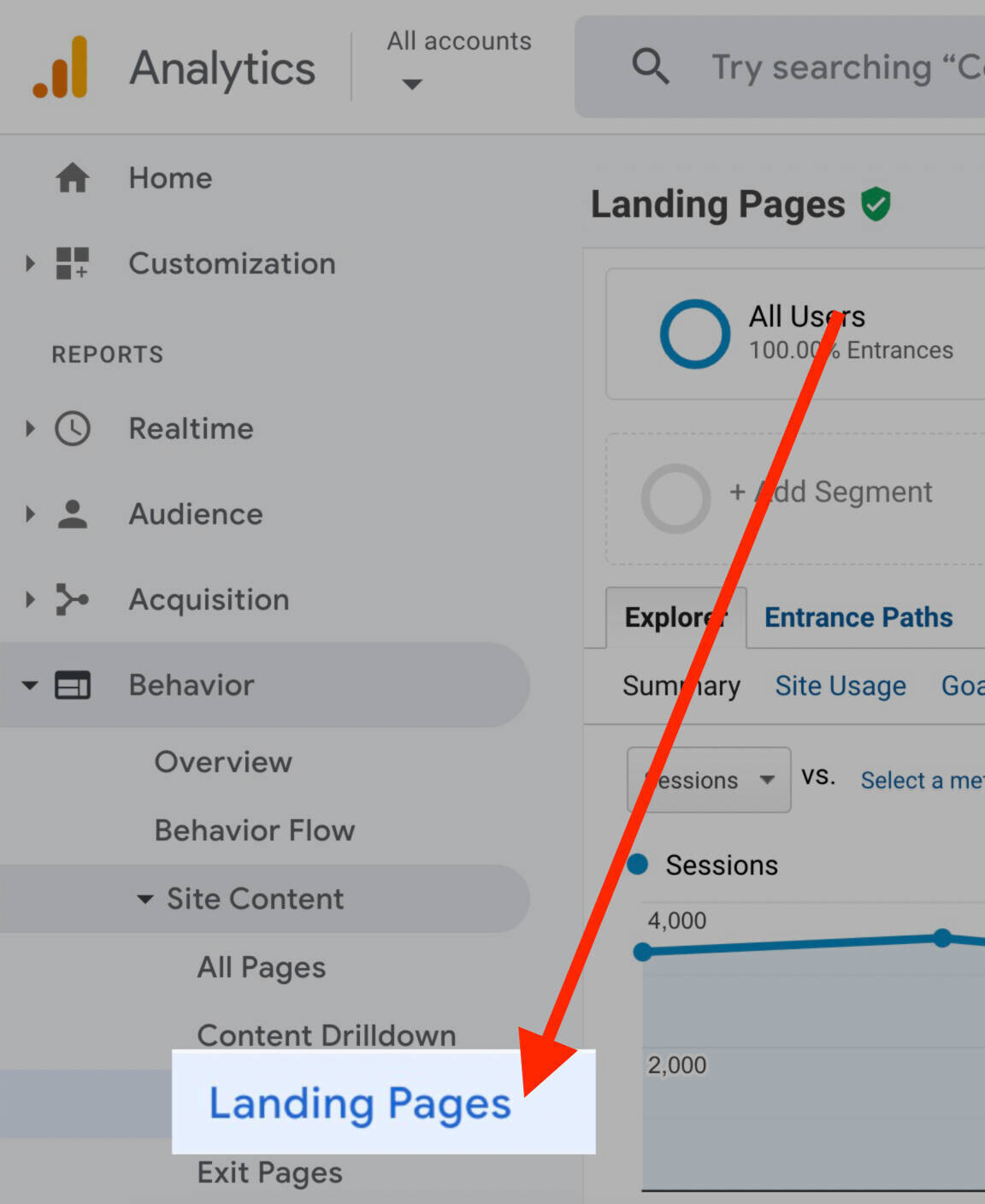 Then, add the "Organic Traffic" segment to just see traffic that comes from search engines.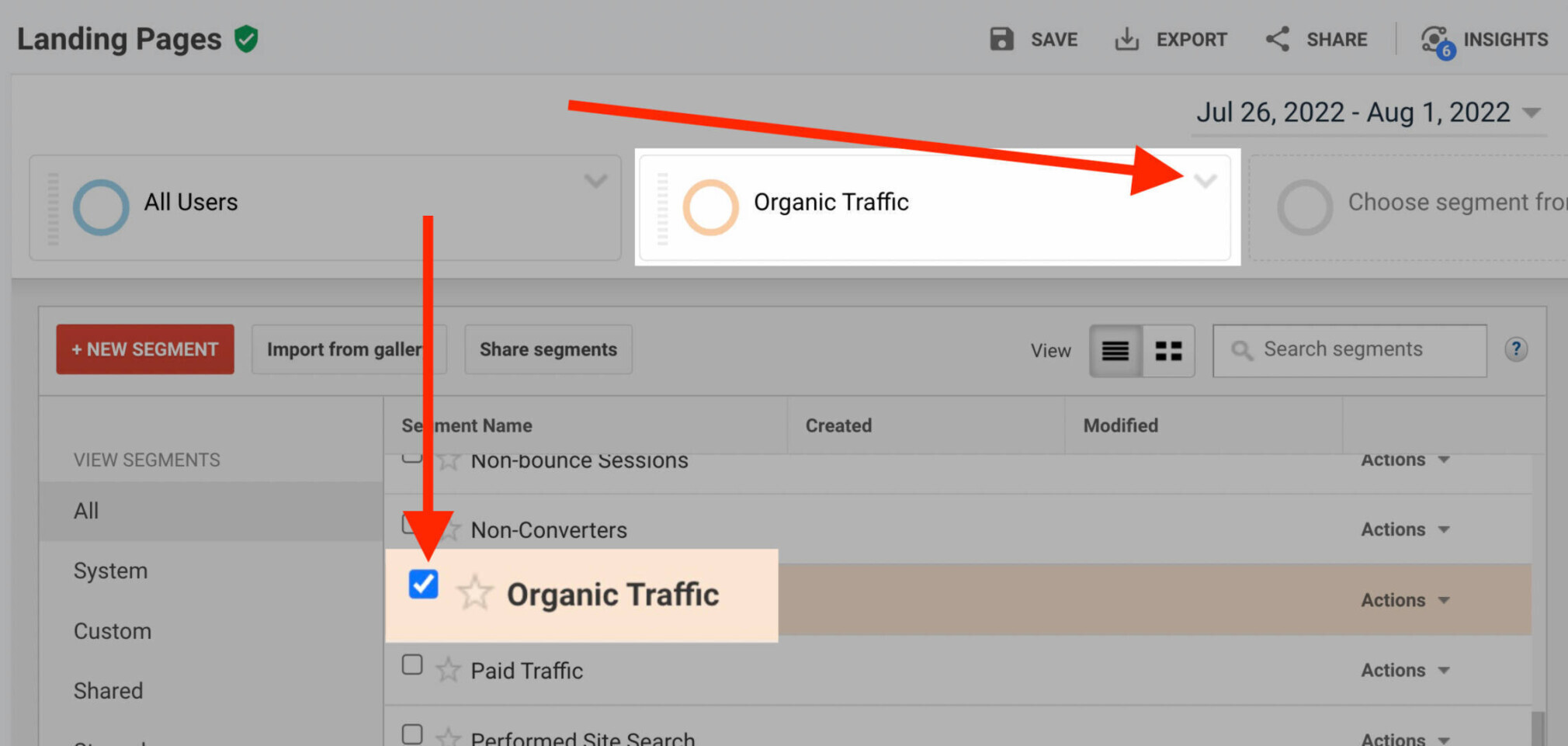 (You may want to bookmark this page. That way, you can easily access this report in the future.)
Traffic of all kinds (including referral, direct, and organic traffic) can fluctuate quite a bit on a day-to-day basis.
So you want to make sure you're tracking changes over the course of months.
For example, you can compare the last 90 days to the previous 90 days.
If you see an uptick, your SEO efforts are likely working. If not, you may need to try something new or scale up a bit more.
User Experience Metrics
Although probably not a direct Google ranking factor, it is important to see how users interact with your content.
And Google Analytics can help with this.
Specifically, pay attention to bounce rate (the number of users that "bounce" from your site without browning any other page):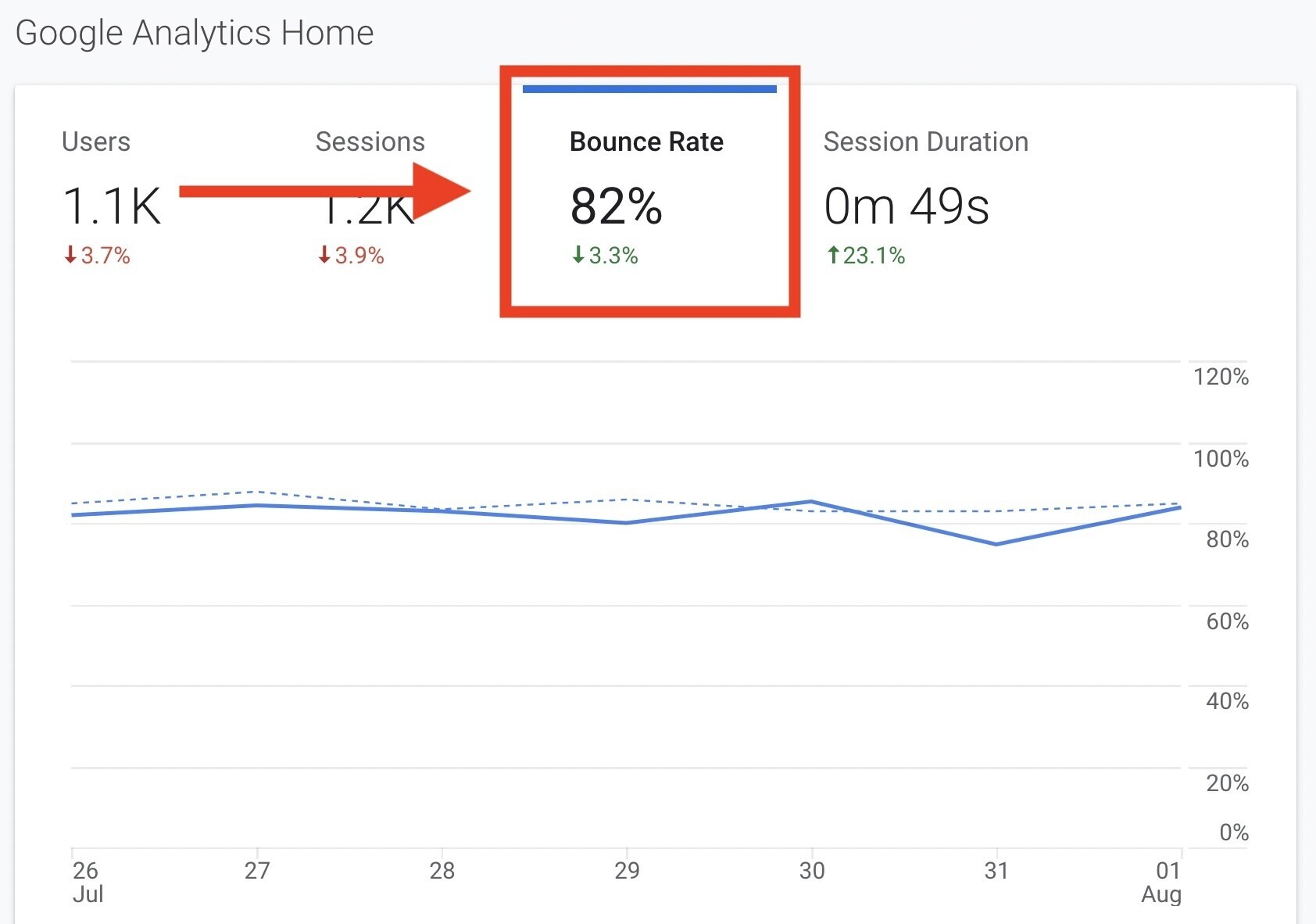 Avg. Session Duration (how long people generally spend on that page before leaving):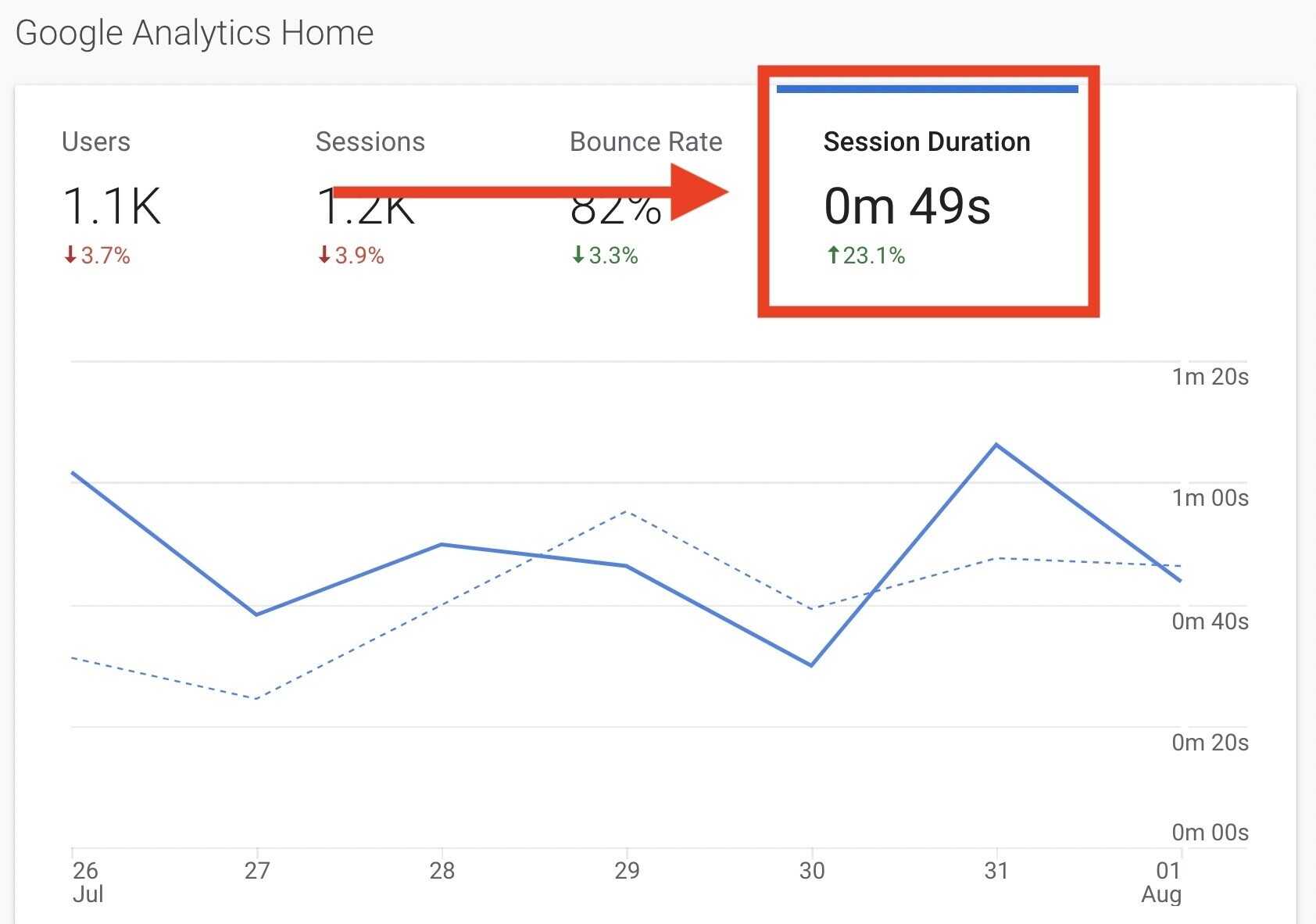 And Pages/Session (the number of other pages a user visits after landing on that page):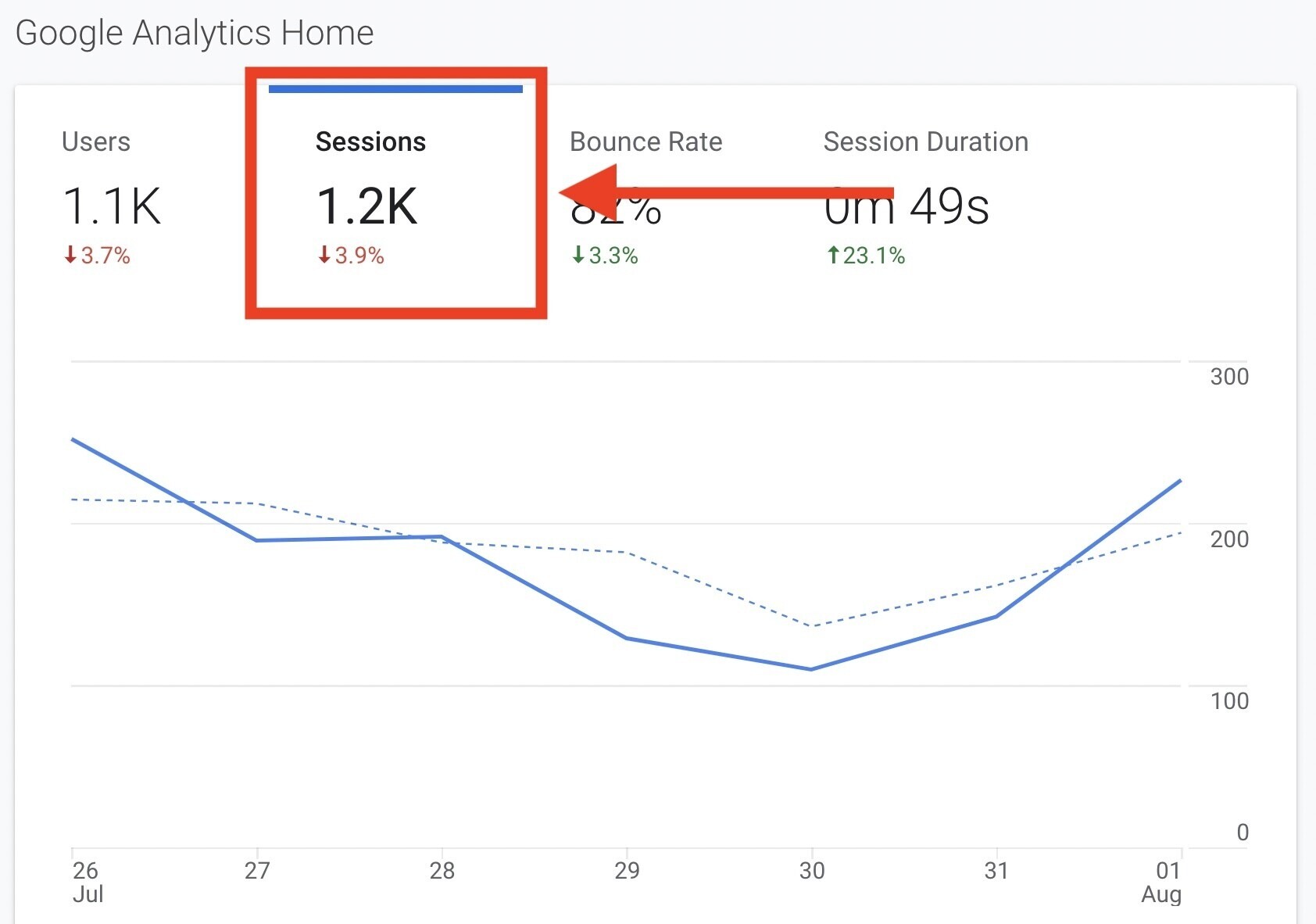 Note that there are no "good" or "bad" benchmarks here. These are more metrics to pay attention to as you make changes to your page.
If those metrics improve, your changes are likely having a positive impact on your site's UX.
7. Make Sure Your Site Is Mobile-Friendly
Recent industry studies indicate that 9 out of 10 people access the internet from a mobile phone.
And Google now uses an index that basically only counts the mobile version of your site. 
To see if your website is mobile-friendly, take Google's Mobile-Friendly Test.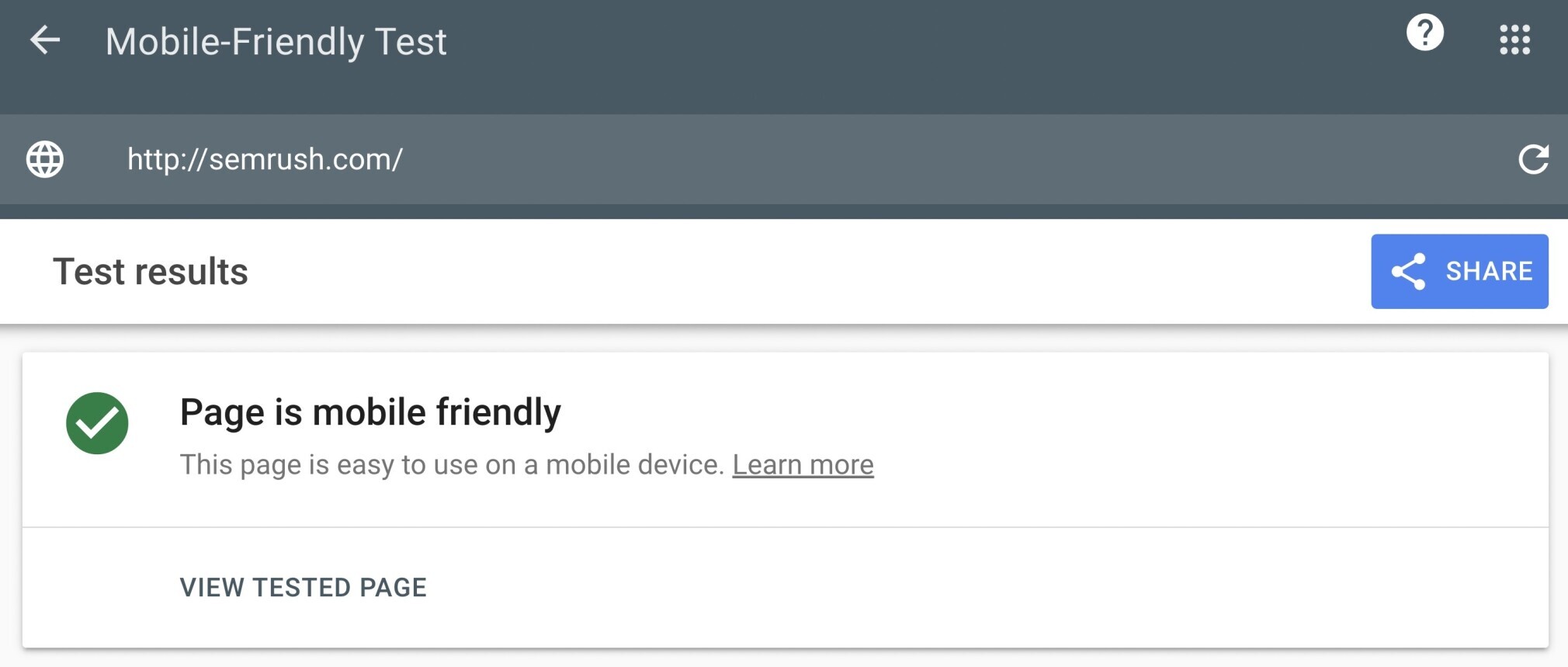 This is basically a "pass/fail" grade that you get.
However, whether or not your site is mobile-friendly is more nuanced than that. In other words, it's possible to pass Google's Mobile-Friendly Test… and have issues with your mobile UX.
For example: loading speed.
If your site loads slowly on mobile devices, it's probably not actually mobile-friendly.
You can see if your site is having loading speed issues in Search Console's Core Web Vitals report.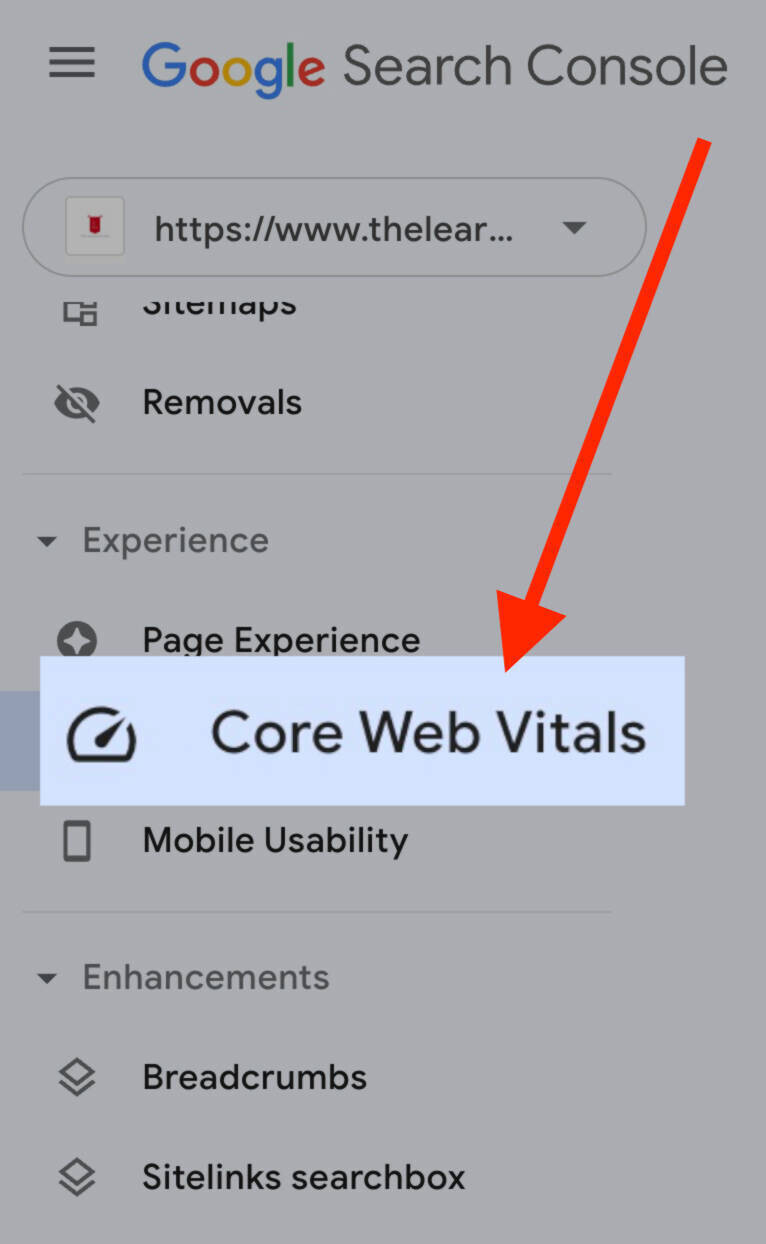 Search Console will also alert you about any mobile usability issues that it finds.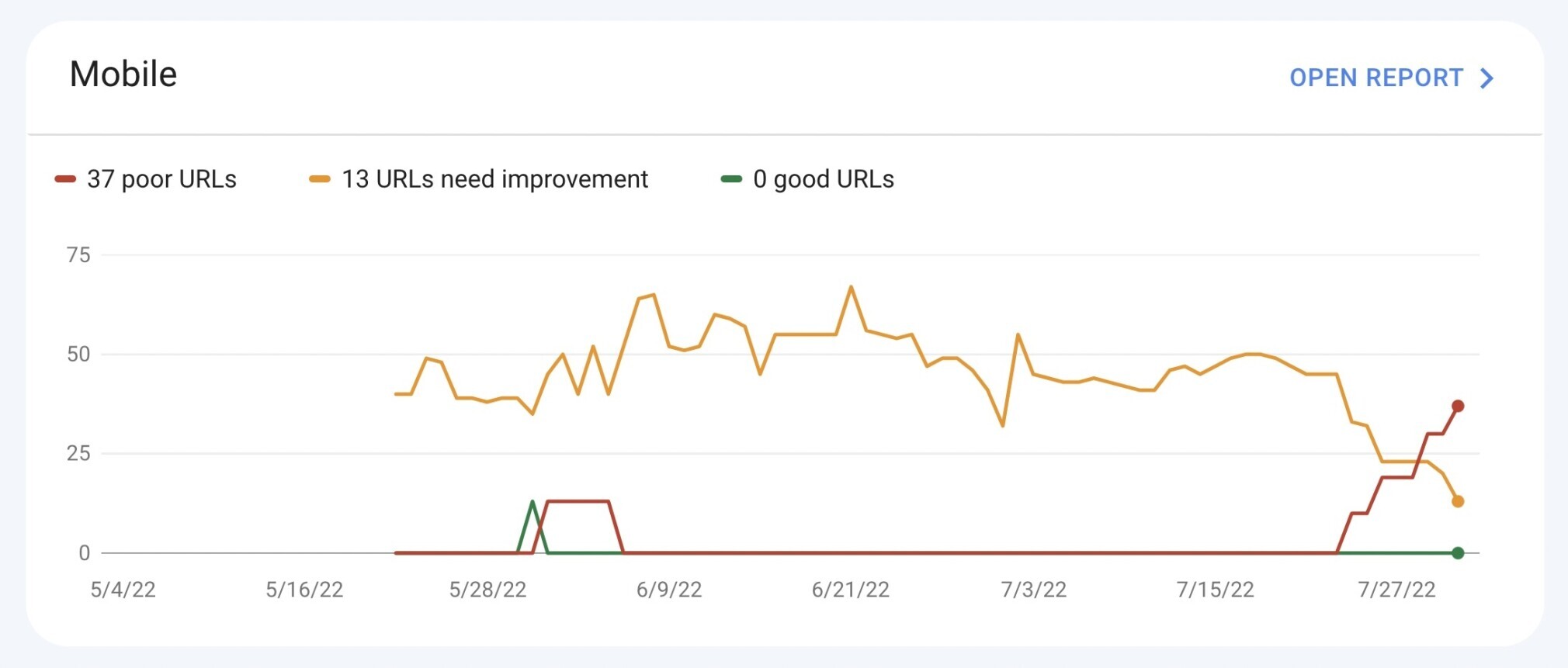 That way, you don't need to regularly check the Google Mobile-Friendly Testing tool.
How you tackle these issues depends a lot on the specific issue. And the technology that your site runs on.
For example, let's say you get the error "Clickable elements too close together" (a fairly common mobile usability issue).

Then you'd want to check with your developer to identify and fix the underlying cause. If you use a CMS like Wix or Webflow, you can also reach out to their support to help you solve the issue.
8. Optimize for On-Page SEO Factors
Quality content is, in many ways, the foundation of SEO.
But unless you optimize that quality content, it likely won't rank. 
Fortunately, on-page SEO isn't rocket science. It's essentially adding keywords strategically to your page.
Use Your Keyword In Your Title and In Your Article
It's important that your target keyword appears in your title tag. And a few times in your article.
For example, our post that's attempting to rank for "long-tail keywords" has that exact search term in the page's title tag:

And a handful of times in the body of the article: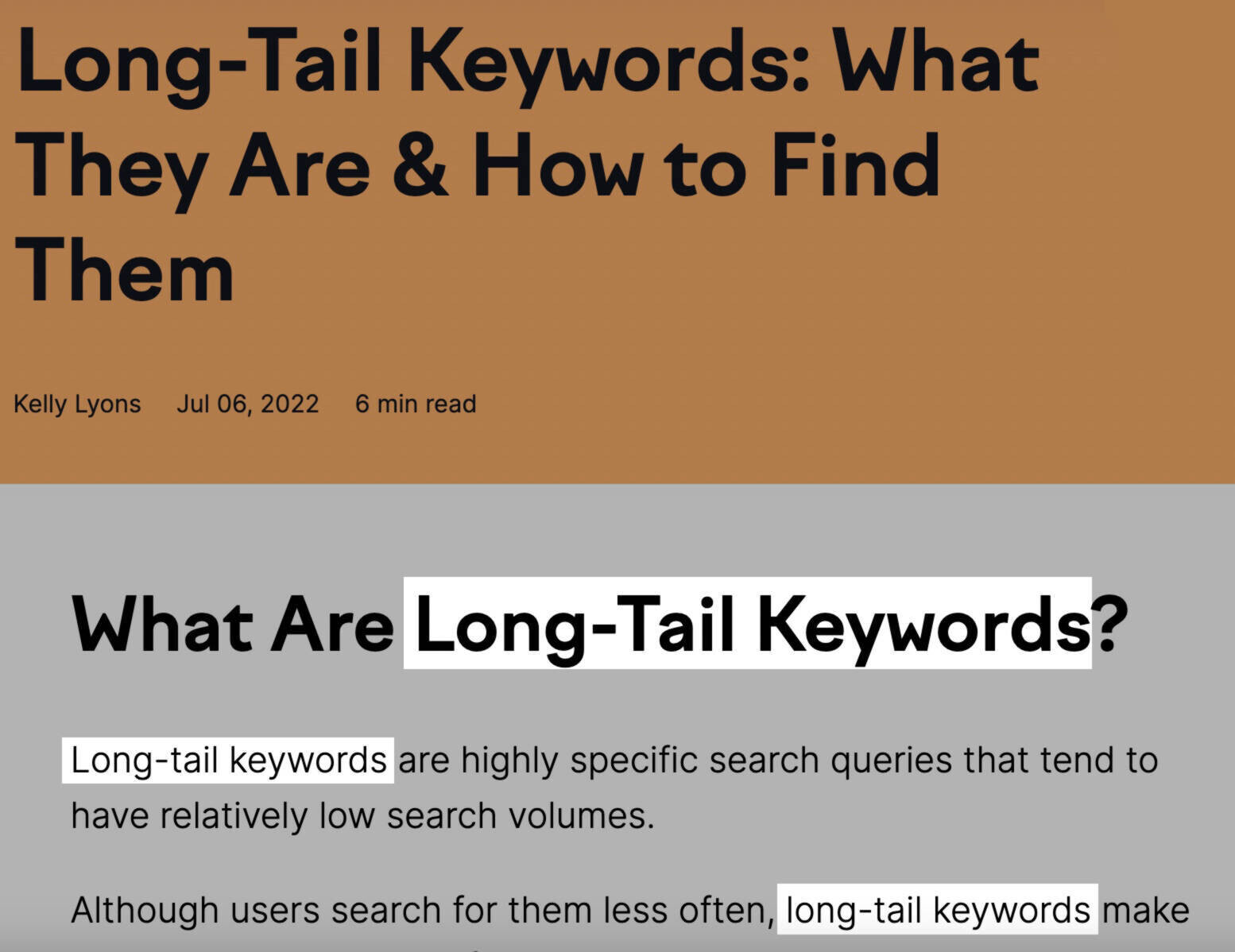 These two steps are literally 75% of on-page SEO. Everything else is more or less a bonus.
Pro tip: Use a tool like PageImprove to make on-page SEO updates directly in your browser.
Use Closely-Related Words and Phrases
Google is getting better and better at figuring out a page's topic without a ton of help. So there isn't really a need anymore to stuff keywords into your page. Or worry too much about things like including your target keyword in an H2 tag.
That said, including related words and phrases can help Google better understand what your page is about.
You can find these related terms in the "searches related to" area of Google's desktop search.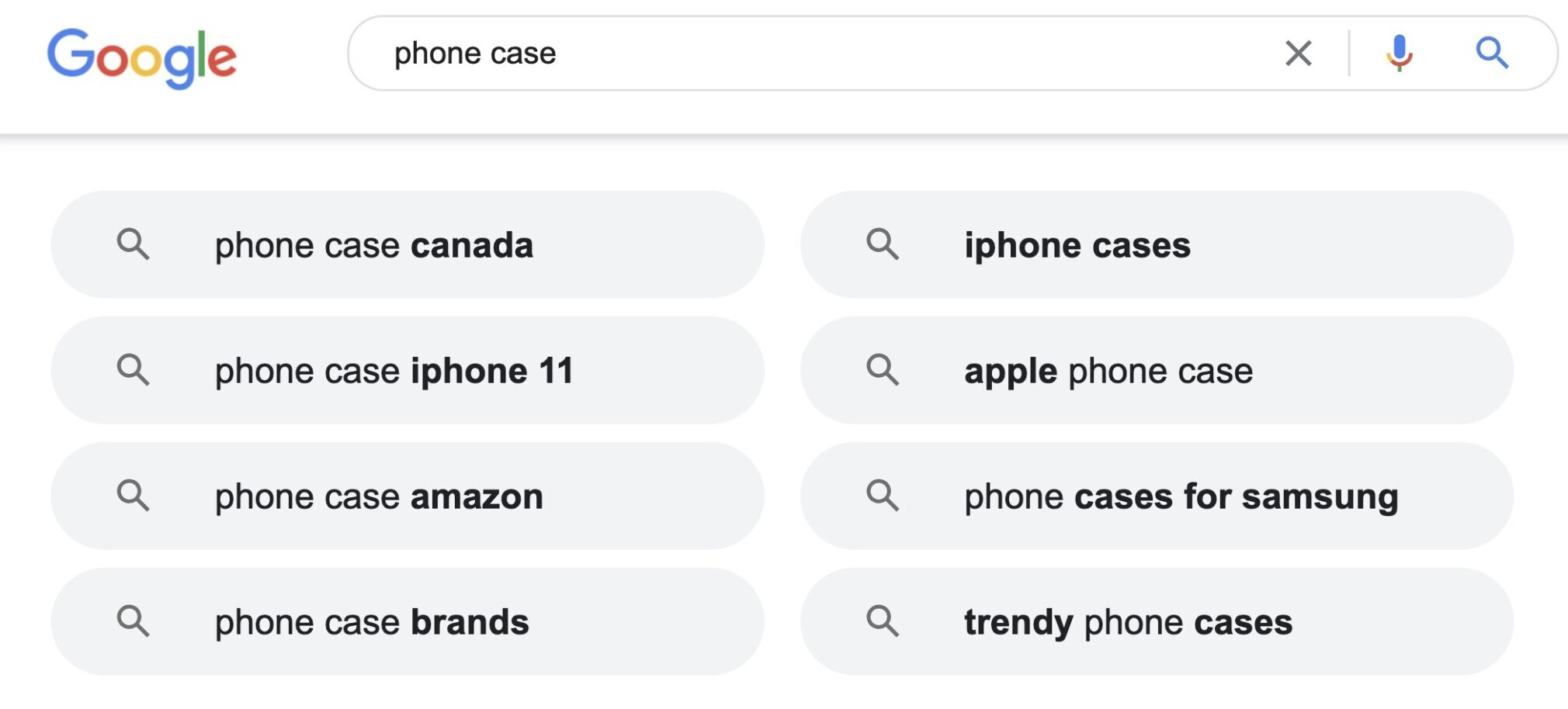 The bold words here are terms that Google considers highly relevant to your search term. So it makes sense to include them in your article.
The Semrush On Page SEO checker also reveals semantically-related terms that you might want to sprinkle into your content.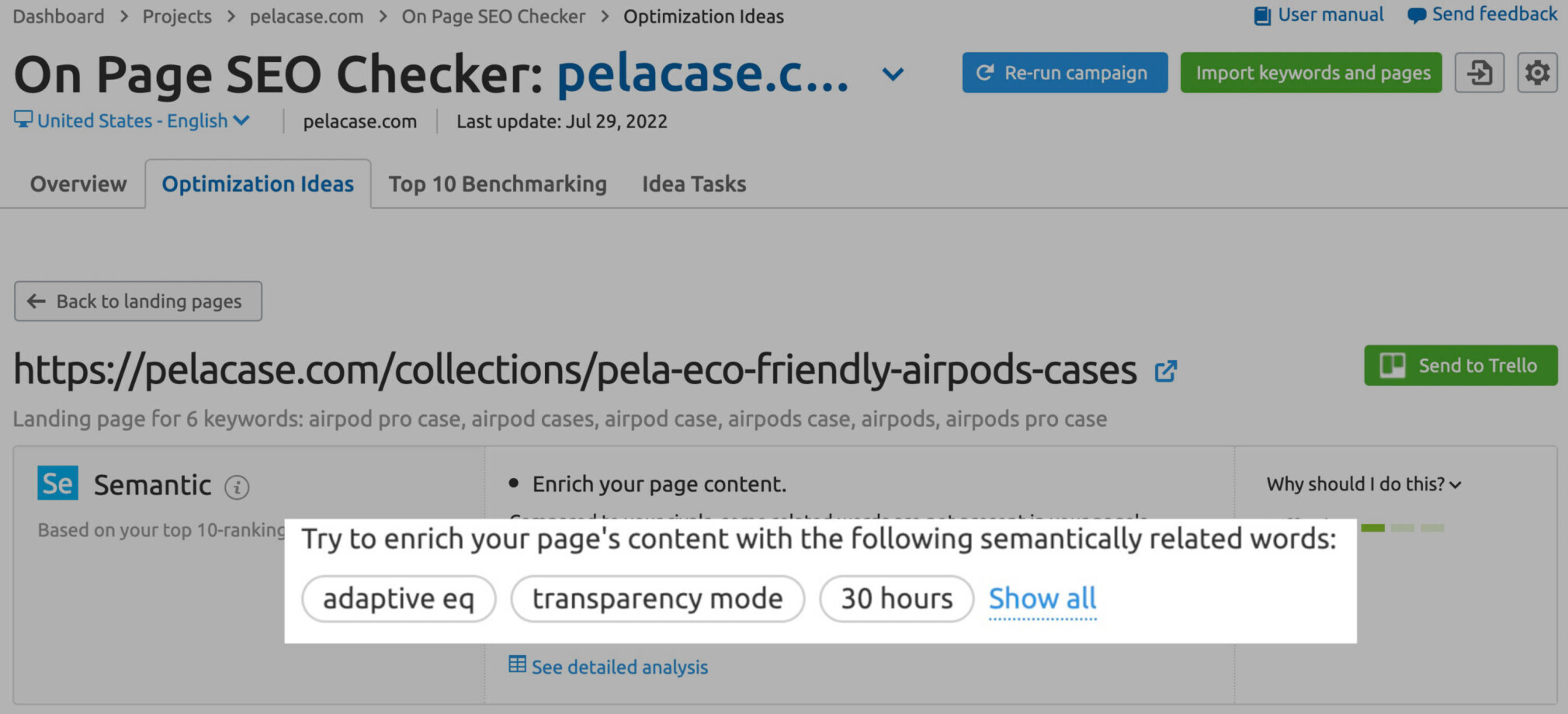 Semrush sources these keywords from the top-10 ranking URLs for the main keyword you've chosen to target with your page.
9. Decrease Load Times
According to Google, "speed equals revenue."
That's because a slow-loading website can increase your bounce rate and decrease chances that users convert.
As it turns out, website loading speed is also a Google ranking factor.
To test your site's speed for both desktop and mobile, enter your site into Google's PageSpeed Insights page. 

This report will show you how quickly your site loads. And specific areas for improvement. 
For example, we entered one of our blog posts into this tool.
Fortunately, we passed.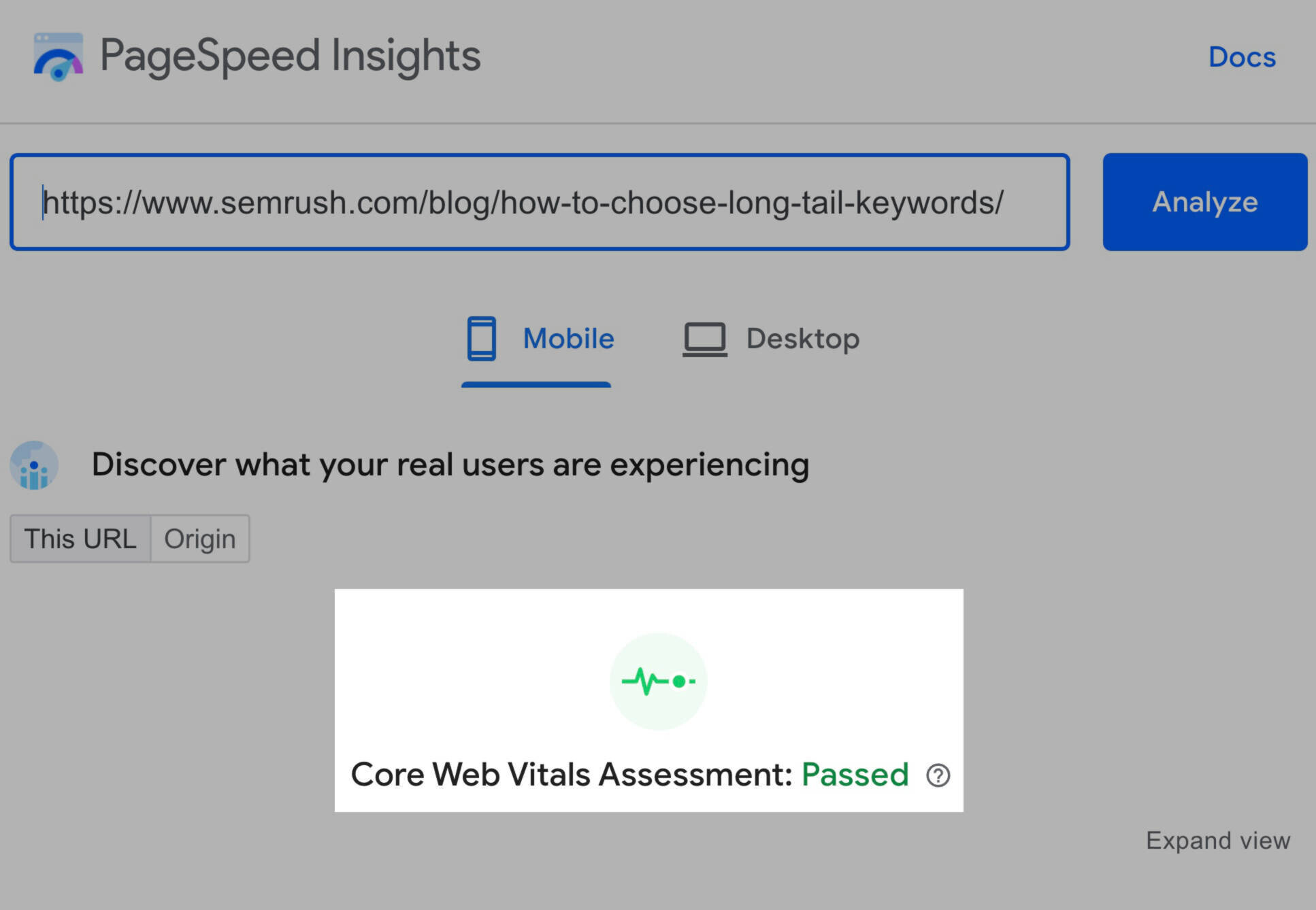 But like almost any webpage, there were areas to improve.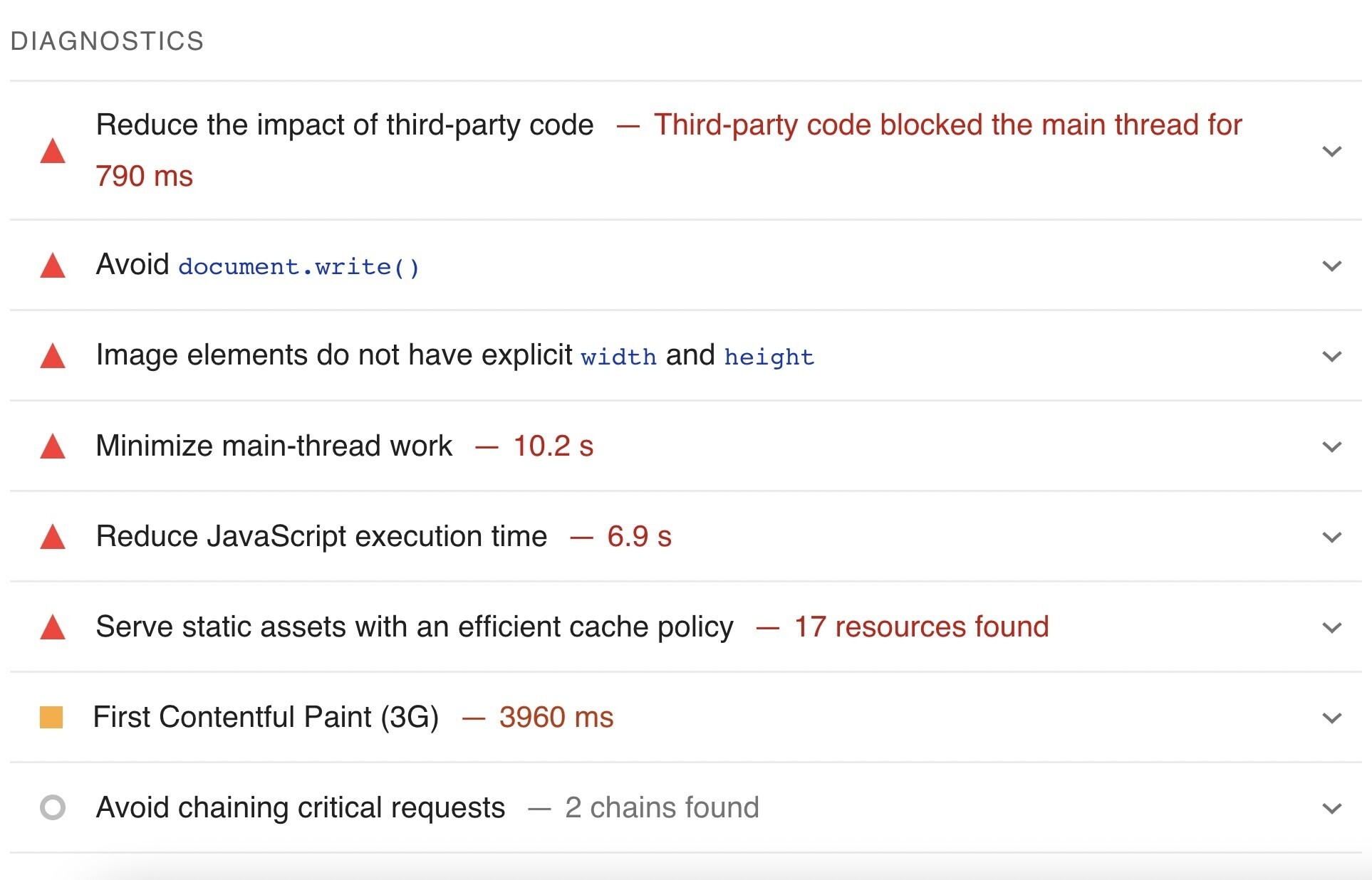 As you can see, this tool doesn't just tell you where you're lacking. It literally tells you exactly how to boost your loading speed.

10. Improve Local SEO
46% of Google search queries are on the hunt for local info.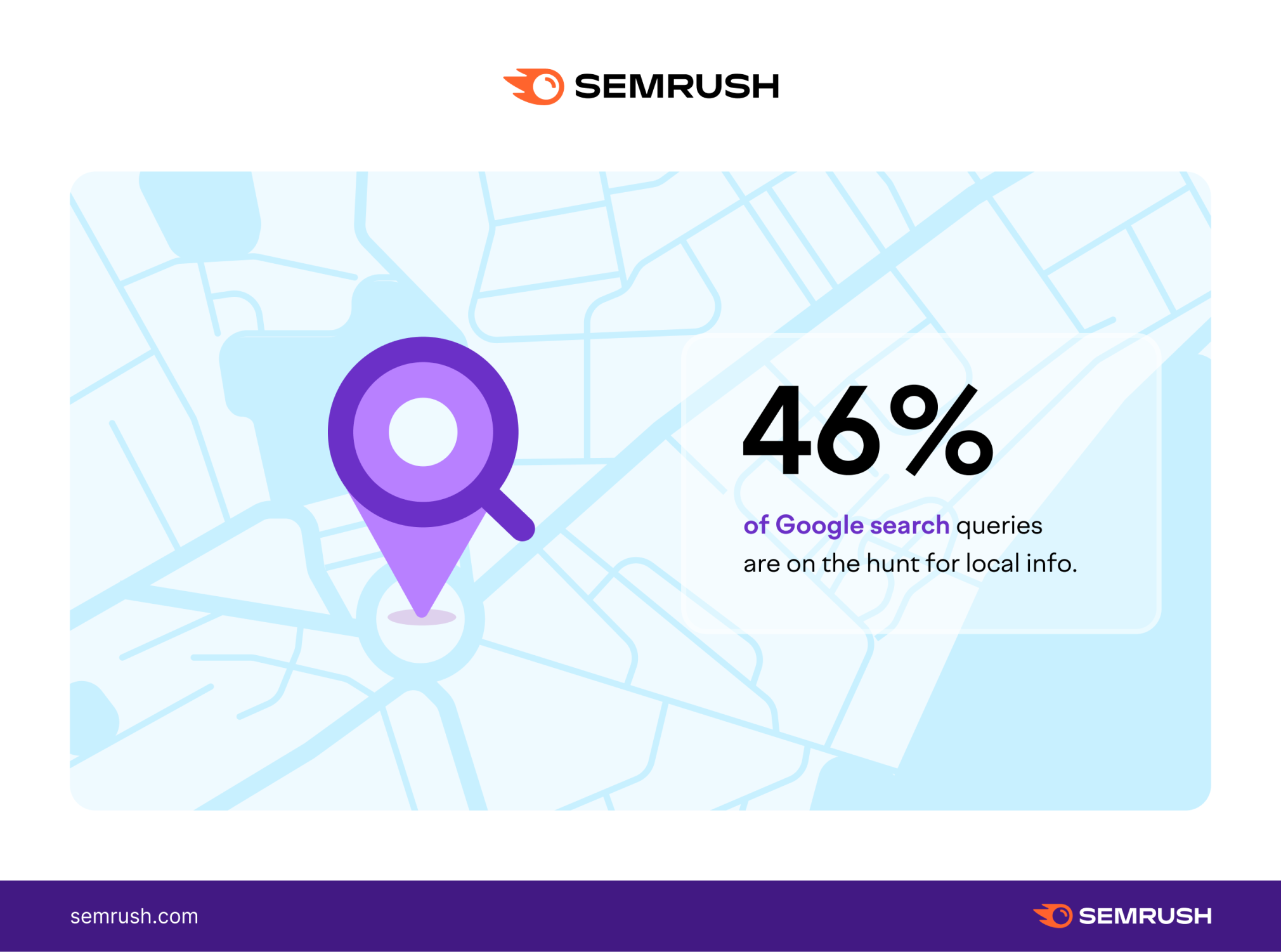 So if you serve a specific geographic area, local SEO is super important (perhaps even more important than "regular" SEO.)
But what is local SEO, exactly? And what steps can you take to improve it?
Local SEO is an SEO strategy that helps your business appear in local search results.
Local search queries typically bring up "the map pack" or "the local pack," which includes Google Maps results, local business listings results, and organic search results.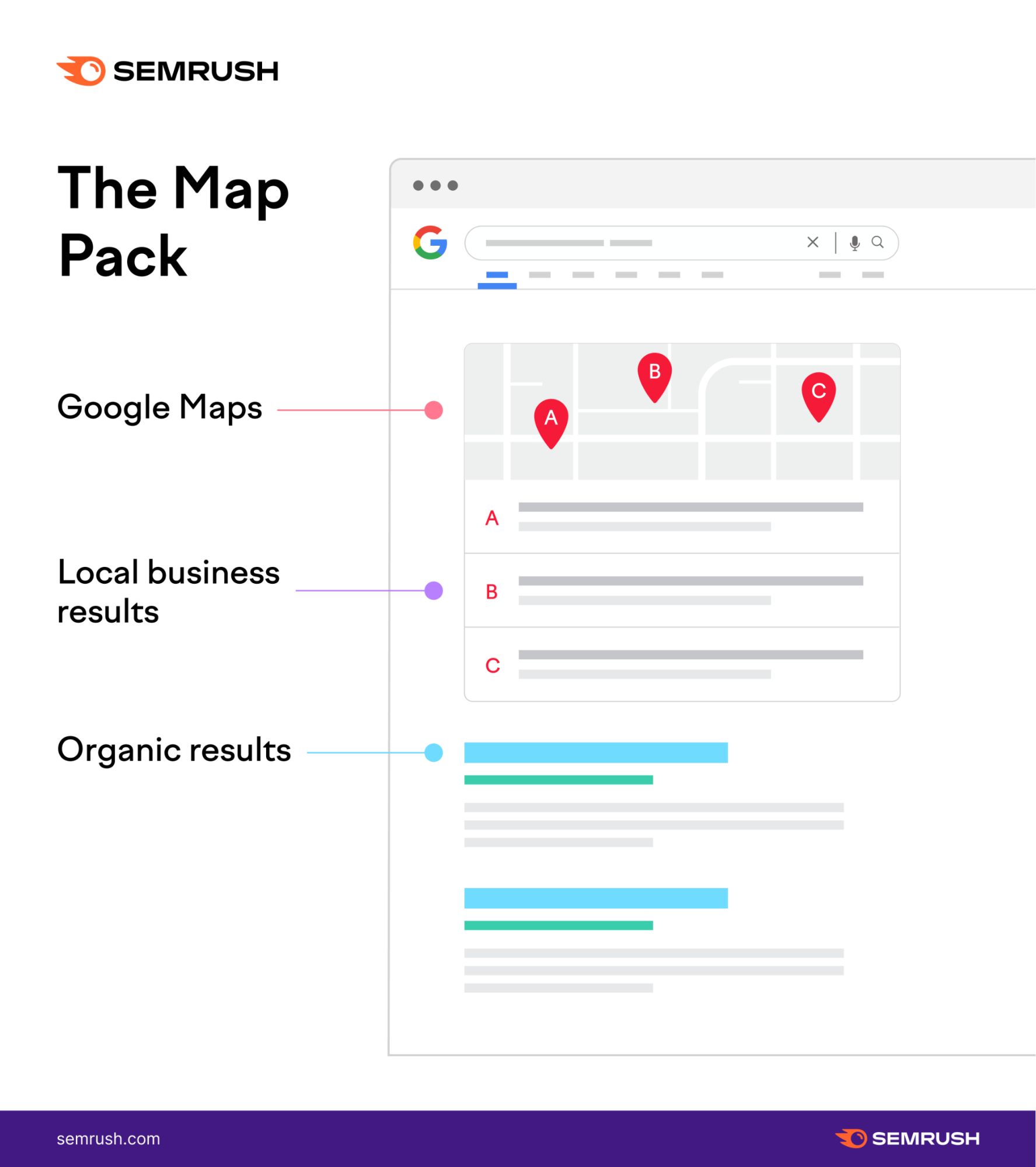 Ideally, your business should show up here when local users search for a term that describes your business.
Here are some of our top recommendations for optimizing for local search:
Make sure your contact information is consistent and edit your Google business listing if not
Add weekly posts or offers to your Google Business Profile
Respond to reviews
Create location pages for your website
Optimize your website for local keywords
Ensure your online directory citations (specifically, your name, address, and phone number) are consistent across the web
If you want to learn more about local SEO, this huge guide from Backlinko might be worth checking out. 
11. Use Internal Linking
When done right, internal linking can make a significant dent in your search engine rankings.
Internal links are just like they sound: links that point to other pages on the same website.

Each internal link sends some authority from one page to another.
Which is why you want to strategically use them to send authority to pages that need it most.
For example, our post is currently ranking #5 for the keyword "technical SEO."
To give that page a boost, we'd want to find a high-authority page on the Semrush domain.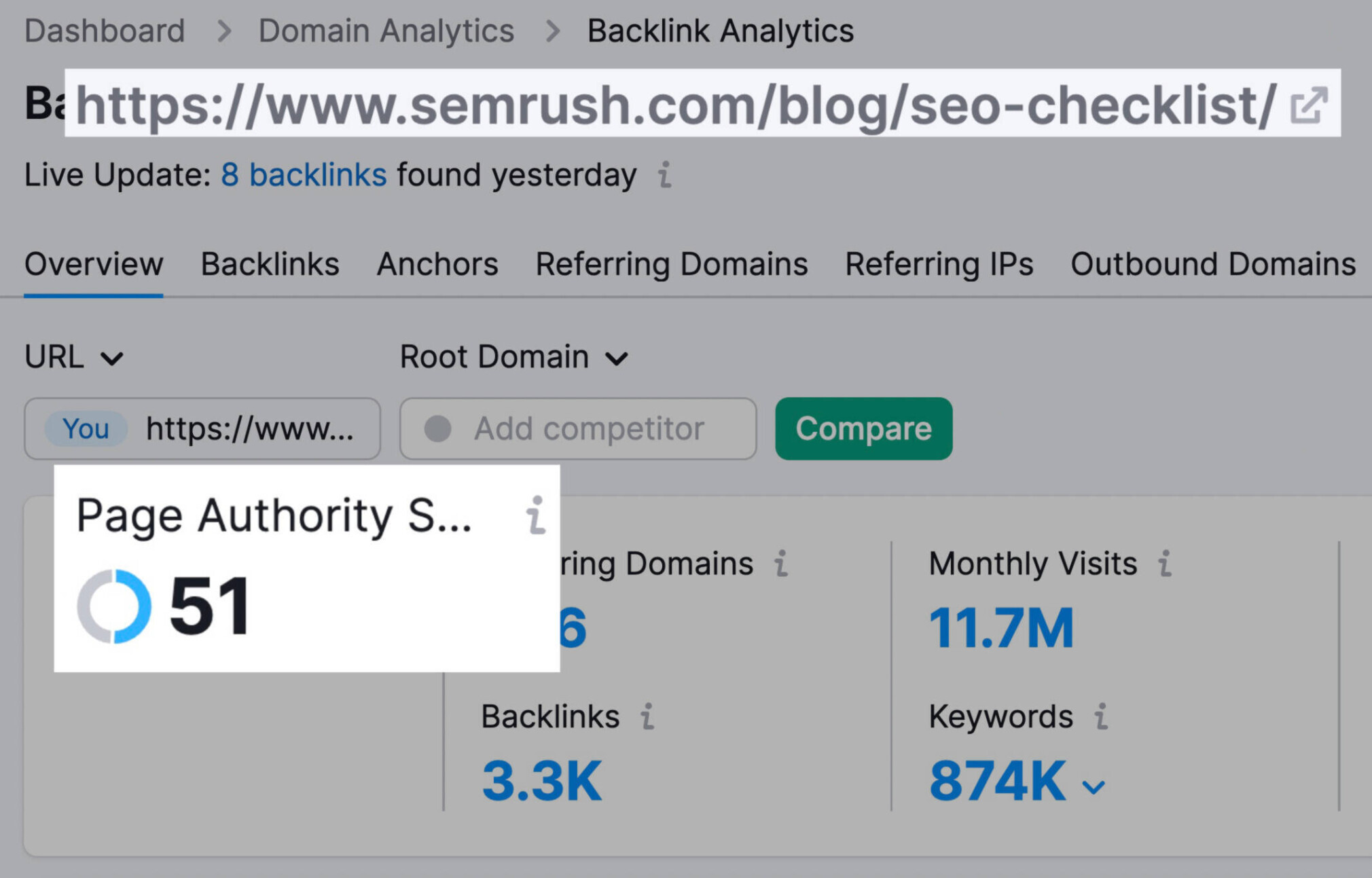 And internal link to our page about "technical SEO." Ideally, with anchor text that contains our target keyword. 

Rinse and repeat for all pages on your site that need a rankings boost. 
Use Our SEO Checklist
Even though you can't drastically increase your rankings overnight, you can make minor adjustments to gradually improve your SEO over the long term. 
Keep it going by following our ultimate SEO checklist next, which includes 41 best practices that can help improve your Google rankings.