What Is Real Estate SEO?
Real estate SEO uses a set of processes aimed at improving your real estate website's visibility on search engine results pages (SERPs). This makes it easier for potential homebuyers and sellers to find you.
The real estate search engine optimization correlation is simple—the higher you rank in search results, the more people will visit your page.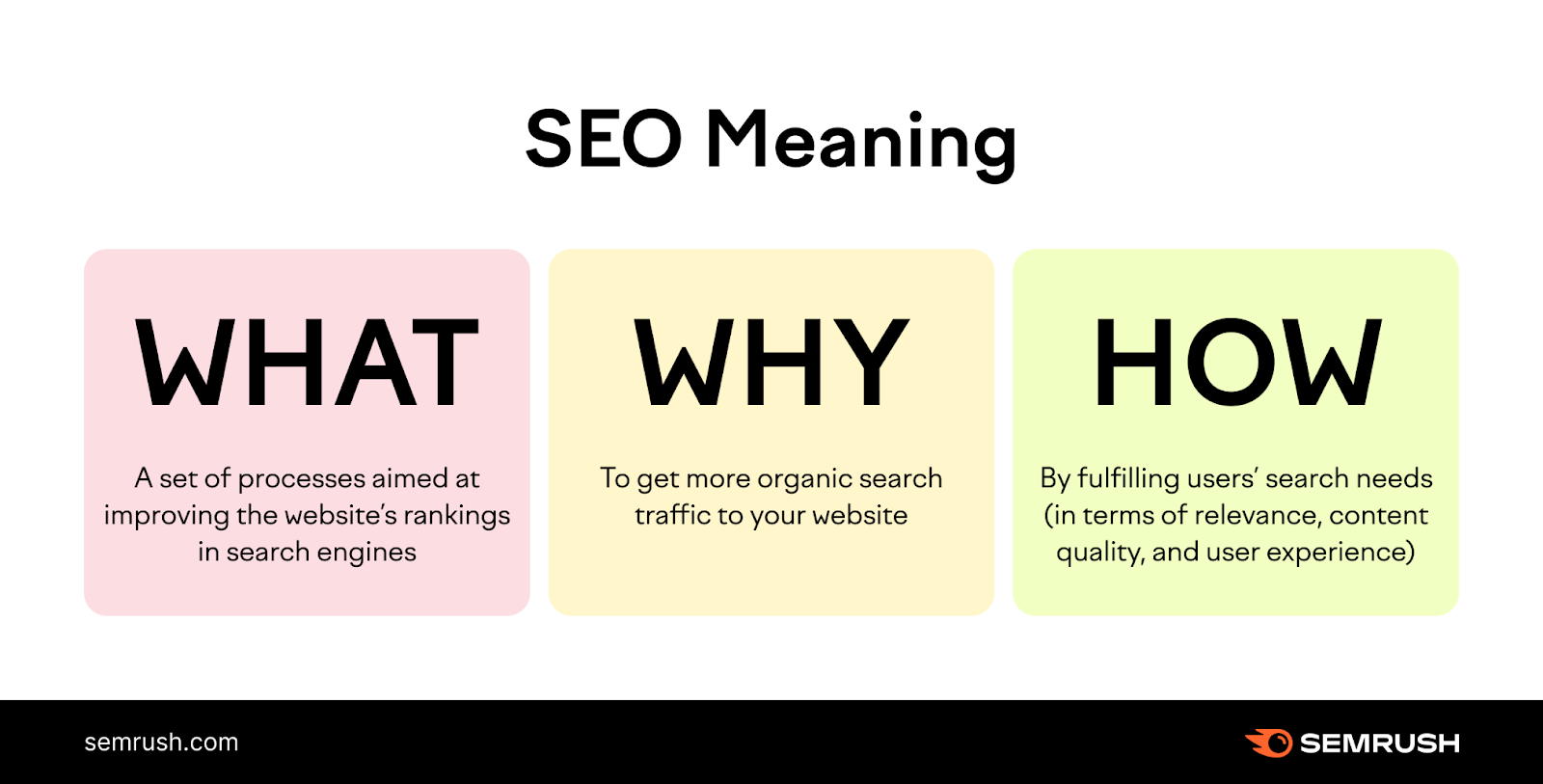 The real estate industry revolves around building relationships with customers in your local area. Online, it's a little trickier. The pool of potential customers (and competitors) is a lot bigger.
Luckily, using SEO real estate tactics (or SEO for estate agents if you're in the United Kingdom) helps potential clients find you when they're ready to buy or sell a home.
We'll focus mainly on Google for this article since it has the largest search volume of any search engine. 
4 Types of Real Estate Search Engine Optimization
When it comes to SEO for real estate agents, there are four areas to consider:
We'll cover strategies for all of these SEO types. But local SEO will be the main focus for real estate marketing because you're a physical business selling properties in your local area.
Why You Should Use an SEO Strategy for Real Estate
Around 99% of homebuyers between the ages of 23 and 56 use the internet as part of their home-buying process.
This means your customers are looking for their next home online. Without an online presence, you could be missing out on potential clients.
According to the National Association of Realtors (NAR), 51% of buyers found their home on the internet in 2022. While 29% found their home through a real estate agent.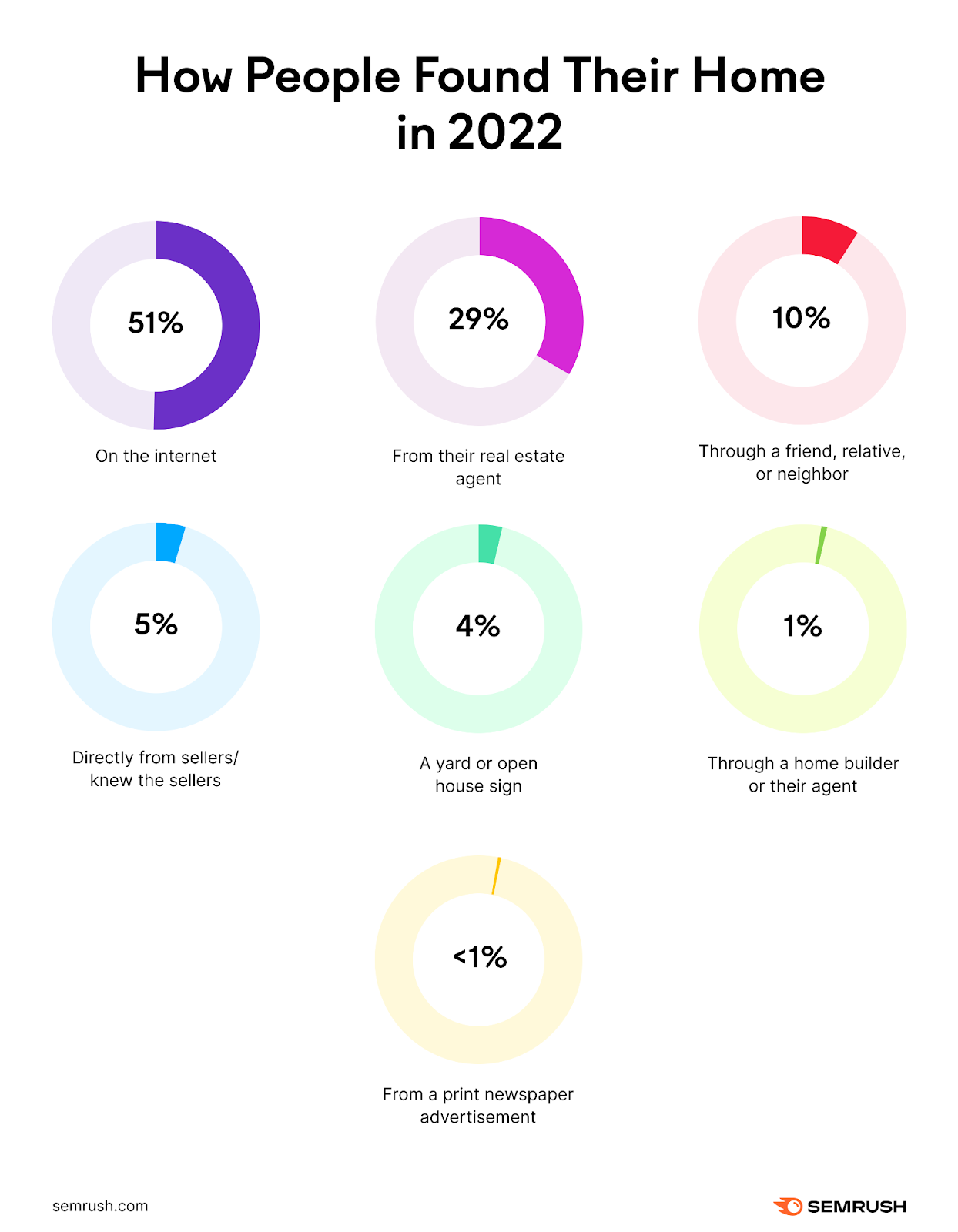 Other methods were less popular:
Through a friend, relative, or neighbor (10%)
Directly from sellers/knew the sellers (5%)
A yard or open house sign (4%)
Through a home builder or their agent (1%)
From a print newspaper advertisement ( <1%)
Real estate SEO combines the two most popular ways to find your home today. It lets you target customers actively searching for real estate content online.
SEO is a long-term strategy. But it can be low-cost, particularly when compared to Google Ads, direct mail printing, or branded merchandise.
For example, real estate direct mail services can cost over $1 each. Custom key tags start at 50 cents each. At these prices, even a small marketing campaign can quickly add up. 
Instead of spending money on expensive campaigns, we'll teach you a few real estate SEO tips.
7 Tips for Your Real Estate SEO Strategy
1. Start with an Optimized Real Estate Website
One of the most common real estate website SEO issues is site speed.
Most real estate sites are image heavy. Too many high-quality images can slow down a site. And a slow, low-quality website won't provide a good user experience (UX).
You can fix this by using a service like Shortpixel to compress your images. Smaller file sizes mean they'll load faster.
If your site is still slow after compressing images, other technical SEO tactics include:
Semrush's Site Audit tool can uncover the highest-priority technical issues for your real estate site.
Simply enter your domain and you'll get a prioritized list of problems and recommendations, like this: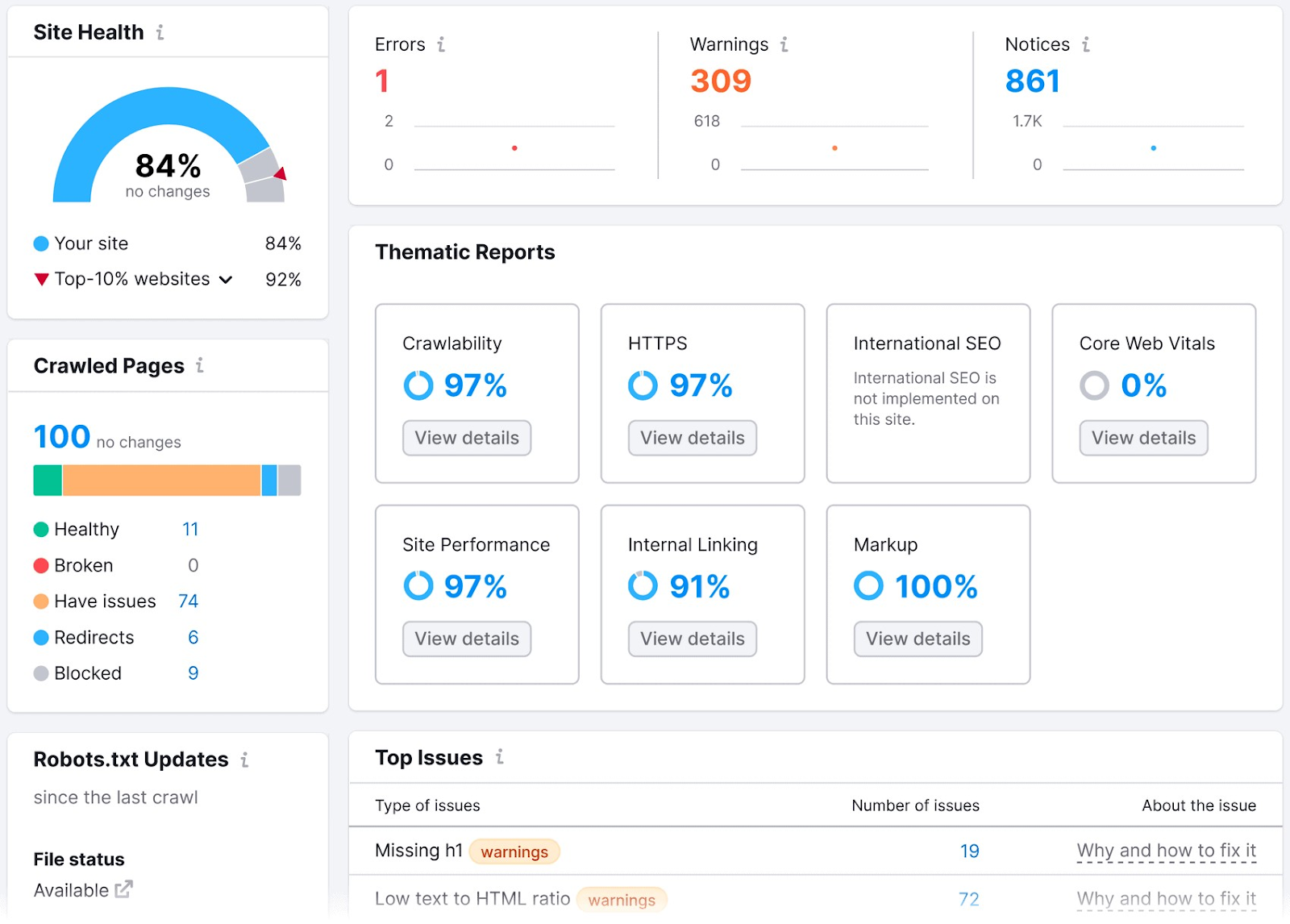 You'll also get tips on how to fix each problem.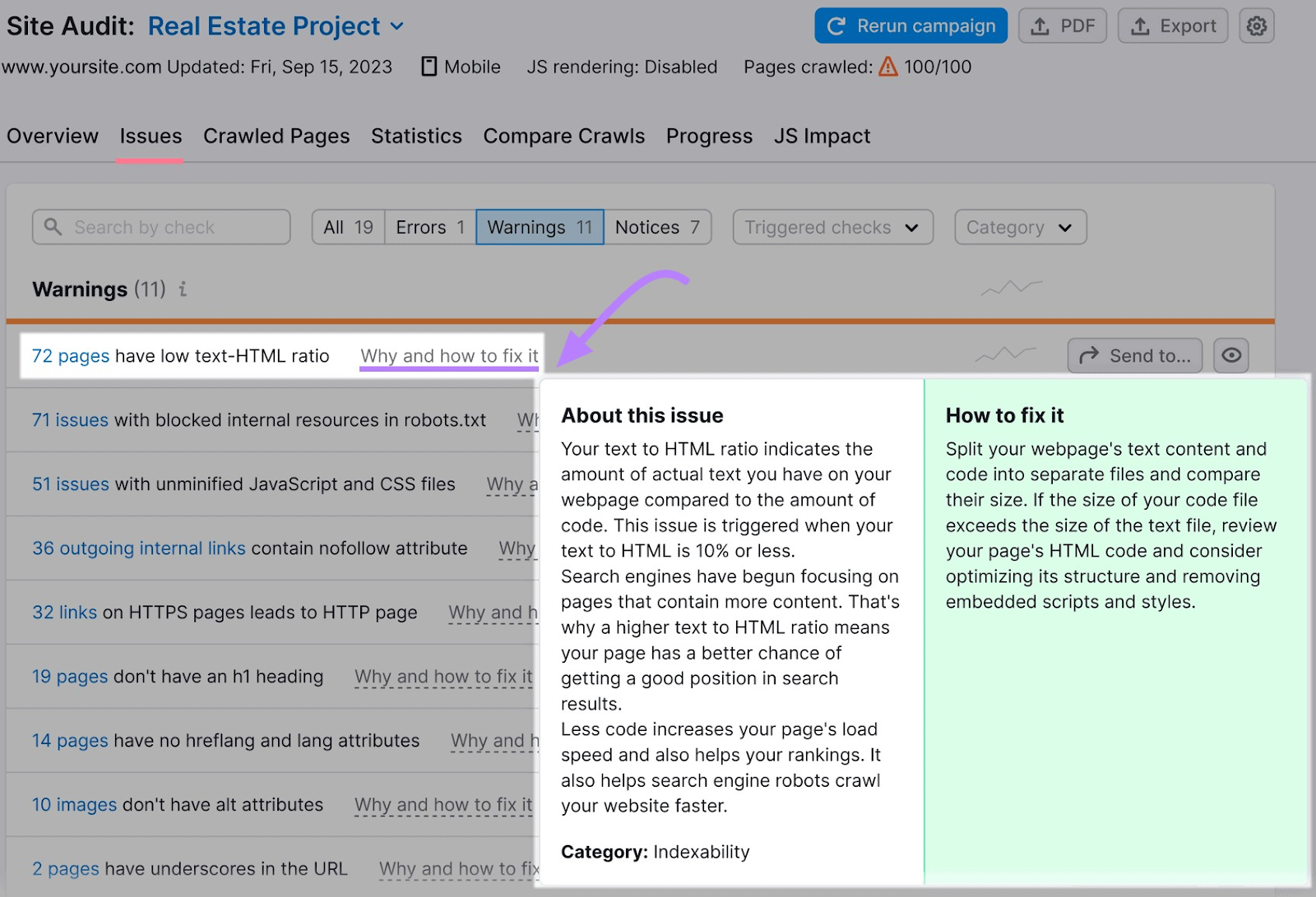 And if you want to delegate some of these tasks to your team members, you can export and share them.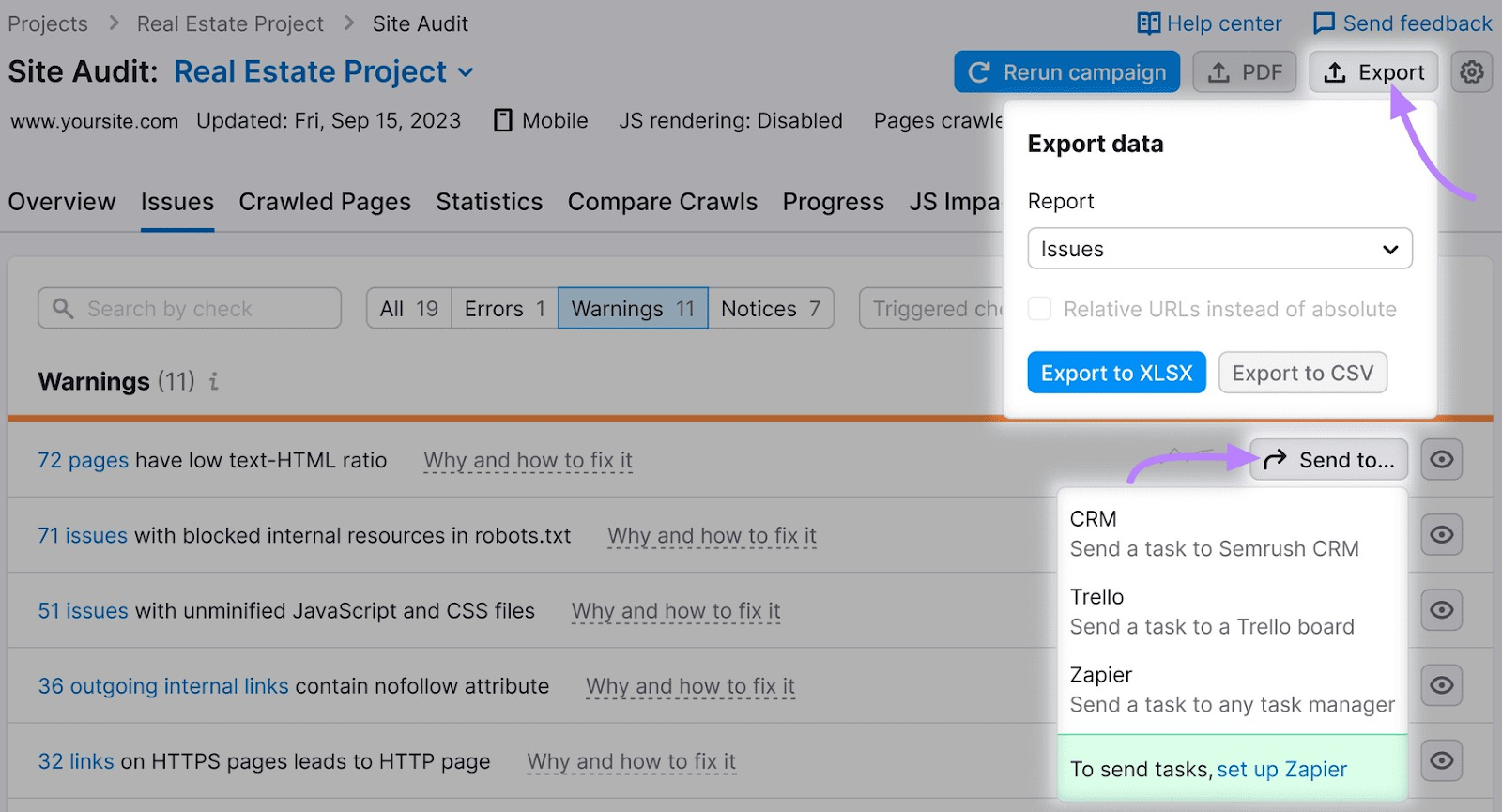 Plus, you can set up a daily or weekly email with any major changes to your site to stay informed.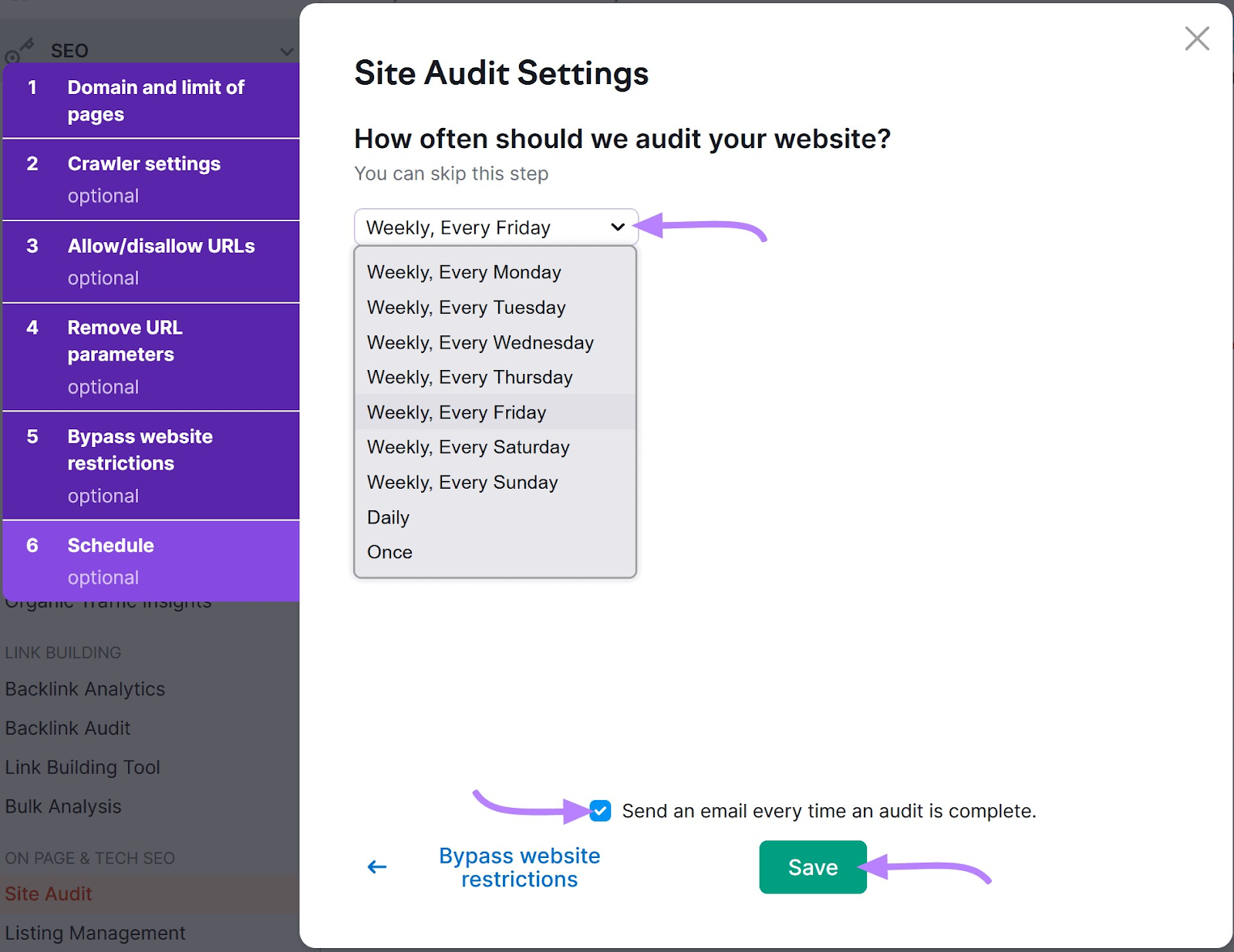 2. Target the Right (Local) Keywords
Keyword research is the process of finding and analyzing real estate terms your target audience is typing into search engines. It helps you outpace your competition by appearing as a knowledgeable source on key topics. 
Semrush's Keyword Magic Tool can take the guesswork out of keyword research. By searching our database of 25 billion keywords, you can find the most relevant ideas for your content.
Keyword Magic will tell you how difficult a keyword is to rank for. It will also show you its level of interest in the last 12 months, and even search intent.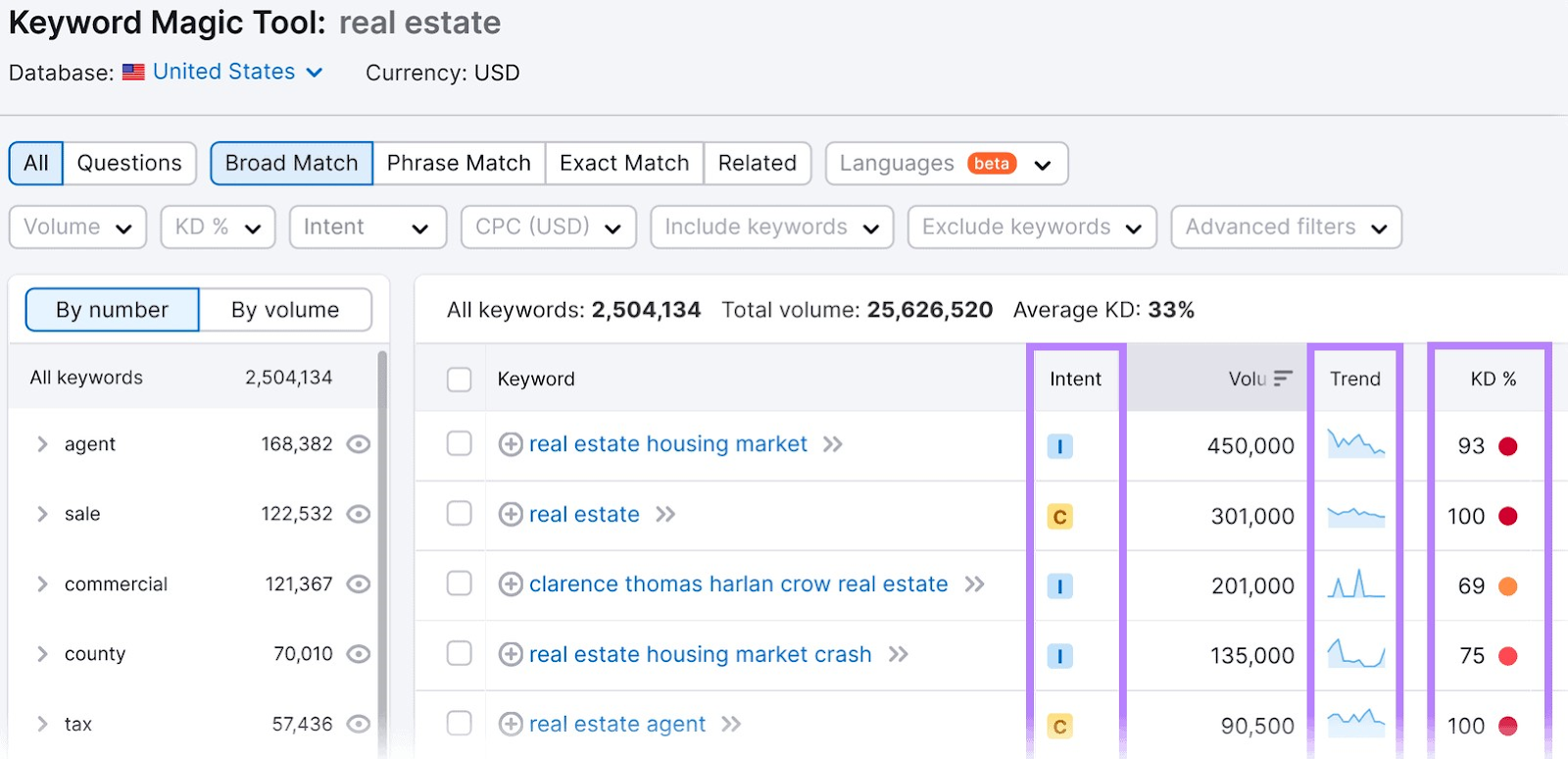 The easiest types of SEO keywords to target as a real estate agent are long-tail keywords. These are highly specific phrases with lower search volumes.
They're worth targeting because long-tail keywords are:
Easier to rank for with a lower KD (keyword difficulty)
Search terms used by motivated buyers and sellers in your local market
You'll find plenty of long-tail keywords related to real estate with varying levels of search volume and KD. Like in this example for "real estate" narrowed by "lake":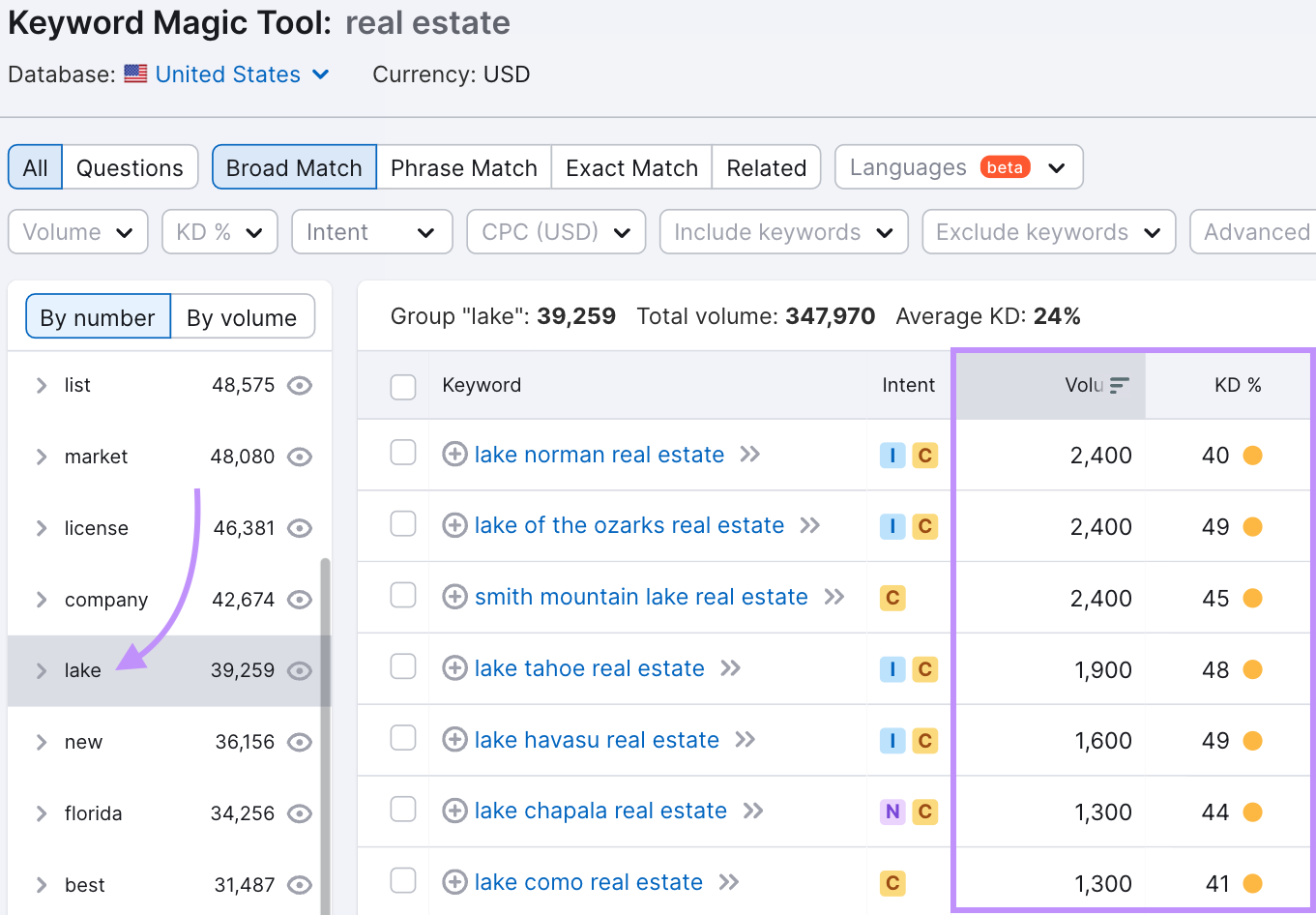 Aiming for those with high search volume and low keyword difficulty gives you the best chance of ranking high on the SERPs. 
Semrush also has four other keyword research tools that can help you create an in-depth strategy for SEO in real estate:
Once you have your keywords, use them in relevant listings and listing pages on your site to help searchers find what they're looking for.
Tip: Use our on-page SEO checklist to help you place keywords on your site.
Then, it's time to create content. 
3. Create High-Value Content 
Real estate-focused SEO can turn your website into an authoritative resource for expert content.
Creating consistently high-value content marketing engages your audience and converts them into clients. It takes time and resources, but it's a worthwhile investment.
If you're new to content creation, start off with a blog. You can use Google Docs and a WordPress site to get started—both are free. If you're with a real estate company or agency, check with your site administrator or marketing team for next steps.
Then use the keyword research tactics above to write articles related to your local area. 
Each piece of content on your blog should include the following:
Several hundred words written for humans first (i.e., targeted keywords should flow naturally in your writing). Top-quality content is every search engine's most important ranking factor.
A keyword-optimized title to help searchers find you and understand the relevance of your article.
Structured headings with text directly underneath that answers the search query—these can help you nab coveted featured snippets and make scanning easier.
A meta description and title tag. These hypertext markup language (HTML) elements summarize a webpage's content and tell search engines what to display in SERPs.
Alt text (alternative text)on visuals to provide context for people using screen readers and for search engine crawlers.
Internal links to other important pages on your site. This helps both users and search engines navigate your website. 
Include visuals on your site wherever possible. Articles and landing pages with plenty of images and video content create a rich user experience.
You could include property layouts or virtual tours. For example, here's a property tour from Living In Bakersfield that includes their website, phone number, and email: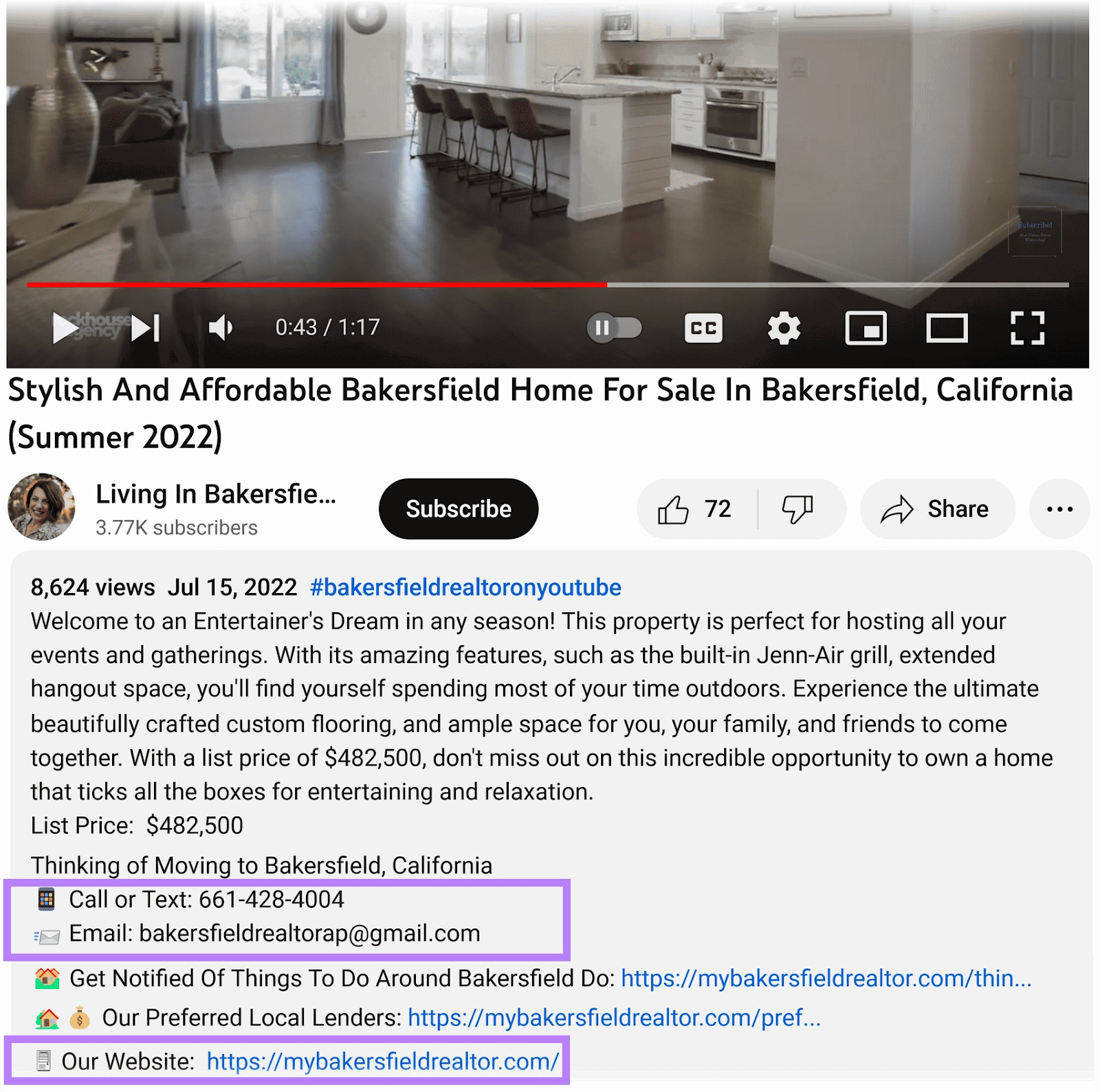 Keep in mind any content that isn't hosted on your website (e.g., social media posts) can still create brand awareness. So, it's worth creating a content mix of blogs, social media posts, videos, and more.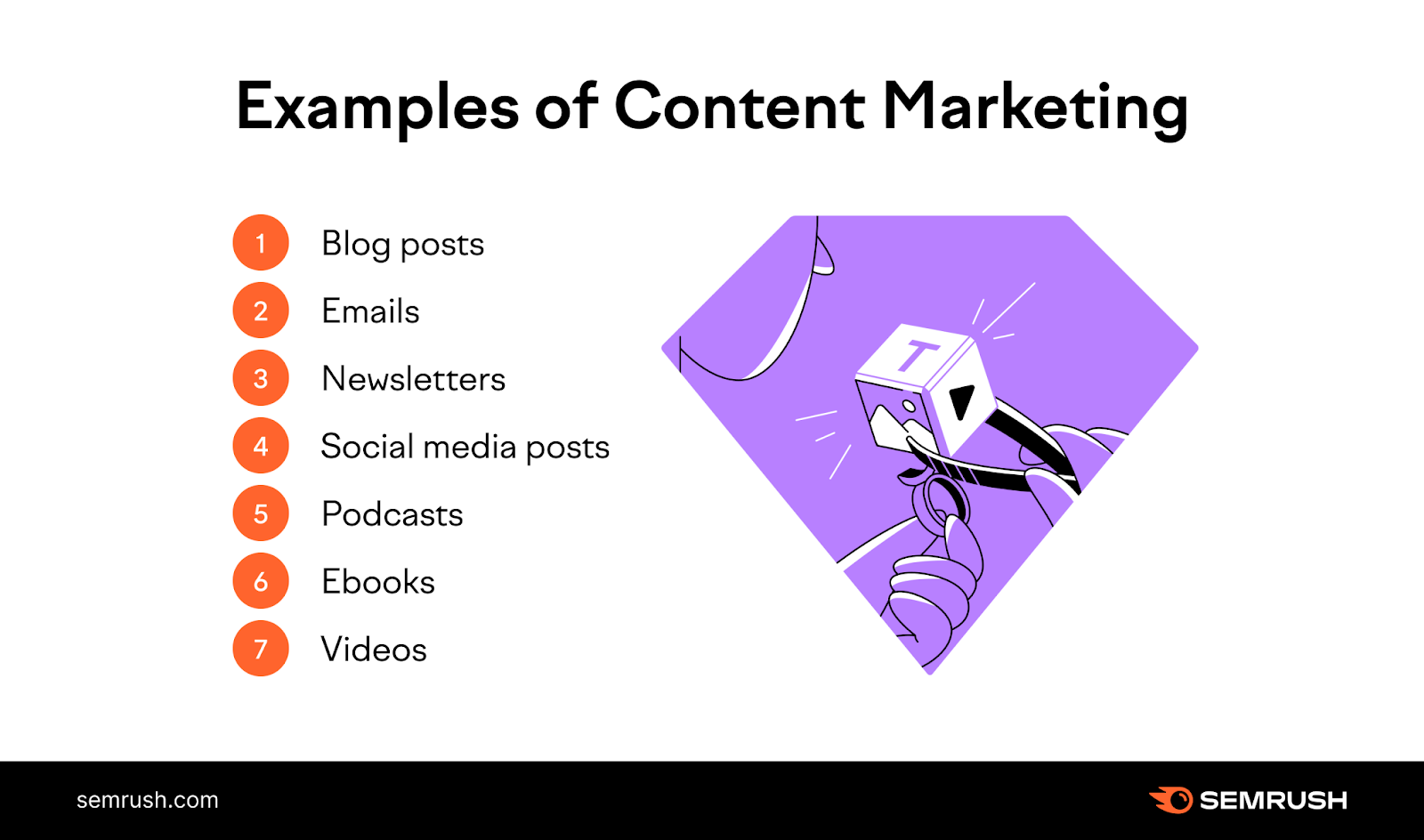 Focus on giving your readers better information and advice than everyone else in your niche. Use your first-hand experience and keep up with the latest real estate industry trends to earn your readers' trust.
Pro tip: Use Semrush's Topic Research tool to find hot ideas to write about for your target market.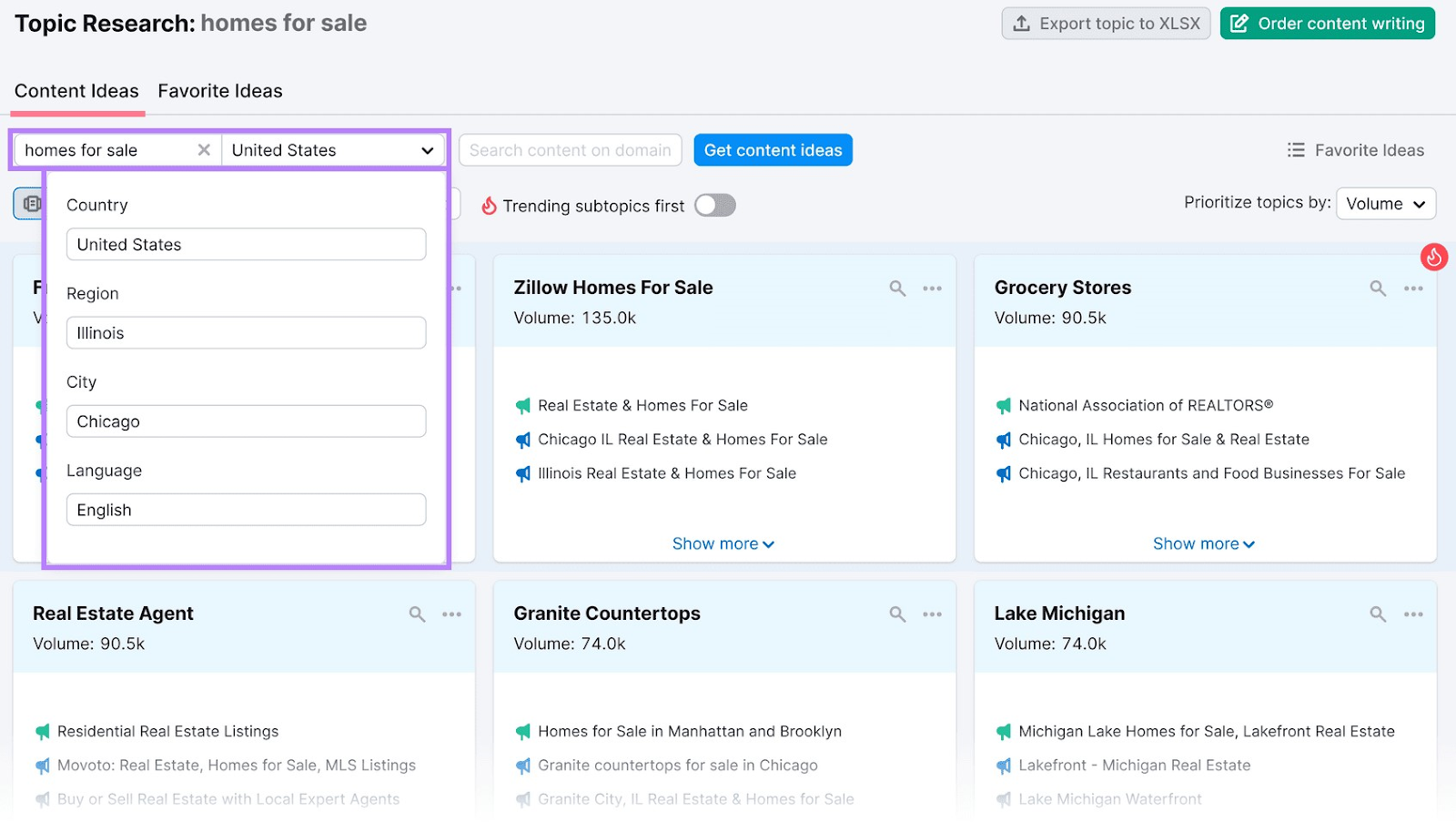 And use Semrush's SEO Writing Assistant to optimize your content before it goes live.
4. Optimize for Mobile Users
Over 60% of all website traffic now comes from people using mobile devices.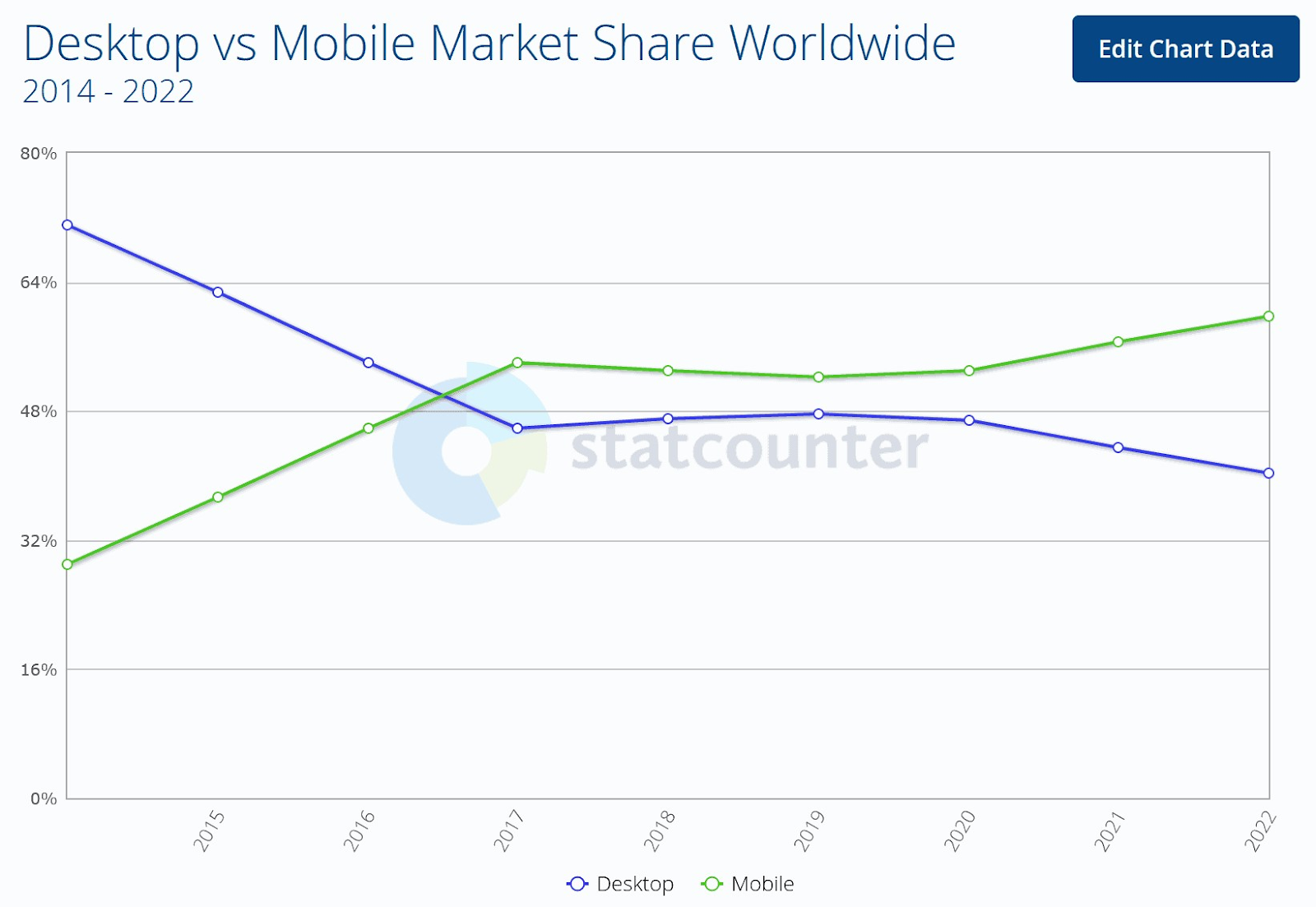 And according to the National Association of Realtors, about 75% of buyers researched homes on a mobile device in 2023.
Optimizing your real estate site for mobile users creates a better impression of your business. This means you're more likely to convert users into clients.
Also, Google now uses mobile-first indexing. This means it primarily uses the mobile version of your content for indexing and ranking.
You don't have to have a mobile version of your website, but it can hurt your SEO efforts not to. Luckily, most CMS (content management systems) have mobile versions built in.
If you're not sure what your website looks like on smartphones, try Google's Mobile-Friendly Test to see how easily mobile visitors can use a particular web page.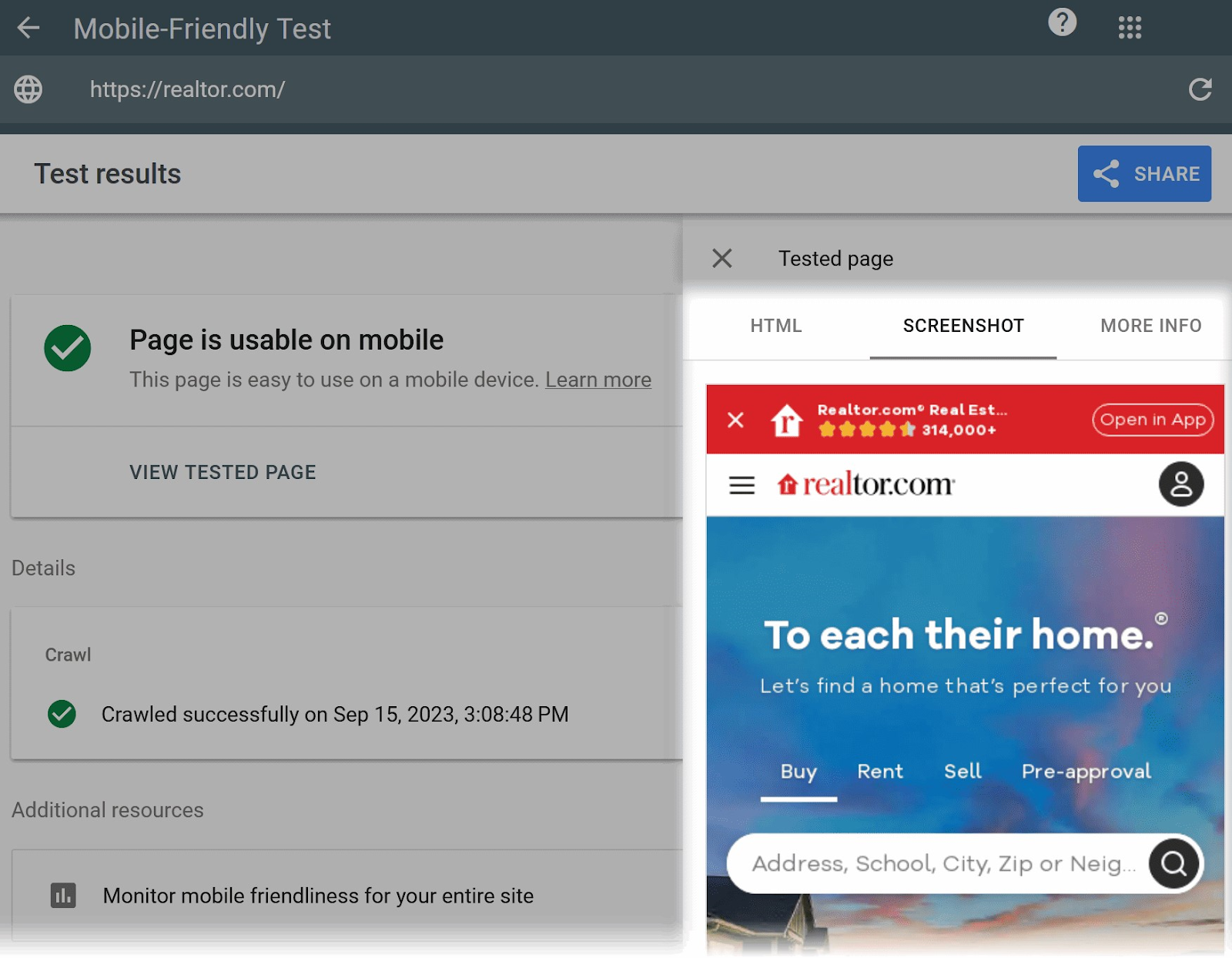 If it needs work, our mobile SEO guide covers three ways you can make your site more mobile-friendly.
5. Use Social Media to Help with Backlinks
Studies show 90% of real estate agents use Facebook, while around 50% use Instagram and LinkedIn.
You can't afford not to be where your competition is on social media. If you're absent, they'll have a louder voice for attracting your potential clients.
So, figure out where your competition and target audience hang out and be there too.
While social media management is another digital marketing strategy entirely, it fits into real estate SEO tactics by increasing brand awareness.
Note: Social media backlinks may not help with ranking directly, but they do help with brand awareness. 
Get involved in conversations about your industry and local area. Putting your name out there and sharing valuable advice will help you get noticed.
And you'll build your personal brand to become the go-to expert for your territory.
Here's how one realtor uses Twitter to provide tips and get on people's radar for lead generation: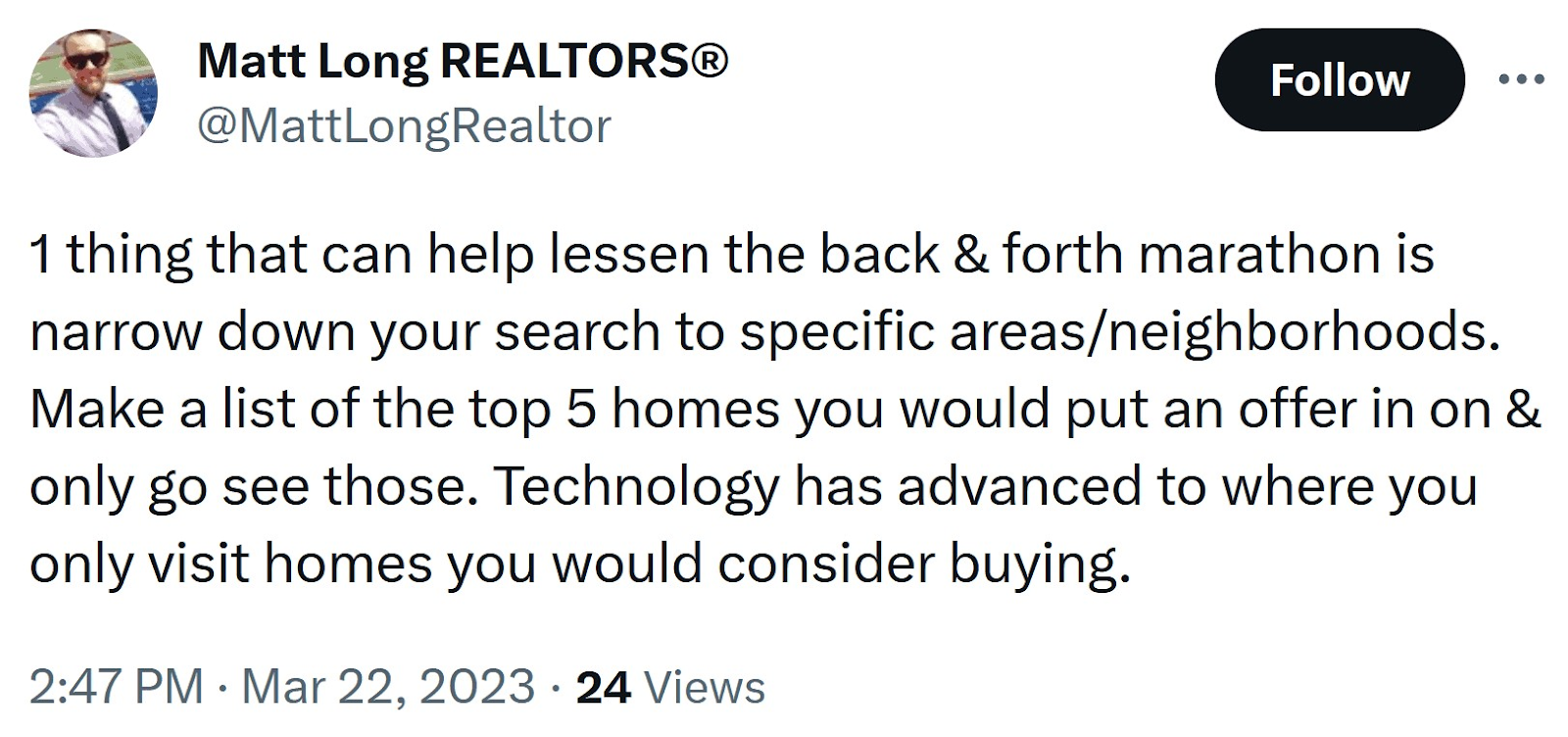 Social media engagement can pique people's curiosity and build deeper relationships when they follow your account. 
While you need to be careful with how often you post, you can use your social media platforms to distribute anything you create.
(But don't just share links to your content everywhere. That can look overly promotional and spammy.)
If you need some help, try Semrush's Social Media Management App to schedule content, monitor your analytics, and analyze whatever your competitors are creating.
Plus, getting your content in front of the right audience can lead to backlinks—these are like digital word-of-mouth referrals.
You can get them from any site back to yours, but try to score high-quality links from relevant sites like NAR, RISMedia, and Zillow.
These have a lot more sway with search engines than lower-authority sites.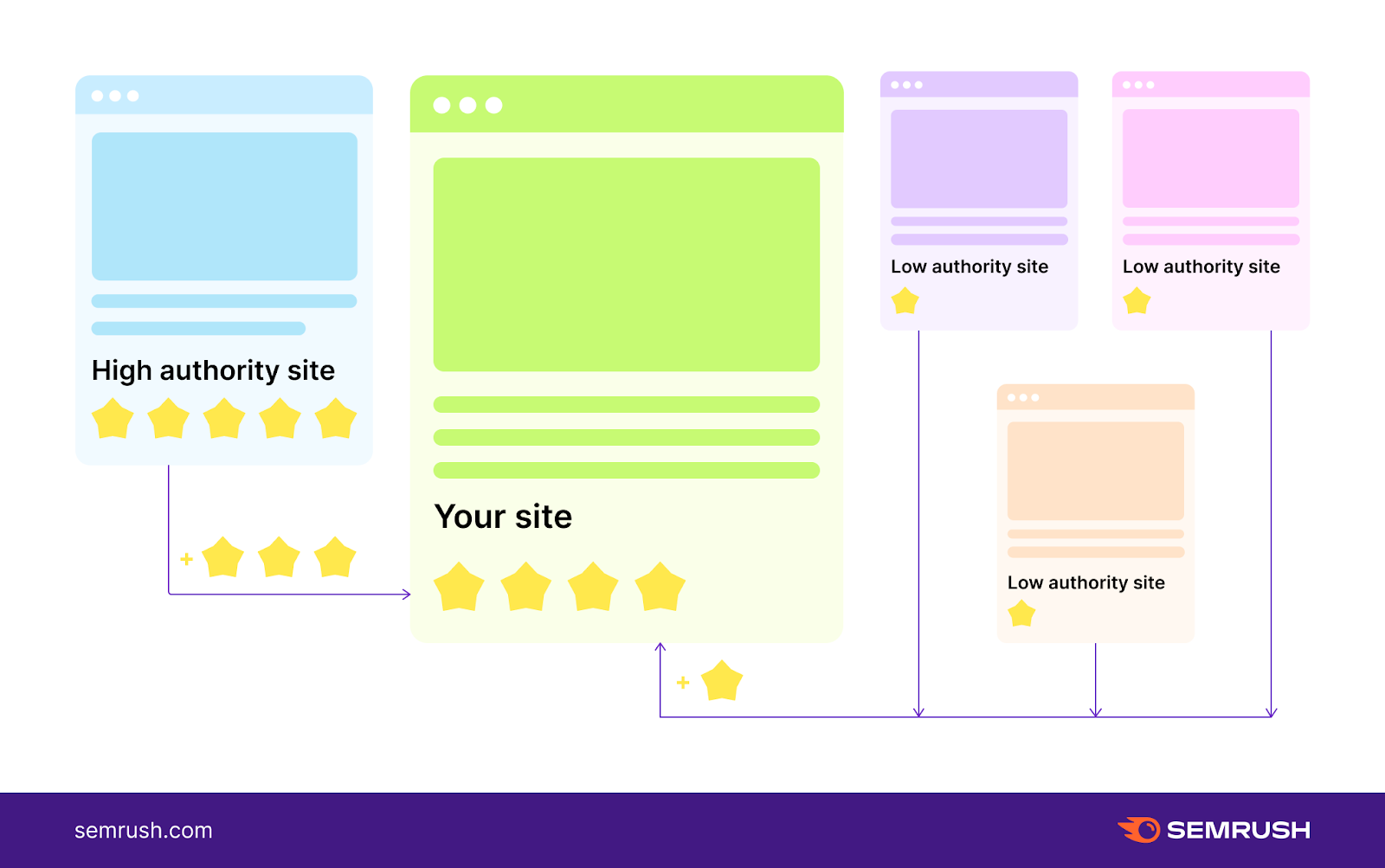 Semrush's Backlink Audit can help you keep on top of which sites are linking to your site and their quality.
You can also see where your competitors are acquiring their backlinks with the Backlink Analytics tool. So you can try to win those links instead.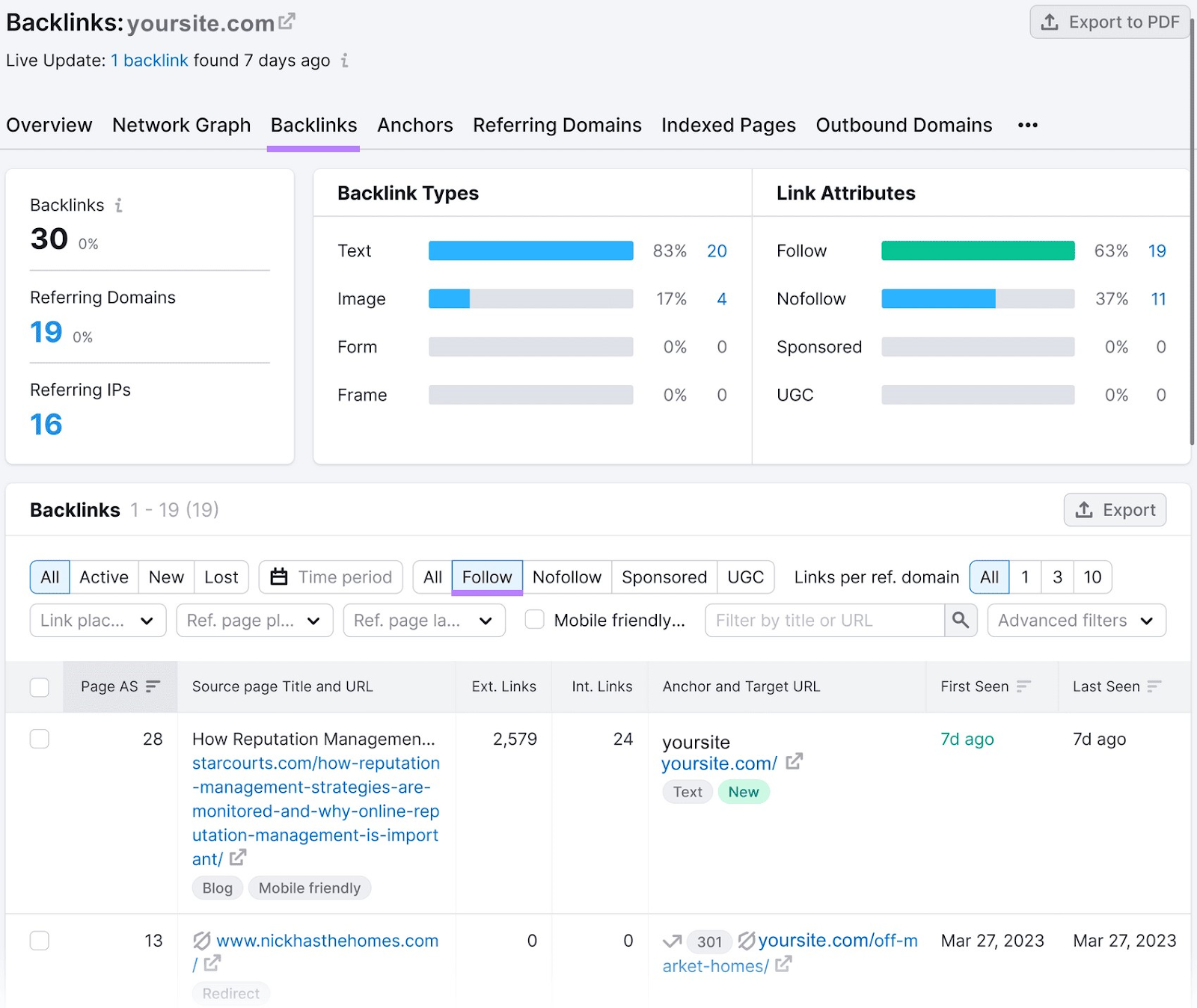 6. Track Important KPIs
Tracking key performance indicators (KPIs) helps you evaluate the performance of your SEO efforts. By monitoring and analyzing your content, you can better gauge the success of your tactics.
For example, you may wish to track SEO results like:
Organic traffic: The number of people visiting your website
Keyword ranking: Find out which keywords are driving traffic
SERP visibility: How visible your brand is in organic search results
Click-through rate: How many people are clicking on your SERP listing
Bounce rate: The number of users who land on a page and then leave without taking any action
Authority Score: The level of authority your domain holds for search engines
Backlinks: Hyperlinks on other websites that point to your website
Time spent on page: The average amount of time users spend viewing a specific page
Conversion rate: Sales, leads, subscriptions, or any other action that makes money for your business
The KPIs tied to your goals will be unique to your business. For some real estate businesses, success may be driving 50% more traffic to their site over the next year.
For others, it may be increasing your visibility in search results for their territory.
Two of the best platforms for tracking these analytics are:
Google Analytics
Semrush's Position Tracking tool
Here's what traffic data looks like in Google Analytics:
And Position Tracking helps you track your SERP visibility for your target keywords.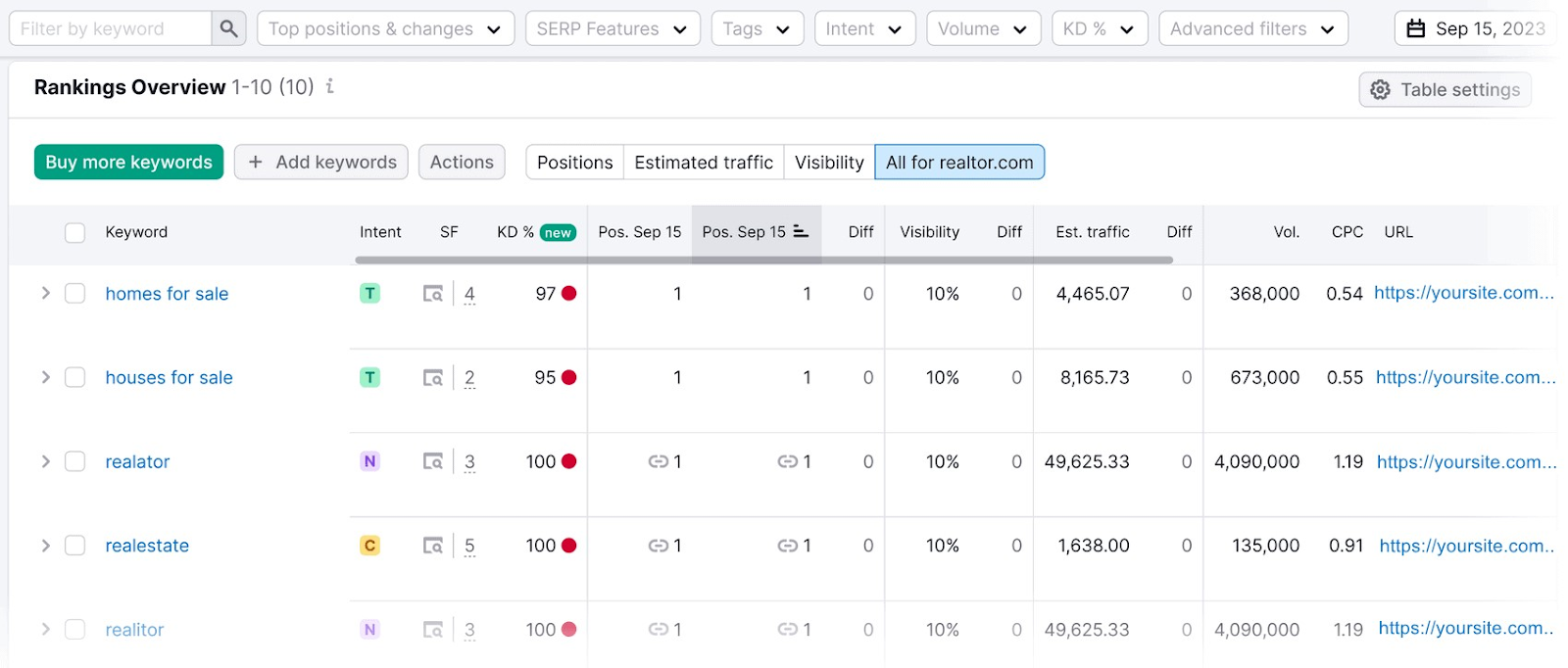 You can even set your target location to track rankings in your territory.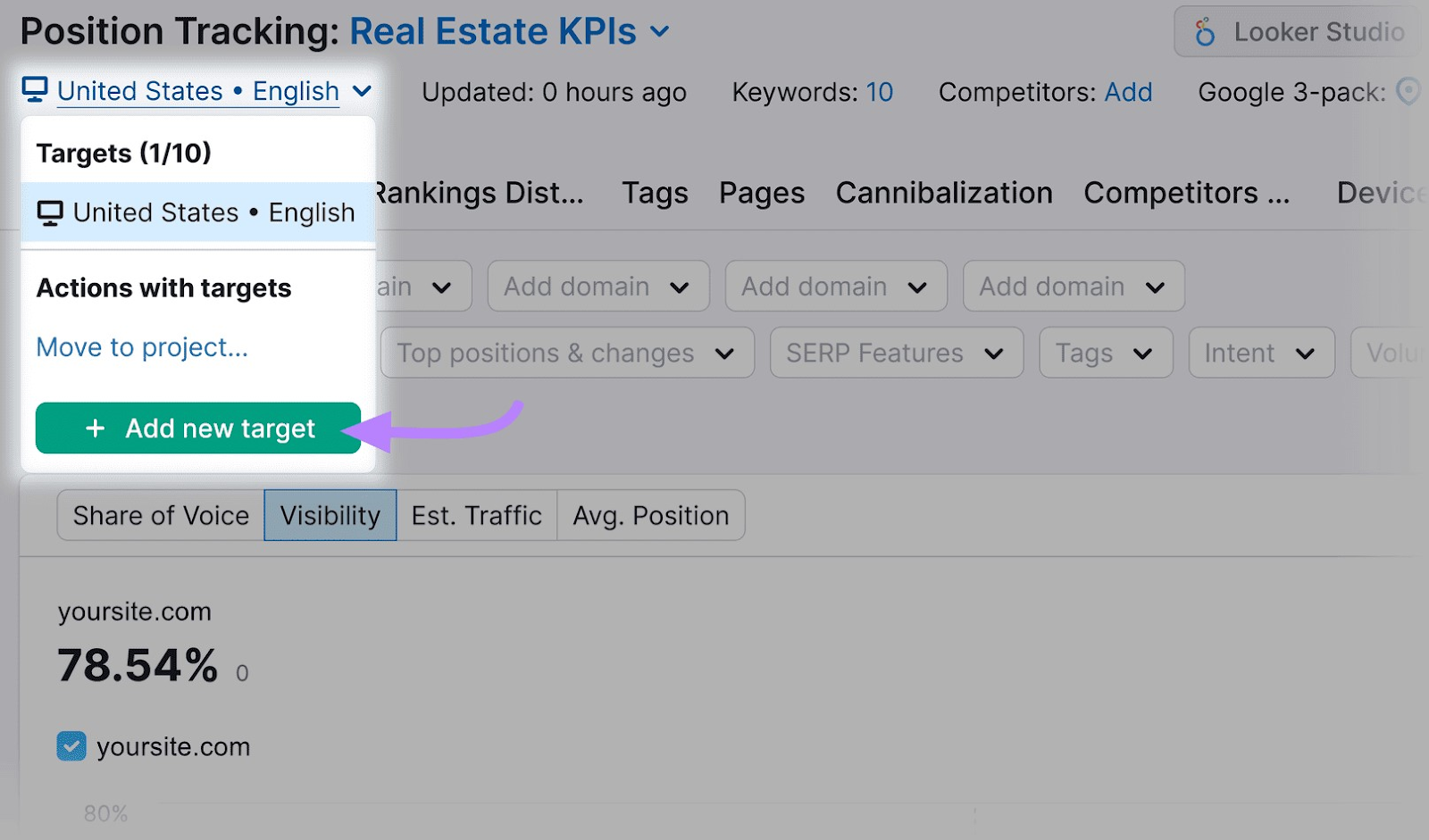 Whichever you choose to use, determine your end goal first. Then use your KPIs to define success relative to your current benchmarks.
Having a real estate SEO strategy is only the first step. The sooner you start collecting and analyzing these metrics, the more informed you'll be about your current results and performance.
7. Set Up Relevant Pages and Directories
Customers are 2.7x more likely to consider a business reputable if they find a complete Business Profile through Google Search and Maps.
Exactly like in-person sales, you need to prove to people you're trustworthy. 
A complete Google Business Profile (GBP) with images and reviews is one way to help you look legitimate.
Here's an example of reviewed real estate agents and brokers in Orange County: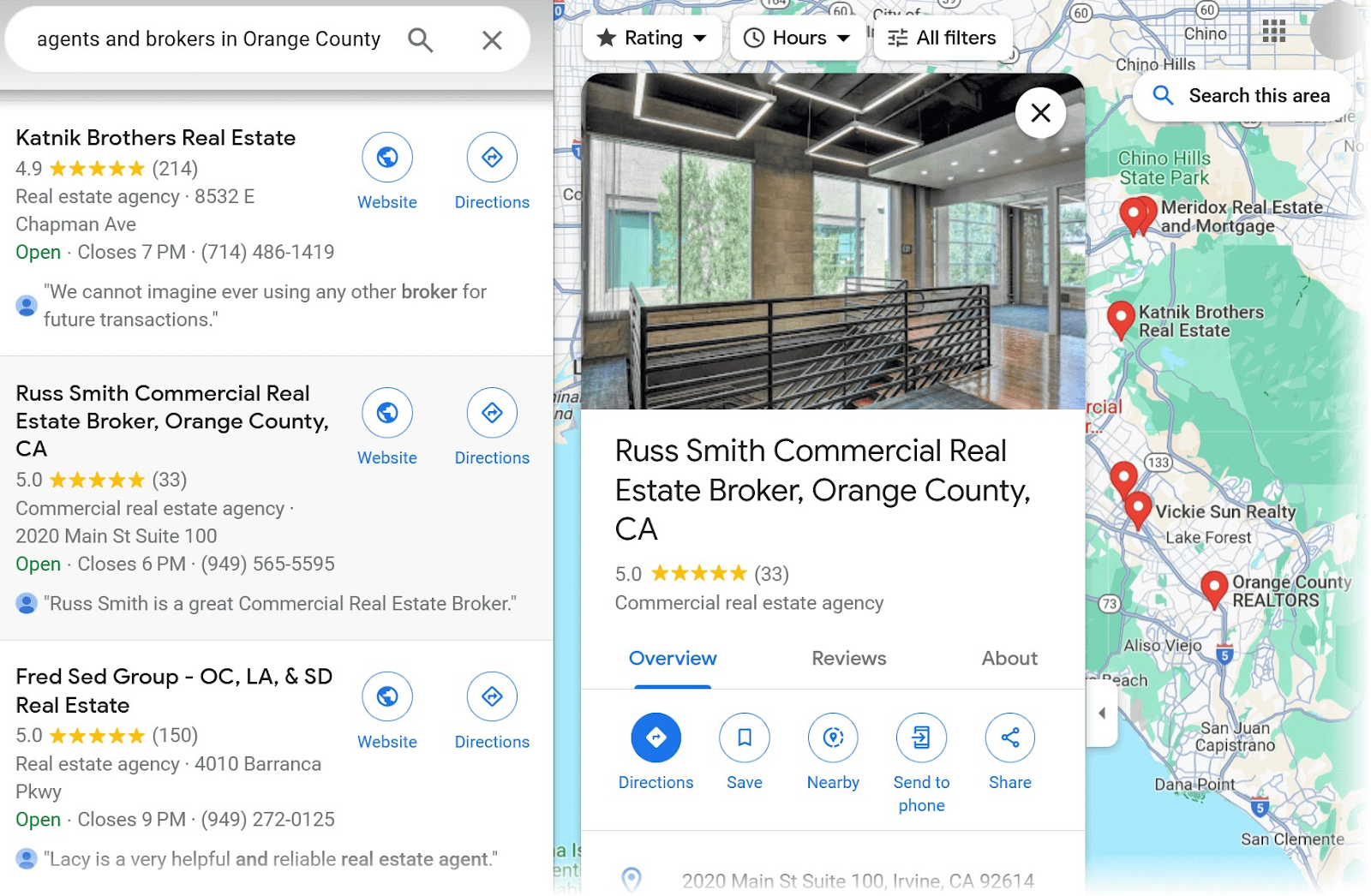 If you haven't set up your GBP yet, make it a priority. Complete as much information as you can, and add visual content to stand out.
Read all customer reviews when you get them and make sure to reply to each of them.
Once you've done that, set up business profiles on other relevant industry sites and directories. 
Semrush's Listing Management tool can also help you distribute your business information.
Find your website within the tool, and you'll see a list of where your business appears. And what issues you may need to fix.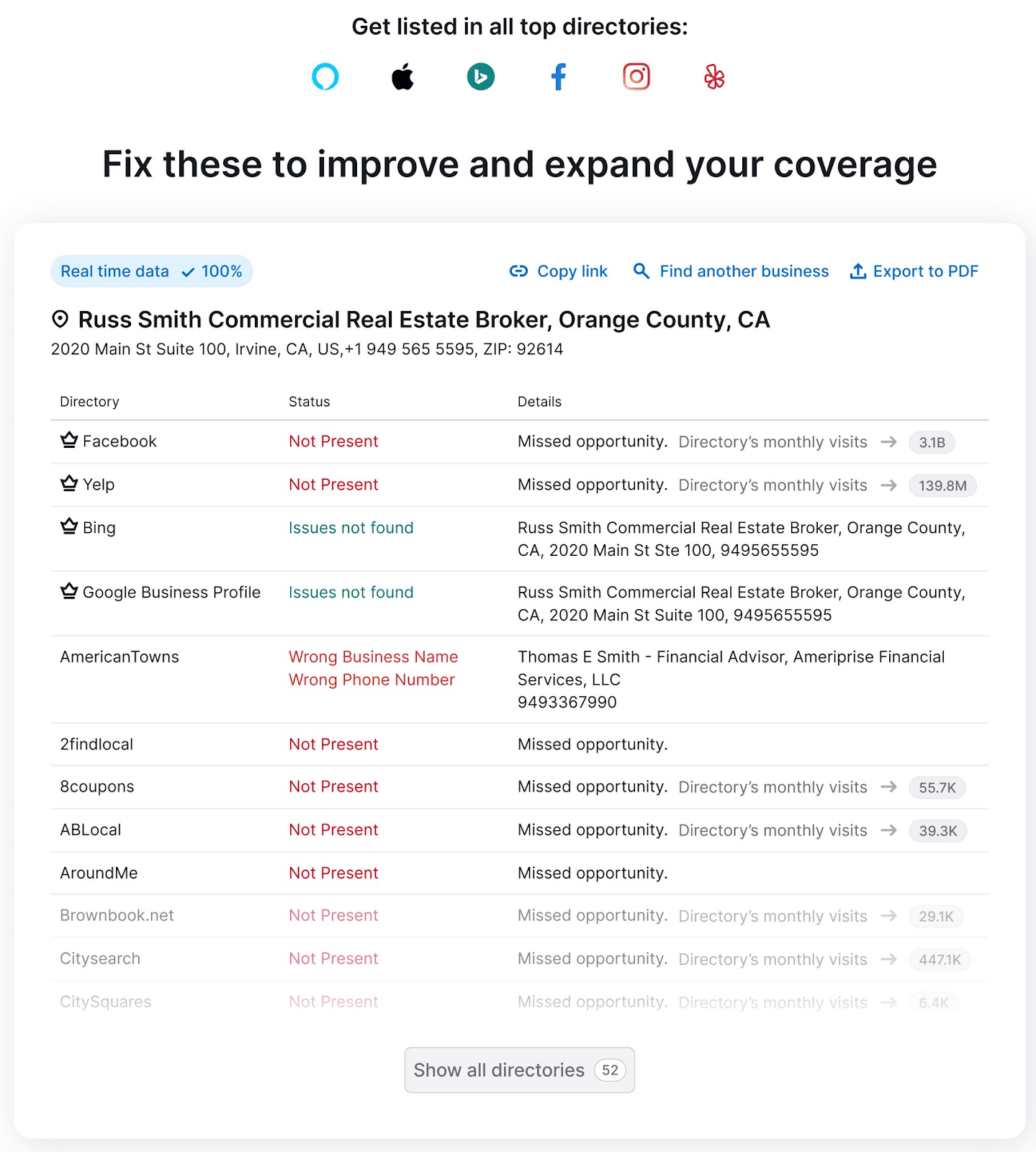 Include important details like your contact email and phone number, but also use relevant keywords on your site and any directories you're on.
Try to fit in examples like these (if they apply):
[City] real estate
[Town] homes for sale
[City] real estate listings
[Town] real estate agent/realtor
Wherever you have a presence, be clear about the areas you sell in, how people can contact you, and the services you offer. 
Pro tip: Use Semrush's Listing Management tool to respond to customer reviews on your GBP too.
5 SEO Tactics Real Estate Agents Should Avoid
You can be penalized for using certain SEO tactics that violate Google's spam policy. 
These SEO efforts should be avoided at all costs:
Keyword stuffing: Repeating your target keyword excessively
Link buying: Paying for backlinks instead of earning them
Duplicate content: Using the same full article but only changing the location keyword each time
Sneaky redirects: Sending a visitor to a different URL than they requested
Hidden text: Text the same color as page backgrounds, placed off screen or behind an image, or otherwise purposefully hidden in order to stuff keywords on a page
Here's what keyword stuffing looks like:
While some of these may sound like good ideas in the short term, Google will always find out and penalize you.
For realtor SEO, stick to creating quality content with a solid keyword research strategy behind it.
Ready to Take Your Real Estate Business to the Next Level?
Having consistent visitors to your site is the dream of any local business. Real estate SEO isn't a quick fix, but your efforts will pay off in the long run with a steady stream of clients.
If you're ready to get started, a full SEO audit will identify any errors preventing your site from ranking.