"Much of Semrush product updates would not have happened without your feedback on how we could improve. Using your ideas and input to guide us, we made some important updates and additions to our tools, including dedicating more resources to add-ons that offer value and opportunities for our customers beyond their main subscription" — Oleg Shchegolev, CEO of Semrush
In times of unprecedented change, we're thrilled to share all the updates to our tools that have helped you drive better leads, increase your revenues, and accelerate your marketing results.
Read below about the biggest and best improvements we've implemented into our platform this year, and learn how they can be used to move your business forward.
SEO Tools
16,722 Cups of Coffee Later: Semrush Launches a Brand New Backlink Analytics Database
The Backlink Analytics Tool is a link-building tool that allows you to check and track any domain's backlinks from your competitors to get ideas and spot opportunities for your own backlink strategy. 
Now boasting the largest and fastest backlink database, Semrush customers have access to more than 43 trillion quality backlinks, all at their fingertips.
We wanted to provide our customers with the best tools and analytics to fuel their marketing results — full stop. 
That's why we spent 18 months and more than 30,000+ expert engineering and data scientist hours to create the fastest and largest backlink database to date. We invested in the infrastructure — adding 500+ new servers, 14,000 terabytes of storage — to create the largest and most up-to-date backlink checker on the market.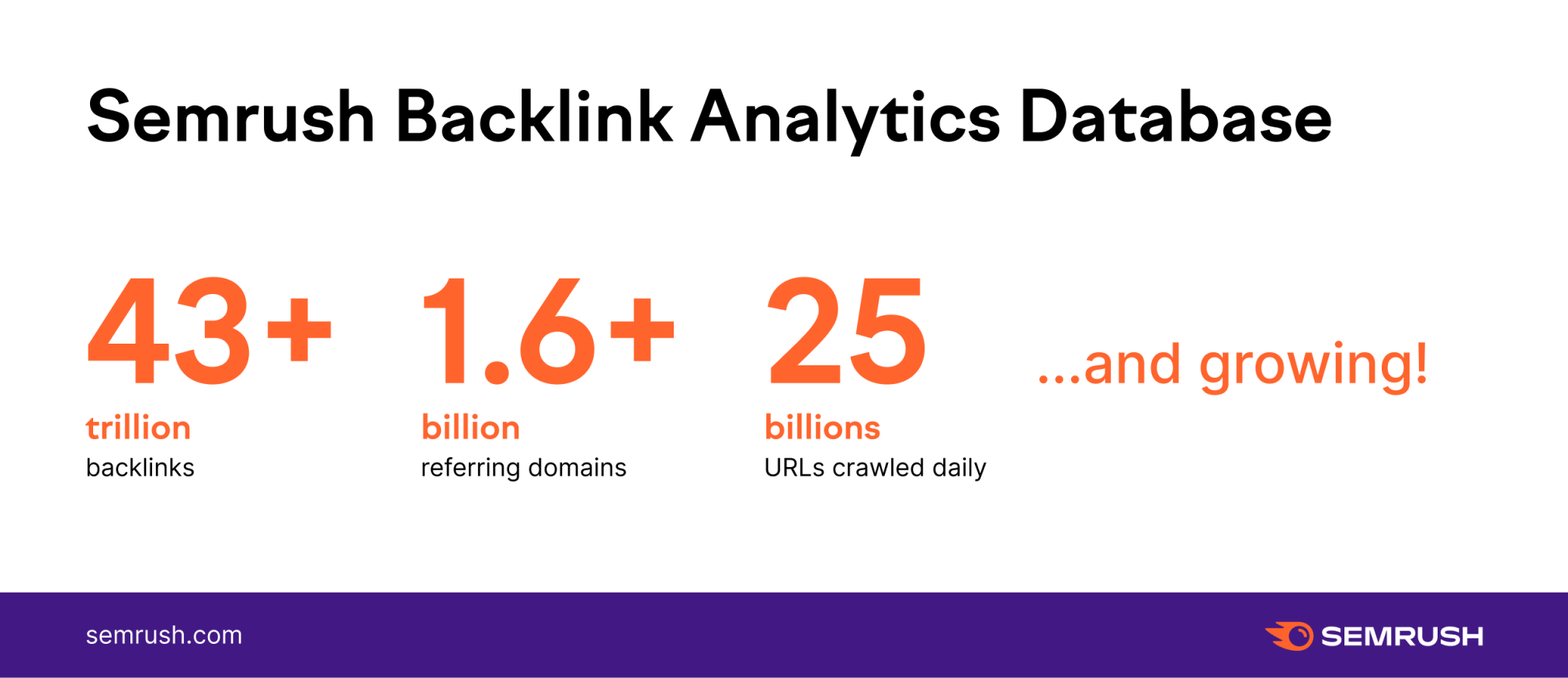 How does this update benefit you?
Not only does the sheer size and speed of our new database provide more data than any other tool on the market, but other key improvements include:
Extended time period filters for reporting
Ability to see outbound domains for any website
New ability to filter by title or URL
New subfolders view
Cleaner data without duplicate links
Improved algorithm for finding the most relevant content
More unique and high-quality pages 
To learn more, read our blog on how the new backlink database works.
Now Featuring: Keyword Intent
Keyword Intent is a new metric that provides data on the four categories of keyword intent — navigational, informational, transactional, and commercial — so you can see what content users would expect to see based on these various intents.
Tired of using spreadsheets manually to try to find the most effective target keywords for your campaigns? That's why we launched the Keyword Intent metric: the most comprehensive solution on the market for understanding keyword intent. 
That means you can better follow your customer's journey through the marketing funnel and identify content opportunities to outrank your competitors. It also gives you an advantage in finding and building out content marketing opportunities based on what your customers are looking for with specific keyword queries.
Here's an example looking at "exotic cars." Note the dropdown ability to filter by the four types of keyword intent: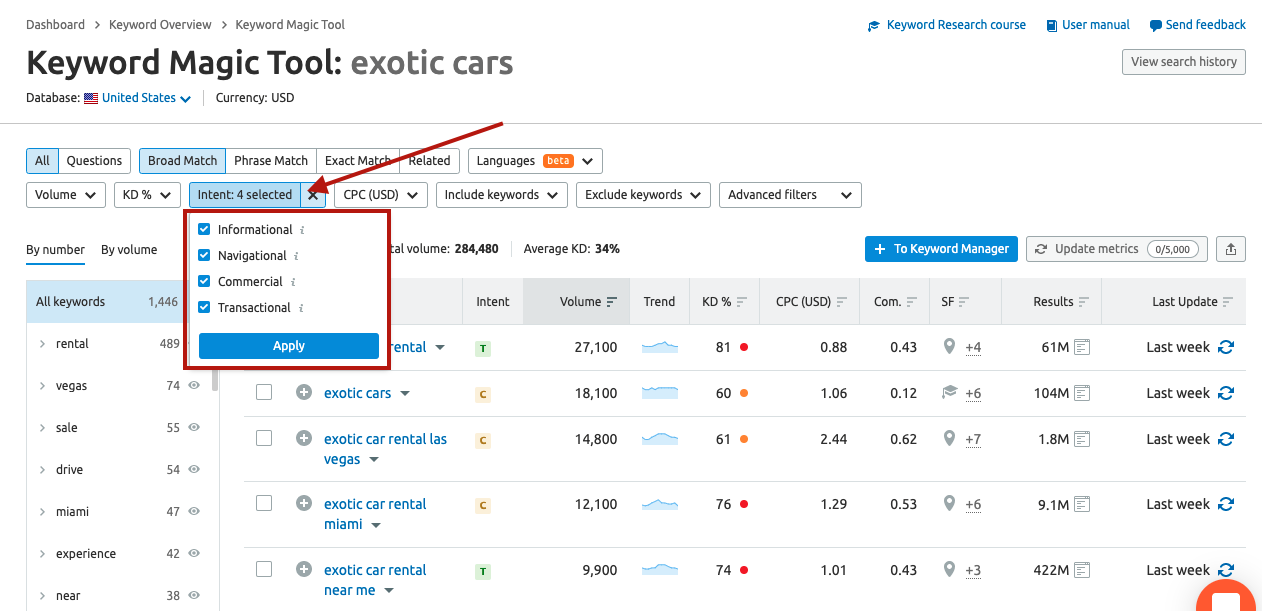 By identifying the keyword intent, you can understand the customer's actual desire, and therefore, what kind of content they expect to see on the SERP. Our tool identifies the keyword intent automatically using a machine-learning algorithm, saving you time and helping you build out the most effective campaigns. 
For our example of a customer wanting to target customers with the transactional intent of renting an exotic car, you can easily see the details on specific keywords in the SERP and identify low-hanging fruit to beat out the competition.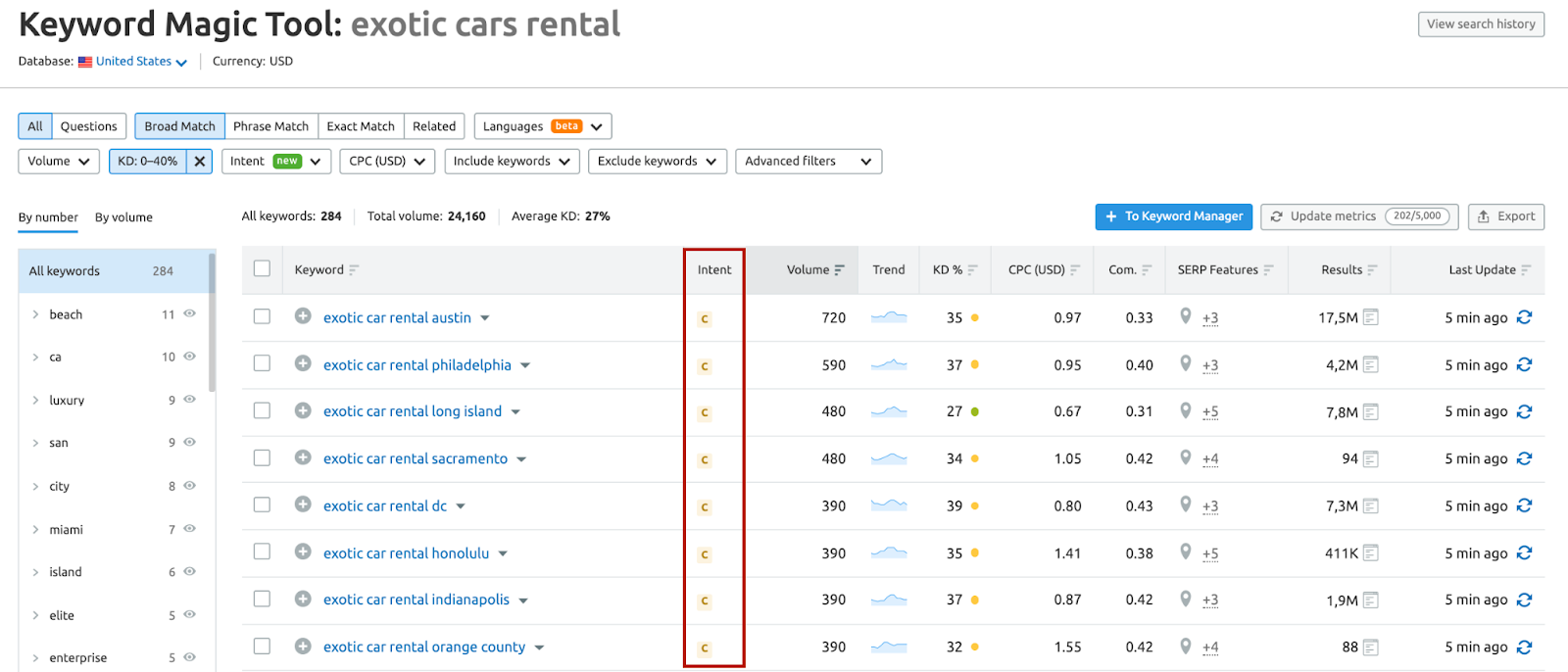 Take the guesswork out of keyword research with the keyword intent metric that's built into several of our SEO tools including:
Domain Overview
Organic Research
Position Tracking
Keyword Overview
Keyword Gap
Keyword Magic Tool
Keyword Manager
To harness the power of this comprehensive solution, read all about it on the Semrush blog.
The New and Improved Keyword Difficulty Metric
Keyword difficulty (KD%) is an estimated metric that tells you how difficult it is to rank organically for a specific keyword or phrase using SEO efforts. It takes into consideration current websites and pages that are ranking in the top spots on Google. The closer to 100, the more difficult it is to achieve.
We are delighted to roll out an upgrade of our keyword difficulty metric now available across several tools at Semrush that will improve your organic research efforts as well as receive higher quality ranking data. Highlights and benefits include:
More search parameters included and taken into account than ever before (plus more than 14+ SERP features)
KD scores that are weighted by country — unlike any other tool in the market
Color-coded KD scores so you can visually scan for quick insights
The most accurate KD metric that scores consistently above any other solution in the industry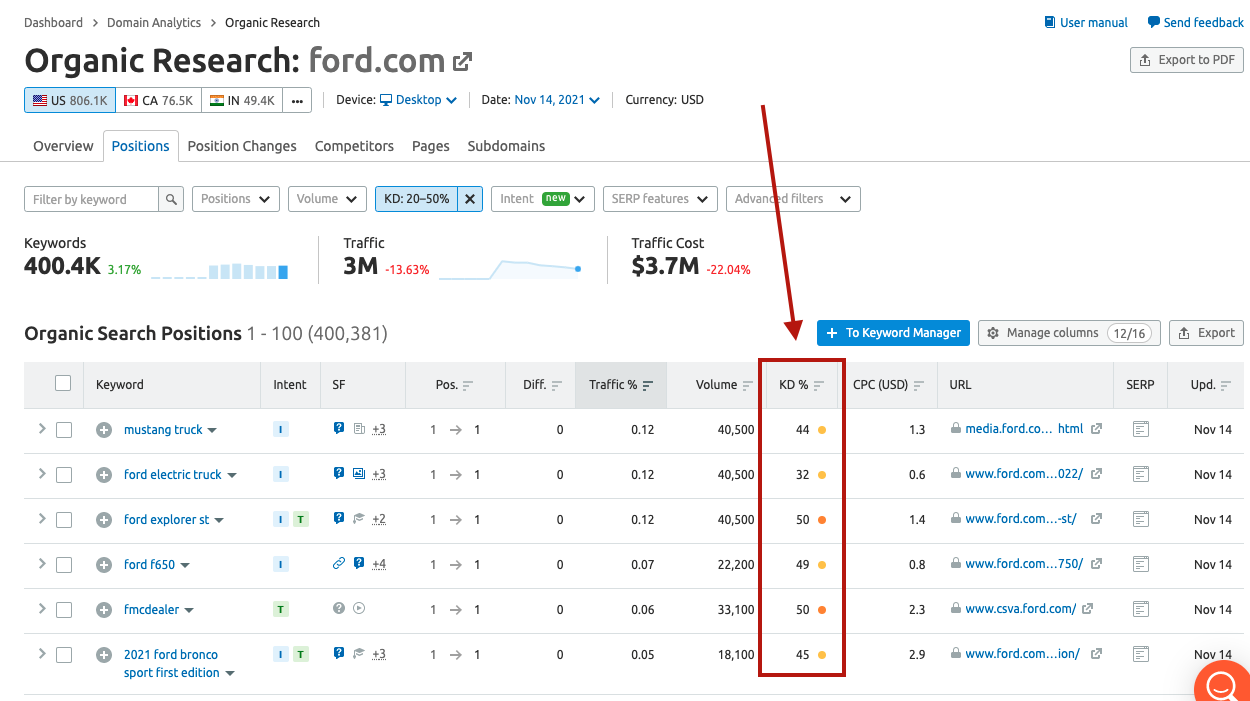 The best part is that we couldn't have improved our tool without you! We spent time with our customers over the years, implementing your feedback into our upgraded formula. 
To learn more about fully leveraging the KD metric into building your next campaign, visit our blog post for a deeper dive.
Core Web Vitals Made Easy with Site Audit
The Site Audit Tool is an all-in-one solution that scans your website for more than 140+ technical factors that impact overall performance. It crawls and checks for errors such as broken links, slow loading speeds, interactivity, crawlability, and dozens of other factors that impact your online visibility.
Adding to that, Google's latest Core Web Vitals (LCP, FID, and CLS) are now ranking factors that influence your website performance as well. That's why we rolled out a brand new, unique report in the Site Audit Tool to help you quickly identify issues, fix errors, and watch your CWV metrics improve. Unlike most tools on the market that take this data from the Chrome UX Report (CrUX), we measure these metrics on our own.
How does this update benefit you?
Audit, track, and optimize the most important pages of your site
Track historical progress and view changes over time
Access easy, actionable recommendations for improvements
Have a snapshot of your core web vitals — all at a glance 
Export the report to PDF with a single click, or create a custom report
See exactly where and how you need to address optimizations to ensure you're abiding by Google's best practices with our tool. Just audit, crawl, fix, and watch your metrics improve over time. 
Learn more about Core Web Vitals here. 
New Addition: The Mini Keyword Overview
The Mini Keyword Overview is a brand new feature that gives you quick insights into the specific keyword you're researching. Access vital information instantaneously such as Global Volume to the top-ranking URLs with their own metrics. 
Now you can save time and quickly access data sets with the Mini Keyword Overview — a subreport found in several research tools including the Keyword Magic Tool, Domain Overview, Organic Research, and Keyword Gap Tool
The tool lets you access these important data points across several locations — rather than you having to separately open the Keyword Overview for each individual keyword.
Simply click on the icon to the right of the keyword to open up the Mini Keyword Report without opening another tab or window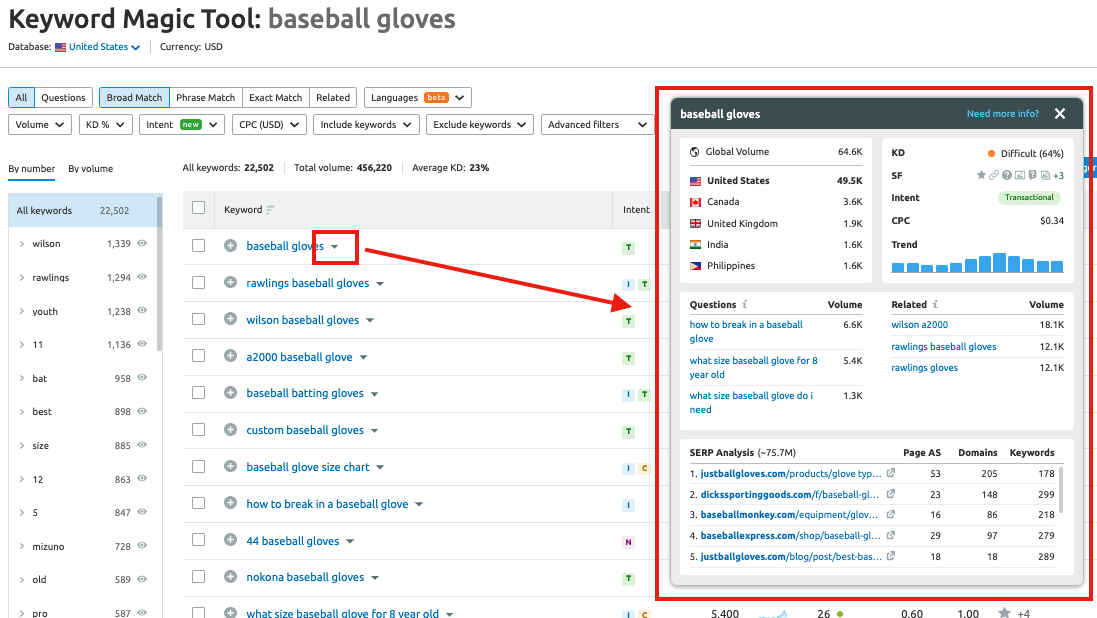 Watch it in action by making a search on the Keyword Magic Tool.
Here by Popular Demand: Filter by Language in the Keyword Magic Tool
One of our most requested features has been to create the ability to filter keywords by language — and we brought this to life in the Keyword Magic Tool! Our team built an artificial intelligence algorithm that marks keywords in our database and defines their language. 
For some keywords that appear in two or more languages, we identify a primary language and mark it as such. This new feature allows you to perform keyword research more efficiently and can help you understand the intent of users who speak different languages.

Learn more about the Keyword Magic Tool's capabilities on the Semrush Knowledge Base.
Streamline Your Backlink Audit with Profile Insights
The Backlink Audit Tool is one of our most powerful and useful tools that provides in-depth metrics about your domain's backlinks. It gives you an overview of the quality of your backlinks and gives a workflow for spotting and removing potentially harmful or toxic links.
Managing backlinks is one of the hardest and most complicated SEO activities, but it's also incredibly important. That's why we created the new Profile Insights so you can get quick, actionable insights on a domain's backlink profile. 
The feature is located at the top right of your report. Just click on it to open a view of three groups of insights:
Warnings: Potential things that need to be reviewed
Potential Problems: Things that could be improved
Project Settings: Some tips for configuring your Backlink Audit to increase accuracy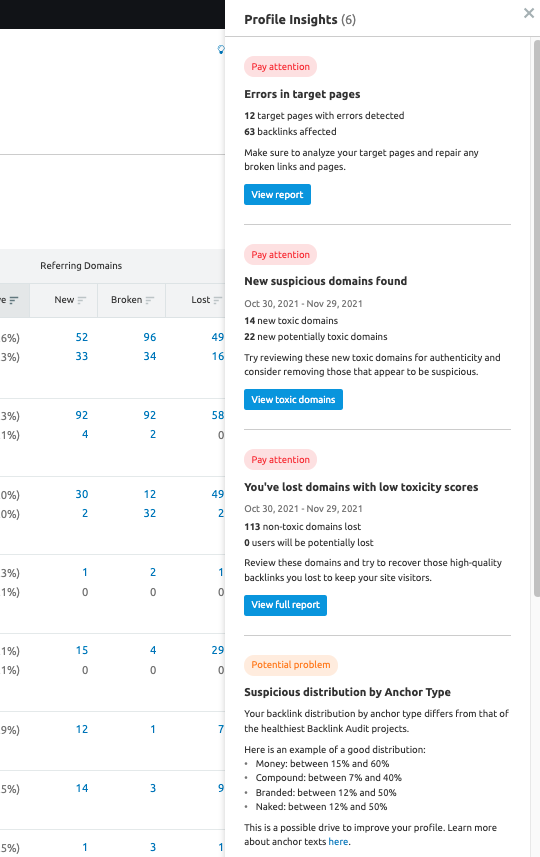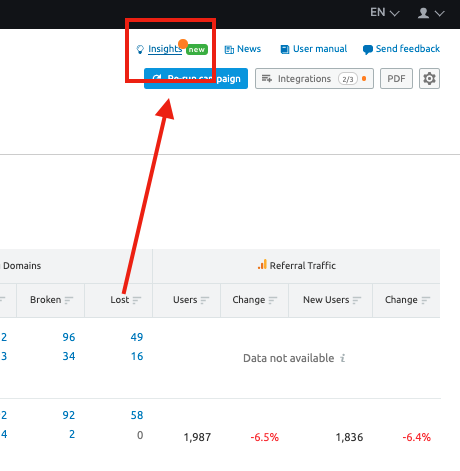 New Tags Report: Make Position Tracking Easier
The Position Tracking Tool is one of our most popular tools that let you track paid or organic search performance, your domain's visibility, traffic, and average position for each and every keyword that's important to you. It also allows you to view and compare your competitor's positions and get a high-level report on how your website performs in search.
For Semrush users who track huge numbers of keywords — you now have the Tags Report to compare and track the performance of different types of keywords. Before this update, users had to filter out an Overview Report with a single tag in order to collect insights. Now, you can track each tag group's growth metrics (share of voice, visibility %, estimated traffic, average position) in the Tags report.

For more information about this update, visit the Position Tracking Tags article.
Local SEO 
Listing Management: Now Available in Canada
The Listing Management Tool located within the Local SEO Toolkit is a platform where you can list, track, and manage your business listings in more than 70+ local directories. Respond to customer reviews, analyze your top local rivals, and optimize your listings for maximum local visibility.
At the end of quarter two, we rolled out a service that we'd been working on for a long time: the Listing Management Tool for Canadian businesses! You can now:
List your business in 48+ directories
Upgrade your location to Premium to access the Heatmap report and Review Management
See historical data and track changes with hyper-local focus
For more information, head over to our news article for more details.
Agency Tools
Agency Growth Kit: Better Tools to Streamline Lead Generation, Reporting, and a Brand New Client Portal
The Agency Growth Kit is a specially-designed and tailored add-on for agencies looking to scale your workflow, land new clients, and expand your book of business. This year, we improved several features and tools so that digital marketing agencies can move their brands forward.
We're delighted to have rolled out several new initiatives that give marketing firms the competitive edge in the digital marketing world to win the hearts of your clients around the world!
New Client Portal with Interactive, White-label Reporting
Client Portal, a standalone tool within CRM Tool, now offers interactive, automated reporting where you can share data with your clients 24/7. 
Are your clients asking about their Google rankings several times throughout the day?
We learned that a whopping 35% of agencies say that reporting is their most time-consuming task. With that in mind, we created the Client Portal, a tool that allows you to create and share beautiful, interactive reports with your clients. Share it with your clients once, and let them access their data whenever, wherever.That means they can access their reports at any time and check their progress with the most up-to-date information.
How does this update benefit you?
Improve trust, transparency, and communication with your clients
No need to manually track data and send it to your clients every day 
Save agency time by giving your clients access to their data 24/7
Add tasks created in CRM and share selected details with your clients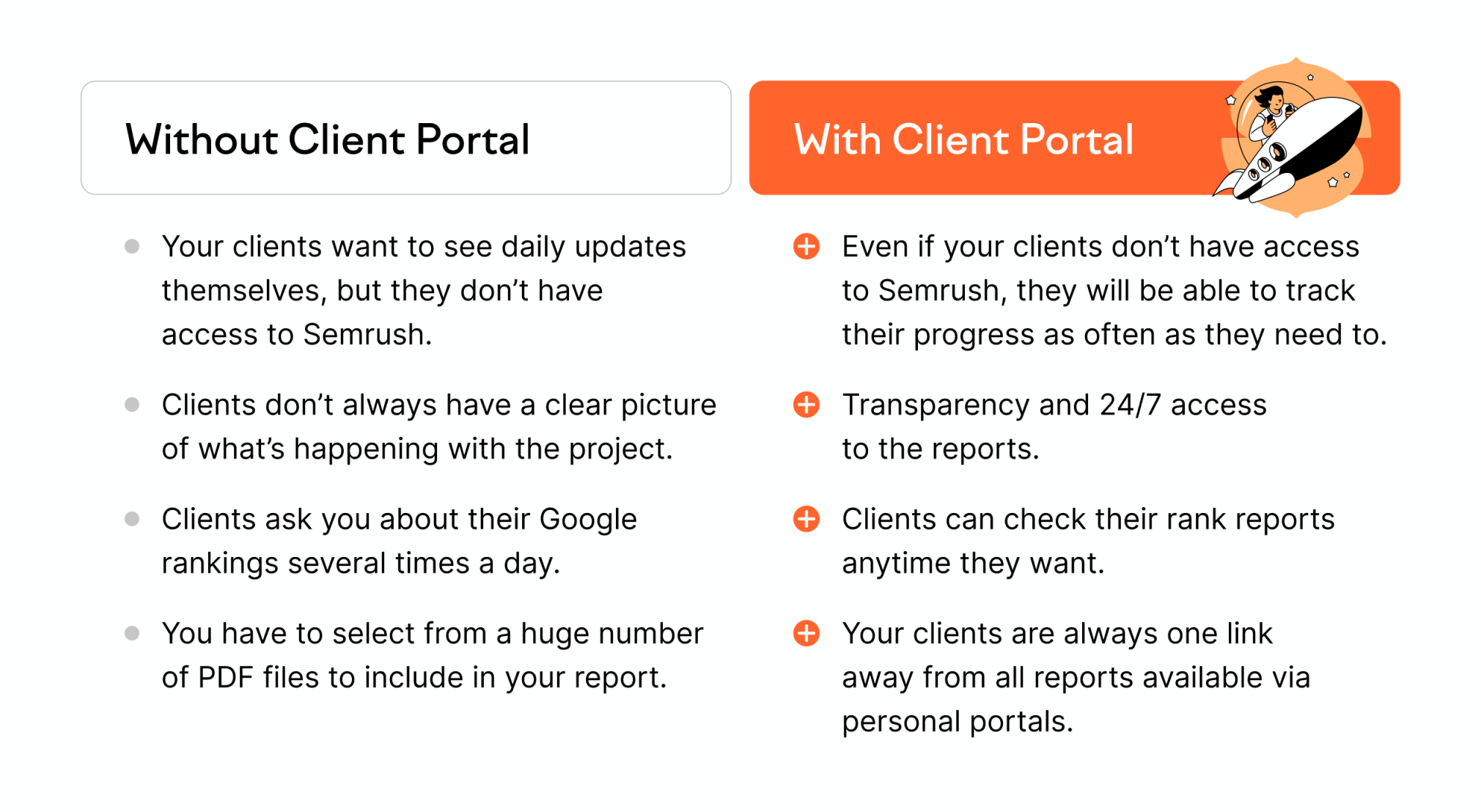 This tool is free to use with our Agency Growth Kit. You can try it out by:
Heading to the Client Portal demo page
Log in by entering the password: 1234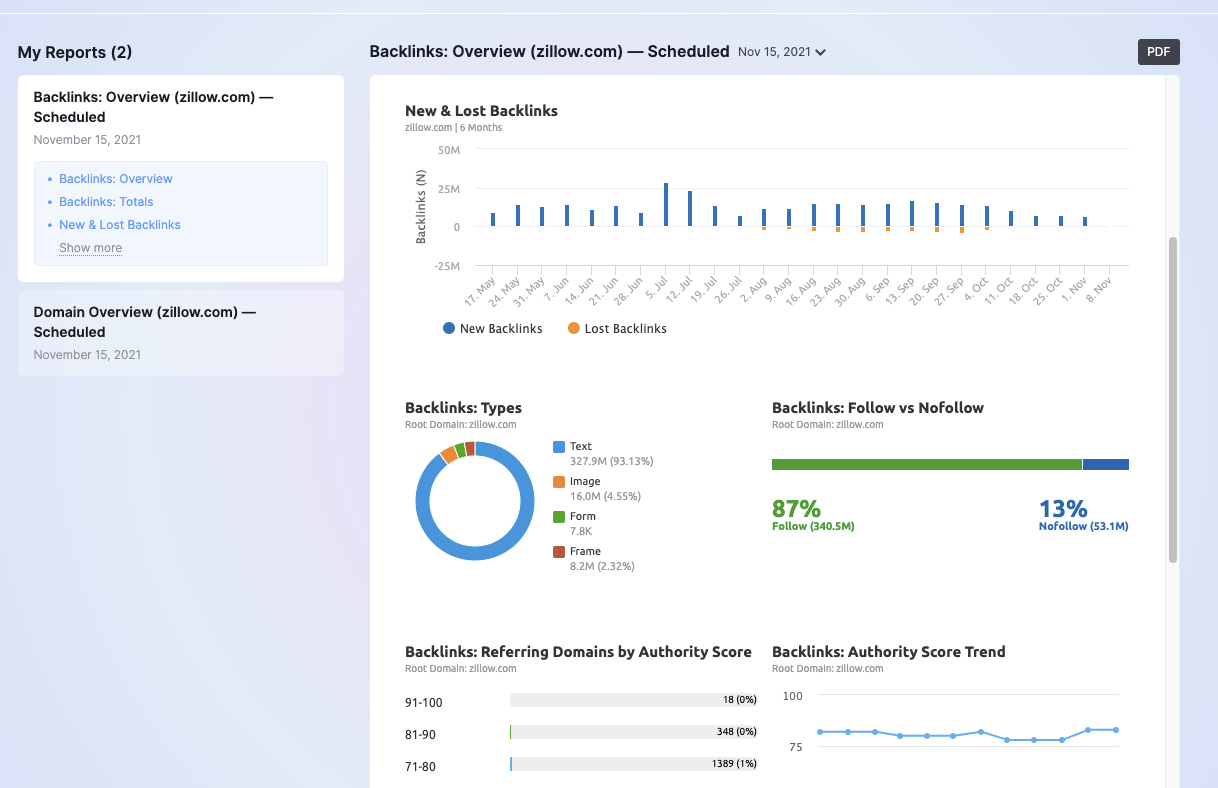 And voila! Client reporting made easier and more efficient!
The Official Semrush Agency Partner Certification
Now you can stand out from the crowd and strengthen your agency's brand with key improvements we've made specifically for Semrush Agency Partners. Align with Semrush and instantly build trust and with your current and future clients.
Key Highlights:
Improved listings in the agency directory with new fields for testimonials, logos, and branding elements to make your agency stand out.
Improved search and filtering capabilities for businesses looking specifically for your agency expertise, location, and budget.
Ability to build trust and industry leadership by improving the Agency Score, that shows future clients why they should trust the agency over the competition, and can also be a self-assessment to identify possible areas of improvement.
To learn more about the benefits of our new and improved Semrush Agency Partners, visit our webpage here.
Updates to CRM
For agencies looking to keep all your clients' data in one place — the updated CRM provides a streamlined platform for managing project details, reports, tasks, and other activities as a turnkey solution. 
Highlights include:
Easy profile set-up for unlimited customer profiles
Plan projects with team members, clients, or stakeholders
Check out key company info, such as technical details, company size, employee contacts, and more - powered by the Wappalyzer integration
Get a snapshot of the budget, the scope of work, and estimated time
Share your progress with your client in Client Portal, a part of CRM, showing only their data
Access, schedule, and email progress reports, automatically
Manage all of your client's projects and communicate more effectively with your team with the new and improved Semrush CRMƒ.
.Trends Updates
We are constantly updating and improving our suite of competitive SEO and advertising tools to help you navigate and thrive in times of ongoing change. With more and more businesses turning to online revenue streams, marketers like you have had to adapt and create new strategies for getting ahead of the competition. 
That's why we've dedicated a significant amount of time and effort to improving several core tools to help you thrive.
Major Updates to Traffic Analytics: Wider Reach and Higher-Quality Insights
The Traffic Analytics Tool is Semrush's best-in-class solution for gathering traffic insights on any competitor or domain across any market. It is a market intelligence and research tool that provides estimations of desktop and mobile traffic, traffic sources, audience overlap, as well as visits, unique visitors, pages per visit, and other invaluable analytics. 
Now with a freshly revamped algorithm, you can use Traffic Analytics to benchmark, analyze your competitors, and power up your marketing efforts even more accurately. Our biggest updates include:
More than 2 terabytes of analyzed data per day
2x more events (2 million events per minute, billions of events per month)
3.3x more sessions
20% increase in domain coverage with many advancements occurring for domains with smaller traffic count
Traffic forecasts for the upcoming month with 80% accuracy (a 10% improvement since our last update)
You can also see that forecast data is now available on the Overview Report as well as several widgets to make reporting easier and more robust.
Another improvement is our custom period reporting — allowing you to check key metrics for selected months — up to the last 24 months.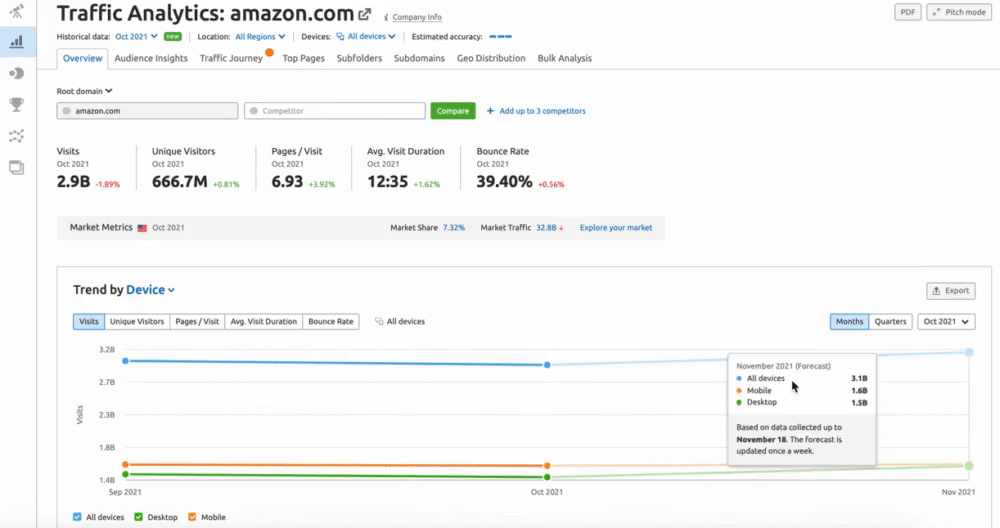 To learn more about the Traffic Analytics Overview Report, visit the manual on the Semrush Knowledge Base.
EyeOn: Our Newest Competitive Monitoring Tool
Keep an EyeOn Your Competitors 24/7
The EyeOn Tool monitors your competitors' content marketing efforts and paid advertising. You can add up to 5 domains to track and receive recurring weekly emails about newly published blog posts, articles, or ads that they launched. 
As of November of this year, our new tool is available for all Semrush users. With it, you can:
Track your competitor's newly posted content (blogs, articles, ads)
Monitor your competitor's trends and patterns to fuel your own strategy
Get weekly notifications for all changes and activities your competitors make, sent directly to your email
Access these by visiting the EyeOn Tool page.
Semrush App Center: Best-In-Class Tools that Power Brands
The Semrush App Center is a marketplace that features select apps to cover a wide range of marketing needs. There are currently 11 apps — from YouTube rank tracking, SEO management, ecommerce keyword research, competitor ad research, instant social media banner generator, and more to support your digital strategy. Each app is specially handpicked by the Semrush team to ensure quality, reliability, and value to our users. 
Launching the Semrush App Center was one of our biggest initiatives this year, and we wanted to give you the best quality options in our app ecosystem. They are created by both Semrush as well as vetted third-party vendors.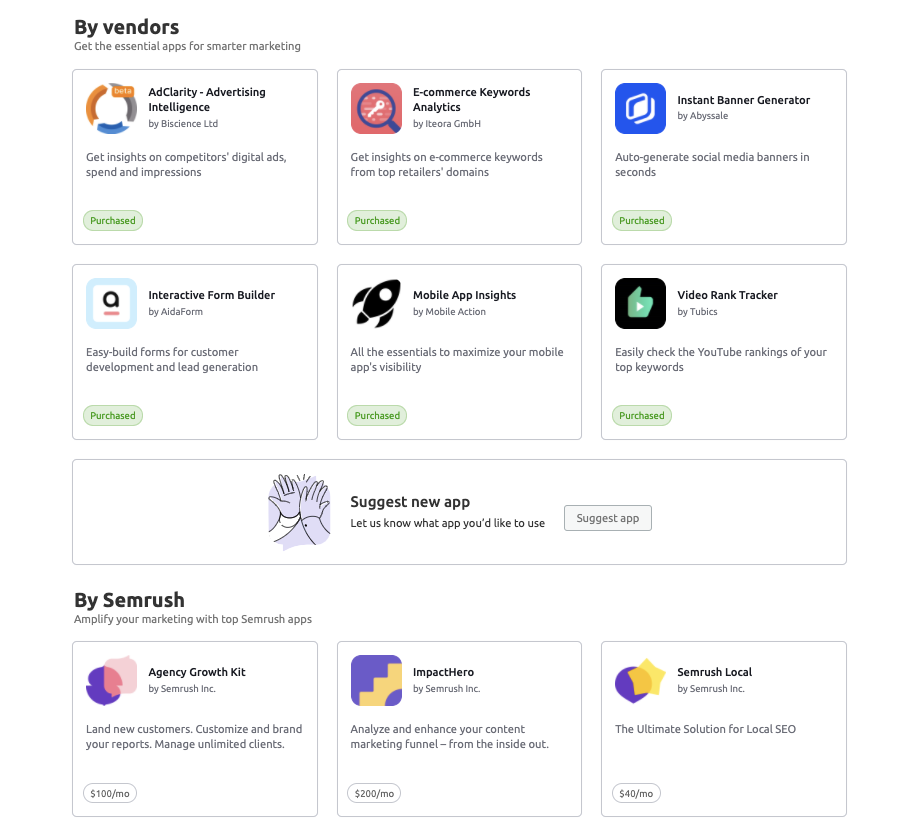 What You Can Do with the Semrush New App Center:
Uncover your competitors' digital ads, spend, and impressions to discover their best-performing landing pages and creatives with the AdClarity — Advertising Intelligence App
Discover the top-performing ecommerce keywords across major online retailers in the US, Germany, and Australia with the Ecommerce Keywords Analytics App
Create professional, powerful social media banners within minutes with the Instant Banner Generator. No need to hire a professional designer. Create unlimited designs for multiple formats at the same time
Track and monitor more than 200 keywords on YouTube with Video Rank Tracker
Build code-free forms within minutes and capture inbound leads with the Interactive Form Builder
Level-up your rankings and fine-tune your Apple Search Ads with Mobile App Insights
Organize tailored feeds built from various Telegram channels and groups, track keywords across Telegram messages, and automate your brand monitoring workflow with Telegram Tracker
No-hassle sign-up: get access to multiple tools using a single Semrush account
To learn more about each of the apps we currently provide, head over to the Semrush App Center.
Updates to Sellzone: The Toolkit for Amazon Businesses
Sellzone is a comprehensive, robust marketing toolkit with one goal in mind: to help Amazon sellers outplay the competition and maximize their sales.
Formerly known as Sellery, our Amazon toolkit not only got a fresh, new name — but we rolled out new features that let you find new products, do Amazon keyword research and launch automatically optimized ads so you can scale your productivity as well as your ROI. 
With the newly updated Sellzone, you can now take advantage of these new tools:
Amazon Keyword Wizard Tool: Improve Amazon SEO
Keyword Wizard is a keyword research tool for the Amazon search engine. You can employ this tool to:
Get higher search rankings on Amazon by presenting the most relevant high-volume search terms for any product
Bring in new ideas on keywords for ranking on Amazon by providing a list of long-tail keywords by broad, phrase and exact match
Find growth opportunities and outpace competitors with a low-competition keyword list.
To learn more, visit the Keyword Wizard Tool page.
The Amazon PPC Optimizer Tool: Launch the Most Profitable Ads
Whether you're an experienced Amazon seller struggling to beat the competition, or you're a newbie who doesn't know how or where to start, the Amazon PPC Optimizer Tool can help. Here's how it works:
Amazon PPC Optimizer Tool automatically builds and enriches your semantic core of PPC keywords, including new keyword discovery, automatic removal of non-performing keywords, and the creation of negative keywords
All you need to do is pick a product to advertise, set the campaign details, and let the tool take over the rest 
Dive deep into detailed reports, and make any changes as needed
To learn more, visit the Amazon PPC Optimizer Tool page.
Amazon Product Research Tool: Find Your Next Winning Product
Struggling to find the best products to sell? Whether you're an Amazon newbie or a pro trying to navigate steep competition, the Amazon Product Research Tool helps you identify low-competition, high-demand products to sell. 
Get the most up-to-date information about a product's demand: So you can see what's gaining popularity
See if a product is profitable: Our tool automatically calculates your seller fees and estimates how much you'll make on each sale
Use smart filters: So you can uncover low-competition, high-demand products to power your Amazon store
To learn more, visit the Amazon Product Research Tool page.
Uncover Amazon Organic Search: A New Report
Amazon merchants can look up products using the Amazon Traffic Insights report to collect data on performance, product listing ads, display ads, product reach estimations, channel breakdowns, and more.
Also new in 2021 was our Amazon Organic Search Report: a powerful research tool to uncover data performance right on amazon.com. Previously, only external traffic sources were included in this tool, but now you can access:
The list of keywords analyzed and rankings in Amazon
Estimated keyword volumes
Amazon SERP features for each keyword
Average positions for searched products
Estimated traffic from organic positions
A list of top competitors with an Amazon SERP snapshot
Want to try it out? You can access these data points by looking up the ASIN or dropping in the product URL directly into Amazon Traffic Insights.
We also created a brand new subscription plan called Pro — priced at $85 per month. With it, you can add up to 2000 products to the Listing Protection Tool (instead of 500), experience a private onboarding session, plus access a personal account manager to get a strong competitive advantage in the playing field.
Improved Tools for Social Media Marketers
The Social Media Toolkit is an all-in-one platform where you can glean advanced analytics, use the automated poster to schedule content, access multiple reporting options, and more. 
We've furthered the benefits of our solution by providing updates for two key social media channels:
Direct Posting and First Comments for Instagram
Now you can post to Instagram directly from the Social Media Poster. You can also write the first comment on the post, which is typically used for adding your hashtags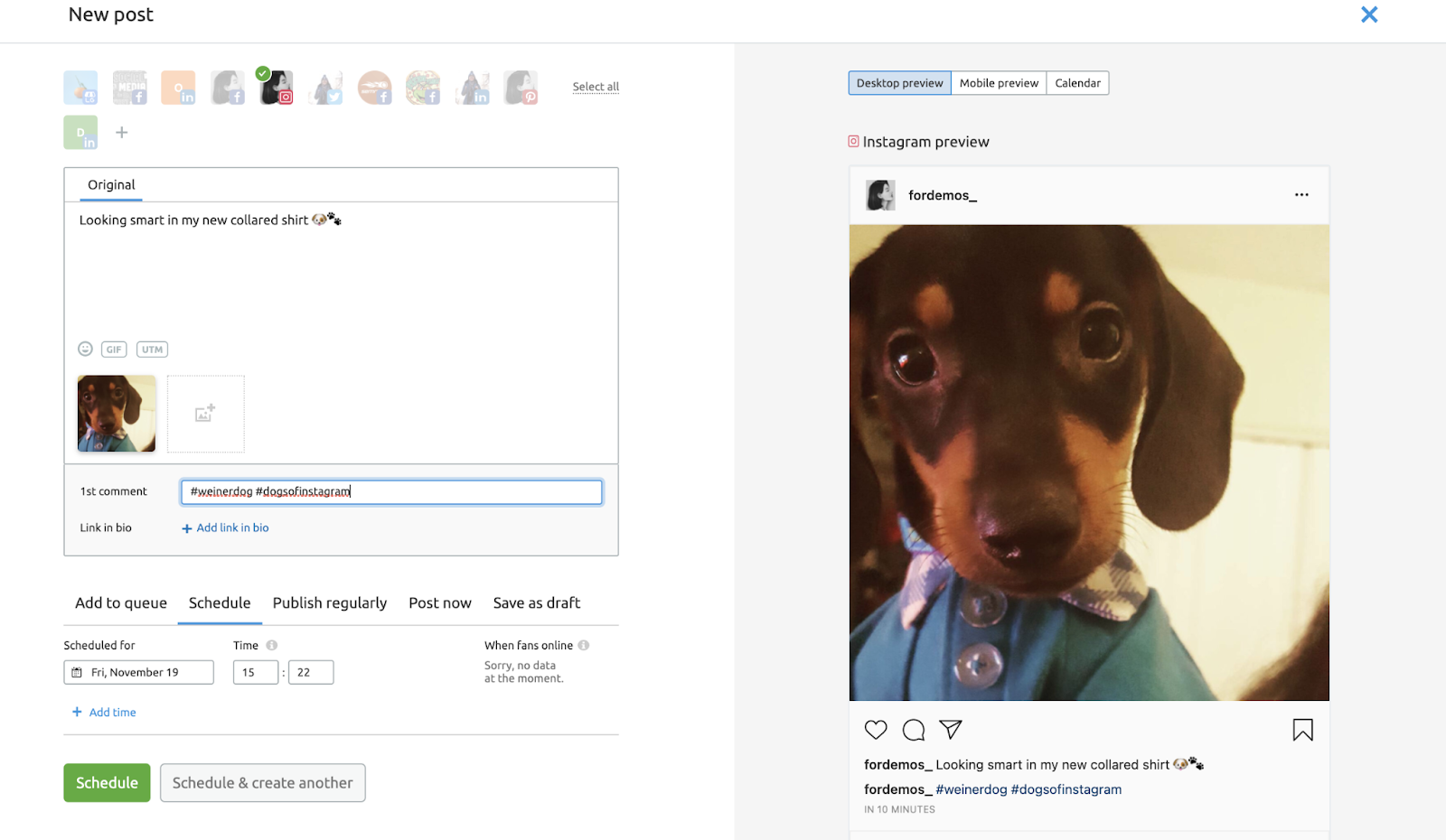 Improved Reporting for LinkedIn
New this year, our Social Media Analytics Tool now lets you analyze data and statistics from LinkedIn. You can quickly access an overview of your LinkedIn business page performance including followers, reach, impressions, and other key metrics
Dive into our Social Media Toolkit to learn more.
Improve Workflow with New External Integrations
Scaling productivity is one of our most important initiatives, and that's why we helped develop several new external integrations to help you increase workflow efficiency across multiple other tools including:
AIOSEO WordPress Plugin: Integrate our additional keyphrase feature to unlock more related keyphrases with a single click
Monday.com: Get real-time keyword insights without having to leave monday.com 
Unstack: Use the Unstack CMS to uncover keywords and competitors' backlinks research based on Semrush data. All you need to do is login into your Semrush account!
Want to learn more about our integrations? Visit our page on the Semrush Knowledge Base. 
Prowly: PR & Media Relations Tool Updates
New Prowly Features to Personalize Your Strategy 
Prowly contains several tools that help you connect all your PR activities in one place. This software solution helps you find and manage the most qualified media contacts for SEO and PR content strategy, send personalized emails to journalists and measure your results.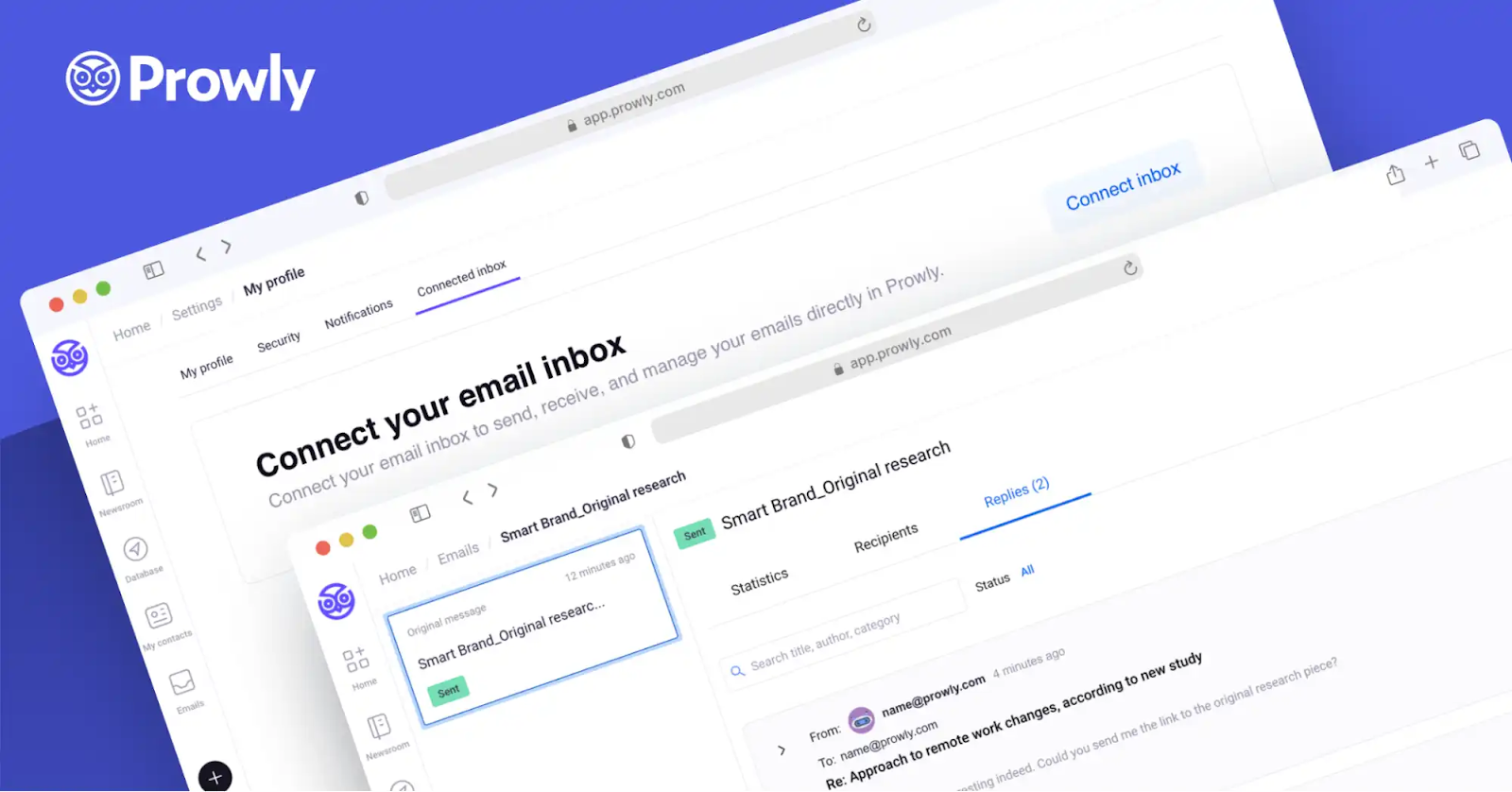 Integrated, In-App Emails
Now you can manage all email correspondence with your contacts seamlessly from the Prowly app by simply connecting your mailbox — without ever having to leave the interface. This improvement means you'll be able to:
Send and receive all email communication directly from the Prowly app to keep all of your conversations in one place
Track performance of all email pitches including reply rates
Collaborate with coworkers on your team by using reminders, notes and mentions
Set convenient reminders for important emails that need to be sent out later or at a specific time
Follow-up Emails
Need to circle back with a reporter about a pitch you sent? This long-awaited feature will allow you to easily create a follow-up email to journalists directly in Prowly to make sure none of your emails go unnoticed. Now you can:
Create follow up emails based on the recipient's engagement with the first email to see who you should reach out to
Create custom emails by sending personalized messages based on whether the journalists have read your emails
Review, send, save and schedule your follow-up email to create the perfect message
Check performance statistics and preview the follow up email message you've sent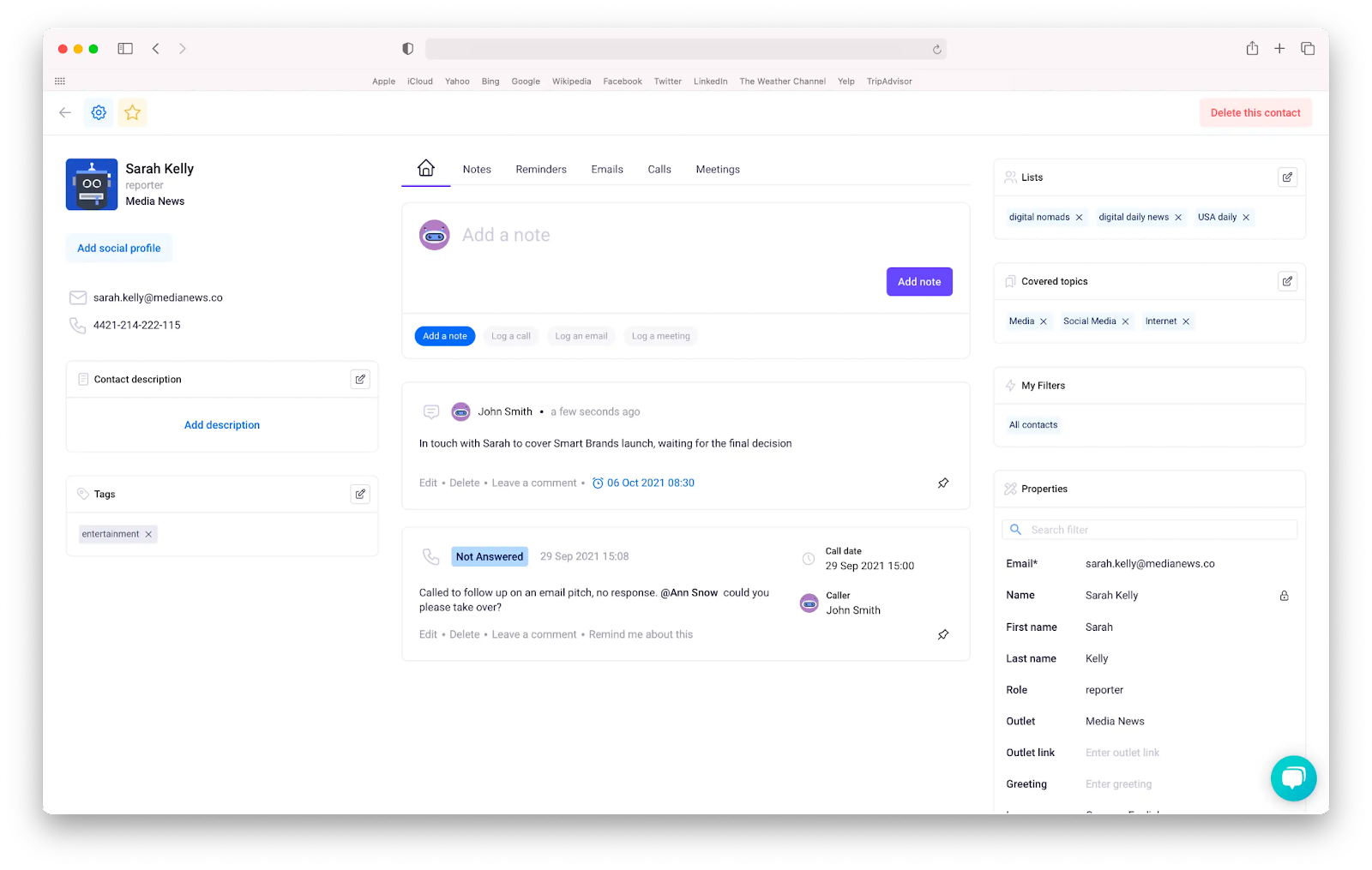 New Extended Contact Cards: Add notes about your contacts such as calls and meetings, log your email conversations, and add additional comments for you and your team. Set reminders to never miss an important deadline or an email pitch again!
Weekly Summary Email: Stay on top of your sent pitches and number of recipients, get stats on the number of total recipients as well as stats on the two biggest send-outs. 
Media Contact Recommendations: Get a list of promising journalists, influencers, publishers, and other media contacts who would be the most interested in your pitch. Save time by using helpful filters such as languages, cities, and even media types (print, television, magazine, etc)
To learn more about these updates and other features, visit the Prowly product updates page.
More Updates to Come
Our drive to improve our products is directly linked to your needs, your challenges, and your goals. That's why we encourage you to leave your feedback and ideas for improvement at every stage of the Semrush platform. We continually update our tools year-round, and your insights on how to improve are embraced by our team.
We'll be sure to announce some upcoming developments soon. In the meantime, feel free to share with us your feedback, comments, and ideas!