Semrush Traffic Analytics is a market intelligence and competitive research tool that provides estimations of any website's desktop and mobile traffic. It can help you benchmark, evaluate a new market or niche, and even build a successful media buying strategy.
The tool will help you see where a website's traffic comes from; how their audience engages with their site; what devices visitors prefer to use; how multiple websites' audiences overlap and much more. The market intelligence insights found in Traffic Analytics make it one of the most powerful tools on Semrush for market researchers, marketing managers, business development teams, and sales teams.
Estimates of total website traffic to any domain and its subdomains, and subfolders
Visits, unique visitors, pages/visit, average visit duration, and bounce rate analysis
Traffic channels
Geolocation-based web traffic analysis
Top "destination sites" that users visit directly through hyperlinks on the analyzed domain
Historical data back to January 2017
Mobile/desktop traffic
Audiences' overlaps
Comparison for up to 5 domains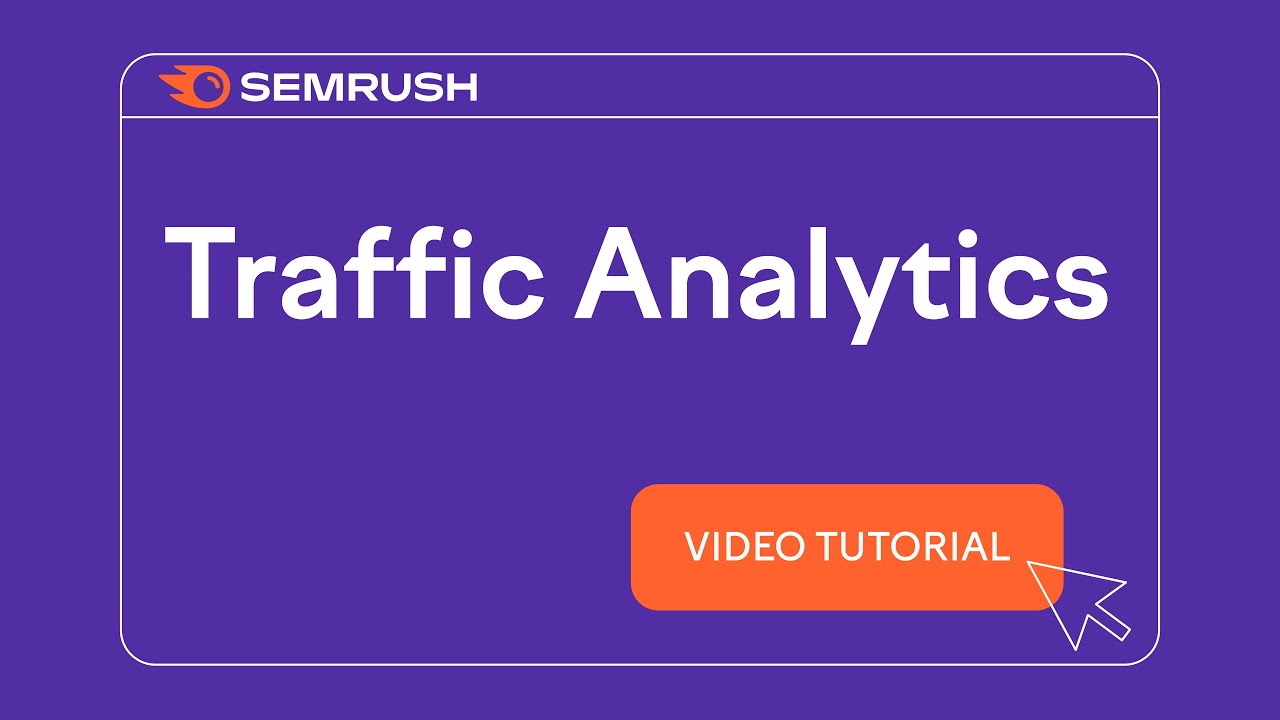 Traffic Analytics is a tool for uncovering any website's traffic strategies and successes. It's broken down into several subreports (tabs):
Traffic Overview
Audience Overview
Traffic Journey
Top Pages
Subfolders
Subdomains
Geo Distribution
Bulk Analysis
The data in these reports offers quick insights and thorough analysis on the competition and market.
You can read more on each subreport in the following section Traffic Analytics Reports and Features.
When you start your competitor research in Traffic Analytics, you can choose one of the options: check competitors, create a list of domains to compare, or bulk analysis.

Check competitors — this runs a competitor analysis for one domain.
Create List — here, you can create a list of domains for analysis that will be stored in the tool for later use.
Analyze in bulk — using this option you can enter up to 100 domains and get traffic metrics for all of them in the Bulk Analysis report.
What is more, there's an option to simultaneously analyze data for multiple countries in a single dashboard. Simply open the location dropdown, activate the "Select multiple" switch, and choose the countries you'd like to view.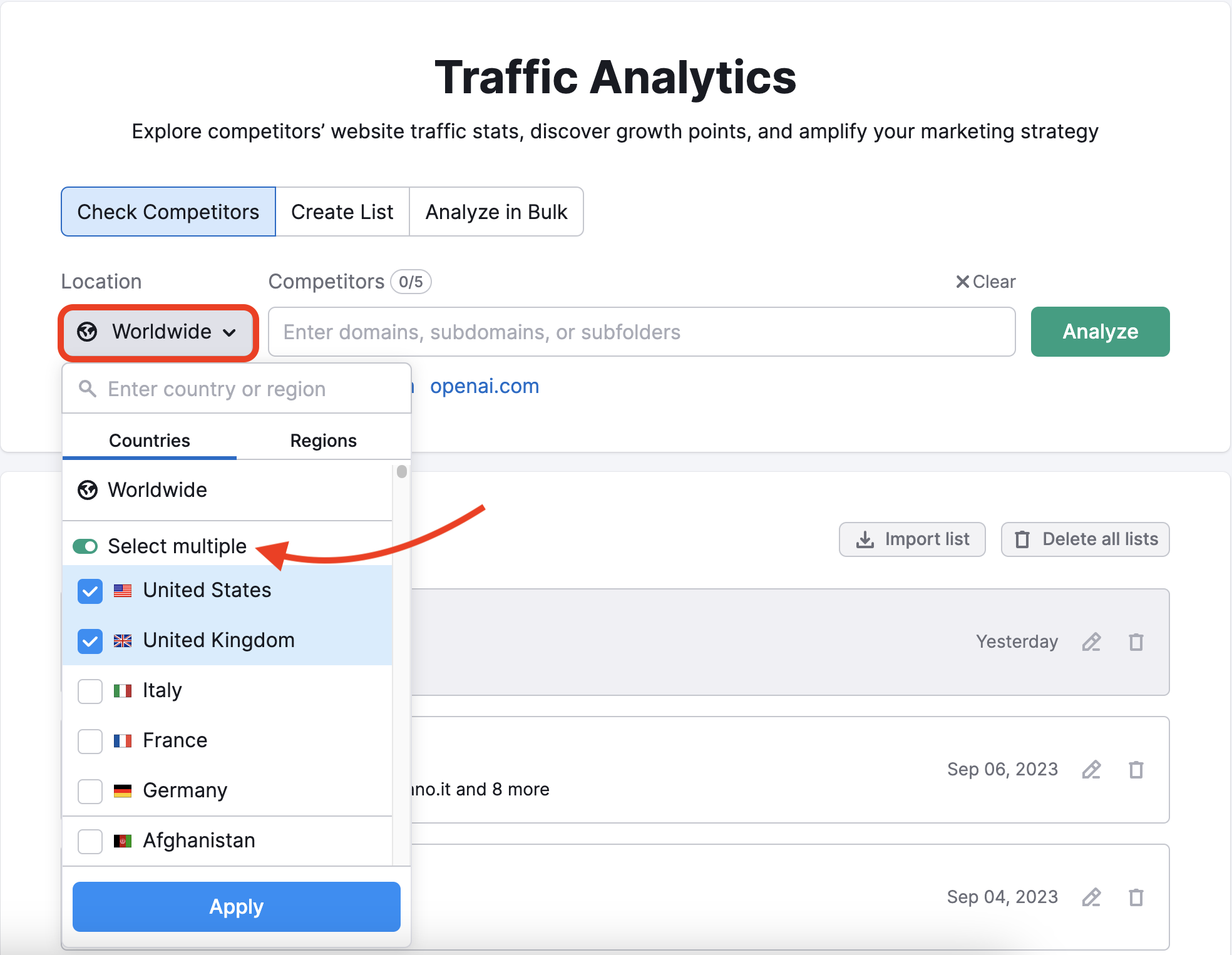 Additionally, you can select a Business or a Geographical region to access different data sets based on your business needs. This also can be assessed via the location dropdown: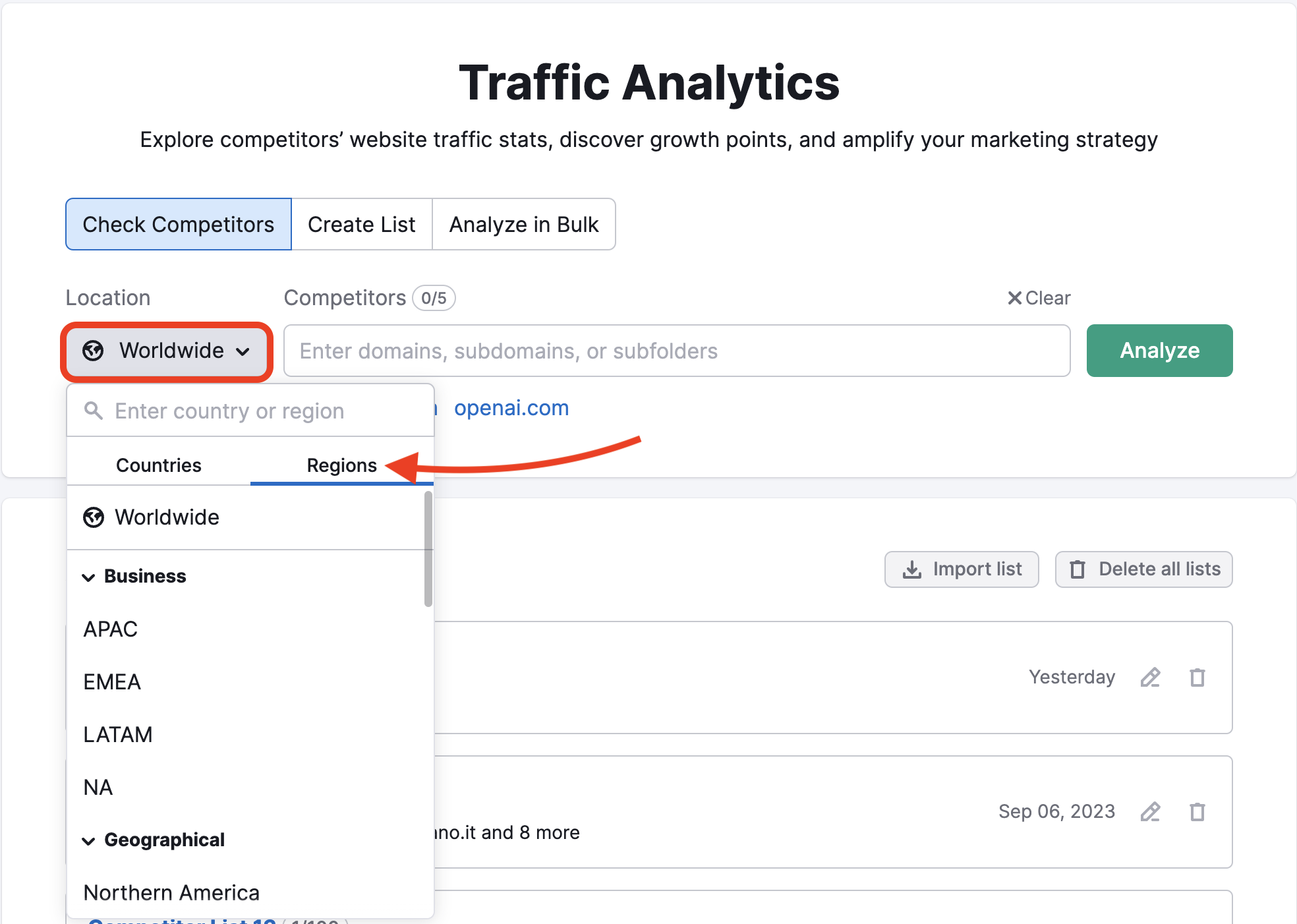 Traffic Analytics reports are based on petabytes of clickstream data that comes from multiple proprietary and 3rd party data sources, Semrush's proprietary AI and machine learning algorithms, and Big Data technologies. The data is accumulated and approximated from the user behavior of over 200 million real internet users, and over a hundred different apps and browser extensions are used to collect it.
For more information about how Semrush turns traffic data into traffic intelligence, refer to our article here.
As Traffic Analytics data is not obtained from any website's internal analytics, the numbers you see here might differ from what you see in your Google Analytics or similar trackers you use. However, if you want to analyze only your own website traffic without comparing it with others, we recommend that you refer to your own Google Analytics.
All numbers in Semrush Traffic Analytics are perfectly comparable, meaning you can match two or more websites in the tool and see how their metrics differ from each other in %.
Complete access to Traffic Analytics data is available with the .Trends solution ($200/month) and can be added to any paid Semrush subscription - Business, Guru, or Pro.
All paid subscriptions without the .Trends solution are able to use the Traffic Analytics Overview report and are able to try out other reports and filters using the 3 sample domains (amazon.com, linkedin.com, openai.com) to see how the reports work.
A free subscription without the .Trends solution gives you limited access to the Overview report (free accounts can make 10 total requests/day shared between all Semrush reports) and all remaining reports can be viewed using our 3 sample domains.
It's possible to export data from this tool in the following formats:
PNG
CSV
Google Sheets
PDF

Export data from Traffic Analytics to PDF or create your custom report with the My Reports tool. Combine data from Traffic Analytics, other Semrush tools, Google Analytics 4, Google Search Console, and other sources to create custom PDF reports. Align the reports with your brand and schedule automatic updates for seamless report automation.
The type of export, number of results exported, and the amount of daily exports you can make depends on your
subscription plan
. Please refer to
this article
for more information.