User Management on Semrush makes collaboration easy and effective. A standard Semrush subscription allows for one email address to be logged in at a single time. Adding users allows more people to access your account.

When you add users to your account, you are able to:
Share your Semrush plan with another email address that acts as a log in and shares a defined amount of your plan's limits
Keep your account secure using individual logins for each team member
Equip users for productive work by allocating required subscription units
Grant people access to specific projects and collaborate together
Get information flowing by adding notes to graphs visible to teammates
Minimize distraction by letting users work with relevant and personalized dashboards
Monitor what team members are up to by viewing their projects, unit usage, and query history
Assign admins to delegate user management duties
Add more users
Additional users can be added to a Pro, Guru, or Business level subscription with a minimal cost.
Pro: $45 per user per month
Guru: $80 per user per month
Business: $100 per user per month
You can buy additional users in Subscription info – just click Buy more next to Users. After that, go to the User Management page of your profile and find the "Invite user" button to invite users to your account.

If you want additional help figuring out your needs, you can also request users by calling the phone number at the footer of our website or mailing us at mail@semrush.com and a team member will walk you through the process.
For more information, please see: How do I add users to my Semrush account?
Manage Additional users
If you have more than one user associated with your subscription, you can manage them from the User Management page.

Please note: the User Management page is only visible to Semrush accounts that already have additional users on their account. If you don't have any yet, you can add users to your account from the Subscription Info page with the "Buy more" button, or by contacting us via phone or email.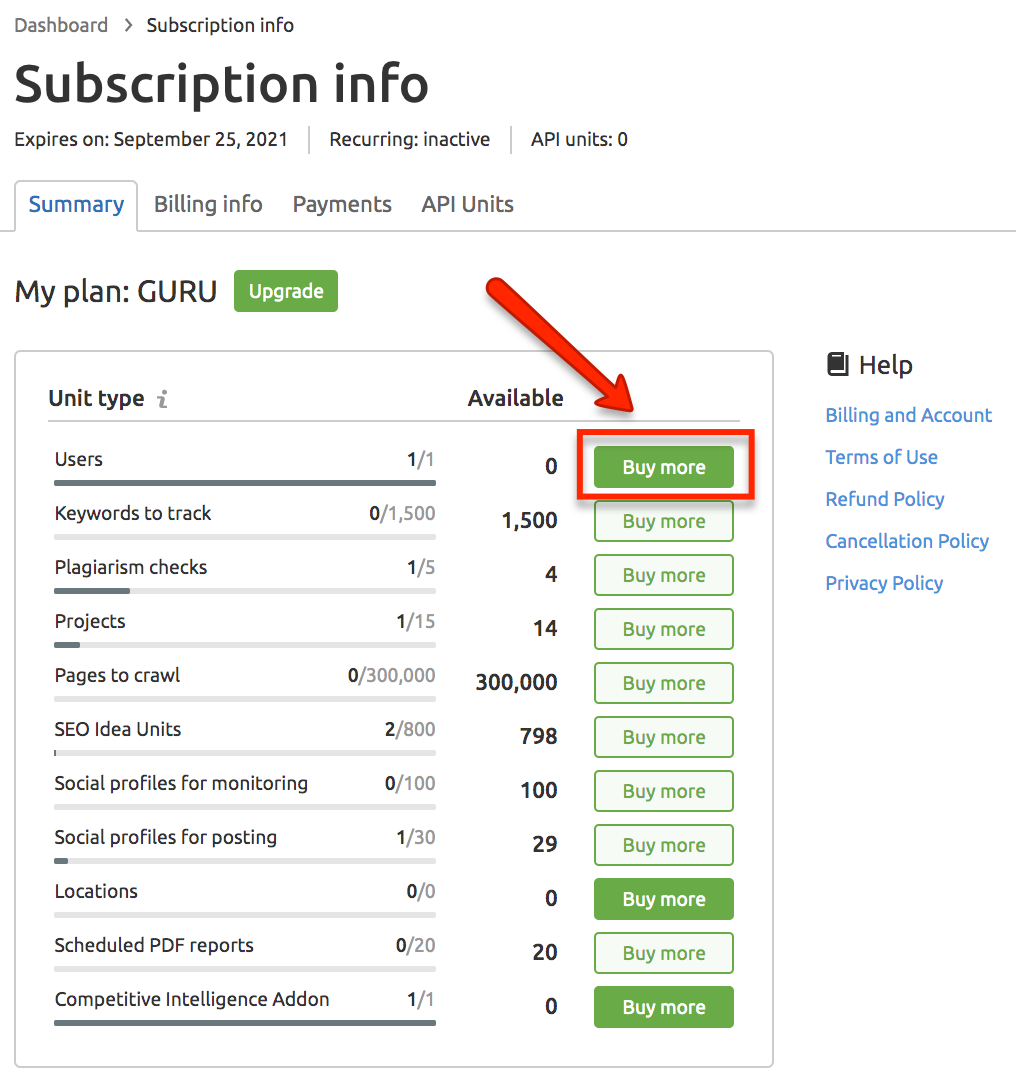 For more information, please see: Where can I manage my users?
If you need to share your projects, check out How do I share Projects? article.