One of the keys to every successful advertising campaign is making sure you are targeting the right keywords for your goal. However, this is easier said than done. Creating a good keyword list requires time and research.
Follow this workflow to come up with the best keywords for your PPC campaign.
Brainstorm
Write down a list of keywords that best describe your products or services. Try not to make this step too complicated. Try to think and use broad categories as your base keyword and build from there. Don't forget to add your own brand (or the brands you represent) as a keyword in your list.
Get Inspired by Your Competitors
Once you are comfortable with your brainstormed list of keywords, a good way to expand on this list is to analyze your competition in order to look for opportunities that you're missing out on. Luckily this process is made easy with Advertising Research. Just enter your competitors' domain into the search bar and you will see the keywords that they were seen bidding on over the past 12 months.
Take a look at this list and pick out keywords you think you could provide a better solution for than your competitor.
To look for specific opportunities, apply advanced filters to this report to narrow the list down by keyword, keyword type (branded or non-branded), search volume, CPC and Com. (competitive density).
The example below shows only keywords containing the word "camping" that REI.com advertised on.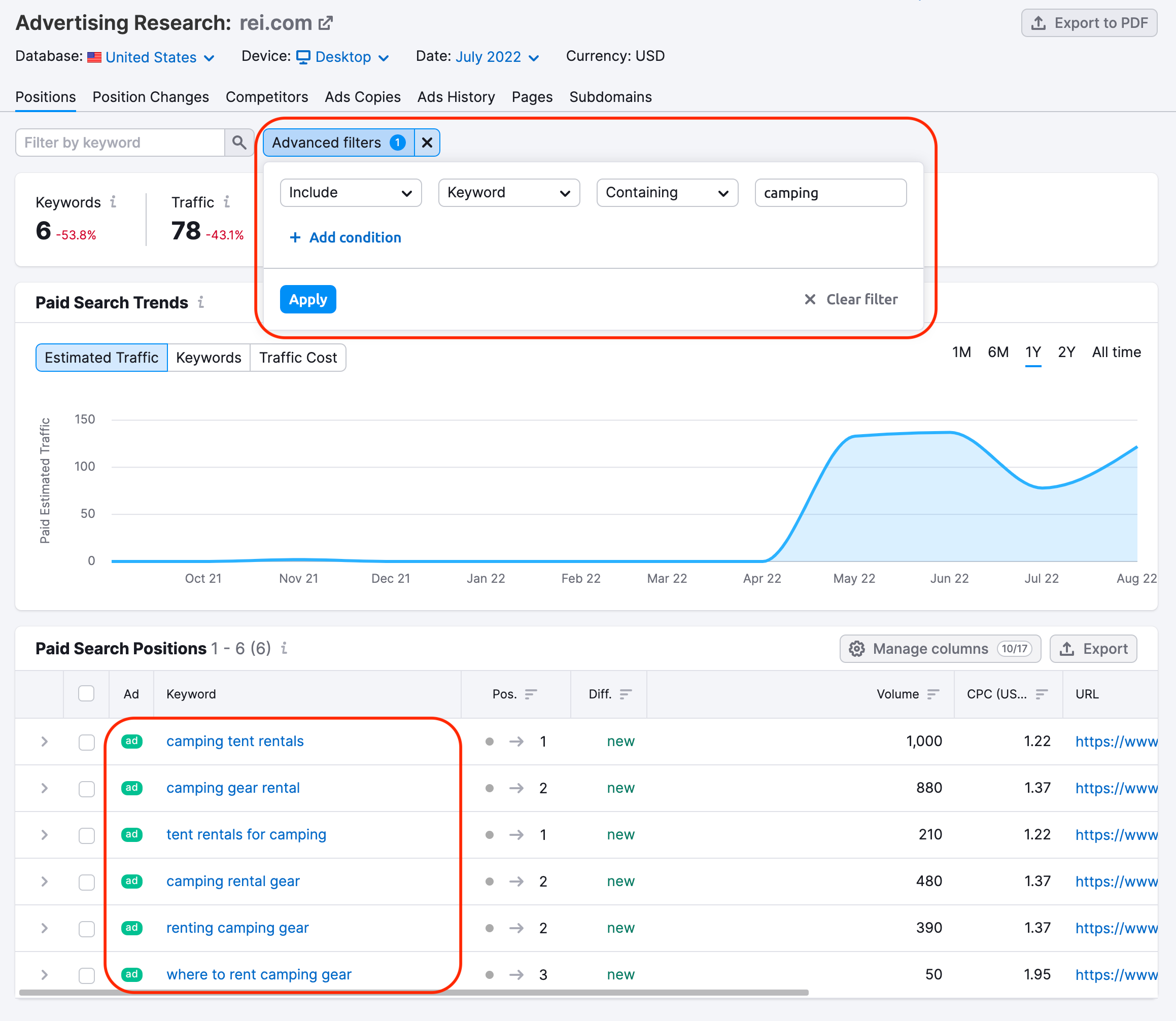 Further reading: How to Analyze a Competitor's Advertising Strategy
Cover all Related Search Possibilities
After you have viewed a competitor's advertising profile, you should decide on one of those keywords to cover all of the related search possibilities. There may be similar searches that you or your competitor aren't thinking of at the moment but could really be helpful in bidding on.
To find more related ideas, take your chosen keywords and enter it into the Keyword Magic Tool. Click the related button at the top of your keyword list to see all of the possible related keyword searches that you may be ignoring.
These keywords represent supplemental opportunities that should be added to your campaign's keyword list to cover what you or your competitor may be missing otherwise.
Understand User Search Intent
When you are choosing your bid keywords, make sure they address the search intent relevant to your advertising goals. Searcher intent can range from informational (looking for general information), commercial intent (including a brand in the search to look for specific products), navigational (user wants to find a specific page or site) or transactional intent (keywords that include "where to buy___" for example). If you sell products on your website, it can be more effective to identify keywords with transactional intent.
The keyword groups and intent filter in Keyword Magic Tool will help you identify the most high-volume keywords with the right intent.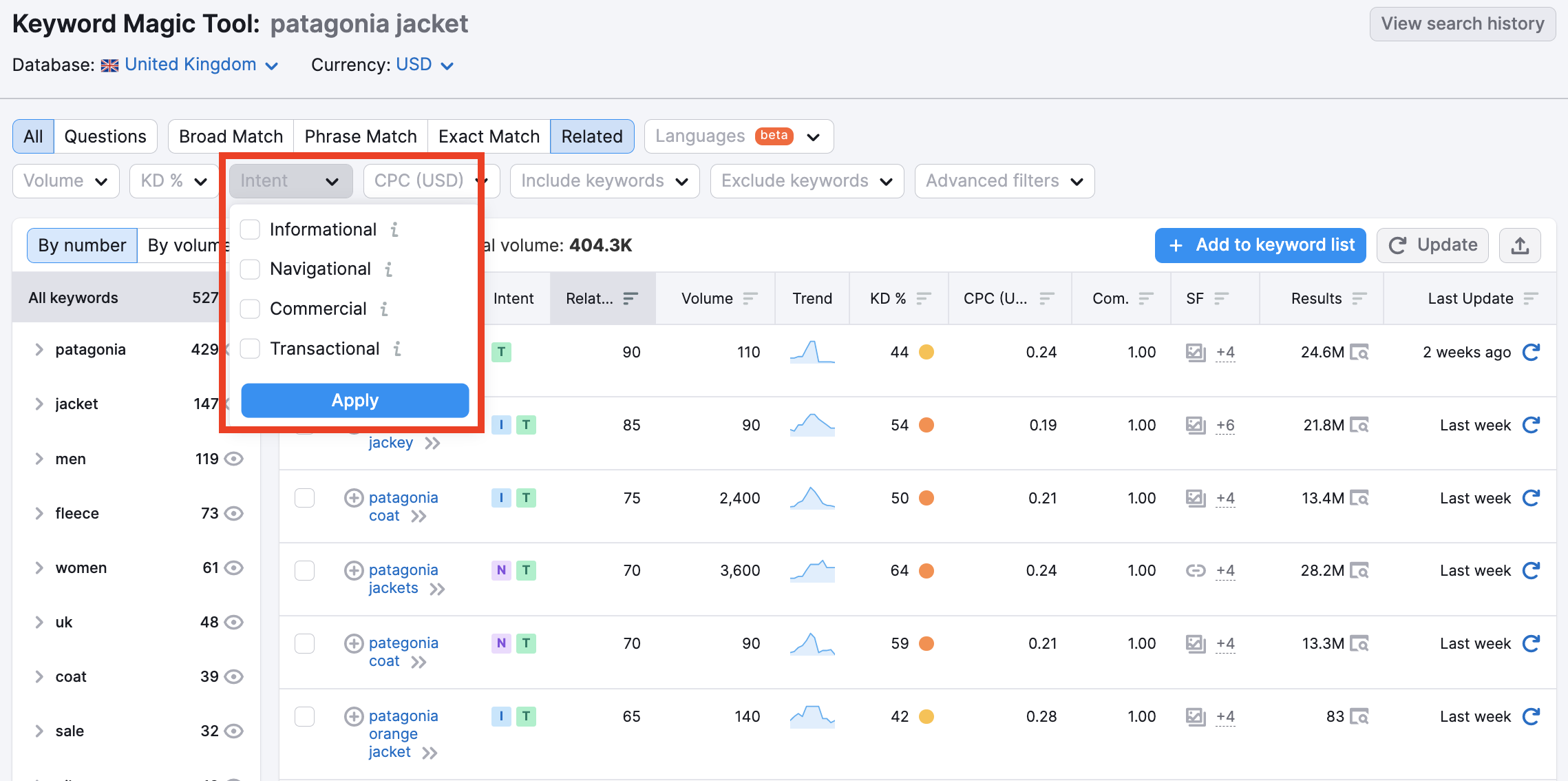 Fine Tune Your Keyword List
Before adding keywords to your Google Ads campaign, you can upload a file of your keywords to PPC Keyword Tool and fine-tune the list to prepare for the launch of your new campaign.
The recommendations in this tool allow you to remove stop words, create single-keyword ad groups and generate cross-group negatives in a matter of minutes.
Doing this will help you organize keywords at the campaign and ad group level to seamlessly import into Google Ads.
After fine-tuning the list with the help of the PPC Keyword Tool, you can export the campaign file and upload your keywords into your Google Ads campaign.