What Are Competitor Keywords? 
Competitor keywords are keywords your competitors are currently targeting to improve rankings and generate more online traffic.
Targeting competitor keywords helps you appear on the same SERPs (search engine results pages) as your competitors. You can also use competitor keyword research to reveal weaknesses, such as valuable keywords they have yet to target.
With this information, you can perform a competitor keyword analysis to find out which keywords to focus on next (more on that later).
What Is Competitor Keyword Research?
Competitor keyword research is the process of finding and analyzing the keywords your competitors are currently targeting and ranking for in SERPs.
From here, you'll first need to find out which keywords have worked well for your competitors so far. 
To start this process, you can take a deeper look at your customers and their online search habits.
Leveraging Search Intent 
Users know what they're looking for when they enter keywords or phrases into Google. 
To maximize your organic success, you will need to zero in on search intent. 
Search intent is the reason behind someone's search. And your content needs to match the user's intent.
There are four main types of search intent:
Informational

: when the user wants to learn more about something

Transactional

: when the user wants to complete an action, like buying

Commercial

: when the user wants to learn more before completing an action

Navigational

: when the user wants to find a specific page or website
To quickly discover any keyword's search intent, use Keyword Overview. 
Enter your keyword and click "Search."

You'll see the keyword's intent in the box labeled "Intent." 
Like this: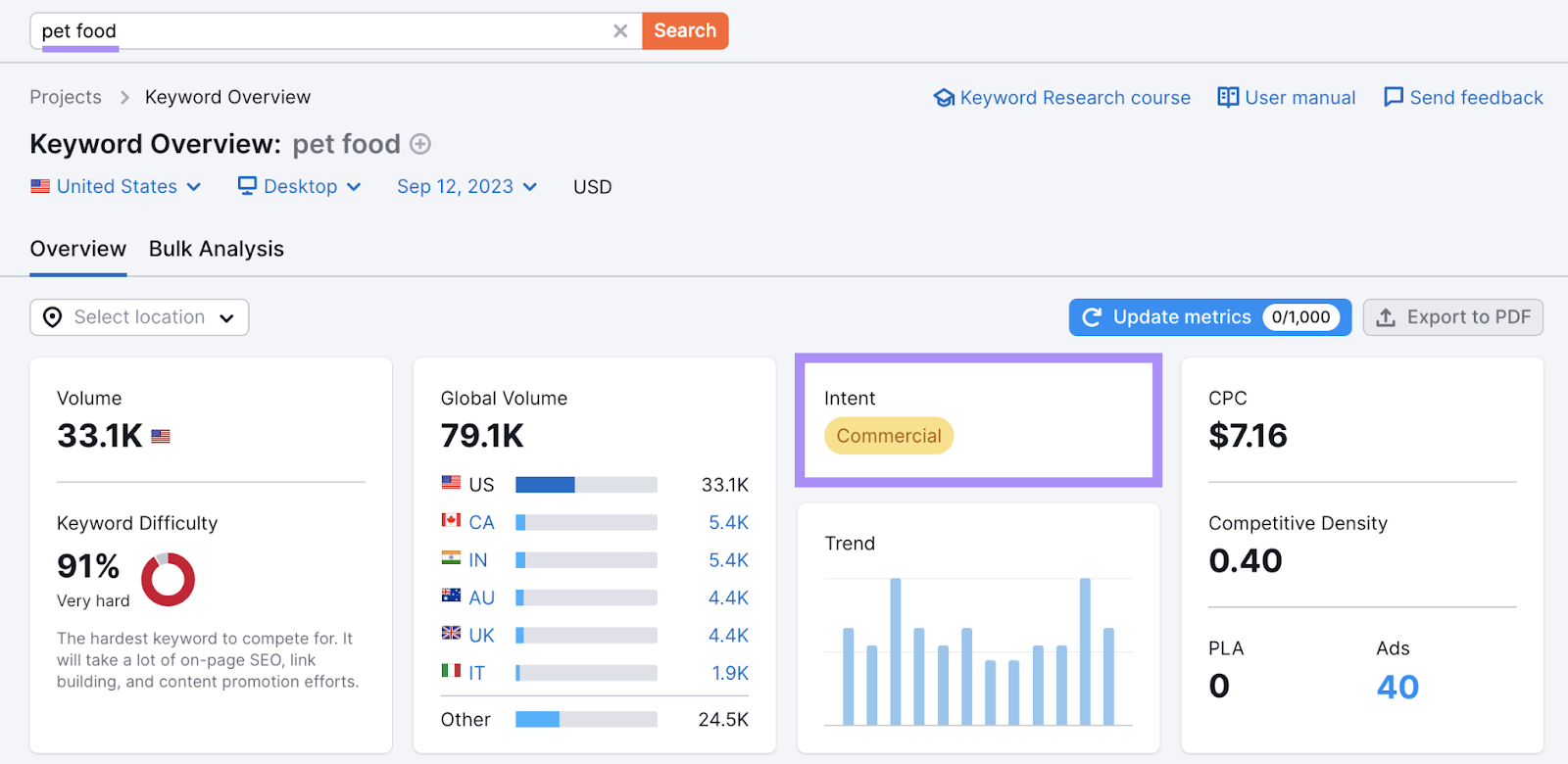 How to Do a Competitor Keyword Analysis
If you've already done your keyword research, you can analyze your competitors to get the most out of your target keywords. 
(If you haven't, think about broad keywords from your niche.)
Performing a competitor keyword analysis can be done in five simple steps:
Find Your Competitors

Research the Competition

Gather Competitor Keywords

Export Keywords

Organize Your Results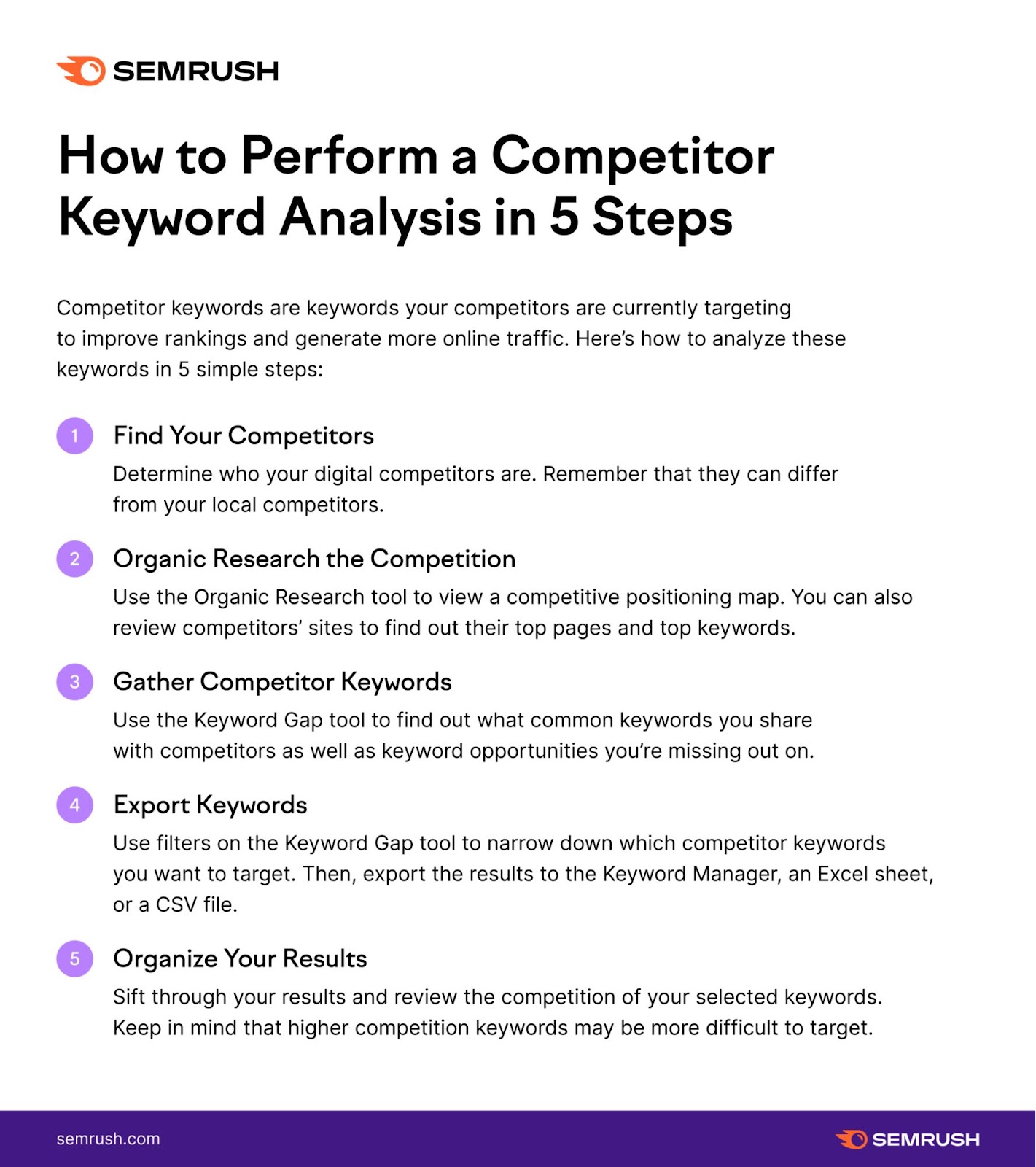 1. Find Your Competitors
Your online search competitors can be very different from your local business competitors. 
Some of your toughest local competitors might not be competitive at all in terms of organic search. 
How are search competitors different from business competitors? 
Search competitors are the websites that rank for the same or same type of keywords as your website.
With this in mind, the first step in your competitor keyword research is to find who your search competitors are. 
Open Organic Research, enter your domain, and click "Search."

Then, head to the "Competitors" tab. And scroll down to see a table labeled "Organic Competitors."
These are all the websites you're competing against in Google's top 20 organic search results. 
2. Find Competitor Keywords
The next step is to find keywords your competitors are ranking for, but you don't. 
Each keyword from this gap represents an opportunity for you to create new content, rank, and bring in more traffic. 
First, head to the Keyword Gap. 
Then, add your domain and up to four competitor domains. And click "Compare."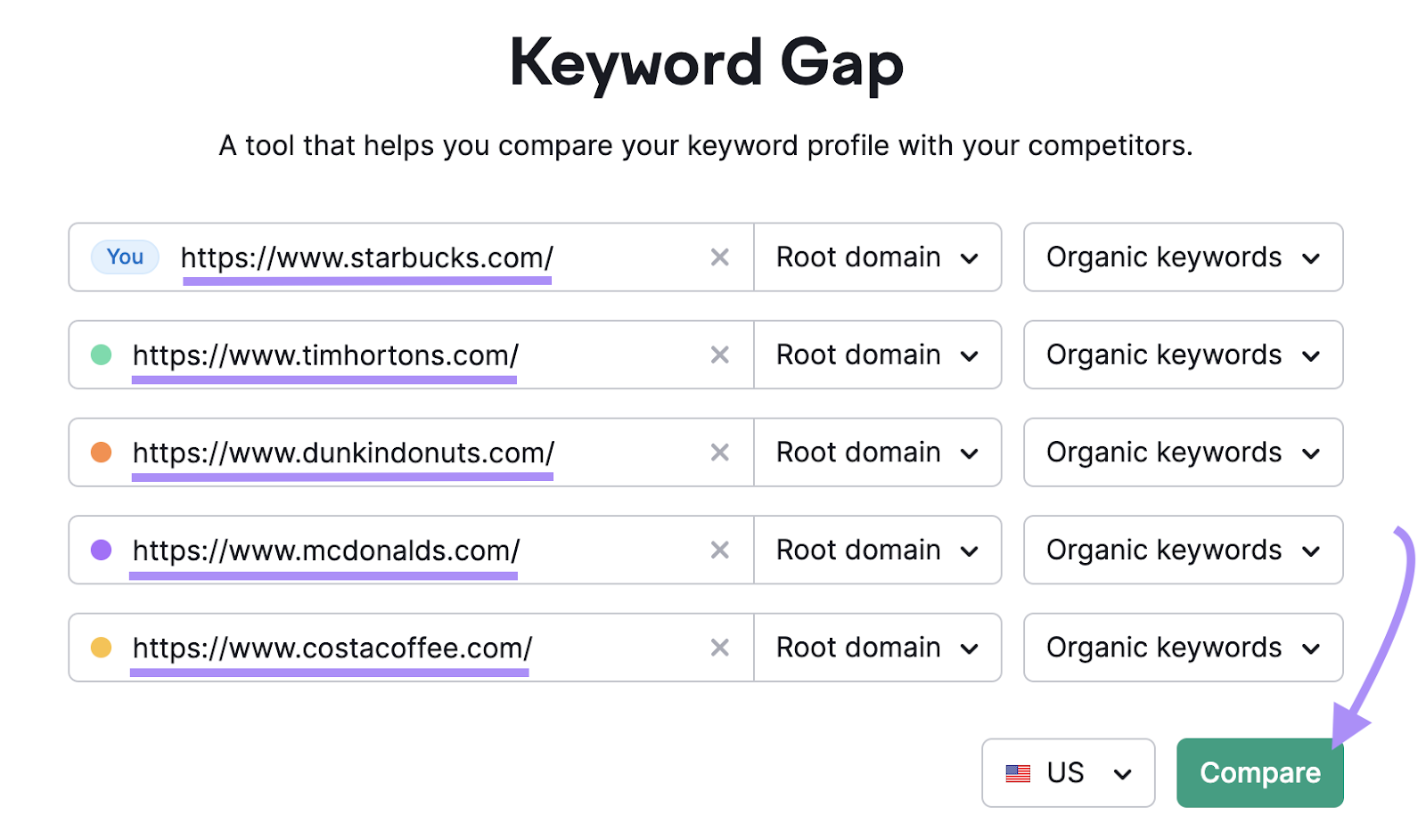 Scroll down and you'll see a table with keywords. Now select the "Missing" filter. 
These are the keywords all of your competitors rank for, but not you. 
You can also click on the "Weak" filter. You'll see the keywords for which you rank lower than all your competitors.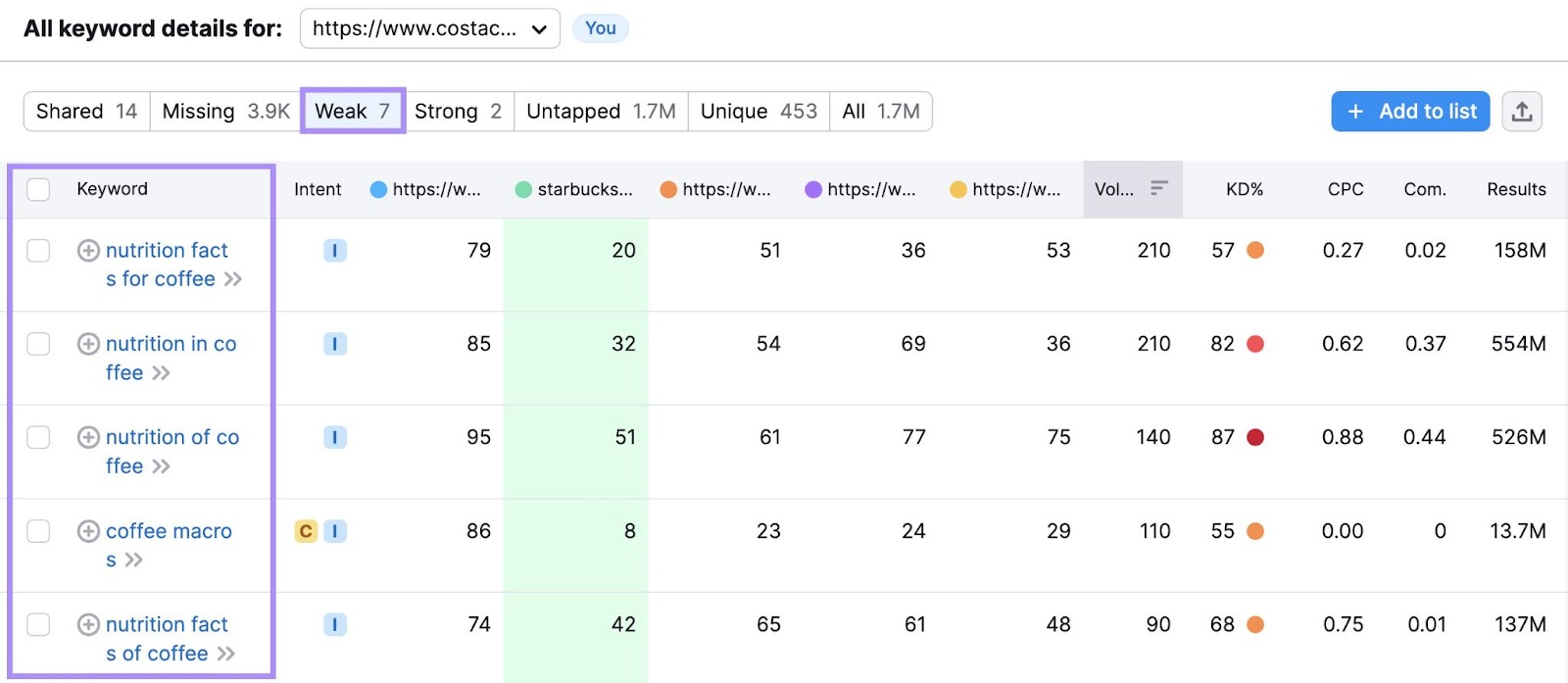 This is a great way to find content you should optimize. 
3. Export Keywords
You found the keywords your competitors are ranking for and not you. 
Now it's time to export it all into a ready-to-use spreadsheet with the most valuable information already coherently organized. 
To do this, click the "Export" button on the top right. You can choose to create an Excel, CSV, or CSV semicolon file of your keyword gap data. 

For example, if you select "Excel," you'll see a spreadsheet like this one:

Now you have a way of sorting, filtering, and sifting through all of this information. 
4. Organize Your Results
Start by thoroughly vetting and assessing your competitor keywords list, then follow these steps.
Sift through the stats

for high competition keywords and set them aside. They might be too competitive to go after now, but they might come in handy later.

Cross-check keywords

you share with your competitors and eliminate ones that don't make sense for your business.

Highlight keywords

you believe have higher potential to benefit your business. These could be solid options to target.

Review SERPs

for each highlighted keyword. Note any organic or paid opportunities you may have missed and how you might target them. Pay special attention to keywords your competitors rank higher for. 
How to Use Competitor Keywords to Your Advantage 
There's no magic trick to help you quickly identify which keywords are more important than others. 
You need to perform a manual keyword analysis and consider their relevance, organic traffic, and the current SERPs they trigger to make this decision.
Evaluate Each Competitor Keyword
Once you've narrowed your competitor keywords list to the most relevant or accessible keywords, you'll probably be looking at a much shorter list. 
Now you'll need to analyze each.
Go to Keyword Overview, enter the keyword you want to analyze, and click "Search."

You'll see the keyword's search volume, difficulty, variations, intent, and more.
Like this: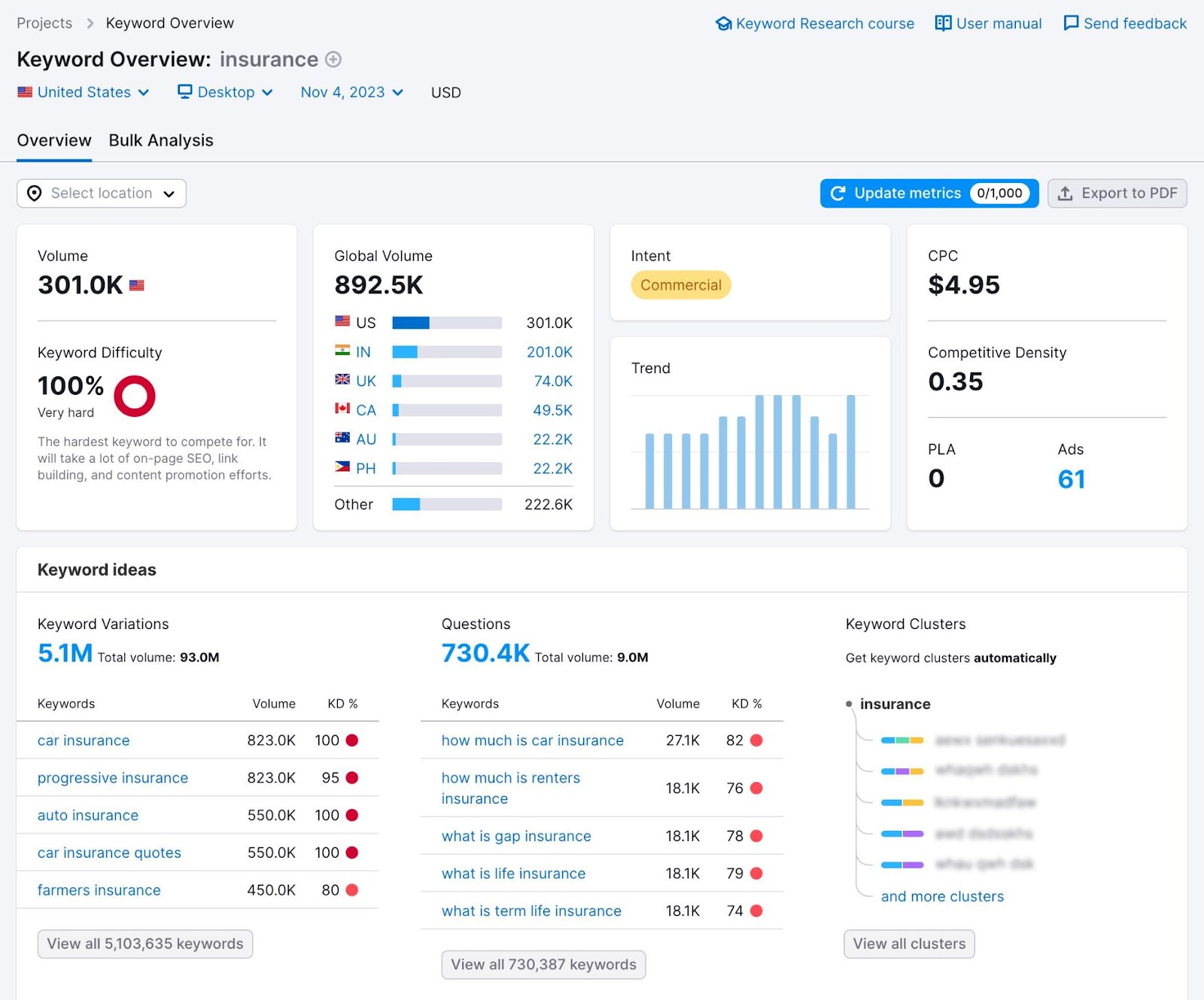 Assess Ranking Difficulty: Find a Competitive Edge 
To find potential quick wins, check your competitors' ranking changes. 
Open the Organic Research tool, enter a competitor's domain, and click "Search."
Then, head to the "Position Changes" tab. 
You'll see a bar graph showing the number of keywords your competitor has lost and gained.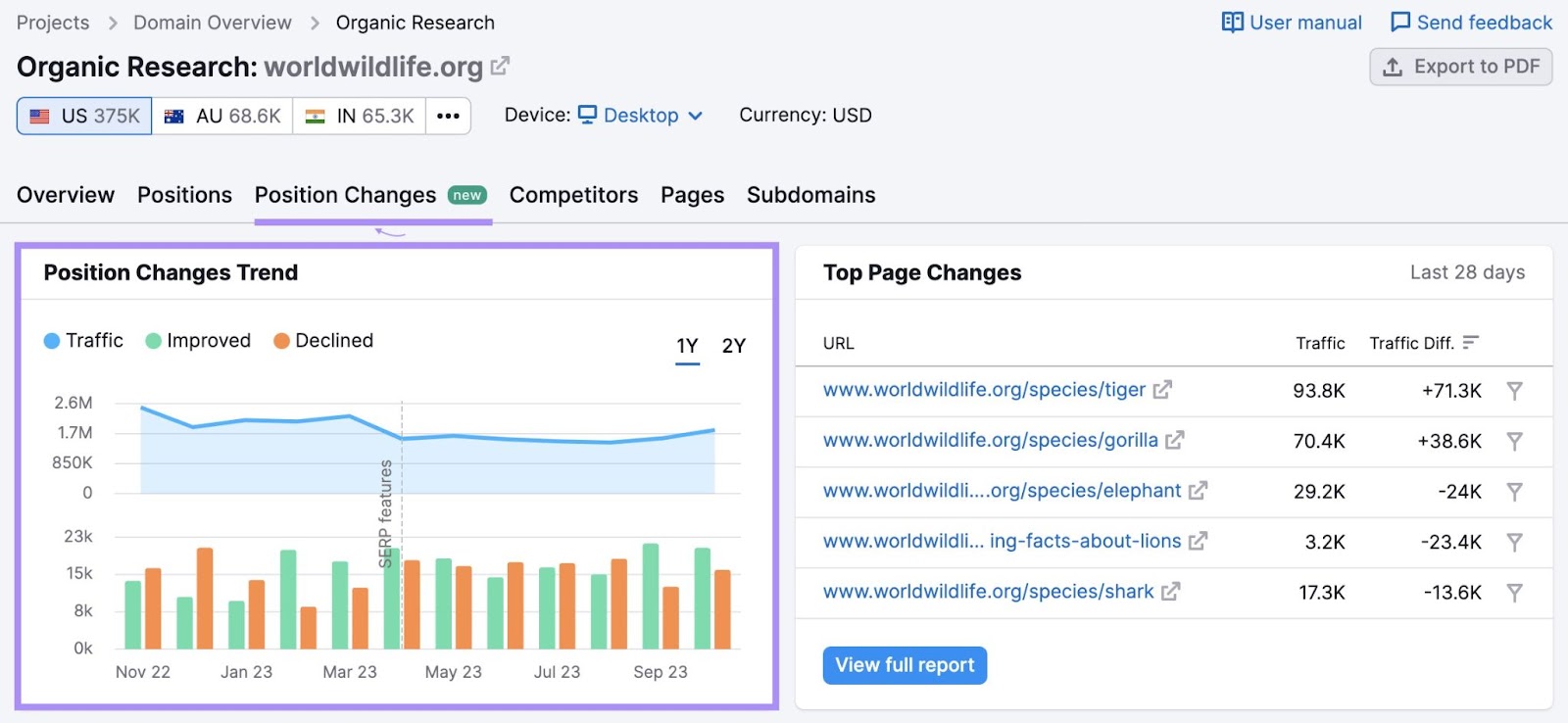 Scroll down and there's a table with the keywords. 
Click on the "Position changes" drop-down and select "Declined" and "Lost." And click "Apply."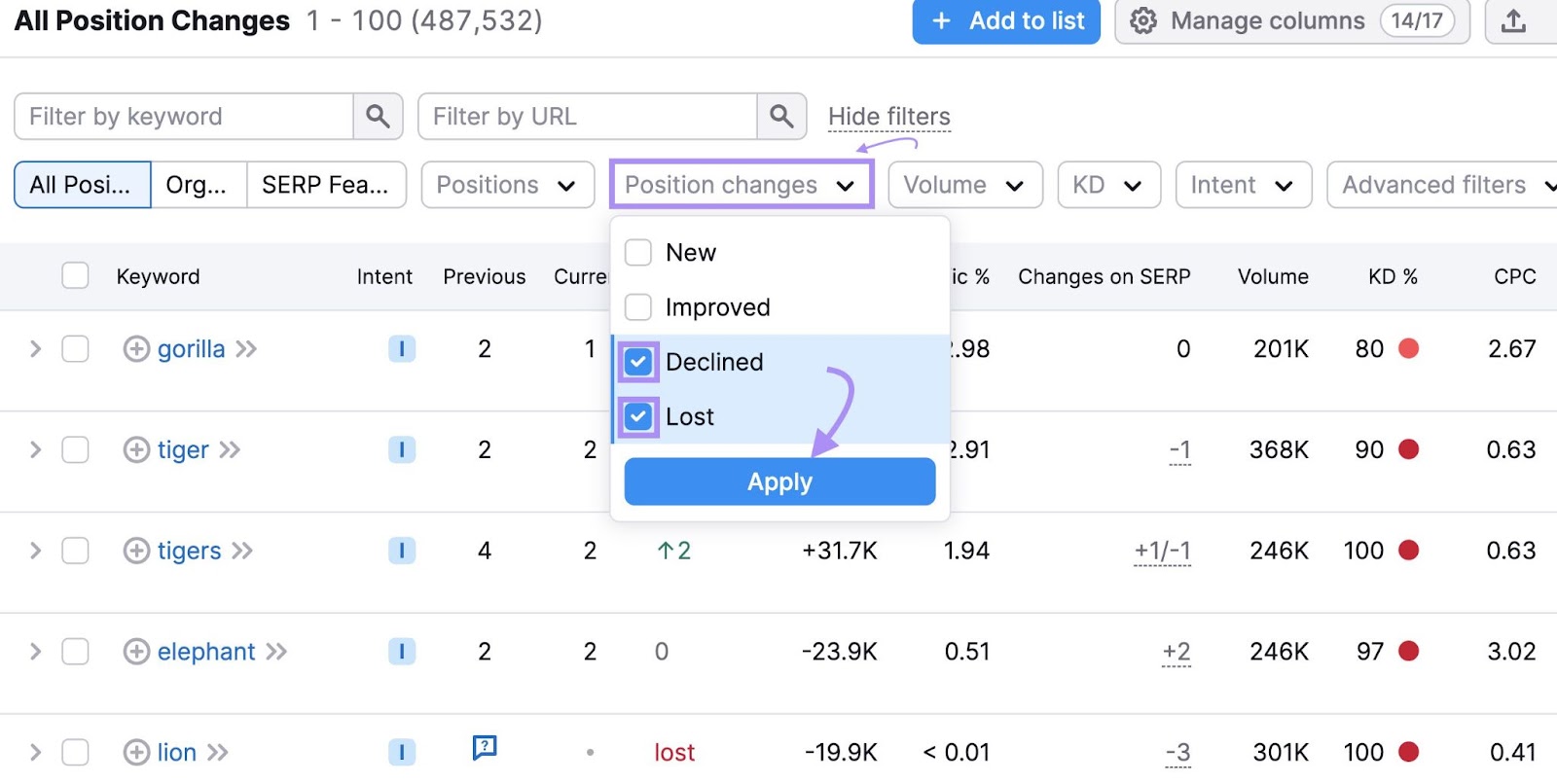 This report aids in spotting your competition's current weak spots. You'll be able to see keywords they've recently lost that you may want to target. 
Now look at the "KD %" column.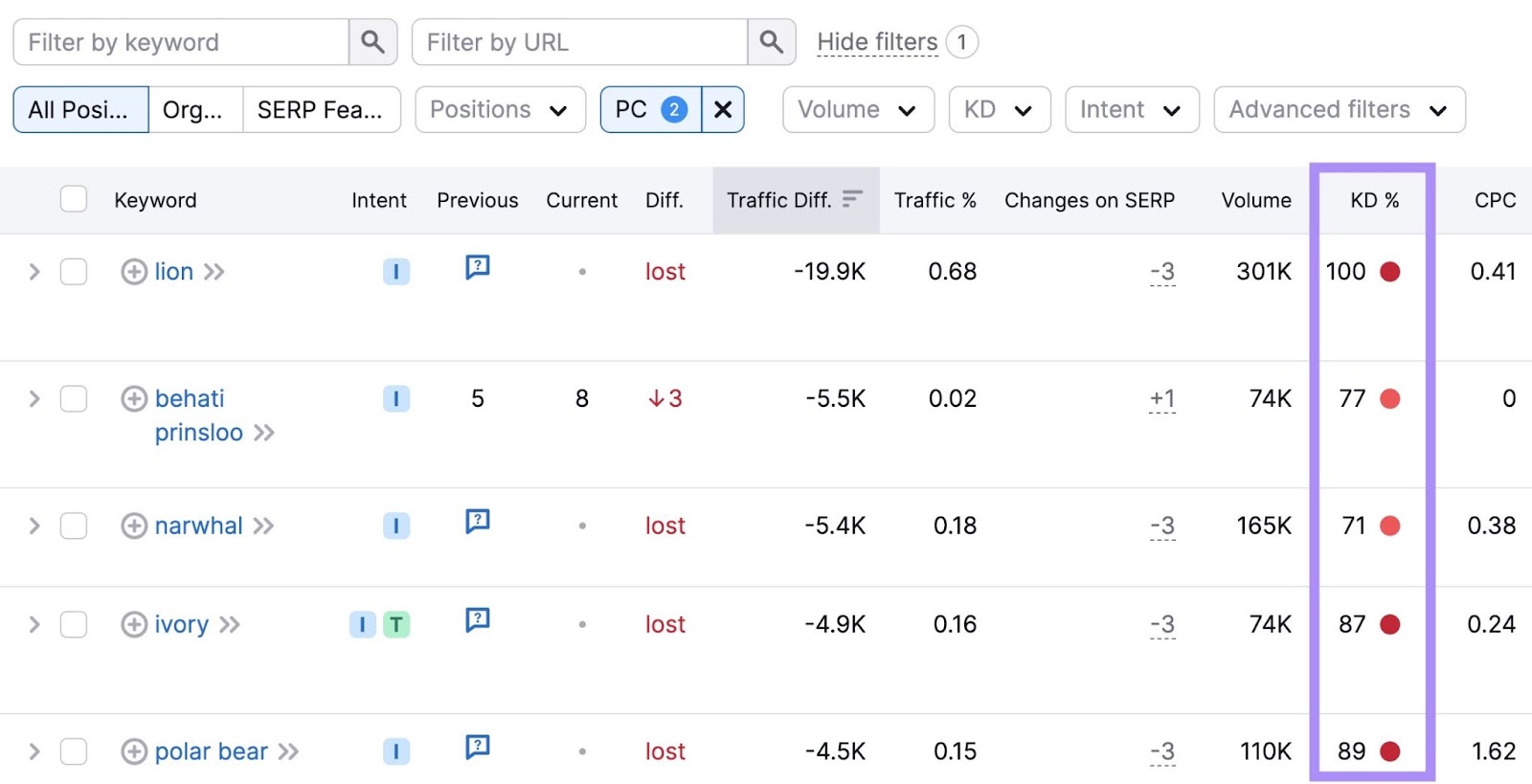 This refers to keyword difficulty—an estimate of how difficult it will be to rank for a particular keyword. The closer to 100, the more difficult it will be.
If you've found keywords you want to pursue, there are a couple of ways to move forward depending on whether you already have pages that target these keywords:
If you don't currently have a page that targets the keyword in question

, use the 

SEO Content Template

or 

SEO Writing Assistant

to begin the content creation process. These tools will review your rivals' content and provide suggestions to make yours more competitive. You can set target keywords and receive real-time feedback on readability, SEO, originality, and tone of voice.

If you already have a page targeting the keyword

, use the 

On Page SEO Checker

to receive specific recommendations to improve your page.
Review Competitors' Paid Campaigns
After exploring your competitors' organic traffic opportunities, the next step is cross-referencing organic results with paid traffic.
You'll be able to see how much they're spending on ads, which keywords they're bidding on, and even the exact ad copy they're using. 
Start by heading to the Advertising Research tool. 
Then, enter your competitor's domain and click "Search."
The first dashboard shows the keywords your competitor is bidding on. 
Including details like the URL they're targeting, how much traffic they're getting, and more.

If you want to see the ad copy they're using, go to the "Ad Copies" tab.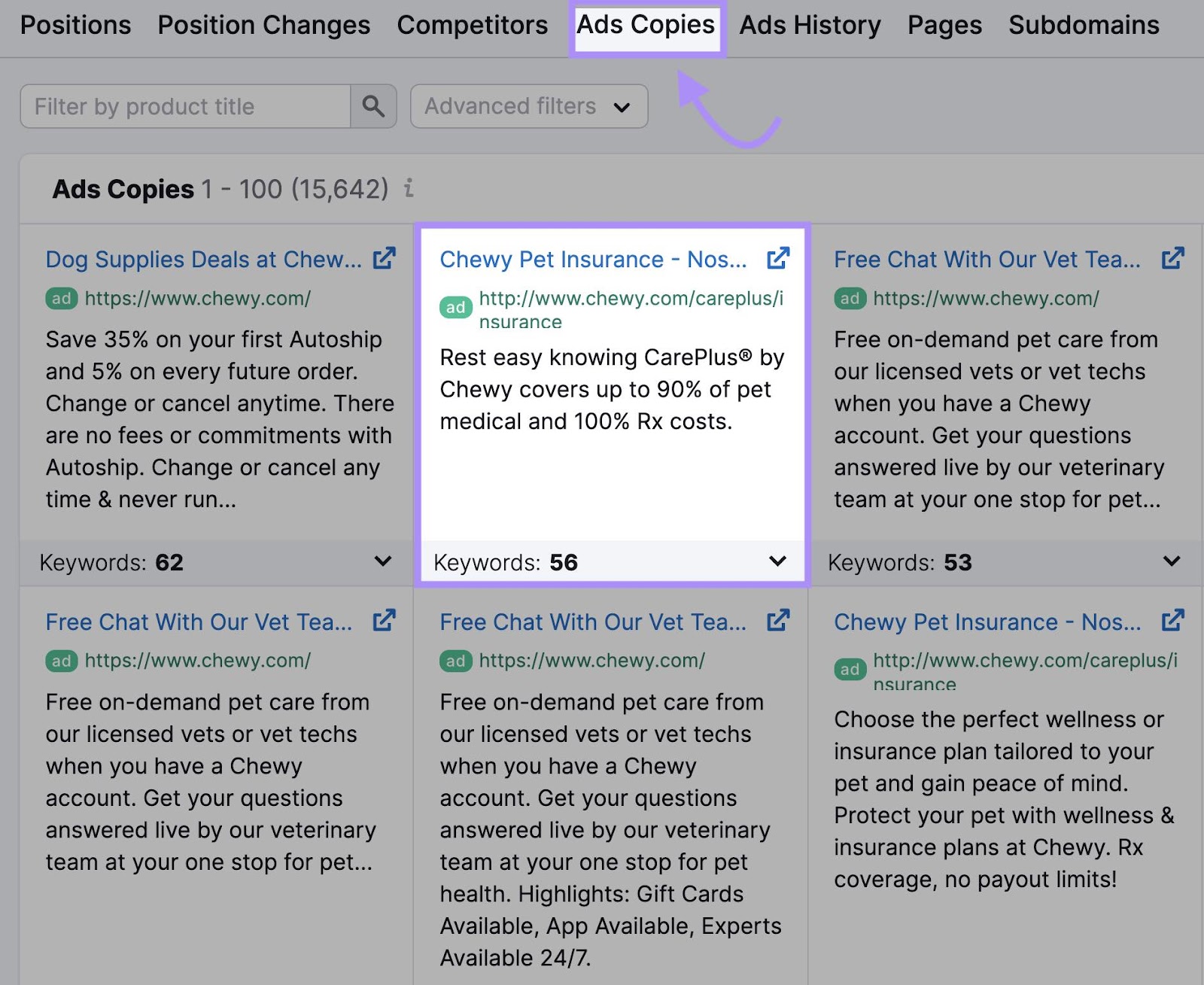 You can also use the Keyword Gap tool to analyze paid keyword gaps. Just select "Paid keywords" in the dashboard.
Scroll down, select "Missing," and you'll see the keywords your competitors are bidding on, but you aren't.

Combined with the Advertising Research tool results, you can start planning paid ad campaigns around the right keywords.
Use Competitor Keywords to Your Advantage
It's essential to understand the competitive landscape before moving forward with your SEO or PPC strategy.
You may find something you're missing or learn something new!
Create a free Semrush account and start targeting the best and most relevant keywords for your business—using the largest keyword database on the market.