At a time where most of us are staying indoors, it's not surprise that we're glued to our favorite screens more than ever. According to recent statistics, we're consuming more online content now via social media. 
In response, there's been a significant increase in marketing teams and businesses searching for content creators, including social media managers, bloggers, and influencers.
As the content marketing industry continues to transform, so will the responsibilities of a team's content creator. But what is a content creator exactly, and what do they usually do? How easy it to be come a successful content creator? We'll walk you through the basics. 
Read on to explore the content creation field, how to stay on top of your content creation goals, and the best online tools for creating content.
What Is a Content Creator?
A content creator is responsible for producing written, audio, or visual information for content marketing platforms, like social media or blogs.
We're using the word "content" pretty loosely here. Today, content could be a video on TikTok, a Instagram testimonial, or a blog post for a website. Regardless of type, content usually has an end goal in mind. People often create content to target a selected audience and evoke a response — like a new follow, site visit, or sale.
So when we're defining a content creator, we're talking about someone whose job focuses on creating content with the intent to connect and market to a specific audience. 
Types Of Digital Content
Content creators are often tasked with creating multiple types of digital content. Remember: content can include text, video, and images — so you'll have plenty of options to consider when it's time to communicate your message. 
Digital content can include: 
Text
Articles
Blog Posts
Guides
Reviews
White Papers
Ebooks
Case Studies
Product Content
Captions
Videos
Tutorials
Reviews
Unboxing
Vlogs
Behind-the-Scenes
Interviews
Webinars
Presentations
User-Generated Content
Contests/Giveaways
Livestreams
Q&As
Images
Photos
UGC photos
Infographics
Memes
GIFs
Quotes
Illustrations
What Does a Content Creator Do?
Content creators conceptualize and develop engaging content — usually (but not always) according to a content marketing strategy. Their goal is to produce good-looking content that generates traffic, followers, or leads. 
To do this, content creators work to understand what content deliverables work best for their audiences, platforms, and strategy.
For example, uploading a white paper to Instagram might not be as successful as sharing a meme or illustration. Likewise, an unboxing video probably isn't the best promo material for an avocado — but it might be useful for marketing a new Xbox. 
Content creators will also need to understand how digital marketing strategy works, and that their content will have an end goal. Much like marketers, content creators often work with data and experience to develop content that converts. 
Experienced content creators are likely already comfortable with creating content for different digital marketing channels. But that doesn't mean new content creators are less effective at their job. With effort and time, you can build a workflow that works for you.
How to Become a Content Creator
As a content creator, you can work in-house for a brand or business, as part of an agency, or as a freelancer. You don't need a degree, but you will need a portfolio and experience. You can gain content creation experience through internships, developing personal projects, or with freelancing.
As a freelance content creator, you'll have the opportunity to create multiple types of content for a range of clients. It's not uncommon for freelancer content creators to specialize in an industry or content medium (think of the Youtube beauty guru that only uploads product reviews.) 
Many popular social media influencers are basically content creators. They regularly create content that grows their following and increases their audience engagement. With a large enough following, they can attract brands and companies that will pay to feature their product in the influencer's content. 
Becoming an influencer is another way to build out your portfolio, but you'll need to take care to demonstrate your range. Employers enjoy reviewing portfolios that include projects for different industries and marketing channels. 
As you create, be sure to document your most successful or favorite projects for your portfolio. Add a few lines about what made the project successful, or why you liked working on it. 
Your portfolio will be the best example of your work and skillset, so don't hesitate to include projects where you shined your brightest. 
How Much Do Content Creators Make?
As with any role, content creators' rates are based on different factors, including the types of content you create and how much content you'll create in a time period. The most significant factor is whether you're salaried or a freelancer.
The average salaried content creator job starts at $47,000. Some employers in major US cities (like New York, Seattle and San Francisco) will pay content writers upwards of $65,000 a year.
However, freelance content creators tend to have an average hourly rate, which can vary anywhere between $50 to $150. Freelance influencers could earn $100 or more per piece of content.
How to Become Successful at Creating Different Types of Content
Whether you are new to content creation or are a seasoned expert, there are no hard and fast rules to content creation. But, successful content is usually targeted, engaging and platform-specific. 
Here are some tips that can help you to be successful at creating great content:
Five Habits and Qualities of Successful Content Creators
There are at least five habits that all successful content creators have. They:
1. Stay Current: Successful content creators are aware of trends and changes in the way audiences use digital channels.
2. Read & Research: Content creators work to understand their audience's needs, wants, and problems. Your content will need to resonate with your following, so you should be researching what's happening in the world in order to stay relevant to them.
3. Recognize Good Content: Good content creators are able to recognize potential viral content. If someone else posts popular content, engage with it. This happens a lot between brands on Twitter. 
4. Understand Purpose: Before you create your content, understand what you want your content to achieve. Do you want more social engagement, website traffic, sales, or all three? 
5. Measure Success: Once your content is live, you should measure its success against its purpose. This will help you to understand what works, what doesn't, and what to do differently next time. 
The Top Tools for Content Creators
With these habits and your natural creative flair, you're well on your way to becoming a successful content creator! The next step is building out your content creation toolbox.
There are tools available for every type of content you want to create. Here are a few popular tools for developing posts, tweets, and more: 
Content Creation with the Semrush Tool
From research to review, making good content is a dedicated process. Our tools are designed to support you through every stage of creating and monitoring content, so you can focus on sharing your ideas. 
The Content Marketing toolkit guides writers and brand managers through the process of developing, sharing, and tracking blog content. Use the Social Media toolkit to schedule posts and track competitors. Or, start with our SEO toolkit to generate keyword ideas for future posts. 
Try these five Semrush tools for content creation: 
1. Keyword Magic Tool 
Toolkit: SEO
The Keyword Magic Tool is a great assistant for content writers in search of relevant topic ideas. You can use it to identify target keywords that are likely to drive traffic and improve ranking, or that are popular with your competitors. Start with a target keyword and the Keyword Magic tool will provide you with a list of similar and related keywords and their search volume, competition, and SERP features.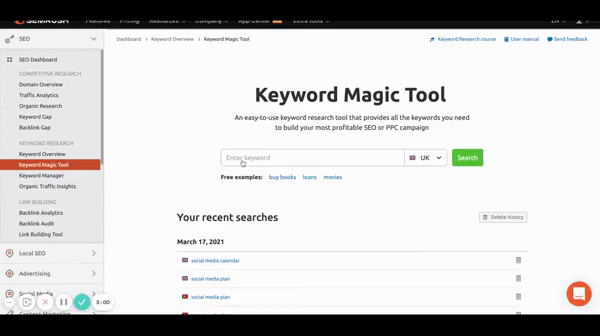 2. Topic Research Tool
Toolkit: Content Marketing
Use the Topic Research Tool to generate content ideas. Start with a subtopic and the country you wish to target, and the tool generates related articles, headlines, and questions your audience is currently researching in that country. It's an easy way to generate potential article ideas around a topic. 
You can view ideas in a range of formats, and can click through to other topics for further inspiration.
3. SEO Content Template
Toolkit: Content Marketing
The SEO Content Template shows you what your posts or articles will need to better rank for your target keyword. It analyses content that is currently ranking for that keyword, then offers guidance on how to make your content as readable. It also offers a recommended length, which can be helpful when briefing or writing.
4. SEO Writing Assistant
Toolkit: Content Marketing
The SEO Writing Assistant is an easy way to review your written content. Paste your text into the "Quick Checker" to understand how optimized your piece currently is. The tool then offers additional fixes to improve your content.
The SEO Writing Assistant is also available in as a browser extension. The paid version of this tool performs additional plagiarism checks.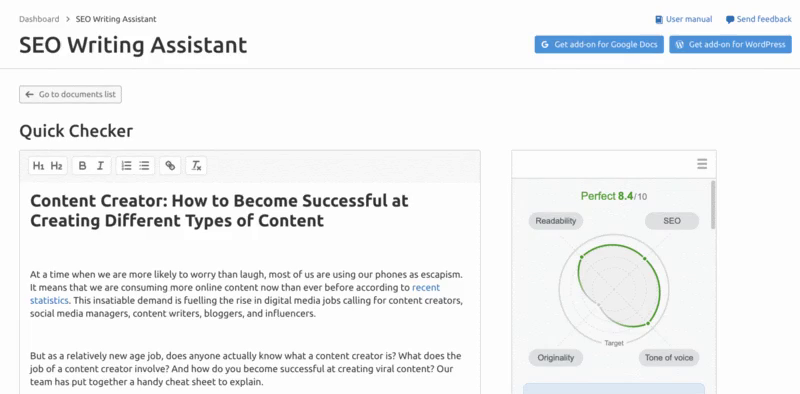 5. Social Media Tracker
Toolkit: Social Media
The Social Media Tracker lives up to its name — it monitors the performance of your social content to track and analyze the effectiveness of your activities. It also offers insights into your competitors' posts, meaning you can compare and update in real-time.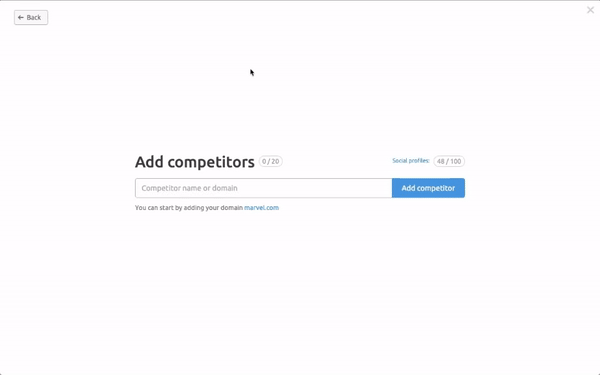 Additional Content Creation Tools to Try
These tools are an industry favorite among content creators:
Grammarly for Editing Text
For content writers, spelling and grammar are second-to-none. But we're all human and mistakes are easy to make — so, use Grammarly to correct your syntax as your write. 
The free version of Grammarly includes a Chrome extension that checks your text for common mistakes as you type. It can indicate simple grammatical mistakes and more complex mistakes. It's a must for anyone creating digital content, whether article, tweet or Facebook banner. 
Canva for Creating Custom Images
Content creators are usually comfortable working with Photoshop or InDesign. But sometimes you might not have access to the top design software — that's where Canva comes in.
Canva's free and paid versions provide an easy, drag-and-drop interface to create branding images for logo, social media posts, and more. Just remember that some images are copyrighted and might have watermarks.
Final Thoughts
It's the job of a content creator to connect with others with words, images, and sounds. Content creation can be as creative and financially fruitful as you'd like, so long as you put in a little effort.
To be a successful content creator, you'll need to always be thinking, creating, and evolving with the digital world.
If it sounds like the career for you, know that you have plenty of tools and resources to support you. Focus on building experience and a portfolio, exploring industries that interest you, and creating multiple types of content.