Before you can start pitching your business to a potential prospect, it's recommended that you first do a bit of research in order to identify if the prospect is going to be worth your time. Luckily we have a great guide to help you along with this process, you can check that out here.
Once you understand how to better identify a prospect, next comes the actual pitch process. Here we will lay out a basic workflow to show how you can utilize Semrush to better your pitch.
Create a New Report
When you're pitching your services to a client, whether it be for SEO or PPC, you're going to want to be able to show them deliverables. This is where My Reports can be extremely useful.
My Reports allows you to make PDF reports based on preexisting templates or your own custom reports. Let's say you're pitching your SEO services to a client, it could be a good idea to use the Monthly SEO template in order to show them how they are performing now for SEO and how you can help them improve.

With the Agency Growth Kit, you can even create white label reports, void of all Semrush branding. Add your own agencies logo for the most professional look when pitching to a client. Learn more about white label reports here.
Compare Their Keywords to a Competitor
Once you've created a report, you can go into more detail about their data and show places in which they can improve. First, let's start with Keyword Gap to show them where they are ranking in comparison to their competitors.
Open the Keyword Gap tool and enter their domain combined with 4 of their top competitors. View the site position for all of the common keywords between them so you can point out places where they can improve.
You can switch between common keywords and unique keywords to show a client where they have new opportunities to rank.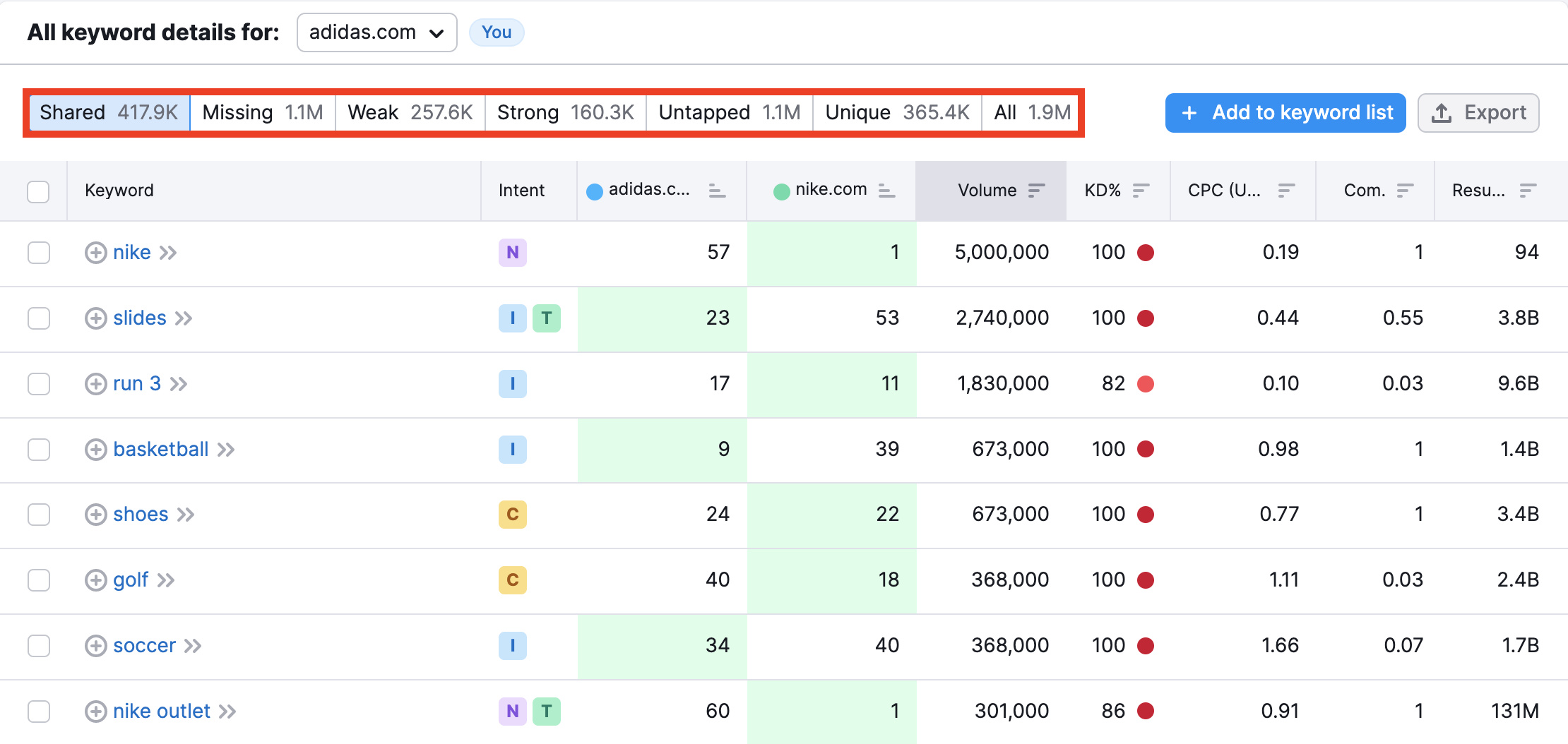 Compare Their Backlink Profiles
Just like with your keyword profile, there are going to be opportunities for your potential client to gain backlinks. Open Backlink Gap and enter their domain along with their top 4 competitors.
Here you can see where one, or more, of their competitors has a backlink that they do not have. If you notice that two or more of their competitors have backlinks to the same referring domain, it may be a good idea to explain to them why they should also be trying to gain this link.
You can show them this data and go on to explain how you can leverage your services to help them catch up to their competition.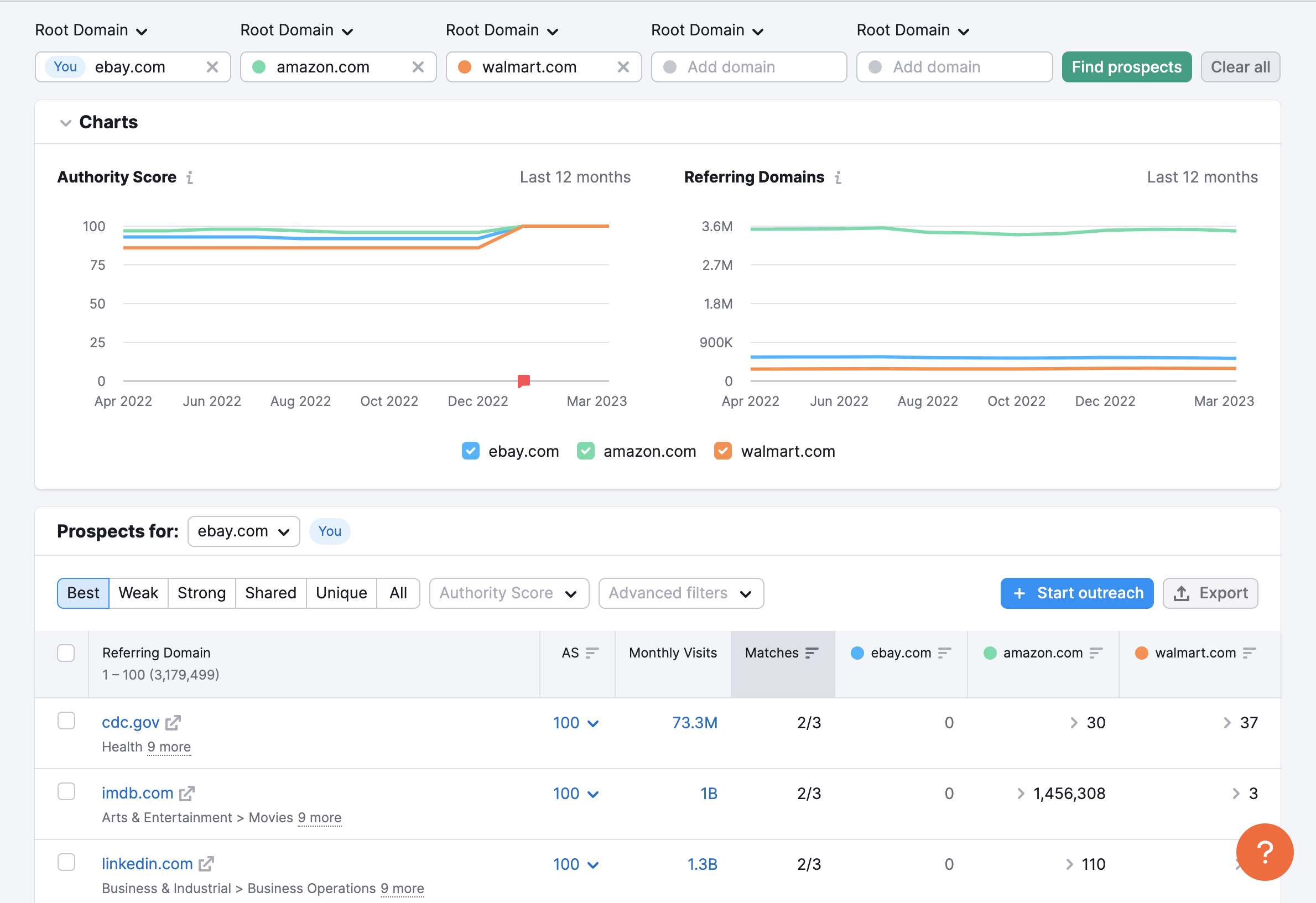 Analyze their Site Health
One of the best ways to pitch to a new client is by simply laying out the data you have on their site and showing it to them. There may not be a better, more clear, way of doing this than by showing them their own Site Audit.
When a Site Audit is run on their domain, you can show them just how well their overall site is running. This includes information like their total health score, as well as their errors, warnings, and notices.
Use these issues to highlight to them how you can help improve their site health. Explain the significance these errors can have on their site and how quickly you can fix them. For a full explanation of the Site Audit Overview, go here.
Compare Their Overall Estimated Traffic
Finally, you can compare their total estimated traffic to their competitors. Open Traffic Analytics and again enter their top 4 competitors. Here you will see how their visits, unique visitors, pages/visit, avg visit duration, bounce rate, and traffic rank compare. In addition, you will also be able to see where they get their traffic from. This includes direct, referral, search, social, and paid traffic.
An amazing feature in Traffic analytics is the Pitch Mode view. This lets you present this data to your client in a clean and easy manner, with none of the regular top or side menus on Semrush. It's perfect for presenting the client their traffic details without potentially distracting them with the Semrush upper and left menu.

Use this mode to create a visually pleasing dashboard to nail your pitch to your potential client.
After you've nailed your pitch, be sure to check out the best way to use Semrush when onboarding a new client.