The Semrush Content Marketplace helps you tackle one of the biggest issues facing content marketers: producing high-quality content that engages your core audience.
We understand that creating content is a top priority for many specialists working in digital marketing. This is why we came up with the Content Marketplace. The Content Marketplace functions as a place where you can order your own content written by an experienced copywriter.
The Content Marketplace is available for both free and paid Semrush subscriptions and offers you a free and premium service. Once you're on the Content Marketplace offers page you will be able to determine which offer will best fit your needs.
Using Content Marketplace, you can:
Offers
Semrush currently offers several different types of content in which you can order from. Each content type comes with its own price, here are the types of content we currently offer:
Article ($45)
Product Description ($35)
Website Copy ($60)
Email Newsletter ($29)
Press Release ($37)
Media Stock
Ebook ($480)
Some of the prices for the content can change depending on your subscription level.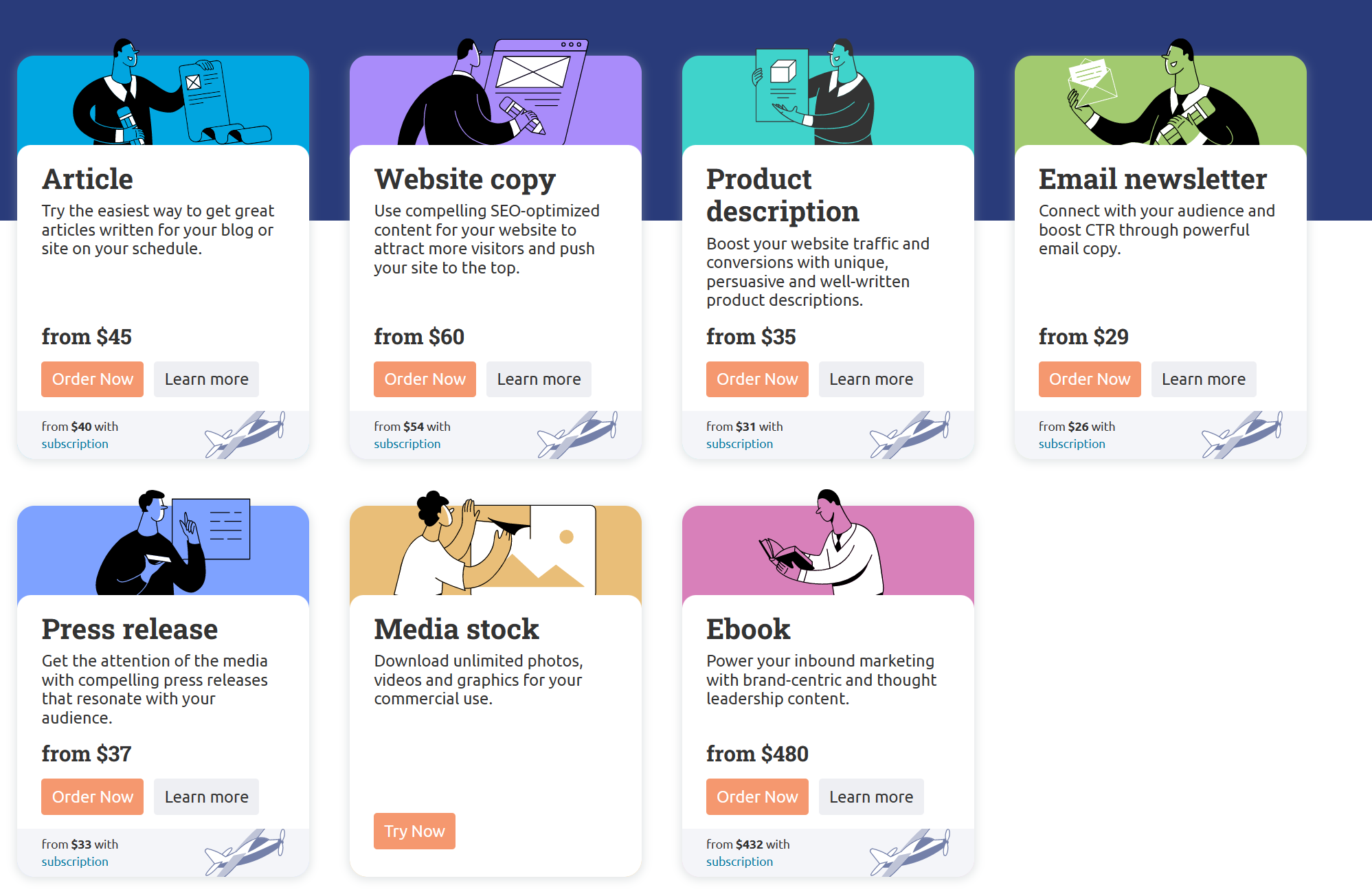 If you aren't sure what type of content you're looking for you can check out examples of our writing from our copywriters. This can help you decide which article offer is best for you.
Examples of Our Work
To find our examples, click on "Learn more" and then scroll to the section of the page titled "Examples of Our Work."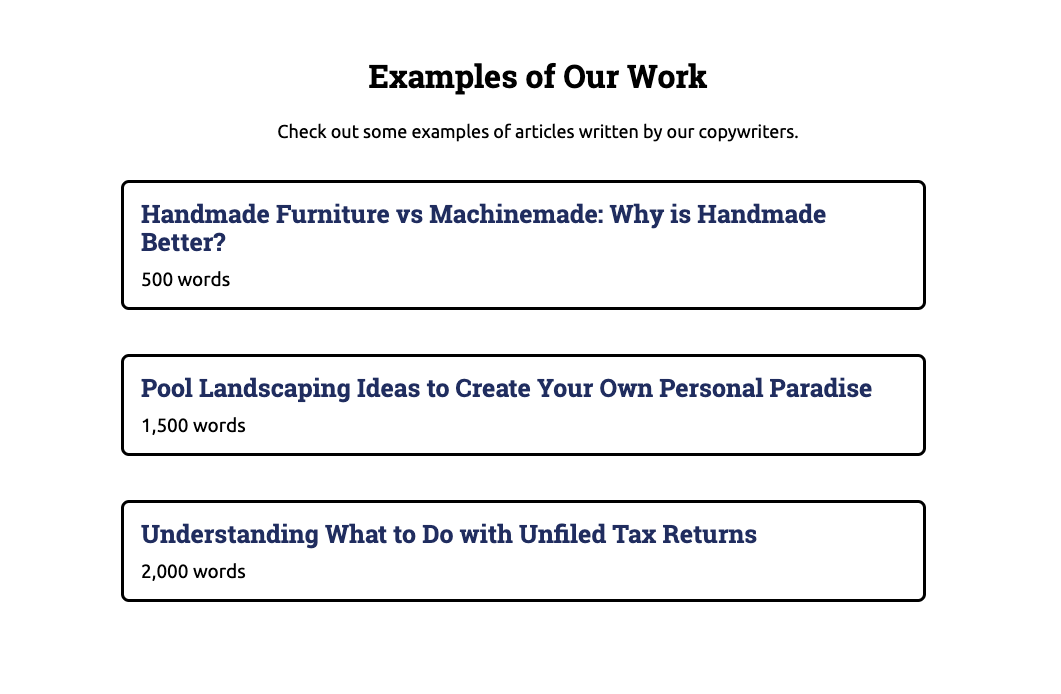 Filling out a Brief
Once you decide what type of article you want, you'll be able to provide the writer with more information such as your domain URL, a topic, intended result, and target customer.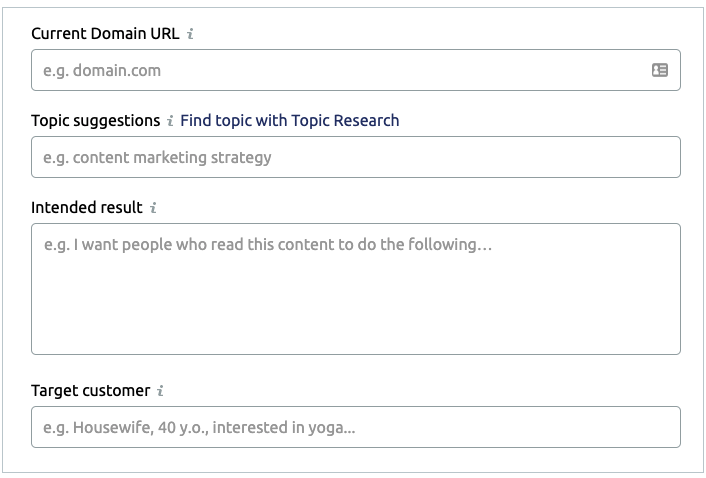 When ordering articles, there are two options:
Ordering the title, meta and article. Use this option if you don't have a title and meta description. One of our writers will come up with a title within 2 working days which you can approve or decline.
Order only the article. Use my title and meta. Choose this option if you can provide a title and meta description.
If you know you are going to want to order several articles based around the same topic, you can save your brief as a draft so that you can use it in the future. This allows you to make minor changes around the topic based on your order. To save a draft just hit the save draft button at the bottom of your brief.
Creating A Template
If you have a Premium subscription, you can create and save an article template. This may be useful if you place many different orders with similar details, or if you want to place a recurring order.
To create a template, select My Orders from the top menu. Then select Template.
The process for creating a template looks very similar to filling out a Content Brief. You'll need to provide the following information:
Content Length
Language
Domain URL
Topic Suggestions
Tone of Voice
Intended Result
Target Customer
You may also choose to share additional details under the collapsible Advanced Details heading.
Once you have finished filling out this form, you will have the option of creating an order, saving the template, or placing a recurring order.
Placing A Recurring Order
Premium subscribers are able to place recurring orders on a weekly, biweekly, or monthly basis.
To place a recurring order, all you have to do is choose how often you want your order to repeat, and when you'd like it to start. You can do this in the second column while creating your order template.
If you need to make changes to your template after using it to place a recurring order, you will first need to stop the order in question. Then you can make your changes, and restart your order.
Stopping Or Cancelling A Recurring Order
You may stop your recurring orders at any time. If you stop an order, you will not receive any more content until you start it again.
First, navigate to your Orders page and open the corresponding template. Then click the Stop Order button on the bottom left.
Once you have stopped your order, you will be able to update the details on your content brief, save it as a template, or update your recurring order settings as needed.
Folders
My orders' section of the Content Marketplace is where you will find all of your saved drafts, but more than that, it's also where you can create and store project folders.
If you are working on a specific project that is going to require multiple articles to accommodate it, creating a project folder is a great way to store all the briefs in one spot.
To create a project folder, select the dropdown menu next to the fill out new brief button at the top of the dashboard. From here you can create your project folder where you can later store your articles.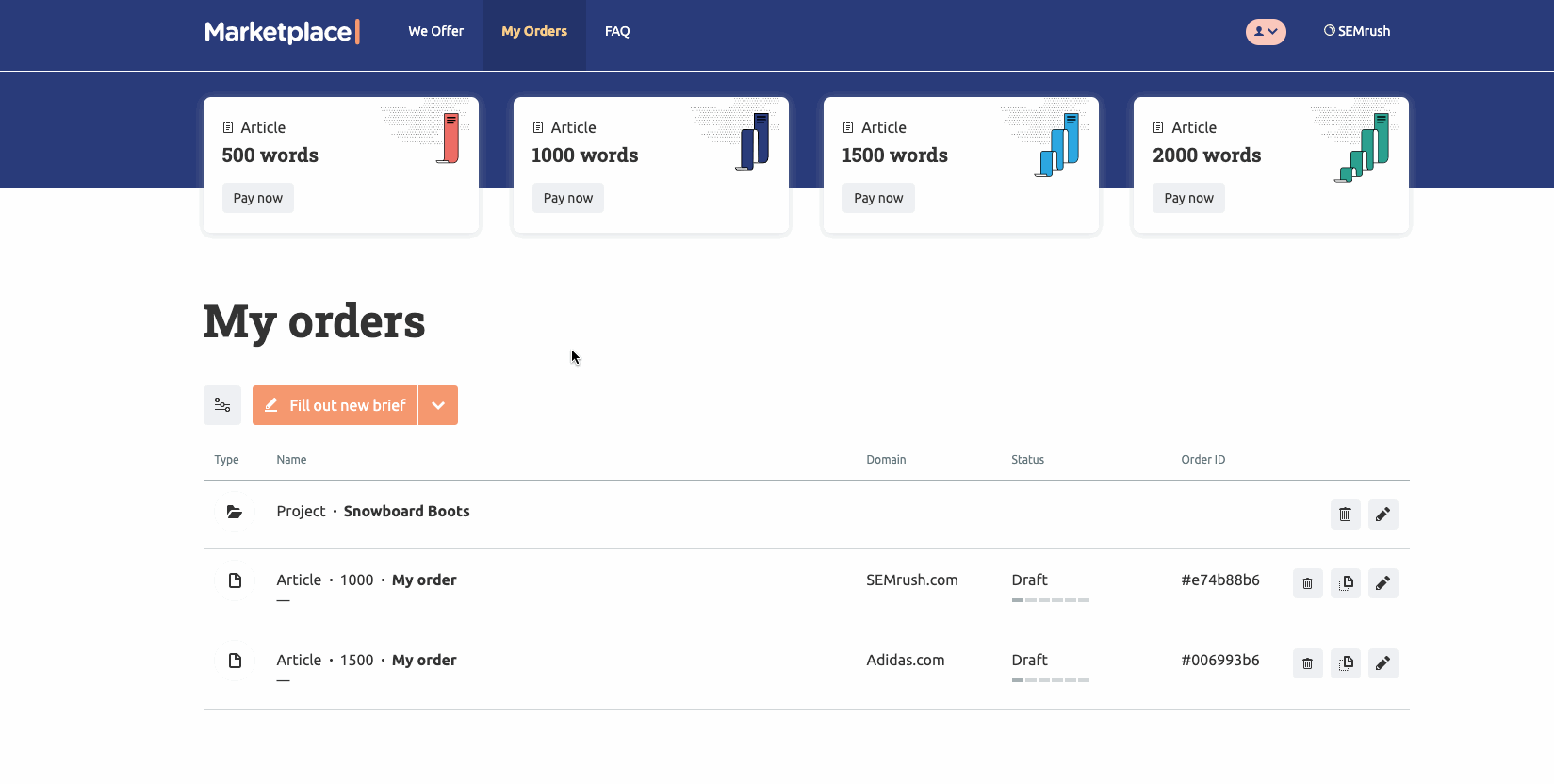 Timeline
Articles are created in two steps.
If you have ordered the title, meta and article, the two steps will be:
Creating a title and meta-description takes 2 working days from placing an order with completed brief details;
Creating a content piece takes up to 10 working days from your approval of the title and meta-description.
If you have ordered only the article (use my title and meta), the two steps will be:
You provide a title and meta description for your article.
A writer creates your draft article within 5 business days.
Product description, Email Newsletter and Press Release are ready within 5 working days of sending us your brief.
Website Copy creation can take up to 15 business days.
You can request changes 3 times each for both title & meta-description and the content piece. If you have the Marketplace Premium subscription, the number of revisions is not limited.
Please note that revising title and meta-description and introducing changes to the content piece takes additional time.
FAQs
Still have questions? Try the Marketplace FAQ page for answers.