Having an online presence for your business or interests is imperative in our connected world, but what platform is best for you? If you're just starting and thinking — how do I make a website? Where do I host it?
As you're doing your research, you've probably come across Wix and WordPress. Which is easier to use? Which performs better in the world of the internet? Most importantly: which one is best for you?
The first key difference you need to understand is Wix is a website builder, and WordPress is a Content Management System (CMS).
Wix is primarily used to help people build a website and get it hosted online quickly and easily.
WordPress has a backend system which can manage a wide range of content, including email lists, subscription, video links, and more.
One more thing to note with WordPress is the two domains associated with it:
WordPress.com is a subscription-based website building domain. You sign up for an account and can build and host your website through it. 
WordPress.org puts you in full control. You're responsible to host your own site and can take advantage of all its open-source software. This includes a variety of themes, plugins, and more to enhance your website.
There are many other critical differences between the two systems, too. In this post, we'll explain some of them and compare them so you can make a more informed choice. We're going to cover:
Wix vs. WordPress: Ease of Use 
When looking at using either Wix or WordPress, a big selling point is the ease of use. Can anyone jump into Wix and make a website? Is WordPress very user-friendly to the novice? However, ease of use may impact your site's functionality. Let's take a look at each:
Ease of Use/Functionality
Wix is a WYSIWYG software system: What You See Is What You Get. The Graphical User Interface is big and straightforward to identify different aspects and tools you will use to make your website.
The functionality of the Wix Editor isn't as good as WordPress. However, this is not such a bad thing, especially for novice web builders. There are enough features here to make a solid website.
The available templates make it easy to see how a website can look and can inspire a user to create something functional and easy to navigate for users.
WordPress can be a little intimidating when you first encounter it. There is a logic to be learned and a slightly higher learning curve, but once you master it, building websites with WordPress becomes a breeze.
This steeper learning curve of WordPress does put Wix out in front when it comes to ease of use.
Edge: Wix.
Drag and Drop Page Builder
Both platforms have their version of drag and drop. This is such an easy-to-use system to build websites, especially if you're new to the whole game.
Wix's DnD system is built-in; it is the key element that Wix is built upon. All of Wix's marketing shows the ease of dragging a picture onto your webpage template or dragging a text box.
With Wix's templates and their intuitive DnD system, you can have a website up and running within an hour.
WordPress comes with a powerful Block Editor named Gutenberg. This is where you can insert blocks to the webpage: a Text Block, a Photo and Caption Block, a Video Block, and so forth, each with their own elements. You build your webpage up, block by block.
This system is not as intuitive as Wix's, but it does come with more options for your website. You need to refresh the preview of your website to see any of the changes you have made. This can be disconcerting, especially if you're a visual person.
Again, Wix just nudges WordPress out on this element.
Edge: Wix.
Themes
Themes are what give your website a visual flair. The color, the shape, the layout grabs a user's attention when they land on your front page. Do you want bright and colorful? How about dark and moody? Can you make a theme that reflects your brand or your target audience?
Wix has different themes you can choose from, but only the ones they present to you. An enormous range of over 900 themes await you, and you can change the color, the imagery, customize it to fit your needs. 
But once you've chosen your theme and launched your website, you're unable to change the theme going forward. If you have a rebranding or want to make drastic changes, you will need to build a whole new website.
When it comes to themes, WordPress outdoes Wix by a country mile. There are more than 50,000 free themes to choose from, or you can pay some money for a premium theme, which includes support from those who made the theme.
Alternatively, you can pay a developer to make a customized WordPress theme for your business and website.
If you choose to rebrand or discover a different theme in the future, you can easily update the theme in your website's backend. If you've built your website well, all the elements should flow through to the new theme. But, if something does break, some tweaks from a WordPress expert will have your website humming soon enough.
This ability to fully customize your theme and website is something a lot of site owners value. While it is doubtful that you'll match themes with another Wix user, it is never wholly unlikely.
If you have an original WordPress theme or an alternate from the 50,000-plus themes they have, then the chances of that fashion faux pa are dramatically less.
WordPress far and away outclasses Wix when it comes to themes.
Edge: WordPress.
Plugins
Plugins, or widgets, are the extra features you can add to your website for functionality and interaction. 
You can have social media apps streaming to your website, apps for booking events and updating calendars, and apps to encourage communications with your users. They add flair and functionality to your website.
Wix has an Apps Marketplace with only a few hundred apps you can add to your website. The basics are there, sorted into six main categories, such as Marketing, Sell Online, and Services & Events. If you're using the free version of Wix, the Sell Online options are limited and will not turn your site into an ecommerce site.
They are plug-and-play apps, which means they will work pretty seamlessly with your website. This makes sense since you're inside the Wix application and building with Wix-approved apps. Very easy to implement.
On the other hand, WordPress has thousands upon thousands of apps and widgets to improve your website and change how your website can function. If you can think of anything you want on your website, chances are there's an app for that somewhere online.
You can refine your needs with the wealth of WordPress Widgets out there too. With Wix, you must use what they give you. With WordPress, you can choose from many different flavors of widgets and apps.
There is even a Semrush Yoast application to help with the SEO power of your website.
This customization ability and the sheer number of apps available, which noses WordPress in front for this category. 
Edge: WordPress.
Open vs. Closed Source Systems
What does this mean, and what does it mean for you as someone wanting to build a website?
WordPress is open source. This means anyone with some programming knowledge can write content for the WordPress platform.
Want to design a colorful theme? Go ahead. Have an idea for a useful widget? Write it and promote it. You can provide support, or not, but as long as you don't break WordPress, you can create anything you like.
Wix is closed source. You can only use the apps and themes, and features that Wix says you can use. Only the themes they provide you with, inside the program. If an app says you can link your Mail Chimp, it is only because Wix allowed it. You would not be allowed to create your own and implement it on your website.
Which is better is a matter of opinion. Wix does give you a lot of functionality, so you could say there is no need to write your own additions. What you want should already be in the App Marketplace.
However, creating your own content and sharing it with the world to improve a website how you best see fit is incredibly powerful.
Edge: Tie.
Wix vs. WordPress: Which Platform Allows for Better Blogging?
The backbone of any thorough content plan is your blog. You regularly update your website with blog content, so Google likes you, knows you're an active website. 
You can link internally, which is good for SEO; you can use the blog articles in your backlink campaigns as well. So which of these two platforms is the best for writing and posting blogs?
Is Wix Good for Blogging?
There is a blogging platform integrated with Wix for you to use to build your website. However, it doesn't offer as much functionality as WordPress.
The interface for writing blogs is a little different from the one used to build the website itself. Because of the drag and drop nature of the website building, blogging can be trickier. 
However, it is good to get something up and running. And over time, you will get used to the blog functionality.
Is WordPress Good for Blogging?
WordPress began life as a blogging platform before growing into a complete CMS and website program, so it knows how to make blogging easy. The interface for creating blogs is just the same as making all the other pages on your website, so familiarity breeds success.
Taking a lead from the section above, you can grab widgets that analyze your text for grammar and readability. Plus, you can install Semrush's Yoast extension to power up your blog SEO. You'll be able to perform some keyword research for a more impactful piece of content.
What you can do with a single blog post in WordPress far outshines what you can do with one in Wix.
Edge: WordPress.
Wix vs. WordPress: Which Platform Is Better for Ecommerce?
If you're using Wix, you need to pay to be able to use ecommerce functions. Business plans start from $18 per month to get basic ecommerce tools. The top package costs $38 per month.
You need to use the Wix Apps for ecommerce, of course. Wix does take some of the money off the top of every transaction, which can start to hurt when your online store becomes popular. Alternatively, you can install a third-party payment system, such as PayPal.
Wix eCommerce is suitable for beginners. It holds your hand through the setup process. A lot of small businesses start their online ventures through Wix due to the simplicity. And when they grow and succeed, they tend to change to something more robust.
The features you get with Wix eCommerce include:
Storefront and ecommerce website
Store Management
Store Analytics
Cart and checkout
Product Pages
Marketing and SEO
Wix has now implemented a new way of boosting your ecommerce power. You can now connect your Wix store to your Amazon.com account.
This boosts your potential audience size and boosts the power of your Wix website with arguably the biggest online store in the world. Currently, it's only available for US sites only, but it's expected to be rolled out worldwide eventually. 
However, you cannot sell digital products on Amazon, only physical products, and you will need a Business Unlimited Premium Plan to be afforded the connection to Amazon.com. Additionally, you can only connect one Wix site to one Amazon account.
Wix provides you with an easy step-by-step way to connect to Amazon.
WordPress ecommerce is mainly driven through a world-renowned app called WooCommerce. It's arguably the world's most favorite ecommerce plugin. Because of the open-source nature of all the apps on WordPress, you can customize WooCommerce to fit your shop, your theme, to do almost anything you want it to.
When it comes to the list of features that WooCommerce has, this is tricky. Being Open Source, the features are whatever your imagination can think of. But, some features can include:
More than 400 official extensions to the base app
Fits with any WordPress theme
Product sorting and filtering
Product ratings and reviews
An unlimited number of products, images, and galleries
Built-in payment processing
Shipping Options
Inventory Management
SEO integration
Reporting galore
The list could go on. Wix is catching up, but WooCommerce has a handy head start when it comes to powering your online store.
Edge: WordPress.
What is the Cost of Wix vs. WordPress?
To begin with, Wix is free. You can open an account and build a website for no cost. There are limits to this, of course. Your domain is a branded Wix address — username.wixsite.com/site address. For the average person, this might not be a problem, but it can hurt SEO and look unprofessional for businesses.
To have your own domain and hosting (and access to the paid plugins and more), prices start at $10 a month.
If you want a business ecommerce website, you would be looking at $18 a month for a starter plan.
Understand that these prices include hosting of your website. This is important to note. Why?
WordPress is a free-to-use piece of software, but you need your own domain and web hosting to install it. If you're new to building websites, this can be tricky.
A ".com" domain can set you back $21.99 a year, according to Crazy Domains. From the same website, you can get an ultimate WordPress hosting plan for $29 a month.
If you shop around you can get a wide variety of prices. The more premium web hosts would cost more but give you more features and after-sales service.
Another "cost" to think of when comparing these two website packages is time. Wix is designed for anyone to be able to put up a website quickly and easily. As mentioned, within an hour you can have a perfectly good website, made by you.
With WordPress, the time it takes to make a website, navigating the back-end menus, could be a lot more than a Wix website. The end result may be more sophisticated and technical, but how much time did it cost you to achieve this?
Edge: Tie.
Fix Website Errors with the Semrush Site Audit Tool
Building your website can be easy with either Wix or WordPress. Getting your site online, looking good, and working well for the user is one thing; the next is: how will Google view your website?
Semrush has a free tool you can use to check for over 130 different kinds of errors and breaks with your website. We have a detailed eBook you can read on the Semrush Site Audit Tool. You can even test your site out for free with this tool.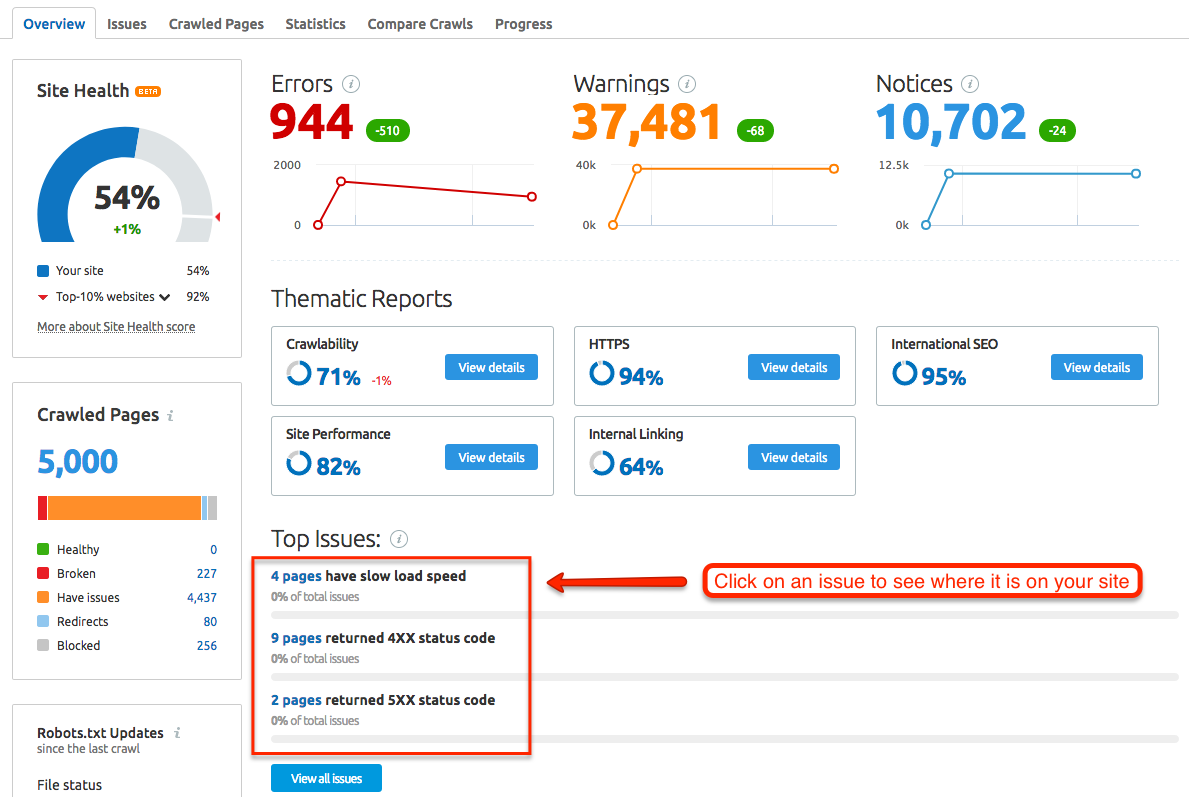 Why is this tool good for you to use? Building the website with the click and drag system is fun to do. However, it might bring up some structural errors or some site architecture problems. Our Site Audit Tool will help you find these errors, but it is something you need to be aware of.
In particular, sometimes, the way Wix sets up its websites can impact the effectiveness of our Site Audit Tool. This is one of the disadvantages of a closed source system — there isn't a free workaround you can use to fix it.
Wix vs. WordPress: The Choice Is Yours
Wix is a wonderful place for beginner web people to start with. You will find enough variety, themes, and extra functionality to do what you need to, for now, while you're a small business.
WordPress would be good after you've been in business a few years, your business has grown, and your confidence has grown, so you're ready to pay someone to make you a bigger and better website.
WordPress is more complex but also more powerful. Wix will be perfect for some people, and that is where it targets itself.
Choose your level of expertise and jump into it. The biggest pro for each of these platforms is that you will be online, at least. Once you're there, the sky's the limit.