If you have a client with a domain that covers multiple languages (or countries) — what's the best way to set up a Semrush Project for them?

This process will differ depending on how the domain separates the languages on the site.

A website could separate the languages on their domain with…
subdomains (es.semrush.com, fr.semrush.com, de.semrush.com, etc.)
top-level domains & ccTLDs (semrush.com, semrush.es, semrush.de, etc.)
subfolders (semrush.com/en, semrush.com/fr, semrush.com/de, etc.)
The good news is that most Project tools are able to analyze a website's presence in multiple countries or languages with any of the methods mentioned above.

Site Audit
Position Tracking
Backlink Audit
Link Building Tool
On Page SEO Checker

In some cases, it would be better to set up a separate Project for each, but this article will outline how much you can do in a single Project. You can run a Site Audit to look for technical and International SEO errors, or set up Position Tracking to track rankings in each country & language, and much more.
Configuring Site Audit to Crawl all Language Versions of a Site
Site Audit will crawl as many pages as you instruct it to in the first step of Configuration. Here you have a few options to make sure you cover all language versions of a website in the audit:
To crawl as much of a site in a single audit, set a high limit of checked pages. Then, open Crawl Scope and check the "Crawl all subdomains" box to ensure that Semrush reaches all language-versions of the site. Keep in mind that crawling the entire site might take up more limits that you would want to save for other Projects.

Note: If a website has 1,000 pages and we set the page limit to 10,000 pages, it will not take 10,000 out of the limits. It will only take the amount actually crawled.



Set the crawl source as URLs from file. With this option you can upload a file containing all of the pages in every language that you want to audit. It might be tedious to make the file at first, but it would be the most controlled way to audit all of the pages you want to in one Project.



If the website has its language-based subdomains in the sitemap, you can crawl by sitemap URL.



Crawl one subdomain/subfolder per Project: If you want to audit each language-based version separately, you can enter a subdomain/subfolder into the Crawl scope setting and Site Audit will only crawl that 1 subdomain indicated in the setup.



This means you would have to set up an individual Project for every language-based subdomain (one for translate.com, one for it.translate.com, one for de.translate.com).

Lastly, if your domain separates languages by TLD, you would have to create a different Project for each TLD-based site (one for translate.com, one for translate.it, one for translate.de, etc).
After the audit finishes, be sure to look for any hreflang issues on the site as well as any other international SEO red-flags.
Set up Multiple Target Locations in Position Tracking
Position Tracking is another essential tool that will measure the impact of your SEO or SEM campaign by tracking daily rankings and changes. Our tool has the ability to track multiple devices or locations in a single Project, so you could track up to 10 location & language pairs in one Project with Guru subscription and up to 5,000 with Business.
How Limits Work with Multiple Devices and Locations
Each set of keywords in a new location or new device would take keywords from your account's keyword tracking limits. (Check your account's limits here).
For example, you could create a Project and set up a Position Tracking campaign for example.com tracking….
10 English keywords in the United States desktop results
10 Spanish keywords in Mexico desktop results
10 french keywords in Canada desktop results
And the resulting Project would use 30 of your account's keyword tracking limits.
Position Tracking Configuration
When you configure a Position Tracking campaign there are 2 main steps in the setup wizard.
Campaign Setting
Domain (root domain, subdomain, URL or Subfolder)
Search Engine (Google or Baidu)
Device Type (Desktop, Tablet or Mobile)
Location
Business Name (optional)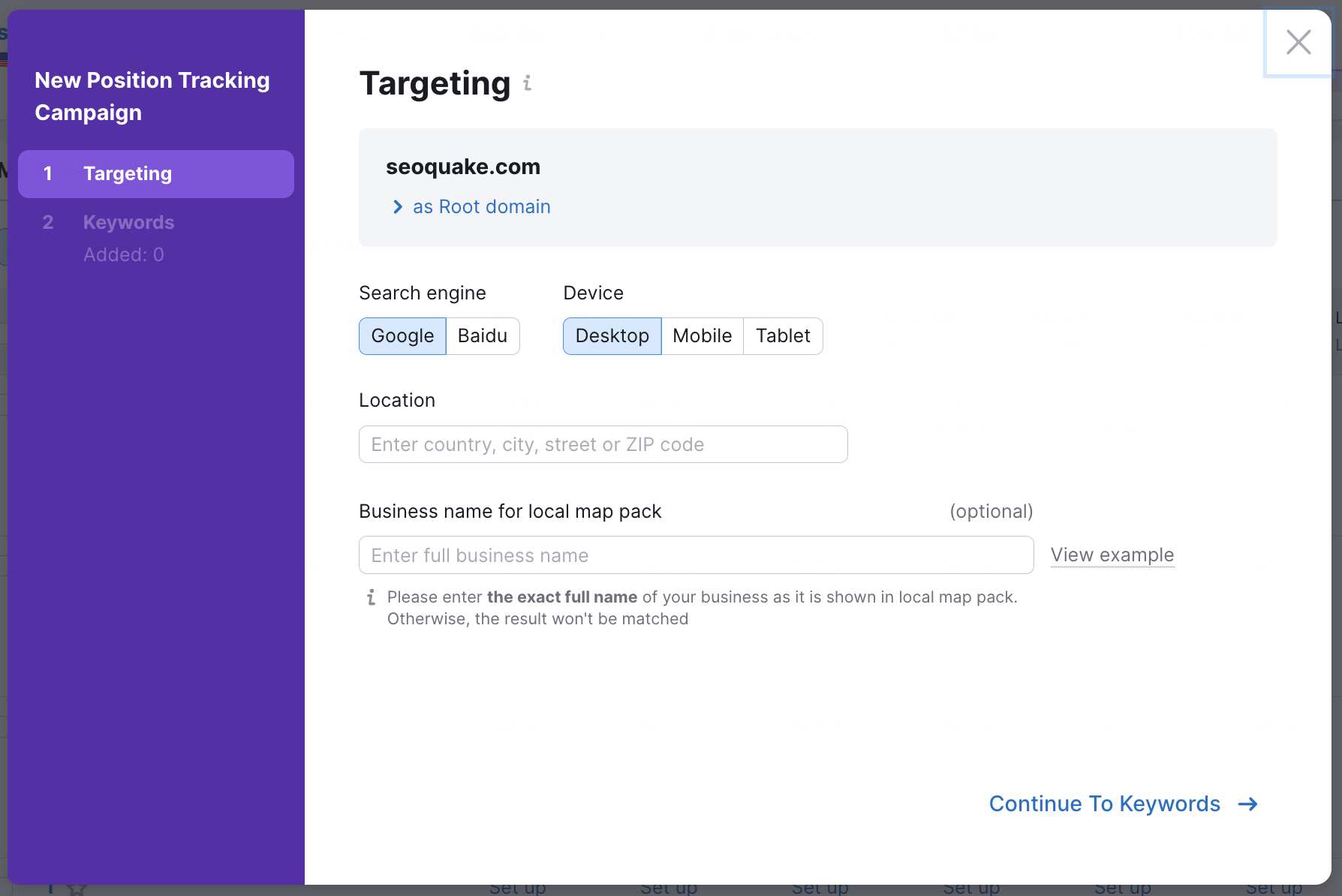 After you provide your campaign settings, the next step is to add the keywords to your campaign. When adding keywords you have options to add keywords manually, from Semrush reports, from Google Analytics, from a .txt, .xls or .csv file and from an existing Position Tracking campaign.
Next you can start adding the additional locations and sets of keywords. Find the blue Device & Location link and click the green "Add new Target."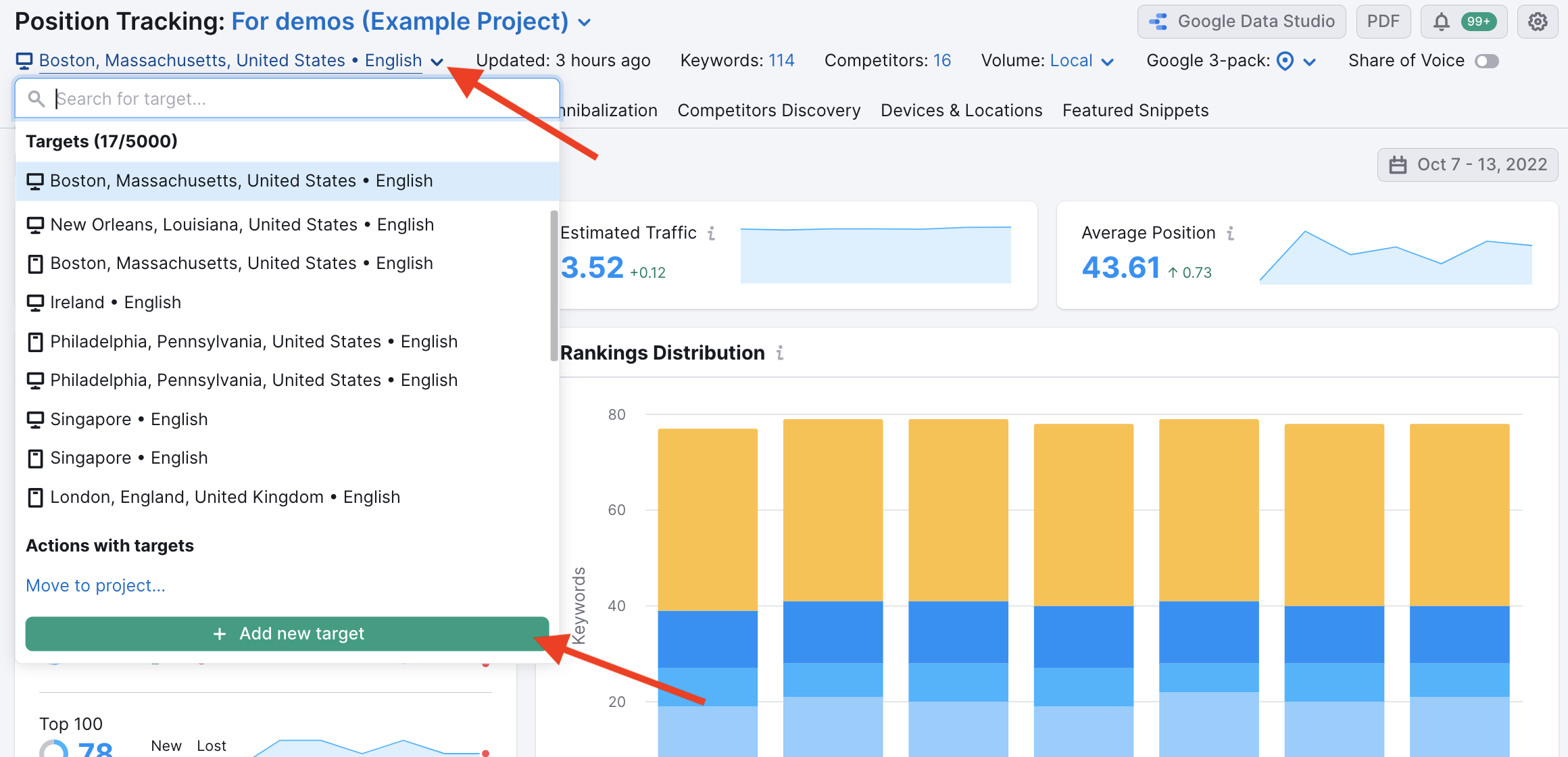 Now Semrush will ask you to choose your next location/device to track. Enter it here and then choose to add keywords by entering manually.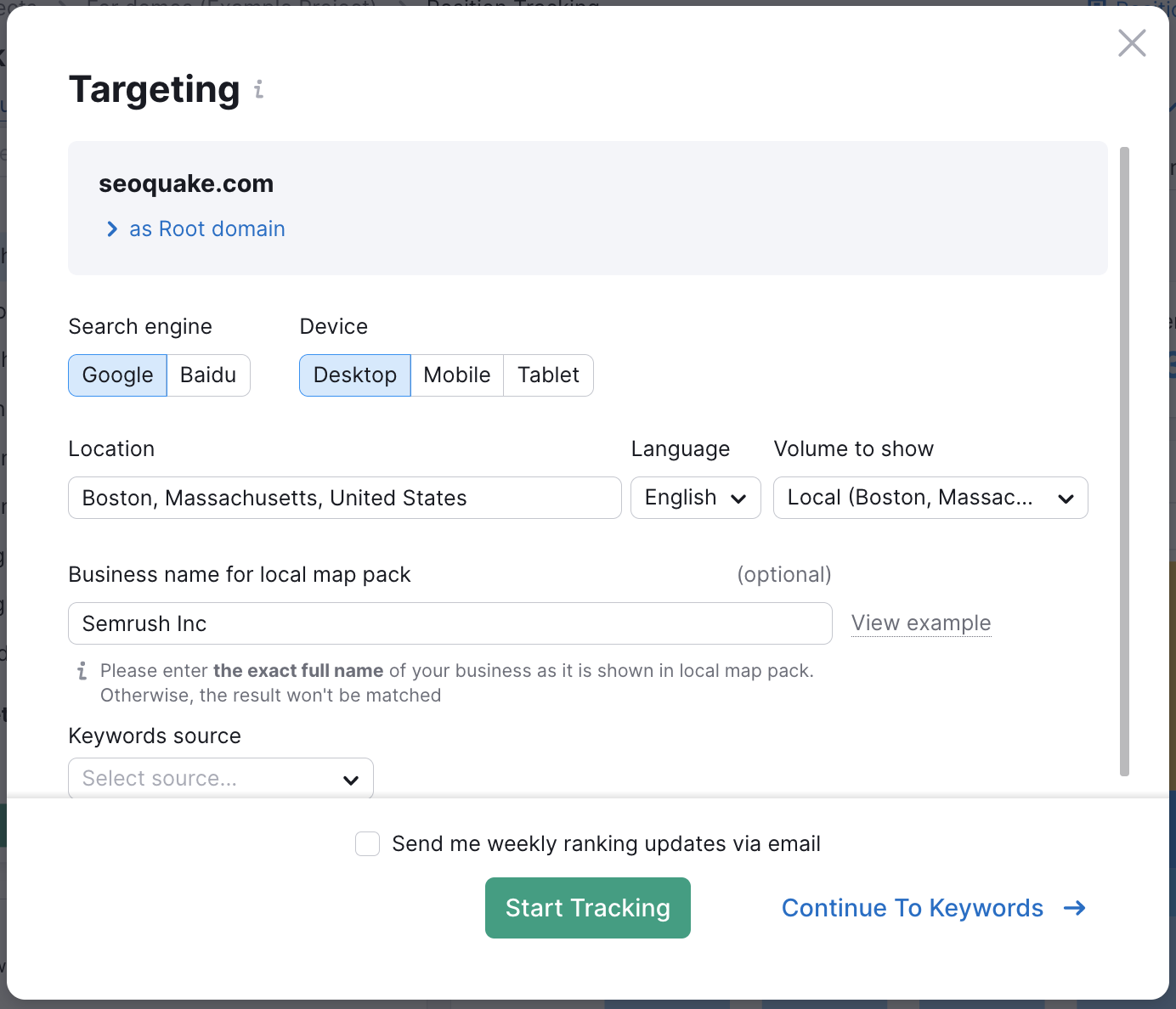 On the next screen, you'll be asked to enter the keywords for this location. You can also add tags to these keywords if you'd like.
Once you add the keywords to your Project and hit "update" your campaign will start tracking these new keywords in the second location.
To track the visibility and positions for each subdomain/subfolder/TLD version of your site separately, you can add each version as a Competitor in the competitor fields.
The Devices & Locations tab in this tool will help you keep an eye on the performance of your site in each location and set of keywords.
This method of tracking more than one location or device in a single project is referred to as "multi-targeting."
Configure Backlink Audit with your target countries and translated brand name
Backlink Audit will help you identify any toxic links that your domain has that should be removed. The second step of the configuration wizard of this tool will ask you to specify your brand name and step 4 will let you pick your target countries.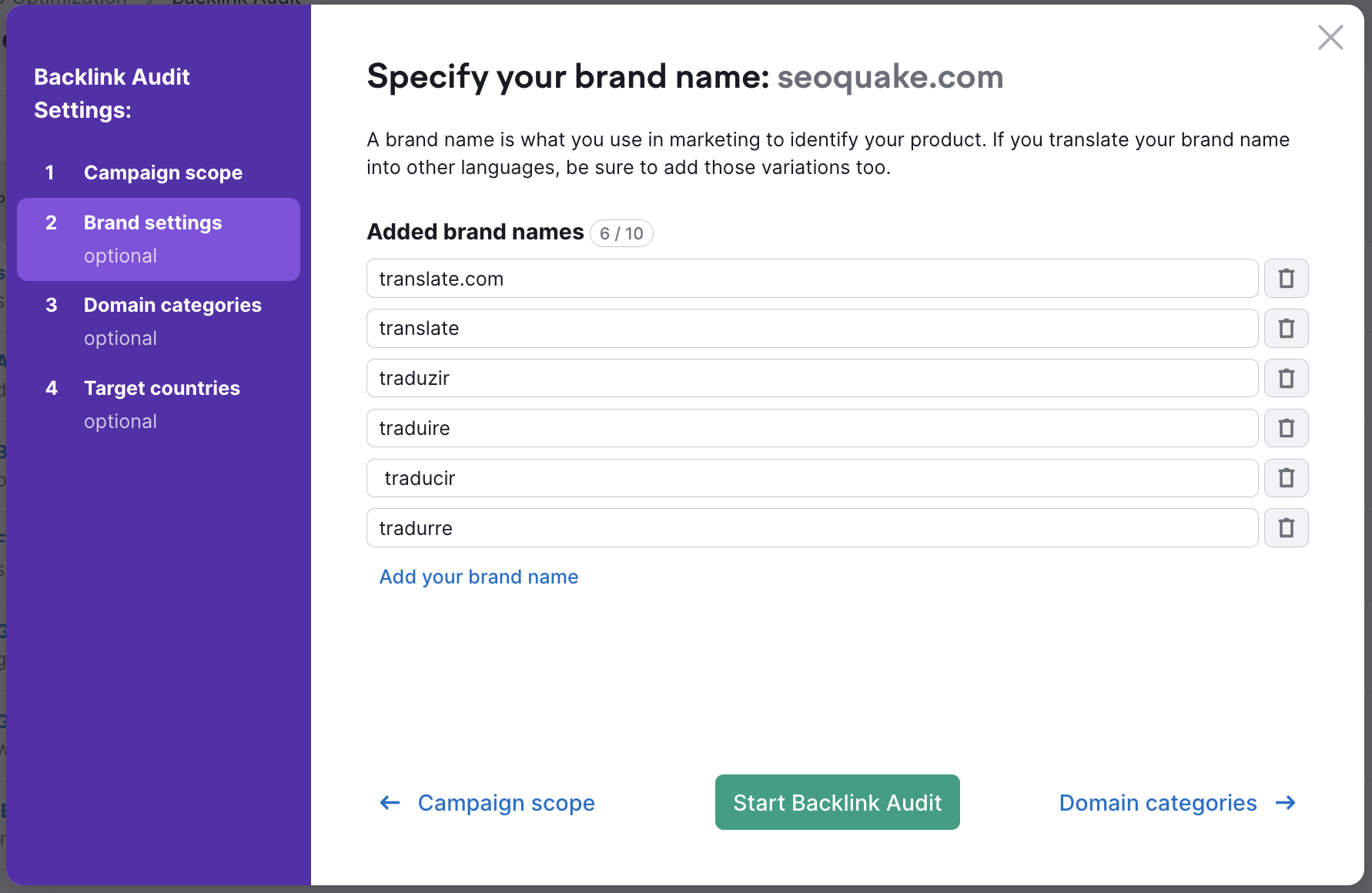 In this step you should enter all versions of your brand name as it is written in each language your site covers. Then, you should write in all of the countries where your website is relevant. That way, Semrush will avoid labeling any backlinks mentioning your business in another language or country as toxic.
Set up the Link Building Tool in your target language & country
The Link Building Tool configuration lets you choose a target country and enter target keywords in any language you'd like.


This will configure the tool to gather opportunities for links relevant to a specific country and language where you want to build links.
The Link Building tool works for TLDs and subdomains, but not subfolders.
Although you can only run 1 Link Building tool campaign per Project, you have the ability to restart your Link Building Tool campaign from the "Update Prospects" button.

This would allow you to generate prospects in one language and country, export your prospects, and then restart the campaign to gather prospects in a new language and country.
Set up On Page SEO Checker in your target country & language
Please note that On Page SEO Checker can only target one location per Project. If you choose a location that speaks more than one language, you can set the target language here as well.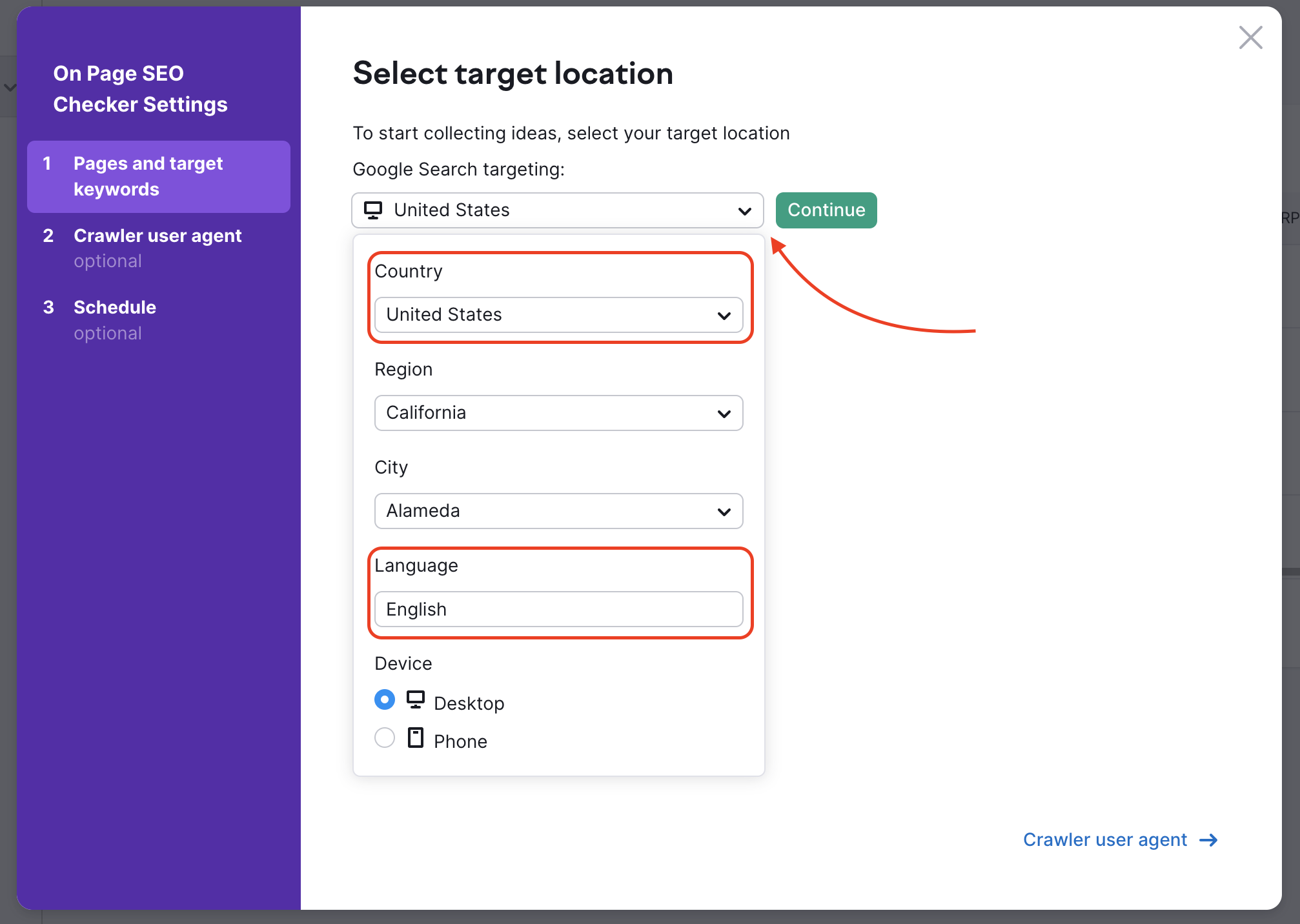 To get SEO recommendations for your landing pages in more than one location or language, you would need to create one Project for each language that you are planning to target.
Project Limits
Keep in mind the number of Projects you can run at the same time is based on your Semrush subscription level.
Pro: 5 Projects
Guru: 15 Projects
Business: 40 Projects