This article will show you a process for gathering content ideas and then evaluating each of them in order to decide which ones to pursue.
Your content ideas can be found using Topic Research. Then, combining this research with Backlink Analytics, you can judge which ideas are best while also finding even more ideas for your content plans.
Please note: The Topic Research Tool, along with the rest of the Content Marketing Toolkit is only available with a Guru level subscription or higher.
Find Ideas in the Topic Research Tool
To start, go to the Topic Research tool and enter in the search bar a topic that is related to your website. Maybe it's the name of the product or service that you offer, or maybe it's an idea you already have for a blog post.
The tool will present to you an array of subtopic cards based on your query that you can explore to find more ideas and inspiration.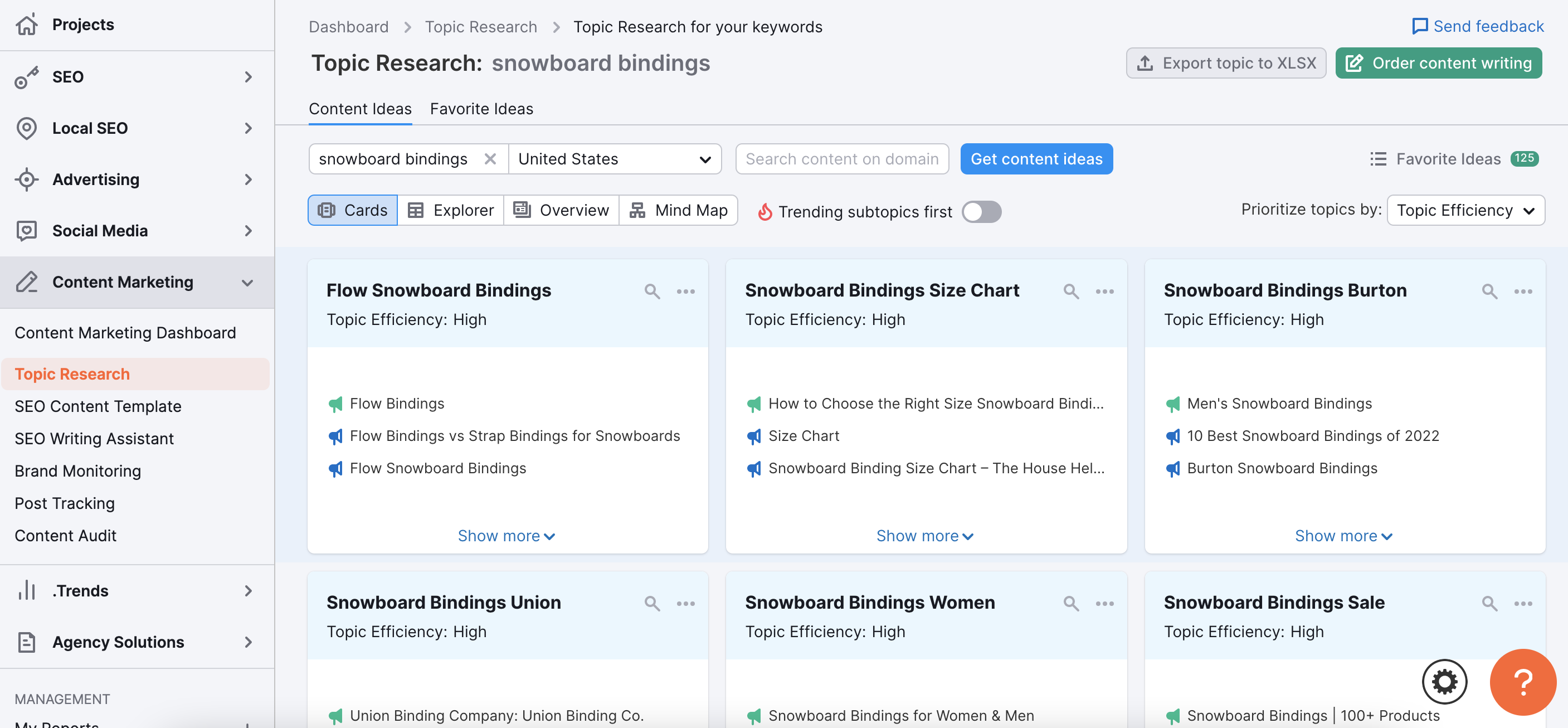 Each "card" in this report represents a subtopic and contains a list of headlines from the most popular related content on the web. These topics are taken from the websites of your competitors, and the tool gives you a few ways to filter these ideas and find what you're looking for.
You can expand each card to hone in on related questions, top headlines, and even filter to look for ideas from a specific competitor's domain. For all of the in-depth ways to use Topic Research, read this article.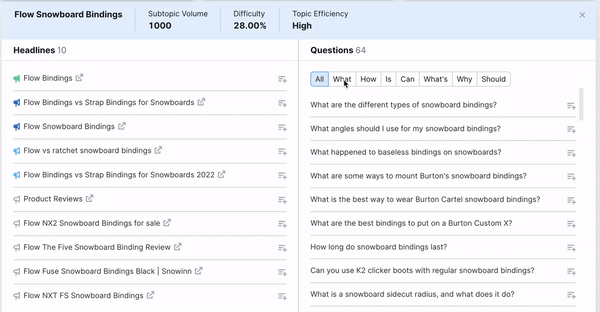 The Topic Efficiency is based on the topic's search volume and keyword difficulty, so it helps you judge how rewarding going after a certain topic would be. High search volume and low difficulty would create a high Topic Efficiency.
To save the ideas you like for later, use the add to favorites button beside the idea. This will collect your ideas into the Favorite ideas tab, where you can review them. If the idea is from another website, you can go directly the URL on your competitor's domain.
Please note that if a favorite idea is a question, it will not have a URL associated with it and you won't be able to open it further.
Now, getting all of these ideas is the easy part. But how do you decide which ones to pursue and which ones aren't worth your time?
Analyze the Backlinks of Each Idea
The next step to take it analyzing each idea and seeing how well it attracted backlinks. This process will tell you what kind of content the websites in your industry prefer linking to. The more backlinks an idea has, the more it resonates in your niche.
Now, take the ideas you found in Topic Research - take the URLs from your Favorite Ideas - and open a new tab to go to the Backlinks report on Semrush. Enter this URL into the search bar. Now you can see just how popular this content was and how many backlinks it garnered.
Here is an example of a backlinks report from a blog post with butternut squash recipes.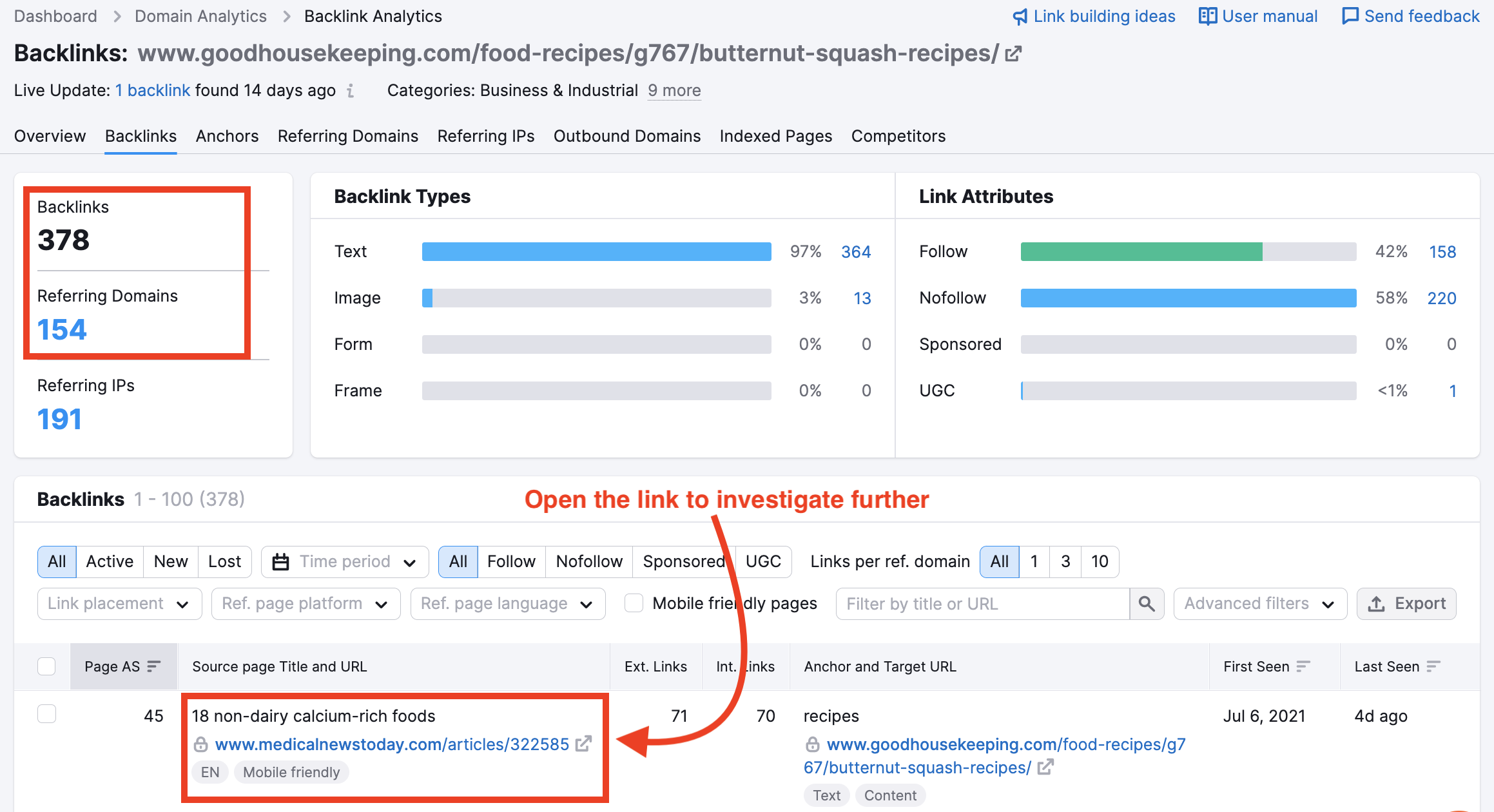 See how this post has 378 total backlinks coming from 154 different referring domains. Those numbers show that this post was good enough to receive links from over 150 sites, so it's worth investigating. You can jump right into these referring domains and total backlinks to find more related ideas from their backlink profile.
Study the content that gets the most backlinks and think about how you could do something similar but in your own way.
Look into why the page received so many links. Does the webpage enable social sharing? Does the content offer unique information or answers to common questions?
Not only will judging a webpage's backlinks tell you about how well it performs, but you can also find even more ideas by looking through the actual pages linking to the page you're analyzing.
For example, here's where that first link from the blog post's backlink report takes us, an article focused on butternut squash recipes:
Backlinks are the strings that connect the web of your industry, so this process can help you find new connections and new ways of writing about the same subjects.
Next Steps
Now that you have a process for gathering and evaluating new content ideas, be sure to check out the SEO Content Template and SEO Writing Assistant to streamline your process for writing SEO-friendly content.