There may be some instances where you want to run analysis and research in Semrush but you are specifically looking to analyze just a subdomain. Luckily there are a number of different tools and Projects that allow analysis at the subdomain level.
Let's start by setting up subdomains for non-Project tools.
Organic Research
Start by entering your subdomain directly into the search bar you'll be prompted to the Overview report. Keep in mind that when searching by a specific subdomain all of the analytics in the tool will reflect that respective domain.
This applies to all of the reports in Organic Research.
Advertising Research
Just like with Organic Research, our Advertising Research reports let you gain insight down to the subdomain level. Enter the subdomain you wish to analyze into the search bar and Advertising Research will pull metrics only for the subdomain.
From here you'll be able to click through the rest of the reports to get those specific metrics for the quiered subdomain.
Keyword Gap
*Guru and Business users only*
If you want to compare the keywords of multiple websites to your own subdomain you can do that as well with Keyword Gap. Keyword gap lets you enter up to five domains, subdomains, exact URLs, or subfolders.
Given this option you aren't just limited to checking a subdomain of your own against a competitor's root domain, you can check your subdomain vs one of theirs.
This way you can view your keywords on a more granular level.
Now let's take a look at the pools that can track and analyse subdomains in our Projects.
Site Audit
Site Audit is a powerful website crawler that gives you insight into the health of a website. This is important information as it can let you see exactly the areas which could use improvement.
Luckily for those who are interested in just a specific subdomain, Site Audit has you covered. When configuring your Site Audit you have a crawl scope option that lets you manually enter a subdomain. If you enter a domain in this field you will be given the option of also crawling all of the subdomains.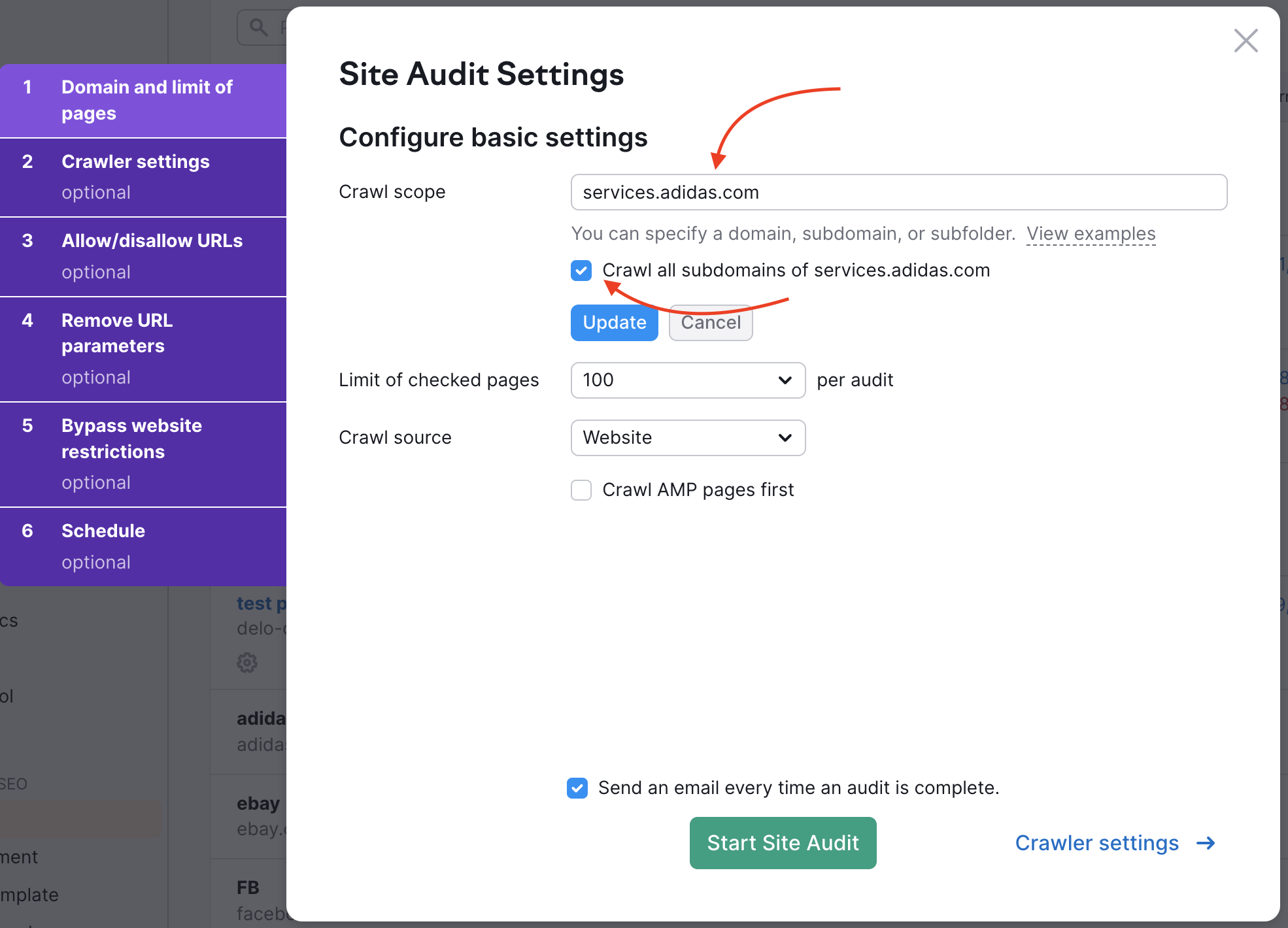 Check out this article to find out how to specifically audit a subdomain.
Position Tracking
Position Tracking lets you track a website's daily rankings for a custom set of target keywords. It allows you to even track keywords and domains that aren't in the Semrush database.
If you already know you want to focus on a very specific part of a website, this is where you would want to enter a subdomain in the configuring setup.