The Social Tracker YouTube report allows users to track metrics on an audience (subscribers), activity (posting videos to YouTube), engagement (likes, dislikes, comments), and more for up to 20 YouTube channels at once.
Why should you use this report?
Almost 5 billion videos on YouTube are watched every day. Don't you think your online brand should get a piece of that pie?
Because of the sheer volume of content on YouTube, it's becoming harder every day for marketers to get their brand to stand out and grow their reach.
Think With Google suggests designing a YouTube content strategy that builds a "library" of videos over time. What are your brand values and what does your audience care about? The intersection between these two questions can be the foundation for a successful YouTube channel.
To understand what your audience cares about, you can track the other YouTube channels in your market or niche to see what engages their viewers the most. By gathering analytics on your competitors, you'll become more informed when it comes to designing your own strategy.
Whether you want to build your overall brand in conjunction with your strategy on Facebook and Twitter, or you just want to showcase your product with helpful video demos or tutorials, finding the common ground between your brand and your audience will be key to your success.
How to use this tool to increase your YouTube channel's reach
Set up the Social Tracker in a Semrush project and add your YouTube channel's URL and the URLs of your competitors in the setup wizard
Identify the videos posted in your niche with the likes, dislikes, comments, and views over the last 30 days
Compare and contrast engagement levels between you and your competitors
Find the most engaging videos posted by your competition
Discover the video with the most comments posted by your competition
Identify videos with high likes and dislikes
Compare how often your competitors post videos to YouTube
How to set up your YouTube report on the Social Tracker
When you're configuring your Social Tracker, you'll be asked to provide access to the platforms that you want to track. Click on the connect button under the YouTube icon to connect your account.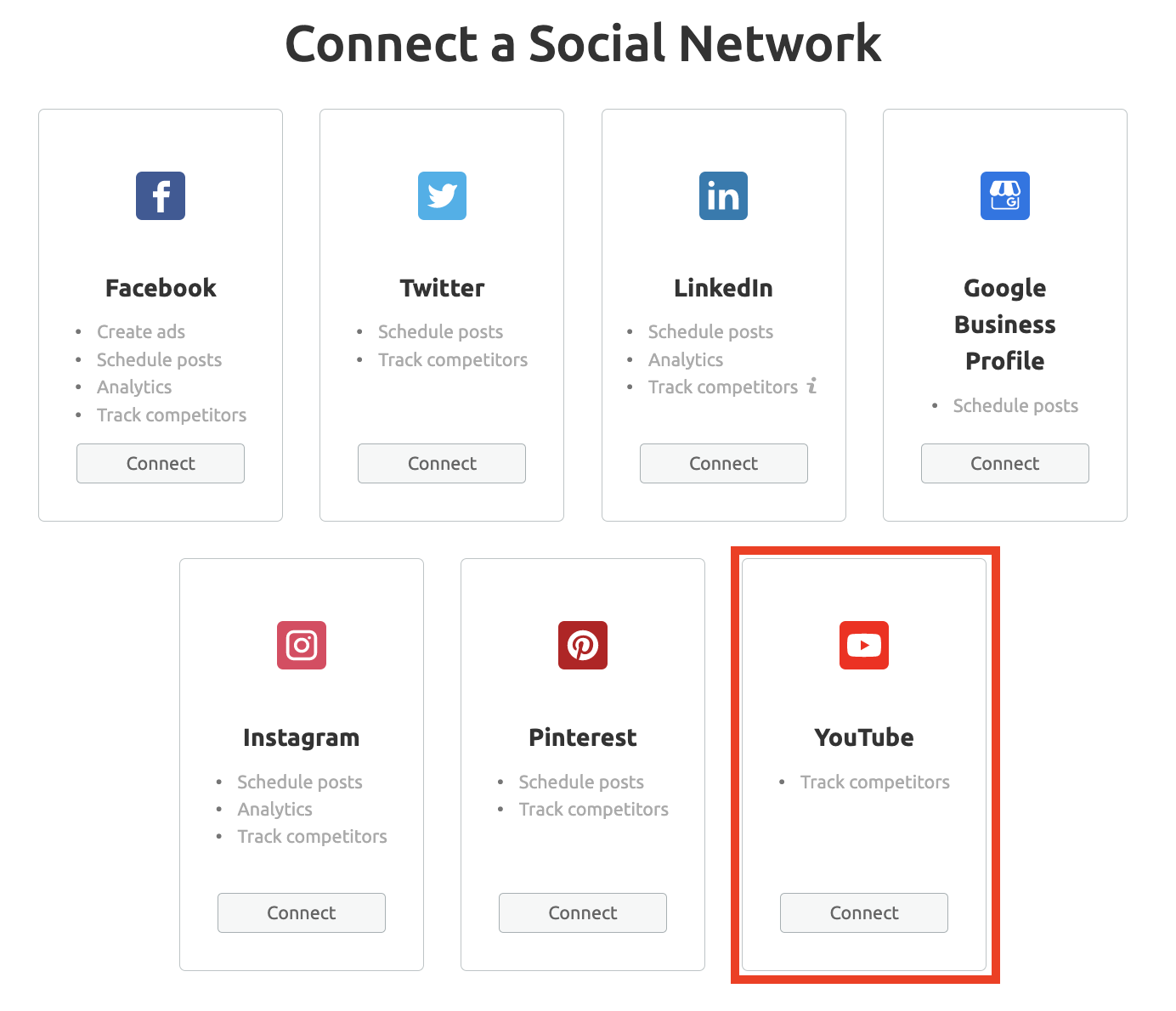 You can add competitors' profiles to the report by searching for their name or channel link:

How to Measure Videos by Engagement
Under the Videos tab, you can analyze a table with all of the YouTube videos posted over the set date range. This date range can go back as far as 30 days and can also be customized to your liking.
By default, the videos are sorted by their published date. The table can also be sorted by any of the following column headers:
Likes - The number of likes the video received on YouTube.
Dislikes - The number of dislikes the video received on YouTube.
Comments - The number of YouTube comments the video received.
Views - The total number of views the YouTube video received.
To compare posts of all of your competitors at once, select "All profiles" from the company selector. Each post in the table can be expanded on where you can see a snippet of the YouTube video.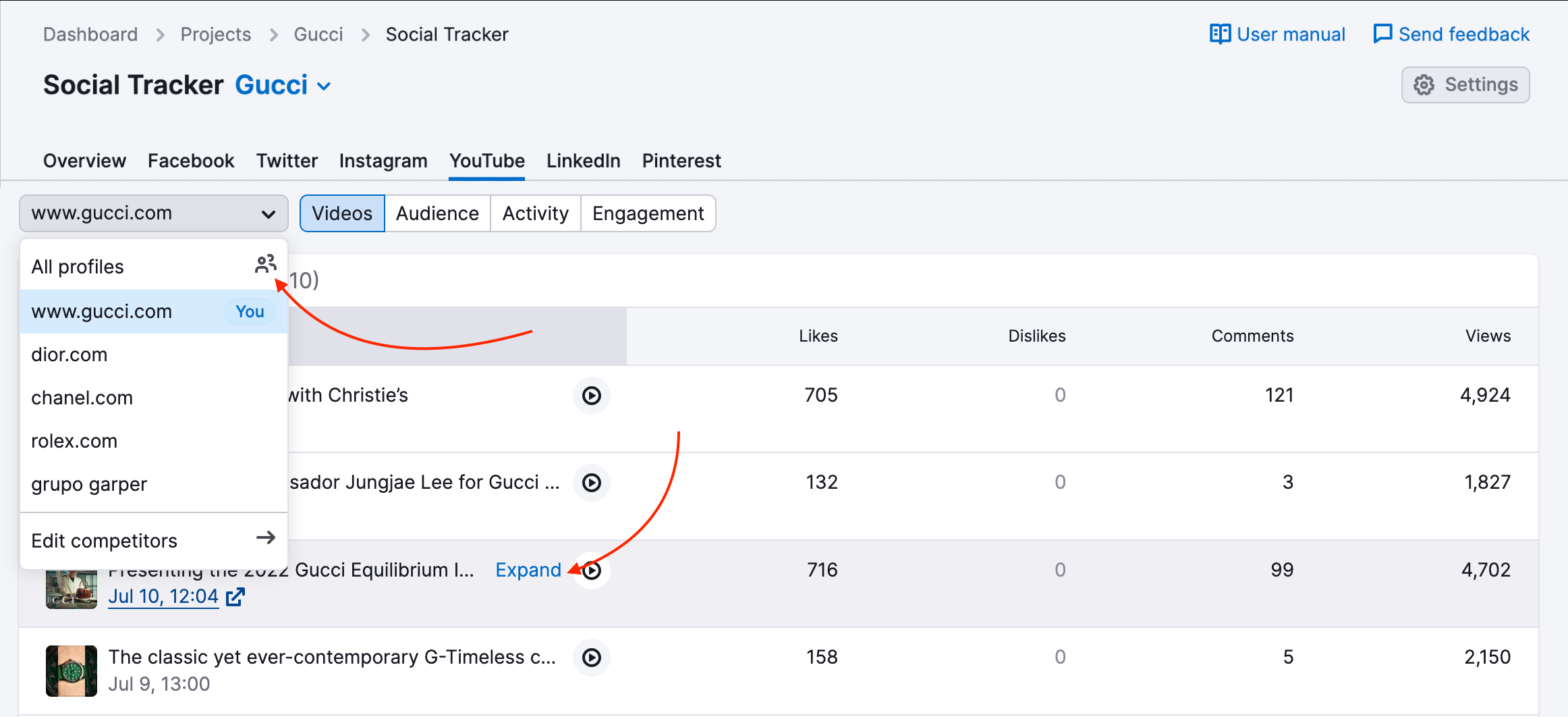 How to compare how often your competitors post videos to YouTube
To compare each competitor's posting, navigate to the Activity tab and check the Publishing graph. You can switch between competitors using the Company filter. This graph shows how many videos a channel publishes on YouTube on a daily basis.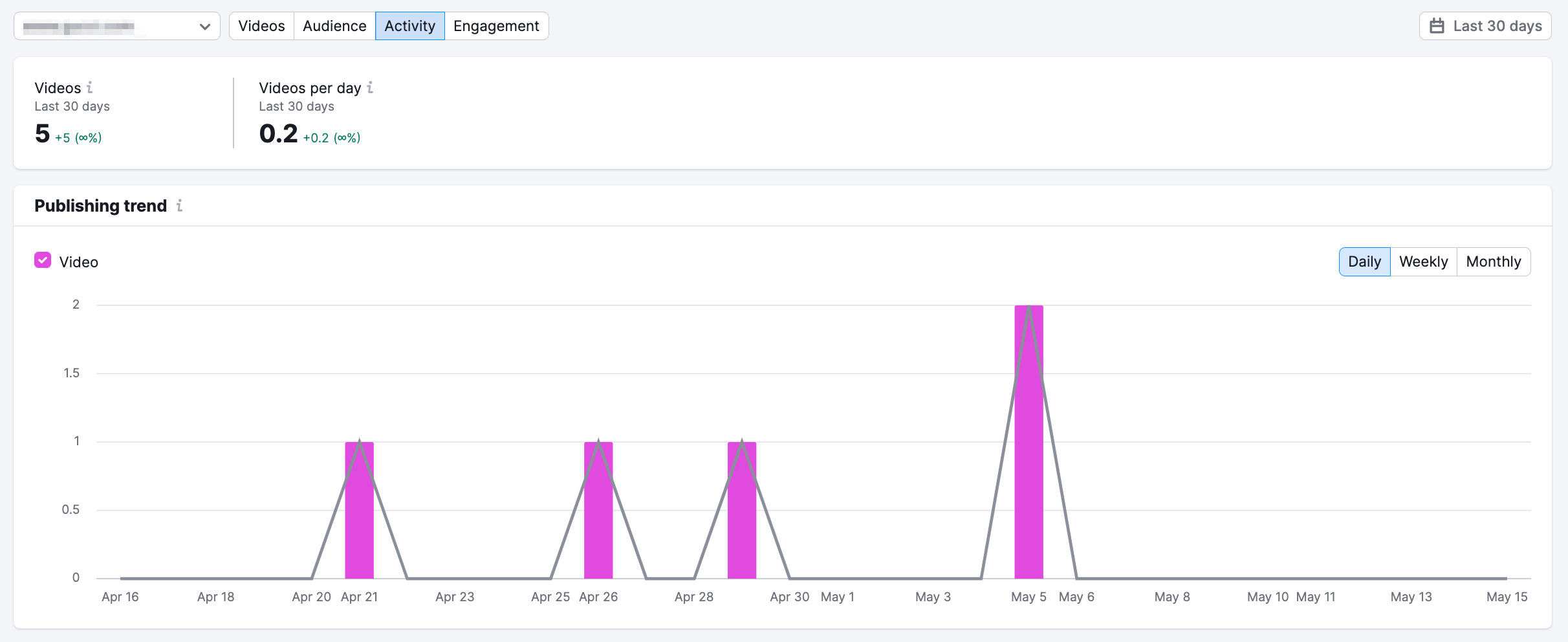 Please note that due to YouTube API Services Policies, Historical publishing data in YouTube reports will only be stored for up to 30 days, and there's no opportunity to export data from the reports, as well.

Further reading:
Advanced Hacks for YouTube SEO
The Ultimate Guide to YouTube SEO Success #semrushchat