The Optimization Ideas report in On Page SEO Checker lists all of the landing pages in your campaign with the ideas Semrush is suggesting. This report lets you update the landing pages or keywords in your campaign, review your ideas, and send tasks to Trello.
Types of Ideas
Strategy - Strategy ideas will help you prioritize which pages on your site to focus on optimizing for each keyword. We'll analyze how well other pages on your website are already ranking for certain keywords. Then we will offer suggestions for the best pages on your website to use to target each keyword in your SEO strategy.
Content - Content ideas show you the best practices used by the pages that rank on the first page of Google. Learn how long your content should be and what keywords you should use (based on various HTML tags). You'll also be able to see suggestions on how to make your content more readable and how to utilize video content. These ideas will help Google crawlers understand the relevance of your content to a user's search.
Backlinks - Backlink ideas will give you a list of outreach targets to build your backlink profile. The domains suggested will be new potential websites that can make for new backlink opportunities.
Semantic - Semantic ideas will suggest related words based on an analysis of your successful rivals' content. This shows how semantically related words can improve the quality of your page and make your content more relevant.
User Experience - Connect your Google Analytics account to receive ideas based on bounce rates and time on page time that reflects a users' experience. On Page SEO Checker will take this data and tell you where you can change your pages.
Technical SEO - Technical SEO ideas show you where the potential issues in your website's health or structure lie. These ideas come from the results of a Site Audit set up in the same Project. To improve your SEO, the most urgent issues should be addressed first.
SERP Features - Here we provide suggestions on how to improve any pages that are likely to win a Featured Snippet. You will also get a suggestion on adding a markup code to your page so that your page can be rewarded with a star rating system.
Total Volume
The Optimization Ideas table lists the landing pages in your campaign with their corresponding target keywords and total volume. This volume represents the sum of the monthly search volumes between all of the keywords targeted by the specific page.
You can sort the table by priority, URL, keywords per page, total volume, the total number of ideas, or last update. To find a page or keyword quickly, filter the report with the search bar above the table.


Adding Landing Pages
You can always add more landing pages to your campaign with the blue "Add Landing Page" button at the top. This button opens a window to enter a new page and keywords you want to target. You can add new keywords to your campaign or reassign keywords that are already in your project to the new page. After you add your new page, your campaign will update with the new results.
Editing Keywords or URL
If you want to change the keywords you're targeting it can be done at any time using the Actions column. Open the settings gear in the row of the page you want to make adjustments to.



After changing the information here, you'll have to recollect ideas with the blue refresh logo to get your updated suggestions.
If you change the URL, it will now direct the ideas about how to optimize for your target keywords to the newly entered URL.
Importing From Google Search Console
Right next to the "Add Landing Page" button you will see an "Import from Google Search Console." When you connect your GSC data, you can receive ideas to further optimize your pages that already rank on Google.
While Position Tracking can see your positions, Google Search Console can see how many clicks each page is getting. At this time, you can add up to your top 1000 pages by a number of clicks to On Page SEO Checker.
Filters & Exports
This category filter can be adjusted to show All Ideas or ideas specific to a category. The number of ideas in the ideas column will change based on the selected category.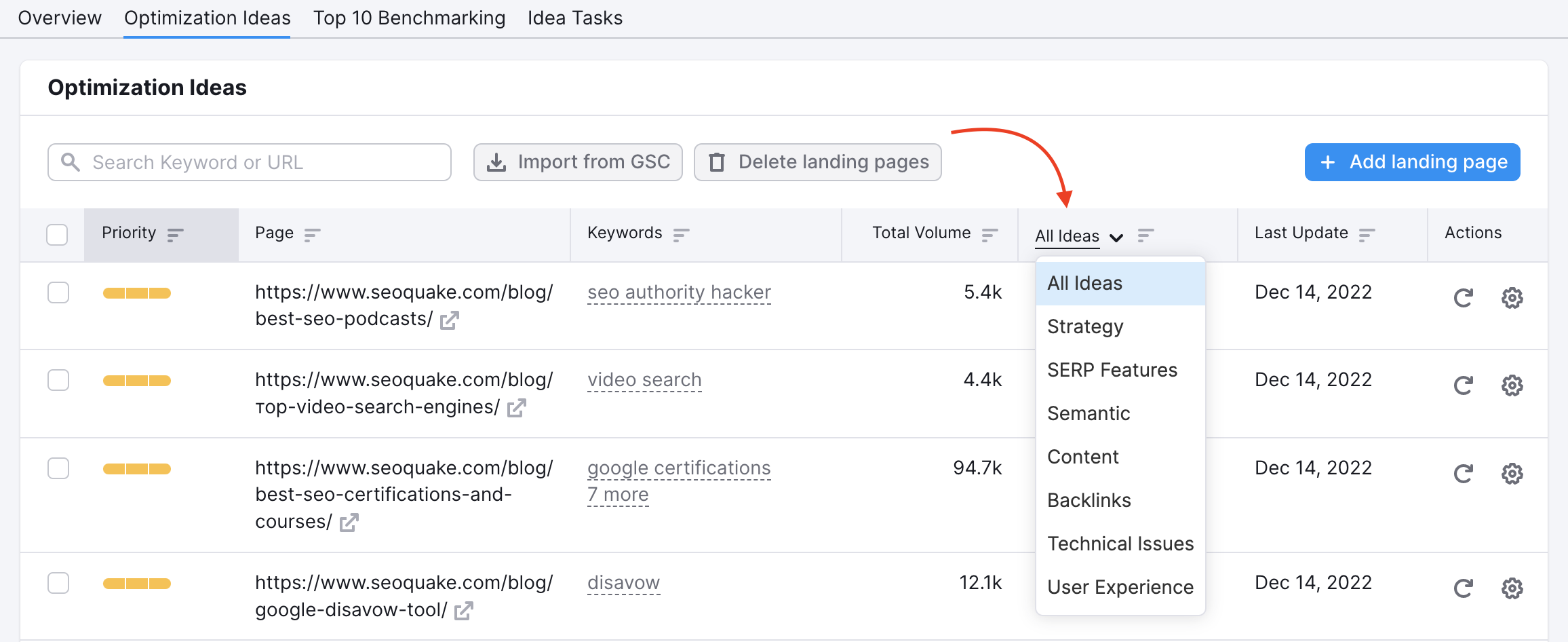 If any of your pages are already optimized, there will be an "optimized" note in green with a check mark in the ideas column.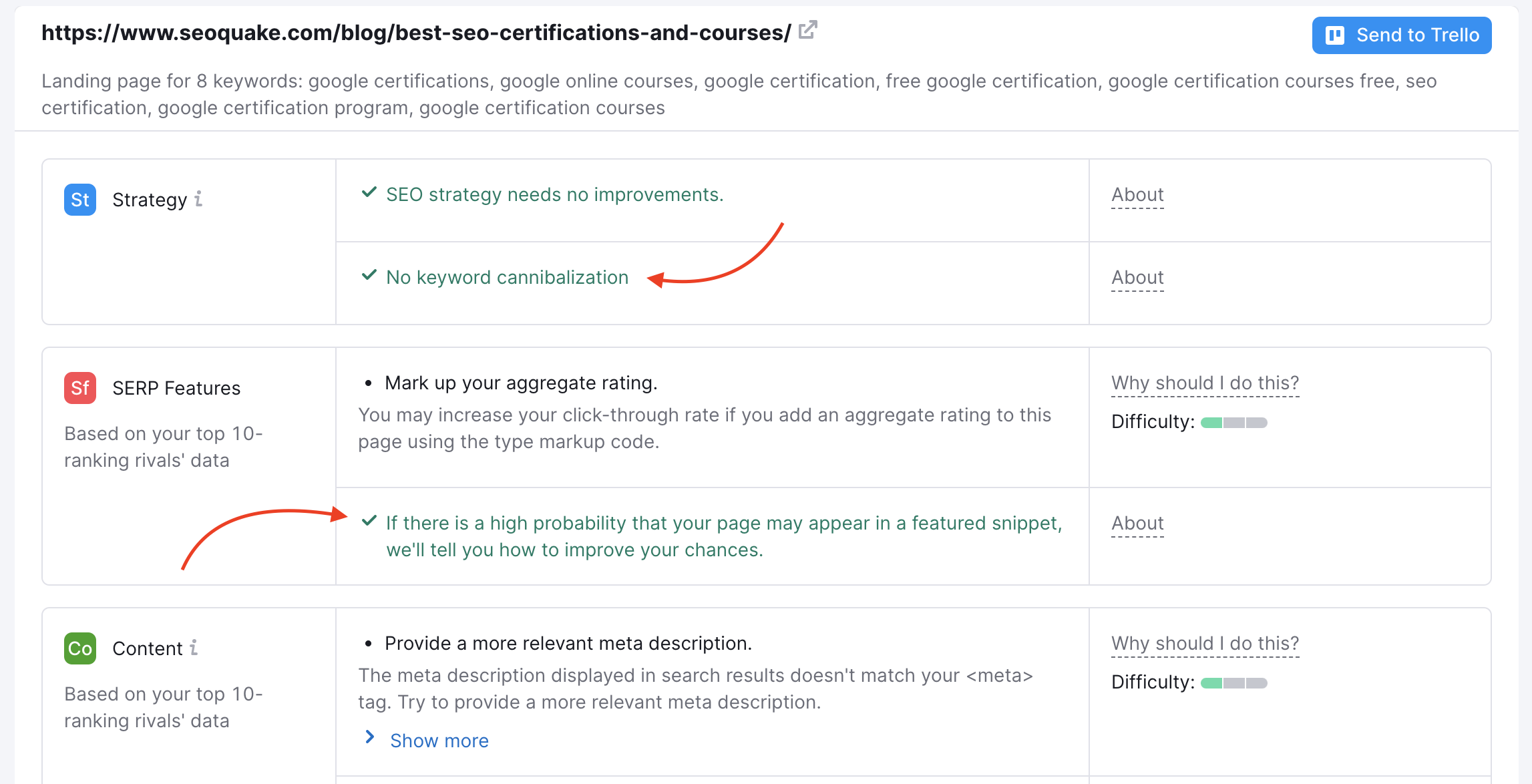 This allows you to export a report with each of the different types of ideas. If you work as a team, you can divide and conquer the ideas by category among team members. You can provide your list of backlink ideas to give to your link-builder, content ideas to your content writer, technical SEO ideas to your developer, and so on. The export button is located next to the settings gear and "Re-run campaign" buttons in the top right of the dashboard.
Inspecting your Ideas
To inspect an idea further, click on the blue button with the number of ideas in the row of the page you wish to optimize. If one of your pages has an "Optimized" note instead of the blue button, it means the page is ranking in the top 3 for its target keywords. It can also mean that your page is on to a featured snippets result and is already in a strong position.
If we find that your page is already optimized the tool won't provide ideas to optimize it further.
However, if your page is not fully optimized you can look at a list of ideas by clicking on the blue button. Once you do this you'll be able to look at a report with all of the ideas for that URL.
Clicking on the blue button, you'll be looking at a report with all of the ideas for that specific URL.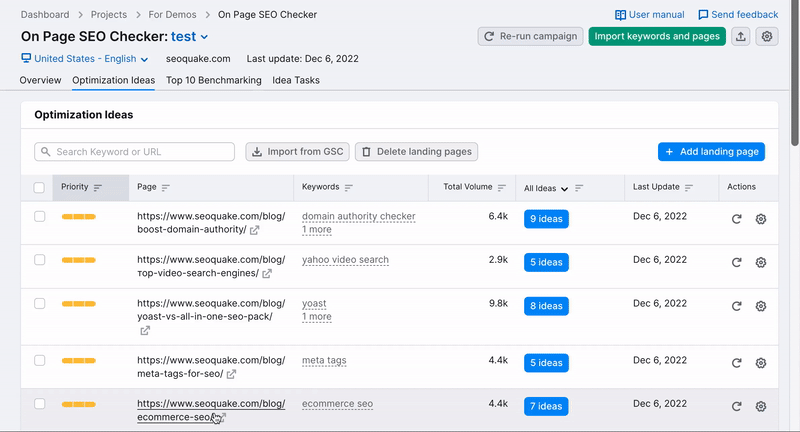 Here we can see all of the ideas suggested to improve the landing page's SEO for three target keywords. Each idea will be listed in the table by its category. Hover over "Why should I do this?" in the third column to read the reasoning behind its SEO value.
When you open a detailed analysis, you'll see the information we're taking from your rivals' content to base the ideas on.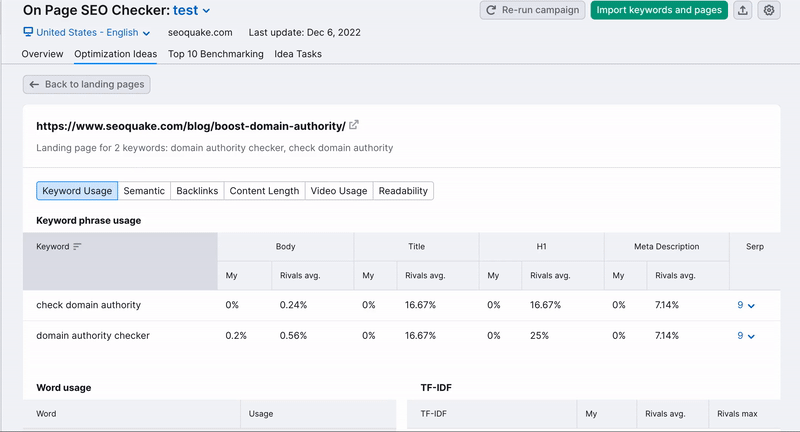 Re-collect Ideas for a URL
You have the ability to re-collect ideas for a URL if you've made changes to a page and don't want to re-run your entire campaign and spend your units.
To do this, simply find the re-run button in the Actions column for the URL that you want to collect new ideas for.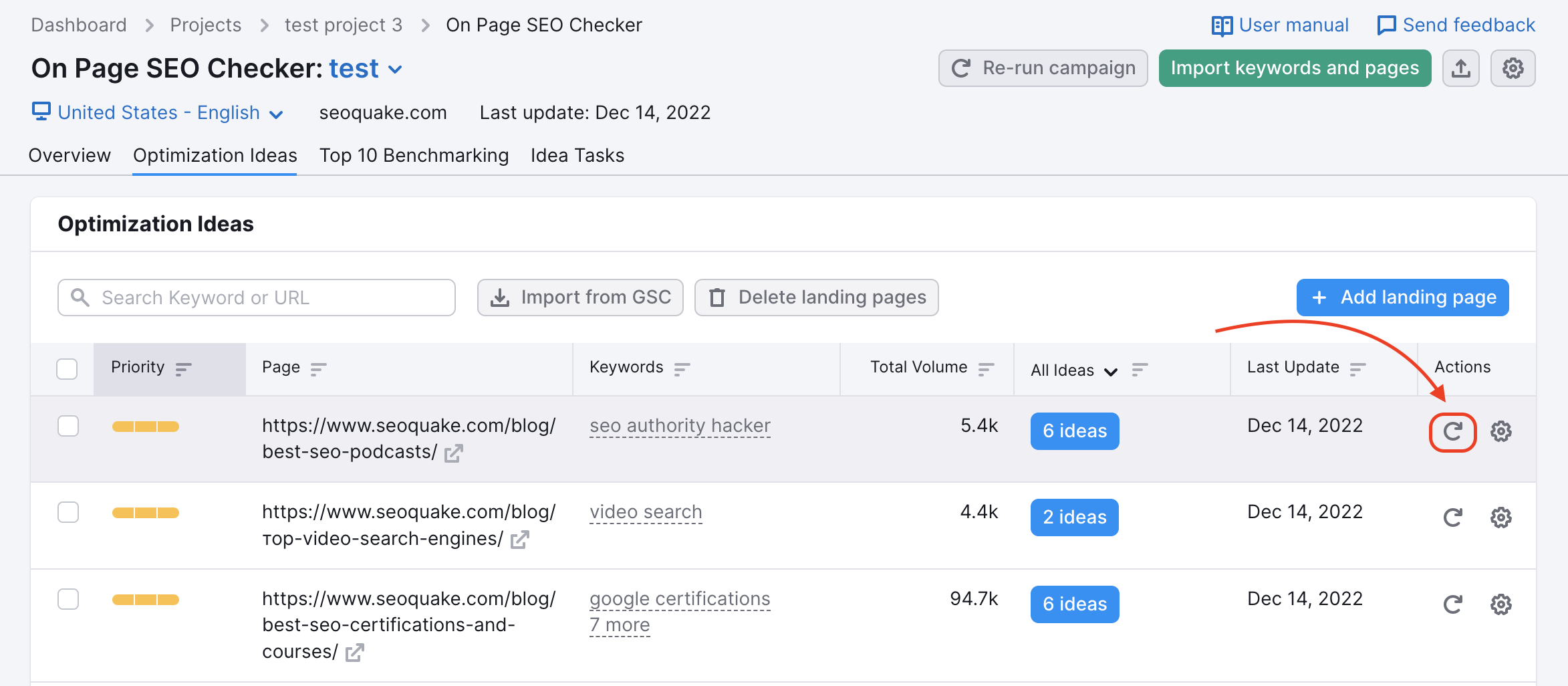 This will send our bot back to your site to re-evaluate your page as well as your rivals that are ranking for your target keywords. Based on the new analysis, you may receive new ideas.
Send Tasks to Trello
If you use Trello for task management, you can send an idea to your Trello board as a new card. Use the blue button at the top right to open a window where you can create a new card and add it to trello.



Deleting Pages
Sometimes there are situations when you no longer need to optimize a page, or you added it by accident.
In this case, you can:
1. Delete one specific page using the gear icon on the right.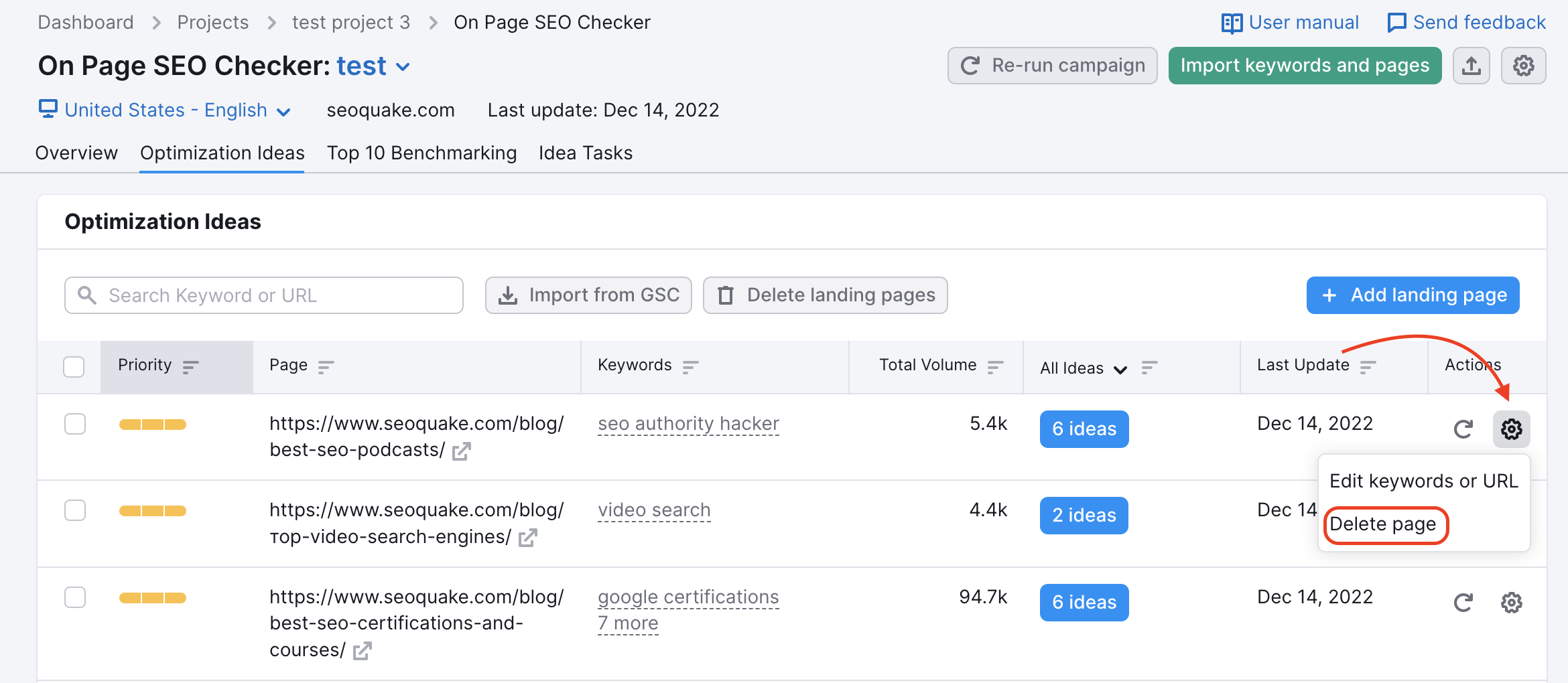 2. Get rid of multiple pages in bulk by selecting them with their checkboxes on the left.