The Monitor report in the Link Building Tool offers you a place to follow the progress of your link building efforts over time.
Types of Links
You will need to manually monitor your backlinks by moving them from the in-progress tab to the monitor tab. To do this you just need to click the checkmark in the actions column.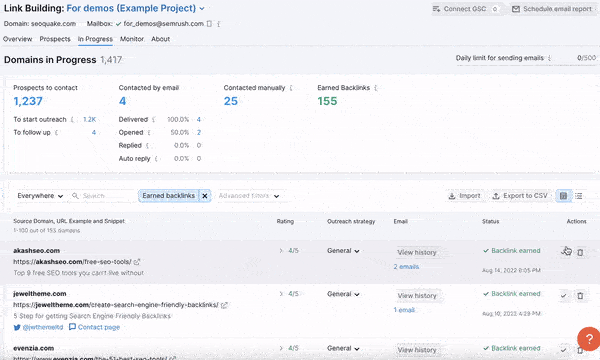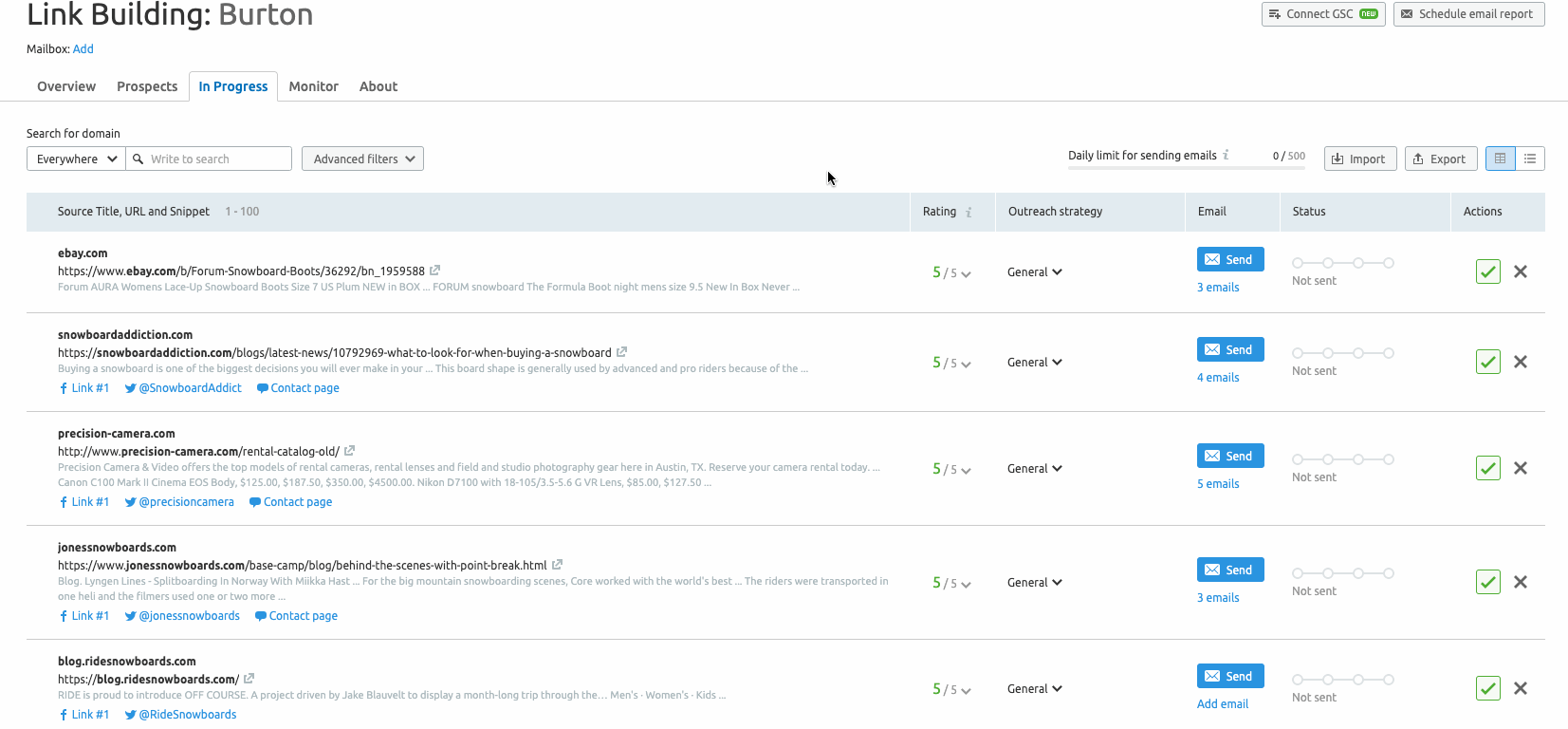 Your monitored domains be broken down into five categories: Active, Lost, Broken, Undefined and Rejected. With this information, your goal will be to keep as many active links as possible. The graph of the Monitor will show your backlink profile's changes over the past 60 days and the table below allows you to filter through and identify each link.
Filtering Your Data
To refine your data you can filter the displayed graph and table by the types of links. The table below the graph can also be filtered by types of backlinks as well as Google Search Console index and redirect chains.
Active links: These are the links that are added either manually or from the in-progress section of the tool. After they are added these links will be checked on a daily basis.
Broken links: These are links that previously led to your website but now are broken. There are many reasons why a link may break, but most commonly this means that the page on the referring website is broken or was removed, causing the link to break. Semrush discovers these as we crawl the web looking for your prospects based on your configuration settings. You can see the date in the table that each link was broken.
Lost links: These are links that used to lead to your website but have since been removed from the page that was linking to you. The date that the link was lost will be noted in the "Date lost" column.
Undefined: These are links that were recently added to your Monitor list but we didn't crawl them yet (if you see Last crawl = "Waiting"). Some of the reasons why Semrush can't crawl certain links would include a server timeout, inability to determine the domain's IP address, HTTP redirects, or SSL errors.
Rejected: This is a list of links that you can choose to "reject" if they are not relevant to your outreach plan. For example, if there are broken links that you cannot repair or lost links that you don't care about anymore, you can move them to your Rejected list.
When it comes to your broken and undefined links you can see the exact status of the link to determine why it's being classified as broken or undefined. For undefined links, you will see status codes such as "server timeout," "crawl error," or "resolve IP."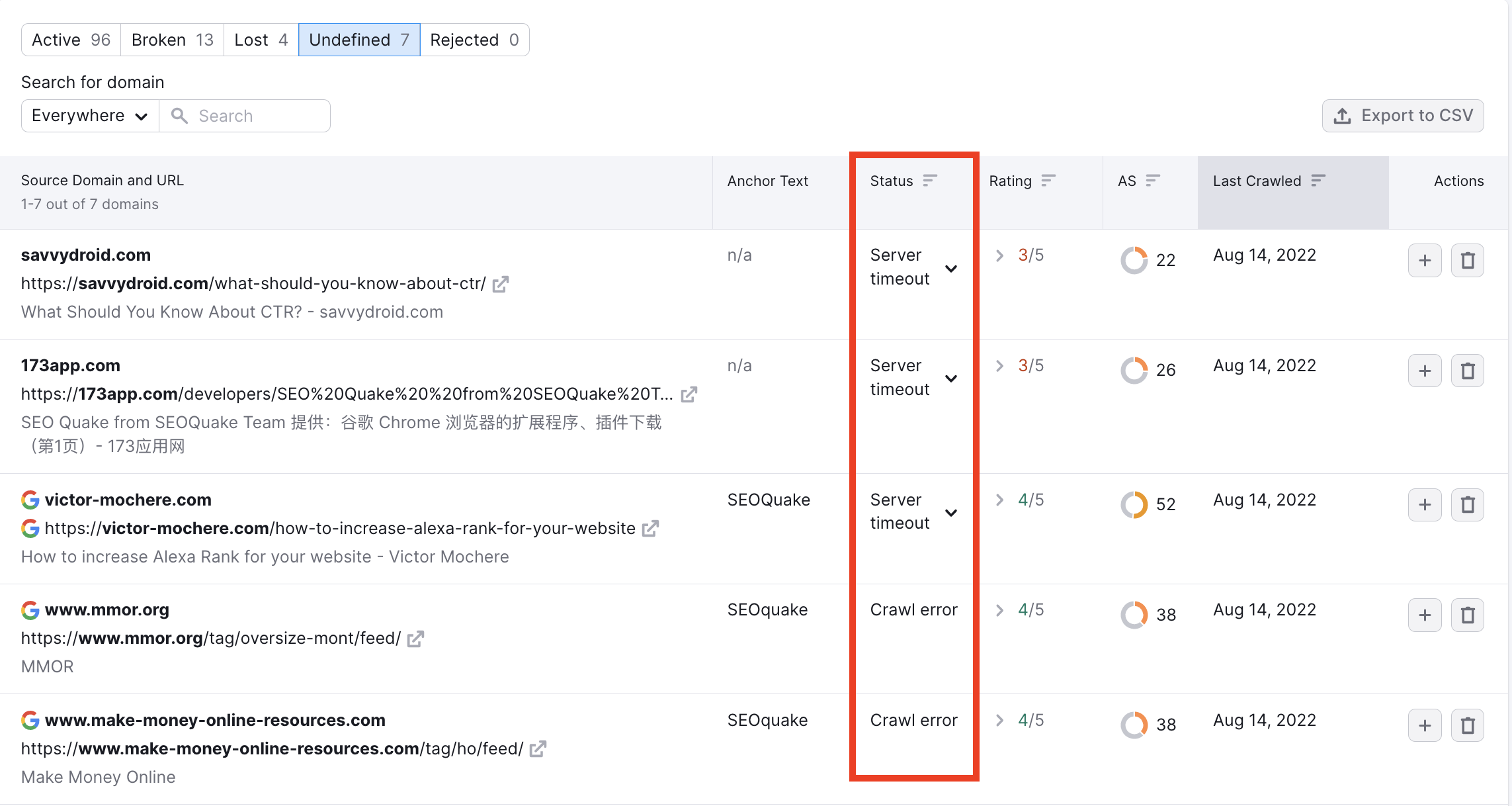 Broken backlinks will display the exact error code associated with the link so you know why it is broken and what solution is needed to recover the link.
Additional Filters
GSC index (requires integration with Google Search Console) shows if the referring domain page is indexed on Google or not. This filter will help you to ensure that all of your backlinks are visible, as links coming from pages that are not in Google's index will have less of an SEO impact.
Redirect chains filter lets you see backlinks with or without a redirect chain on the landing page. Too many redirect chains on a link's landing page can also weaken the impact of the link on a website's SEO.
As you review your table, you can "reject" any active links that you want to remove with the bin button, or add any broken, lost or undefined links back into your "In Progress" outreach list with the plus button. Once you send these links back into your workflow, you can send an email asking for the webmaster to fix the link.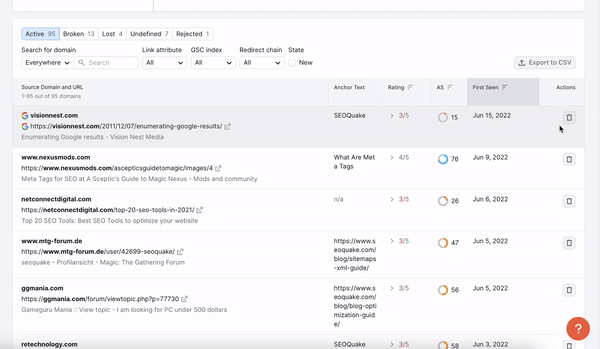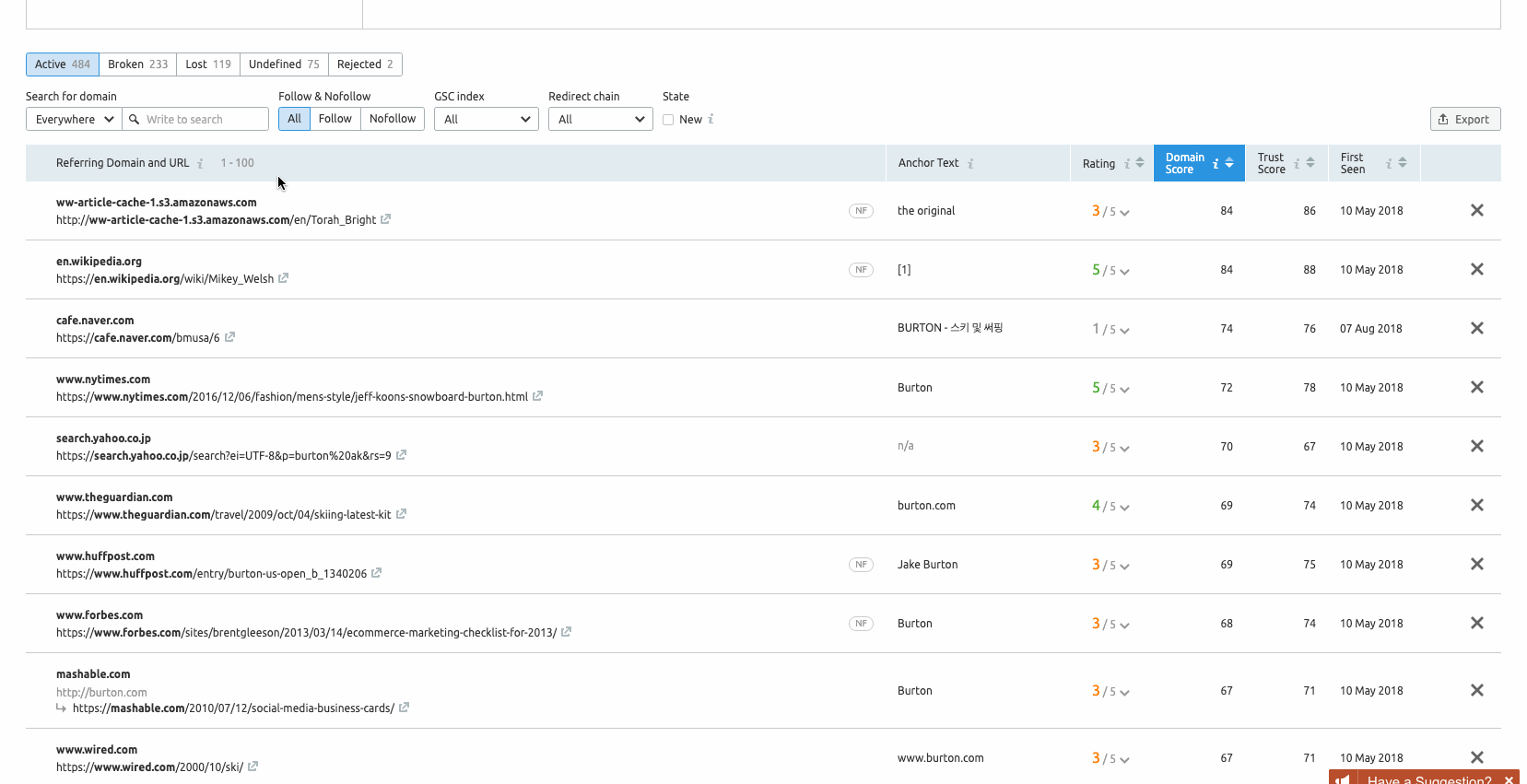 Not only do you have the ability to monitor these backlinks, but you can also manually change the referring domain URL if in your research you notice there is a mistake. Manually changing the URL could potentially fix a lost or broken link. By clicking on the pencil icon located to the left of the listed URL, you will be prompted to the "Change URL" wizard.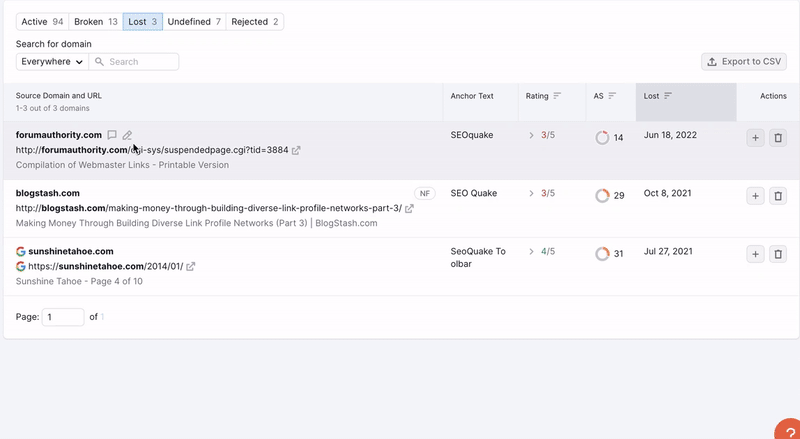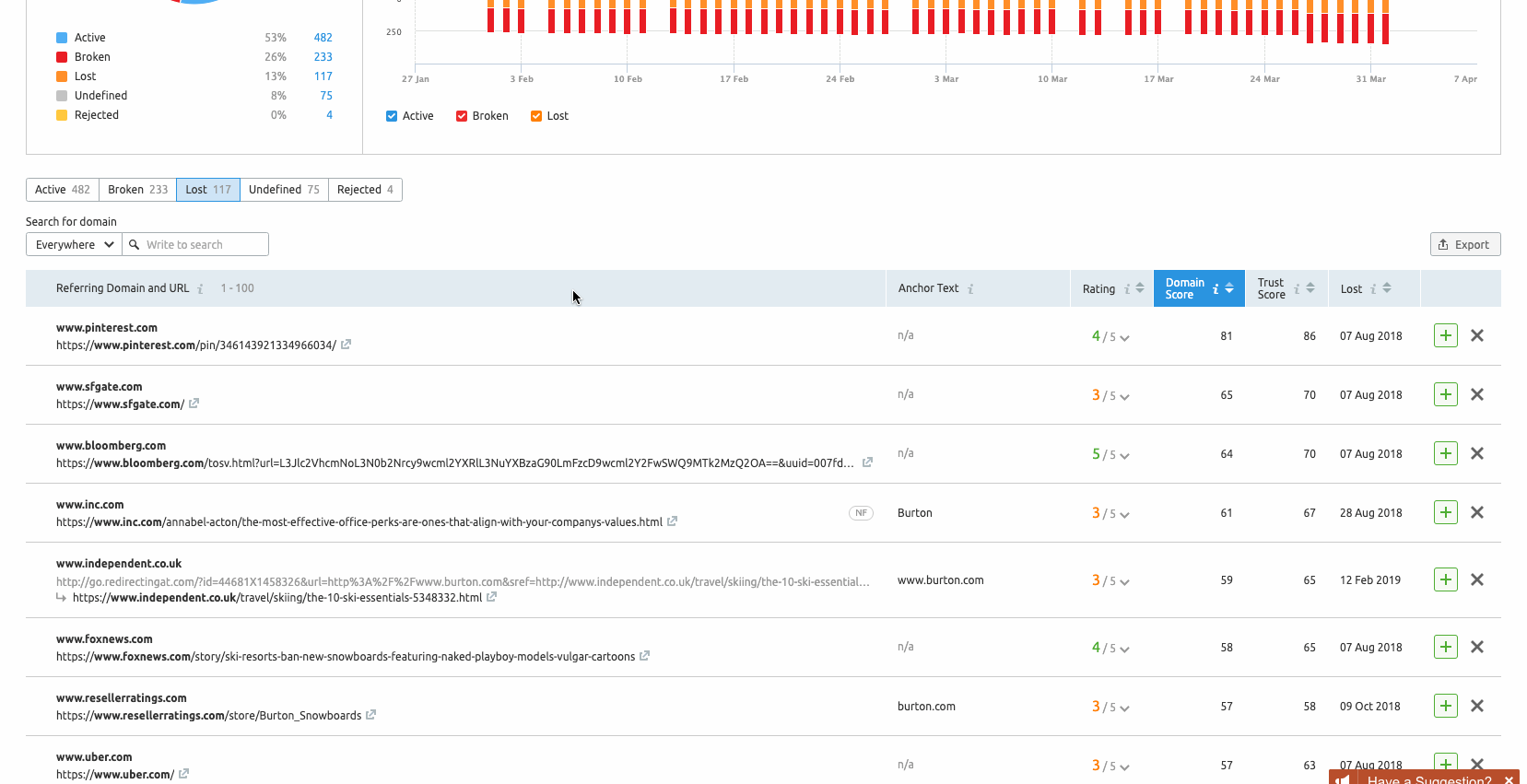 It's important to note that Lost backlinks are backlinks that could not be found by our bot over the last 60 days. You can use the email feature to reach out to these Lost backlinks to see why you are no longer being linked to. If you believe that a particular backlink is still active, you can hit the "Update data" button in your link building campaign to see if it is picked up in that crawl.
Importing Domains
You can import domains that already link to your site into this report so you can monitor all of your existing backlinks and receive an email report if anything changes. Just use the "Import" button and add one domain per line in the dialog box.

Updating Data
You can update the data in this report with the green "Show updated results" button. This will update the information we have on any links that were previously labeled as "Waiting" in the Last crawling column, and ensure that any links that have been acquired since our last crawl will be updated in the report. After updating data, you'll see the following window displaying changes in link statuses: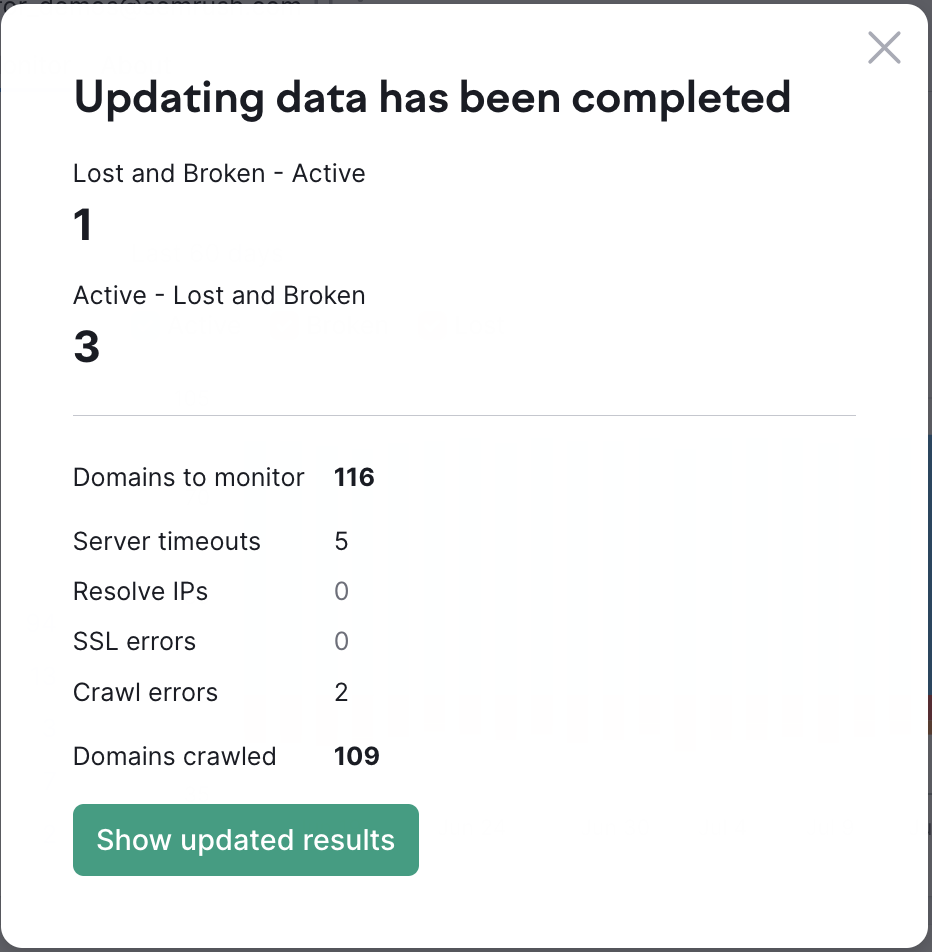 Exporting Backlinks
You are able to keep a record of your monitored backlinks by exporting them to a CSV file.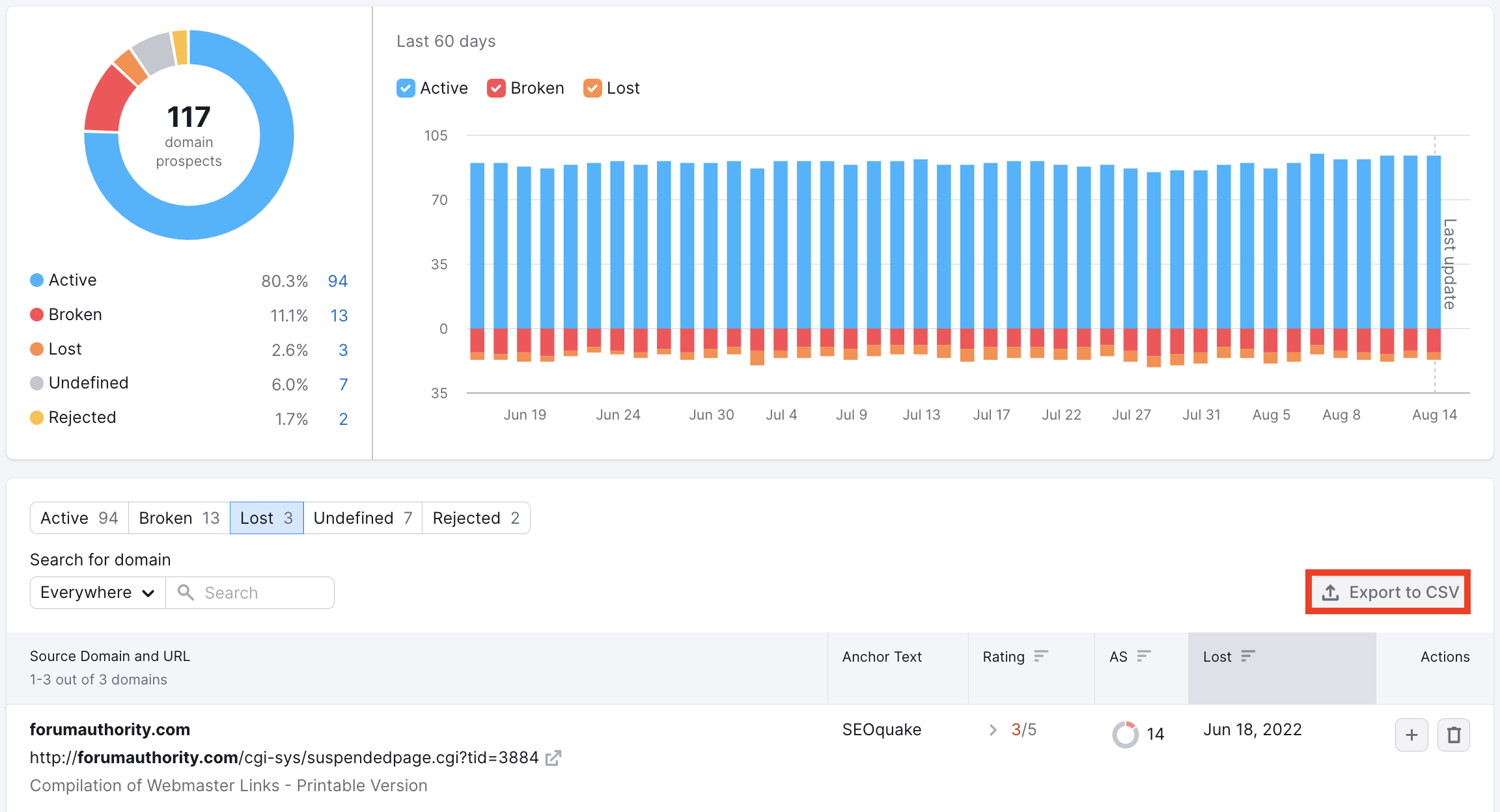 Click on the export button to automatically generate a file from the links you have in the table. So, if you have any filters applied, the export will reflect only the links seen in the table. The CSV file will have the domain, example URL, domain score, trust score, rating, and list (monitor, suspended/rejected, etc).