Semrush's Organic Research Overview report will tell you all you need to know about your competitor's organic search performance.
The Overview report gives a brief summary of the estimated traffic, keywords, top position changes, SERP features, top pages, top subdomains, main organic competitors and competitive position map - all based on the keywords where the queried domain has an organic position in Google's top 100 results.
This report can be adjusted to focus on a specific area of a website in 4 ways:
root domain
subdomain
URL
subfolder
The subfolder and subdomain options allow you to analyze the regional versions of a website if the website separates regions in one of those ways.
These options can be accessed by the dropdown menu to the right of the search bar. Once you press the "search" button all of these data sets and reports will be reflected for the domain type entered.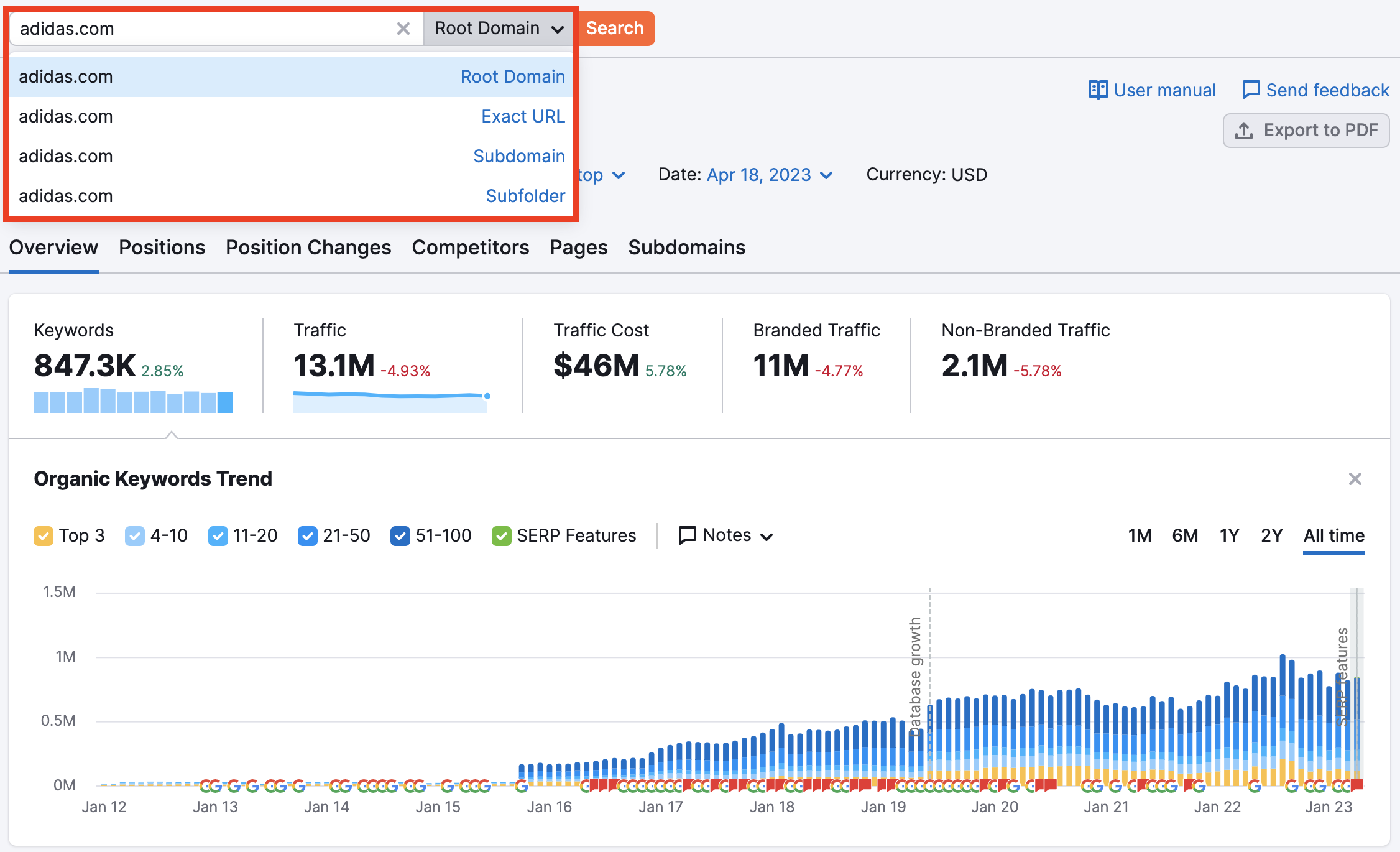 Studying all aspects of a domain in this Overview will help you fully analyze any website.
In addition to this initial filter, advanced filters can be applied within the Positions Report to get even more granular data.
*Please note that filtering is only available for paid users*
Directly at the top of the report, you will notice the number of keywords, traffic, traffic cost, branded traffic and non-branded traffic for your entered domain. To switch between Organic Keywords Trend or Estimated Traffic Trend click on the Keywords or Traffic tab respectively.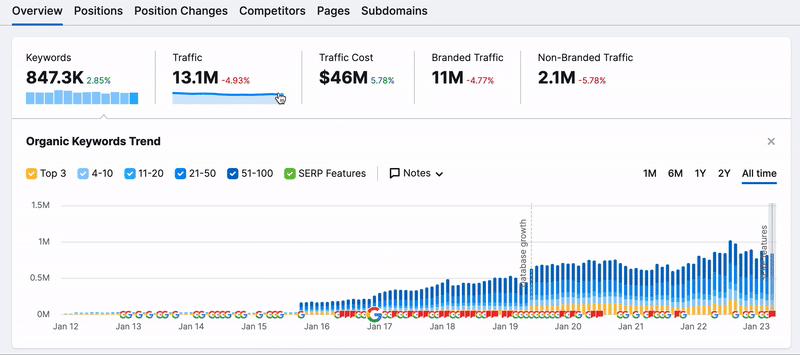 The small red/green percentages next to the main metrics show the difference in metrics compared to the previous month. If the numbers have declined compared to the previous period, the data percentage will be shown in red. If the numbers have inclined compared to the previous period, the data percentage will be shown in green.

You can change the scope of this report with the Database (region or search engine), Device (desktop or mobile) and Date filters (historical data).
Scroll down the Overview to see all of the charts and tables for the different datasets.
The preview tables for Top Keywords, Keywords by Intent, Top Positions Changes in Organic, Top Positions Changes in SERP features, SERP Features Trend, SERP Features, Top Pages, Top Subdomains, Main Organic Competitors and Competitive Positioning Map all have the option to go directly to their respective full reports by clicking on the blue button at the bottom of their tables.

Within the Estimated Traffic and Keywords graphs, you can select a specific date range to see the data just from that time period. The quick options are 1 month, 6 months, 1 year, 2 years or all time.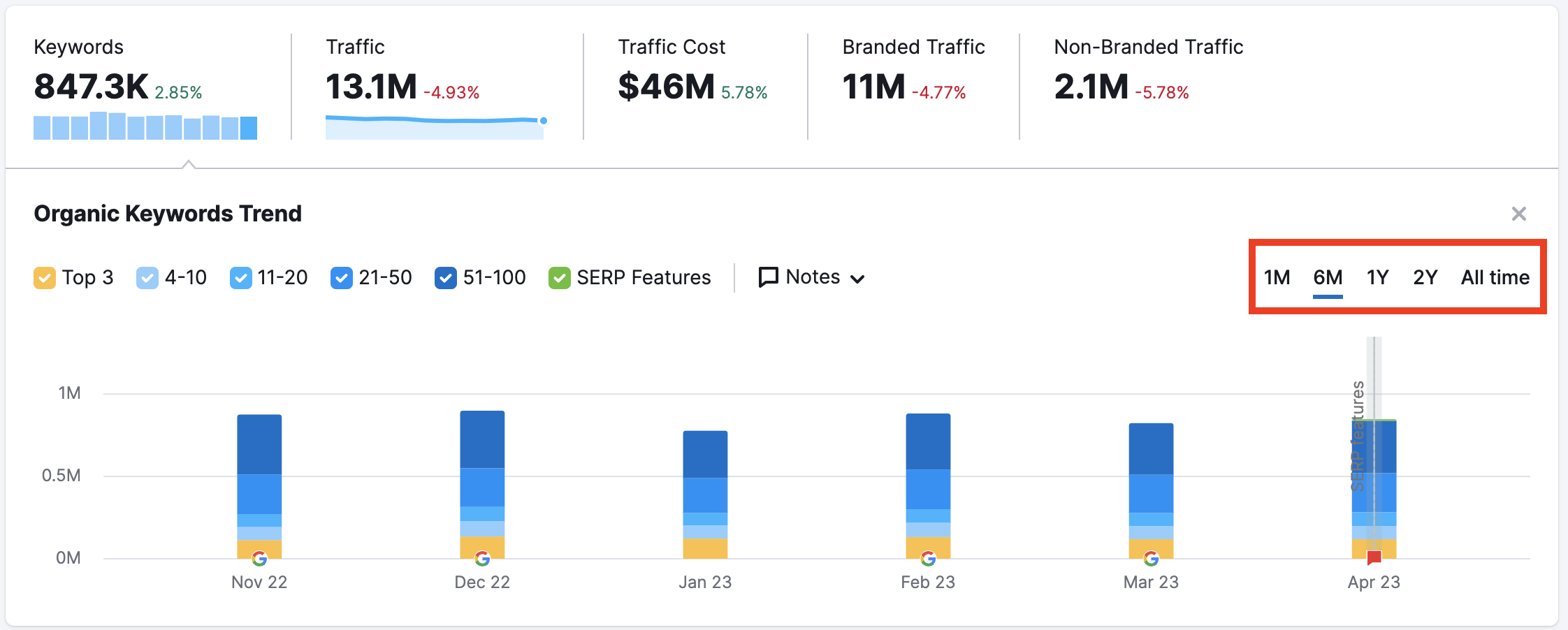 Use the tabs at the top of the dashboard to navigate to the different individual reports in Organic Research. Each report goes into further detail so that you're certain you have the best possible knowledge of a domains search results. User manuals for each report can be found with the links at the bottom of this page.