The Network Graph is a report under Backlink Analytics. You can find it in the Overview or under its own tab, Network Graph.
This color-coded network will help you to understand the relevancy and link-building power of a domain. It also shows the most relevant referring domains of the analyzed website up to three tiers deep.



The report shows you the network of referring domains with the most significance to your site based on backlinks.
This is determined by:
Higher Authority Score
Relatively high number of outgoing links to the target website
Relatively low number of outgoing links to other domains
Then, we analyze each dot in the network and assign a color.
Green = highly relevant to the niche
Gray = not highly relevant but not irrelevant either
Red = potentially dangerous or part of a link network
When you enter a domain into this report, Semrush analyzes up to 12 first-tier links (the analyzed domain's referring domains), 10 second-tier, and 8 third-tier links for each site identified in the network. This means a domain's Network Graph could present a total of 960 websites (12x10x8=960).
Each tier provides enough information to get a clear overall look at a domain's connections and possible connections it might benefit to have in the future.
How the Network Graph Can Help with Competitive Analysis
Analyzing a domain's backlinks and its relevant link prospects can take time away from all the other tasks on your long to-do list.
The Network Graph report under Backlink Analytics is made to help you save time in your external link workflow.
How Can the Network Graph Report Help You?
This report makes it easier for you to:
Find relevant domains within your niche
Identify if a domain or its backlinks have suspicious external links
See the strengths and weaknesses of a domain's backlink profile
Analyze a domain's prominence and relevance within its niche
If you're an outreach specialist or an SEO that does competitive analysis or backlink research, this report is for you.
Backlink analysis is a big task—it can take a lot of time to get a clear picture of a site's overall link network. Now, you can take a glance at the Network Graph to see immediately how healthy and relevant a site's link network looks.
Here's How to Use It


The overall relevancy of the network of referring domains to the analyzed domain's niche
The estimated percent of referring domains that are relevant to the analyzed domain
Whether or not potential link networks are present
Export all the green links or a PNG of the network graph itself
All the most prominent and relevant domains to the analyzed domain
Case 1: Instantly see if a domain has relevant, reputable backlinks to it.
At the top of the report, you'll see if a domain's network is reputable, toxic, moderate, or relevant. This distinction is based on the relevance and quality of the domain's backlinks according to Semrush data.
Green dots indicate highly relevant links that are in the same niche as the queried domain.
Gray dots mean the referring domains are relevant, just not as much as the green dots.
Red dots or clusters could be a sign of unnatural links or manipulation.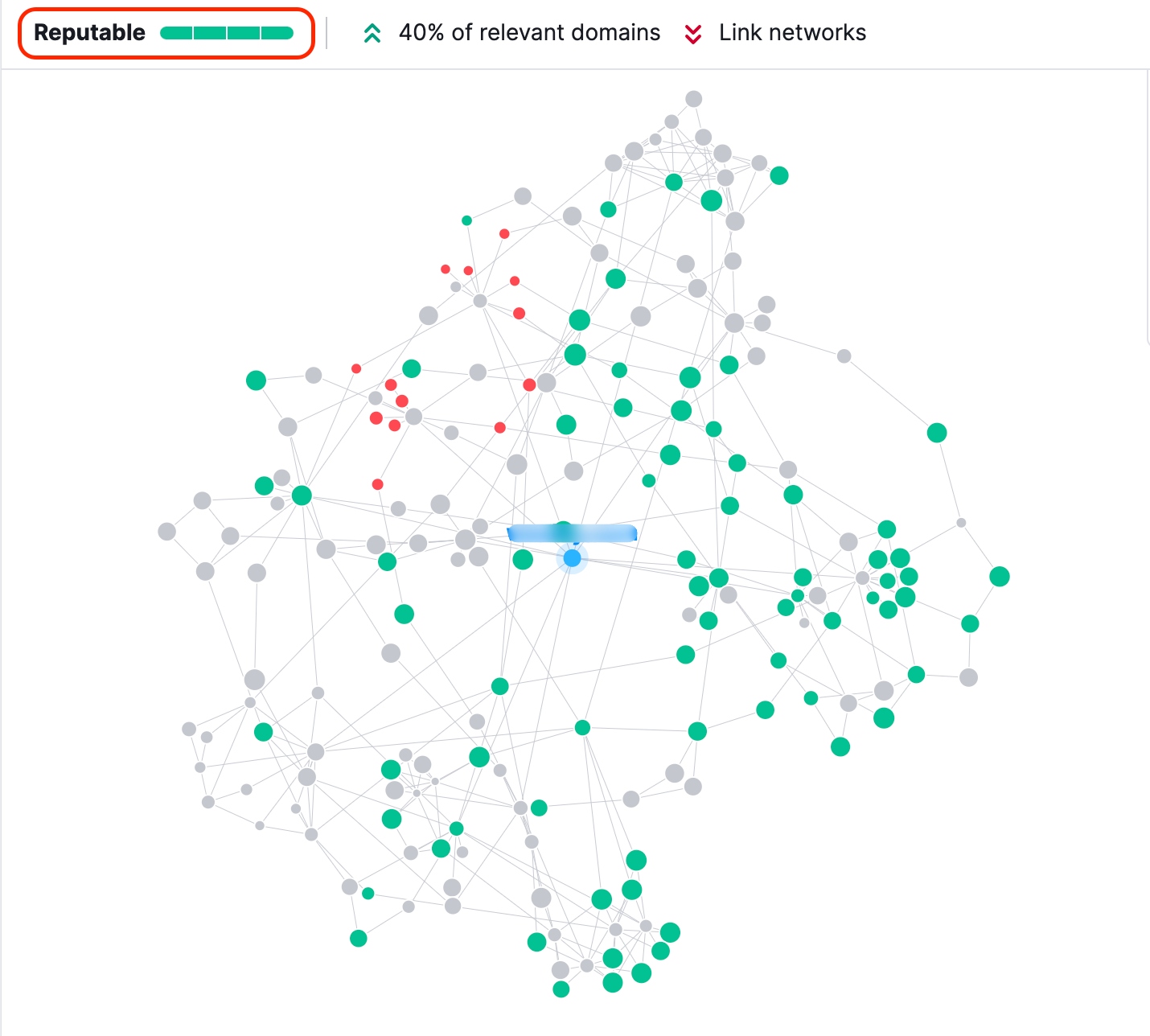 Case 2: Find link-building opportunities
Click on the dots connected to the domain to inspect each referring domain. The larger the dot, the higher the Authority Score. If you're looking at a competitor's site, the Network Graph report shows you their most relevant referring domains.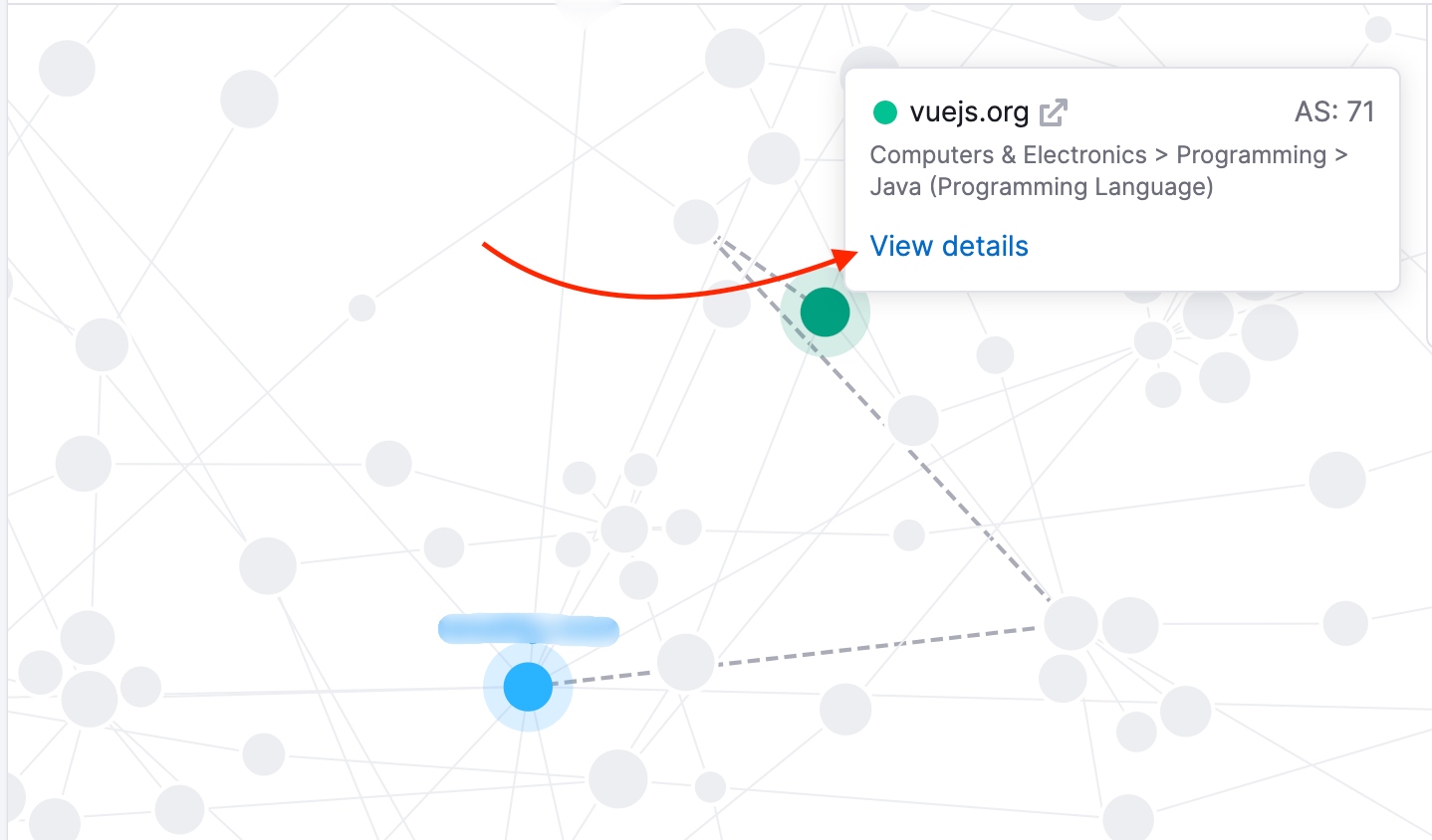 If you're analyzing your own site with the Network Graph, you can look into domains that link to your referring domains, but not you yet. These are your second-tier referring domains.
Finding these sites could help your link-building efforts, since they don't yet link to you, but are closely related to your site.
To do this, click on any dot in your Network Graph to view more details and look at the list of domains to the right listed under "Domains linking to."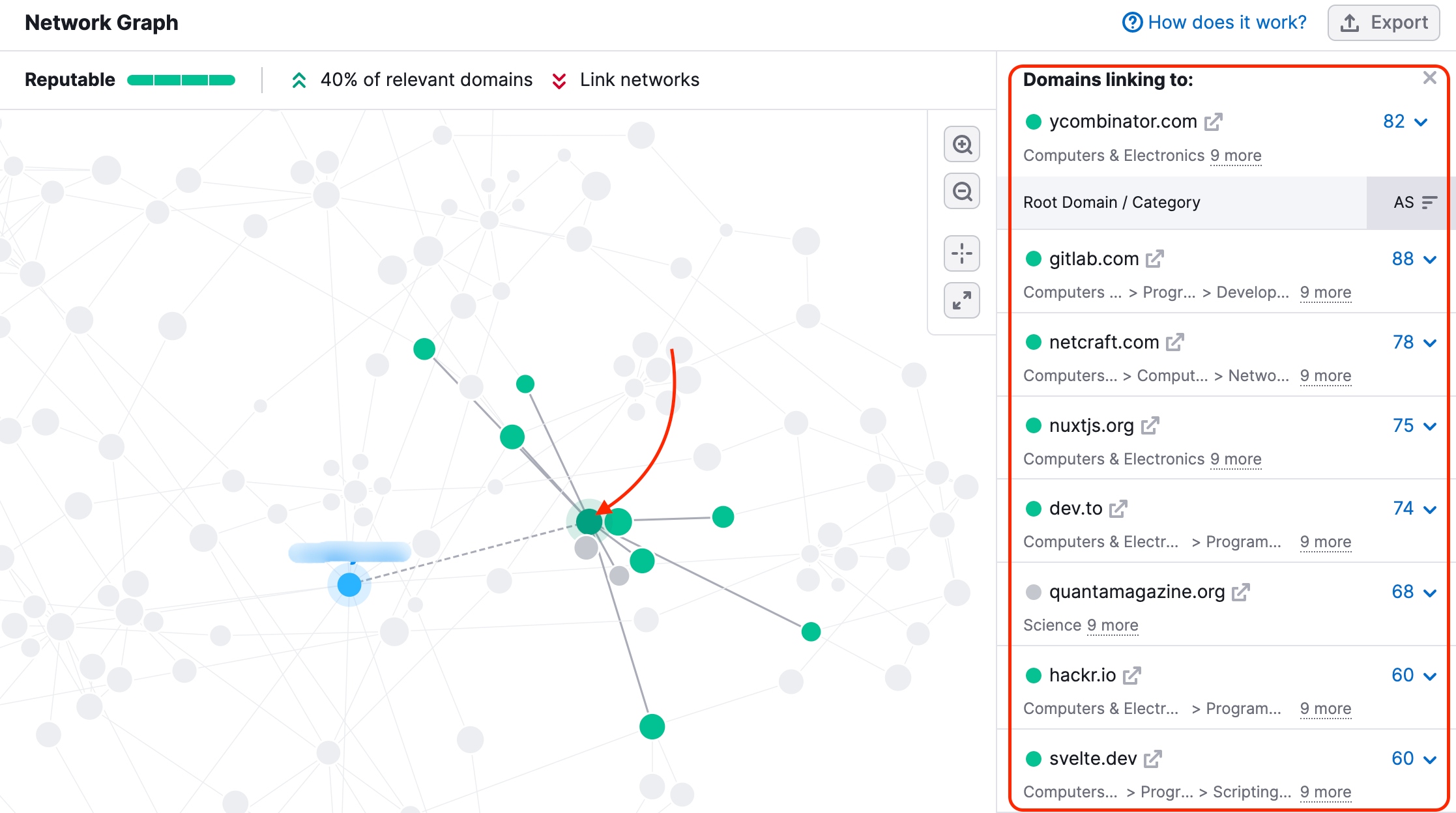 These are the referring domains of the analyzed domain's backlinks (second-tier).

Case 3: Identify referring domains from potential private blog networks.

Linked red dots share an IP network and therefore could be a sign of a link scheme or manipulation. Backlinks from these domains might negatively impact search rankings.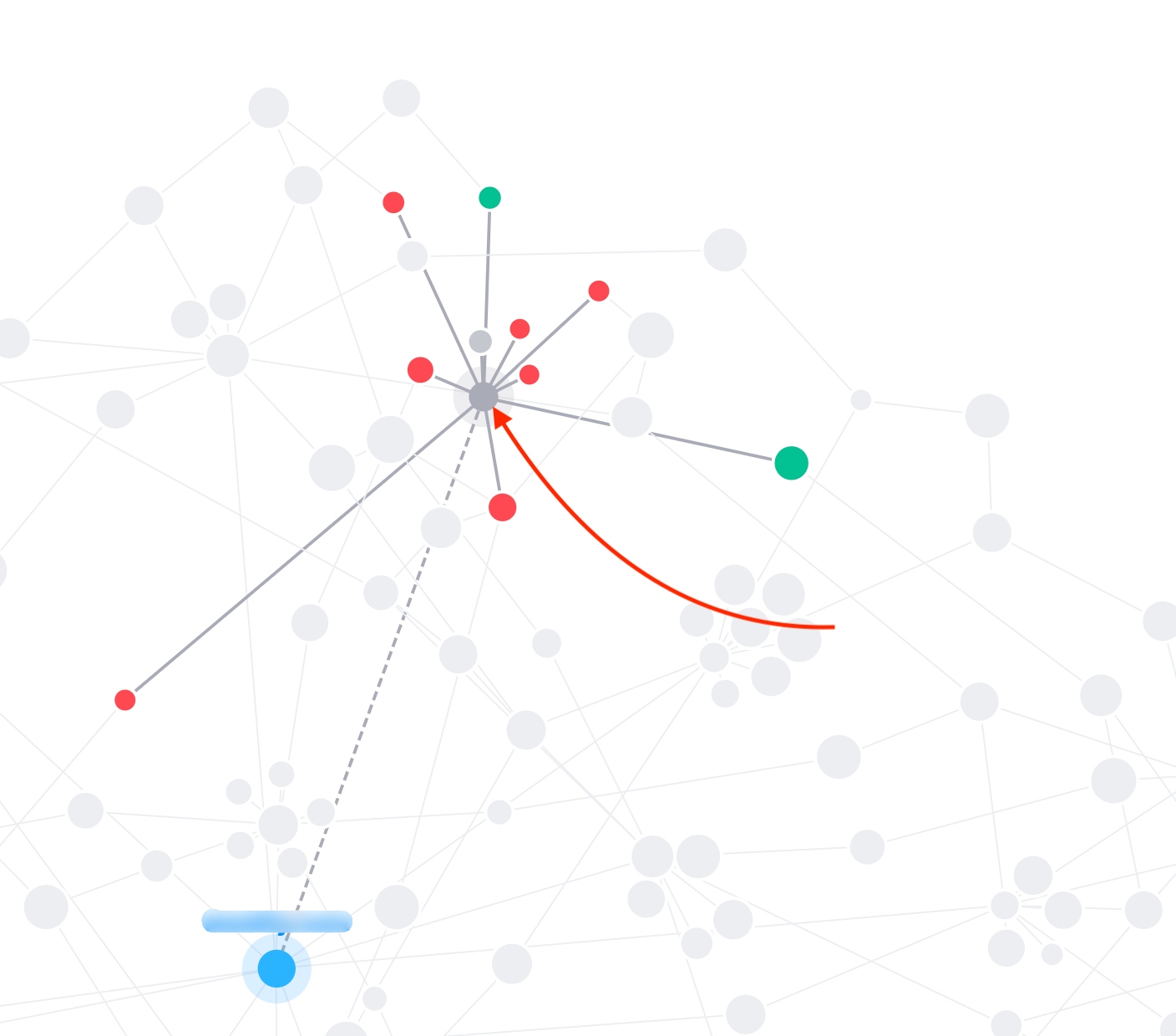 Paid subscribers will have full access to these features. If you have a free subscription, you can still use this report. However, you'll only be able to see the strength of a domain's backlink network and its prominence within its niche.