Semrush offers you the option to connect your Majestic account to the Backlink Audit Tool to increase the scope of links you are auditing. No longer will you need to waste time uploading huge files back and forth. Simply follow the steps in this article to connect your accounts.
How does it work?
In order to connect Majestic, you will need a Majestic subscription that allows you to pull data from their API. To integrate your Semrush account with Majestic, take the following steps:
1. Click "Majestic: connect" under the heading of an opened Backlink Audit campaign.


2. Click on the 'generate an Open Apps access token' link.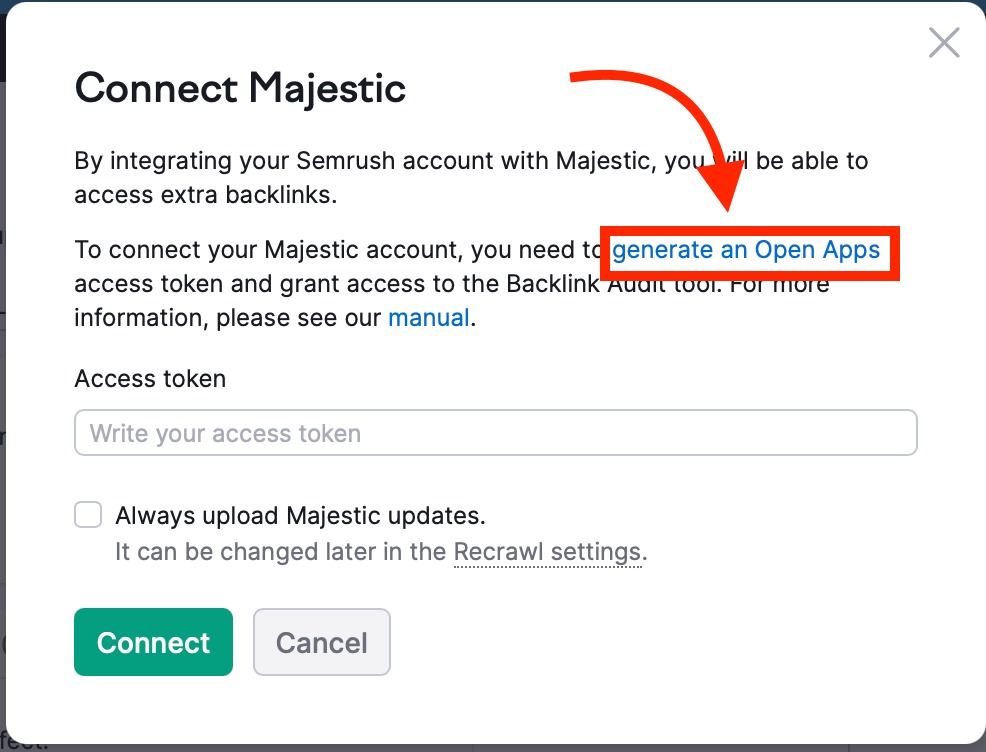 3. Login with your credentials and you will be taken to Majestic. Click 'Grant Access.'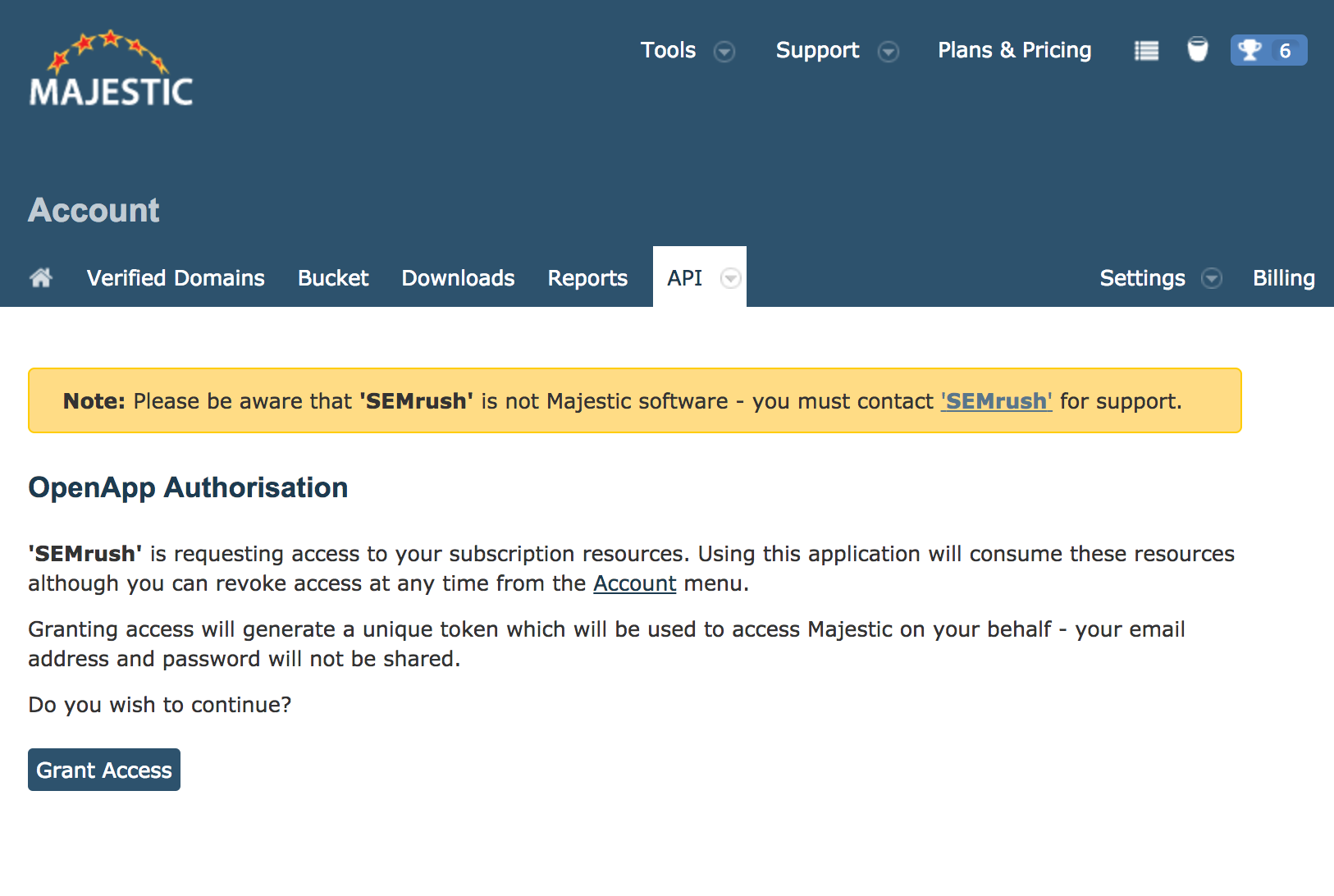 4. You will be given your API key, which you need to enter into Semrush (note that this API key will only work with Semrush). Copy and paste this token into the API key box in the Majestic window, and click 'Connect.'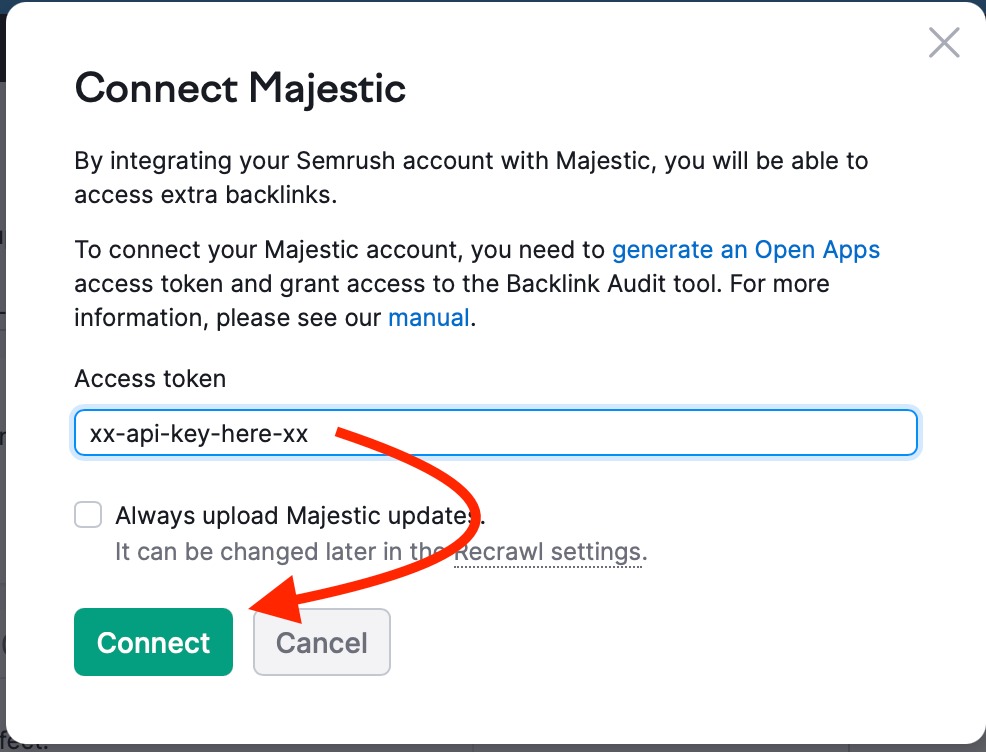 What are the Limits?
Note that if you do any uploads of data from Majestic, it counts against your budget of analysis units for your Majestic account. Upon the initial connection Semrush will download all backlinks and add them to your Backlink Audit campaign. In order to get the most data out of your limits, Semrush will upload only 10 backlinks per referring domain and one backlink per referring page. This allows us to find more potentially dangerous domains that could be linking to your site while also respecting your Majestic account limits.
If you want Semrush to automatically update with new data from Majestic, check the "Always upload Majestic updates/changes" box. After selecting this, we will only upload new data from Majestic during an automatic recrawl, manual re-run, Google Search Console connection or manual upload of backlinks. Keep in mind that the API from Majestic covers the past 90 days when determining any new and lost backlinks.
To change these settings, locate the Сrawl settings menu found under the tool's settings gear. You'll find a checkbox titled "Upload data from Majestic during data update" that you can select or deselect to allow automatic uploads of Majestic data to your project.